Your home's security is no laughing matter. If someone breaks in, you want to know about it, and you want to have a video record. The same goes for your small business. The more evidence you can give the police, the better your chance of getting your belongings back! But the fact of the matter is that most people will never need to use their camera for that purpose. In a residential situation in particular, the camera itself will often be a deterrent. Why would someone rob a home with a camera when they can just go rob the neighbor's house instead?
So, what types of features should you be looking for? The number one thing that any security camera can offer you is peace of mind. If you feel comfortable that your home is protected in your absence, you've found yourself a good value. This means you should be looking for features like motion alerts, so you know who's coming and going. You should also be looking for a reliable system. If your camera needs frequent charging, or relies on a finicky WiFi connection, it can unexpectedly fail. That's bad news for both your peace of mind and your security.
Today, we'll be reviewing two of the most reliable cameras on the market. We're about to look at the Reolink RLC-822A and the Reolink RLC-1220A. As you might expect from the near-identical names, these are near-identical cameras. The only difference is the video resolution, which we'll talk about in the appropriate section. Other than that, everything else we'll talk about applies equally to both cameras. So, how well do they perform? To find out, we'll need to dig deeper and see what they have to offer. Let's see what we uncover!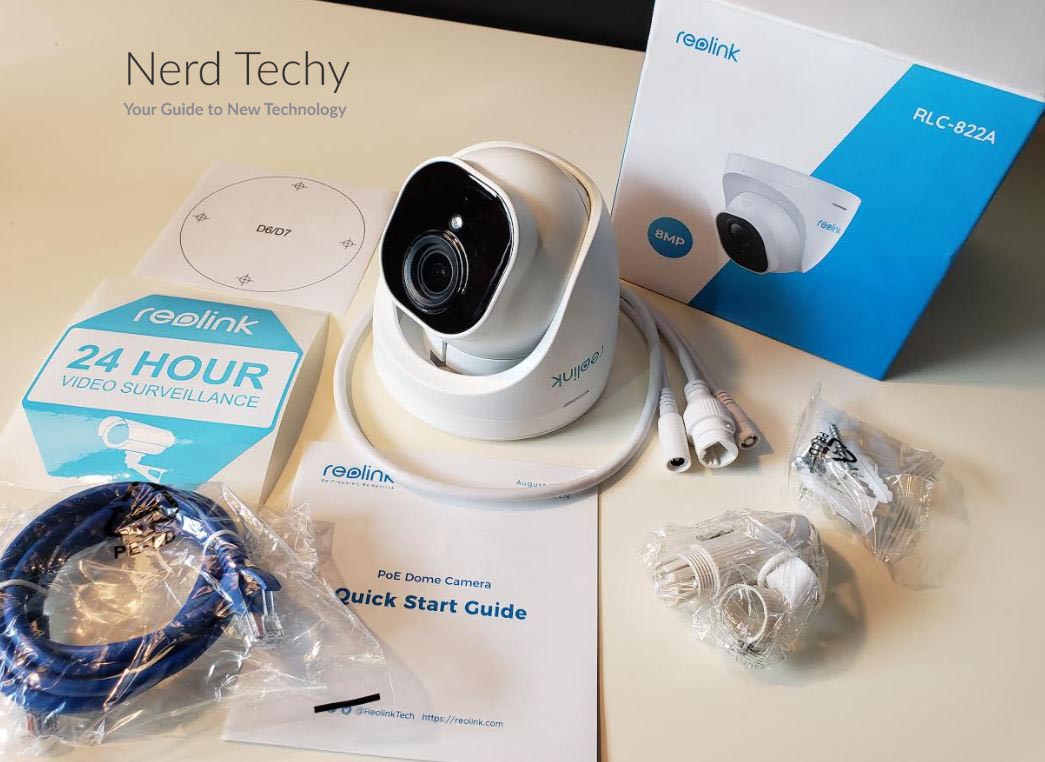 Design & Construction
The Reolink RLC-822A & RLC-1220A cameras are mounted in a round base that measures just over four inches in diameter. The camera itself protrudes in a dome-shaped housing that's 3 ¾ inches tall. This housing encloses the camera on three sides, and the camera sticks out from the front. It's mounted on a hinge, so it can be pivoted up and down to ensure accurate placement. The base can also be rotated 360 degrees if you need to. The housing is constructed from white ABS plastic, and is highly visible. This is a good feature, since it provides more of a deterrent effect, making it more likely a burglar sees it.
The lens housing is square in profile, and has a black faceplate. The lens itself actually occupies very little of the surface. Most of the space is occupied by the motion sensor and the 18 infrared night vision bulbs. Moreover, the lens housing — not the base housing — is constructed from rugged aluminum. This means that even if your camera is dropped or smacked by a tree branch, it's far less likely to get broken.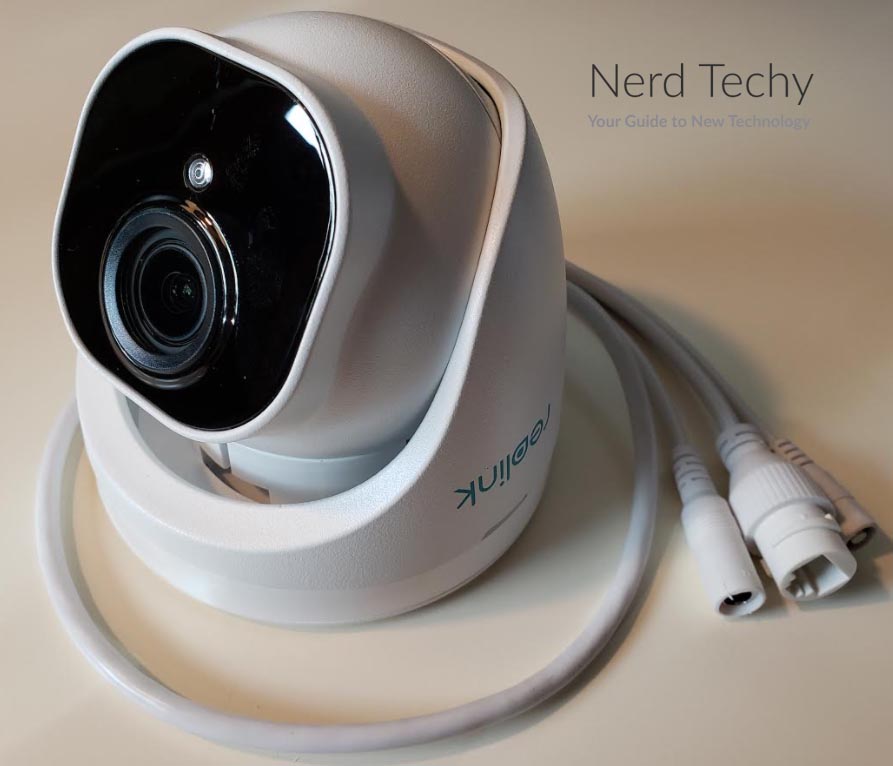 The Reolink RLC-822A & RLC-1220A are IP66-rated for weather resistance. This means they're virtually impervious to dust and rain. They're not submersion-proof, by any stretch of the imagination, but they don't need to be. They can withstand even the most powerful, driving rainstorm. They can also deal with dusty desert conditions. This means they can operate just about anywhere in the world, in just about any climate.
Along with the camera itself, you also get everything you need to get set up. You get mounting hardware, as well as a template for pre-drilling your holes. There's also an Ethernet cable, although you can also provide one of your own if you're doing a long run. There's even a surveillance sign in the package, to warn off potential thieves. All of this is covered by Reolink's 2-year manufacturer's warranty. You're safe from any defects or premature failure.
If you already have a Reolink kit or NVR, you'll do better with a camera that's designed as an add-on. The Reolink B800 is a 4K camera that's engineered specifically for this purpose. That said, it fares poorly as a standalone camera, since there's no on-board storage.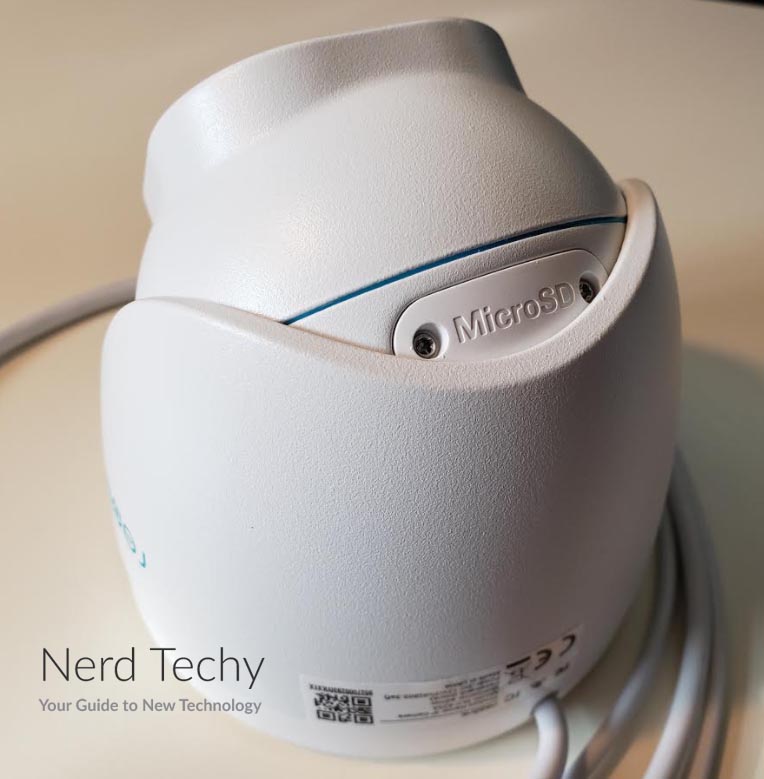 Video & Audio Quality
As we already noted, the two RLC cameras differ only in terms of video quality. The RLC-822A is a 4K camera, with a resolution of 3,840 x 2,160 pixels. This is already better resolution than most home security cameras, and enough to read a license plate from the street. But suppose you want even more detail than that? It's certainly possible. With the RLC-1220A, you get an incredible 12 megapixels, or 4,616 x 2,600 pixels. That's not quite 8K, but it's approaching that level of quality. Needless to say, you can see absurd levels of detail.
But what if you want to look even closer? In that case, you can use the app to take advantage of the RLC-822A's 3x optical zoom. Plenty of cameras offer a digital zoom, but that's not the same thing. A digital zoom just blows up the picture. It doesn't actually add any detail. An optical zoom narrows the field of view but keeps the resolution the same. With 3x zoom, you can read the label on a delivery package that's sitting on your front stoop.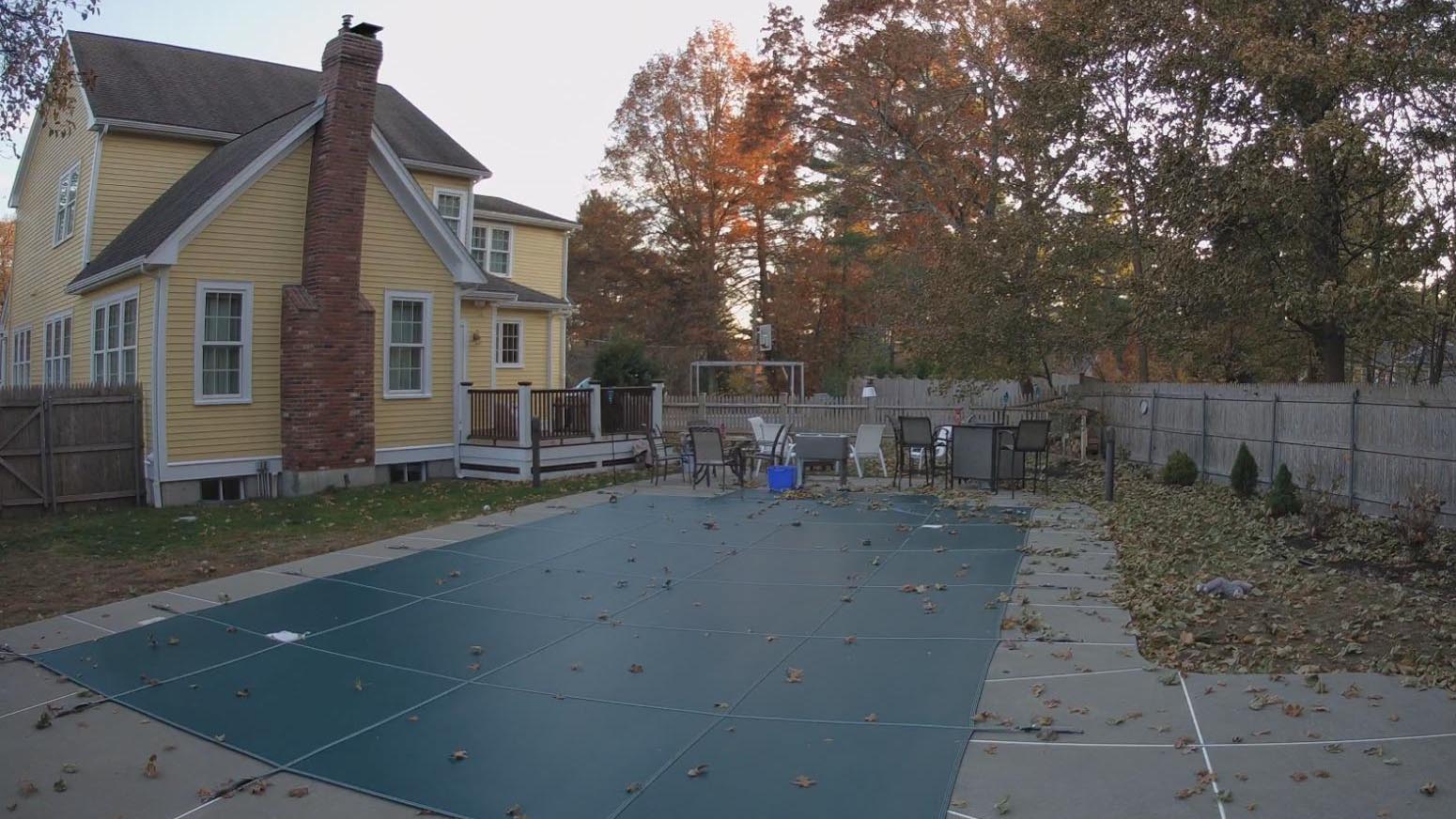 Depending on the zoom level, the viewing angle can be anywhere from 50 to 94 degrees. The former is definitely very tight, but only occurs at maximum zoom. The latter is more what you'd expect from an ordinary security camera. Since you'll probably be leaving your camera out of zoom mode, you can assume a 94-degree angle. And to be clear, the RLC-822A has 3x zoom whereas the RLC-1220A has no zoom feature.
Night vision is powered by the 18 infrared bulbs built into the lens housing. These bulbs don't give off any visible light, but the infrared glow extends for 100 feet. Night vision videos are in black and white rather than color, and the camera alternates automatically between night and day. That said, the videos are nice and sharp, without the fuzz you see on a lot of night vision cameras. You'll be able to make out plenty of details without any issues.
The audio recording quality on these cameras is reasonably good, if not spectacular. There isn't a ton of noise reduction, so heavy wind can still be an issue. That said, under most conditions, you'll be able to make out voices and conversations just fine. On the other hand, there's no two-way audio function. If you want to communicate with the delivery driver on your doorstep, you can't do it remotely.
If two-way audio communication is a must, take a look at the Reolink Argus Eco. In addition to two-way audio, it's also solar powered, so running out of power is not a concern. That said, the video quality is only 1080p, nowhere near either RLC-series camera.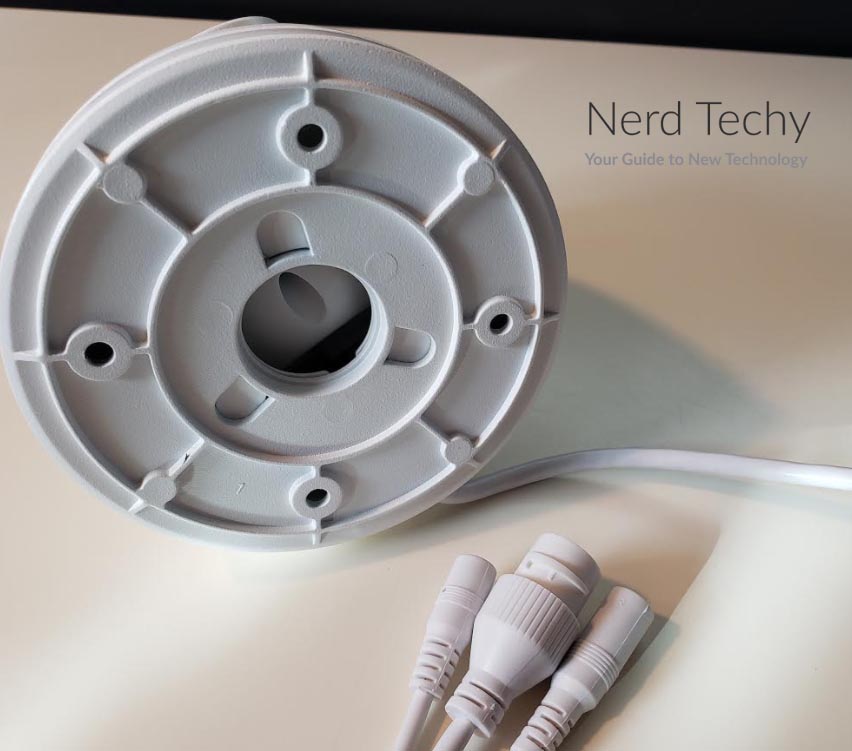 Connectivity & Storage
The Reolink RLC-series Smart Detection cameras connect via PoE, or Power over Ethernet. PoE technology allows you to use a single cable to carry both a data signal and power. This way, you only need to run a single cable, and you don't have to worry about outlet placement. PoE can support up to a 330-foot run, so you can use these cameras even in a very large building. That said, you'll need to use a PoE Gigabit switch or router in order for the camera to receive power.
Once the camera is plugged in, the next step is to set up a storage method. Most people will want to use the Micro SD slot located on the back of the aluminum camera housing. There's no card in the kit, but the camera will support a 64, 128, or 256GB card. A 256GB card is sufficient for recording 97 hours of video in 4K, or 72 hours in 12-megapixel quality.
If a Micro SD slot doesn't appeal to you, you can also set up your own storage. These cameras work with the Reolink NVR system, or you can connect them to your own personal FTP server. At this time, the RLC-822A and 1220A are not compatible with Reolink's cloud-based storage service. Reolink says this will change at some point in the future, but there's no confirmed date for that feature. For now, your only off-site storage option is to run your own FTP server.
If you need wireless connectivity or cloud storage, consider the Reolink Go. It's a solar-powered camera that connects via 4G. However, it's only 1080p, and the 4G connection requires its own separate data plan.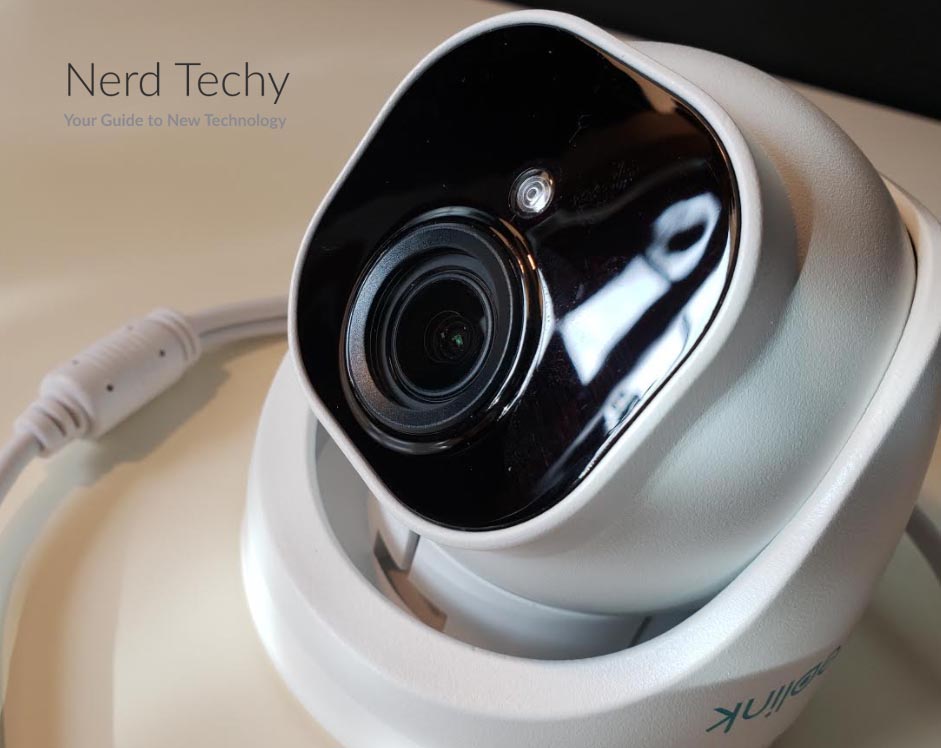 Extra Features
When you first set up the Reolink RLC-822A & RLC-1220A cameras, you'll have the option to install the Reolink app on your phone. Via the app, you can access a number of features that go far beyond simple recording. To begin with, you can view your camera's feed live from anywhere in the world. This makes it easy to check in on your kids, or see if that FedEx package has arrived. You can also review old footage and download it to your phone. You can even view a video timeline, to easily pinpoint specific events. All of these features are also available through a web client. You don't have to install yet another smartphone app if you don't want to. You can even use Alexa and Google Assistant voice commands.
In addition, both of these cameras offer motion detection, with separate alerts for people and vehicles. You can easily distinguish between your child walking home from school and the UPS driver dropping off a package. You can also customize the motion sensitive zone. So if there's a road or sidewalk in the camera's view, you can set it to ignore those areas.
One final useful feature of these Reolink cameras is that they can record time lapse videos. This isn't the primary purpose of a security camera. Still, it's a nice added touch for amateur photographers.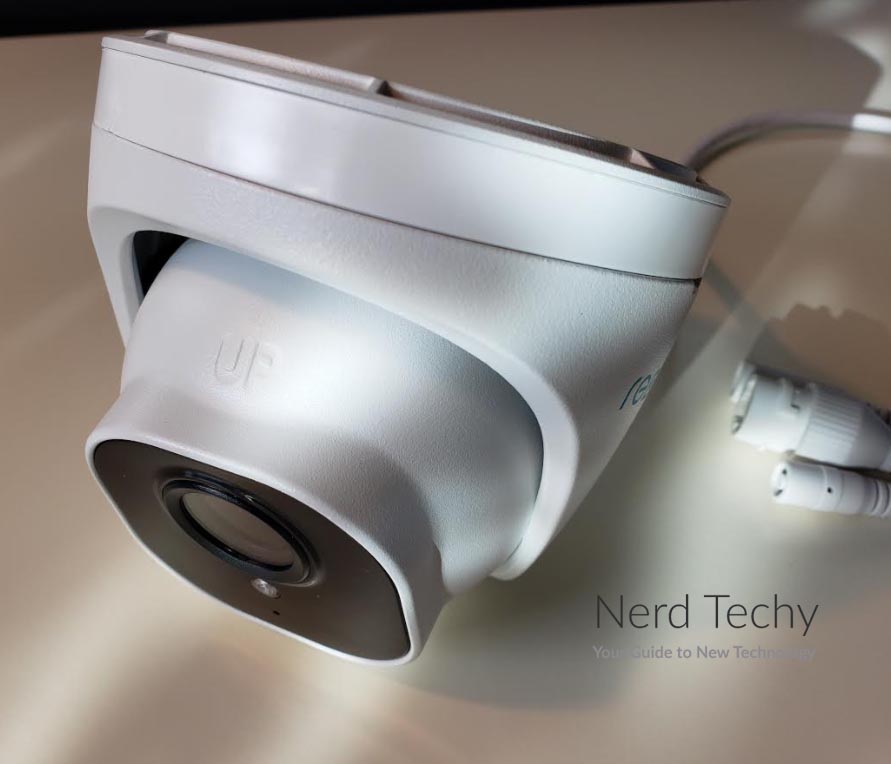 Final Verdict
The Reolink RLC-822A and RLC-1220A Smart Detection PoE cameras are both excellent choices for home security. They both offer a wide array of smart features, and they're easy to install. They're also durably built, with a large Micro SD capacity of 256GB. All things being equal, they're comparable in price, so the RLC-1220A will be better for most people. The 12-megapixel video is simply that stunning.