When it was first released in March, 2017, the Nintendo Switch Lite rocked the entire gaming community. Nintendo has long been known for their innovative, even quirky, control schemes. Ever since the Nintendo 64, each generation of Nintendo console has seen a near-complete controller makeover. The Switch was no exception. In fact, the controls were the conceit of the whole system. With them attached to the side of the Switch, you could play it like a handheld system. With them attached to a Joy-Con grip, you could use the Switch in tabletop or docked mode.
In the past, we've reviewed a number of Nintendo Switch and Switch Lite parts and accessories. For instance, we reviewed Switch Lite hard shell cases not long ago. They'll keep your Switch Lite safe from damage due to drops and bumps. But what if you never bought a hard shell case, and damaged your Switch Lite housing? In that case, you're going to need a replacement housing shell. Of course, there are other reasons to get a replacement as well. Maybe you want a different color, or prefer the feel of a different material. Whatever the reason, there are plenty of options available.
Today, we're going to review three of the best replacement housing shells for Nintendo Switch Lite. We'll begin with the eXtremeRate Replacement Shells. This housing is available in 17 different colors, and includes replacement screws and screwdrivers. Next, we'll look at the Deal4GO New Full Shell Housing Case Kit. This housing includes all the buttons and slot covers, in addition to the shell itself. We'll end with the NSL Joycon Handheld Controller Housing. This housing comes in transparent tomic purple, one of the most popular styles on social media. Which one is the best? Let's take a closer look, and you can decide!
How is the Switch Lite Different From the Original Switch?
We began by talking about what makes the Switch unique: its hybrid nature, and the modular controls. It can work as an ordinary console by plugging into your TV, or you can use it in your hands. But there are other reasons to want a Nintendo Switch as well. Primarily, you get access to Nintendo's awesome game library. These days, the other two major consoles, the Xbox and PlayStation, are more or less equivalent in terms of content. PlayStation has its handful of exclusives, and Xbox has its Play Anywhere feature and Game Pass Ultimate. But neither of those consoles can touch Nintendo's collection of exclusives. You get everything from Smash Bros to Mario games to the Legend of Zelda series.
So, what if you want to play those great games, but don't want to spend money on a traditional console? You get the Switch Lite! The Switch Lite is made to provide access to Nintendo's library in a more affordable, handheld format. If you're a casual gamer who just wants to relax with some Mario Party once in a while, it's a great choice. In addition to the smaller size, as the name implies, you also get a smaller console. The screen is 5.5 inches instead of 6.2, which makes the Switch Lite more portable than the original. Even so, this smaller screen still displays 720p graphics, the same as the original.
That said, the Switch Lite's smaller design does have some limitations. To begin with, you can't play it in docked mode, which means you can't play games on your TV. Not only that, but there are no Joy-Con controllers. Instead, the controllers are built directly into the body of the machine.
On the plus side, there have actually been some minor improvements on the performance side. The Switch Lite runs on the new and improved Tegra X1+ chip. It has basically the same specs as the original X1, but it's much more energy efficient. This means you get longer battery life on the Switch Lite, up to around 7 ½ hours. As with any statement about battery time, take this with a big grain of salt. A lot depends on the game you're playing, as well as on settings such as screen brightness. Interestingly, around the same time Nintendo released the Switch Lite, they also improved the original Switch's battery life. In August of 2019, new Switch consoles were equipped with a larger, longer-lasting battery.
One area where the Switch Lite is identical to the original is how it handles saved games. If your game supports cloud saving, you'll have access no matter where you are in the world. Keep in mind that this only works for certain games, and requires a Nintendo Switch Online subscription. Otherwise, you'll have to save your games locally. Unfortunately, the Switch Lite also handles data transfers the same way as the original. You're welcome to freely move data back and forth, but it requires you to transfer your entire account. That's not a big deal for initial setup, when you're configuring a brand new system. But it's a lot of hassle if you're frequently switching between machines. As a result, as much as we'd love to own a Switch and a Switch Lite, it's not terribly practical.
Game and Controller Differences
The differences between the Switch and the Switch Lite aren't limited to the design of the console. There are also some control differences, and some differences with game compatibility. This is easiest to understand if we talk about the controllers first. The original Switch's Joy-Con controllers offer a ton of versatility. They can be used in handheld mode, on a Joy-Con mount, or separately in two hands. By contrast, the Switch Lite's native controls are fixed in one position. Does this mean you're out of luck if you want a different controller configuration?
Not quite. You can still use a Joy-Con or Pro Controller with the Switch Lite. You'll have to connect the controller first, but they'll work just fine. However, you'll have to connect via Bluetooth, which drains the console's battery faster. You'll also need to rig up some kind of kickstand. Remember, the Switch Lite is only designed for handheld play. There's no built-in kickstand for putting it in tabletop mode. One thing you won't be able to do is use a GameCube controller. Using a GameCube controller with the Nintendo Switch is only possible with a USB cable. The Switch Lite has no USB port, so you're out of luck there.
When it comes to the actual control scheme, the comparison is more or less apples to apples. You get two thumb sticks, along with the same array of buttons and triggers. There are two exceptions, though. First, the original Switch has been much-criticized for using four directional buttons instead of a D-pad. The Switch Lite has rectified this by using an ordinary D-pad. People with larger hands will appreciate this, since the unified pad is easier to manage. The other difference is that there's no rumble function on the Switch Lite. If you want a rumble function, you'll need to use a separate Joy-Con or Pro Controller.
As you might expect, these controller differences are the main driver in what games you can and can't play. We should start by stating that, technically, you can play any Switch game on the Switch Lite. All Switch games support 720p graphics, so the lack of a docked mode is not an issue because of graphics.
That said, some games can be difficult or impossible to play without the use of external controllers. Imagine trying to get through a game of Mario Party without a rumble function. It's possible, but it wouldn't be terribly enjoyable. Furthermore certain games require motion controls. In those cases, you literally can't play the game without an external controller. For many motion control games, you really wouldn't want to play on the Switch Lite anyway. If you think about playing Let's Dance on a tiny, 5 ½-inch screen, you'll get the picture.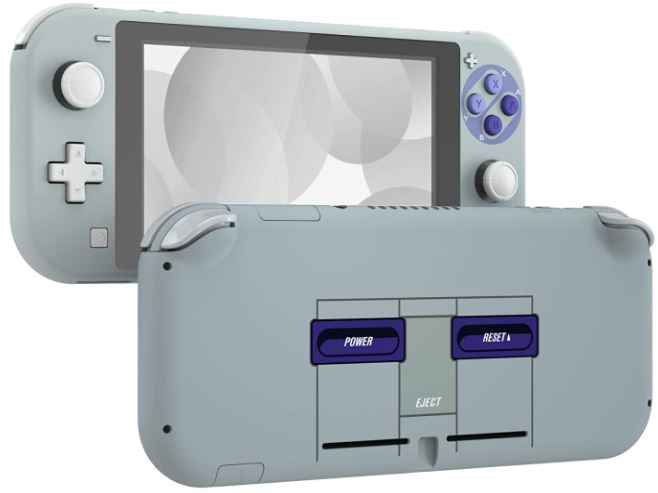 eXtremeRate Replacement Shell
eXtremeRate is an electronic parts manufacturer we're already familiar with. We reviewed their Nintendo Switch backplate a while back, so we decided to give their replacement shells a look. The eXtremeRate Replacement Shell is available in 17 different colors, from formal black to playful pink. There's even a classic SNES shell, which evokes the look of a Super Nintendo console. The package also includes replacement buttons, in order to match each individual shell.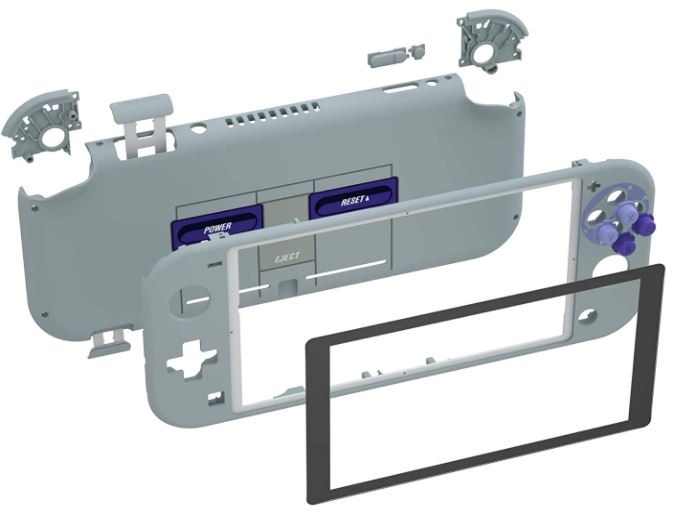 Along with the shell itself you get all the extras you need for reassembly. First, you get a set of PH00 and Y00 tri-wing screwdrivers. These are unusual types, so it's nice to have some in the kit. You also get a full set of spare screws. These aren't strictly necessary, but the screws are tiny, and they're easy to lose during disassembly.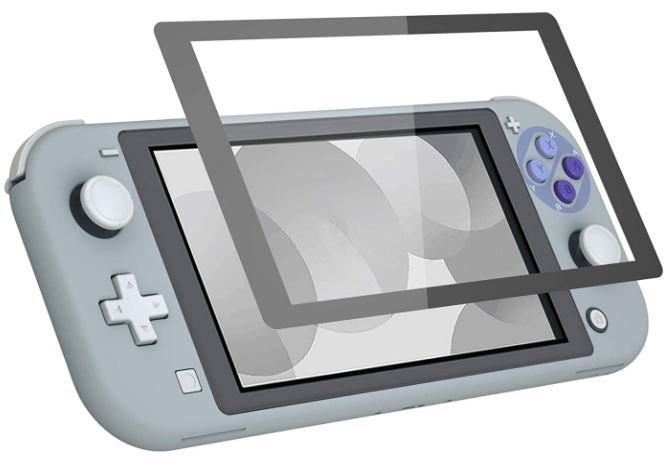 The housing is constructed from ABS plastic, the same material as the OEM Switch Lite housing. This means they're more than tough enough for the job. The finish is matte, so it doesn't collect fingerprints. It's also very smooth, though, much like the standard housing. It even comes with a tempered glass screen protector and a screen cleaning kit. This is literally everything you need to replace your Switch Lite shell.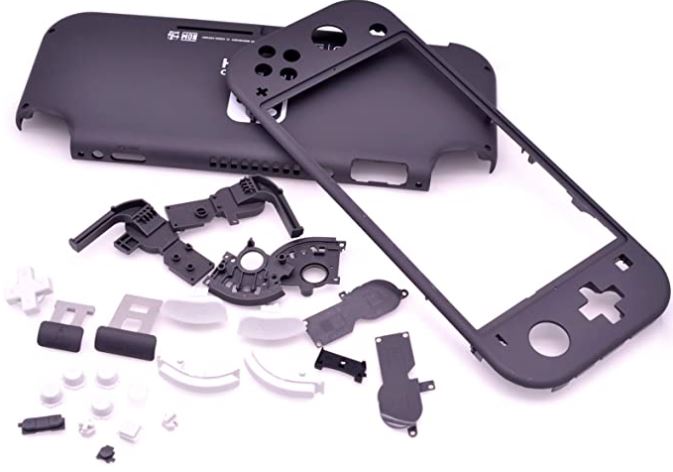 Deal4GO New Full Shell Housing Case Kit
The Deal4GO New Full Shell Housing Case Kit is the most affordable case on our list. The downside is that it doesn't include a tempered glass screen protector. Fortunately, Switch Lite screen protectors are available separately. Not only that, but you may not need to replace your screen protector. Maybe there's nothing wrong with yours. Why spend money on a part you don't need?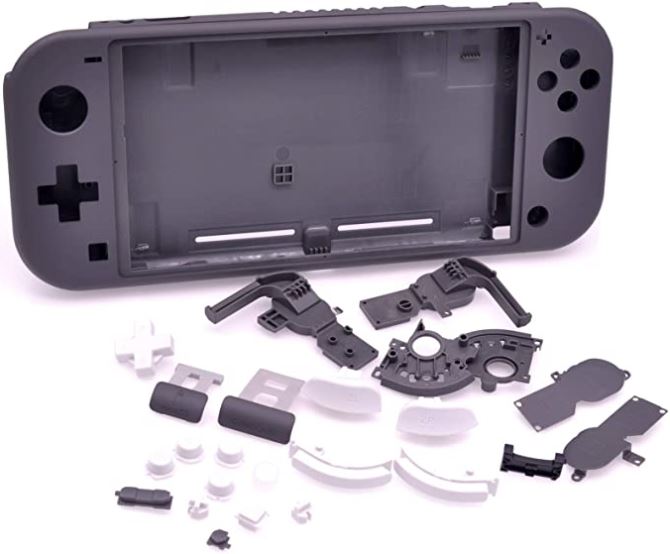 In terms of design, the Deal4GO housing is identical to the original. That's because it's an official OEM Switch Lite shell. If you just need a one-for-one replacement, it's what you're looking for. Not only do you get the housing, but you get a full set of triggers, bumpers, and buttons. You even get the slot covers, just like the original. You don't get any assembly hardware, though. You'll need to provide your own screwdrivers. There are a total of four colors available: black, blue, pink, and yellow.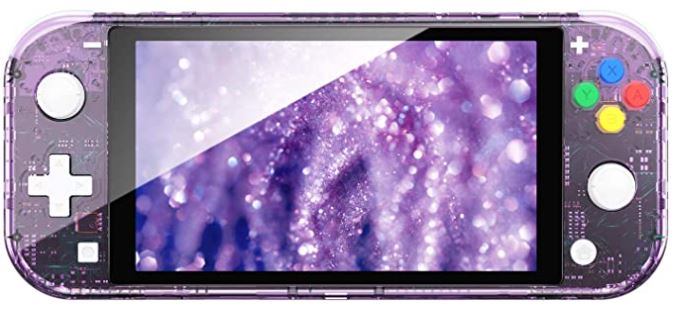 NSL Joycon Handheld Controller Housing
Last but not least, we have the NSL Joycon Handheld Controller Housing. Like the Deal4GO housing, this is a standard OEM replacement. There are no extra bonus features, no altered profile, or anything of that nature. That said, it's well-engineered, and will do a good job of protecting your Switch Lite. It also includes a screen protector, so you can replace a scratched screen.
The main attraction of the NSL housing is its appearance. It comes in four colors, but we were most attracted by the transparent atomic purple. This color has become popular on the internet, and it looks really sharp. It also has blue, red, yellow, and green buttons, which is a nice additional splash of color. You don't get any installation tools, though.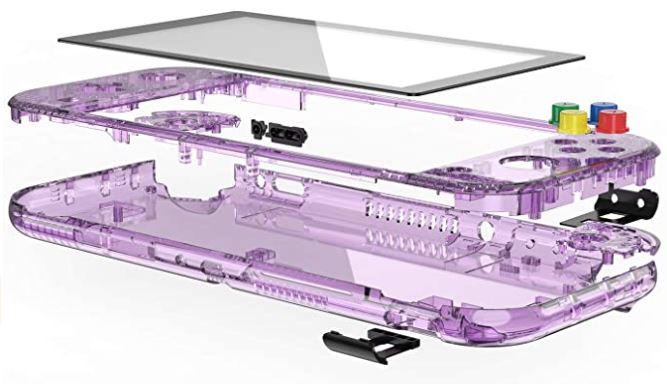 Final Verdict
So, which of these replacement housing shell is the best choice? It really depends what you're looking for. The eXtremeRate Replacement Shell is best if you want a complete kit. It comes with screws, drivers, and everything else you need. It also come in enough colors to satisfy just about anybody.
The Deal4GO New Full Shell Housing Case Kit is the best choice if you want an affordable replacement. There's nothing terribly fancy about it. It comes in four colors, and it's a one-for-one OEM replacement. It also doesn't have any screen protector or installation tools. But if all you need is the bare case, you're looking at a solid option.
The NSL Joycon Handheld Controller Housing is a great choice if you want a transparent atomic purple option. It's an OEM replacement, so you know it will go together as expected. It comes with a screen protector. Finally, it has those attractive multicolored buttons. This is definitely one of the better Switch Lite shells on the market.