If you're working with electronics, whether it be installing some new RAM in your computer or putting together your new Raspberry Pi project, static electricity is a big problem. For you, the worst that could happen is a minor shock that provides nothing more than a little discomfort. But for your electronics, that one little shock could mean the end of your hardware's functional life.
The electronics of today are made up of delicate components. They are designed to operate within a very specific voltage range. One small electric shock is often outside of this range, and should be avoided at all costs.
If you read any basic electronic manual, you'll notice that an anti-static wrist strap is one of the first things that they recommend. But it's often the most neglected. If you plan on doing any work with your electronics, you should definitely make sure that you pick one up.
You don't have to spend a lot of money. Here, we've listed three different options for any purpose. Let's take a look and see what you need to look for. Then, we'll help you find the one that's right for you.
Rosewill ESD Anti-Static Wrist Strap
If you've ever built your own computer, you've probably heard of Rosewill before. This company typically makes computer cases and components. While an anti-static strap isn't in their typical line of products, it's something that all of their customers will need.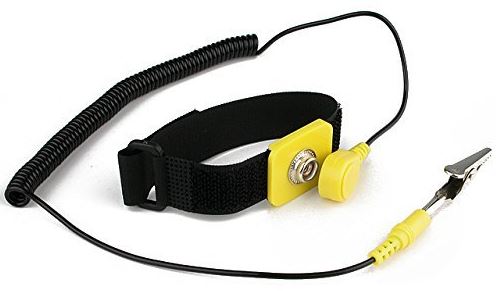 Design
The Rosewill ESD Anti-Static Wrist Strap has a simple design with a few key elements. Basically, a good wrist strap only needs to perform three different tasks. It needs to connect securely to your wrist, it needs to connect securely to a grounding point, and it needs provide a connection between two of these points that doesn't get in your way. They've implemented a few design features that improve the straps functionality in all three of these key areas. Because there's a large, easy to adjust clip, you'll easily be able to adjust it to fit your wrist. All it takes is a little tug of the strap, and it will tighten or loosen depending on your needs.
The clip itself is designed to be secured, so it doesn't accidentally disconnect from your grounding source. Many other grounding straps have a removable clip. This is handy if you're working with a large variety of high and low voltage devices, but for most users this provides no benefit. By securing the clip to the cable, there is a much lower chance of failure.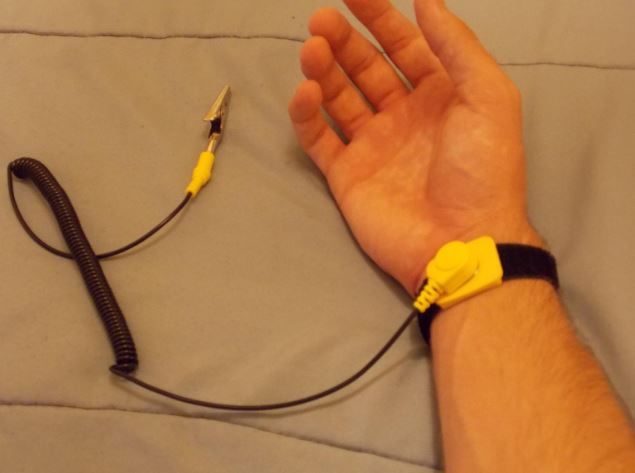 Finally, they've used a looped cable that can stretch to a length of one meter. The cord is easy to stretch out, so you've got a lot more working room than with most straps on the market. Overall, this is a very well designed anti-static wrist strap – one of the primary reasons we selected it.
Resistance
The resistance of a strap is the primary metric you should use to determine how effective they are. Every conductive metal has a bit of resistance in it, and this number identifies how easily electricity can flow through it. This strap is rated at 10K Ohm, which is quite low. This makes it ideal for use with any sensitive electronics. Its primary benefits are realized when working with computers, integrated circuits, or anything that involves microprocessors. While this strap won't be ideal for higher voltage applications, it's perfect for anyone working with small electronics.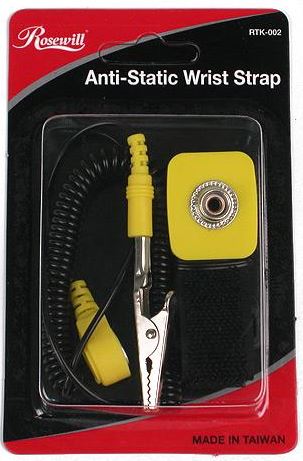 Comfort
After putting this strap on, we noticed that it was much more comfortable than others we've used in the past. Our main problem has always been with the cable. Generally, the cables tend to clip on quite tightly. When you move, they don't want to rotate, so you find that the cable gets looped up in awkward positions. Although the button snap that attaches the cable to the strap is firmly attached, it rotates with ease. This means that it won't get tangled up while you're using it, improving the comfort by a large margin.
That being said, one of the most common complaints about ESD wrist straps is that they're too tight. Because this one is adjustable, its' possible to loosen it off quite a bit. We do not recommend this at all. In order for these straps to be effective, they need to be making good contact with your wrist. It doesn't have to be uncomfortable, you just need to tighten it enough so that it doesn't move around.
Vastar ESD Anti-Static Wrist Strap
Vastar produces a wide range of products intended for people who are repairing or using mobile phones. Like the previous manufacturer, they've released their own anti-static wrist strap to make sure that anyone who is using their products can do so safely.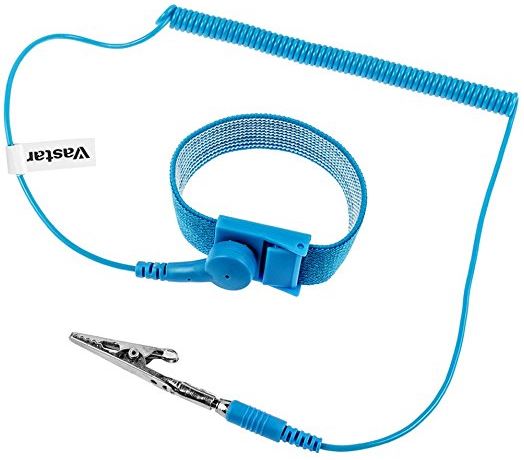 Design
The first thing you'll notice about the Vastar ESD Anti-Static Wrist Strap is that it stands out. It's bright blue color might look trendy to some, or unappealing to others. But the one thing we can all agree on is that you won't forget to put it on! The strap has a very lightweight design, as the entire thing is much more compact than other models. The elastic band is very stretchy and quite thin. This allows you to tighten it firmly around your wrist without any discomfort. The button connector is much larger than on some models, which has the added benefit of securing the strap quite well.
Another handy design element the manufacturer has implemented is the removable alligator clip. There are two different things you can do with this. If you're using your strap for work purposes, many electronics repair companies provided grounding points at your workstation. This allows you to use their supplied grounding cable and clip it directly onto the strap. The connecting button is standard size, so it should work with almost any system.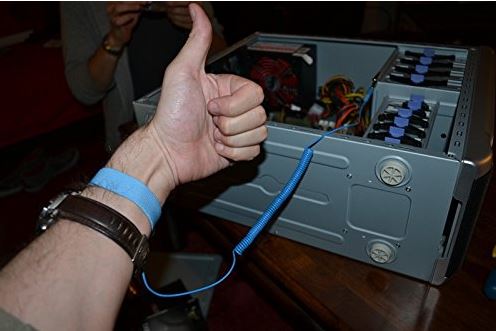 The connection from the cable to the alligator clip is what they call a banana plug. Banana plugs are different from most in the sense that they bend outwards. As you can probably guess from the name, it looks a little like a banana. This allows the clip to stay firmly connected, so you don't have to worry about it disconnecting unintentionally.
Resistance
This is a universally rated strap, so you can use it on both low and high voltage electronics. It's not just for computers, but also electronics that have higher levels of current such as amplifiers and televisions. They don't publish the exact resistance, but we tested it with our digital multimeter and it came out as a dead short – exactly the kind of rating we want to see.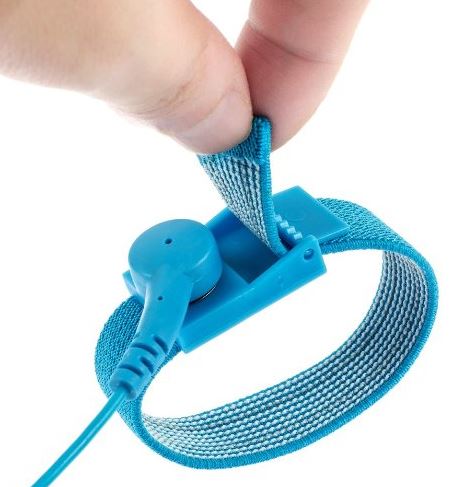 Comfort
The simple design of this strap makes it much more comfortable than cheaper models we've used in the past. Its flexible band is very stretchy, and adjusting it only takes a few moments. You simply flip up the little clip on the end, pull the elastic band to the appropriate size, then clip it back down. This can easily be done with the strap on your wrist, so there is no need to take it on and off while you try to get the sizing right.
KingWin Anti-Static Wrist Strap
KingWin produces all types of electronics for both business and consumer applications. They have a large number of storage and charging systems, and offer this inexpensive grounding wrist strap as a bonus for their customers. Lucky for you, you don't necessarily have to be a previous customer to grab one from their Amazon store yourself!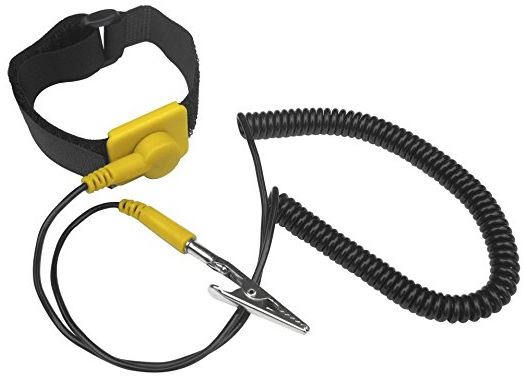 Design
The KingWin Anti-Static Wrist Strap is a little heftier than some on the market. It's got a very durable clip, a nice thin cable, and a tough Velcro band that is easy to wrap around your wrist. Because there are no plastic brackets, this is a strap that can stand up to much more abuse than other models. It's clearly designed to work well in an industrial environment, and their standardized snap is the first indicator of that. You can connect it to an employer supplied ground, use a longer cable, or change alligator clips if you wish.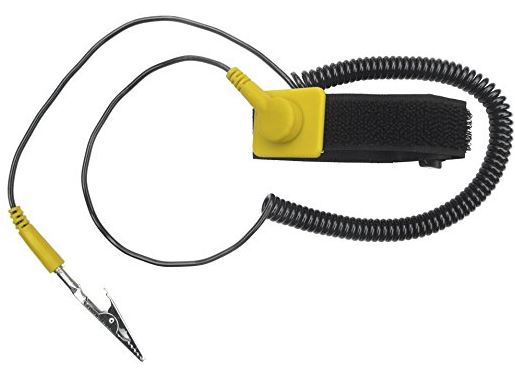 It's available in two differ colors, each of which come in two different sizes. You have the standard black and yellow model, and the bright and cheerful blue model. They are sold in single packs of one, or multi-packs of 5.
Resistance
The resistance on this model is slightly higher, making it useful for use in higher voltage devices. Appliances, audio equipment, and power transformers can all be used with this strap. However, the range is still suitable for more delicate devices. In many ways, this strap is a great for all applications.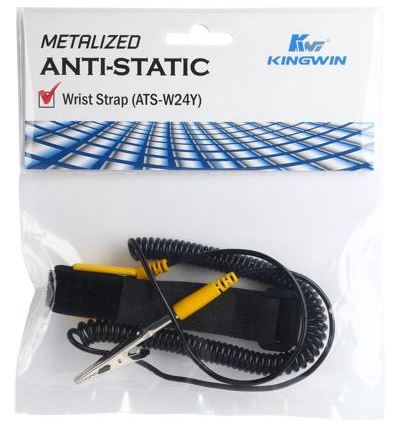 Comfort
When you're working with higher power devices, it's more important than ever to make sure that you have a good connection. For that reason, this strap is designed to fit a little tighter than some. Although it's not exactly the most comfortable on our list, it's something you get used to after only a few minutes. Anyone who's working on important or expensive devices will understand that the trade-off is well worth it.
Which Anti-Static Wrist Band is Right for Me?
Not sure which one to choose? We've selected these three bands because, in our opinion, they serve almost every purpose one might want them for.
The Rosewill ESD Anti-Static Wrist Strap will be the first choice for the average consumer. If you're just looking to work on your own computer, this strap is affordable and reliable – everything you need to get started right away. Plus, it's the most comfortable on our list!
If you're using the strap in a work setting, the Vastar ESD Anti-Static Wrist Strap is a good choice. You'll eventually want to change the worn-out alligator clip, and the fact that it's removable makes this easy. It can also connect to a standard grounding point, so you can use the built-in grounding point at your local work space.
Finally, the KingWin Anti-Static Wrist Strap is great for users who are working with higher voltage devices. Although it fits a little tighter, it's specifically designed for those applications.
If you've already got all the tools you need for working with electronics, then one of these anti-static wrist straps will be a great addition to your kit. But if you don't already have a set of tools, it might be work picking up these things together. Rosewill has a great deal on a 45 piece computer tool kit. When you factor in the cost of the band on its own, you're getting a great deal when you buy everything together.
What About Wireless Anti-Static Wrist Straps?
A number of companies manufacture so-called 'wireless' anti-static straps that are supposed to have all the benefits, without tethering the user to a grounding point. While they look like a great idea on paper, they simply don't work. The only way to truly ground yourself is to properly make connection with a live ground, and nothing else can be truly effective.