From the day it was released in 2017, the Nintendo Switch has revolutionized the way people think about game consoles. For decades, you more or less had two options for playing your games. On the one hand, you could go with a traditional console. This delivered superior graphics, more advanced games, and a more immersive experience. On the other hand, you could use a handheld game system. This provided portability, as well as a way for more "casual" gamers to enjoy popular franchises. For many gamers, this system worked well, since you could buy whatever game system worked for you. However, if you wanted both a portable system and a traditional console, you'd have to spend money twice.
The Nintendo Switch offers great value for gamers who want to play on the road and in their living room. But what if you want to pay less for a handheld version of the same system? To meet this demand, Nintendo released the Switch Lite. This is a slimmed-down version of the original Switch that's designed for handheld use only. But a portable game system is likely to take more of a beating than a regular console. And since you don't have to worry about docking your Switch Lite, there's no reason not to use a case.
Today, we'll be looking at three of the best hard shell cases for the Nintendo Switch lite. First up is the HORI Hybrid System Armor. This is a simple, lightweight snap-on case that's constructed from solid plastic. Next, we'll check out the JETech Protective Case. This case is transparent, with expanded, rubbery grips for larger hands.
Finally, we'll look at the HORI DuraFlexi Protector. This case is similar to the JeTech in that it's transparent, but it has a slim profile like the other HORI case. Which one is the best? Let's take a closer look, and see how each of them stacks up.
What Makes the Switch Lite Different From the Original Nintendo Switch?
As we mentioned, the original Nintendo Switch is unique primarily because it's a hybrid model. You can use it as a traditional console or as a handheld system. You can also pop out the kickstand and use it in "tabletop" mode. It's not known for insane graphics or high framerates. Instead, the Switch's main attraction is its versatility. Another attraction is access to Nintendo's game library, which is full of exclusives you won't find elsewhere. You can't play Mario Kart or Legend of Zelda, Breath of the Wild on any other system.
When it's in docked mode, the Switch also has a versatile controller. By default, the Joy-Con controllers are designed to be attached to a Joy-Con grip for most games. However, they can also be held separately in each hand. This is yet another option that you won't see on other consoles. When it's being used in handheld mode, the Switch doesn't offer this feature. Instead, the Joy-Con controllers simply mount on the sides of the system. This takes just a second, so making the "Switch" is as convenient as it gets.
The Switch Lite is designed to offer Nintendo's popular game library to players who don't want a traditional console. You pay significantly less, which offers a better value for some gamers. In addition, the form factor is slightly smaller, which allows for improved portability. This means that the screen is slightly smaller, at 5.5 inches instead of 6.2 inches. But you still get 720p resolution, which is all you really need at this size. On the downside, you can't play your games on a TV, nor can you dock your Switch Lite. The controls are also fixed to the side of the unit, and cannot be detached.
Yet another difference in the Switch Lite is under the hood, in the form of the new Tegra X1+ chip. At first glance, the specs are virtually same as the original Switch chip. But the Tegra X1+ is significantly more efficient, offering longer battery life. You can game for up to 7 ½ hours on a single charge, although your exact performance will vary. This is comparable to the performance of the newer model of Switch that dropped in August of 2019. It was more or less identical to the original, but sported a larger, more powerful battery for more playtime.
When it comes to save games, the Switch Lite supports the same cloud features as the original Switch. As long as you have a Nintendo Switch Online subscription, you can play your games wherever you go. As with the original Switch, though, this only works with games that support cloud saving to begin with. Transferring data between two devices also works the same way as it does on the original Switch. You can certainly move data back and forth as you desire, but you have to transfer your whole account. This makes it a time-consuming process that you probably don't want to deal with every day. As a result, owning both a Switch and a Switch Lite can be more trouble than its worth.
Switch Lite Controllers and Games
We've talked about the difference between the original Switch and Switch Lite consoles. But what about the difference between the controllers? And what does owning a Switch Lite mean for your gaming experience? Let's start with the controllers. As we already mentioned, the controllers on the Switch Lite are an integral part of the unit. This is a huge difference from the original Switch, which offers a variety of controller configurations.
We should point out, though, that you can still use a different controller, such as a Joy-Con or Pro Controller. You just have to use a Bluetooth connection, as well as buy a separate controller. You'll also need an aftermarket kickstand or docking stand to hold your Switch up. Whether or not this is worth the money and effort depends on your needs. It also won't work for a GameCube controller, since that requires a USB adapter. With no USB port on the Switch Lite to plug into, the adapter has no way to connect.
The controls themselves are mostly the same as the original Switch, with the same thumb sticks, triggers, and buttons. The one exception is the set of directional buttons on the left controller. On the Switch Lite, these have been replaced with a standard D-pad. This can be helpful if you have fat fingers or large hands, since you get more real estate to press. It's also great for games that require a lot of precision jumping.
When it comes to the game library, you're looking at most of the same titles. All the Nintendo Switch's games are compatible with 720p graphics, so there are no issues there. The main issue is whether or not the games depend on Joy-Con controllers. These include games that make heavy use of the rumble function, such as Super Mario Party and 1-2 Switch. It also includes games that require movement, such as Let's Dance. These games will technically work in tabletop mode, but you'll need an external controller to play them. In the case of Just Dance, you'll also have to consider the fact that the game is basically unplayable on a 5.5-inch screen. But if you're looking for a dedicated mobile game system, you probably don't care about these games anyway.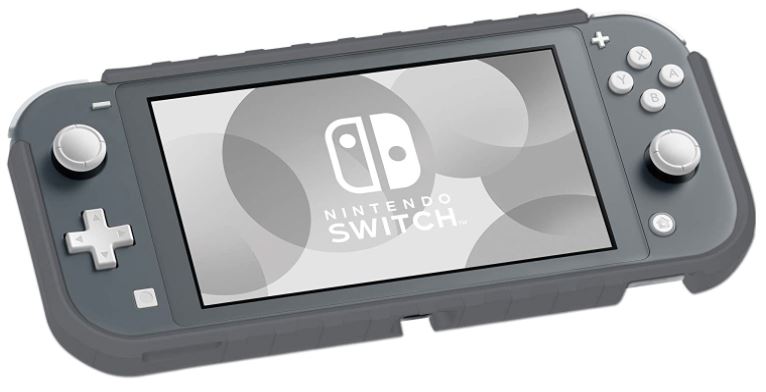 HORI Hybrid System Armor
If you already own a few Nintendo Switch or Switch Lite accessories, you've already heard of HORI. They produce everything from gaming earbuds to ergonomic controllers to arcade-style fight sticks. Because of this long track record, we were excited to see their hard shell case.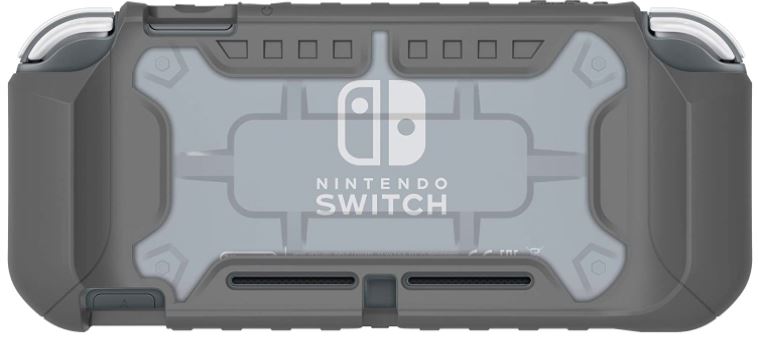 The HORI Hybrid System Armor is HORI's entry level hard shell case. It has a solid color, so you won't see your Switch's case. Instead, you'll see either grey, black, turquoise, or yellow. To be fair, these do match the most popular Switch Lite colors, and the black variant has an open-back design. The main frame is constructed from polycarbonate, which provides a sturdy base. It's capable of standing up to all but the worst drops, keeping your Switch safe.
The edges of the Hybrid System Armor are coated with a layer of rubbery TPU. This provides shock absorption in the event of a drop, as well as a comfortable grip. It's also textured for added security. The form factor hugs your Switch Lite like a glove for easy portability, as well as a good fit for smaller hands.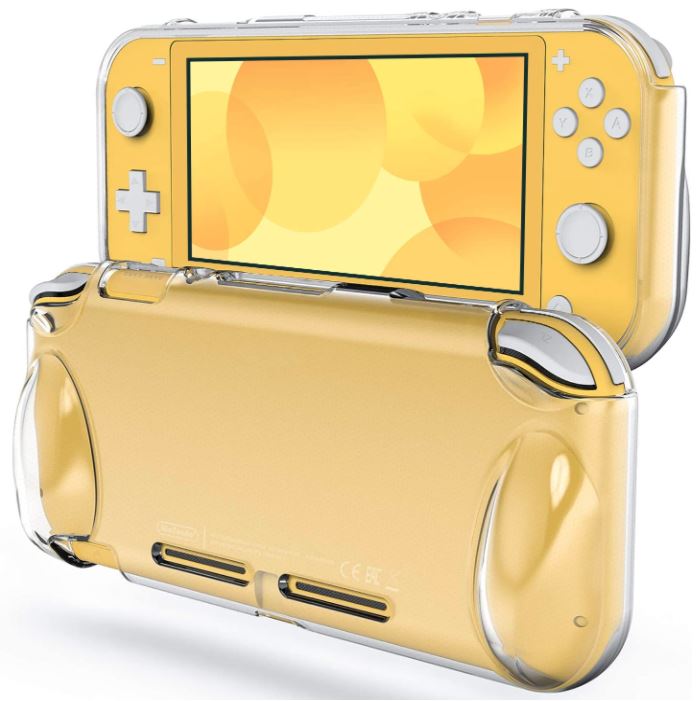 JETech Protective Case
The JETech Protective Case is constructed entirely from rubbery TPU. This provides a full measure of protection for your Switch Lite. Not only is it virtually impossible to break, it's also soft enough for excellent shock absorption. It's also great at scratch resistance. In terms of protection, it's comparable to some premium smartphone cases.
The default version of this case is transparent, making it compatible with any color. The gloss and shine around the edges gives your Switch Lite a truly 21st-century appearance. And if you prefer an understated black case, you order the JETech case in black as well.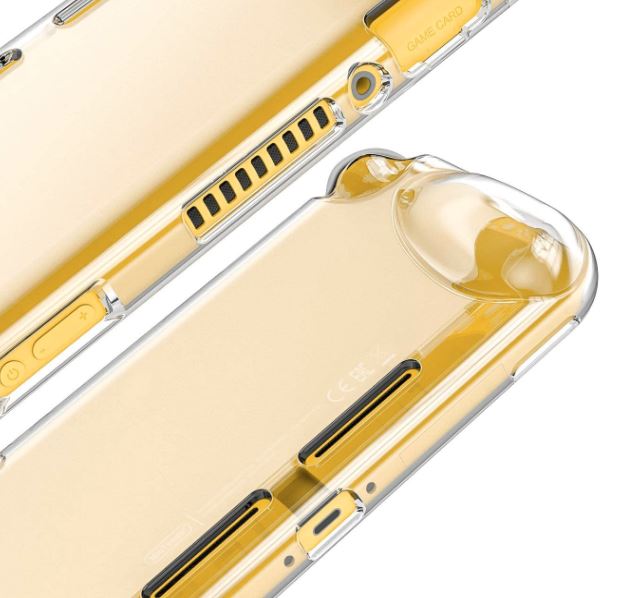 One useful feature of the JETech Protective Case is the expanded pair of grips. They're not enormous, but they're about twice as thick as the default Switch Lite grips. If you have larger hands, you'll actually have a little room to stretch out. And even if you don't, the grips aren't large enough to cause discomfort.
HORI DuraFlexi Protector
The HORI DuraFlexi Protector combines the benefits of the JETech case and the other HORI case. In terms of protection, it's more similar to the JETech case. This is because of the virtually identical construction. The DuraFlexi Protector is constructed entirely from TPU. This means it's soft and rubbery, with plenty of shock absorption as well as a forgiving grip. The all-TPU design also allows for a secure fit, since it hugs your Switch securely. It's only available in a transparent version right now, not black, but this should work for most people.
Like the first HORI case we looked at, the DuraFlexi Protector has a form-fitting design. This makes it a great choice if you like the form factor of the standard Switch Lite controls. As an added bonus, both HORI cases are officially licensed by Nintendo. This doesn't offer you any special guarantees. It does, however, indicate that Nintendo is willing to put their seal of approval on a particular case. In and of itself, that's something worth considering.
Final Verdict
Clearly, each of these Nintendo Switch Lite hard shell cases is a good value. But there are important differences that make them useful for different purposes. Let's go over what we've learned about each one of them. To begin with, we reviewed the HORI Hybrid System Armor. This case is a great choice if you own a plain black Switch Lite, and if all you need is protection. That said, it doesn't offer any grip expansion for larger hands. Moreover, because it's solid in color, it's not useful for most Switch Lite options. In the best case, you can choose the grey, turquoise, or yellow. But that's still somewhat limiting.
Second, we looked at the JETech Protective Case. This case is constructed from rubbery, transparent TPU. Because it's transparent, it works well with any color of Switch Lite, and lends the system a futuristic look. The black option also works well with a plain black Switch. That said, the main attraction here are the fat grips. These grips are very comfortable, and make the JETech choice a great choice if you have larger hands.
Finally, we checked out the HORI DuraFlexi Protector. This case is basically a combination of the last two cases we looked at. It's clear, like the JETech case, but it has a form-fitting profile, like the other HORI case. If you like the JETech's clear look but want a slimmer form factor, the DuraFlexi is an excellent choice.
Meet Derek, "TechGuru," a 34-year-old technology enthusiast with a deep passion for tech innovations. With extensive experience, he specializes in gaming hardware and software, and has expertise in gadgets, custom PCs, and audio.
Besides writing about tech and reviewing new products, Derek enjoys traveling, hiking, and photography. Committed to keeping up with the latest industry trends, he aims to guide readers in making informed tech decisions.