For any hobbyist machinist, a digital micrometer is essential. These tools are used to take measurements, but they're far more advanced than your standard ruler. They're the most accurate method to measure the distance between two points, and the design makes them particularly for outer diameter measurements, although some models are suitable for inner diameter as well.
Once you start to shop for one, you'll realize that this is no easy job. The expensive models claim that the inexpensive ones are inaccurate and worthless. The inexpensive models claim that the expensive ones are overpriced and unnecessary. Some people believe that you should only buy from one brand, while others believe that it doesn't matter. There's so much conflicting information out there, that you often don't know exactly what to buy.
Fortunately, the decision is much easier than you think. Today, we're going to look at the three best digital micrometers on the market. We'll show you the differences between them, and help you understand everything you need to know.
Mitutoyo Digital Micrometer
Ask anyone who uses a micrometer in a professional setting, Mitutoyo is the brand to know. They've been on top of the industry for many years, and tend to produce the best products on the market. While you pay a little more for them, you always get your monies worth.

Design
The Mitutoyo Digital Micrometer is designed a little differently than many other models on the market. It's got a very wide C shaped clamp, which uses a piston for measurement rather than a set of jaws. The electronic component of it is encased in a durable blue plastic, with recessed rubber buttons for changing the settings. It's a little thicker and larger than most, primarily to improve durability and functionality. The important thing is that the display is nice and large, making it easy to read, even when you're using it in an awkward position.
Measurement & Accuracy
This micrometer is designed to take measurements anywhere from 0 to 1 inch, or 0 to 25mm. It can display both inches and metric, and metric measurements are displayed in decimal form. There are certainly some purists that feel metric measurements should always be displayed the traditional way, but if you're anything like us you can't remember all the conversions from 1/64th of an inch. If you have access to a calculator, it's easy to convert this. But this micrometer is so accurate that if everything was displayed as fractions, you'd lose some of its accuracy when converting back to decimal.
How accurate is it? It can measure all the way down to 0.00005" of an inch, or 0.001mm. Your measurement will never be out more than that.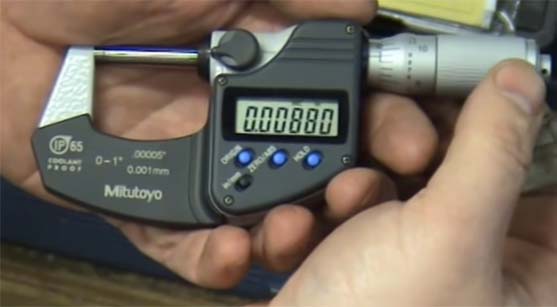 Durability
The Mitutoyo Digital Micrometer was designed to be used in tough environments, so it's capable of taking a lot of abuse. The entire thing is IP64 rated. This means it can stand up against liquids, heat, oil, dust, and anything else that's in the environment. This is a tool you can take with you to work, and not worry about damaging it.
One of the most important parts of a micrometer is the measuring surface. If it gets chipped or damaged, then it won't be able to take accurate measurements anymore. Because this uses a cylinder-shaped measurement surface, it's naturally much more durable than a thin piece of metal. But to make it even more reliable, they coated the entire thing with carbide – something that is expected in heavy industry.
Usability
Using the Mitutoyo Digital Micrometer is very simple. You just turn it on, and it will automatically zero itself while closed. You then rotate the thimble, which is the large metal knob on the end. On the right you'll see a highly accurate scale that allows you to open or close the micrometer. This unit is designed for very fine movement, so you need to rotate it quite a bit to move it any noticeable distance. This is great for taking ultra-fine measurements, but very slow otherwise. This is why they've installed the ratcheting thimble on the very end. Each rotation of this thimble is equal to five rotations of the larger one, and you get a noticeable 'click' after every rotation. This gives you tactile feedback letting you know exactly how far you've adjusted your measurement, so it's easy to know where you're at.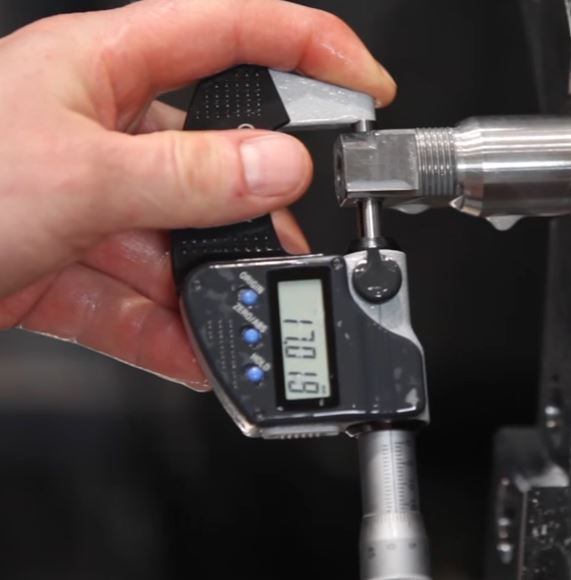 Outside of the thimble, there are a few other features you'll be happy to have. The zero allows you to set a new zero point, perfect for examining the difference between two measurements. You can, of course, switch between metric and imperial at the touch of a button.
Finally, there is one feature that could make or break this purchase for many users. If needed, it's available with a certificate of traceability to NIST. This is a professional certification where every step of the construction is documented and stored with a 3rd party regulating body. Most industrial settings require this certificate if the micrometer is used for construction or quality assurance. Alone, just the fact that this is even available shows the high quality to which this micrometer is built. Whether you're a professional or a hobbyist, this is the model you want if accuracy is important to you.
Neiko Digital Caliper (Micrometer)
Not everyone needs an industrial grade certified tool. Some people just need a quick and easy way to take measurements, and Neiko provides that. They produce a wide range of tools for a wide range of purposes, and the Neiko Digital Caliper is another product in their list of affordable products.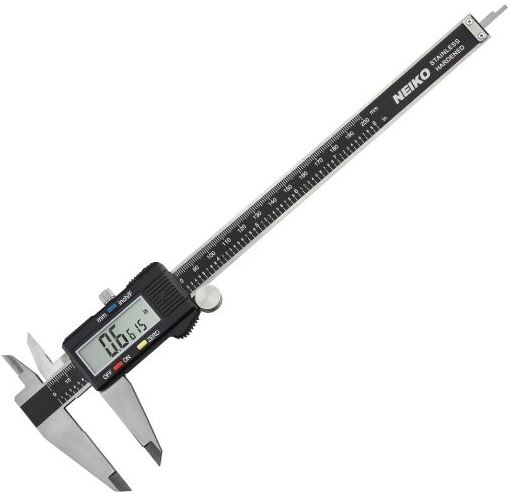 Design
The Neiko Digital Caliper has the standard clamp design that most people are familiar with. It's essentially one giant ruler with a sliding measurement face on the middle. Because of its design, it's capable of taking both inner diameter measurements and outer diameter ones. This is due to the reversed measurement faces. The main components grab around your material, and take the distance between them. For inner measurements, you'll see that the same metal extrusions are reversed on the back. As long as your inner diameter is larger than 1/8th of an inch, you can measure them.
This device is almost entirely metal, with the exception of the plastic case in the middle. This houses the large LCD screen, which is capable of showing measurements in both fractional and decimal notation.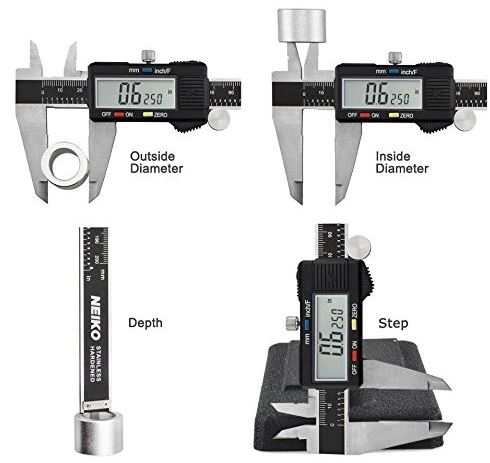 Measurement & Accuracy
The Neiko Digital Caliper can take measurements from 0 to 8 inches, as well as 0 to 200mm. The manufacturer claims that it has a resolution of 0.0005" and an accuracy of 0.001," which is almost unbelievable at this price range. When comparing it against several other models, we found a few minor issues. For starters, there is a very small gap between the two measurement faces. They will also tend to move a little once locked into place. These two issues combined mean that we saw an error of up to 0.003" in extreme cases. While this error is much higher than the manufacturer claims, this is still incredibly accurate for most hobbyist purposes, but certainly worth keeping in mind.
Durability
Made almost entirely from stainless steel, this micrometer should be able to withstand a lot of use. For larger use, you'll want to use the inner part of the measuring surfaces. These surfaces are a little thicker, and provide a flat surface that takes a more accurate measurement. But for very small measurements, you can use the tips which have been filed down to a thin point. For small measurements, this is fantastic, as long as you take care of them properly. If you are too forceful with them, it's possible to chip or damage these surfaces, which can reduce the accuracy of your micrometer.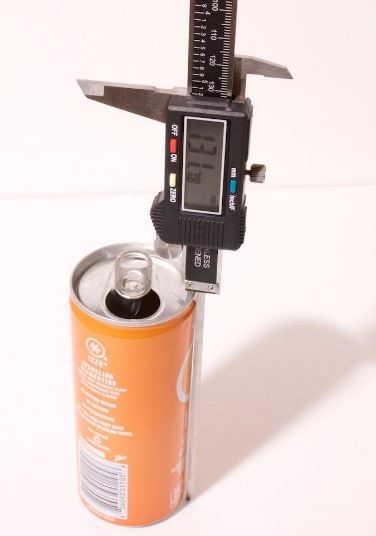 Usability
The Neiko Digital Caliper is easy to use for most measurements. You simply open it up, put the grips around whatever you want to measure, then gently close it. If you're looking to make fine adjustments, that can be done from the small thumbwheel. There is also a button to zero the measurement, so you can easily compare two different measurements.
iGaging IP54 Electronic Digital Caliper
iGaging is another player in the affordable tool industry, although they tend to specialize is measurement devices. While this micrometer isn't quite as well-featured as the Neiko model, it is much more accurate.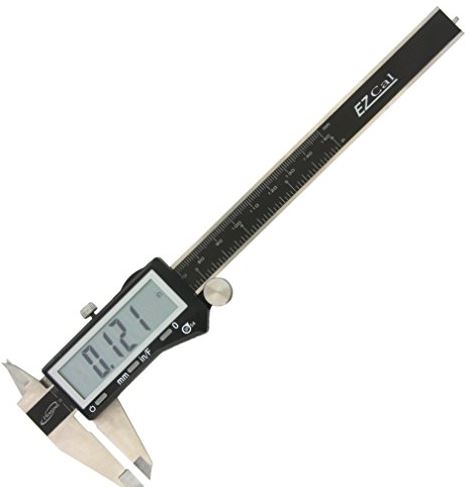 Design
The iGaging IP54 Electronic Digital Caliper is another of the sliding micrometers, so you'll likely already be familiar with the design. It's incredibly minimalistic in design. You've got the measuring surface on the front, with points for both inner and outer diameter measurements. You've got the long base which is marked with measurement points, perfect for quickly setting rough measurements. Then you've got the display, which is the largest one we've seen on any micrometer so far. Finally, the large thumbwheel is intelligently placed at the base, where it's easy to use.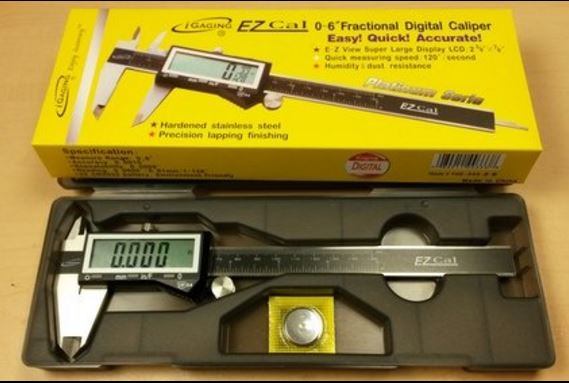 Measurement & Accuracy
The iGaging IP54 is capable of taking measurements from 0 to 6," and these measurements can be displayed in either fractional, decimal, or metric notation. When comparing the accuracy to other micrometers, we found that it was impressively accurate for the price. It's about 30% more accurate than the Neiko model, which should be fine for any hobbyist. Even in professional uses, it's 0.002" margin of error is only going to be noticeable with small measurements below 1," for everything above it will be great.
Durability
As the name implies, this micrometer is rated for IP54. This means that its' entirely sealed, protecting it from dust, oil, fluids, or any other material it comes into contact with. It's long steel frame is very well put together, and we didn't notice any problems with how it was put together.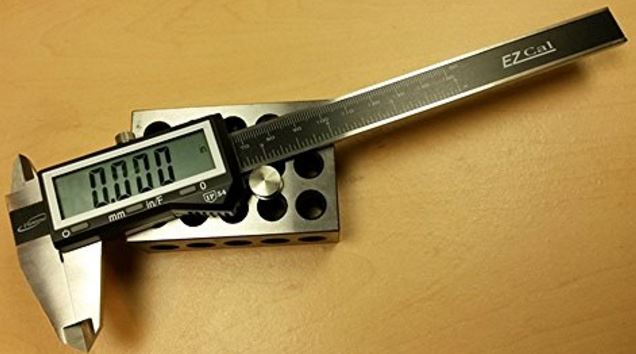 Usability
When designing this micrometer, it's clear that iGaging's goal was simplicity. Using it couldn't be easier. You just adjust it to your desired measurement, put it in place, and use the fine adjust to make sure it's tight. The one additional feature it has is the securing screw on top. You can tighten this down so that it doesn't move. This is great for comparing a number of similar items, and making sure that they are all within tolerance.
Which Digital Micrometer is Right For Me?
Wondering which one you should pick up? Fortunately, the choice is very easy. The most important thing to figure out is how important accuracy is for you. If you need highly accurate measurements under 1 inch, then the Mitutoyo Digital Micrometer is by far the best option. If you're using it in a professional setting, you'll appreciate the fact that you can get all of the appropriate documentation with it.
But for measurements over 1″, working within extremely tight tolerances isn't quite as important. If you still want a unit that's as accurate as possible, we suggest the iGaging IP54 Electronic Digital Caliper. It's got both superior accuracy and high durability, making it a tool that will last you a long time. If you're not concerned about accuracy, the Neiko Digital Caliper is still accurate enough for almost all purposes, and can save you a few dollars while you're at it.