If you're ever in a car accident, your insurance company will generally rely on the police report to decide your claim. Depending on your insurance, your vehicle may not be covered for damage incurred due to at-fault accidents. If the police determine that you were at fault for an accident, it can also affect your rates going forward. After all, insurance companies charge more for people who have a history of causing accidents.
One way to avoid being found at fault is to have a video record of any crashes. This can help tremendously if it's a matter of your word versus the other driver's. It's also helpful in the event that you encounter an insurance scammer. Many scammers will work with an accomplice, who acts as a phony witness for them. Suddenly, it can be your word against not just the other driver's, but a supposedly-impartial witness. Without dashcam evidence, you can end up being found at fault for an accident you didn't cause.
Note: At no extra cost to you, we may earn a commission for purchases using our links. Learn more.
Today, we're going to review the JOMISE K7 Dash Cam. This is a compact, easy-to-install dash cam that mounts directly to your windshield. It's made to be fairly simple, for people who don't know a lot about electronics. But just because it's small and simple doesn't mean it's not worthwhile. In fact, for many people, small and simple is exactly what you're looking for. We're about to take a deep dive into all the K7's features, flaws, and strong points. Once we've given it a thorough once-over, we'll know everything we need to know to render our verdict.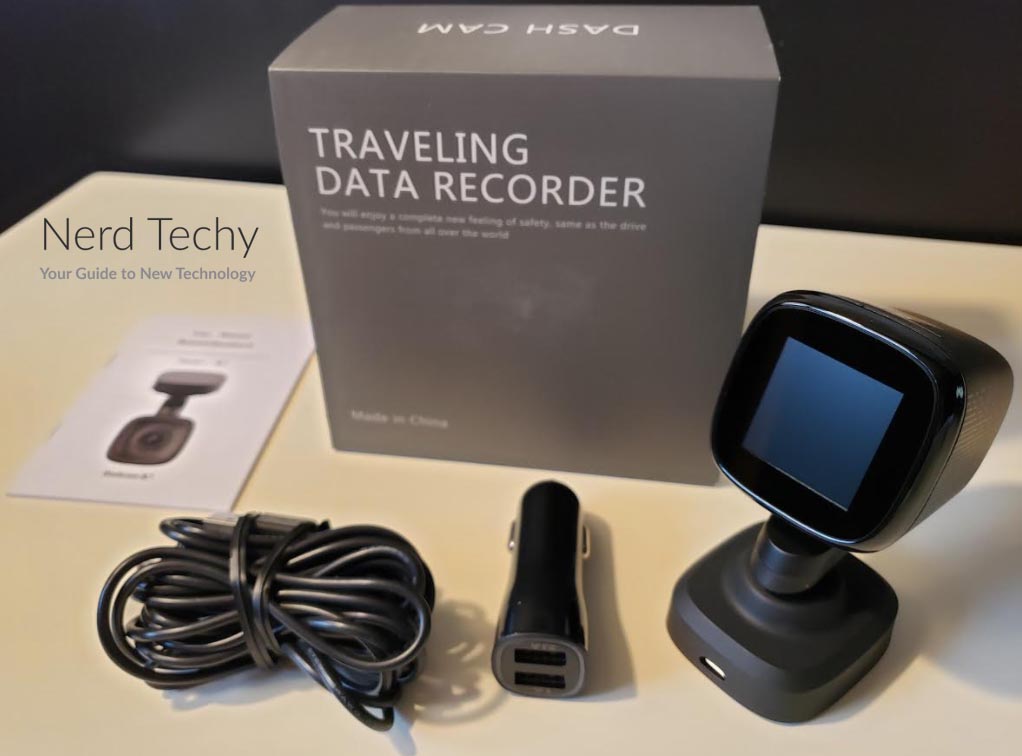 Overall Design
The JOMISE K7 Dash Cam (30% OFF discount code: 8HN286QR) is an ultra-compact dashcam that measures less than two inches to a side. At only three inches long, it's also exceptionally short. This compact size has two major advantages. First, it won't block your view easily, regardless of where the camera is positioned. Second, it can fit in places other cameras can't. For instance, it can fit behind the rearview mirror on many cars. That's an option you don't get with a lot of dashcams!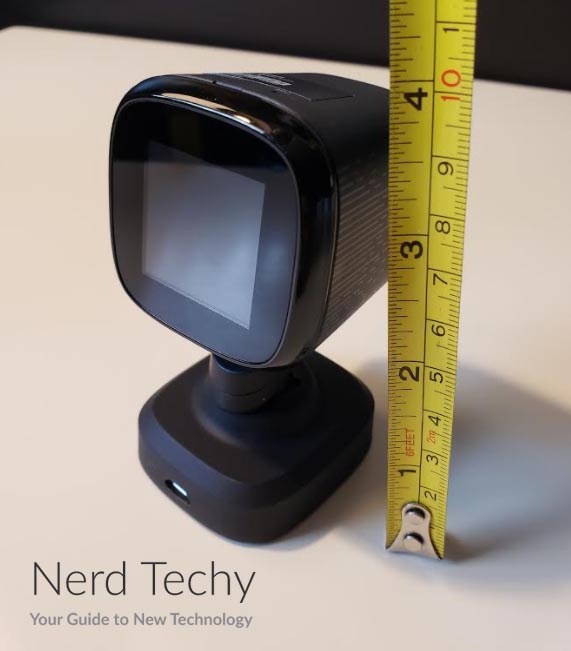 The housing is black ABS plastic, with decorative grey striping on the sides. The back of the camera sports a 2-inch touchscreen display, which lets you control most functions. You can review video, select videos to save, and delete unwanted videos. When you're not doing anything, the screen can also be programmed with a custom screensaver. This is basically a slideshow of any pictures you want to store on the camera. To be honest, it's a bit baffling why anyone would want a distracting slideshow playing while they drive. But if you spend a ton of time idling in traffic, you'll have pictures of grandma to keep you company.
The camera unit is mounted on a vertical bracket, which attaches to a 360-degree swivel mount. This means you can easily aim the camera in any direction you want. Just grab it and tilt it however you need to. The bracket also supplies power to the camera, and there's a USB Mini-B port in the back of the mount. There's a cable included in the kit, along with a 12-volt DC USB power adapter. Along with some adhesive pads, that's everything you need to get started.
One thing the K7 doesn't have is a backup camera. It could conceivably be pointed backwards, but that's not the same thing. If you need a backup camera for parking or security, check out the Boscam K7 Pro. It will do what you're looking for, but the display takes up a considerable amount of space.
Installation
Installing the K7 Dash Cam is remarkably easy, especially compared to most other dash cams. The hardest part is prepping for the adhesive, which involves thoroughly cleaning part of your windshield. Wait a minute for the cleaner to dry then position the dash cam. You don't have to worry about where it's pointed for now, as long as it's in the correct general direction. Remember, you can pivot the camera later! The key is to ensure you know exactly where you want the camera to be. Once that's done, follow the instructions to apply the adhesive and secure the camera.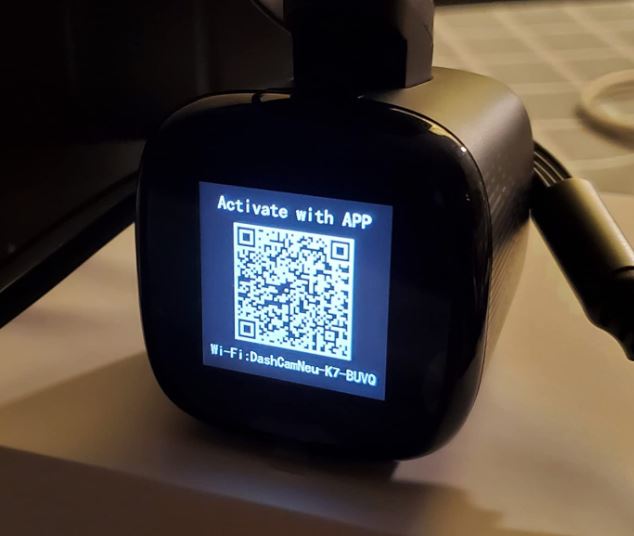 Once that's done, you need to plug the K7 on and calibrate it. You can run the wire around your windshield trim if you want better concealment. That said, there's no reason you can't leave it dangling if you want to. Either way, power up the camera, and follow the instructions. You'll need to install the HiDashcam app on your phone and calibrate it. This is so the camera knows where to look for vehicles in front of you, stop lights, and other objects. Without calibration, the smart features won't work! The app can also be used to operate the camera, but is not required. If you'd rather delete it after calibration, you can do everything you need from the K7's on-board controls.
The main reason this camera is so easy to set up and install is that there's no rear camera. If you need a rear camera as well as front, consider the JOMISE D530. It has two cameras, so you can record in both directions simultaneously. That said, wiring the rear camera can be challenging for a novice; you'll want to hire a mechanic.
Video Quality and Storage
The JOMISE K7 can record in two different resolutions. You can choose 2,560 x 1,600 pixels (4K) at 30 FPS, or 1,920 x 1,080 pixels (1080p) at 60 FPS. Both have their strengths and weaknesses. The 4K resolution allows you to see significantly finer details, which is generally better. That said, the slower frame rate means that you're more likely to see motion blur. So at higher speeds, 4K at 30 FPS is actually less desirable than 1080p at 60 FPS. On the other hand, higher resolution and lower frame rates are a better choice for city driving.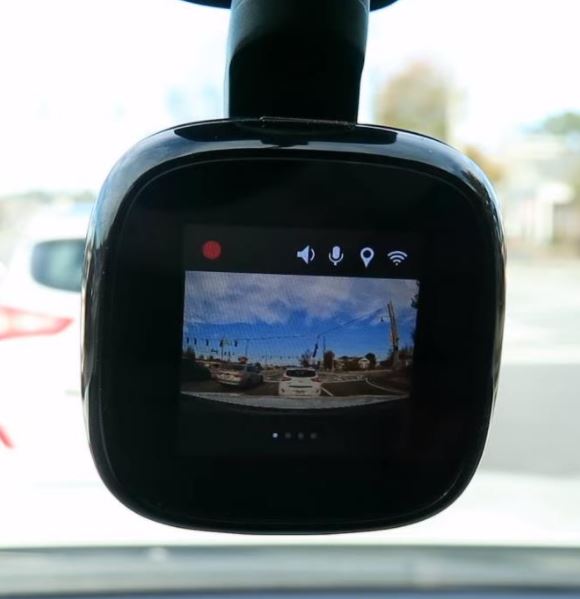 The camera has a wide angle, 170-degree lens, which is almost fisheye but not quite. You can't literally see your side view mirrors or the side of your windshield. That said, you'll be able to see all three lanes starting from well behind your front bumper. This is ideal coverage for getting footage during an accident.
Nighttime performance is what you'd expect from a dash cam, not a security camera. The K7 has a wide aperture that gathers plenty of light, along with Sony STARVIS sensors. This means you get excellent clarity and true color even in very low light. However, in total darkness, you still see nothing. Considering the fact that you'll be using headlights at night, this isn't really a major concern for most people.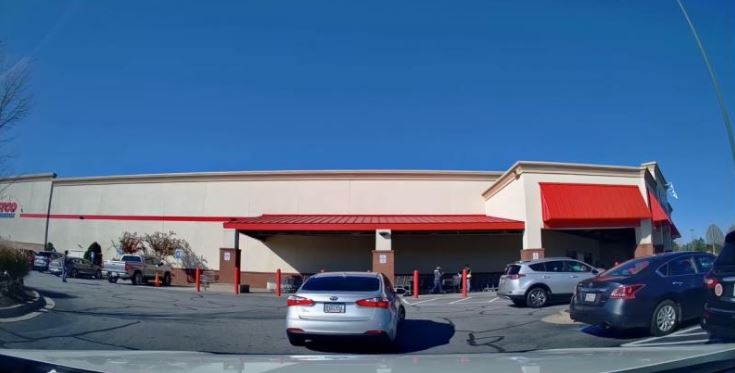 If you do need night vision — for instance, for an overnight parking camera — there are options. The Lanmodo Vast Pro is an excellent choice. It offers gorgeous night vision as well as top-tier daytime performance, but it's more expensive than most dash cams.
For storage, you get a single Micro SD slot. The camera supports SD cards with 32, 64, or 128GB capacities, which is standard for a dash cam. You'll want to format your card in the camera before use. If you use a 128GB card, you'll have about two days' worth of storage. When the card fills up, you don't have to worry about manually clearing it. The on-board software uses loop recording, so the oldest footage will be automatically overwritten.
Extra Features
In addition to the basic features we've already discussed, you get a few extra bonus features. First off, the app will allow you to download videos to your phone directly from the camera. As long as you're in Bluetooth range, you'll never have to worry about swapping out an SD card. The app is lightweight and easy to install as well as free, so there's little reason not to use it.
The K7 has a built-in GPS sensor that keeps track of your car's location. It also tracks the time, date, and your current travel speed. All of this information is embedded in each video, which makes for even better evidence. In the event of a crash, the accelerometer will detect that there has been an impact. At that time, that portion of the video will be instantly locked and saved in a special folder. This folder can be deleted manually if you desire. However, videos in this folder will never be deleted by loop recording. This way, they'll be around as long as you need them for your insurance claim.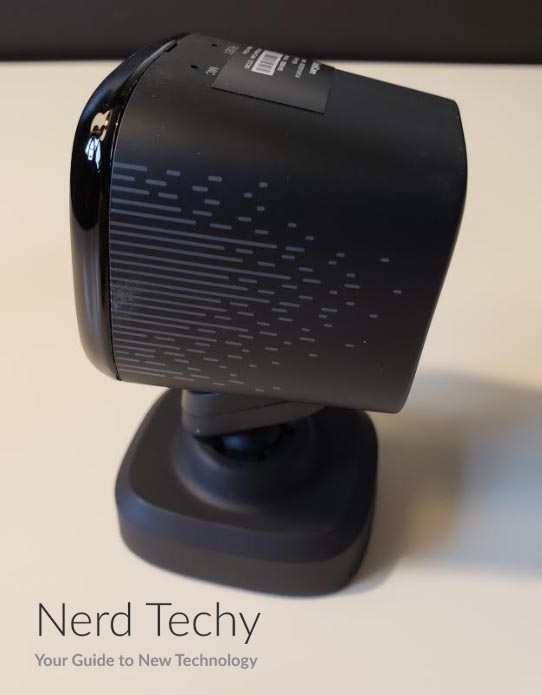 The accelerometer can also trigger your camera to record when the car is shut off. In this mode, you can use the K7 as a parking camera. Keep in mind, though, that this will require a hardwiring kit, which is sold separately. It also makes the camera considerably harder to install, negating one of its main benefits.
In addition to all of this, the K7 also provides smart reminders. It monitors traffic lights, and beeps when a red light turns green. It also monitors the car in front of you when you're sitting in bumper-to-bumper traffic. When they move ahead, the camera will beep. The sensors are very effective, and work with near-perfect accuracy. That said, the constant beeping can get annoying. If you don't like the smart reminders, they can be toggled on and off in the camera's menu.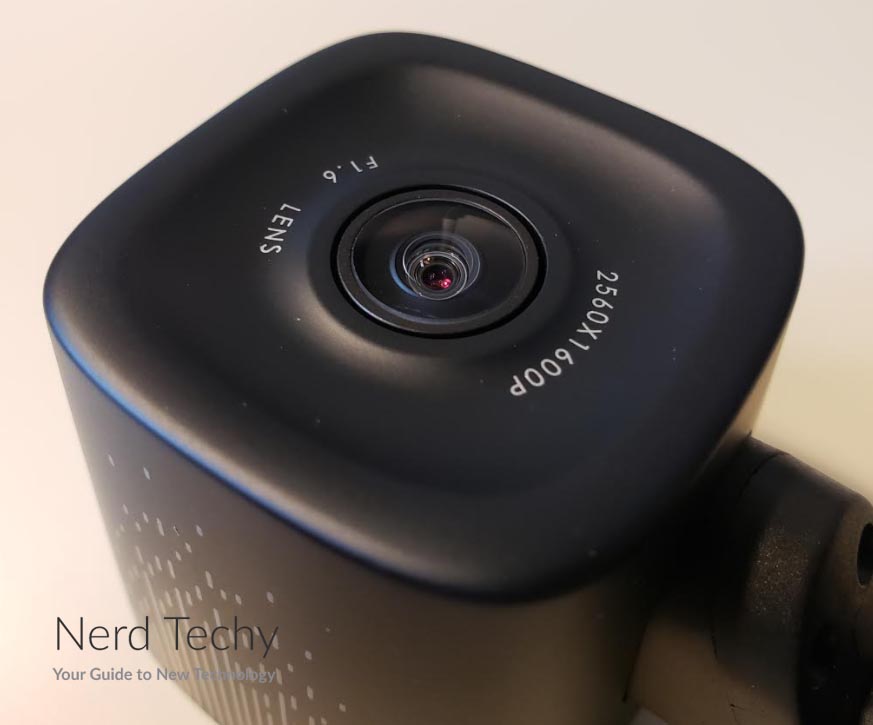 Final Verdict
The JOMISE K7 Dash Cam (30% OFF discount code: 8HN286QR) is one of the more impressive small dash cams on today's market. At only two inches on the diagonal, it can be tucked away in any corner of your windshield. It takes only minutes to install, and comes with an excellent free app. The video quality is also far beyond what you'd expect for the size. Whether you want 4K video at 30 FPS or 1080p video at 60 FPS, you'll enjoy a crisp, clear picture. The smart reminders are a nice added touch as well.
Please consider sharing:
Note: At no extra cost to you, we may earn a commission for purchases using our links. Learn more.