Quick Analysis
Pros
Stunning 4K video and 20-megapixel camera.
Very effective motion stabilization.
Waterproof case for underwater filming.
Time lapse, slow motion, and other shooting modes.
Cons
SD card not included.
Outputs in .mov format, not MP4.
In today's age of social media, we all want to share our lives with friends and family. For many, that means taking a few snapshots, or maybe sharing a vacation video. But if you have an active lifestyle, an ordinary smartphone camera isn't going to cut it. You need a camera that can go anywhere you go.
A quality action camera needs to be tough and rugged. However, it also needs to meet some other unique challenges. For instance, if you're running or skateboarding, there's no way you can hold a camera stable. A quality mount and good motion stabilization are essential features. Depending on your favorite activities, water-resistance is also a great feature to have. You also need to have a good way of transferring your videos to your smartphone.
We're going to review the AKASO V50 Pro Endless Summer Special Edition Action Camera. This is a rugged, rough-and-tumble action cam that comes with a waterproof case. But there are plenty of action cameras on the market. To find out if the V50 is any good, we had to go beneath the surface and put it to the test. Now, we're going to tell you everything we've learned. We'll start with the design and construction, as well as the accessories that come in the box. Next, we'll talk about the quality of the video itself, and the various recording options. Last, we'll look at how well it stores and transfers those recordings.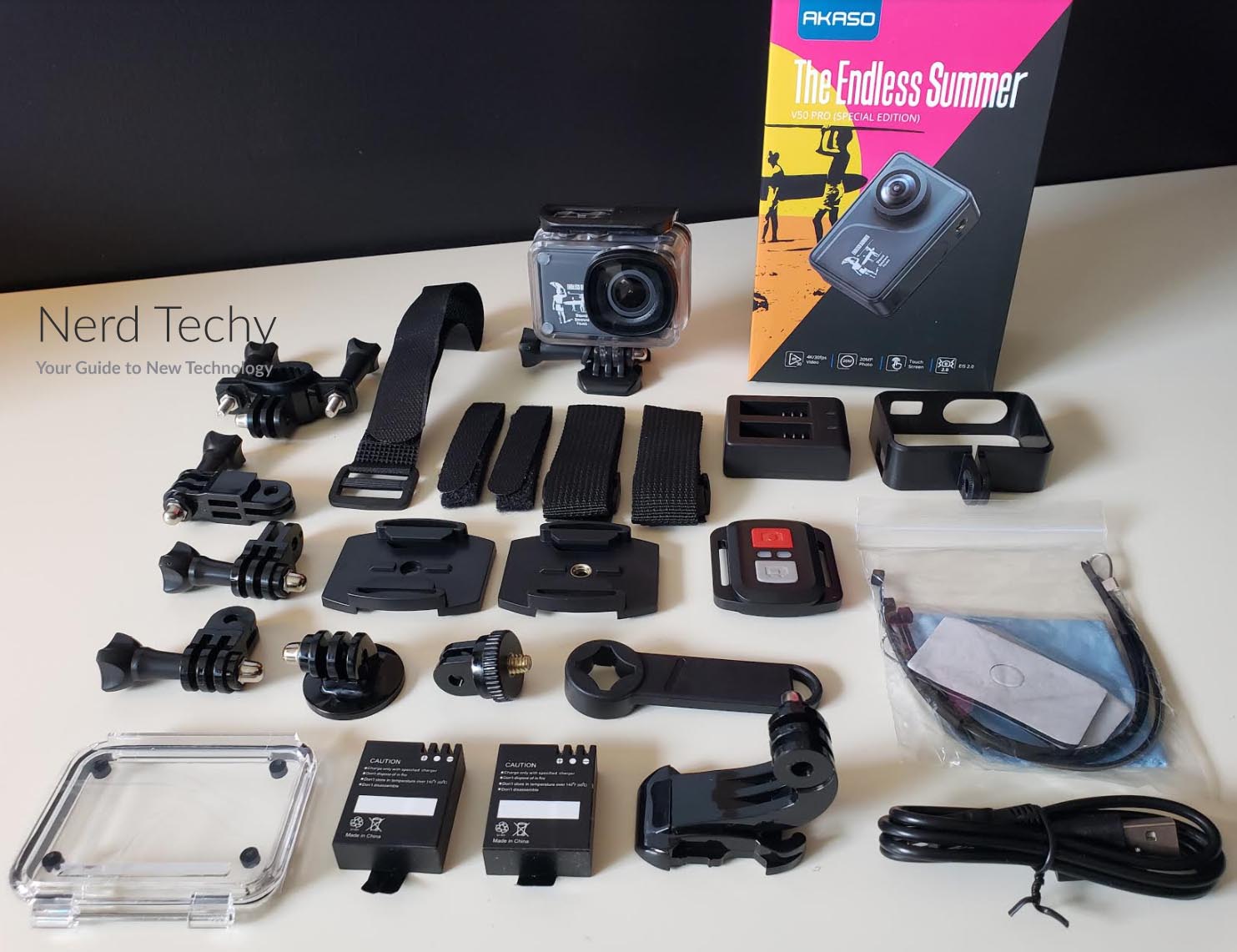 Overall Design
The AKASO V50 Pro is a mid-sized action camera that fits in your hand. It's about three times as thick as the average smartphone, and has a little heft to it. The housing is constructed from a rugged black polymer, with reinforced edges that are designed to be shock-resistant. On the front, you'll see a white imprint of the movie poster for Endless Summer, a famous surf documentary. There's also an ordinary, non-limited edition for a few dollars less. But if you're a surf enthusiast, why not spend a few bucks more for the limited edition. Both versions sport an AKASO imprint at the bottom right, just beneath the lens housing. The lens itself is plain, with a broad profile that allows for wide-angle recording.
The left side of the housing has a pair of ports for data transfer. One is Micro HDMI, and the other is Mini USB, so you can connect to a variety of devices. There's also a Micro SD slot. On the right side of the housing, you'll see the built-in mic. It's a set of small perforations, nothing particularly fancy. The power button and the shutter are located on top, as you might expect. All other functions are performed on the 2-inch touchscreen display. This display uses an IPS panel, and can be viewed at a 178-degree angle. IF you're reviewing videos with your friends, everyone will be able to see.
For some purposes, you might want a smaller action camera. If that's what you need, consider the AKASO Keychain. It's a tiny blogging camera that clips onto your clothes, backpack strap, or belt. It's not waterproof, though, so you'll need to be careful where you take it.
The V50 Pro comes with a waterproof case that's rated for 30 meters in depth. That's almost 100 feet, and deep enough for most dives. It goes far beyond your ordinary IPX ratings that ordinary electronics use. Keep in mind that the wristband remote is not waterproof. That said, it's still a great addition for terrestrial sports. You can control the camera smack in the middle of negotiating a half-pipe.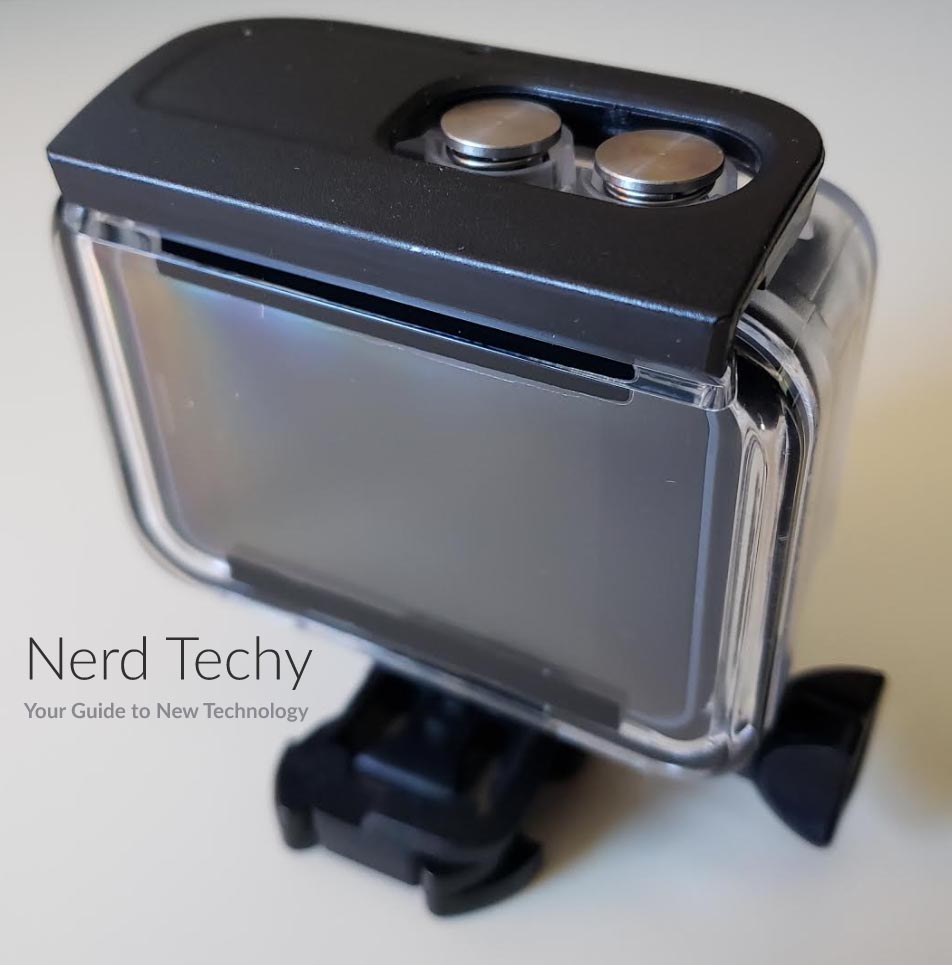 In addition to this, the V50 Pro also comes with an array of mounts and connectors. The mounts are a standard GoPro style, so you shouldn't have any compatibility issues with other hardware. The bottom of the camera also sports a threaded tripod mount, so it can be used as a stationary camera. Finally, there are two batteries, as well as a charger. So if you want to record all day, you can keep one on the charger while the other is in use. As long as you have access to a power outlet, the battery life is effectively limitless.
If you want even better water resistance, the AKASO Brave 6 Plus is a solid choice. It's waterproof to a depth of 40 meters, the maximum depth for most scuba divers. That said, the color sensitivity is set for underwater use, so it skews blue when you're on dry land.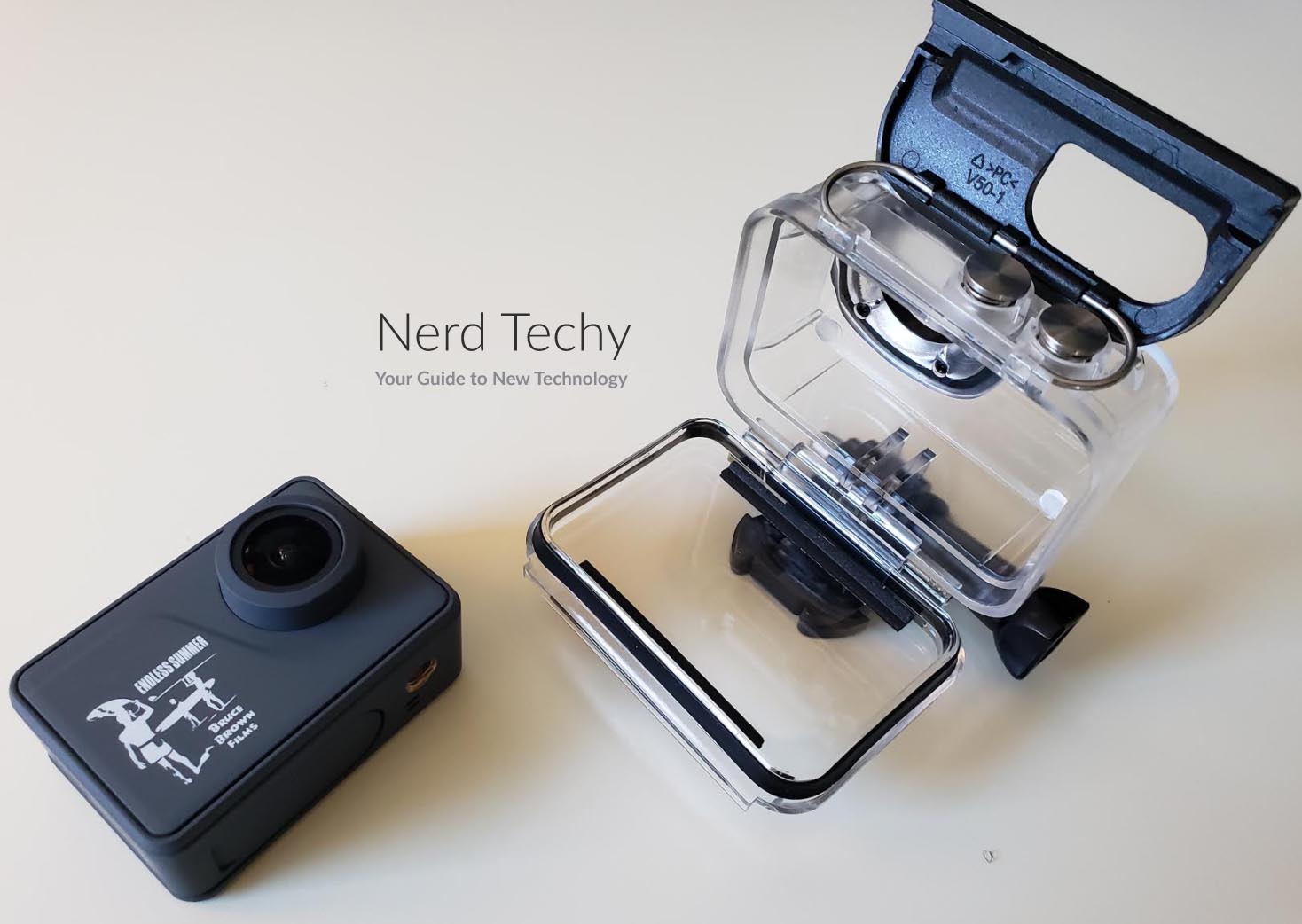 Image and Video Quality
The V50 Pro records in full 4K at a rate of 30 frames per second. This is better quality than most streaming sites, and better than most people's internet can handle. But if you want to watch your videos on your giant 4K TV, you can. Not only that but your videos will be more future-proof. In a few years, when everyone can stream in 4K, you'll already be up-to-date. The camera's internal six-axis gyroscope allows for motion sensitivity in all directions. When the camera shakes, it will automatically compensate in real time. If you're running, climbing, biking, or skateboarding, your videos will still look nice and smooth.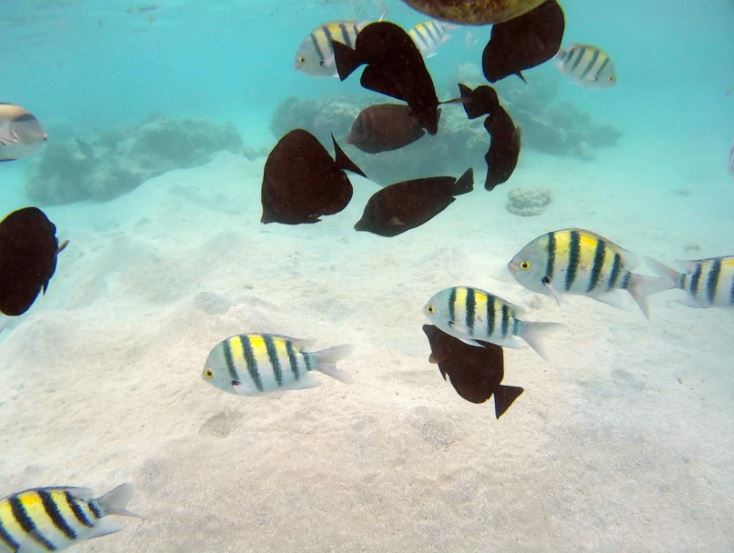 We briefly mentioned the wide angle lens, but the V50 Pro doesn't have to be a wide-angle camera. In fact, it's adjustable between a variety of angles. You can also use it as a narrow-angle camera for focusing on a smaller area. The camera's software will automatically compensate to prevent distortion. It's not 100 percent perfect, but it does a pretty good job of preserving shapes and proportions. Everything will look normal and natural, regardless of how wide or narrow the frame is.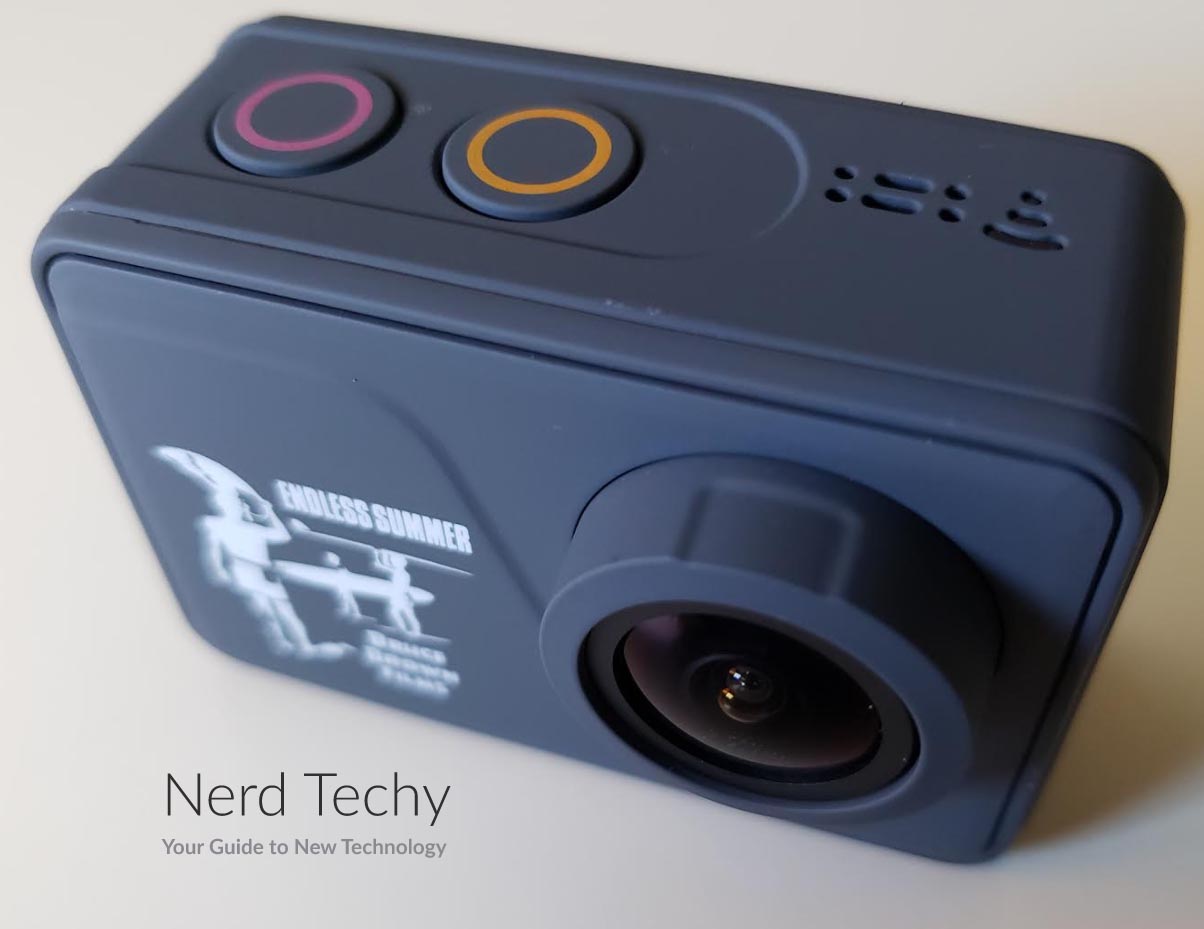 There's a special diving mode that can be activated from the phone's menu. In this mode, it will filter red light while you're underwater. This means you won't have to use a separate red filter or aftereffect to fix your diving videos. Other modes allow you to take slow motion and fast motion videos. So whether you want to slow down the action or speed it up, you'll be able to. You can also record very slow events with time lapse mode. Set it to record all day, and you can record a blossoming flower or moving traffic.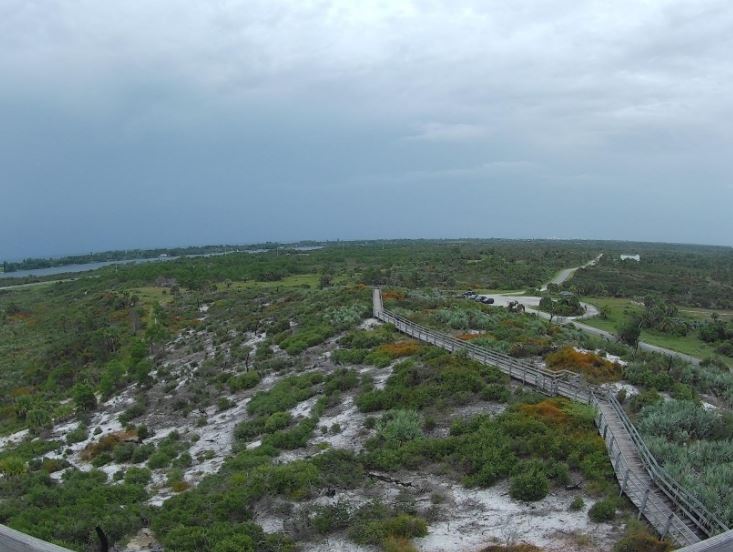 The internal mic works better than we'd expected. The wind filter is fairly effective, although you've got to keep your expectations realistic. If you're on a motorcycle on the highway, you'll hear some wind. But for most other activities, you won't have any trouble. Wind reduction aside, the sound is about what you'd expect from a modern smartphone mic. If you want truly pro-grade sound, you'll need an external mic. Thankfully, you can plug in any standard Micro USB mic, and it will work.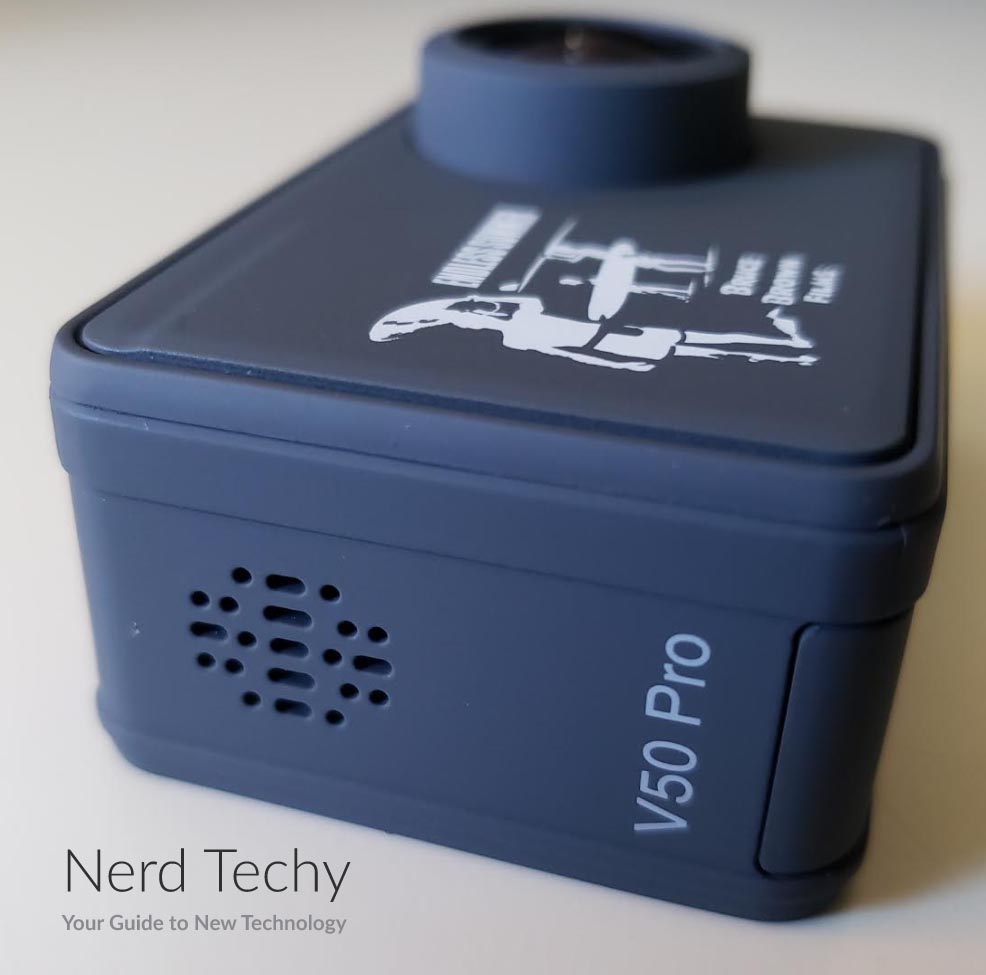 In addition to all of its video features, the V50 Pro also functions as a standard still camera. It can snap 20 megapixel images, which are more than good enough for making large, high-quality prints. With burst photo mode, you can snap several pictures in quick succession. Alternatively, you can take a time lapse photo or a long exposure. This is a very well-engineered still camera, not just an action cam.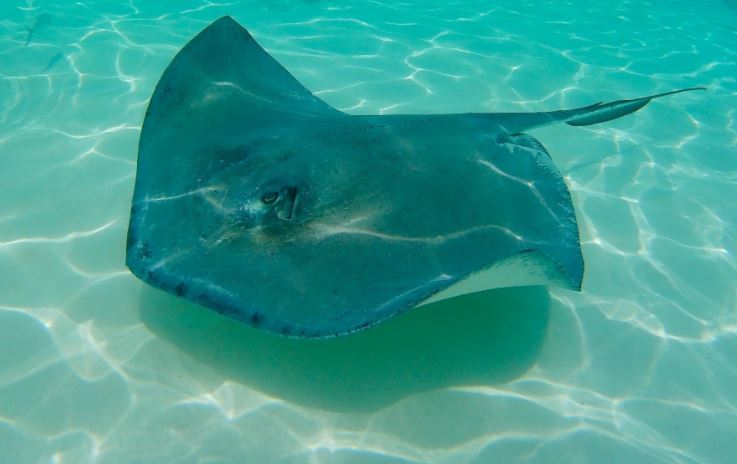 Connectivity and Storage
The AKASO V50 Pro supports two different output methods: WiFi and HDMI. WiFi mode is what you'll probably use most often. To use this mode, you'll need to install the AKASO GO app on your smartphone and tablet. Then, go to your WiFi menu. You'll see the V50 Pro as a network. Connect, and you'll be able to transfer videos from the camera to your device. You can also share to social media directly from the app.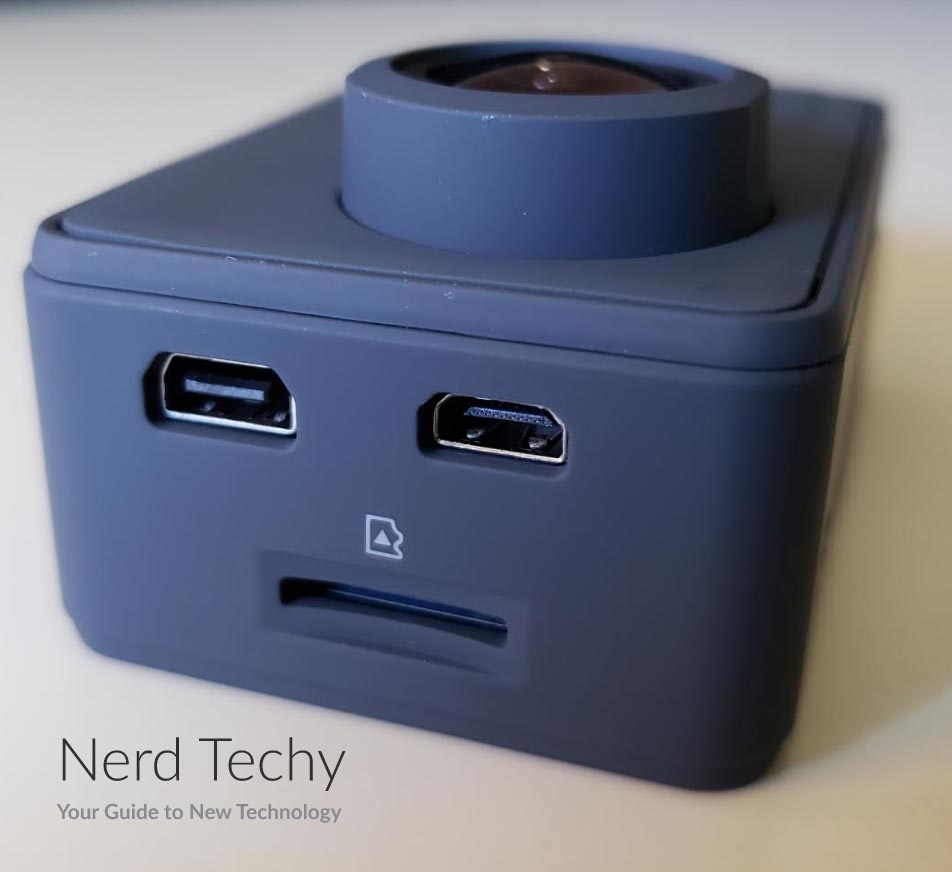 The HDMI port allows you to connect to a TV or external monitor. This way, you can watch your videos in full quality directly from the camera. You can also transfer video to a PC with appropriate capture software. This is the only way to get true 4K video files. Files transferred to a smartphone or tablet will be in 1080p.
One odd choice on AKASO's part was outputting video in .mov format, rather than in MP4. That said, most players support .mov these days. Moreover, the camera encodes video with the H.265 video codec. This is an updated version of the tried and true H.264 codec, specifically for better-than-HD resolutions.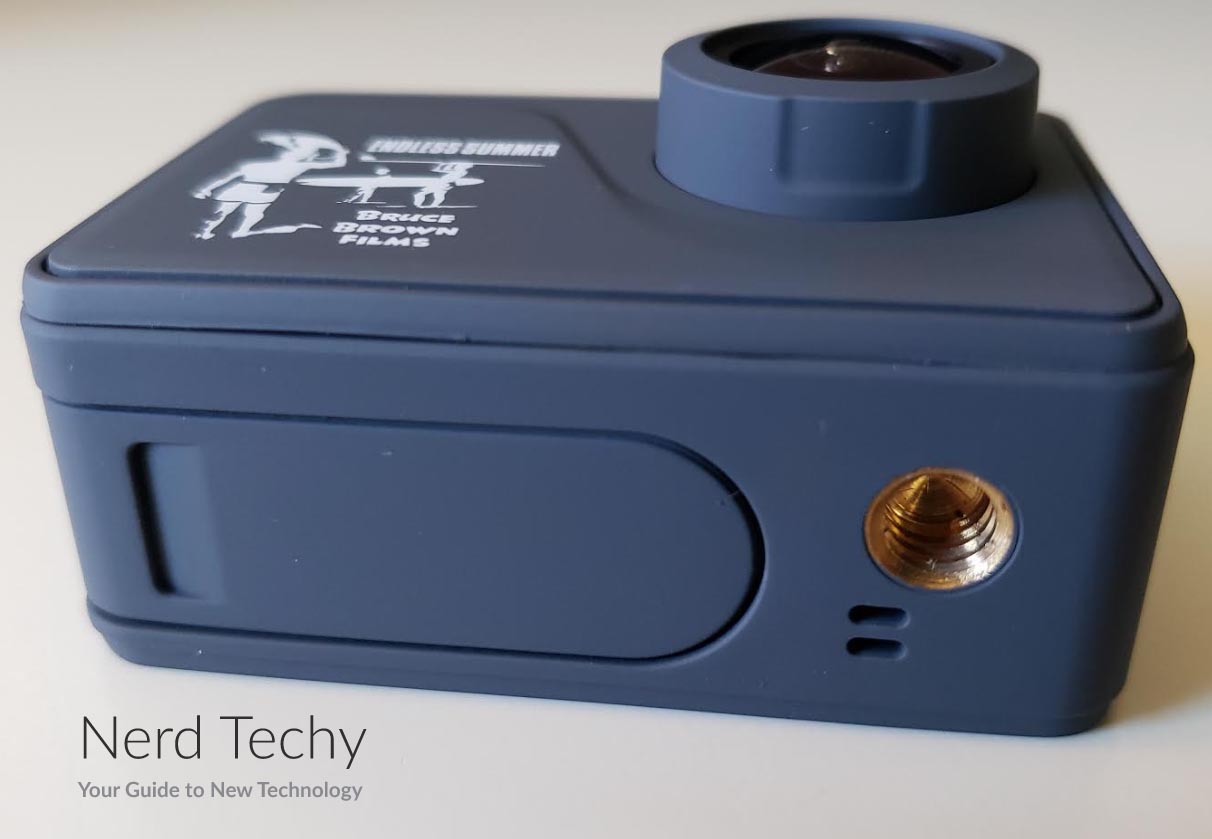 For storage, you can use up to a 64GB Micro SD card. That's enough storage for one hour of video in full 4K. You'll also need one with a write speed of at least 100MBps. Anything slower, and you might run into some trouble. You'll also need to format the card in the V50 Pro in order for it to work correctly. This takes just a few minutes, so it's easy to format multiple cards if you need more storage.
AKASO makes a number of action cams, all with different features, benefits, and drawbacks. If the V50 Pro sounds like something you'd enjoy, you may like the AKASO Brave 7 LE. It has many similar features, but the camera itself is IPX7-rated for water resistance, even without its case.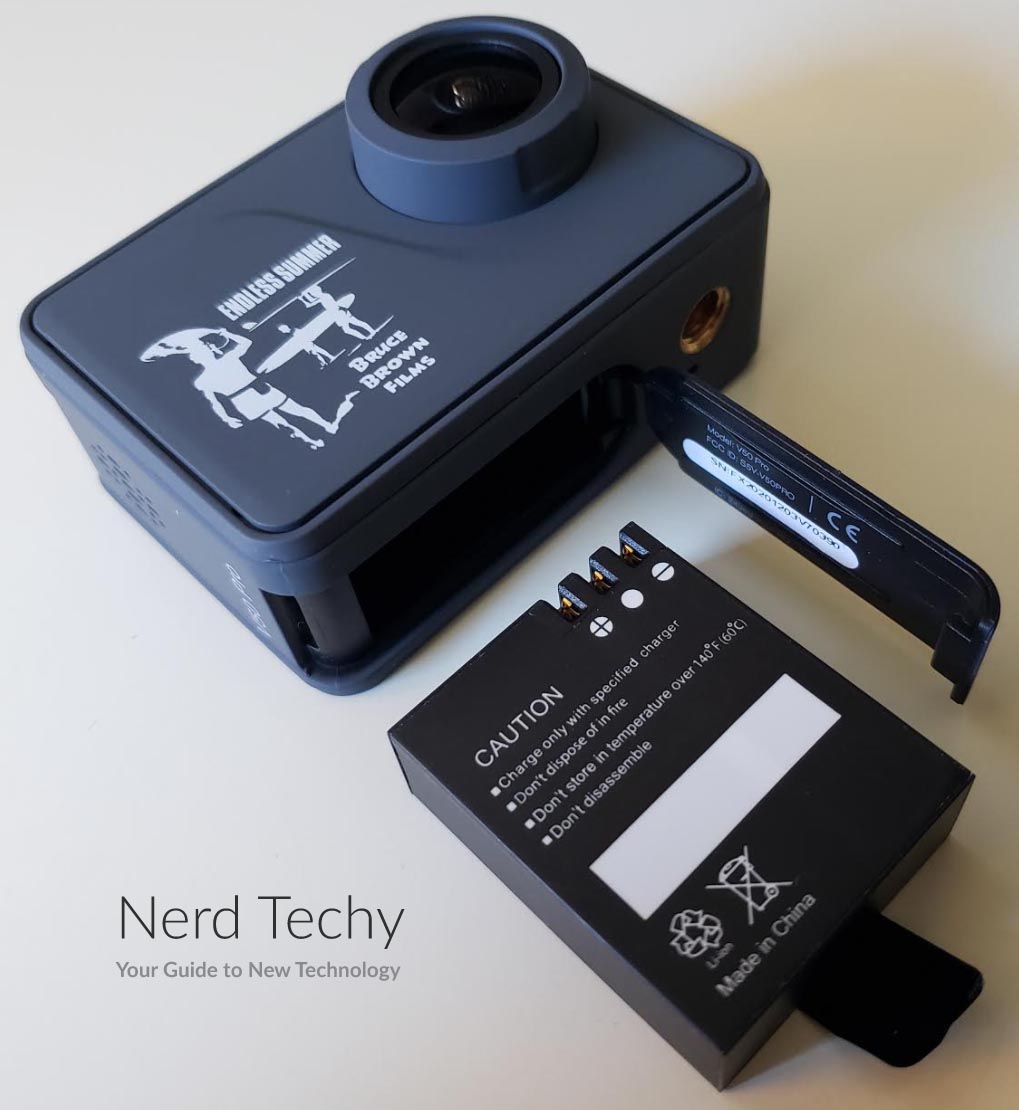 Final Verdict
The AKASO V50 Pro Endless Summer Special Edition Action Camera is one of the better action cams out there. The water-resistant case is highly effective, keeping the camera safe down to a depth of 30 meters. Not only that, but the wide array of accessories make it easy to mount and use in any configuration. The video recording is similarly versatile, with time lapse, slow motion, and other modes. You can also take still photos in 20-megapixel quality. Accessing your videos is also easy, with both WiFi and HDMI connectivity. We would have liked to see an SD card in the package. But they're easy to find, and they don't cost much these days.