A few years back, the only people with dash cams were Russians and truckers. For most people, the benefits simply weren't worth the investment. But with prices getting more and more reasonable, it's making sense for everyday people to own a dash cam. But why would you want to own one in the first place?
Let's take the example of a simple fender bender. You pull up to an intersection and someone rear-ends you. You get out, exchange your information, and wait for the police to show up. When they do, a witness appears. This bystander says they saw the whole accident – and that you caused it by cutting the other driver off. The other driver backs them up, and you're on the hook for the repair bill. This is just one of many common scams that people use to try and get money from drivers. With your word against the other driver and a witness, you're bound to lose your case. But if you have a dash cam, you have video evidence on your side.
Of course, that's just one example of when you might need a dash cam. But there are any number of scenarios under which one might be useful. What if your car gets vandalized, or a tree falls on it? In any of these scenarios, the more information you have, the better.
We're about to review the Thinkware F790 Dash Cam. This is a powerful, HD dash cam with a front and rear camera. It's designed to maintain a low profile, so as not to obstruct your view. It also provides easy-to-use SD card storage and plenty of useful features. But how well does it perform in practice? How easy is it to install, and how well does the app work? To find out, we needed to put the F790 through its paces. We'll talk about everything from the basic design to the installation process to the quality of the video. Once we've formed a complete picture, we'll be better equipped to render our verdict. Let's take a closer look, and see how this dash cam compares to the competition!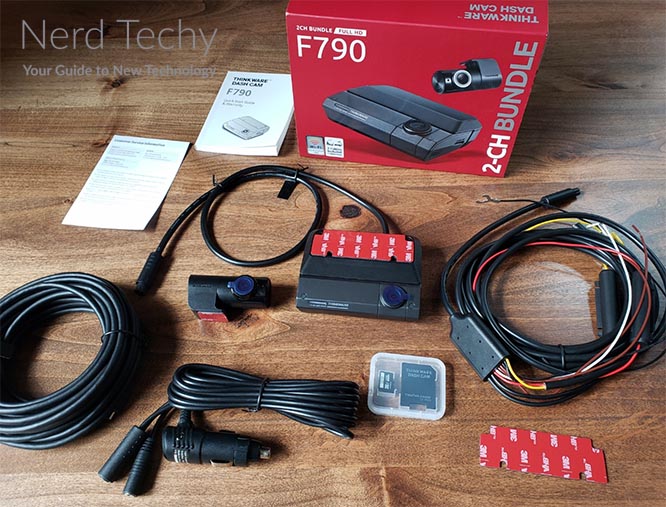 Overall Design
One of the main appeals of the Thinkware F790 Dash Cam is its slim design. A lot of dash cams have a large viewscreen on the back, and to be fair, this can be useful. For example, if you want to review footage immediately after a crash, you can do it directly on the camera. On the other hand, this traditional design occupies a lot of space. If you've already got a GPS, a radar detector, and other gear, that's a lot of clutter on your dashboard. And if you don't need to review footage on the screen, there's really no point. What are you going to see on the screen that you can't see by looking right out the windshield?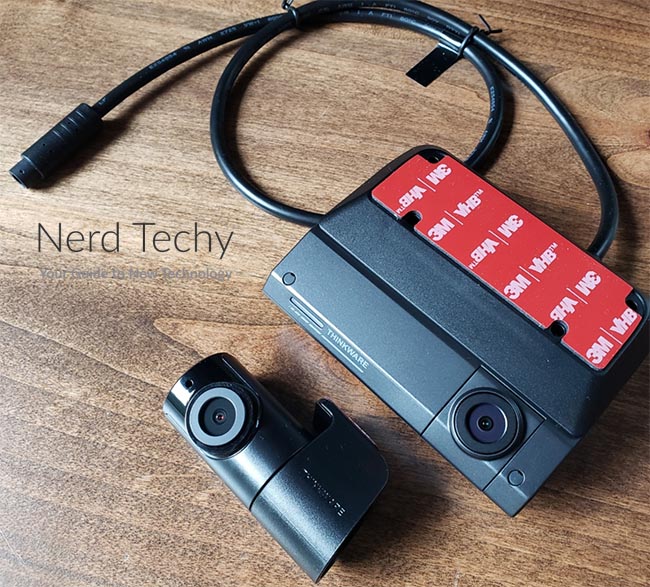 The housing of the camera measures 3.6 inches wide, 2.1 inches deep, and a mere 1.16 inches thick. It's matte black in color, with a soft finish that's easy to keep free of dust and fingerprints. The housing has an irregular shape, with a futuristic design that looks like it comes from a science fiction movie. The lens itself only occupies a small portion of the housing, towards the front left. It sits in a flat part of the case, which is slightly fatter than the rest. The bulk of the housing slopes to a point at the front, with a white Thinkware logo on the top portion. You'll also notice a set of vents towards the front, located on both sides. These provide air flow to keep the camera from overheating.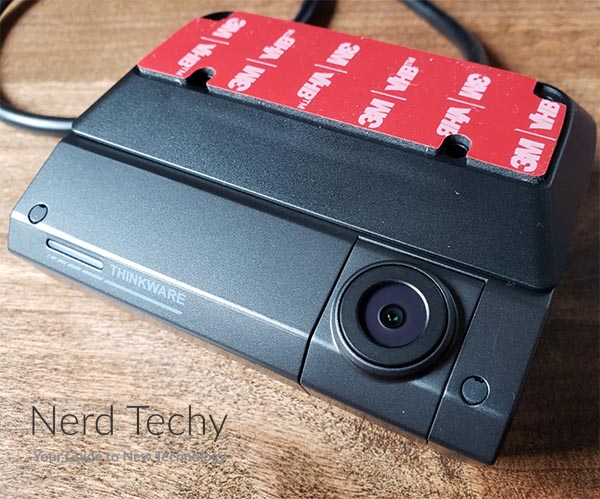 In fact, the housing has a two-part construction. The base unit is a slightly glossier black, and has a power cord connected to it. This cord is a little over six feet long, and terminates in a standard 12-volt DC car plug. The unit itself is just a bare frame, with a USB plug and a couple of locking hooks. There's also a slide, which allows you to release the rest of the camera with your thumb. The main unit plugs into this base, and locks in place when it's plugged in. The idea is to make it easy to take your camera out of your vehicle, without completely uninstalling it. This is a useful feature, and one you won't see on a lot of dash cams.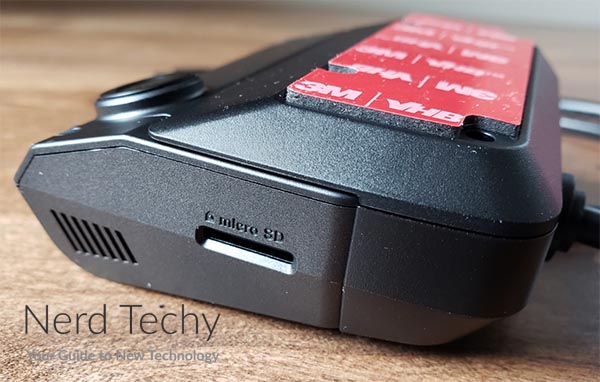 The main body of the camera has a set of buttons on top, which allow you to perform most basic functions. First, there's a power button, which is self-explanatory. Next, there's a Record button, which can be used to record manually rather than automatically. The Format button is used when you first insert a new SD card. It can also be used to erase a previously-used SD card and clear your old footage. The WiFi button is used to connect to your smartphone – we'll talk about that more in a minute. The last, microphone button is used if you want to add voiceovers to recordings. This is an oddball feature, but it could be useful if you're saving your videos for archival purposes.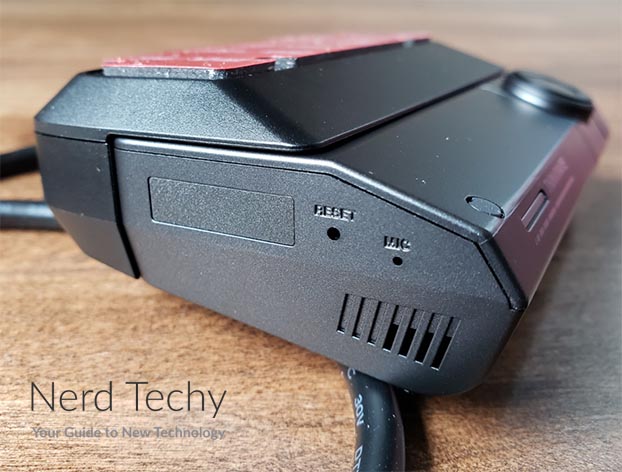 But what if you want a dash cam with a built-in display? In that case, you'll have literally hundreds of options. One good choice is the Thinkware X700. It's a front and rear camera that's easy to install, and sports a high-quality display. That said, it's a bit bulky, and the GPS antenna is a large, separate fob.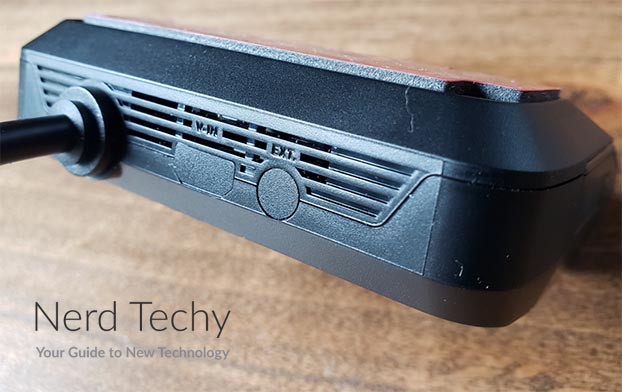 Installation and Setup
To install the Thinkware F790, you need to set up both the front and the rear cameras. That is, unless you chose to save money by ordering the front camera-only version. The front camera itself is easy and painless to setup. The base part of the unit, the part with the cord, attaches with an included 3M adhesive. This makes it easy to attach on either your windshield or the dash. It's designed to be attached to the dash, though, which keeps it out of view as much as possible. If you attach it to your windshield, it will be upside down, and you'll need to invert your video.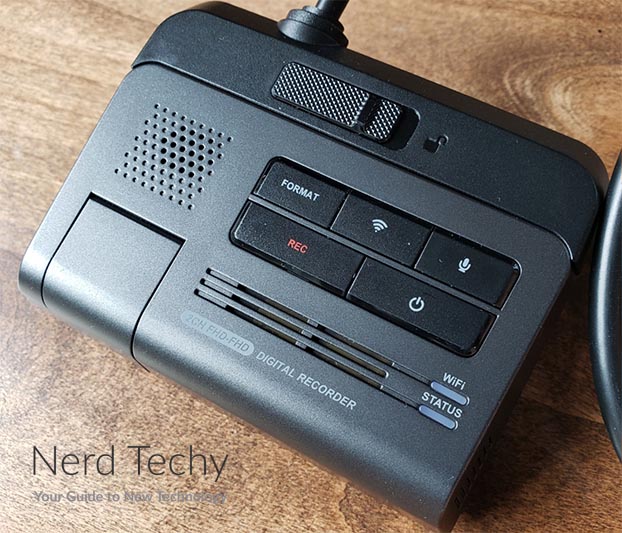 The rear camera is even smaller, and also attaches with an adhesive. You'll need to mount it on the inside of your rear window, but this is easy to do. The camera is a rotating cylinder, so it can be aimed no matter what the angle of the window. Then, you'll need to run a wire from the rear camera to the front. There's plenty of cable for even very large vehicles, so you shouldn't run out of cord. One nice thing about this setup is that there's no need to hardwire into your reverse lights. Since there's no reverse camera function, any kind of extra wiring would be superfluous to begin with.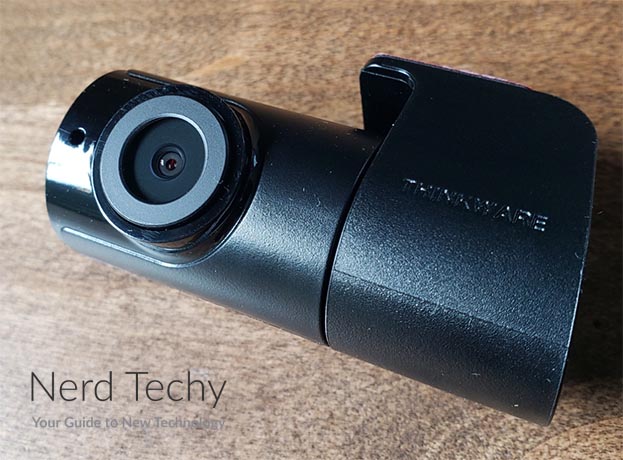 Once the cameras are installed and plugged in, it's time to pair them with your phone. To start with, you'll have to download the Thinkware Dash Cam Link app. It's free on Android and iOS, and takes only a few minutes to install. Then, go to your phone's WiFi menu and look for the Thinkware F790. It will show up as its own unique WiFi network. Connect to that, and you'll be ready to start making changes. As an alternative, you can also use a web portal to access the camera on Windows or Mac. To do that, you'll need to unplug the main camera and bring it into your house. You can then use your computer to find the appropriate wireless network.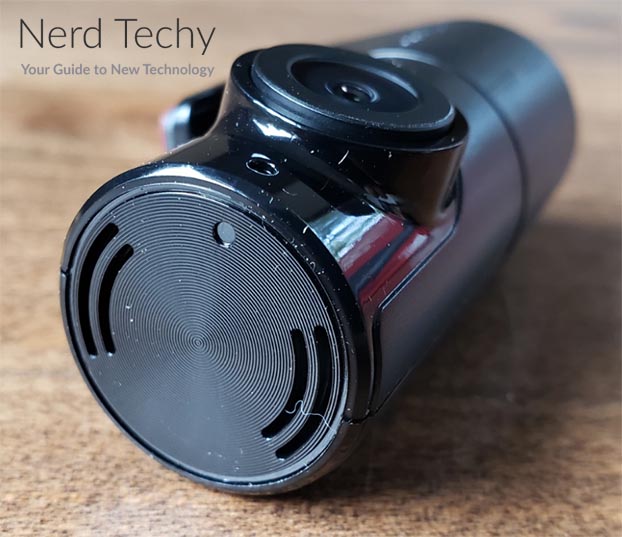 One thing we appreciated about the F790 is that the GPS antenna is built into the unit. There's no need to attach a separate fob or antenna. By default, your location and speed will be encoded into every video you record. It's possible to turn this option off if you want to. But it's best to leave it on, since this is information that could help you out in court. For example, you can potentially prove whether you were speeding or not at a given time.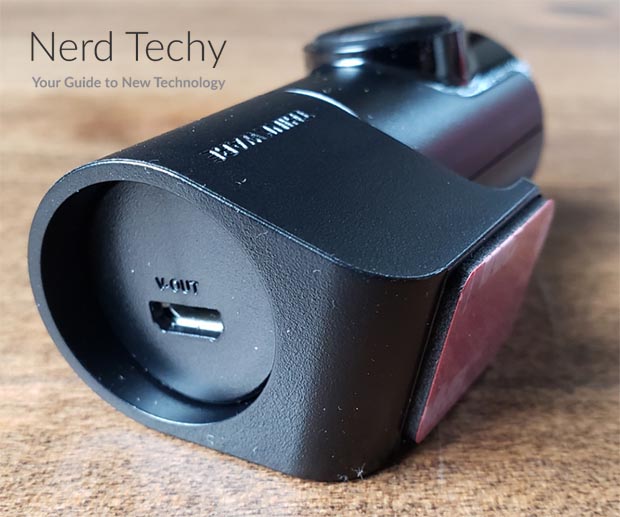 If you don't need the rear camera, there are plenty of other dash cams that come with a front view only. One good example is the Thinkware F200 Pro. It has similar features to the F790, but only a single, forward-facing camera. As a result, it's easier to install, as well as more affordable.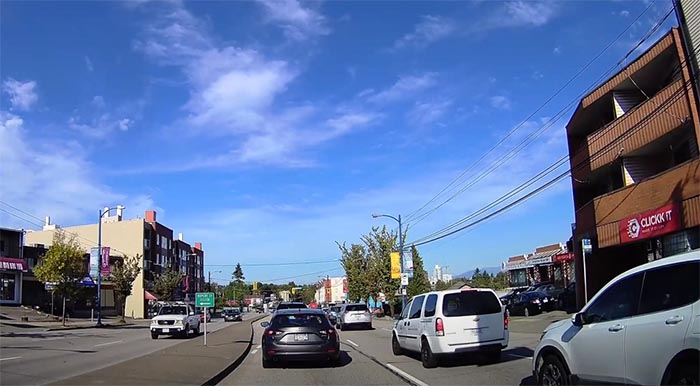 Video Quality and Storage
The F790 records video in 1080p Full HD. This is the current standard for dash cams, and provides enough detail for most purposes. The only thing you won't be able to do is read a license plate at very long distances. In most cases, that's not going to be necessary, so 1080p is usually more than sufficient. The front camera angle is 140 degrees, enough to see your lane and the two adjacent lanes. The rear camera is slightly wider, at 160 degrees. In theory, this would make it suitable for use as a backup camera. But since there's no built-in display, that's a moot point.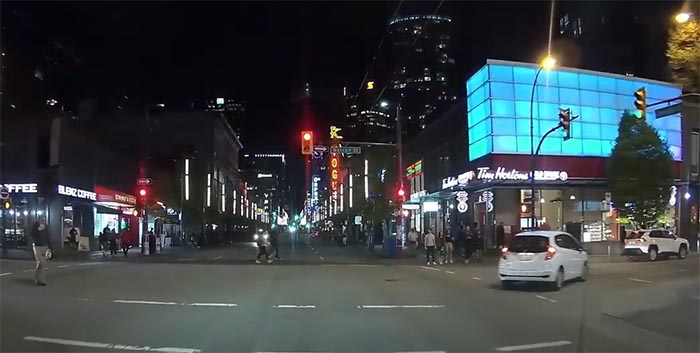 The night vision is nice and crisp, although the video is in black and white. An intelligent system monitors your driving, and beeps if you're drifting out of your lane. There's also an optional time lapse mode. This is useless for insurance purposes, but you can make some awesome videos for social media.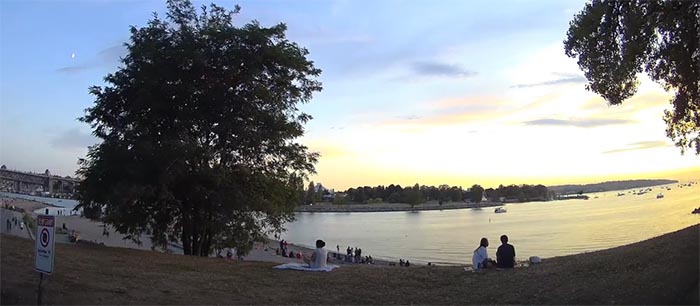 Your footage is stored on a Micro SD card, which is not included with the kit. The F790 supports a variety of SD card sizes, from 16GB all the way up to 128GB. The larger card you invest in, the more video you can store.
Final Verdict
The Thinkware F790 Dash Cam is a high-quality dash cam that will work well for most people. It records in full 1080p, so you get all the details you need. It's easy to install, and you don't have to hardwire anything. The only thing it's missing is a display and a backup camera function. But in exchange for those, you get an ultra-low profile. That's a worthwhile tradeoff for many people.