Thinkware F200 Pro
Pros
Quality video by day and night.
Very easy to install.
Several useful safety features.
Optional GPS, rear camera, and parking mode.
Cons
Rear camera not included in the kit, but can be purchased if desired.
No built-in monitor.
A few years ago, when people thought of dash cams, they thought of Russians and gearheads. Russians loved — and still love — dash cams because of the country's notoriously corrupt police system. Every Russian driver knows that if you don't want to get shaken down or scammed, you need video evidence. Gearheads never needed a reason to own a dash cam. The mere fact that they exist, they're cool, and they go in your car was enough of a reason to buy. But now, dash cams are affordable enough that everyday drivers are also making the investment. So, why should you own a dash cam?
First off, there's the issue of fraud. Scammers often work in pairs, with one of them deliberately causing a car accident. The other scammer, meanwhile, acts as a "witness." They tell the police they saw everything, and you did something to cause the wreck. With your word against the other driver as well as a "witness," you end up footing the bill. A dash cam is your insurance policy: an unimpeachable witness to testify on your behalf. Along the same lines, a dash cam can help you out if you want to contest a traffic ticket in court. If that speed limit sign was hidden behind a bush the camera will tell.
But just because a dash cam is a good idea doesn't mean you should run out and buy just any dash camera. You want one that's going to meet your individual needs. You also want one that's going to record in reasonably good quality. If you need to read a license plate, for instance, old-school grainy security camera footage isn't going to cut it.
That's why we're about to review the Thinkware F200 Pro Dash Cam. Thinkware is a brand we've reviewed a number of times in the past, and they have a good track record. All of their cameras are known for extreme temperature-resistance, which is more important than you might think. But temperature resistance is only part of a much larger picture. So, is the F200 Pro worth buying? Let's take a closer look and find out.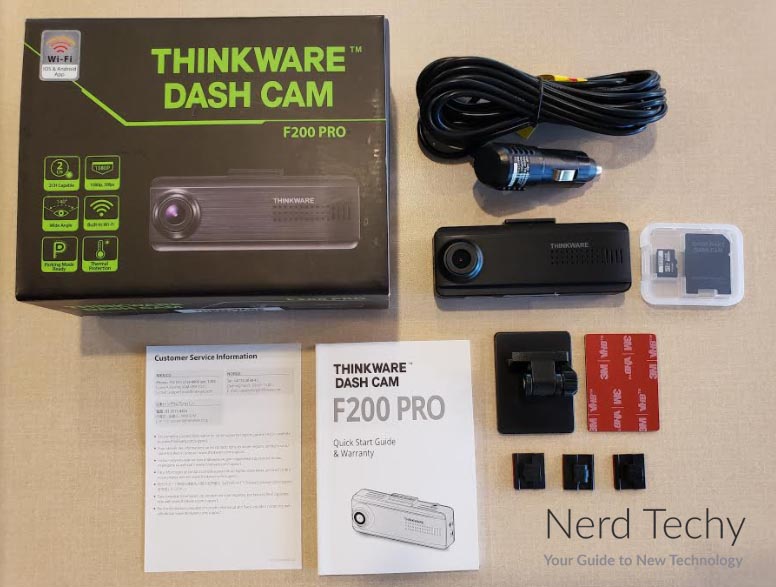 Overall Design
The Thinkware F200 Pro is a compact front dash camera that has a short rectangular profile. This profile allows you to position it discreetly behind your rear view mirror. It can also sit on your dashboard, and will only obstruct about an inch and a half of your windshield. This low profile does have a downside. Because it's so small, there's no room for a display on the back of the F200 Pro. However, this isn't as big a deal as you might think. This is not designed as a backup camera, so there's no need to view the display while you're driving. After all, if you need to see in front of you, you should really be looking through the windshield!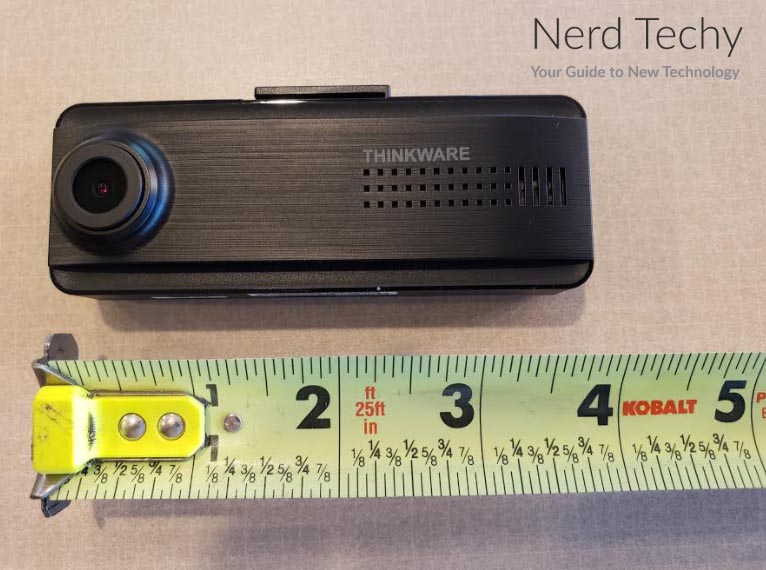 Just because there's no screen doesn't mean the camera design is plain. It's highly functional, with a speaker grille on the back for audible alerts. Above this, there are buttons for activating the WiFi signal and the recording function respectively. Along with these buttons, you'll see a pair of LEDs off to the left. These let you know when the camera is active, and when the WiFi is on. All of this is set into a black polymer housing, with the power and GPS inputs on the left. The lens is located on the front, and only protrudes less than a quarter of an inch from the housing.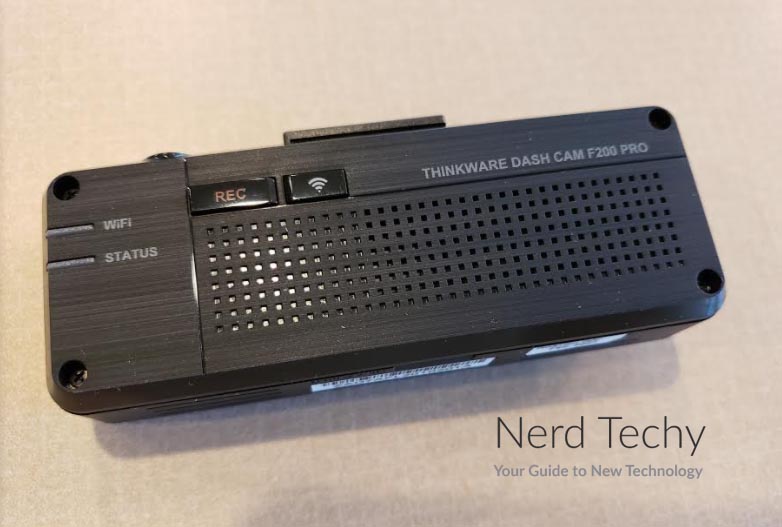 If you need a dash cam with a rear camera, the Thinkware X700 is a good choice. It includes not just a rear camera, but also a display screen for use when you're backing up. On the downside, it doesn't have the unobtrusive profile of the F200 Pro. It's definitely noticeable both from inside and outside your car.
The F200 Pro kit includes a handful of accessories to keep things functional. To begin with, there's a simple mounting bracket that clips into the top of the main camera housing. This includes not one, but three adhesive pads for ensuring it stays in place. As with most adhesives, these are about as effective as your prep work. Make sure to clean properly with rubbing alcohol before you attach the bracket. Other than that, everything is fairly straightforward. You plug the camera into your 12V DC outlet with the included cable, and you're ready to go. Thinkware even includes an SD card for storing your video.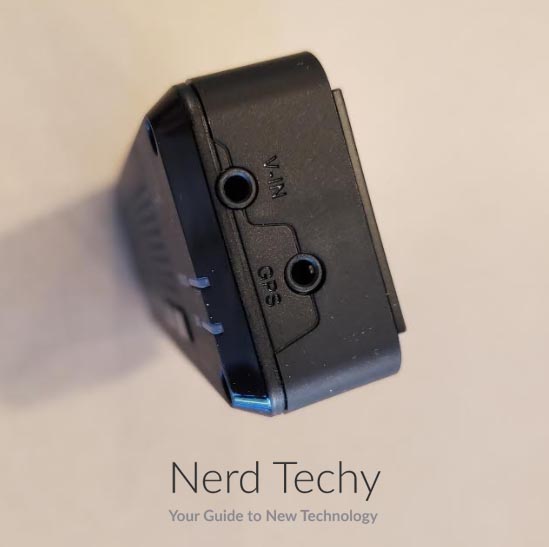 In addition to all this, it's also possible to connect a GPS antenna. This is purely optional, but it allows the camera to stamp all your videos with your speed and location. In many cases, this information can be the evidence you need for a judge or insurance adjuster.
The main thing that separates the F200 Pro from much of the competition is its built-in safety features. These include warnings when you drift out of your lane, or when a collision is imminent. Keep in mind that these features are not perfect, and are no replacement for keeping your eyes on the road. But if the person in front of you slams on their brakes, the camera will provide an additional warning. You'll also get warnings for red light cameras and other radar systems. It's not as effective as a full-blown radar detector, but any additional warning is much appreciated.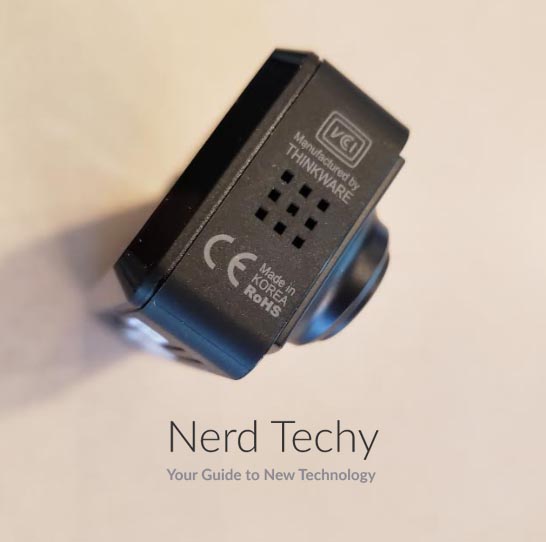 Installation and Setup
The F200 Pro is simple and straightforward to install. Just adhere it to your dash or windshield, plug it in, and hit the record button. But that's only going to get you the bare minimum of performance. To change any settings, review or save footage or do pretty much anything else you need the mobile app. Thankfully, the Thinkware Dash Cam Link app is free on both Android and Apple. It installs in just a few minutes, and then you're ready to start tinkering. Keep in mind that the camera has its own WiFi signal. To connect, you'll need to search in your phone's WiFi menu and connect to the camera's network.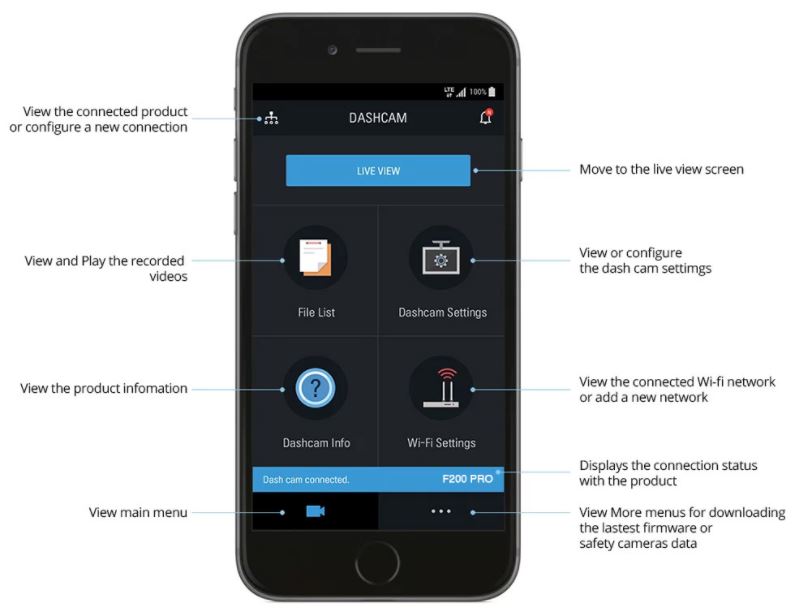 Once that's done, you can change the camera settings, activate power saving mode, and access your videos. You can download footage to your smartphone, or even send it to your PC for long-term storage. This makes it easy to keep archives, or even save to social media. Alternatively, for casual users, you can set things up once and never touch the app again. If you're ever in an accident, the footage will be there when you need it.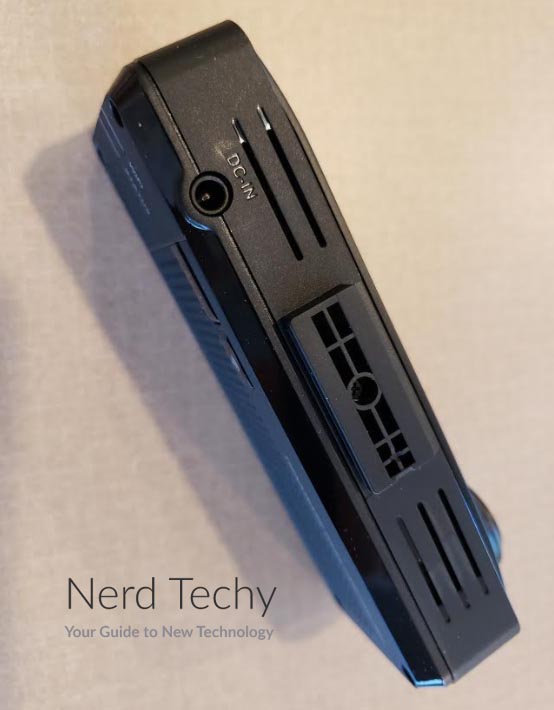 As it stands, the F200 Pro is a forward-facing camera only. That said, there is an optional rear camera that can be ordered separately. This is an interior camera, which only shows the inside of your vehicle. It's not a parking camera, so you still won't need a screen. That said, having footage of the inside of your vehicle can be helpful in the event of a theft. This can be arranged by setting the F200 Pro to parking mode. In this mode, it will record footage in the event of an impact, even if your car is off. To use parking mode, though, you'll need a hardwiring kit, and you'll need to install it. For electrical novices, this means going to a mechanic and incurring additional costs.
If you want a kit that already includes a rear-facing camera, consider the Thinkware U1000. This kit has 4K forward and backward-facing cameras, with parking mode and lane safety features. It also offers more advanced functions like geofencing, but these require a separate data plan.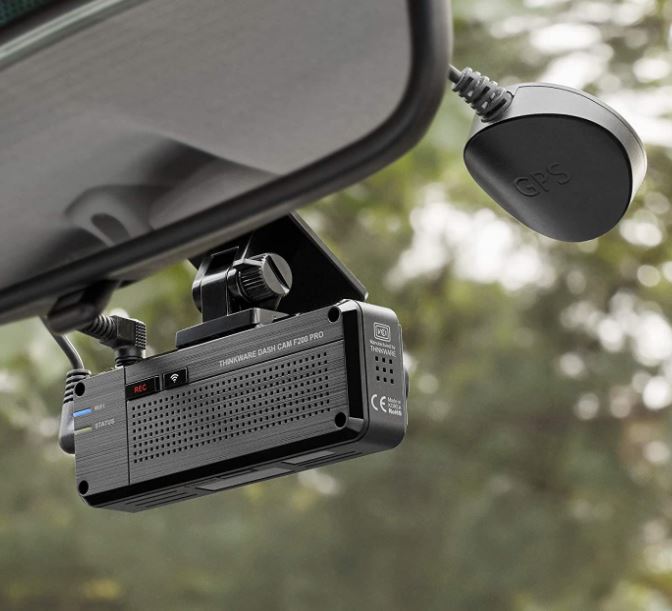 Video Quality and Storage
The F200 Pro camera has a resolution of 1080p. This is roughly standard for a modern dash cam, and will do just about anything you need. It's certainly good enough to provide evidence in the event of a crash. That said, some people will prefer a 4K dash cam, which shows even finer detail. But for practical purposes, 1080p is more than enough. The picture looks good by day as well as by night, with Thinkware's Super Night Vision system. This system shows plenty of detail, with well-defined images that aren't grainy or blurry like you probably picture night vision. Meanwhile, a wide viewing angle of 140 degrees gives you visibility to the left and right.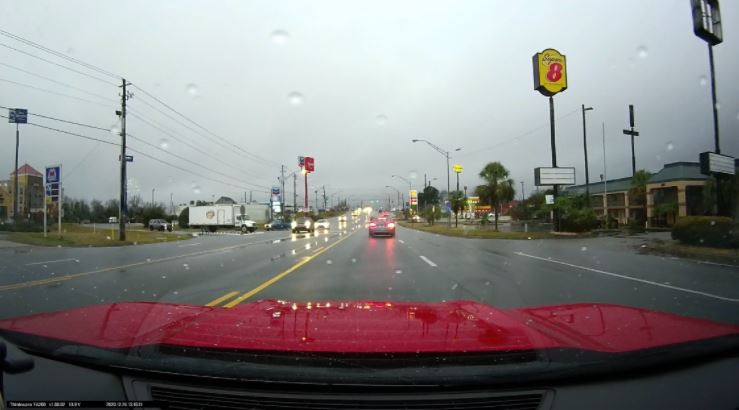 If you use the optional rear cam, you'll get the same 1080p resolution and Super Night Vision. However, the rear camera has a wider, 160-degree viewing angle. This is to ensure it captures the entire interior of your vehicle.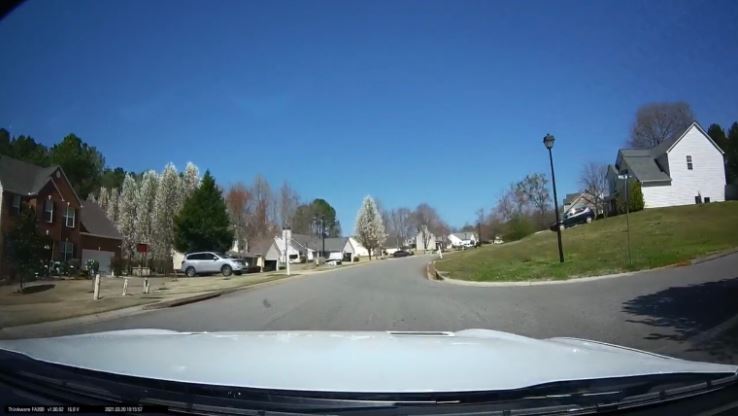 Videos are recorded to the SD card, which is already included with the package. The camera utilizes loop recording, which means that newer videos overwrite the oldest saved videos first. This ensures that newer footage is never lost. In parking mode, the camera will switch to time lapse video to save power. If it senses an impact, the camera will return to ordinary recording mode. In addition, when the power supply gets very low, the F200 Pro goes into energy saving mode. In this mode, the camera turns off entirely, foregoing even a time lapse video. It only starts recording in the event of an impact. You can also activate energy saving mode manually by using the app.
Final Verdict
So, is the Thinkware F200 Pro Dash Cam worth your investment? As is often the case, it depends largely on what you need. This is a forward-facing camera only, so it's no good if you need a backup camera. That said, for front-facing use, it offers a lot of features other dash cams don't. It doesn't just record your driving. It also alerts you to hazards, and lets you know if you're drifting from your lane. With an optional GPS antenna, parking mode, and interior rear-view camera, it's whatever you want it to be. And the 1080p Super Night Vision video looks pretty good, too.
Meet Derek, "TechGuru," a 34-year-old technology enthusiast with a deep passion for tech innovations. With extensive experience, he specializes in gaming hardware and software, and has expertise in gadgets, custom PCs, and audio.
Besides writing about tech and reviewing new products, Derek enjoys traveling, hiking, and photography. Committed to keeping up with the latest industry trends, he aims to guide readers in making informed tech decisions.