These days, you can't take your home's security too seriously. And with modern technology, you have far more options than you did in the past. A good example of this is a security camera. Not long ago, only businesses and the wealthy could really use them. One part of this was financial – even an inexpensive camera could cost thousands to install. But another part was purely practical – you needed space for all the related gear. Instead of digital recordings, you were recording to tape, which meant a VCR. And for monitoring, you needed a TV. If you wanted to monitor more than one camera, you needed multiple TVs. Needless to say, most people didn't have time or space for this.
With today's cameras, your footage is stored online, or on a hard drive or SD card. You can review it on your smartphone, without the need for a dedicated TV. Another benefit of a modern security camera is the ability to go online. Instead of finding out an intruder after the fact, a modern camera will alert you in real time. In other words, you're not just gathering footage to be used as evidence. You can actually – potentially – prevent the intruder from gaining access in the first place. The only real question isn't whether you should own a security camera. It's which security camera is the right one for your needs.
In that light, we're going to be reviewing the Reolink Duo Smart 2K Camera With Dual Lenses. This is a unique security camera, with not one but two lenses, angled outwards for wider coverage. It also boasts color night vision, multiple storage options, and a tough, durable design. But what else does it bring to the table? To find out, we'll take a deep dive into all the Duo's features, benefits, and drawbacks. Once we've given it a thorough evaluation, we'll be better prepared to render a fair verdict. Let's get started, and see what we discover!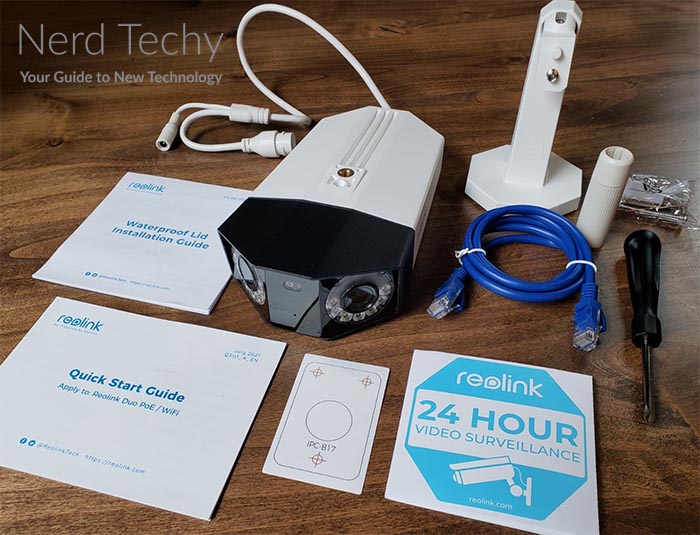 Design & Construction
The Reolink Duo smart 2K PoE Camera has a two-part design. There's a main camera housing, as well as a mounting base. The mount itself has an octagonal wall plate, which measures three inches in width. It can be mounted to a ceiling or wall, and it has a protruding, 5.4-inch arm. This arm has a ball joint in the middle, allowing you to pivot the camera in any direction. The material is plastic, but it's tough, durable, and reinforced with metal at the joints.
The camera housing itself is similarly constructed. The bulk of it is white in color, matching the mounting base. However, the front lens housing is black, with an extending shield that covers the lenses. There are no bright colors or blinking lights, only a black Reolink imprint on the side. In total, the housing measures 7.67 inches long and 4.05 inches wide. That's a little bit bigger than a clay brick, so keep clearance in mind if you're using the camera indoors.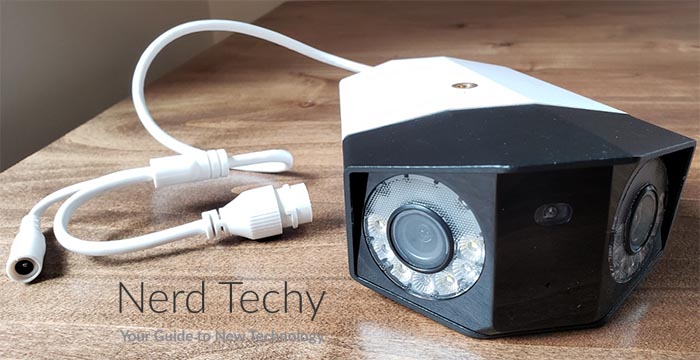 The front lens housing is the widest part of the camera, and flares out towards the end. It's shaped like an old-school fan, with separate lenses at either side. Each lens is fairly large, with its own ring of LED lights surrounding it. In the center, on the very front of the camera, you'll find the motion sensor, which is smaller than the lenses.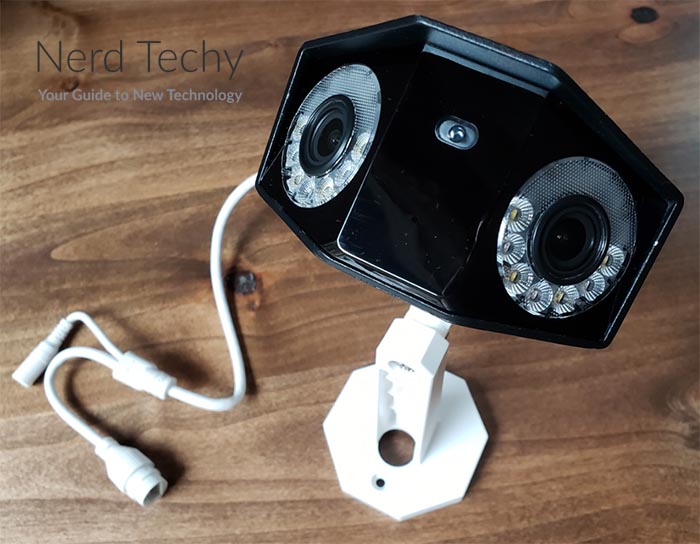 This camera is suitable both for indoor and outdoor use, with a weather-resistance rating of IP66. The first 6 indicates that it's completely dust-proof, suitable for even the driest of environments. If you took it to the surface of Mars, even that fine, chalky dust wouldn't get inside the housing. The second 6 indicates a high level of water-resistance. It's not quite submersion-proof, but it's the next best thing. You can crank up your hose and spray the Duo down for cleaning, and not have to worry. Even the most intense rain isn't going to stop this camera from functioning.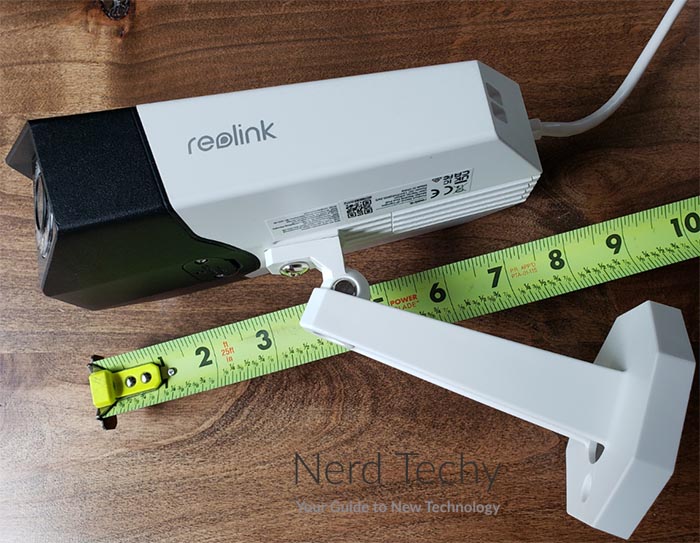 Power & Connectivity
The Reolink Duo runs on Power over Ethernet (PoE). This is a technology that uses your Ethernet cable to transfer power to your device. The concept is simple. By using a single cable for power and data, you negate the need for a second cable. In total, a PoE cable can work for a distance of up to 330 feet. That's more than enough for any home, and even for many commercial applications.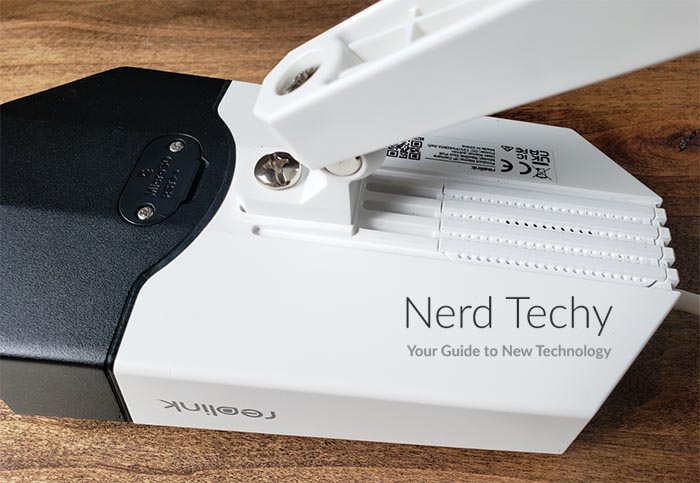 However, keep in mind that Reolink also offers the Duo in an AC-powered version that utilizes WiFi or 4G. This is a version that plugs-in to a standard power outlet, rather than a PoE injector/router.
PoE has some advantages and disadvantages. For one thing, a wired installation is more reliable. You don't have to worry about a finnicky WiFi signal. Wired signals are also more secure, since they're harder to hack than a wireless transmission. Finally, with wired power, you don't have to take down the camera periodically for charging. This is far easier than constantly charging a wireless camera. On the other hand, wireless cameras have their own advantages. They're far easier to install, since you don't have to run any wires. You also don't need a PoE router, which you will need for a PoE camera.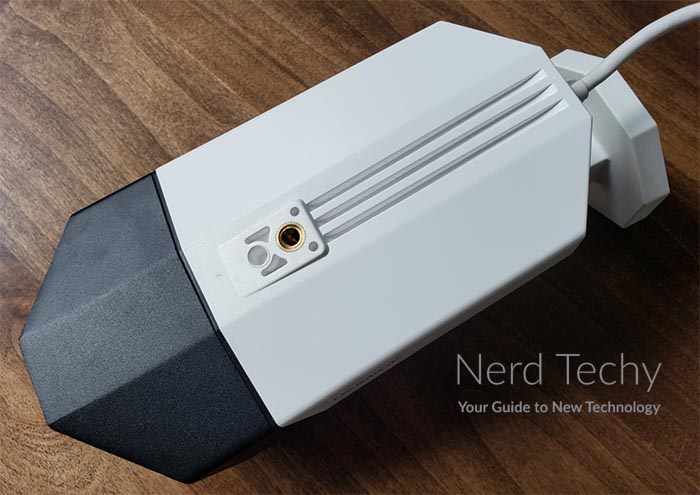 If you'd prefer a wireless security camera, check out the Reolink Argus 3 Pro. This is a single 2K camera, with a wireless connection and battery power. It also comes with cloud storage, so you don't have to mess with an SD card or hard drive. On the downside, it's only suitable for indoor use. If you need an outdoor camera, it's not going to hold up.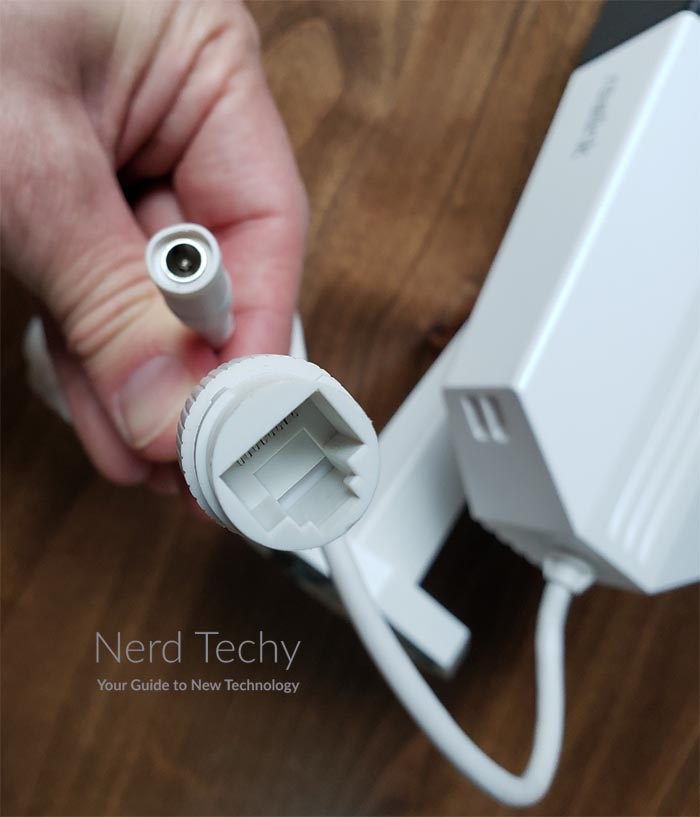 Camera Quality
Each of the Reolink Duo's lenses has a resolution of 2K, or 4MP. That's equivalent to 2,560 x 1,440 pixels, or twice the number of pixels as 1080p. Technically, you're getting four times the number, since there are two cameras. Regardless, the videos are high enough quality to display even the finest details. You can read a car license plate from a long distance, or read a delivery driver's name tag. Depending on where the cameras are pointed, you can even read the labels on packages. This is a far cry from the grainy, black-and-white footage you'd see from old fashioned security cameras.
This same quality carries over to the night vision mode. Instead of green, or black and white, the night vision is in full color. The Duo achieves this with a set of infrared LEDs, which illuminate its entire field of view. Keep in mind that this limits your effective range to about 40 feet at night. Still, that's more than enough for most purposes. Not only that, but if there's any kind of ambient light, you'll be able to see much farther.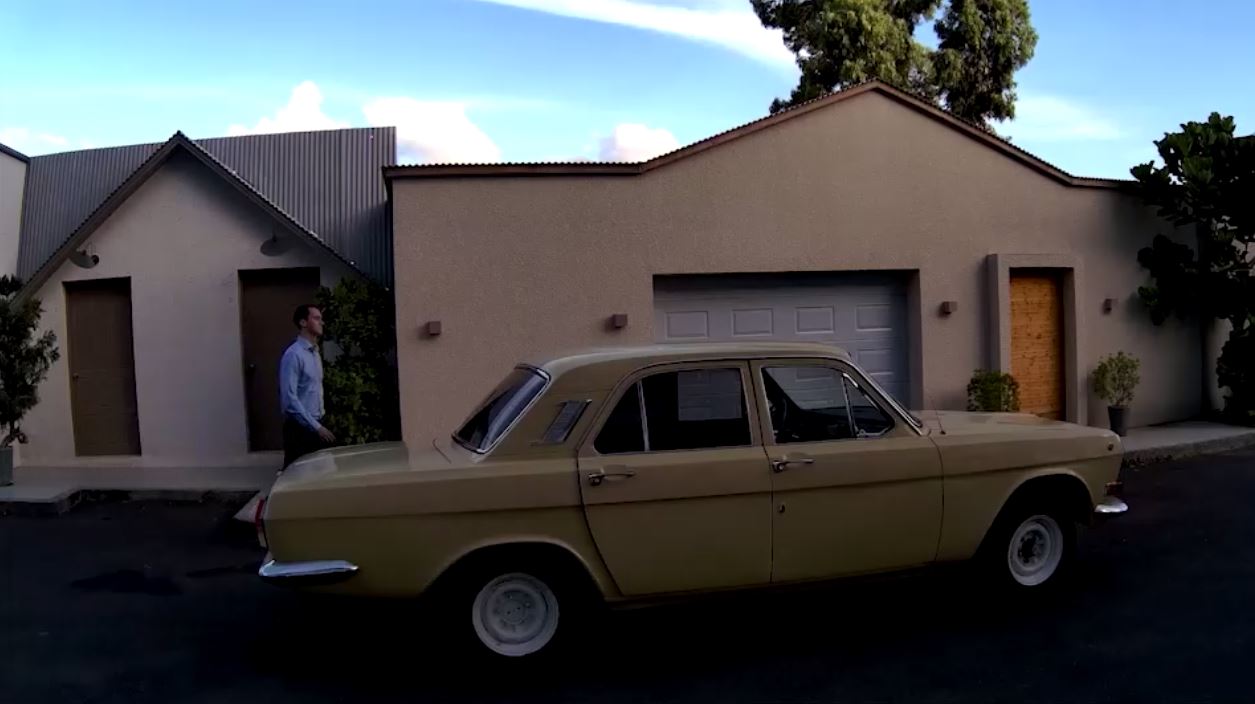 Because of the way the lenses are positioned, you get a very wide viewing angle. You can see a full arc of 150 degrees, without any distortion. This sets the Duo apart from much of the competition. A lot of wide-angle cameras have fisheye lenses that warp everything, particularly near the edges. This camera, on the other hand, preserves details across the entire field of view.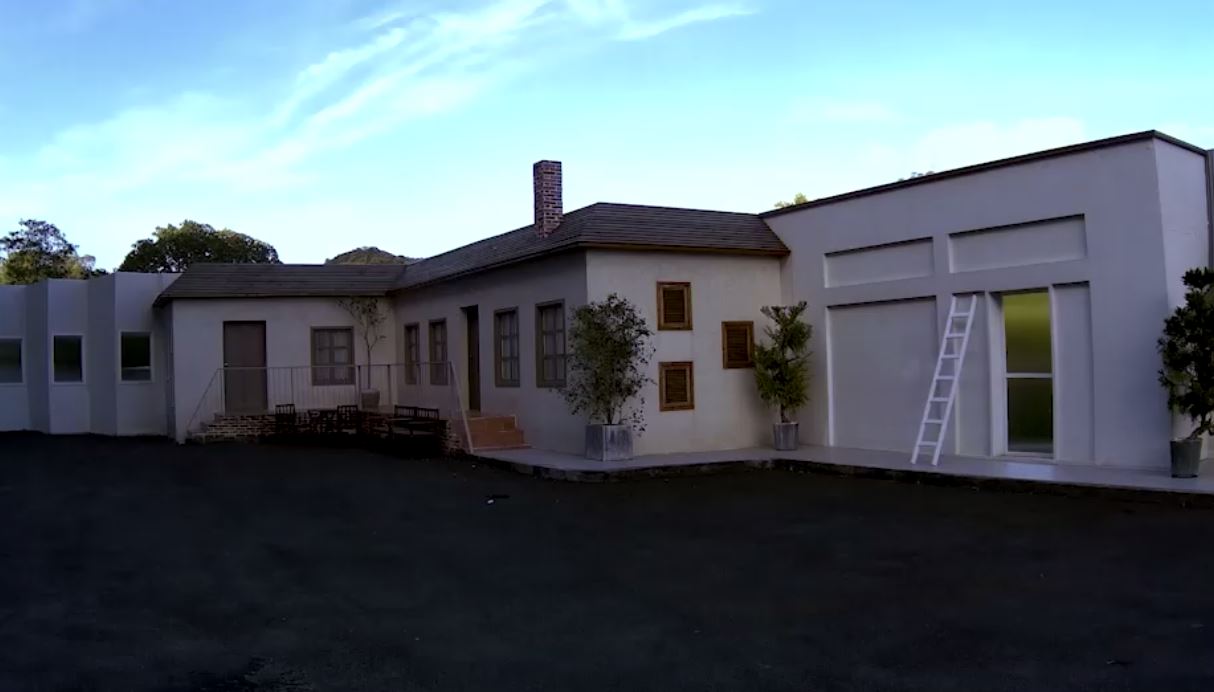 If you want even more advanced video features, consider the Reolink RLC-523WA. It offers panning, tilting, as well as a resolution higher than 4K. Not only that, but a 5X optical zoom allows you to zoom in closer than almost any other camera. On the downside, it has separate power and internet connections, so installation is more involved.
Storage & Extra Features
The Reolink Duo can record in three different modes. The first is 24/7 recording, which is self-explanatory. The second is scheduled, where you record at certain times. For example, you could set a home system to record only when you're not at home. The third setting is motion-activated, which is the most common. With motion-activated recording, footage is only saved when the camera spots a person or vehicle. You can also use the app to receive push alerts, which will display as "Person" or "Vehicle" respectively.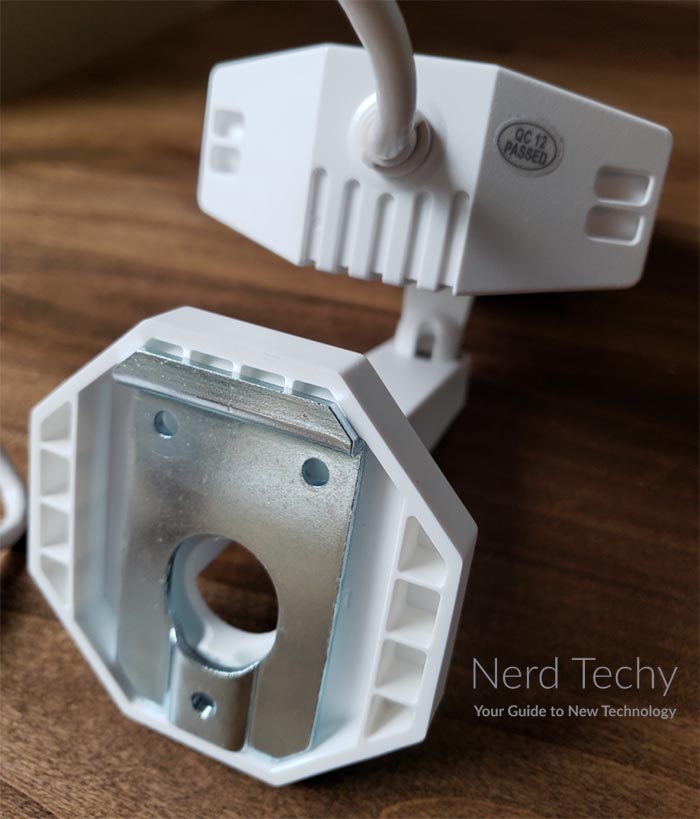 For storage, you can choose between a micro SD card, a Reolink NVR, or an FTP server. Most people will use an SD card, since it's the simplest for home users. The SD slot is located in the bottom of the camera, with a screw-down cover that keeps it watertight. Open it up, and insert a card with up to 256GB capacity. That's enough to store 58.25 hours of footage at full quality. An NVR, or Network Video Recorder, is like a DVR for your security system. The Reolink NVR can support multiple Reolink cameras simultaneously. Finally, anyone can set up an FTP server, provided you have the storage space and the technical know-how.
When you receive a push alert, you can respond in a couple of different ways. First, you can set off a spotlight and siren to frighten potential intruders. You can also set the siren to go off automatically. In addition, you can activate two-way voice communication. This is a convenient way to talk to contractors or delivery people.
Another great Reolink camera, also compatible with the NVR, is the Reolink RLC-823A. This camera offers panning and tilting, with very high-quality video, much like the 823WA we mentioned earlier. However, it uses a PoE connection, similar to the Duo.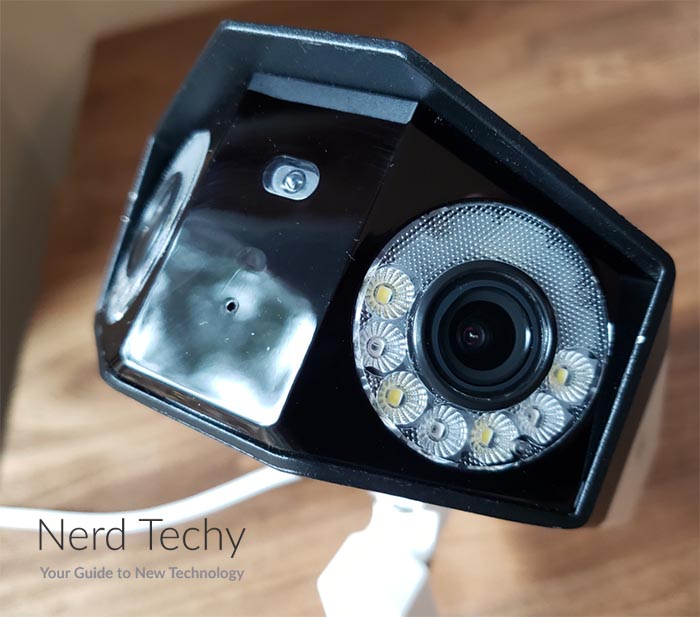 Final Verdict
So, does the Reolink Duo Smart 2K Camera With Dual Lenses meet our expectations? For the most part, it does an excellent job. The main drawback is the PoE installation. You either love it, or you choose a different camera. But if a PoE camera is what you desire, this one has a ton to offer. However, keep in mind, Reolink does offer it in an AC-powered version that utilizes WiFi or 4G, so PoE isn't necessarily required if you purchase the correct one for your scenario.
With dual 2K lenses, it provides rich detail, a wide angle, and excellent coverage. With color night vision, it provides great visibility at all hours. And with multiple storage options, it's easy to save all your footage. This is one of the most powerful, full-featured security cameras available on today's market.