Reolink RLC-823A
Pros
4K UHD resolution with 5x optical zoom.
Smart person and vehicle detection.
Built-in siren, spotlight, mic, and speaker.
No charging required.
Cons
Requires a PoE injector or compatible router.
No cloud storage option.
These days, you can't be too careful about your home's security. But if you haven't shopped around lately, you might think that a security camera is out of your reach. This used to be the case for many people. Old school security cameras had to be hardwired, and required a lot of monitoring equipment. Even a basic system could cost thousands of dollars, just so you could get grainy VHS video. As a result, they were only normally used by businesses and the wealthy. For most ordinary people, it just didn't make sense to invest that much time and space to a camera.
But it's 2021, and technology has come a long way in the past several years. Modern security cameras are very affordable, and don't require expensive monitoring hardware. They're also easy to install, and can be accessed from your smartphone. In other words, you don't have to be a member of the 1 percent in order to buy one. And even as these cameras have gotten more affordable, they've continued to get better. Even a cheap modern security camera will record video in HD – a far cry from traditional security footage. You'll be able to identify people at a distance, read name tags, and glean other useful details from your videos.
We're about to review the Reolink RLC-823A Smart 8MP PTZ PoE Camera. This camera records in the equivalent of 4K ultra HD, with a 5x optical zoom for catching the finest details. It has two-way audio communication, a built-in spotlight, and support for up to 256GB of storage. These features alone made us eager to take a look. But to find out how well this camera performs, we needed to dig a little bit deeper. We'll talk about how it's built and installed, as well as the quality of the video. We'll also discuss the app functions and features, and how the camera is used. Once we've considered all of those factors, we'll deliver our final verdict.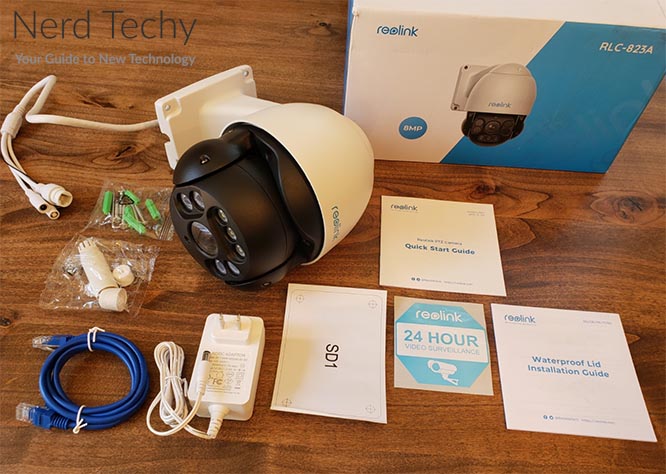 Design & Installation
The Reolink RLC-823A Smart 8MP PTZ PoE Camera has a pod-shaped profile, with a two-tone design. The lower part of the housing is the camera itself, which is glossy black in color. The front is fairly busy, with a lens in the center, and two alarm speakers on each side. Underneath, there's a row of three bright LED lights, which are off most of the time. Above the lens, there's a small infrared sensor, which is used for the camera's motion detection function. This camera unit is mounted between two sturdy black arms, which are motorized to allow for movement. Those arms, in turn, are mounted in the bottom of the upper housing.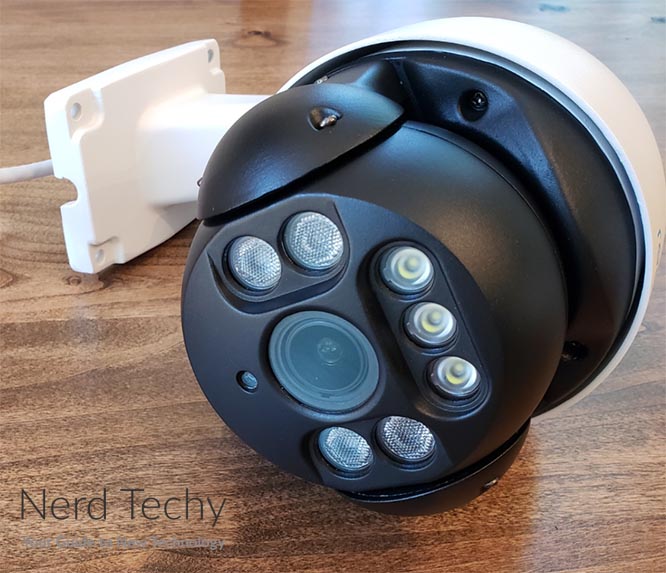 The upper housing is white in color, and is shaped like the top half of an egg. It's tough and durable, and houses the camera's motors. The bottom portion rotates, so the camera section can be panned from side to side. On the front, you'll see a blue Reolink logo, the only real color in the camera's construction. The back of this motor housing has an arm extending from it, which flares out to form a mounting bracket. This bracket has holes at all four corners, and can be screwed onto any exterior surface. A set of screws and anchors are included. However, you'll need masonry anchors if you're mounting on brick or stone.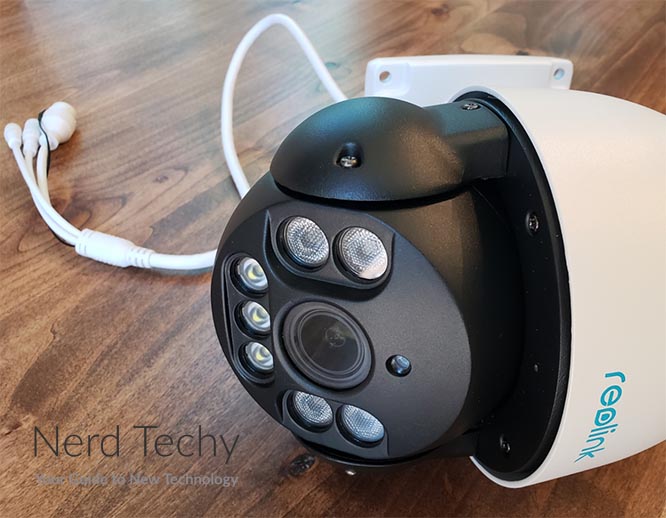 The housing and camera are tough enough to withstand most outdoor conditions. The whole unit has a weather-resistance rating of IP66. The first 6 indicates the maximum possible level of dust resistance. Even ultra-fine particles won't get inside the housing and damage the internal components. The second 6 indicates that the camera can withstand a steady stream of water. That's far more water resistance than is required simply to stand up to rain. In fact, you can safely hose the RLC-823A down when it needs to be cleaned. There's no need to get up on a ladder and delicately wash it down.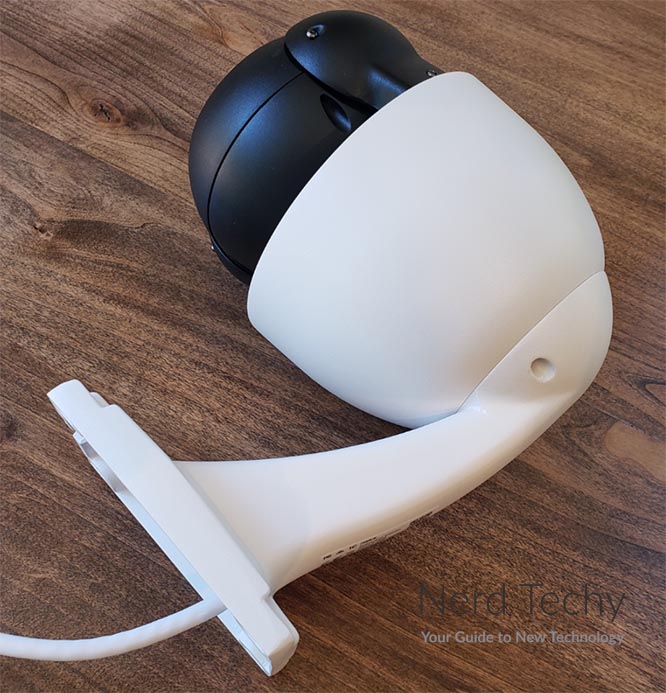 Speaking of getting up on a ladder, many outdoor cameras nowadays are wireless. This seems convenient at first glance, and makes initial installation a breeze. However, a wireless camera will need to be taken down and charged periodically. This camera, on the other hand is powered by Power over Ethernet (PoE). With PoE power, voltage is transferred directly via an Ethernet cable to your camera. The good news is that you won't have to charge any batteries. That said, you'll need to run a physical wire from your camera to your router. And if your router isn't PoE-capable, you'll need to buy a PoE injector. In all, the PoE connection has a range of 330 feet, long enough for most applications.
Once the camera is set up, you can control it via the companion app, which we'll dig into more in a second. You can also integrate the app controls with Google Assistant, and use voice controls to operate your camera. Alexa support is "coming soon," but Reolink has yet to confirm an exact date.
If you prefer a wireless connection, check out the Reolink Argus 3 Pro. This wireless camera can be set up in just a few minutes, and is very easy to install. On the downside, you'll have to take it down to recharge now and then, and the video is lower-resolution.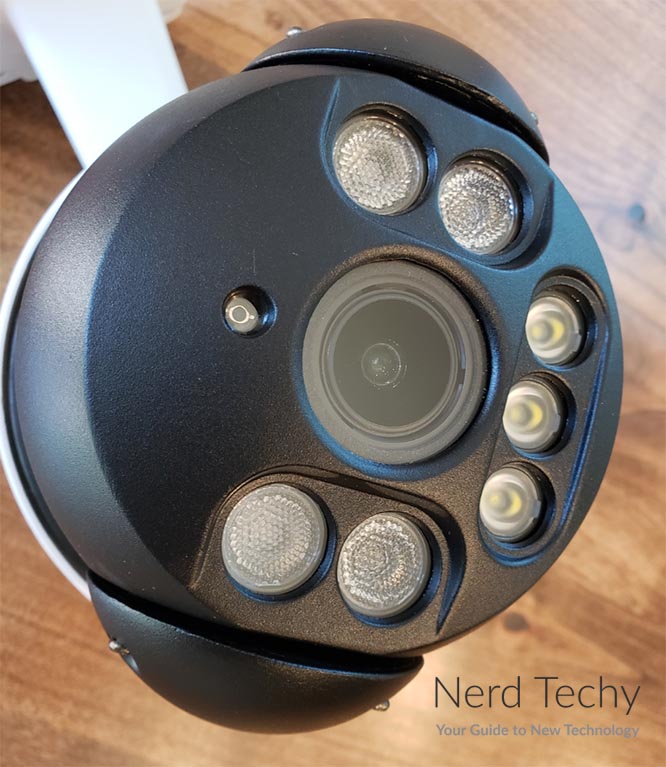 Video & Audio Quality
The Reolink RLC-823A really shines when it comes to video quality. The camera has a rated resolution of 8 megapixels, which is roughly equivalent to 4K. That's far better than your average 1080p or even a 2K security camera. You can see ultra-fine details, even at night. The active infrared night vision is surprisingly sharp, far outperforming most cameras on the market.
In addition to that, you also get a 5x optical zoom. This is superior to a cheap "digital zoom," which doesn't actually show you any extra detail. With an optical zoom, the lens is doing the zooming, not the photo receptors. You're getting added detail, which is the entire point of zooming in in the first place.
If you're looking for higher resolution, you'll have a hard time finding it. There aren't very many 8K security cameras, at least not on today's market. That said, there are a couple of enhanced 4K cameras available. Take a look at our review for the Reolink RLC-822A and RLC-1220A. The video itself is the same 4K, but the still photos are even crisper, at a full 12 megapixels. There's also an optical zoom feature, although it has a maximum zoom level of 3x instead of 5x.
One thing we appreciate about the RLC-823A is the viewing angle. At a maximum of 96 degrees, it's ideal for sitting inside corners, where it will cover the entire area. On a flat wall, it can cover the relevant area near a door or another access point. Keep in mind, though, that the viewing angle gets narrower as you zoom in. At the maximum zoom level, the angle will only be 27 degrees. This isn't a criticism. It's part of the very nature of a zoom function. When you zoom in, you're viewing less area. But keep in mind that if you want to cover an entire corner, you'll need to be at 1x zoom.
That said, you can actually cover a larger area if you want to move the camera around. It supports a 360 degree pan and 90 degree tilt function, to cover its entire environment. Once you've positioned it, it will stay in place until it detects a person or vehicle. At that point, depending on your settings, it can track the person or vehicle as long as they're in view. When the subject leaves their field of view, the camera will return to its original orientation.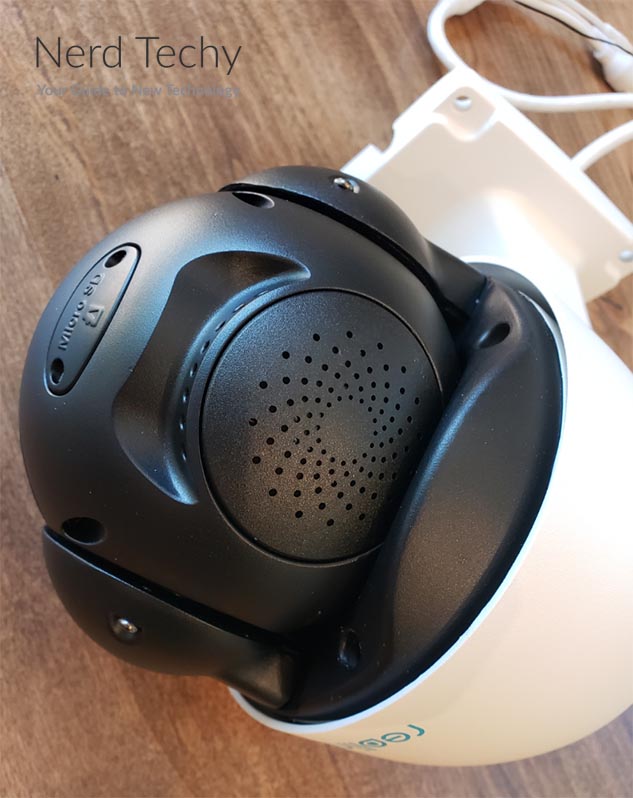 App Features and Storage
To access your footage or view your camera feed, you'll need the Reolink smartphone app. Thankfully, this is free, and it installs in about a minute. Once you've got it installed, you can pair your phone with your camera, and start tinkering around. So, what can you do inside the app?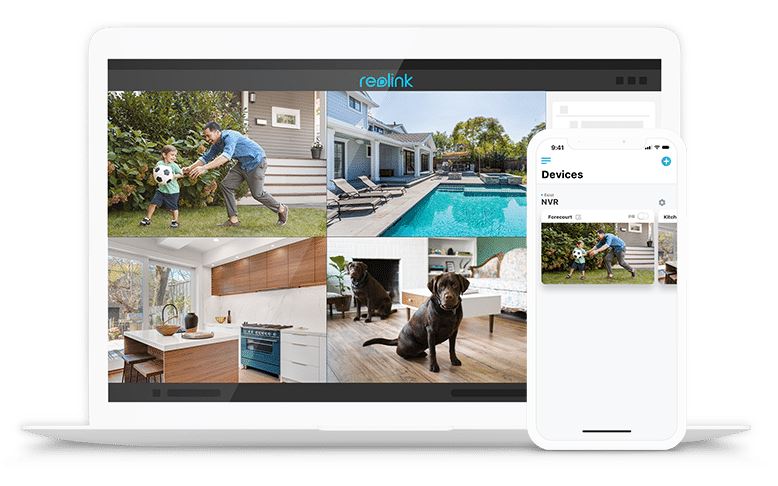 To begin with, you can view a live feed of your camera from anywhere in the world. But that's just the most basic feature you can access. To begin with, you can pan and tilt your camera to get the exact coverage you desire. You can also opt to utilize vehicle and person detection. This function will always be used to trigger an actual recording. However, it can also be set to send you push alerts whenever the camera is triggered. The notification will even tell you what it has detected: a vehicle or a person.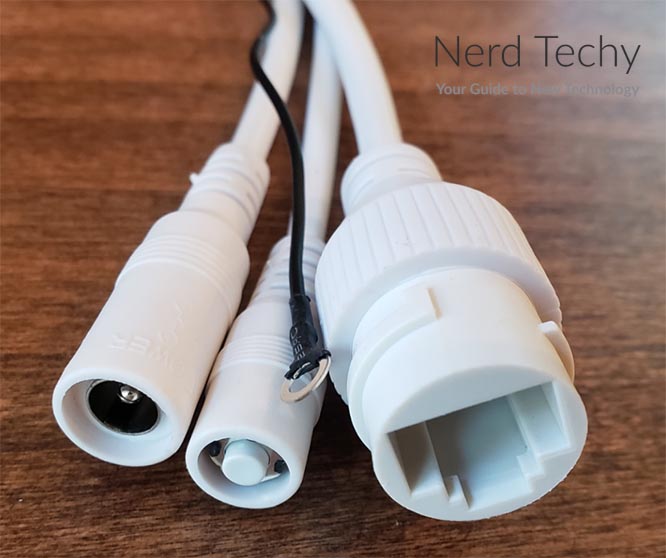 When the camera detects a person or vehicle, you can set it to activate a bright spotlight and siren. This can be used to scare off intruders before they try to break in. The spotlight and siren can be adjusted independently. So if you're in a residential area, you can leave off the siren alert and spare your neighbors' sanity. On a slightly more personal level, you can use the app for two-way audio. This lets you tell a delivery driver to use a different entrance, or ask your teenager to walk the dog. Finally, you can customize the motion detection zone. If you live near a road, for example, you can block that area out to prevent false vehicle alerts.
This camera records your video to an SD card, which you will have to provide. It supports up to a 256GB card, enough for 97 hours of video at maximum quality. Alternatively, you can write to a Reolink network video recorder (NVR).
Final Verdict
The Reolink RLC-823A Smart 8MP PTZ PoE Camera is a well-rounded camera with many capabilities. It provides top-tier video quality, along with a slew of smart features and app functions. It also doesn't rely on batteries. As long as you don't mind running a long Ethernet cable for PoE, you're in for a treat.