When many people think about technology, they think about the flashy things. Every time a new iPhone comes out with an even sharper camera, thousands of blog posts are made. But technology isn't just about entertainment. First and foremost, it's about quality of life. To be fair, entertainment is a big part of that. Life is a little bit more enjoyable thanks to things like Netflix and video games. But quality of life can come in many forms. For example, medical advances that cure debilitating illnesses, or using escalators instead of stairs.
But one of the most important things we've gained from technology is time savings. When you think about it, that's actually a big deal. Time is the one resource you can never, ever get back. So when you save time, you're getting back a little part of your life. As a result, some of the most valuable technological advances are related to mundane tasks. One excellent example is the humble vacuum cleaner. Prior to the invention of the vacuum, the only way to get your carpet clean was to beat the dirt out of it. People would take their rugs outside, hang them up, and hit them with sticks until dust no longer came out.
We're about to review the Ultenic D5s Pro Robot Vacuum Cleaner and Mop. Not only does it work without needing to take your rugs outside, but it cleans your floor automatically. But that's just the basic function you expect from any robot vacuum. To find out whether the D5s in particular is worth owning, we had to look closer at all of its unique features. Now, we'll take a deep dive into its physical design, as well as the suction power. We'll go over the mopping function, and how the navigation works. Once we've touched on all the various factors, we'll be in a position to render a fair verdict. Let's see how this robot vacuum compares to the competition!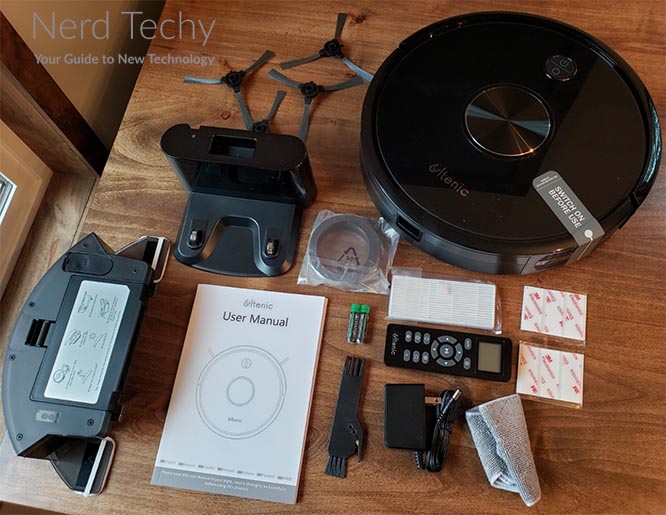 Overall Design
The Ultenic D5s Pro is a mid-sized robot vacuum with a diameter of 12.8 inches. And at 2.87 inches in height, it's also one of the lower robot vacuums we've seen. This makes it well-suited for cleaning under furniture, even sofas. The housing is constructed from a durable black polymer, with reinforced sides. These keep the vacuum safe from being damaged by an accidental kick. There's a white Ultenic logo on the top, and a pair of buttons placed inside a circular bezel. The power button is used to begin a cleaning cycle, while the home button sends the vacuum back to base. Of course, you wouldn't normally use the buttons. There's a line-of-sight remote control with more options. There's also a mobile app, which we'll discuss in a minute.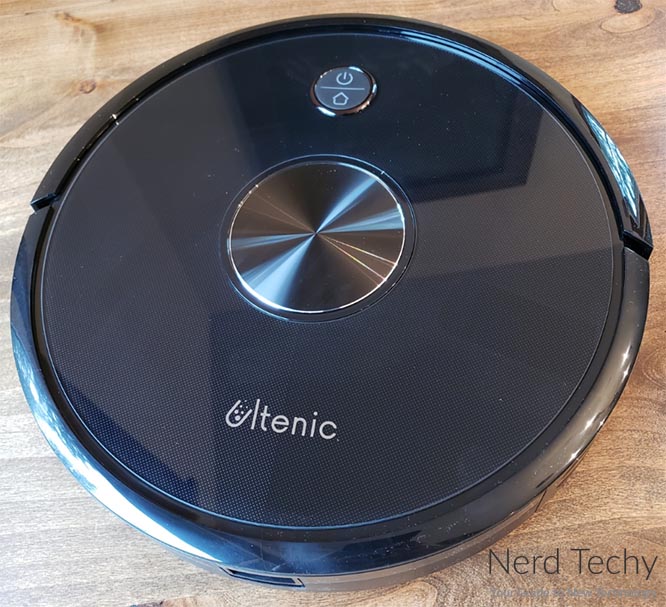 In the middle of the bottom of the housing, you'll see the main roller brush. This is big and wavy, with bristles that are safe for hardwoods. To either side, and towards the front, there are a pair of horizontal brushes. These look like little propellers, and sweep out to the side to gather in more dirt. They do a great job of collecting scattered debris on solid floors. On carpets, they're less effective, but they don't hurt anything. Behind the main brush, there's an attachment area for the mopping pad. The mopping pad itself is a simple piece of microfiber, and is easy to attach and remove. The nice thing about it being microfiber is that it's durable and reusable. Just throw it in the washer when it gets nasty, and it will come out as good as new.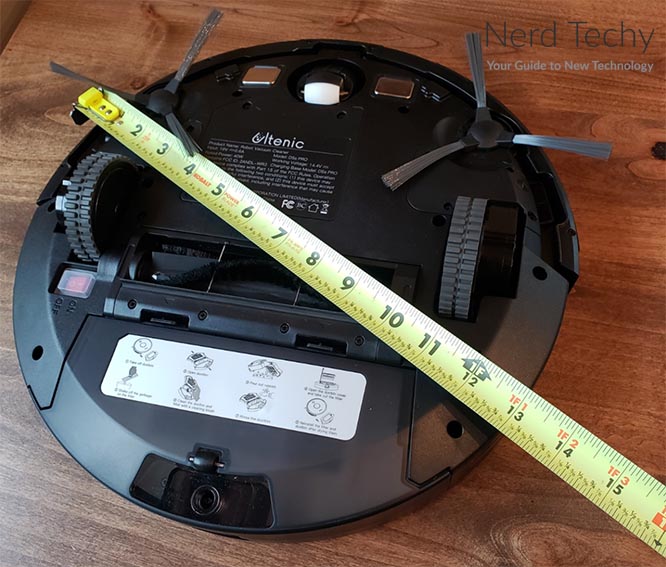 The main drive wheels are located to either side of the roller brush. They're grey in color, with a rubbery texture. They protrude enough to getup an 0.6-inch transition without any trouble. This isn't quite as big as a full-sized, ¾-inch transitions. But under most ordinary circumstances, your vacuum will be free to navigate your home. There's a third, smaller wheel at the front, mounted in a circular housing. This wheel is un-powered, but pivots to steer the vacuum.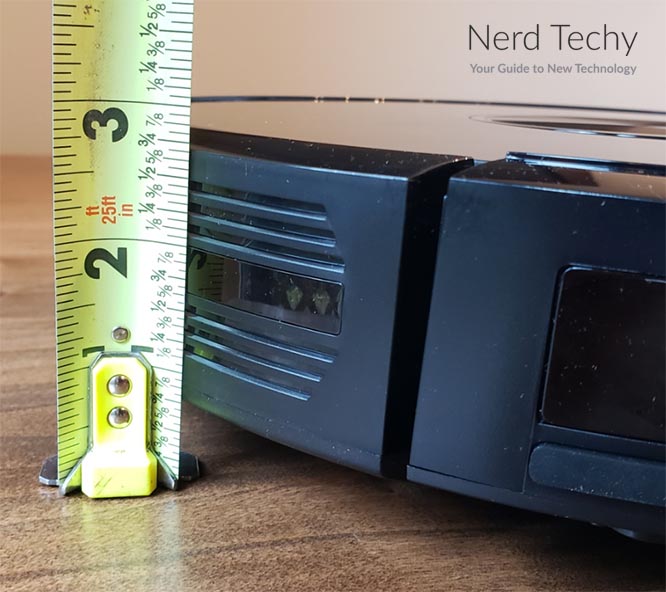 One thing that somewhat disappointed us was the 400ml dust bin. This isn't tiny, but it's smaller by 20 percent than the average 500ml robot vacuum dust bin. The result is that you'll have to empty the vacuum more often than many others. If that's a deal-breaker for you, there are plenty of other options. One good example is the Bagotte BG750. It has similar features to the D5s, but with a large, 600ml dust bin. On the flip side, it's a touch more expensive.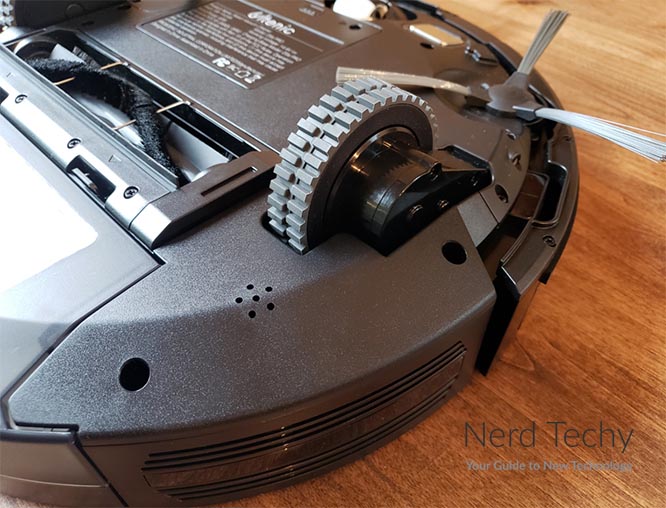 Like most robot vacuums, this one comes with a charging station. This is your vacuum's home base, where it will return whenever it's not actively running a cycle. As a result, you'll want to think carefully about placement. On the one hand, you want your robot vacuum to have access to the rest of your house. This rules out putting it in a walk-in closet or other enclosed space. On the other hand, you don't want to risk kicking it. Not only that, but the charging base needs to be plugged in. So you'll have to locate it reasonably close to a power outlet.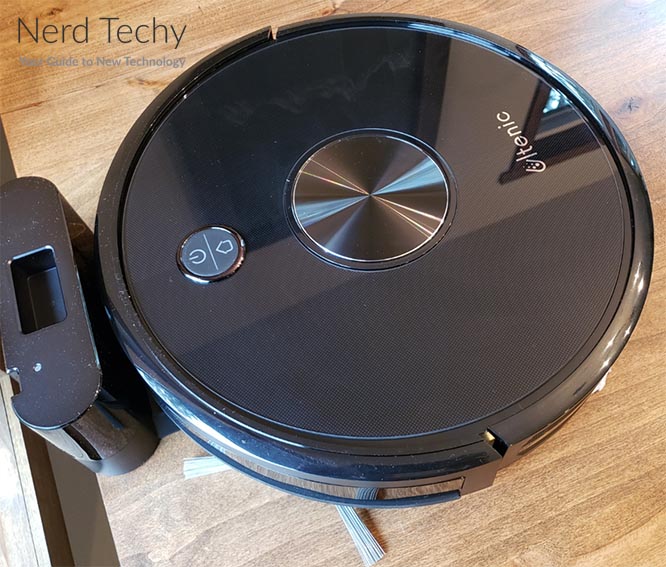 Vacuum Performance
The Ultenic D5s can provide three different levels of suction, with a maximum suction of 2,500 Pascals (Pa). The average robot vacuum has a maximum power of 2,000Pa, which gives the D5s a bit of an edge. With 2,500Pa, it's suitable for cleaning any kind of floor, and any carpet that isn't deep pile. It can pick up cat food, rock salt, and other lightweight debris without any trouble. You can let the vacuum automatically adjust the suction, or you can do it manually. This can be done either with the handheld remote, or with the smartphone app. At lower suction levels, you won't get as much power, but you'll improve your battery life.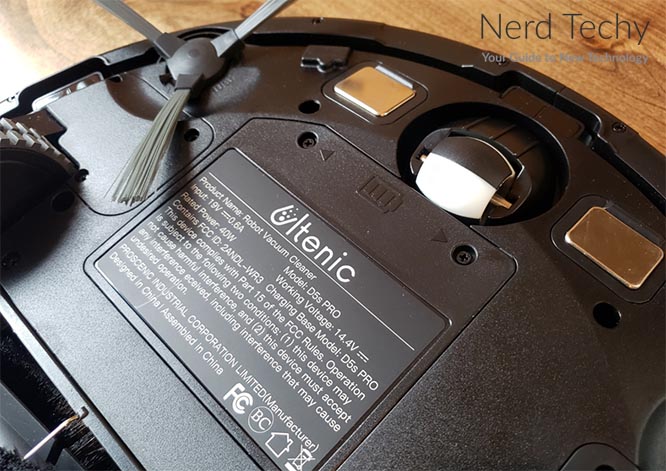 But suppose you need a lot more power? In that case, you'll need to pay more for a vacuum with a stronger motor. One good option is the Dreame Bot Z10 Pro. It provides 4,000Pa of suction, and it has a self-emptying dust bin with a bag in the charging base. You'll only need to empty it once a month or so.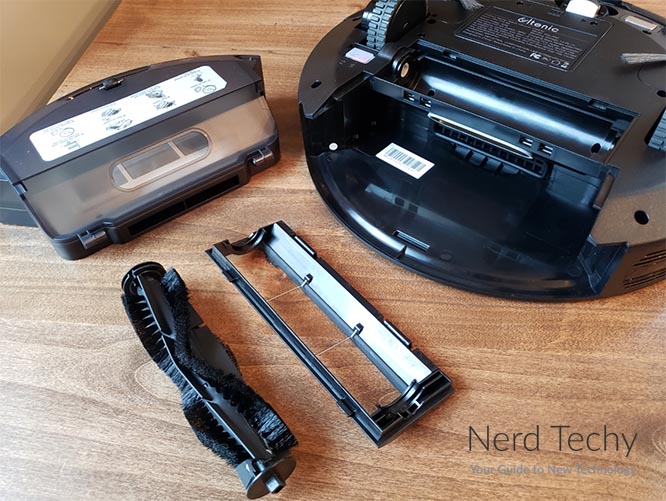 The battery life, as we mentioned, is highly variable. It really depends on what you're vacuuming and what your settings are. Ultenic advertises 120 minutes, and that's as good an estimate as any. With low-pile carpets, you'll be able to clean most homes on a single charge. We did appreciate that the motor runs quietly. It's rated at 60dB, which is about the volume of an ordinary conversation. This means you won't have to shout over your vacuum when it's in the room.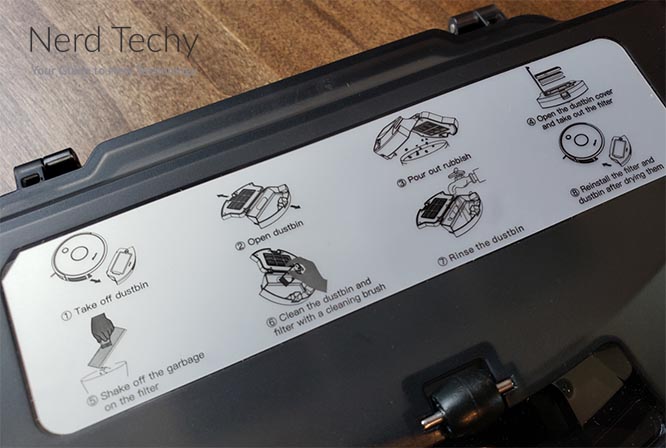 As far as mopping goes, Ultenic's advertising is a bit off. It says that you can vacuum and mop at the same time, but in fact it's one or the other. This isn't really a big deal, since you have to manually set up the mop anyway. The 300ml water reservoir is sufficient for cleaning around 500 square feet, although a lot depends on the surface. For example, water goes further on hardwood than it does on porous tile. It's also important to be realistic. This mop is for everyday cleaning, not for mopping up huge messes.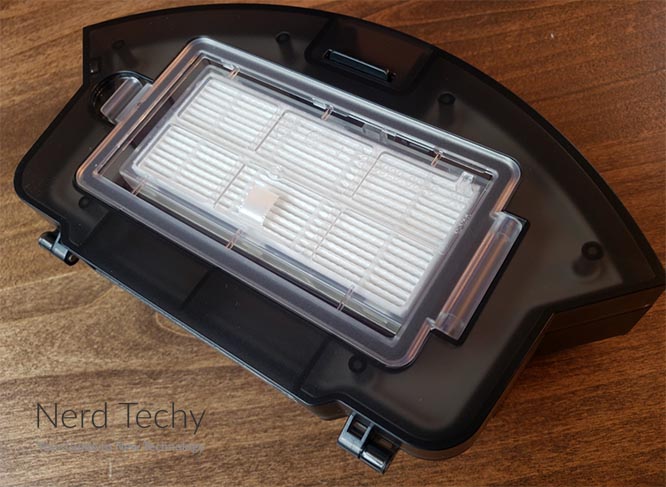 Setup and Everyday Use
To get the most out of the D5s, you'll need to set up the mobile app. The Ultenic app is free to download on iOS and Android, and it's easy to set up. You first need to connect to the vacuum via Bluetooth. Then, simply follow the wizard to connect it to your home's WiFi network. Once that's done, you'll be able to access your vacuum from anywhere. This makes it easy to change your settings on the fly. For example, what if you're having guests over unexpectedly? You can run a quick cleaning cycle remotely, to clean up before you all arrive.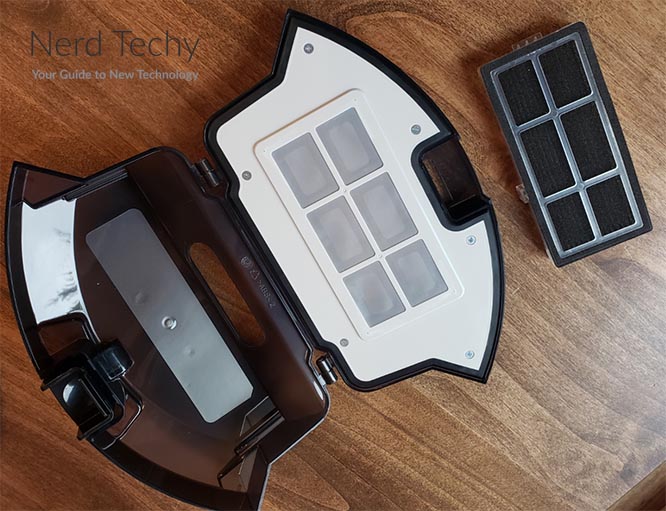 Using the app, you can adjust your vacuum's suction levels, or change to different cleaning modes. For example, there's a spot clean function for cleaning a specific area. There's also an edge cleaning function, for getting dirt out from around your baseboard. Moreover, you can opt to run your vacuum on a schedule. This can be daily or weekly, at any time that works well for you. Finally, you can integrate the vacuum with Google Home or Amazon Alexa. This lets you start a cleaning cycle via voice command.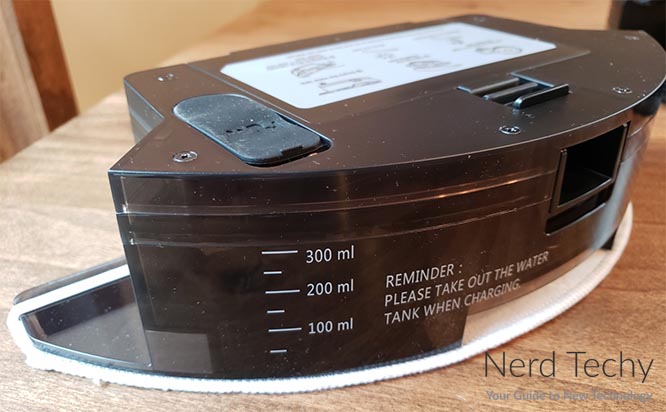 Like most modern robot vacuums, the D5s will map your home the first time it operates. After that, it will know where it's going, and clean according to a normal, efficient pattern. Most of the time, this works very well, and the floor gets clean without any hitches. But once in a while, the D5s wanders off on its own. It eventually figures things out and goes back into its pattern, but it's less efficient than some other vacuums.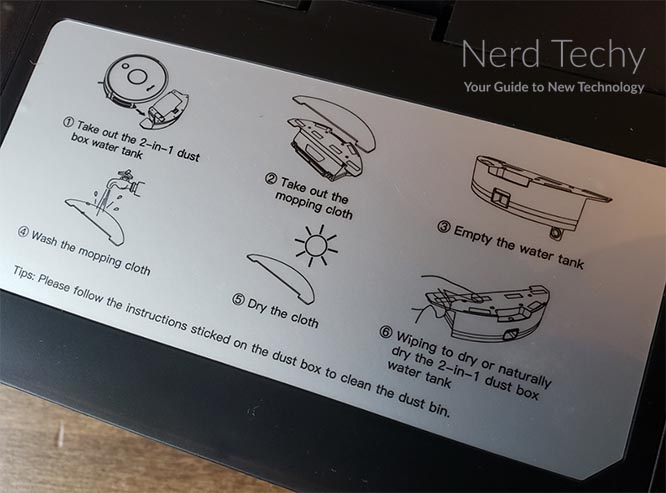 The only major feature the D5s doesn't offer is self-emptying, but there are plenty of vacuums that do. The Ultenic T10 is an excellent choice. It has a large base with a collection bag to suck out the hopper when it gets full. On the downside, you'll need to pay a bit more for the convenience.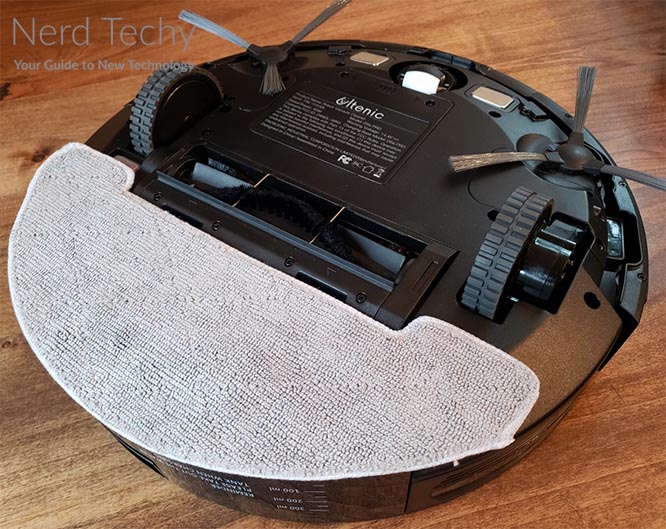 Final Verdict
As you can see, the Ultenic D5s Pro Robot Vacuum Cleaner and Mop is a comprehensive cleaning tool. It can handle solid floors as well as carpet, and mop as well as vacuum. It's not perfect. The dust hopper is a bit small, and the navigation can sometimes be a little wonky. But it's an affordable vacuum with most of the features you expect from a well-designed robot vac. The app is easy to set up and use, and the motor is reasonably powerful. The brushes work well, and the wheels are reasonably beefy. All in all, we were quite pleased.