Bagotte BG750
Pros
Vacuuming and mopping functions.
Removable, washable filter.
Larger than average dust bin.
Slim enough to fit under most furniture.
Cons
Only supports 2.4GHz WiFi.
None of the features really stand out.
If you're looking at all the year's upcoming technology releases, it's easy to spot highlights. You look for the new game consoles, or whenever Apple and Samsung are releasing their latest phones. If you're a particularly tech-savvy type, you might even consider new processors and graphics cards. All of these are the kind of sexy products tech bloggers love to yak about. But modern technology pervades all aspects of our lives, and not all of those things are exciting and glitzy. Some technology is downright boring, like industrial controllers, but still has a major impact on us.
A good example of this is the robot vacuum. When a lot of people think about robot vacs, they think of the early Roomba. Released in the early 2000s, the iRobot Roomba was revolutionary for its time. After all, it was the very first robot vacuum! But by modern standards, it barely qualifies as "smart." It didn't map your home, and it didn't clean your floor evenly. It just rolled around randomly, and eventually returned to base. If that was the last time you saw a robot vacuum, you might not be terribly impressed with the technology. Thankfully, modern robot vacs have a whole lot more to bring to the table.
We're about to review the Bagotte BG750 Robot Vacuum. This is a slim, medium-powered vacuum that's designed to fit under most furniture. And with its modern algorithms, it traverses the floor in a regular pattern. But what else does it offer that would make you want to choose it over other, similar, vacuums? To find out, we're going to need to take a close look at all aspects of its construction. We'll start with the basic design, and how it's physically put together. After that, we'll look at the performance of the vacuum function, as well as the mopping performance. Finally, we'll talk about how the vacuum is used, and what you can do with the app. After we've considered all of those factors, we'll have a more complete picture of what this robot vac can do. Let's find out!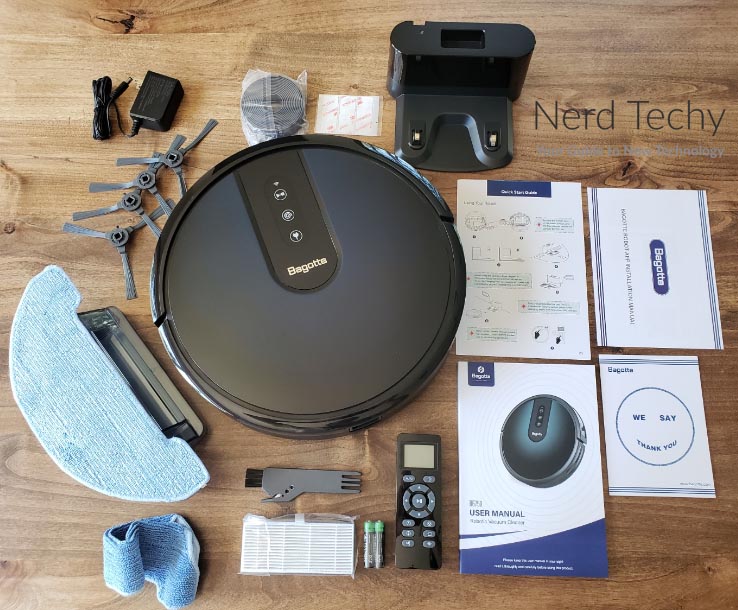 Design & Construction
Like most robot vacuums, the Bagotte BG750 Robot Vacuum is a disc-shaped machine. It's 13 inches in diameter, about the size of a dinner plate, and measures 2.7 inches in thickness. At this size, it can fit under the vast majority furniture and shelving. This makes it more versatile than most robot vacs, since it can fit under your bed, and maybe even your couch. The housing is mostly black, with an attractive glossy finish. On the top, there's a blue-green gradient in the center around the control panel. Around the perimeter, there's a plastic bumper that's designed to be a bit more rugged. This shouldn't be necessary, since the BG750 will automatically avoid obstacles. But it provides some protection if you accidently kick your vacuum.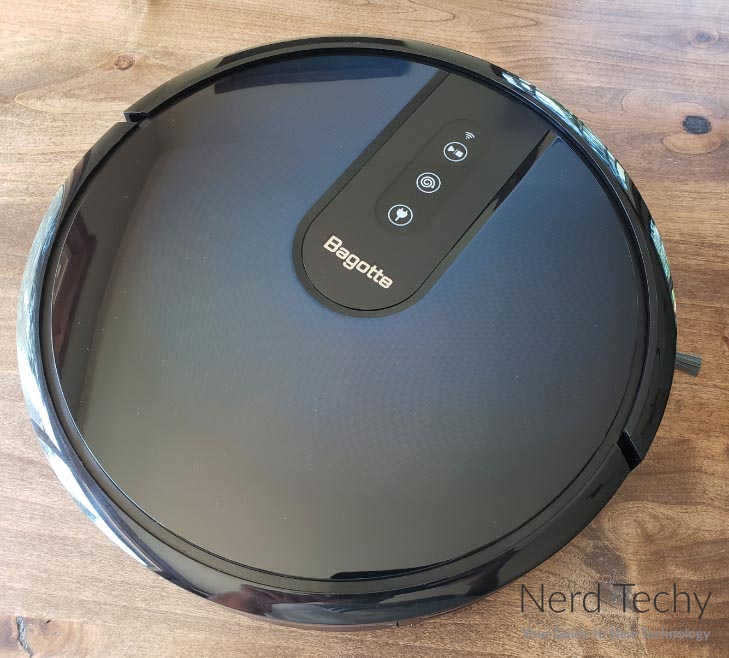 Underneath, there's a removable dust bin where debris gets collected. This bin has a capacity of 0.6 liters, which is bigger than the average robot vacuum. Half a liter is the standard, so you're looking at a bonus of about 20 percent. This means you can clean your floors longer before you have to empty the dust bin. That said, the emptying process is easy. You pop the bin out, dump it in the trash, and put it back. There's nothing more complex about it.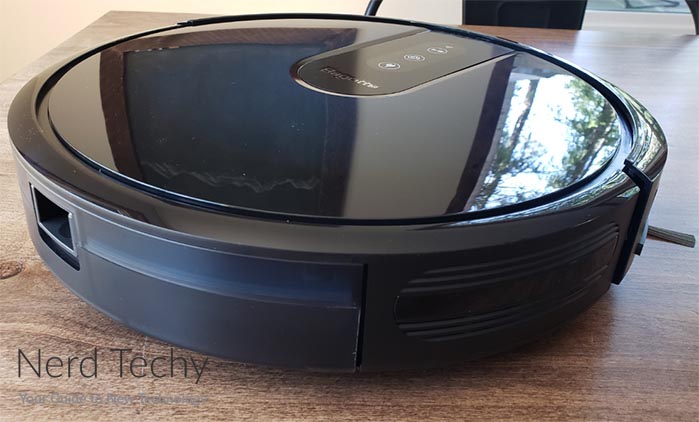 Also on the bottom of the housing, you'll notice the vacuum's main roller brush. The brush is fairly vanilla, with a double-helix brush pattern. This has the advantage of being very efficient, although it can tend to collect long hairs. To either side, there's a pair of chunky plastic wheels. These drive the vacuum around, and they're large enough to cross most floor and carpet transitions. In addition to the main brush, there are also a pair of horizontal brushes to either side. These are designed to gather dirt and dust towards the center of the vacuum, for more efficient cleaning. This is very effective on solid floors, although it does next to nothing on carpets.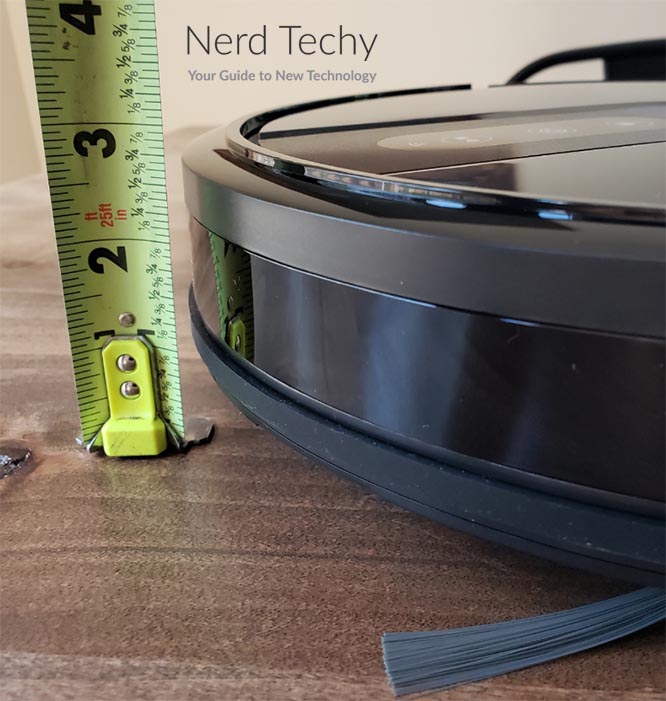 As we briefly mentioned, there are some physical controls located on the top of the housing. These consist of a set of three soft touch buttons, which are clearly marked with white icons. The front is a start/stop button, which stops or starts a cleaning cycle respectively. The second is the spot cleaning button. This will vacuum in the immediate vicinity of wherever you've set it down. The third is the charging button. This tells your vacuum to return to base. At the very front of the control panel, there's also a WiFi indicator. This blue LED icon will illuminate whenever the BG570 is connected to the web.
This vacuum includes a base station, which is used for charging. This is where the vacuum will live whenever it's not in use. The base station itself is not much more than three inches thick, and can sit easily against any wall. Just keep in mind that your vacuum will stick out from that, so it will protrude further. You'll need to position the base where it's not going to be a tripping hazard. You'll also need to put it reasonably close to a power outlet, so it can be plugged in.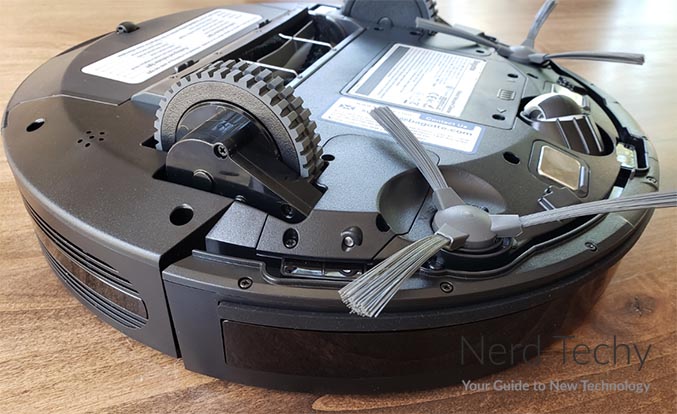 If you want an even more functional base station, check out the Yeedi Vac Station. This robot vacuum doesn't just charge when it goes back to base – it also empties itself. That said, it's correspondingly more expensive.
The BG750 is covered by a 12-month manufacturer's warranty. This includes the base station and all other accessories. If anything fails during that time period, you'll receive either a refund or a replacement.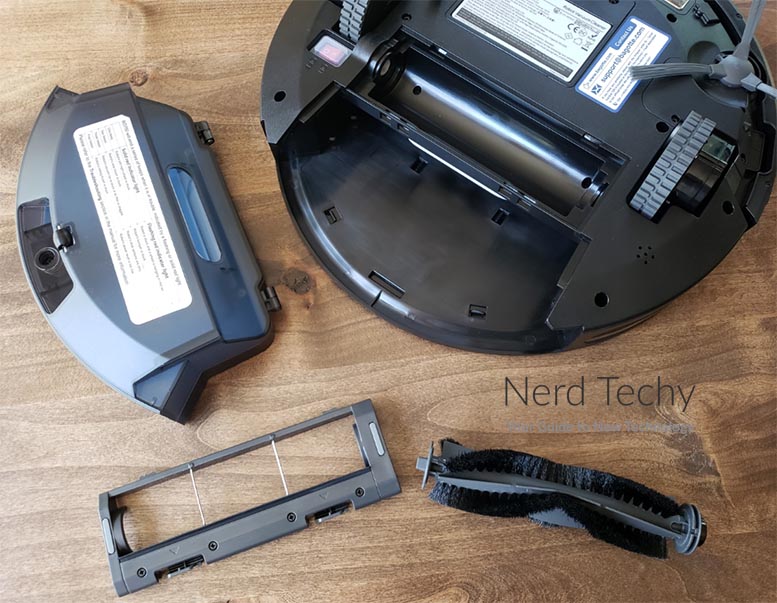 Vacuum Performance
The Bagotte BG750 provides 2,000 Pascals (Pa) of suction, which is more or less average for a robot vacuum. On the one hand, this is enough for cleaning shorter carpets as well as any solid floors. On the other hand, considering that this is a newer model, we'd hoped for more power. There are plenty of robot vacs offering 2,500Pa or more, so we were a little bit disappointed. But all in all, if you don't need a high-powered vacuum, you'll be getting plenty of suction for ordinary cleaning.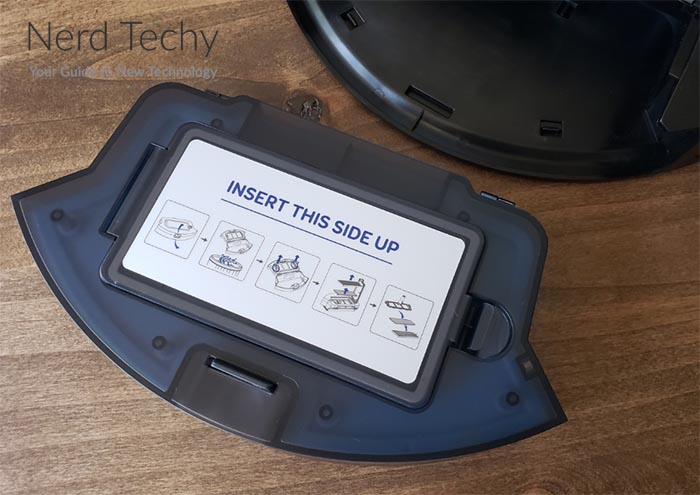 If you do need a more powerful vacuum, consider the Bagotte BS900. This is a battery-powered stick vacuum with a whopping 25,000Pa of suction. That's as much as some smaller shop vacs. It also comes with a variety of attachments, but it won't clean your floor automatically.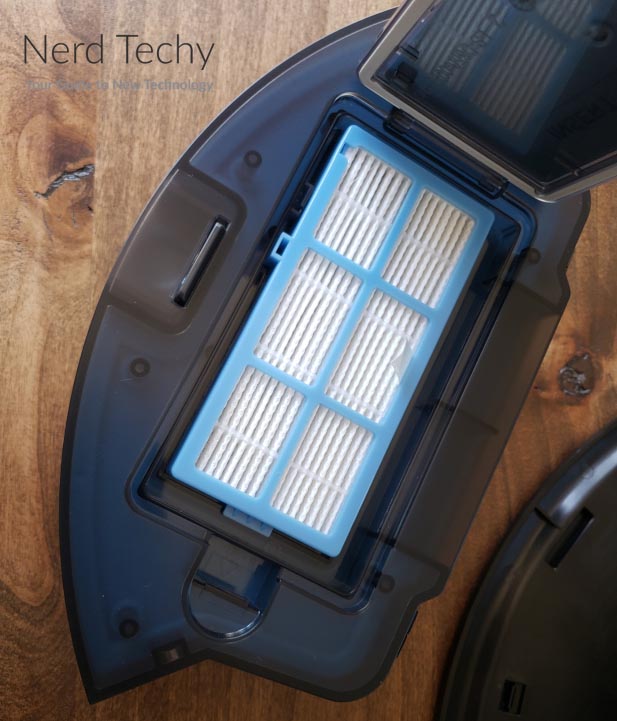 In addition to vacuuming your floor, the BG750 will also mop your hard surfaces. The dust bin can be swapped out for a 300ml (10.1-ounce) water tank. The reason the tank is half the capacity of the dust bin is that it's divided in half. One side is for your clean water, while the other side is for the dirty water that got sucked up. The mopping pad itself adheres on the bottom of the vacuum, and can be attached and removed in seconds. It's also machine-washable, and can be reused more or less indefinitely. All in all, we were pleased with the mopping performance, and it was a nice added feature.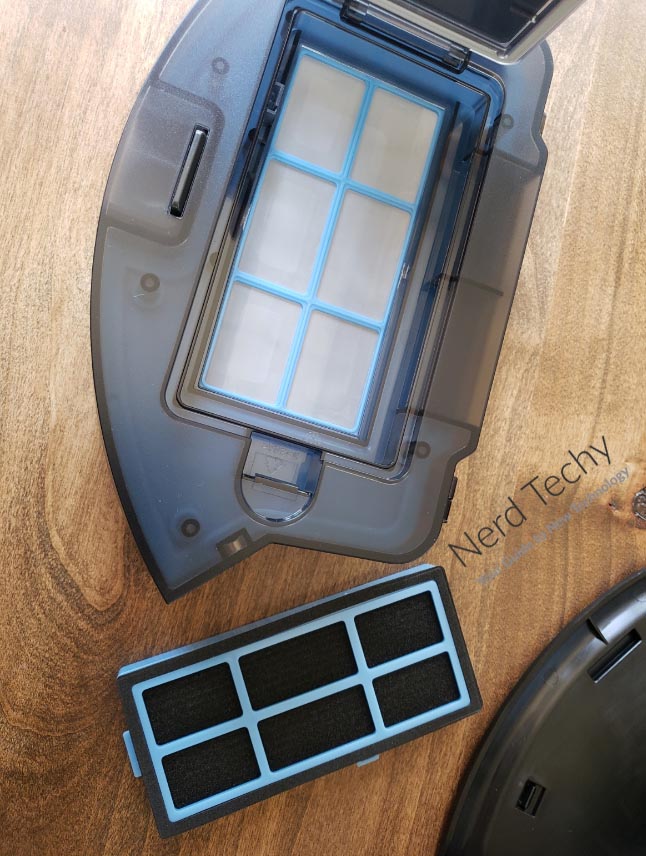 When fully charged, the BG750's internal battery will last for as long as two hours. That's enough to clean most people's homes, depending on your configuration. But let's say you own a large house, or you've got a rancher with all the rooms accessible on the same floor. In that case, the vacuum might not get your entire floor before it runs out of juice. Thankfully, it will automatically return to base when the battery starts to get low. It will even remember where it ran out of power, so it can return later and resume the cycle.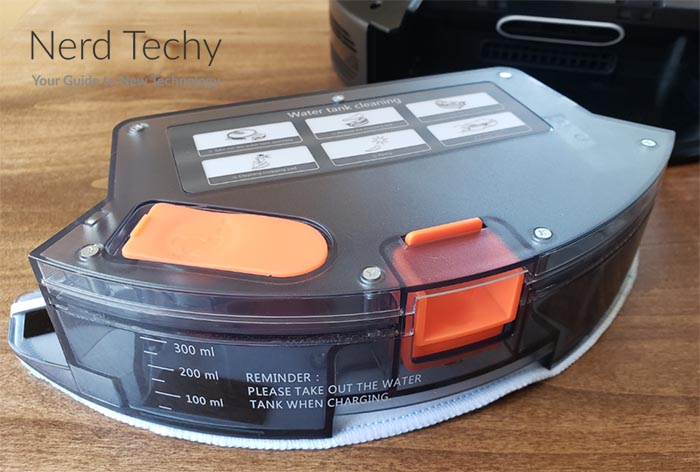 Setup and Use
We've already discussed the BG750's physical controls. But one of the things that makes it truly "smart" is the ability to control it via the app. With the app, you can start or end a cleaning cycle from anywhere in the world. You can also set up your vacuum to work with Alexa or Google Assistant. That way, you can use voice controls to start vacuuming, even if your hands are occupied. That said, this vacuum connects only via the 2.4GHz wireless channel. This shouldn't be a problem for most people. However, it won't work via 5GHz WiFi, and there's no way to connect with simple Bluetooth.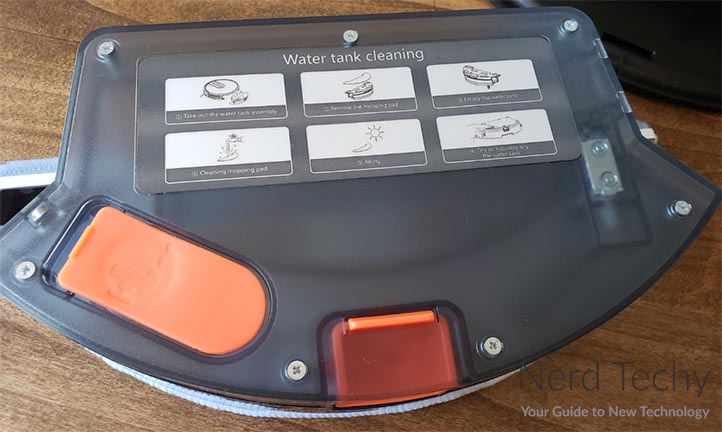 For even more control options, take a look at the Bagotte BG800. It includes a handheld infrared remote, and is also slightly more powerful than the BG750. On the downside, it doesn't offer as much battery life.
When this vacuum cleans your floor for the first time, it will create a virtual map of your home. You can view this map in the app at any time during a cleaning cycle, and see where the vacuum is at. This way, you can track its current progress. Bear in mind that it will clean your entire home by default. If you want to block off a particular area, you'll need to use the magnetic strip that's included in the package.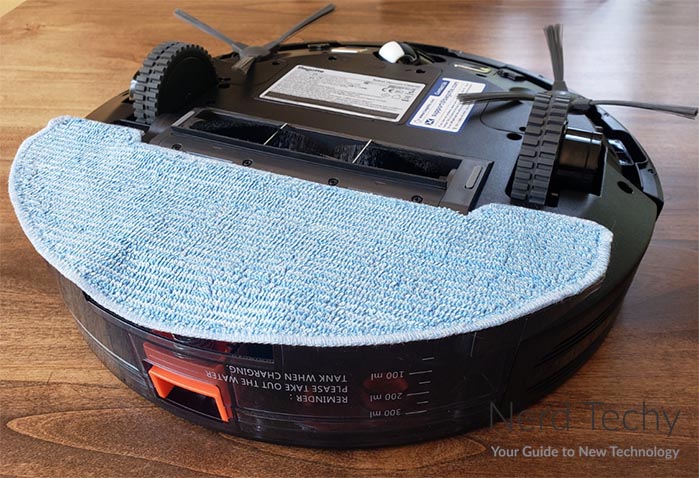 In addition to ordinary cleaning, you can also set the BG750 to perform a couple of special cleaning cycles. First, it's capable of edge cleaning. In this mode, it runs along walls, ledges, and the rest of the outside of your cleaning area. Because edges can tend to collect dirt, it's sometimes helpful just to clean these areas. The other alternative is spot cleaning. In that mode, you set the vacuum down in the middle of a mess, and it cleans the immediate area.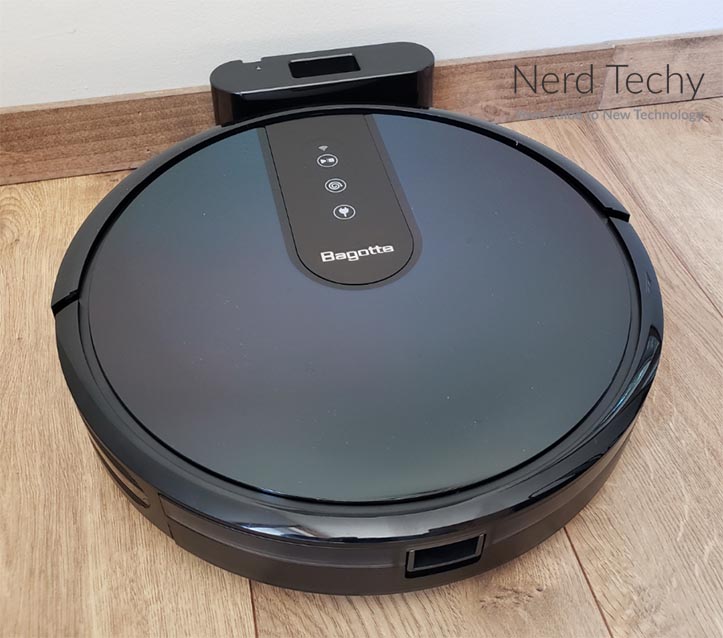 Final Verdict
The Bagotte BG750 Robot Vacuum is a solid all-around vacuum that will meet most people's needs. If we had any major complaint, it would be that it's too average. There aren't really any standout features to make it unique. That said, it's effective and reliable, and it comes from a respected brand.