iClever TransNova
Pros
Long-lasting batteries.
Attractive, kid-friendly design.
Parental control feature for limiting volume.
Comfortable and adjustable for all ages.
Cons
Not as durable as most "adult" headphones.
Audio quality is so-so.
Finding a new pair of headphones can be tough these days. There are so many options on the market, it's easy to get caught up in all the choices. In many ways, it would be easier if there were only a handful of wireless cans to choose from. At the same time, this is to be expected in a young market like wireless audio. Not only that, but the variety of choices has its upsides. It allows new manufacturers into the market, which keeps prices as low as possible. It also forces market leaders to keep innovating. If they don't, one of those new manufacturers just might overtake them. The result is a market with constant innovation, relatively low prices, and yes, thousands of options.
Take, for example, the ability to buy kids' headphones that are of reasonably good quality. Most are made more like toys than like actual audio equipment. They're fine for toddlers, but older kids are going to be disappointed in the quality. At the same time, there are good reasons to invest in special headsets for your kids. For one thing, adult-sized headphones won't fit on smaller children. This is less of a problem for teens, whose heads are more-or-less full-sized. But for younger kids, adult-sized headphones may simply be too large. Not only that, but you'll often want to limit the volume, to protect your kids' hearing.
The iClever TransNova Bluetooth Headphones for Kids & Teens meets both of those criteria. To begin with, it's well-sized for both children and adults, thanks to a highly-adjustable head band. It also offers parental controls for hearing protection. But those are just the basics of what makes a good pair of kids' headphones. To find out how good these really are, we'll have to dig a little deeper. We'll look at all the features we'd look at if they were adult headphones, starting with the physical construction. We'll talk about the battery life, and the quality of the wireless connection. Then, we'll wrap up by talking about the quality of the audio itself. At that point, we'll be ready to render our verdict. Let's get started!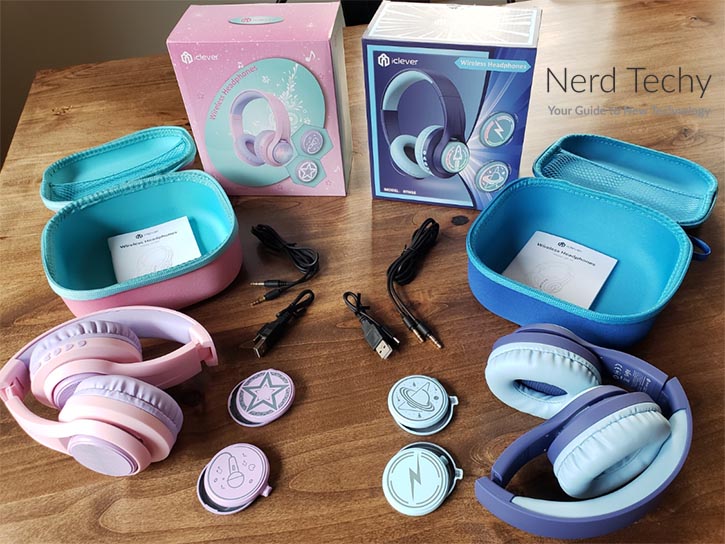 Overall Design
The iClever TransNova Bluetooth Headphones are built with small heads in mind. When fully collapsed, they have a height of only seven inches from the arch to the bottom of the ear cups. They're also a slim 6.1 inches in width, and the ear cups themselves are a mid-sized 2.63 inches. This makes them well-sized for toddler heads when they're fully collapsed. However, the bands can also be extended to accommodate much larger heads. Most adults could even wear them comfortably, although you might prefer a set of wider ear cups. The weight is similarly well-suited for kids, at just under a pound.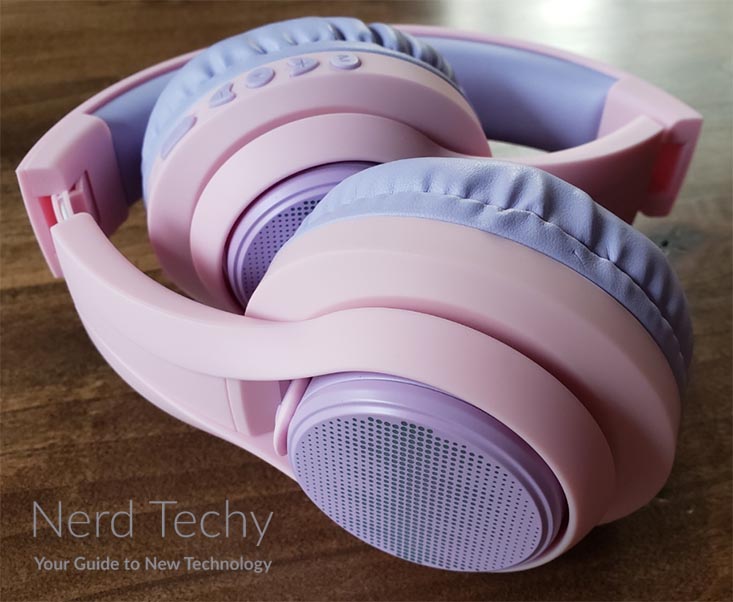 The headphones can be purchased in two colors: sky blue or pale pink. Both have a matte finish, which won't attract fingerprints and cleans off easily. The top of the head band has a thin padding on the inside, with heavier padding around the inside of the ear cups. There's nothing particularly special about this padding, but it's comfortable enough. It's also surprisingly breathable, which we didn't expect on a kids' product. Along the same lines, the construction is fairly rugged. The material isn't rigid, but it will bend rather than break under most circumstances. This makes it well-suited for handling the kind of abuse toddlers will throw at it.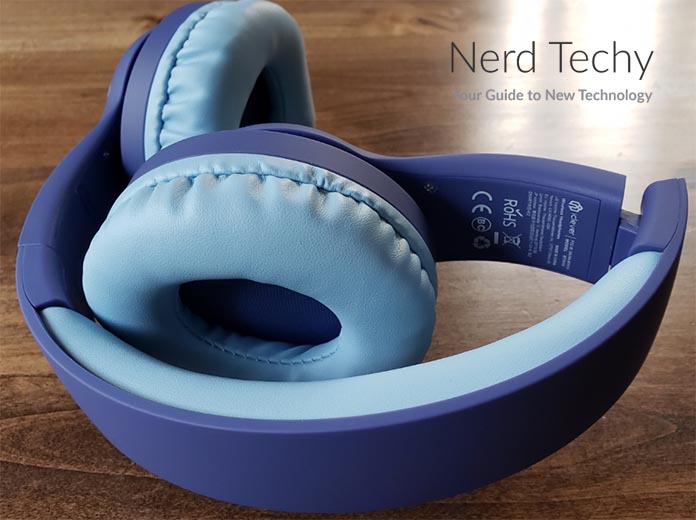 Taking a cue from the RGB headsets favored by older gamers, the TransNova has some lighting features of its own. Rainbow lighting on the backs of the ear cups shines through one of three colorful patterns. These patterns are built into interchangeable plates, so they can be switched out at will. The blue headphones come with a lightning bolt, a planet, and a rocket. The pink headphones comes with its own symbols. If that's not enough, you can purchase additional packs of plates with even more images.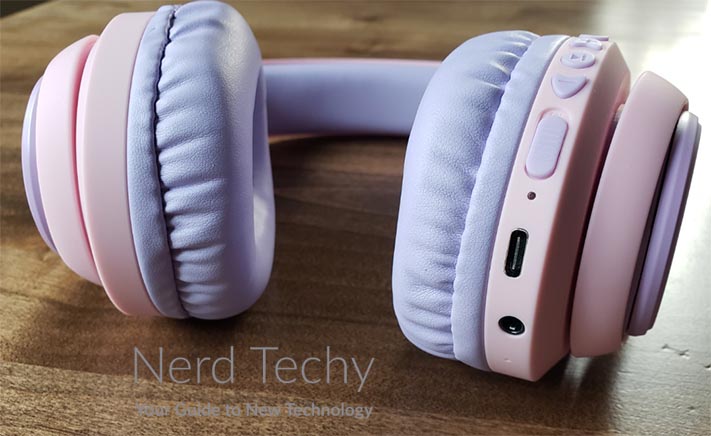 This is all a lot of fun for younger kids. But teenagers will probably find the design a bit "young" for their tastes. For kids in that age group, the SuperEQ S2 is probably a better choice. It has a colorful, fun design, but the aesthetic is a bit more mature. There's also improved audio, with active noise cancellation. On the downside, there are no parental controls.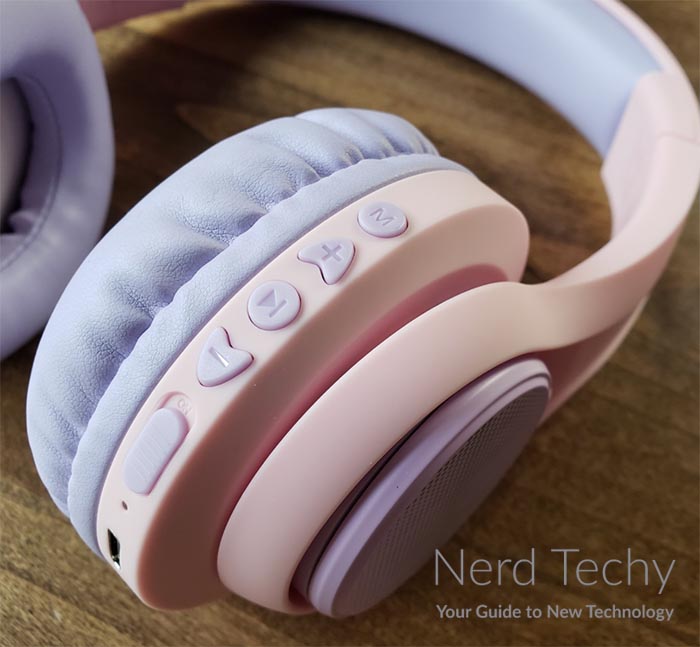 The physical controls on the TransNova headphones are located on the front edge of the left ear cup. These are rubbery buttons, not soft touch controls, so they're easy for young hands to operate. The top button is an audio mode button, which turns the decorative RGB lights on and off. The next three buttons consist of volume controls, along with a play/pause button. At the very bottom, there's a sliding switch that turns the headphones on and off.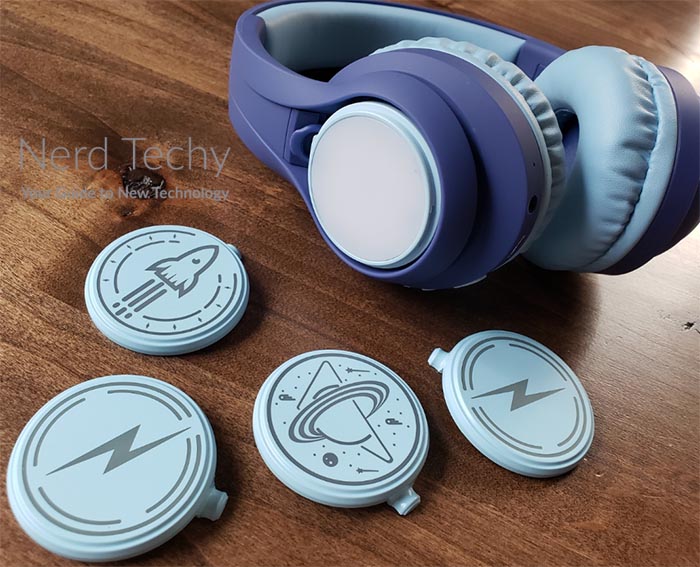 Along with the headphones themselves, the package includes an EVA nylon storage bag. It's not absurdly durable, but it sports a zipper closure, and it's tough enough to be scratch-resistant. You also get a USB Type-C charging cable, as well as a 3.5mm aux cord.
Battery & Connectivity
One thing that impressed us about the TransNova headphones was their battery life. These are rated for up to 45 hours of use, which is fairly impressive. Of course, as is usually the case, this is a manufacturer rating. That means that you'll actually get less battery life if you're listening at full volume. But even then, you'll get a minimum of 35 hours, which is very good. On the downside, the RGB lights will eat up a lot of this battery power. With the lights engaged, the battery life drops to only 10-12 hours. That's not much, so you won't want to use the lights without a source of power readily available.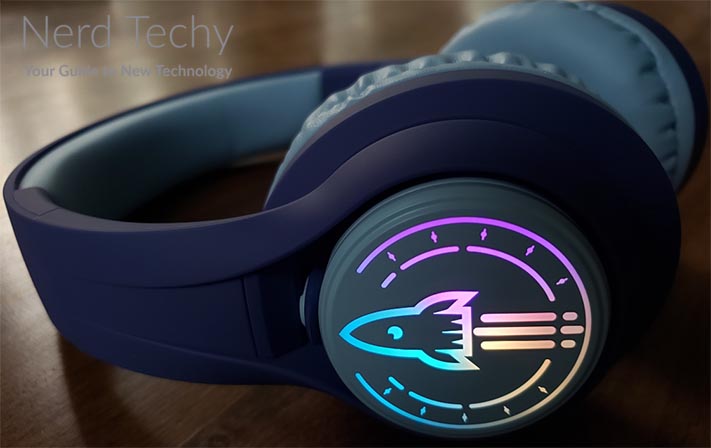 As far as charging goes, the USB Type-C cable can fill the battery in under two hours. Moreover, it can accept a 10-minute fast charge, which gives you four hours of playtime. If you need to take your kid on a short trip, you won't have to worry about having forgotten to charge the battery. Along the same lines, the battery charges faster than it drains. If you're on the road, your child can simply plug into your car's USB charging port. In that case, they can keep using the headphones more or less indefinitely.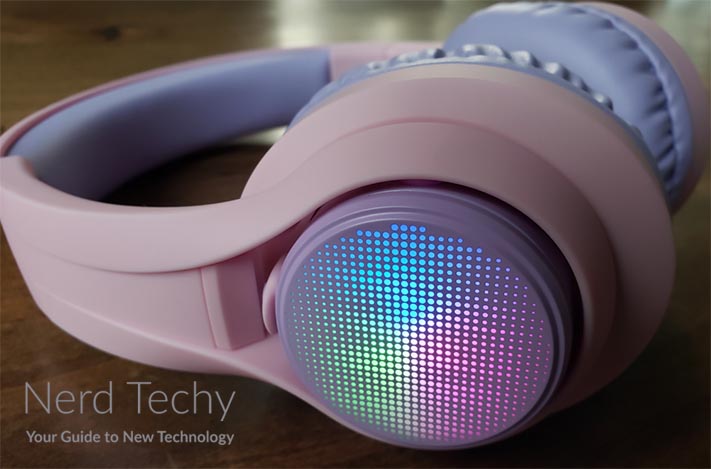 These headphones connect via the Bluetooth 5.0 wireless protocol. Bluetooth 5.0 isn't the latest protocol, but it's the most popular current standard. It represents a significant advancement over the earlier Bluetooth 4.2 protocol, in three different respects. First, it provides a more stable signal, so you don't have to worry about a lost connection. Second, it provides more bandwidth than the older protocol. This means you can listen to audio at higher bitrates, which usually equates to better quality. Finally, there's less latency, which means less delay between audio and video. This makes the TransNova headphones a good choice for movies and video games.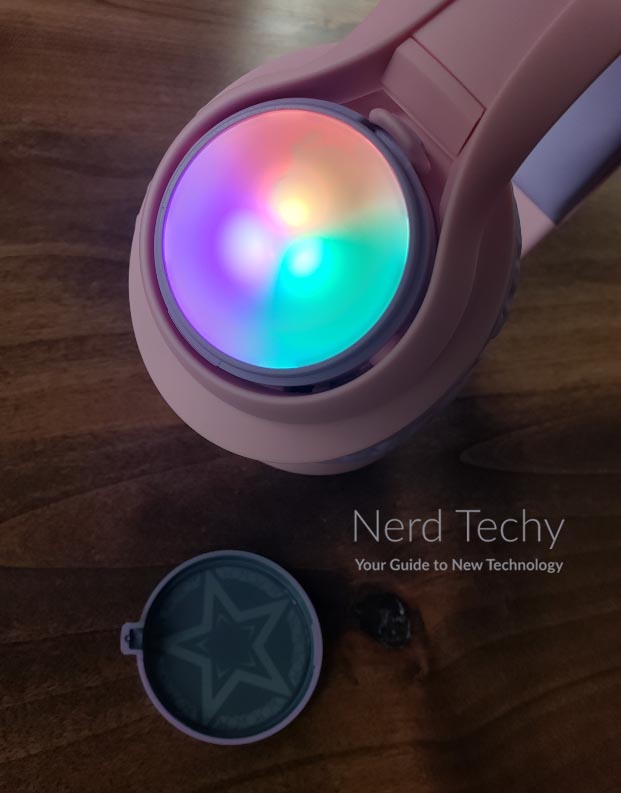 As an alternative, you can use the 3.5mm wired aux connection instead. This has its own costs and benefits. On the one hand, you don't have to worry about battery life. With the aux connection, your headphones receive power directly from your audio device. As a result, your child can keep on listening even after their headphone batteries are dead. On the other hand, with the 3.5mm connection, you won't be able to use the headphones' on-board controls. The RGB lights will also still require the battery, regardless of the source of your audio.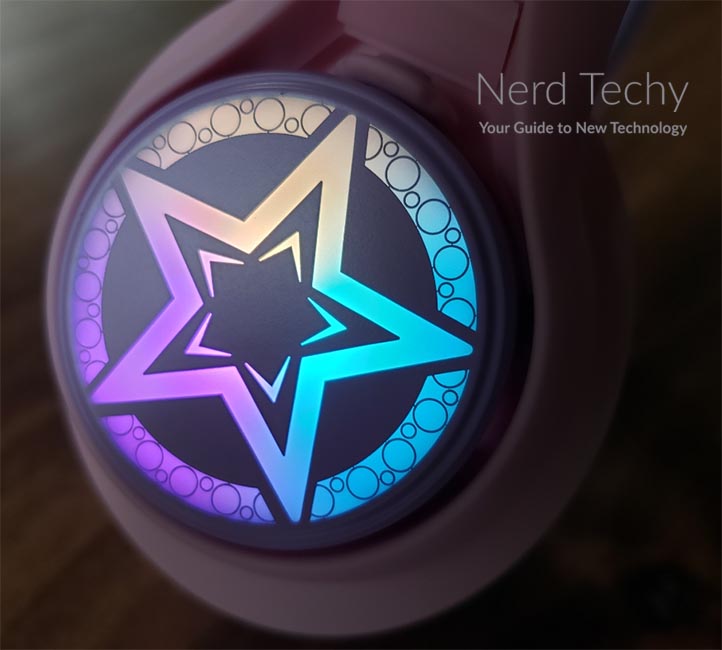 Audio Quality
The TransNova headphones contain 40mm drivers, which are around the standard size for full-sized headphones. This allows them to offer better-quality audio than we'd expected. The highs are clean and clear, and there's enough of a soundstage that vocals don't sound squished. We were particularly impressed with the bass, which is nice and punchy. Don't get us wrong. These are kids' headphones, and they're not concert quality. But for the price, we were very pleased.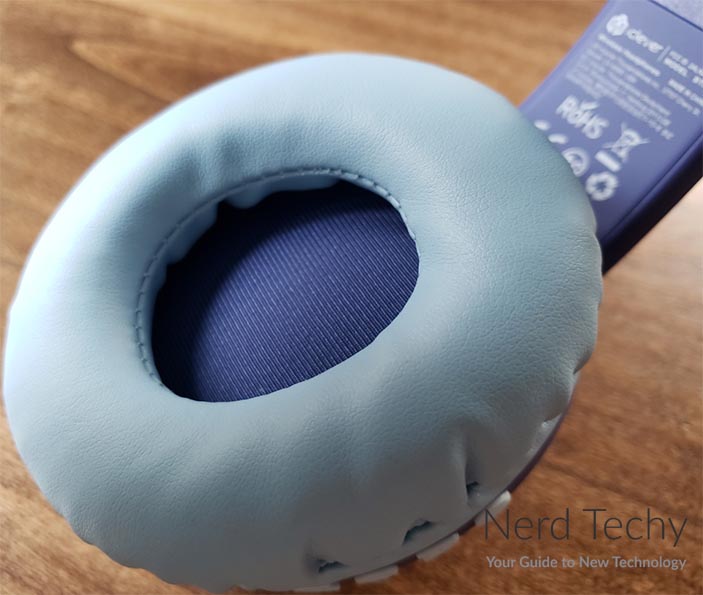 For better audio quality, consider the Aukey EP-N12 instead. These provide rich, deep audio quality better-suited for music. That's said, the design is not well-suited for younger kids. It's very plain, and small children would simply snap the head band.
The parental control function can be set to three different levels. These are 74, 85, and 94dB respectively. You can set it lower for smaller children, or turn it up for older kids. To change the settings, you simply press the volume up and volume down buttons simultaneously. When you do this, the headphones will cycle through the three options. There's no "off" setting. 94dB is already the functional maximum volume of the headphones. In all honesty, there's rarely a reason for headphones to be louder than that anyway.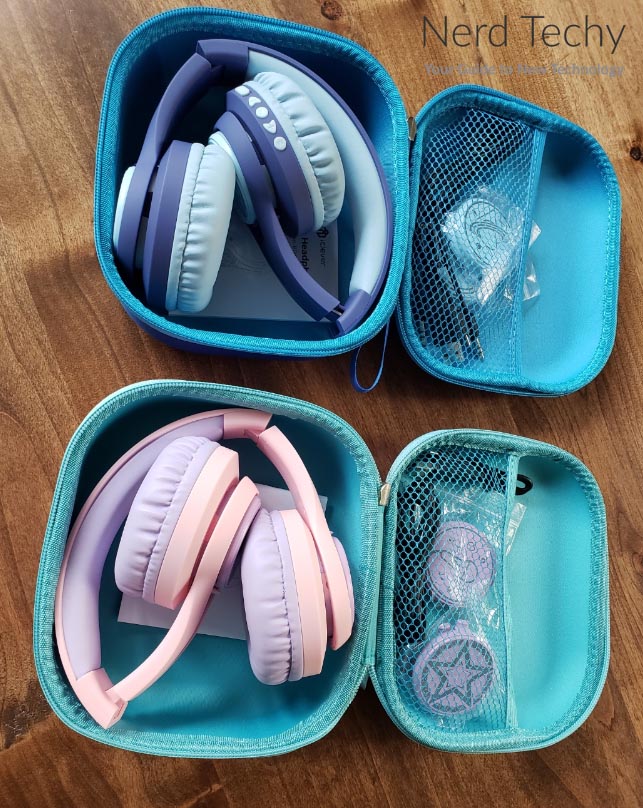 In addition to listening, the TransNova headphones can also be used for hands-free calling or gaming. There's a built-in microphone that eliminates the need for a speakerphone or external mic. This works okay for online gaming, and that's about it. With any kind of background noise, you're going to hear some bleed-through. Then again, your kids probably don't need to worry about making phone calls on an airplane.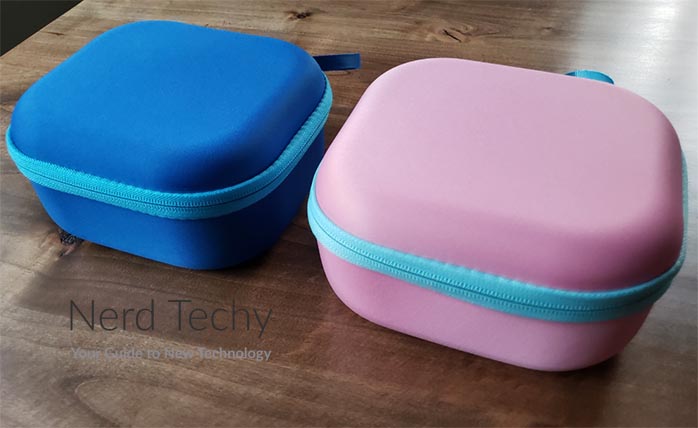 One thing these headphones don't offer is any kind of noise cancellation. If you need ANC headphones, the SuperEQ S8 might be a better choice for you. These are lightweight, affordable ANC headphones with reasonable audio quality. That said, the large head band will not work well for smaller children.
Final Verdict
The iClever TransNova Bluetooth Headphones are exactly what they claim to be. They're a solid set of headphones for smaller heads. Teenagers will likely prefer a more grown up design. But your other kids should be very pleased with the build, the comfort, and the audio quality. The battery life is also excellent, as long as you're not using the RGB lights.