Choosing a new pair of wireless earbuds should be easy. You choose the features you want, you run an internet search, you read a few reviews, and you click "buy." There shouldn't be anything else to it. But these days, even narrowing down your options can be difficult. With the market for True Wireless Stereo earbuds exploding, there's a flood of new products on the market. Many of these are good. Some of them are excellent. A slightly larger number are just junk. But if you're an average consumer, how do you know what's what? There are thousands of choices, and everyone claims their buds are the best.
One way to choose a good pair is to stay with a manufacturer you already like. If you enjoyed their previous devices, you'll probably like whatever they're putting out now. JBL is that kind of brand. Known for a variety of electronics, including well-engineered portable speakers, JBL also produces earbuds. With their established track record, you can be more confident in them than in most other brands. Of course, brand recognition isn't enough to know whether a pair of earbuds is worth buying. To find out for sure, you need to take a broader look at the earbuds' features. If they're not what you need, they're not worth buying, even if they're otherwise well-engineered.
With all that in mind, we're about to review the JBL Vibe 100 TWS Earbuds. These are compact, in-ear earbuds engineered with bass performance and versatility in mind. Now, we're going to go over every aspect of their design. We'll start with the physical construction itself – how is it put together, and what does it look and feel like? We'll then consider the battery performance, as well as the quality of the Bluetooth connection itself. Last, we'll talk about the audio quality, and how it compares to other, similar earbuds. After taking all of those factors into consideration, we'll know everything we need to know to deliver our judgement.
Overall Design
The JBL Vibe 100 TWS Earbuds are small, shell-style earbuds that are designed to sit tight inside your ears. The shells are constructed from matte plastic, which is easy to keep clean, with etched JBL logos in the backs. They're attractive to look at, and come in three different colors: blue, black, and purple. This provides more options than your typical, boring black earbuds, so you can match them to your style.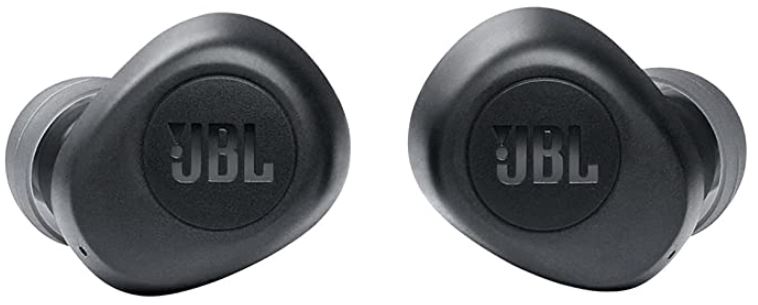 Another thing that's easy to customize is the ear tip size. In addition to the standard, medium set of ear tips, there are also large and small tips included in the package. This gives you the option to upsize or downsize as needed. If the fit isn't comfortable right out of the box, try switching to a different size. It can make a major difference. Moreover, a good fit isn't just about making your earbuds more comfortable. It will make it harder for them to fall out. Finally, a secure fit provides a seal that helps block out outside noise. This makes it easier to hear your music, even if you're in a noisy environment.
One thing that disappointed us about the Vibe 100 earbuds is that there's no water-resistance rating. Most manufacturers these days submit their earbuds for standardized testing. This testing is scored on a standard scale, so consumers can directly compare earbuds from different brands. Some brands dance around the issue with mealy-mouthed advertising fluff like "splash-resistant." But in the case of these particular earbuds, there's simply no rating provided. They can be wiped down with a damp cloth, but without any kind of rating, we were hesitant to test further. Get these wet at your own risk.

The backs of the Vibe 100 earbuds function as a set of soft touch controls that allow you to operate the earbuds. When you tap or press the JBL logo, you can give a number of commands. You can change the volume, as well as skipping tracks or going back to a previous track. You can answer and end phone calls, and even call up your phone's voice assistant. With your voice assistant, you can do much more, up to the limits of your phone's capabilities.
Like most wireless earbuds, these come with a case that doubles as a charger. However, the case doesn't actually close. Instead, it has a vertical, flared design, almost like a tiny vase or planter. You insert your earbuds in the top, and they start charging. On the one hand, this design is remarkably simple, and it's easy to put in your buds for charging. On the other hand, it's ill-suited for actually transporting your earbuds anywhere. Instead, you'll have to keep them in your ears, or carry them in your pocket.
That said, the case has an attractive design, with a plastic housing colored to match your earbuds. In the front center, there's a single LED light, which illuminates when it's actively charging. There's a USB Type-C port in the back, which is used for providing power. Both the case and the earbuds are covered by a 12-month warranty, so you're protected from any defects.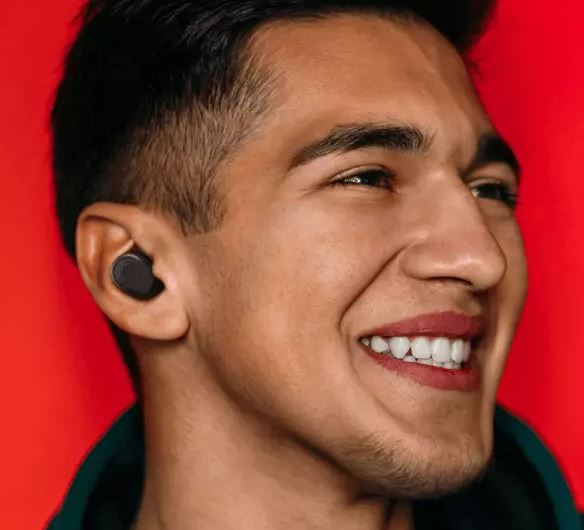 Battery & Connectivity
Each Vibe 100 earbud has enough battery power for five hours of playback. In and of itself, this is a bit low, but not outside the ordinary range. However, as with most earbud battery ratings, this is based on half-volume playback. At full volume, you'll be lucky to get four hours of battery life, which is far from stellar. On the plus side, you get three additional charges from the case, for a total of 20 hours at half volume. This would be of more benefit if the case were better-designed for transport.
The charging process itself is quick and painless. You drop the earbuds into the case, and they'll charge in about 90 minutes. Similarly, when it's plugged in, the case will charge in about 90 minutes. You'll have no trouble topping off your battery periodically, and you'll always be fully powered after an overnight charge cycle.

These earbuds connect to your phone or other audio source with Bluetooth 5.0. Bluetooth 5.0 is the current industry standard, and will work well with most modern devices. It comes with a few added benefits that you didn't get with the older Bluetooth 4.2 variant. For one thing, the signal is far more stable, so there are fewer dropped connections. For another thing, you get more bandwidth, so you can listen to HD audio if you want to. Finally, there's significantly less latency, which means there's less delay between audio and video. As a result, you can watch movies or play games without anything looking weird.
In addition to use in stereo mode, each Vibe 100 earbud can also be connected individually. This obviously isn't ideal for listening to music – you'll only be able to hear one channel! But for hands-free calling or listening to spoken word content, it increases your situational awareness. As an added bonus, using a single earbud effectively doubles your battery life. You can use one, then switch to the other when you run out of juice.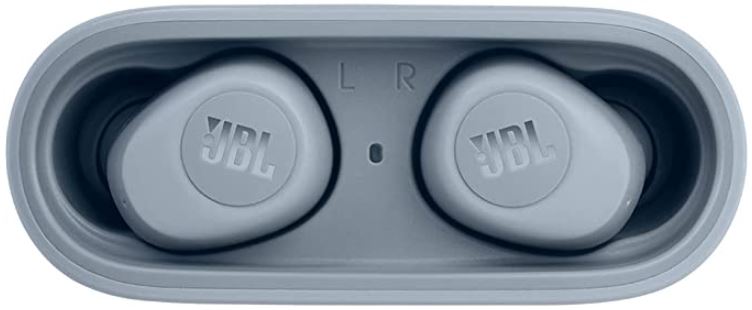 That said, there are better options if you need earbuds with longer battery life. One good pair is the Ugreen HiTune X5. These earbuds last significantly longer, and boast an ultra low-latency Bluetooth 5.2 connection that's perfect for gaming. On the downside, the bass from their drivers may be overpowering for some.
Audio Quality
The JBL Vibe 100 earbuds sport a set of 8mm drivers that are slightly louder than your average earbud drivers. This means you can get better-than-average volume, but not by a whole lot. But size is only really a major factor when it comes to volume. How well do these drivers perform when it comes to the quality of the sound itself?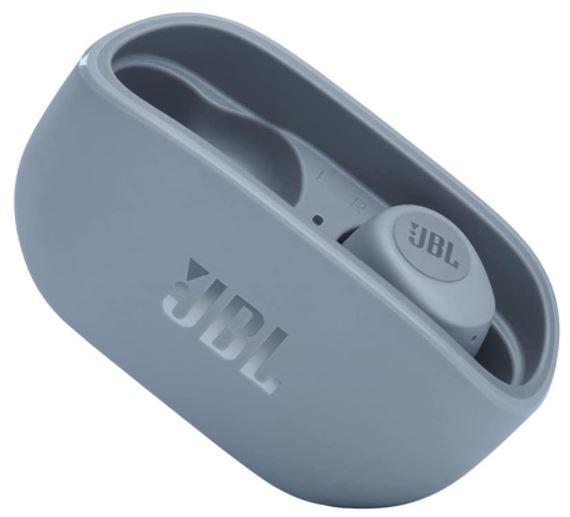 They're tuned with a bass-heavy EQ, for plenty of low-end power. This makes them a solid choice for workouts, or for anyone who likes dance music as a matter of course. And just because the bass is heavy doesn't mean the rest of the audio is lacking. The highs and mids also sound nice and clear, without a ton of distortion. The highs are clear and shimmery, and the mids have their own space. You won't have any trouble hearing vocals, even in a more complicated mix. This is thanks in part to a reasonably wide soundstage, although the sense of space is nothing special.
One thing the Vibe 100 earbuds don't offer is active noise cancellation (ANC). To be fair, when they have a well-fitted pair of ear tips, they block out a lot of noise already. But if you're listening in a noisy environment, you're going to want more. In that case, consider the Anker Soundcore Liberty Air 2 Pro. These earbuds come with nine sets of ear tips for superior comfort, and ANC mode for quieter listening. Then again, they're a bit pricier, and their battery doesn't last any longer.
When it comes to call quality, the Vibe 100 buds sound reasonably good. They don't have any kind of advanced noise isolation, but the mics themselves do a good job. As long as you're not in a loud environment, the other person will have little trouble hearing you. How well you can hear them will depend on their own mic and noise situation.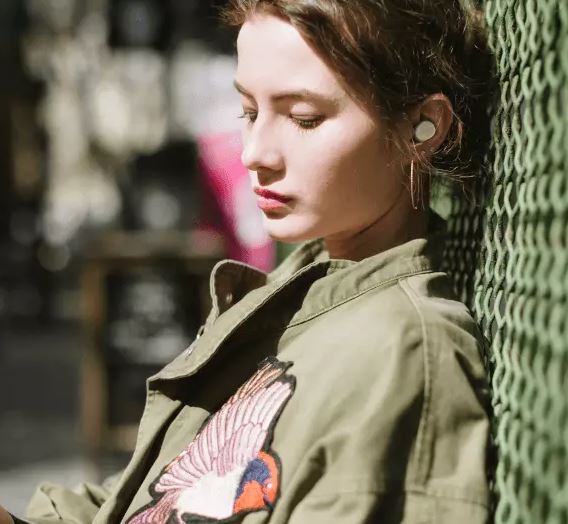 Final Verdict
As you can see, the JBL Vibe 100 TWS Earbuds are a bit of a mixed vibe. On the one hand, they're attractive to look at, with three different colors. They're also comfortable and easy to pair. On the other hand, the batteries don't last very long, and there's no water-resistance rating. If you need either of those features, you'll be better served looking elsewhere. That said, the Vibe 100 earbuds are good at what they are: an attractive, mid-priced pair of earbuds. Not only that, but the audio quality isn't half bad.