The Bluetooth speaker marketplace is one of the most dynamic and rapidly evolving in the industry. Every year manufacturers figure out how to get better sound, higher durability, and better battery life. Despite all of this growth, Bluetooth speakers have continued to hover around the same price point. If you're upgrading an older speaker, you're likely to notice a significant improvement.
Why are there so many competing speakers on the market? As with any portable electronic device, you want something that is designed with your specific lifestyle in mind. A speaker designed to move around your house will be very different than a speaker you're going to bring to the beach.
JBL's Flip 3 speaker was considered one of the most universal options on the market. Sound quality, durability, and adaptability were all found at an affordable price point. The Flip 4 takes everything consumers loved about the Flip 3, and adds in a few key upgrades. Can it live up to the standard? We went hands-on to find out.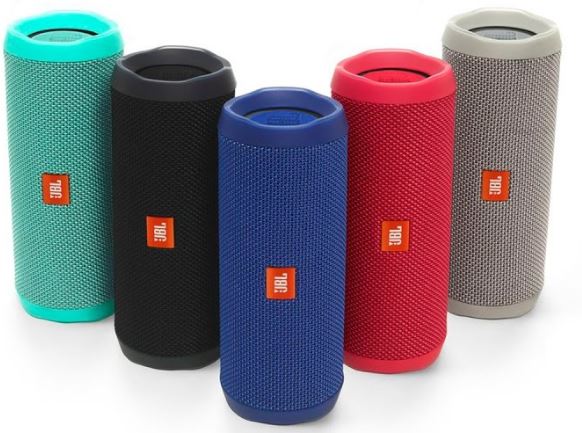 Design
Externally, the Flip 4 is cut from the same cloth as the Flip 3. Holding them next to each other, they look almost identical. At 515 grams, it's a couple ounces heavier than the older model, but feels a little more solid in the hand.
The enclosure is compact and cylindrical in shape, with most of the face protected by a durable metal grill. Other than the red JBL logo in the center, the entire unit is a single uniform color. If you want a speaker with a little more pep to it, you can pick from one of six different color schemes. Blue, red, and teal stand out the most. Grey and white give the speaker a professional appearance, while the classic black design will hide those unavoidable scratches.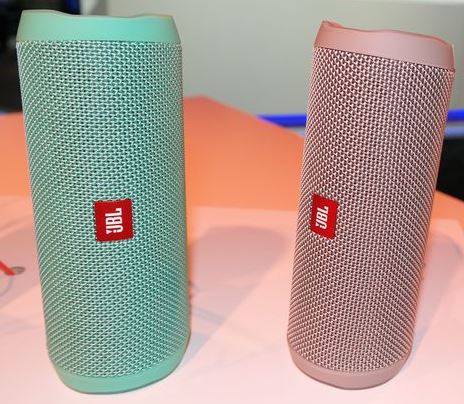 The edges of the speaker are capped off with a rubbery material that make it easy to grip. A strip of the same material runs along the backside of the speaker, containing the charging port cover, battery meter, and power button. On the right corner is a small loop you can tie the included carry strap to, making it easy to carry.
Overall, the Flip 4 was designed with functionality taking precedence over form. It's a reasonably attractive speaker, but doesn't do much to stand out from the crowd. That being said, it feels well-made and intelligently laid out, so it's understandable why they kept the same design.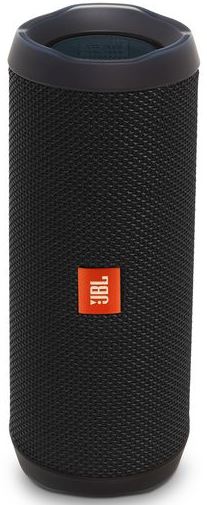 Controls
The control scheme is divided into two sections. On the rear, you've got the power settings. When the power button is depressed, the battery indicator lights up to show you how much playtime you have left. Across from that is a button with an hourglass logo on it. This is the JBL Connect+ button, a unique protocol that allows multiple speakers to communicate with each other.
The audio controls are located at the top of the front speaker grill. Volume buttons are in the center, with a play or pause button to the right. These buttons are just thin rubber outlines of the logo, but they are highly sensitive touch buttons. You just have to quickly tap the general area where the button is located, without having to worry too much about exact placement. The Bluetooth button can be held for 3 seconds to enter pairing mode, or you can tap it once to cycle through paired devices. Touch buttons are often frustrating to use, so we were happy to see that JBL installed high sensitivity buttons. This feels much more natural to use, and there is very little chance of a touch not registering.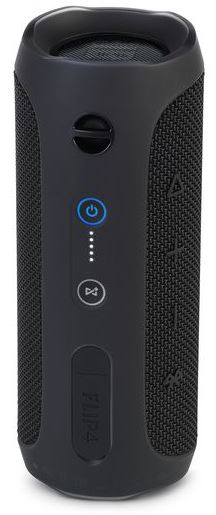 Durability
This is one of the areas where the Flip 4 improves on the Flip 3. While the previous generation was "splash resistant," the Flip 4 is completely waterproof. Usually, it's hard to know exactly how waterproof something is. Manufacturers often have completely different standards for that. But with the Flip 4, there is no questions. JBL completed the IPX certification, which verifies how much exposure a device can get before the potential for damage occurs. At IPX7, this speaker can be fully submerged in water up to 1 meter deep. We wouldn't advice that you intentionally take it swimming, but you won't have to worry about water damage at all.
JBL has also reinforced all of the structural components of the speaker, making it much more durable. Although a specific impact rating isn't provided, it feels incredibly solid to us. We're confident that it could take any reasonable drop, even outdoors.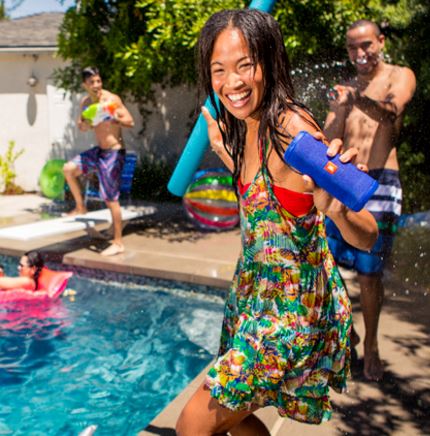 Connectivity
One of the most unique features of the Flip series speakers is JBL's Connect+ protocol. Connect+ is a buffered mesh network that allows streamed data to be shared between speakers. With the touch of a button, you can take two JBL Bluetooth speakers and pair them together into a stereo sound system. Planning a party? Connect+ supports up to 100 speakers, so you can daisy chain as many as you like to create a whole-home sound system.
The Flip 4 also contains all of the modern standards we like to see. With a Bluetooth 4.2 radio, this chipset supports all modern codecs. Bluetooth audio still isn't perfect, but support for modern compression means that the degradation in sound quality should be virtually unnoticeable.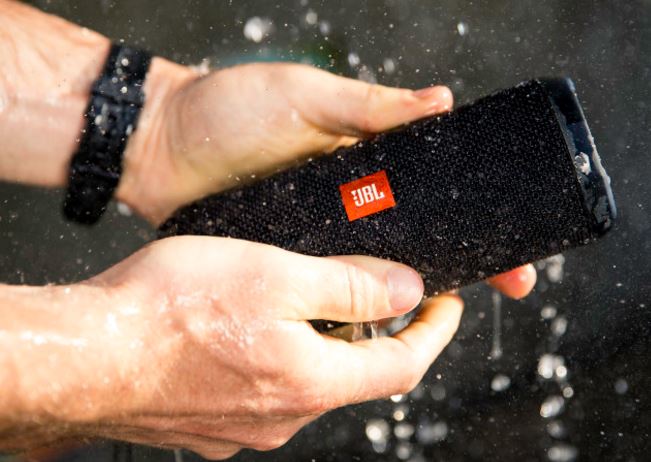 Functionality
The Flip 4 has several core features that we like to see in a Bluetooth speaker. It has a built-in microphone, and can be used to take hands-free calls. The microphone can also be used to call up Siri, or any virtual assistant of your choice. Controls on the speaker are transmitted back to your phone, so you can long press the volume buttons to skip tracks.
These features are reasonably common on modern Bluetooth speakers, but there is one thing that really stands out about this particular model – the battery life. It gives you up to 12 hours of full-volume playtime, and only needs 3.5 hours to completely recharge.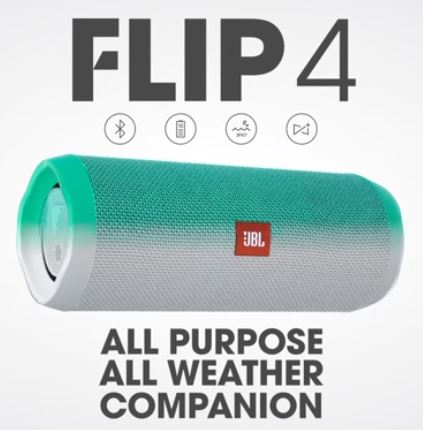 Sound Quality
With dual 8 watt drivers, the Flip 4 is surprisingly loud. We were able to fill a pretty large room with ease, with almost no distortion at the high end of the volume limit. The highs were nice and crisp, the midrange was clear and well pronounced, but the bass was the most impressive quality. These speakers have two passive radiators on either side of the speaker. When the drivers are pushing a lot of air, these radiators help to disperse the sound wavs into your environment. The end result is a powerful, controlled bass hit that sounds like it comes from a speaker many times its size.
There is one small disadvantage to the passive radiators. The Flip 4 is designed to be laid flat, or on its side. When upright, one of the radiators is covered, which reduces the bass response a little. If you like bass-heavy music, we'd recommend always laying it flat.
Disadvantages
With so much attention given to the durability of the Flip 4, we'd have liked to see it rated as being shock proof. It certainly feels durable enough, but anyone who's going to be exposing their speaker to an environment where it could be bounced around would be better off getting a shock rated speaker. That being said, extremely durable speakers tend to be much more expensive than ones like these. For some users who don't expect to abuse them, it might be worthwhile saving your money.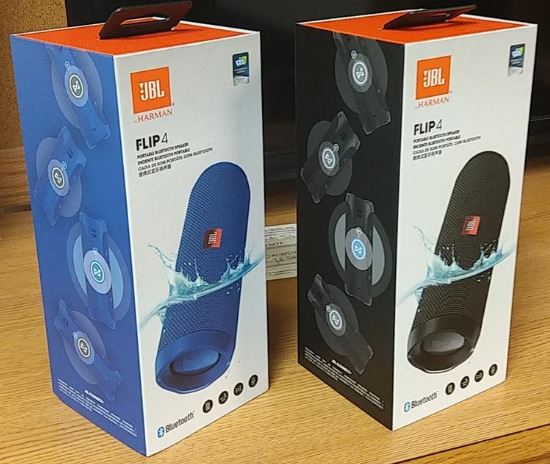 Final Verdict
If you're on the market for a high-quality Bluetooth speaker, the JBL Flip 4 is a great starting point. While many speakers promote themselves on one specific feature, the Flip 4 is respectable in almost every regard. It's very durable, has a long battery life, and easy to use.
But what stands out the most about it is the sound quality. It's got a peppy, engaging, sound signature ideal for bass-heavy music. We barely noticed any distortion, even at high volumes.
Of course, this isn't the first speaker to impress us like that. Why buy a new model? Well, this one is up to date with all of the latest standards, providing full two-way communication with your phone. This means that you can take calls through it, use SIRI, and control your playlist. You're not stuck with a power-sucking chipset that won't support the high-quality setting on Spotify. It's true that some of the advanced compression algorithms used in this speaker are somewhat uncommon, but there is benefit to this. Tech changes very fast, so you know that when everything is updated in a few months, you're not stuck with something obsolete.