If you've struggled with overhead projectors and dry-erase markers, you've probably wished there was an easier way. Data projectors have been common in the educational and office environment for many years, but it's only recently that they've become extremely affordable.
The current batch of sub $500 projectors gives professionals a wide range of choices. Projectors vary in size, resolution, brightness, and lens type, with each variation coming with it's own advantages and disadvantages.
Optoma, a company that has been a major player in the projector industry for many years, produced the S341 as an affordable, midrange projector targeted specifically at the professional marketplace. Many consumers consider this to be the ideal entry point for presentation purposes. To find out how it stacks up against the competition, we went hands on to see what it could do.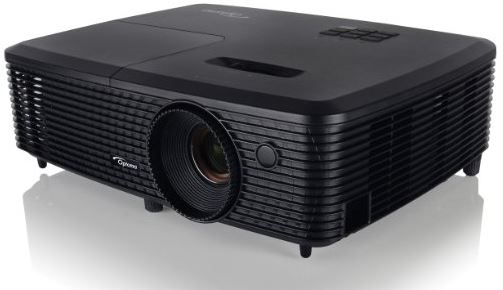 Design
The Optoma S341 has a much sleeker design than most data projectors on the market. We are a huge fan of its black exterior. It has a serious look about it, but isn't too over the top. It definitely stands out from the whitewashed sea of competitors.
But just as the design is visually appealing, it's also very utilitarian. There is plenty of cooling all around, which helps to extend the life of the bulb. Connectors are grouped together on the back, making it easy to keep your cables looking fresh and clean. The top of the projector has the focus ring, and the full range of buttons for navigating the digital interface.

Image Quality
As soon as we turned this projector on, we could tell that it would be perfect for use in presentations. The main thing that stood out was the contrast. Text was a deep, smooth black while the background was a bright white. There wasn't even a hint of that 'washed out' look you typically get with projectors. To quantify how the image looks, the contrast ratio is 22,000:1. This means that white is 22,000 times brighter than black. Most projectors have a contrast ratio of around 1000, so this is pretty significant.
Thanks to the high-quality lenses, the text is very sharp and clear. On some presentations, it's almost too sharp. The pixels of the text are clearly visible. This is why Optoma included 'edge mask.' This is a feature that very slightly blurs the image to smooth out jaggy lines. This is useful if you're watching a video or using diagrams that have a lower resolution, but we'd suggest turning it off with vector diagrams.

Resolution
This projector has a resolution of 800×600. This is one of the primary reasons we would only recommend it for presentation use. It's detailed enough to be sharp and clear, but it's a 4:3 resolution. This isn't wide screen. By default, powerpoint presentations are designed to use a 4:3 aspect ratio, so you'll be able to present them to an audience without any annoying black bands on the side, or stretched images.
That being said, this resolution is best suited for text and simple diagrams. You might want a higher resolution if you're trying to watch movies, or display complex diagrams, but for general text this resolution is more than adequate.
Brightness
This is one of the areas where the S341 really excels. Its total brightness is 3500 lumens. Projectors brightness ranges from 100 lumens (for a low cost pico projector) to 5000 lumens (for a movie theater projector).
How bright the screen is limits how large your screen can be, and what kind of lighting is suitable for it to be used in. Typically, 1200 lumens is ideal for use in a dark room, while 4000 lumens is for massive displays in fully lit rooms. The 3500 lumens this projector is rated for make it ideal for use in an educational or corporate environment. Even in bright fluorescent lighting, the screen is still clear and very easy to see. This is ideal for anywhere that lighting is essential. If your audience will be taking notes or engaging in communication during the presentation, darkness can be a bit of a hindrance. So having a projector that works in the light is essential.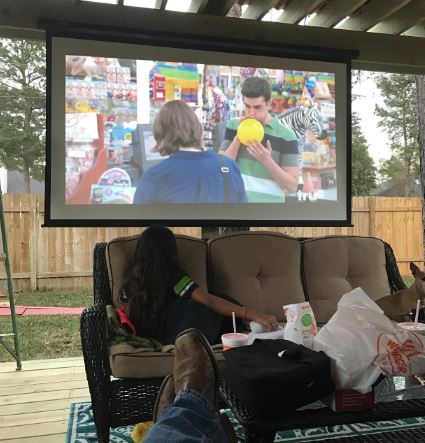 Screen Size
Because this projector is so bright, your options for screen size are virtually unlimited. At the lowest end of the range, you can set up a small 27" screen. But if you place it far back from the screen, you can get up to 300" diagonally. This means that it's suitable for everything from the smallest room to the largest conference. Due to the long throw ratio, you do need to be able to place the projector pretty far back from the screen at the end of this range. For a 300" screen, you'd need 12 meters of space between it and the screen. But for smaller screens, you can put it as close as 1.2 meters.
Lamp Life
One of the nice things about this projector is the extremely long lamp life. Replacement bulbs can get very expensive, sometimes up to half the cost of the projector. We were happy to see that this is one of the longest lasting bulbs we've come across, with the sole exception of LED projectors.
The bulb can last up to 10,000 hours when in eco mode. Eco mode is ideal for low power consumption and extended bulb life, but it does drop the brightness a little bit. If you're running it on maximum brightness all the time, you will only get 5000 hours of life.
There are several brightness settings, each of which help to strike a balance between brightness and life. Our personal recommendation is Dynamic mode, which gives 7000 hours of life and a very small drop in brightness.
Connectivity
There are a few different ways you can connect your video source. Most users will find that HDMI is the most versatile, but there are some advantages to using VGA with a computer. The projector has both VGA in and out. This means that you can connect your computer to the projector, then the projector to your monitor. This allows you to have your monitor in front of you, so you can see what's on the screen at all time.
Because this is designed for use in an Educational setting, many clients still need to have standard definition hookups available. For those clients, there is a composite video input.
Another bonus feature is the inclusion of a USB power source. If you're using a streaming device such as a chromecast, you'll need this USB port to power it.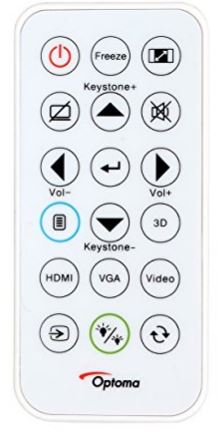 Audio
If you're trying to present to a large room, you'll probably have a PA system in place. But for smaller rooms, you won't need any additional speakers. There is a 2W speaker built right into the projector that is deceivingly loud. While it's not going to win any audiophile awards, it's more than adequate for broadcasting voice to a reasonably sized room.
Disadvantages
Despite the very low cost, we would prefer to see a widescreen resolution used. Widescreen has been available for quite some time, with most 4:3 displays being phased out. If this is something you're looking for, it might be worthwhile to spend a little extra on the widescreen version of this projector, the Optoma W341.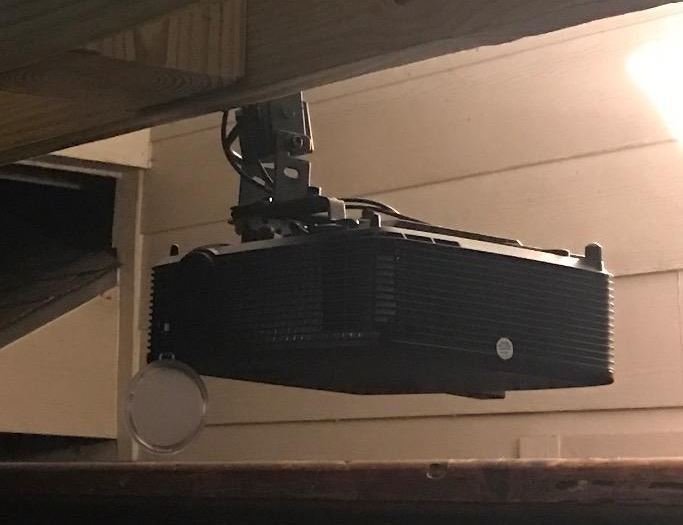 Final Verdict
For business use, the Optoma S341 is one of the most affordable projectors on the market. It's got an excellent contrast ratio, making text crisp and easy to read. The 4:3 aspect ratio is great for those of you doing power point presentations, and the wide range of connectivity options mean that you can use this projector in virtually any environment.
Most importantly, this is one of the brightest projectors in its class. You can use it in a fully illuminated room, without the image becoming washed out or unreadable.
That being said, it's still an affordable model. As with any economy-priced projector, there are always going to be tradeoffs. If you're willing to sacrifice a small amount of brightness, the ViewSonic PJD5155 provides you with some additional connectivity options that might make it more suitable for an environment where it's shared by a variety of users for a variety of purposes.
Looking for something that can be used for a home theater? While the S341 is great for office use, movie buffs will find that it just doesn't cut it. Instead, consider the Optoma HD27. This projector is specifically designed for the needs of home theater users need, but still has the same great value that Optoma is known for.