Families spend lots of time at home and one of the most common family-time activities is watching a movie together, whether it's the latest release adults want to watch after the kids are in bed or a classic that parents want to share with their children. While many folks just pop a disc into the DVD player, the experience of watching a movie on regular television can fall flat. After all, that isn't really the way the director intended for the film to be shown.
A home projection system can bring the theater experience to you, without trying to coordinate schedules for movie times or arrange for expensive babysitters. And today's home theater projectors like the Optoma HD27 can do so much more than simply play movies. This powerful and dynamic new-release brings home theater to a whole new level with multiple features equal to or surpassing several competitors.

Features
Versatility is one of the most robust and exciting features of the Optoma HD27. From screen size to MHL connectivity, this is one-size fits all technology. At only 9 x 11.7 x 3.7 inches and less than 6 pounds, the projector is portable enough to use anywhere in your home.
Make movie night a weekly event in the living room or family room. Summertime? Bring back the drive-in! Head outside with the HD27 and show DVDs on the garage wall (or even old-school-style on an old white bed sheet hung from a clothesline). Even better, the unit operates without a cord, giving users true portability.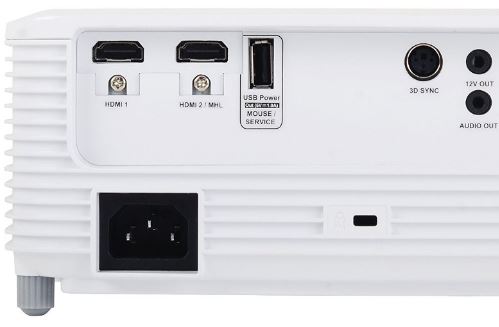 The functionality of the projector isn't limited to DVDs and Blu-Ray discs, either. If you run your own business and want to do presentations for your clients in their office or off-site, you really can take this projector with you for professional-looking delivery. MHL (or mobile high-definition link) technology means the device has a special input that can accommodate an array of external devices to meet a number of entertainment, professional, and gaming uses.
Users can also connect streaming content devices and gaming consoles, from the company's own Optoma HDCast Pro to Apple TV, Roku Streaming Stick, and smartphones, PCs, and Macs. The USB and HDMI ports allow additional connections, making even greater compatibility possible.
The unit has a special mode for gaming usage, plus day and night viewing modes, to ensure that viewers' experiences are as optimal as can be. Practical niceties like a quick resume function for when users need to stop and restart a program and and auto-off feature make owning this home theater projector simply pleasant to own. The R&D team at Optoma clearly put some thought and effort into figuring out how real customers would likely use the HD27.
Along that same line of thinking, it's nice to see that the projector is equipped with a 195w lamp that lasts up to 8,000 hours before it needs replacement, longer than many similar projectors.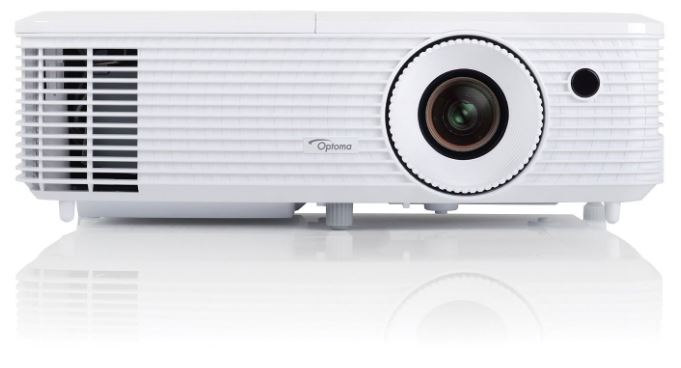 Technical Specs
The Optoma HD27 demonstrates a 1920 x 1080 pixel display, pretty typical among home theater projectors of this caliber; however, it also boasts brightness of 3,200 lumens, Reference Display Mode, 3D compatibility, and a contrast ratio of 25,000 to 1. The projection screen size ranges from 27.88" to 305.3", with an aspect ratio of 16:9, and a projection distance of 1-10 meters. The 10W speaker is built into the unit sounds great and is much more loud and powerful than one may expect. Additionally, Mirror-based DLP Technology is the cornerstone of the HD27's visual clarity and long-term color purity.
This is all pretty techy, but what it comes down to is that the Optoma HD27 delivers crisp, high resolution images with strong definition of color and shadow, making for a vibrant viewing experience.
Practically speaking, the projector comes with an AC power cord and a battery-operated remote control. Optional accessories include 3D glasses, ceiling mounts, and an HDMI wireless transmitter/receiver. The HD27 comes with some features that add extra value to the unit. For example, the unit can accommodate a security bar, Kensington lock, and password protection. These kinds of things are really useful when taking advantage of the its portability.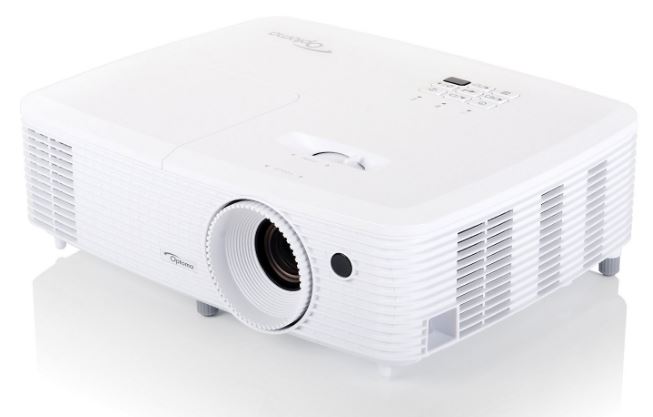 Pricing
Sticker shock might be to biggest obstacle for most folks considering buying a home theater projection system. The MSRP of the Optoma HD27 is over $600, which is admittedly somewhat pretty steep for a lot of folks, although not nearly as much as you potentially could spend if you really wanted to.
Avid film fans may find this figure easier to justify, however when you start thinking about how much it costs to see a movie; it begins to seem more reasonable. A family of four who goes to the movies once a week for a year can spend $2,000+ on tickets alone (assuming $11+ per ticket), before popcorn and soda! Now consider that the HD27 can accommodate a variety of other content, too, from photo slide shows and video games to home videos shot on smartphones and tablets, and the price tag – while still significant – seems a little more reasonable.

A Wish List for the HD27
This is clearly a user-friendly and portable unit, which is delightful to use, and to share. If only it came with a carrying case of some kind… There is one available that's sold separately and retails for $89; it would just be nice if it were sold with the unit. Why sell something that's marketed as portable without a way of transporting it safely? Most folks would probably be willing to take the projector to a friend's for movie night, or to a client's for a presentation, but who wouldn't be worried about banging it up in transit?
A lens cap would also help keep the lens dust and fingerprint free. After all if you are investing in this cutting edge technology, you want to see it in action, not blurred and smudgy.
Obsolescence is also a concern, as with any technology. At the current rate of obsolescence, it's hard to justify a big ticket purchase like this not really knowing how long it will be "good" for until the next big thing comes along.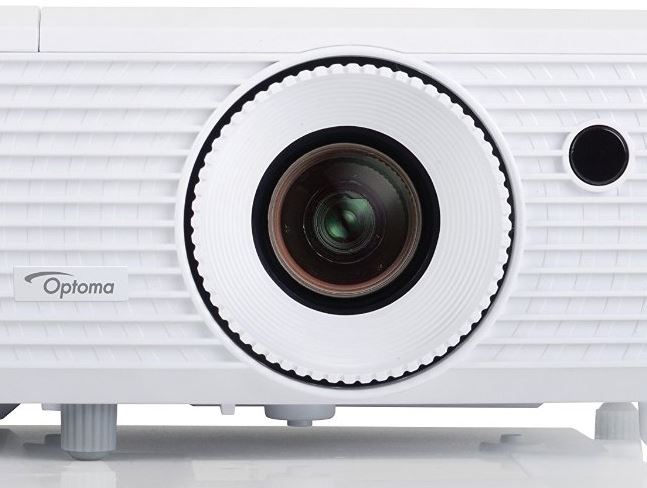 About Optoma and Their Customer Service
When making a big purchase like the HD27, naturally you want to go with a reputable company. Optoma has the experience in meeting the needs of video and audio users for some time, whether it's for home users, businesses or AV professionals.The company makes dozens of projectors, including mobile and desktop models.
Optoma's website offers a neat projector comparison function that allows you to select among several models to see which is the best fit for you, in a nice table layout. You can make your initial selection according to your interest – business, home or professional. It's very just-the-facts, which is nice, because you won't be influenced by the opinions of another. You can simply compare the specs and functionality of a few different models to see if the HD27 – or another model – is right for you.
The specifications of the HD27 are extremely detailed. Get the horizontal scan rate and the vertical scan rate. Check out the noise level (26dB), I/O connectors (2x HDMI (1.4a 3D support) + MHL v2.1, Audio Out 3.5mm, 12V trigger, 3D-Sync, USB-A Power (1A)), throw ratio (1.48 – 1.62:1), etc. You can also download and access the user manual, data sheet, and view a list of common accessories that fit the HD27. Online support includes links for firmware upgrades, wireless software downloads, an online knowledge base, a live chat function with a support team member, a list of authorized service centers, plus a customer service address and phone number.
Optoma goes above and beyond by directly selling the projector. A drop-down box allows you to shop by model number, and you can order items directly online. Examples of things you can shop for are the HD27's carrying case or a replacement lamp. There's a "find my replacement lamp" function on the product's spec page on the Optoma website. Just enter your model number and you'll be taken to the page where you'll find the right lamp for your unit – a very easy process.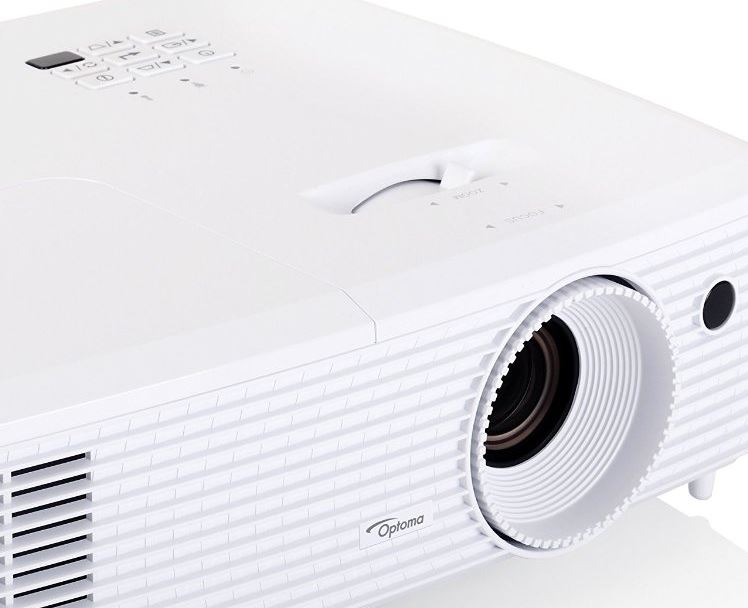 Overview
The Optoma HD27 is an easy-to-use home theater projector that goes far beyond the old-school home movie projector. It is relatively expensive at first glance, but not out of proportion to the entertainment value it has the potential to deliver. The HD27 is a consumer-friendly model, and the drawbacks are really minor compared to the benefits, like picture quality, portability, and readiness to connect to external sources like computer systems, smartphones, and gaming systems. Optoma is a reputable company with experience in the field, and customers will find online support options a great place to start in the event they need after-the-sale assistance from Optoma.