Every year our electronics get a little more compact, while sneaking in a few extra features. In 2005, the world was amazed when Nike released a little sensor that could be installed in your shoe to track your exercise routine. Ten years later, anyone can fire up their cellphone and monitor their vital signs while they go off for a job. In September, you won't even need the phone.
Samsung has consistently been a leader in the mobile fitness industry. Their mobile phones were the first to have step tracking built right in. Now, they've managed to pack the standard array of health features into a set of compact Bluetooth earbuds.
First Impression
The initial round of promotional images made the Samsung Gear IconX Earbuds seem a little larger than they were. When you see all of the features these little headphones are capable of, it's hard to imagine them in their actual size. But take one look at Samsung's marketing material and you'll be amazed at how compact these devices are.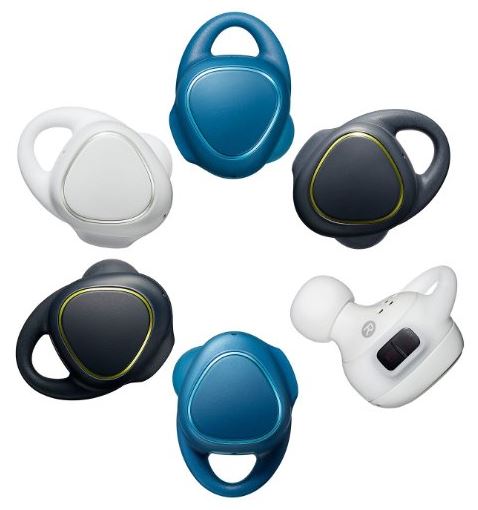 Although a little wider than the standard earbud, they take advantage of a little "wing" which is designed to tuck in behind the cartilage of your ear and hold them in place. Packed inside of the rounded casing is 4gb of storage space, an MP3 player, a step counter and a heart rate monitor. While these are not the smallest earbuds on the market, they are certainly one of the most feature-rich.
Design
Ever since the bright yellow "sports" headsets were released for Sony's Walkman in the 80s, manufacturers have been releasing fitness products in an array of vibrant colors. The IconX is no different. While electric blue is the favored style, they are also sold in simple black or white tones for anyone who would prefer not to stand out.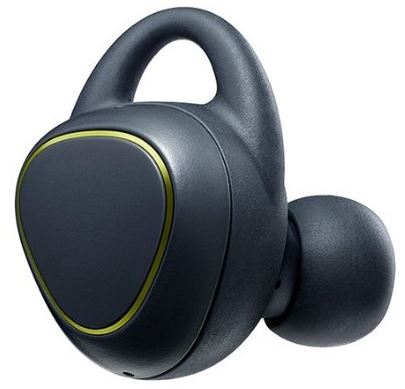 Like many other in-ear style earbuds, the rubber tips are sold in three different sizes to suit anyone's ear-canal. The "wing", or the little plastic piece that tucks into the cartilage of your ear, is also included in varying sizes. This design has not been brought to market before, so it's a little difficult to predict exactly how comfortable it would be. But there have been a few high end in-ear-monitors sold by Shure and Ultimate ears that were designed to tuck into the cartilage of your ear, and those were reasonably comfortable. So provided the wing is nice and bendy, it's unlikely you'd have any problems with them.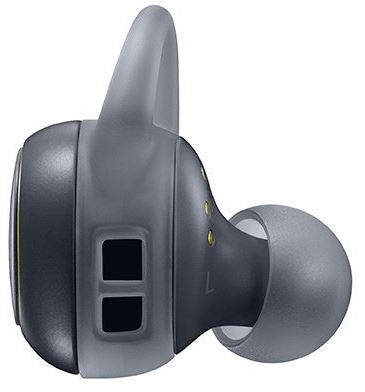 Fitness Features
The coolest feature in these earbuds is the built in heart rate monitor. Looking at the images, it appears to be the same infrared model used on the galaxy line of smartphones. If this is the case, these sensors tend to be pretty accurate. In order to work correctly, however, they need to rest right against the skin. This explains the addition of the wing, as that should put enough pressure on the ear so the headphone will remain stable. This is certainly not the most common place to check your heart rate, but if it works as well as their watches you should get a pretty good measurement.
They also include a step counter, likely in the form of an accelerometer. These sensors have been widely used in smartphones and watches. With Samsung's extensive experience creating fitness tracking devices, it's highly unlikely there would be any issues with this feature.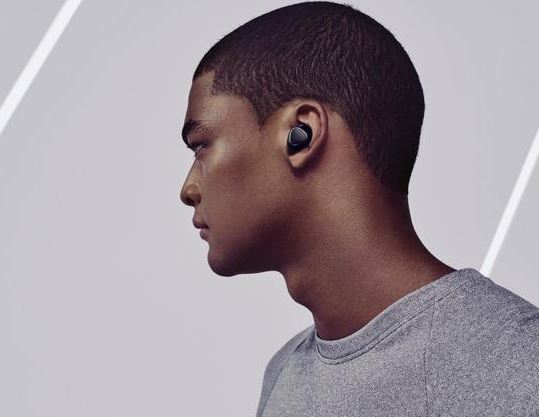 If you're the type that requires a little motivation during your workout, the IconX will be an excellent partner. The included voice guide audibly shares details about your workout. Although details on this are not yet available, if their existing fitness tracking software is any indication you can expect total distance run, calories burned, and average speed.
Storage Capacity
The headphones include 4 GB of memory, of which 3.5 GB is user accessible. Samsung claims this could hold 1000 songs, although this claim is a little unlikely in 2016. Sure, if your entire music collection was downloaded from Napster in 2002, you might have low quality 128 kbps audio files. But every common source of music in 2016, including the DRM free music stores, takes advantage of high bitrate files. With a CD quality MP3 file, you'd be looking at more like 450 songs. Still more than enough music to get you through your workout, but significantly less than Samsung claims.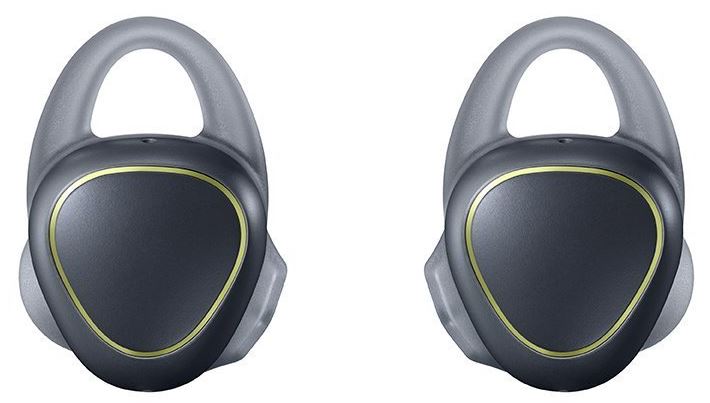 Controls
Because of the compact design, there's only a single button that can be used to control music playback. With this in mind, it might be better to have a small music collection on board, as scanning through hundreds of songs could be a real nightmare. Samsung does seem to have done the best they could with such a limited interface, as they have integrated simple gestures into the side of the ear piece.
A single tap will pause or resume audio playback. A double tap will either skip to the next track, or answer an incoming call. Three taps are required to go back to the previous song. Slowly swiping across the device can increase or decrease the volume depending on the direction. Holding your finger on the sensor will eventually cause the device to slowly read out an audible menu.
With features such as work out details, ambient sound and device settings, you'll just have to tap the sensor once you hear the menu item you would like to select. It's not the most intuitive system on the market, but pretty much on par with most Bluetooth control systems in modern vehicles.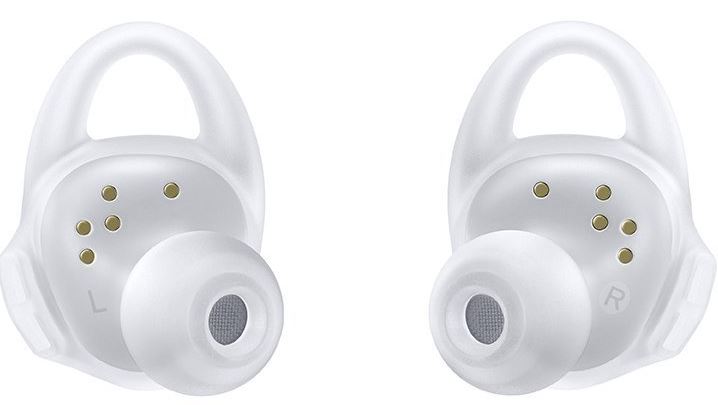 Connectivity
The IconX is primarily designed to work with Android phones. You do need a reasonably modern phone with Android 4.4 (KitKat), and at least 1.5 GB of RAM. So your 5-year-old Galaxy S3 probably won't make the cut. But if you do have a modern Android smartphone, virtually every feature of the headset can be controlled from the palm of your hand. Music can be transferred wirelessly to the headphones directly from your internal storage.
Workout data will automatically be synced with S-Health without any user interaction, and should be automatically logged with your existing data. Even if you're an iPhone user, you still might have some luck. Samsung states that the device is compatible with other fitness tracking apps, although they don't state which ones yet. Music transfer will need to be done using a computer and the included micro-USB cables.
Durability
Samsung claims that the IconX is water resistant thanks to a special coating. Combined with the rubberized cover, it's reasonable to expect that this device should have no problem dealing with the motion and moisture of a hard workout. Samsung does include a large warning that excessive moisture can damage the device. This is most likely due to the exposed electrical contacts used to charge the phone. Provided you don't go swimming with them, this probably won't give you any issues.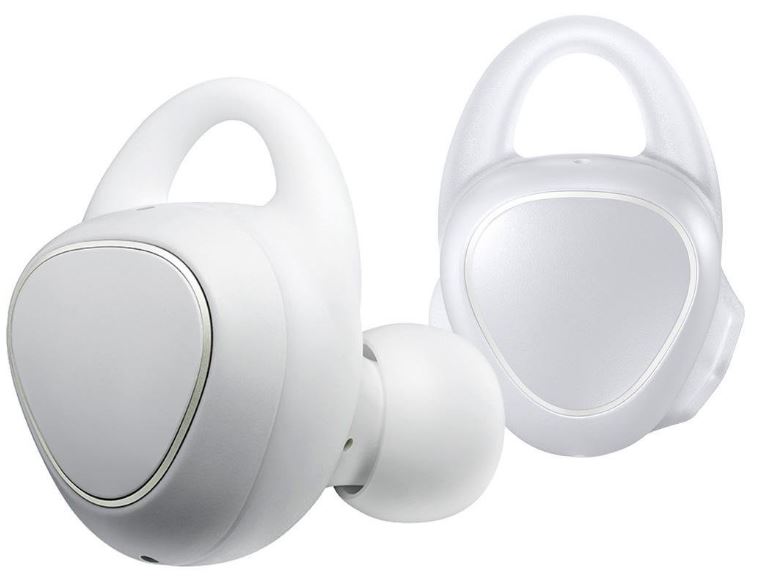 Battery Life
So far, these earbuds have managed to shove an incredible feature set into an unbelievably compact and functional device. Sadly, at least one compromise had to be made, and this is the battery life. When listening to audio over Bluetooth from your phone, you can only expect an hour and a half of total playtime. If you take advantage of the internal storage, you can actually double the useful life to three hours. That should be enough to cover even the most extreme workouts, so it's absolutely worth taking advantage of the internal MP3 player.
There is one handy little feature included to offset the battery problems. The included case is more than just an attractive storage method; it actually charges the headphones for you. The battery capacity of the case allows it to charge the headphones up to three times. Even if you are out of the house, you'll still be able to get a couple workouts out of these little guys.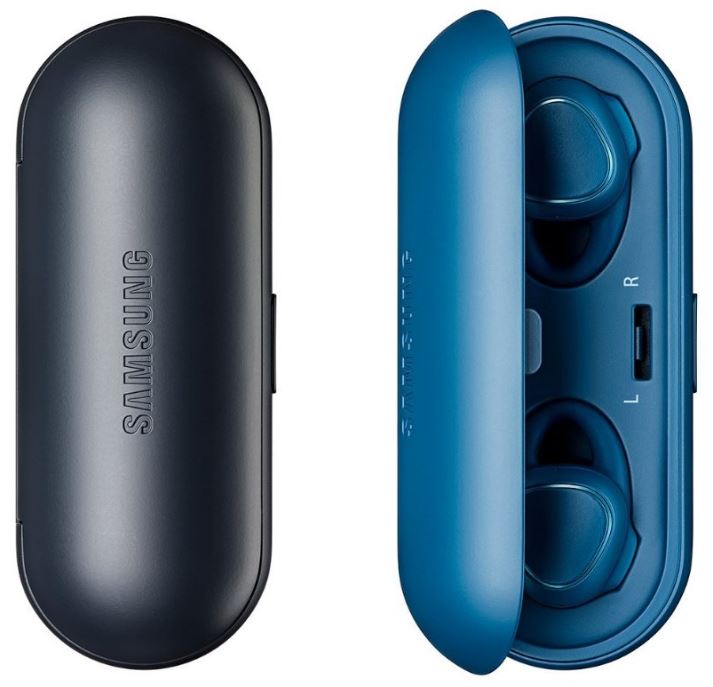 Final Verdict
We now have more options than ever to keep track of our personal health. If you haven't already purchased one of the many fitness trackers available from FitBit, Garmin, Jawbone or Apple, this might be the all-in-one unit you need. But as a first generation product, there are a few drawbacks that limit the audience that could benefit from its use.
The Samsund GearX Wireless Earbuds need to be purchased as headphones first, and as an activity tracker second. You won't be able to take advantage of the fitness features unless they are fully inserted into your ears. This means you won't be able to hear anything. If you plan to ride your bike on a busy city street or join a running group, you might not want to isolate yourself from the audible world. If you're purchasing this device to use as a pair of headphones, the incredibly short battery life needs to suit your purposes.
Samsung has shown impressive innovation by packaging several complimentary features into an impressively compact unit. Unfortunately, the end result is a product that is pretty mediocre. Combining a mediocre pair of headphones with a passible MP3 player and a functioning fitness tracker does not make an incredible product. Unless your lifestyle meets the very specific requirements demanded by Samsung's IconX, you'd probably be better off purchasing a good fitness tracker and a separate but equally good pair of headphones.