If you're in the market for a new pair of headphones, it's tough to say what's what. Sure, you have your marquee brands like Bose and Sony. But rent is due, and you'd rather not spend a small fortune on a new pair of headphones. Surely, there must be something worth wearing that doesn't break the bank.
The good news is that there are literally hundreds of models of wireless headphone on today's market. The bad news is that this is literally hundreds too many. Recent improvements in wireless technology have led to a rush of new manufacturers in the market. This means there's a ton of competition, which forces manufacturers to keep prices low and features plentiful. But at the same time, with all of these new brands and models flying around, it's tough to tell what's what. Sure, you could be getting the latest and greatest in wireless audio. But you could also be getting something that belongs in the discount bin at Walmart.
Thankfully, we're here to help you sort things out. We're about to review the SuperEQ S2 ANC Bluetooth Headphones. These are a mid-sized pair of over-the-ear headphones that also offer active noise cancellation (ANC). To find out how well they work, we'll need to take a close look at all of their features. We'll need to see how they fit, and how easy they are to carry. We'll also need to talk about the battery life, and how good the audio sounds. Once we've gotten a more complete picture, we'll be able to give a fair judgement. Let's get started, and see what we learn!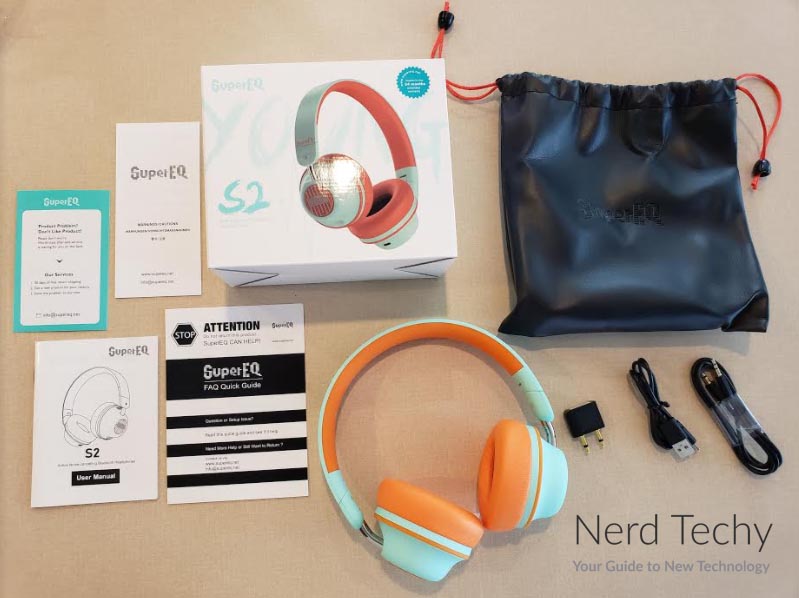 Overall Design
The first thing you'll notice about the SuperEQ S2 ANC Bluetooth Headphones is their fun, playful design. Most headphones are plain black or white, and that's just fine. But these are available in two-tone designs, with black-on-green and orange-on-green as well as black. The headband is mostly padded, with comfortable PU leather along the inside of the arch. When you extend the ear cups, you'll notice that they're attached to circular rods instead of a flat frame. This creates a unique, eye-catching aesthetic, and creates a bit of visual separation from the ear cups.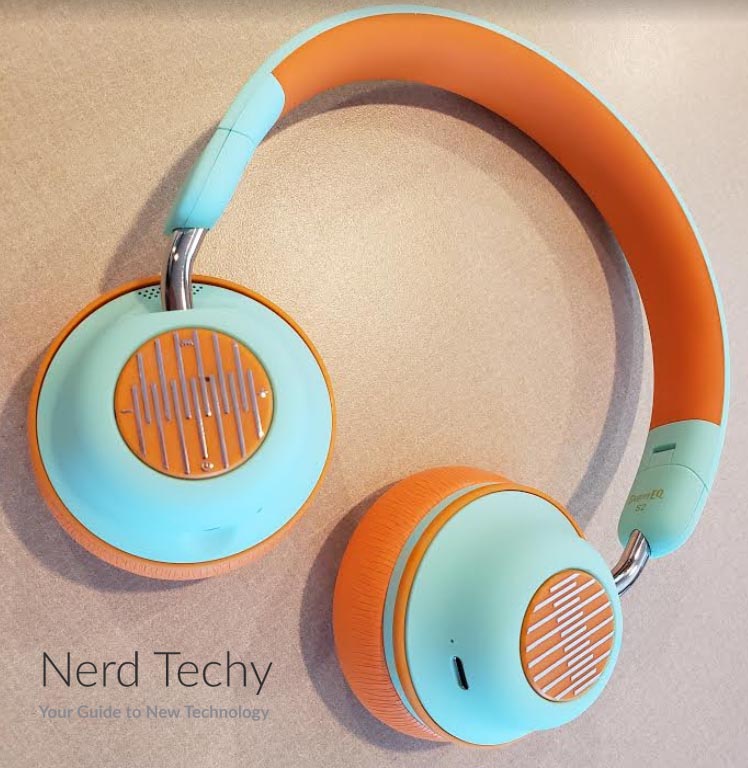 The ear cups themselves are small, which ties in well with the rod-style frame. Unfortunately, this is one area where SuperEQ put form before function. Because the ear cups are small, they can be uncomfortable if you have a larger head. As a matter of fact, they won't even cover most medium-sized ears. This has two effects. First, it limits the amount of noise isolation, since the cups don't sit tight against your head. Second, it's uncomfortable to wear for a long period of time. Depending on how you use your headphones, this may or may not be a major concern. That said, the ear pads are soft memory protein, and are nice and thick. If you don't mind the small size, there's no shortage of cushion.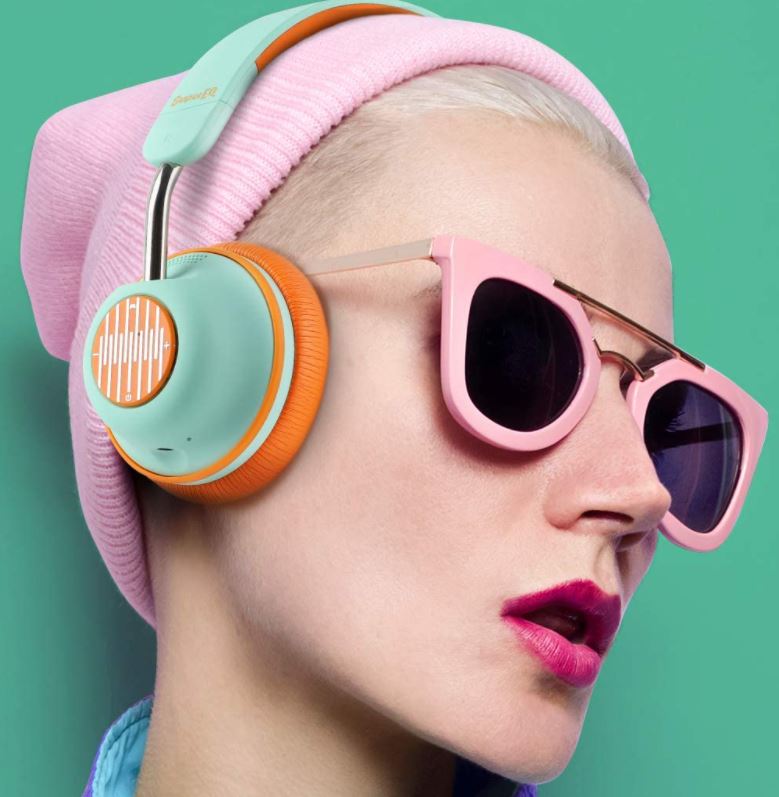 If you prefer a wider ear cup, the SuperEQ S1 is a better choice. This earlier iteration of the S2 is far more comfortable for people with larger ears, and offers high-quality audio. On the other hand, it has a short wireless range, so you won't be able to walk around the house with it.
One thing we liked about the frame was the portable design. The ends rotate 90 degrees, right near the ends of the plastic, so the ear cups can be folded and rotated flat. This makes it easy to collapse the headphones for storage. Combine that with durable, sturdy materials and an already-compact size, and you're looking at solid travel headphones.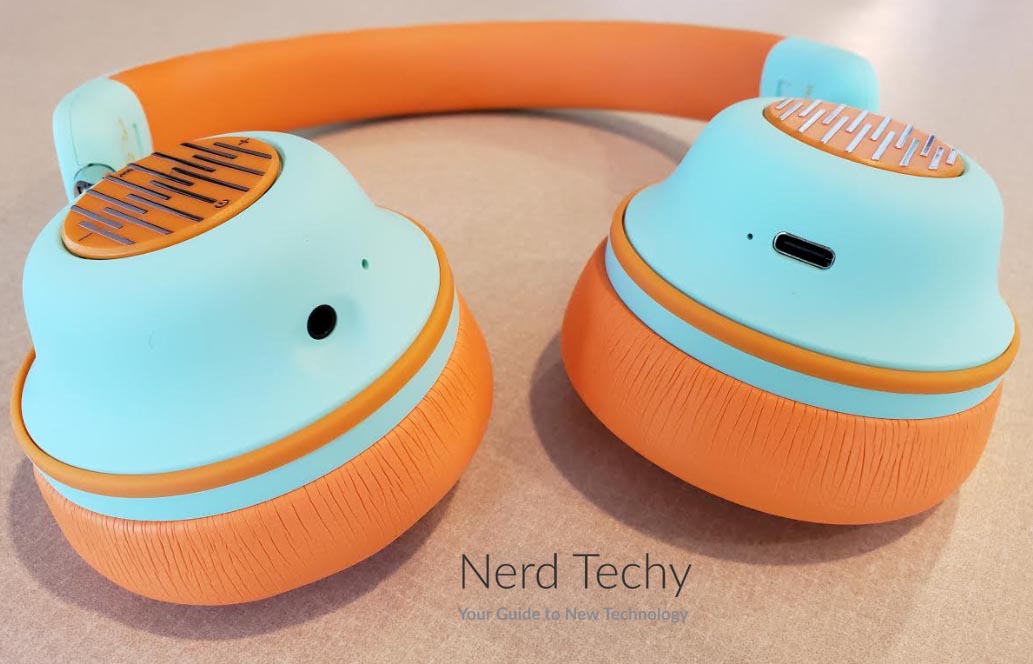 The controls on the S2 are divided between the left and the right ear cups. On the right, you'll find your primary controls. These include volume controls, as well as a basic on/off button. The volume controls can also be used to answer and end phone calls. This makes them suitable not just for listening to music, but also for hands-free calling. Next to these buttons, you'll also find the 3.5mm aux port. There's an aux cable included in the kit, which we'll discuss more shortly. There's also a USB Type-C cable for charging.
On the left ear cup, you'll find the corresponding USB charging port. There's also a switch to turn the ANC function on and off. Be careful with this. The ANC mode works separately from the ordinary power. On the plus side, you can block out background noise even with your music off. On the downside, if you forget to turn off the ANC switch, you'll quickly drain your battery. So if you're using ANC make sure to shut off both the main power and the ANC switch.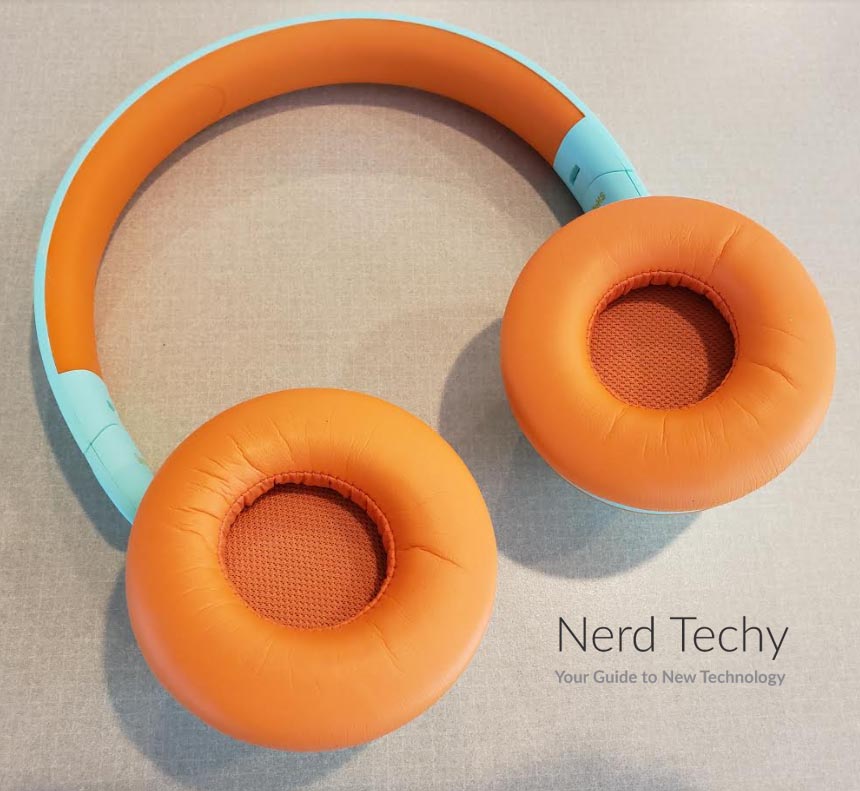 Battery & Connectivity
The S2's internal battery carries enough charge for several hours of operation. How long will depend on exactly what you're doing. When used as ordinary, vanilla headphones, they'll last for about 25 hours at medium volume. At full volume, that's still longer than 20 hours. With the ANC switched on, this drops to 18 hours or less. That's still not bad, especially for ANC headphones. Finally, when you're using ANC only, you can get a whopping 45 hours of use. This is great for travel, if you're trying to sleep through multiple legs of a long journey. No matter how you cut it, these batteries are more than reasonably-powerful.
Charging is relatively easy, and takes only two hours from a fully dead battery. You can plug into any USB port or charger, so juice is never far away. More to the point, two hours is far less than the average person sleeps every night. For all reasonable purposes, you should never run out of battery life.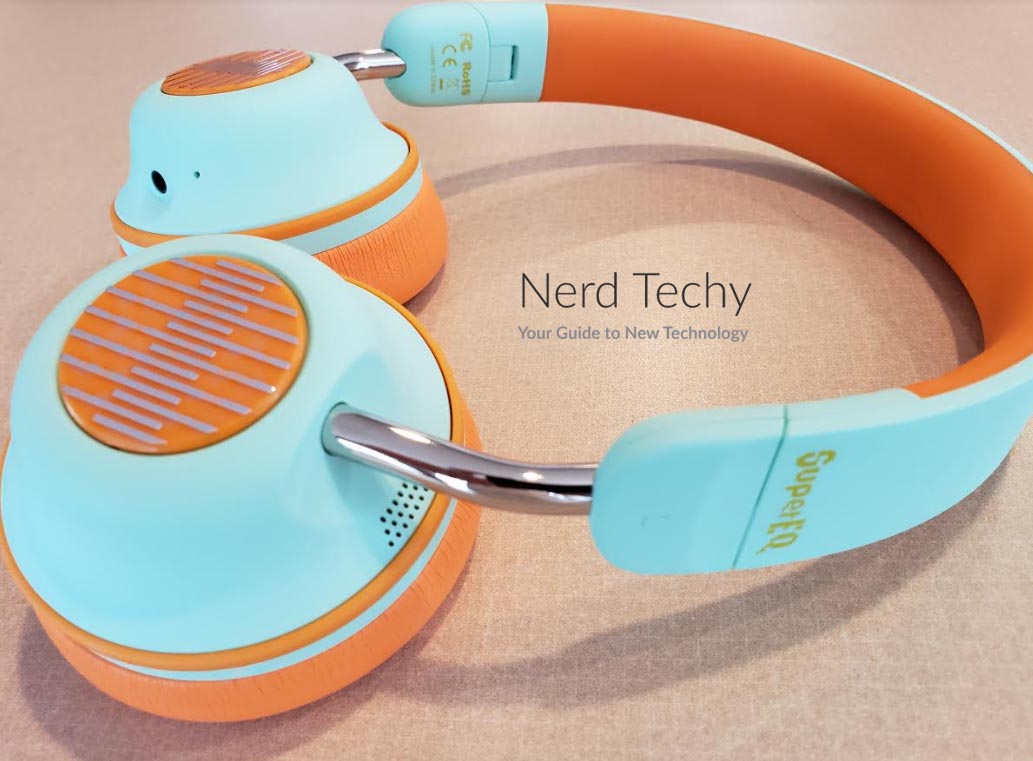 The S2 headphones utilize the Bluetooth 5.0 wireless protocol. This is the most prevalent version of Bluetooth, supported by almost all modern smartphones and other devices. It marks a noticeable improvement over the Bluetooth 4.2 protocol, for three reasons. To begin with it has a more stable system. This means you have fewer dropped calls, and your music won't cut out randomly. Along the same lines, it has a higher bandwidth, so you can listen to higher-bitrate files. Finally, Bluetooth 5.0 has lower latency. This doesn't make much difference for music, but it ensures that video and audio remain synced for movies and gaming. When connected via Bluetooth, you can pair the S2 with two devices simultaneously. You can play music on your personal phone, while leaving your business phone open for calls.
Alternatively, you can simply plug into your phone with the 3.5mm aux cable. This has benefits and drawbacks of its own. On the plus side, you don't have to worry about your batteries, since your phone will provide the power. On the downside, you'll drain your phone battery faster. You also won't be able to use the built-in controls, so hands-free operation is out.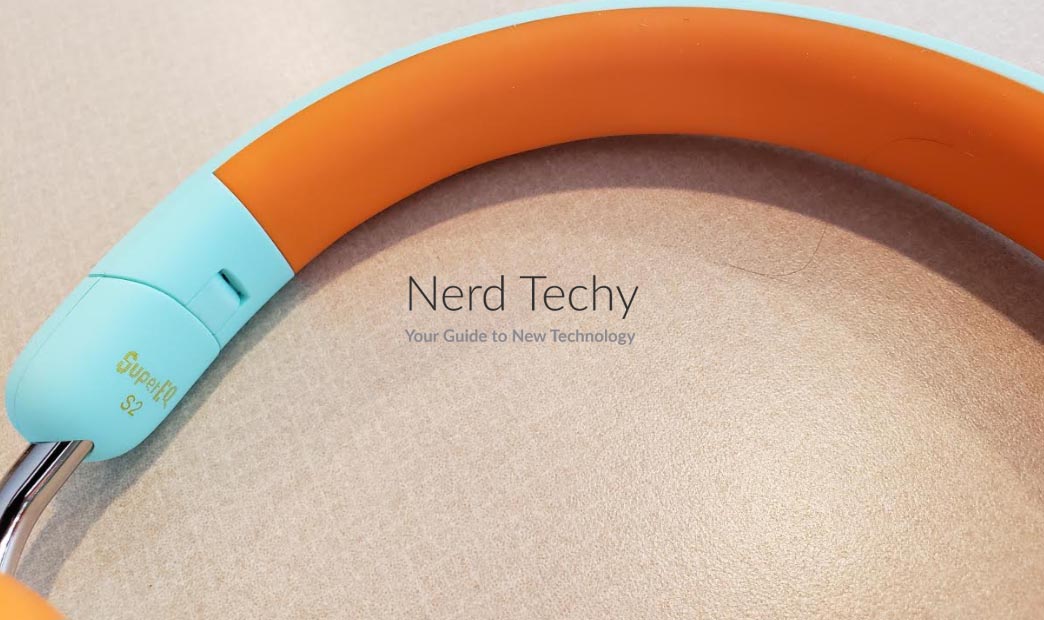 Audio Quality
The S2's drivers are 40mm in diameter, which makes them large enough for rich bass. Indeed, you get excellent performance across the sound spectrum. We didn't have any complaints. The bass is as advertised, with enough power for driving dance music and low, rumbling sound effects. The high frequencies are shimmery, with plenty of sparkle without losing texture. Finally, the mids are well-positioned, and aren't muddied by the bass or dirtied with sibilance.
We also appreciated the wide soundstage. This means there's a good amount of separation between different instruments. When you're listening to music, it sounds like you're in an actual space, listening to real instruments. Compare this to cheap headphones, where the sound can seem squished together.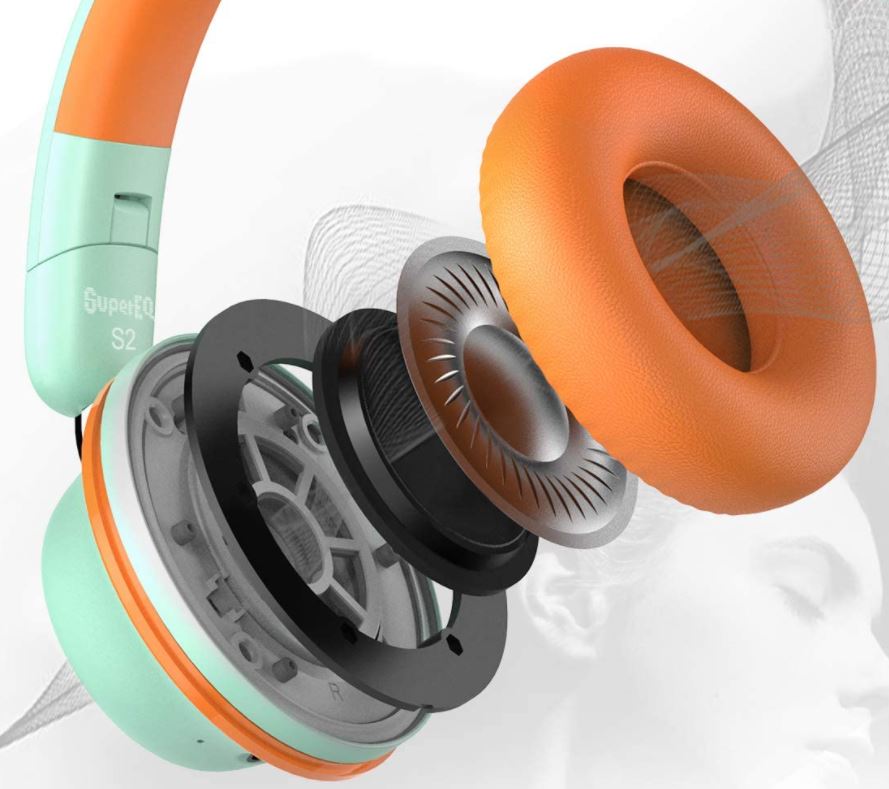 While the S2 sounds great for the price, it's still not perfect. For even richer, near-studio quality sound, consider the Tribit QuietPlus 78. These are some of the best-sounding wireless headphones we've tried. On the downside, they're uncomfortable to wear, and the controls are clunky to operate.
The built-in ANC chip does a reasonably good job of reducing noise. In total, you'll experience a noise reduction of about 25 decibels. This is a significant amount of reduction, similar to reducing a yell to a quiet murmur. You'll still hear loud noises, but they'll be seriously muffled. Steadier, lower sounds like engine noise will pretty much disappear. As with all ANC systems, it responds better to steady noise than it does to sudden sounds. Car horns and screeching train brakes will cut through, at least very briefly.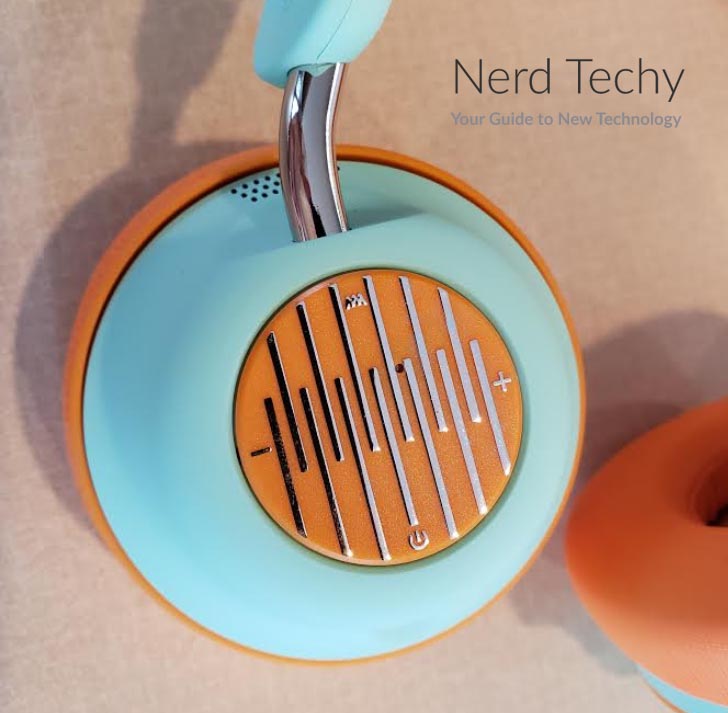 The S2 headphones don't just reduce noise while you're listening to music. They also cut down on interference during phone calls. The CVC 8.0 microphones separate your voice from surrounding background noise. This ensures that the other person hears what you're saying, even in a loud area. Keep in mind that these mics only work on your end of the conversation. How well you hear the other person will depend on what kind of mic they're using.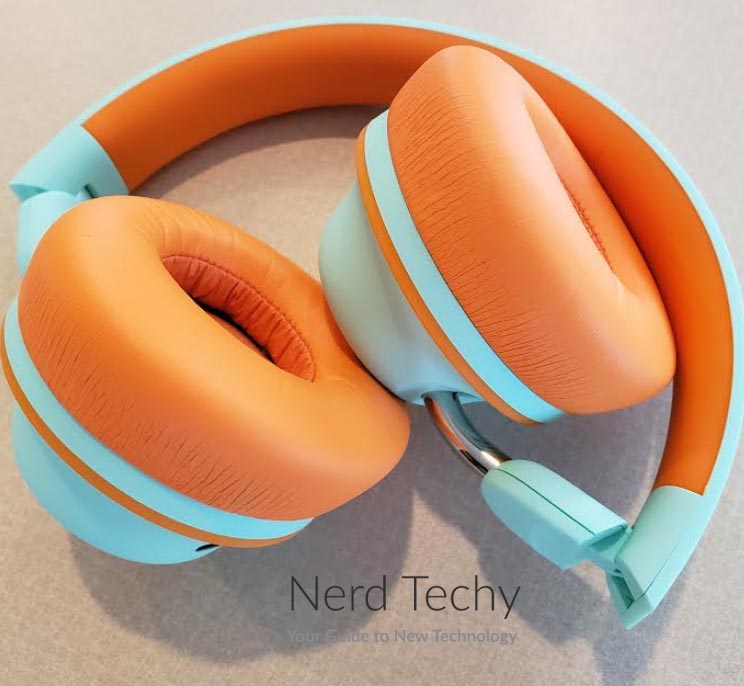 Final Verdict
So, are the SuperEQ S2 ANC Bluetooth Headphones worth buying? It depends on what's important to you. In terms of audio quality, you're getting some pretty good performance. Considering the moderate price, the bass, treble, and middle frequencies all sound fantastic. We really were pleasantly surprised by the sound. This includes the ANC function, which isn't the most powerful possible, but does a pretty good job. Throw in CVC 8.0 noise reduction, and you're looking at excellent all-around audio.
The physical design was more of a mixed bag. It's lightweight, compact, and portable, yes. But it's also a bit small for most ears. If you prefer cups that sits over, not on, your ears, you're going to be disappointed. On the other hand, the cups are nice and soft, so they do keep pressure points to a minimum. Moreover, the batteries last a long time, so power isn't much of an issue.
Meet Derek, "TechGuru," a 34-year-old technology enthusiast with a deep passion for tech innovations. With extensive experience, he specializes in gaming hardware and software, and has expertise in gadgets, custom PCs, and audio.
Besides writing about tech and reviewing new products, Derek enjoys traveling, hiking, and photography. Committed to keeping up with the latest industry trends, he aims to guide readers in making informed tech decisions.