ILIFE W100
Pros
Vacuum, wet vacuum, and mop combined.
Self-cleaning mopping roller.
Easy to use and reasonably quiet.
Washable, reusable HEPA filter.
Cons
Not powerful enough for deep pile carpets.
Heavier than a simple cordless vacuum.
One of the greatest benefits of technology is saving time. When we think of people in the 1800s, we often think about advances in entertainment and creature comforts. And to be fair, those are two areas where we've come a long way. We have central air conditioning, streaming video platforms, and smartphones. But we also spend a lot less time doing household chores than our ancestors did. Cleaning your carpets is a good example. Before the invention of the vacuum cleaner, you had to literally beat the dirt out of your rugs. This meant taking them outside, hanging them up, and hitting them with sticks. Needless to say, having even a basic vacuum represents a huge time savings.
Nowadays, advancements in battery and motor technology have allowed for more effective portable vacuums. In the past, battery-operated vacuums have mostly been a niche market. At most, you might have owned a dust buster that could run for 10 or 15 minutes. But if you wanted to do any more than a little spot cleaning, you needed a vacuum that plugged in. And if you wanted to clean up a wet mess, you needed something more powerful, like a shop vac. This could get very expensive, with big, heavy vacuums that were a pain to move around.
Today, we're going to review the ILIFE W100 Smart Wet/Dry Mop & Vacuum Cleaner made by Easine. This is an all-in-one, battery-powered dry vacuum, wet vacuum, and mopping machine. It has a self-cleaning function, a HEPA filter, and an attractive design. But those are just a few of the things you'll want to get out of a good vacuum. We need to take a closer look at all aspects of the W100, from the physical design to the suction power. We need to examine the rolling brush, and talk about the battery life and filter system. At that point, we'll be equipped to render a fair verdict. Let's get started, and see what we learn!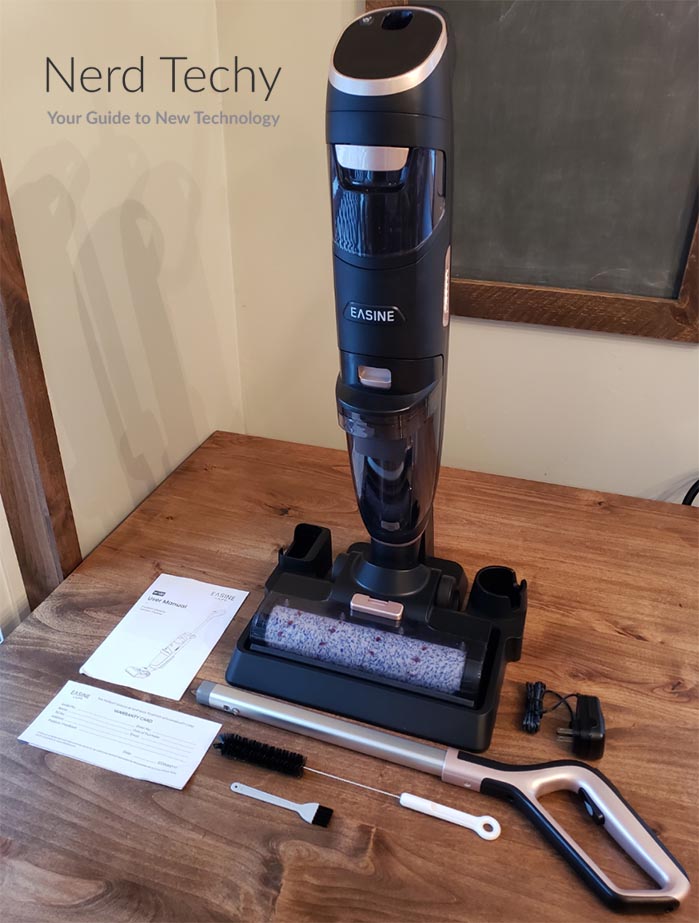 Design & Construction
The Easine ILIFE W100 Smart Wet/Dry Mop & Vacuum Cleaner has a vertical design, similar to most upright vacs. The main housing is made of matte black plastic, which is easy to clean without clashing with your décor. The handle is mounted on an aluminum rod, which protrudes from the top of the housing. It's slightly tilted towards the back, which makes for a comfortable grip. There are two buttons towards the front of the handle, which you operate with your thumb. The first button turns the vacuum on and off, while the second changes between the two suction levels. The nice thing about this design is that you don't have to hold down any triggers while you're cleaning. Just press the button and let the W100 go to work.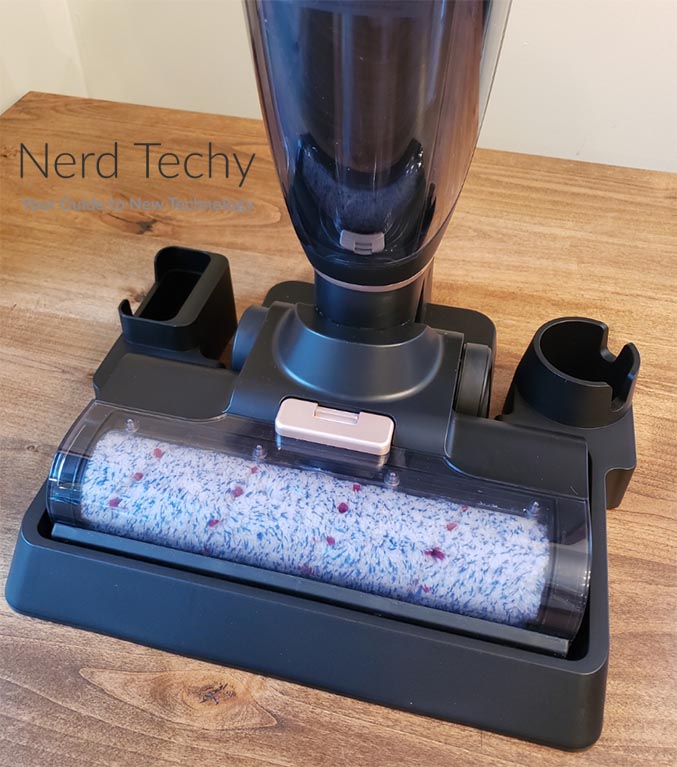 On the top of the housing, there's an LED display that's easily visible while you're using the vacuum. This display shows the vacuum's current status. You'll see the battery level, both on a visual display and as a percentage readout. You'll see the current suction level, as well as various warning lights. If your dirty water tank is full or the filter needs to be cleaned, the display is going to let you know.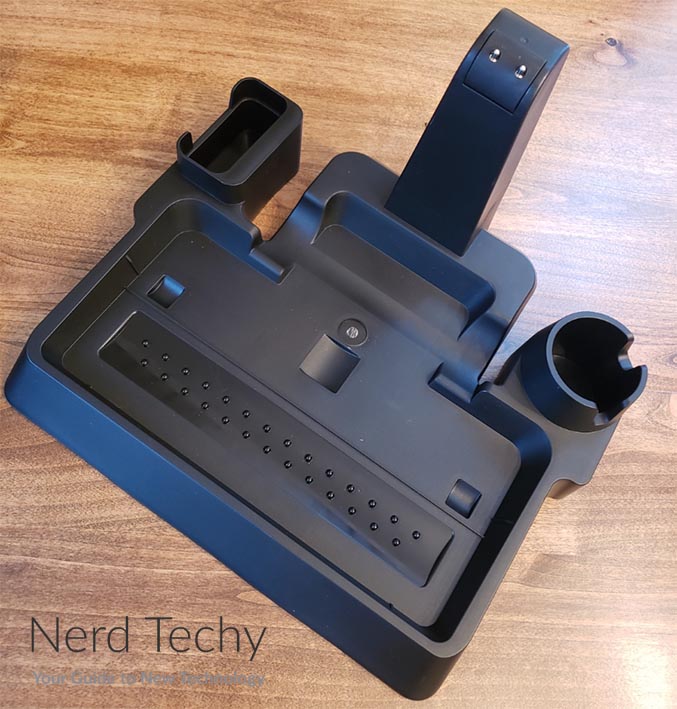 The display sits on top of the clean water tank, with a gold plastic trim around the edges. The tank sits seamlessly inside the black housing, and is mostly black itself. That said, there's a window on the front so you can see the water level. There's also a handle for easy removal, which is the same color as the gold top trim. Beneath this is the motor housing, which is all black, and sits above the dirty water tank. The filter is also found in this area, between the motor and the tank. The dirty water tank is semi-transparent, with a smoked black material that still lets you see the water level. It too has a handle made of the gold accent plastic.
Use code "ILIFEW10068" when you purchase the ILIFE W100 on Amazon to get an additional $30 off.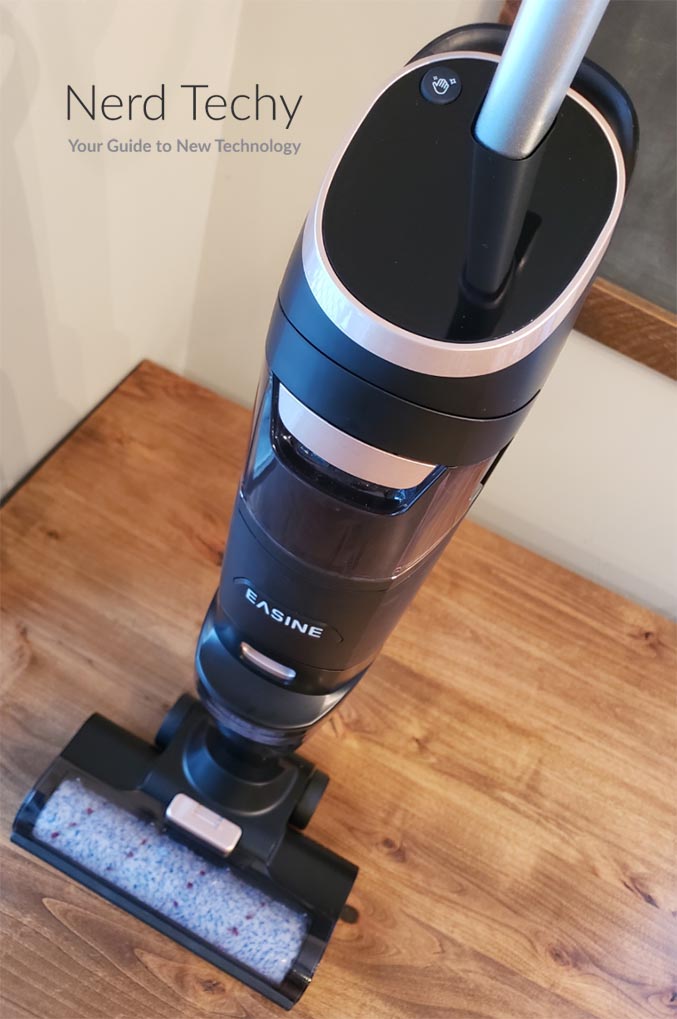 The bottom of the main housing tapers to meet the carpet roller at a pivoting, swiveling joint. This allows for a wide range of movement, and good performance going under and around furniture. The roller housing is mostly black, but it's transparent around the roller brush itself. This transparent cover makes it easy to see when the brush has gotten tangled. You can also tell when the brush is filthy and needs to be cleaned.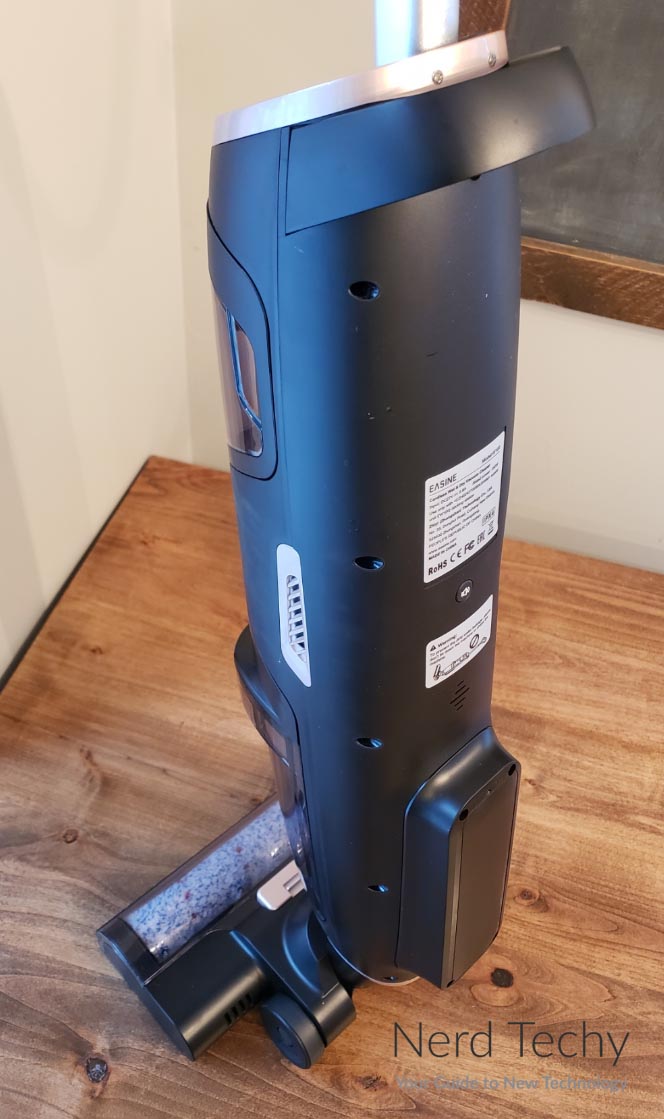 The entire W100 unit weighs 9.3 pounds when it's full of water. This is heavier than your ordinary battery-operated vacuum, and it's tough to use overhead. If you want a more maneuverable vacuum, check out the Ultenic U11. It's affordable as well as lightweight, but it's an upright vacuum only; there is no mopping function.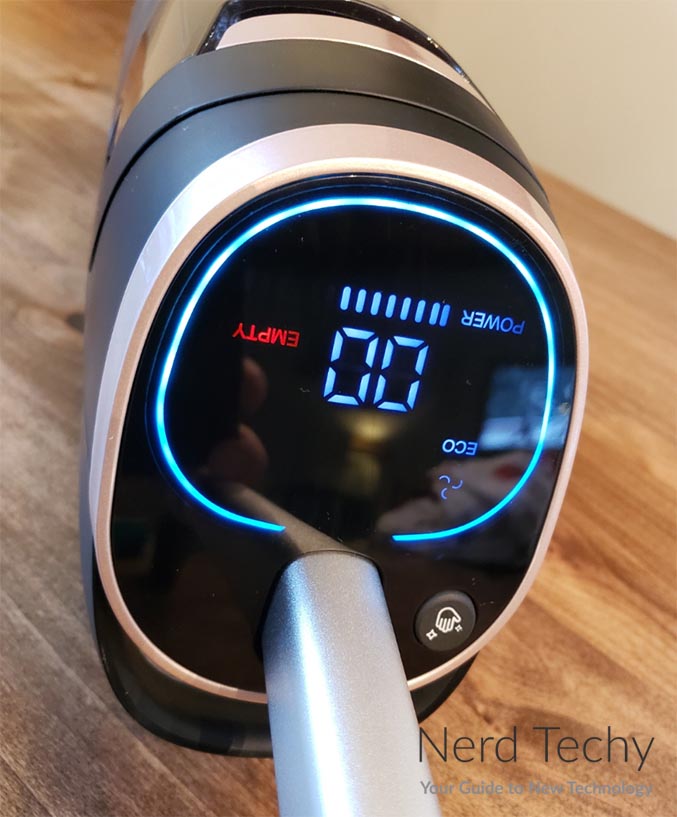 The W100 vacuum & mop comes with a few accessories to help you get the most out of it. The most important of these is the charging base, without which the device won't work at all. The base is compact and grey, and sits up tight against your wall. Its footprint is barely bigger than the vacuum itself, so it doesn't take up a lot of space. It also has storage spots for the other accessories. The extra roller brush and the cleaning brush stand to the sides, so you can always find them. The entire kit is covered by a 12-month manufacturer's warranty. If you run into any premature failures, you're going to be covered.
Cleaning & Accessories
The Easine ILIFE W100 has a multi-purpose roller brush that's designed for multiple surfaces. Some of the bristles are stiff, for cleaning carpets, while others are softer, designed for floors. In fact, the soft "bristles" really aren't bristles at all, but a fabric pile similar to a dry mop. This material is absorbent, so it helps when you're mopping or cleaning up wet messes. Another nice thing about this roller design is that it makes solid contact with the floor. It will actually pull the vacuum around while you're cleaning, so all you have to do is direct it.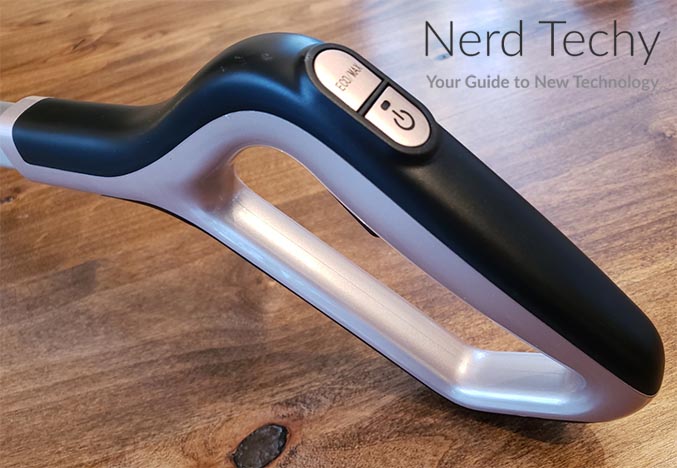 This vacuum/mop combo has a maximum suction level of 5,500 Pascals (Pa). That's more than your average robot vac, but it's surprisingly underpowered for an upright. To be clear, you can still clean most floors and wet messes with ease. You can also tackle most carpets. However, you might have trouble if you're trying to clean a deep pile carpet that's heavily soiled. On the other hand, you don't always need 5,500Pa of suction. To save battery life, you can run the vacuum in eco mode, which is fine for everyday cleaning.
Alternatively, you can set it to automatic mode, which is actually the default. In automatic mode, the water flow and suction are automatically adjusted based on the resistance level. This mode will give you the best balance between battery life and effective cleaning. Regardless of which setting you use, you don't have to worry about the motor being too loud. Even on the highest power setting, the noise level of 75dB is relatively moderate.
If you need more suction power, take a look at the Dreame H11 Max. It's a beefier vacuum/mop combo unit with a correspondingly large coverage area. Then again, there's no HEPA filter, which could be a drawback if you suffer from allergies.
When it comes to the mopping function, the W100's upper, clean water tank has a capacity of 0.6 liters. Exactly how far that will get you depends on the type of surface and how dirty it is. You'll get a lot more coverage on a smooth, clean floor than on a textured surface that's heavily soiled. For everyday use on hardwood or tile, you can easily clean 1,000 square feet or more with a single tank. The dirty water tank is slightly smaller, with a capacity of 0.5 liters. This is because you'll leave some water behind, which will evaporate away. But keep in mind that if you're cleaning wet messes, you'll want to make two passes. First, make a pass with the clean water tank empty, to suck up the mess. Then, empty the dirty water tank, fill the clean tank, and make a second pass to complete the cleaning process.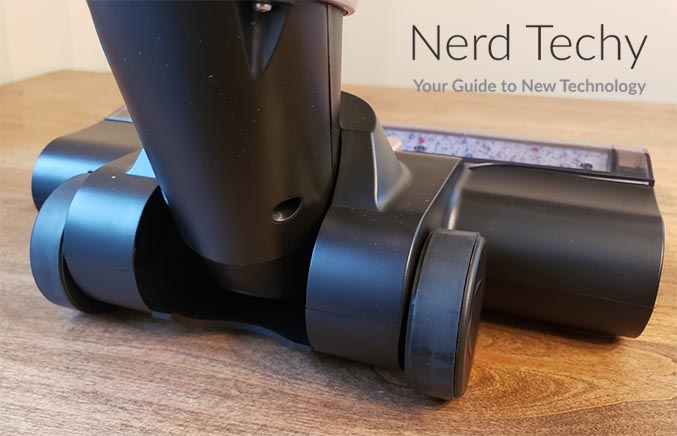 Use code "ILIFEW10068" when you purchase the ILIFE W100 on Amazon to get an additional $30 off.
The roller will get dirty from time to time, especially if you're cleaning wet messes. When your roller gets dirty, you can run a cleaning cycle to clean it up. This works only when the vacuum is docked, and it requires there to be water in the clean water tank. You can even change out a wet roller, set it to the side to dry, and swap in the spare.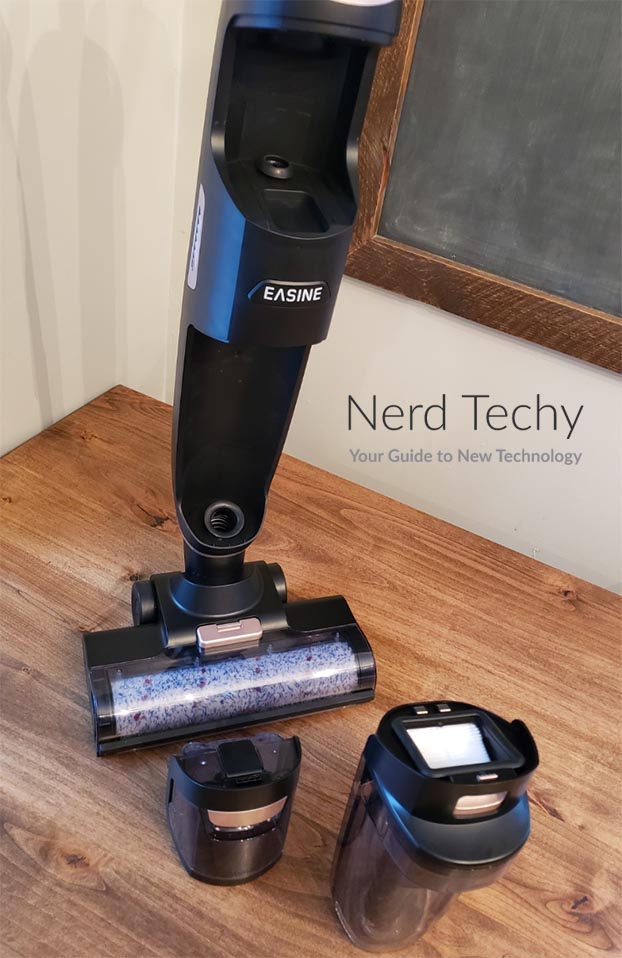 Battery & Filters
The ILIFE W100 has an internal rechargeable battery with a capacity of 3,000mAh. This is sufficient for 35 minutes of use if you're cleaning in eco mode. That drops to about 15 minutes on the maximum power setting. In automatic mode, you'll get more or less depending on the surface and the type of mess. When it's dead, the battery will take four to five hours to fully recharge.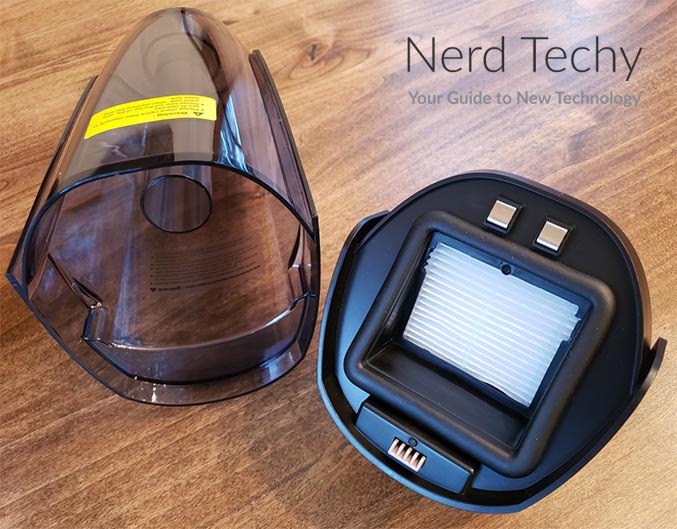 The HEPA filter doesn't need to be cleaned every time you mop. Instead, the LED screen will let you know when it's dirty. It's also easy to clean, and can be washed many times before it has to be replaced. Just make sure to dry it out completely before you put it back in the housing.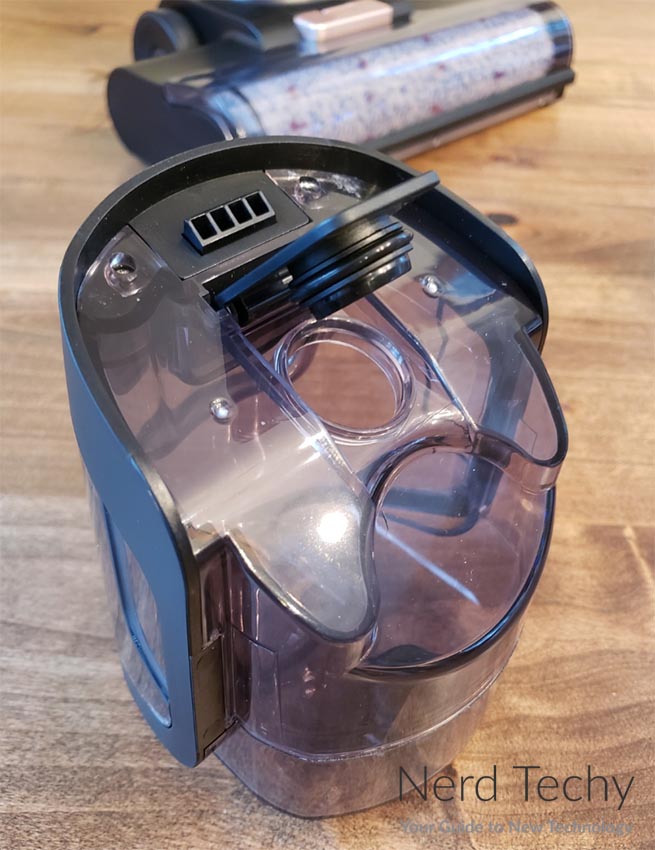 But what if you want a vacuum and mop that's also automatic? In that case, consider the Dreametech W10. This is a self-cleaning robot vacuum and mop that's highly effective and easy to operate. Then again, it's also expensive.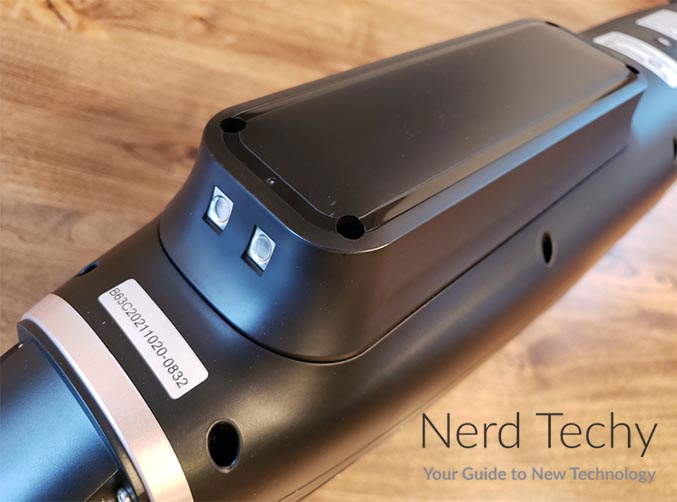 Final Verdict
The Easine ILIFE W100 Smart Wet/Dry Mop & Vacuum Cleaner is an effective piece of cleaning equipment. It's easy to use, and the self-cleaning function makes it relatively low-maintenance. We would have appreciated a little more sucking power, but you can't have everything. In most other respects, this wet/dry cleaner works very well. Remember to use code "ILIFEW10068" on Amazon for an additional $30 off.
Meet Derek, "TechGuru," a 34-year-old technology enthusiast with a deep passion for tech innovations. With extensive experience, he specializes in gaming hardware and software, and has expertise in gadgets, custom PCs, and audio.
Besides writing about tech and reviewing new products, Derek enjoys traveling, hiking, and photography. Committed to keeping up with the latest industry trends, he aims to guide readers in making informed tech decisions.