If you're concerned about protecting yourself from EMF radiation, you're not alone. Recent years have spread far more of this radiation throughout our environment. Smartphones, cell towers, and WiFi routers are constantly bombarding us with EMF from all directions. In theory, this type of radiation is harmless. It's what's called "non-ionizing" radiation, which means it doesn't cause DNA to mutate. In other words, it can't cause cancer, and it won't give you radiation burns. But many people are concerned about the more subtle effects of EMF. For some individuals who are highly sensitive, these effects can include anxiety, generalized pain, and other physical symptoms.
As a result, there's a healthy market for EMF protection devices. Some of these, like Faraday blankets, are based on technology that's been around for over a century. However, there are other technologies, like EMF neutralizers, that are also starting to make their mark. These technologies are designed for situation where full EMF protection wouldn't be practical. For example, you can use an EMF neutralizer for your house without blocking your WiFi signal. And if you want something more portable, an EMF protection necklace could make a lot of sense.
We searched around for the best EMF protection necklaces available online. Now, we're going to review three of the most popular options. We'll start out with the Q-Link Acrylic SRT-3 Pendant. This is a rubbery athletic pendant with a built-in copper ring. Next, we'll look at the EMF Harmony Pendant Necklace. This is a waterproof stainless steel necklace with additional components for infrared and grounding. Finally, we'll check out the Dr. Valerie Nelson EMF Protection Pendant Necklace. This is a traditional crystal necklace, tuned to neutralize EMF frequencies. Which one is right for you? Let's take a closer look at all three options, and see how they compare.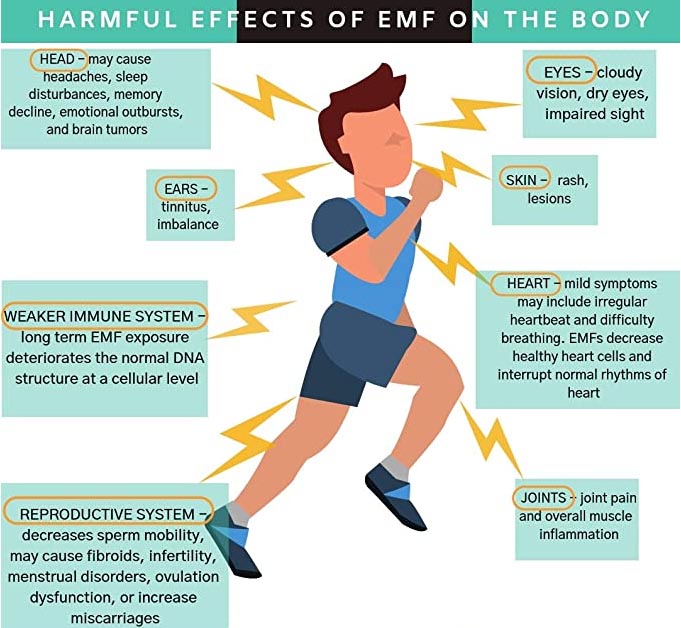 How Does an EMF Protection Necklace Work?
Before we start looking at individual necklaces, let's step back and take a broader look. How do they actually work? The most basic method of EMF blocking is what's called a Faraday cage. A Faraday cage consists of a wire mesh, which is arranged into a particular configuration. When the cage is set up, incoming radiation instead gets redirected around the outside. The same principle is at play with Faraday fabric, which is embedded with flexible wires. This fabric is commonly used for anti-EMF smartphone pouches.
That said, Faraday fabric and cages aren't exactly practical for personal use. Carrying a big metal cage around would be ridiculous. And you could spend a small fortune making your own badly-tailored clothes from unfashionable cloth. Instead, many people use an EMF protection device, or neutralizer. These neutralizers work because most of the trouble people experience from EMF isn't from the radiation itself. Instead, it's from irregularities in the wave form, which scientists call "incoherence." When a wave form is incoherent, it spikes and stutters irregularly. The research on EMF incoherence is in its infancy, but it seems to be what causes people to have trouble.
An EMF neutralizer deals with incoherence the same way noise-cancelling headphones deal with background noise. This is possible because EMF and sound are both made up of waves, so you can use the same tricks. When you turn on a pair of noise-cancelling headphones, built-in microphones detect all the background noise. The circuitry then analyzes this noise, and produces a wave of anti-noise. Anti-noise is the same as the noise, but the wave form is inverted. Where the noise wave has a trough, the anti-noise wave has a spike. The same is true in reverse; wherever the noise wave spikes, the anti-noise wave dips. When both waves arrive at your ears, the peaks and troughs all cancel each-other out. What's left is the sound of your music, without the rest of the clutter.
Whole house radiation neutralizers work on the same principle. Built-in sensors detect the ambient EMF radiation, and circuits produce an inverse EMF wave. Keep in mind that it won't completely eliminate EMF, but it will make the signal more coherent. Similar, personal neutralizers work in the same way, but just in your personal bubble. This might not offer the same sterling level of protection you'd get from a Faraday cage or fabric. But it has the advantage of being practical and portable. In addition, because it doesn't totally block EMF, a neutralizer or protector allows you to use your devices. Your smartphone will still keep working, even as you're personally protected. Now, let's take a look at these three necklaces!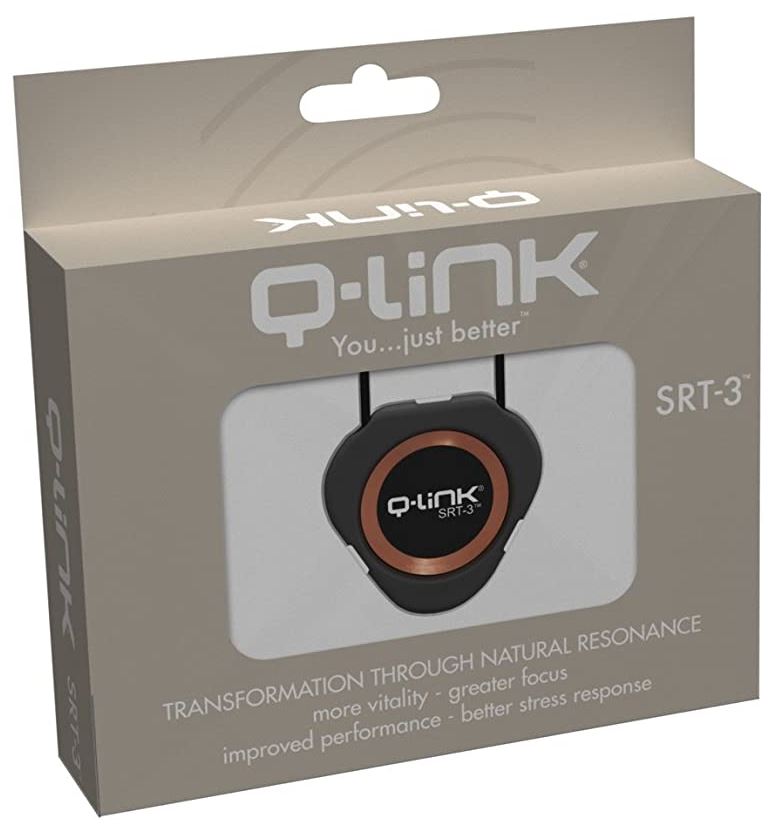 Q-Link Acrylic SRT-3 Pendant
The Q-Link Acrylic SRT-3 Pendant is a rubbery acrylic pendant that's shaped sort of like a guitar pick. The material feels comfortable against your skin at room temperature, not cold like a metal pendant. The back is entirely smooth and bare, which is ideal for comfort. Meanwhile, the front is embedded with a copper ring. In the middle of that ring, you'll see the words "Q-Link SRT-3" printed in light grey. All in all, it's reasonably attractive to look at. You can also order it to match your favorite outfits. There are a total of nine colors available, including black, dark blue, violet, red, grey, green, pink, light blue, and orange. So whether you want something more flashy or something more laid back, you've got plenty of options.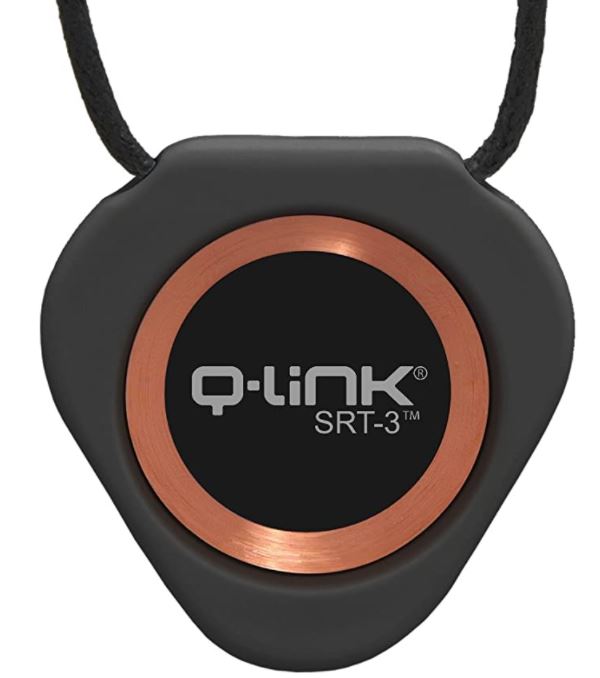 One thing we liked about the SRT-3 is that the cord is adjustable. It's made of nylon, and runs through a hollow opening in the top of the pendant. At 30 inches in length, it's probably too long for most people, but that's fine. You can simply adjust it as needed. According to the instructions, it should sit just beneath your breastbone. And for most people, that's going to be perfectly achievable with this cord. The cord is also very comfortable to wear, just like the pendant. The material is surprisingly soft and very flexible. It won't chafe your neck if you're running or working out while you're wearing it.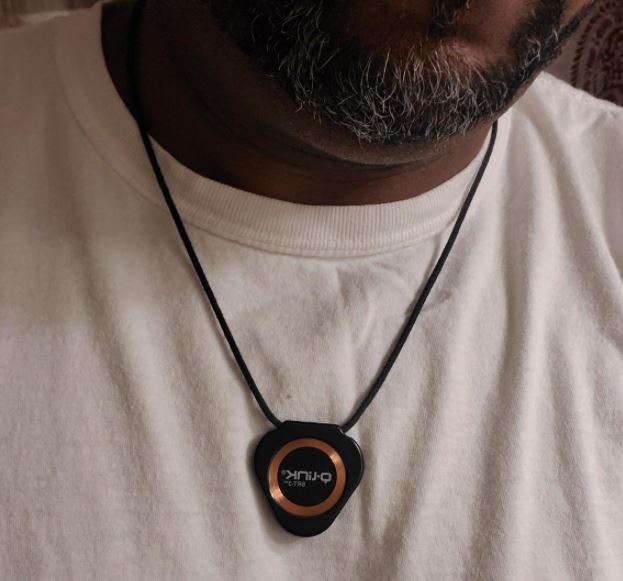 Effectiveness
The SRT-3 is advertised as an EMF blocker, and it comes with some serious backing. It won the award for Best New PGA Product, and is worn by dozens of high-level professional golfers. Many people who wear it tout the stress relief benefits, as well as a general feeling of well-being. Others seem to experience no benefit whatsoever.
We did some digging into the physical design, and we were somewhat disappointed. In fact, this is just an acrylic pendant with a copper ring embedded inside. There are no electronics or circuitry that could produce any kind of signal to combat incoherence. There's also no mesh or wire that could conceivably block EMF. We're not saying the SRT-3 doesn't work. But if it does, we don't know how, and Q-Link isn't offering an explanation.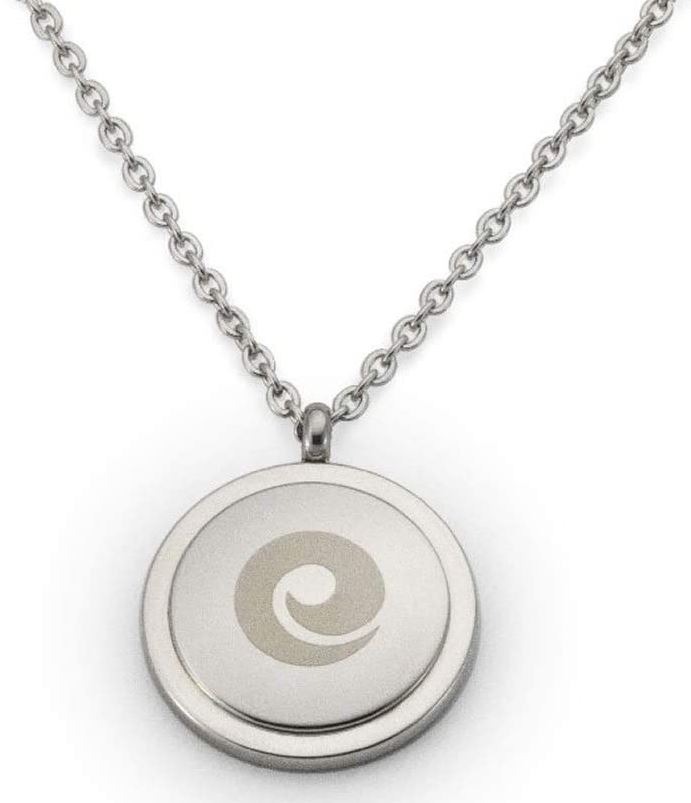 EMF Harmony Pendant Necklace
The EMF Harmony Pendant Necklace is a small stainless steel pendant 7/8 of an inch in diameter. It's thinnest towards the edges, while the central area is raised. This thicker central portion is engraved with the EMF Harmony logo, an attractive spiral pattern. That's all you'll find on the front, but the back has additional elements. These are four dots, which are colored green, brown, red, and blue respectively, and they're not just for show. They also serve a function, which we'll discuss more in a second.
The overall look and feel is high-quality, and it genuinely seems to be well-engineered. It's made in Europe, and it shows in the workmanship. For wearing, it hangs from a slender steel chain, which fits through a ring in the top of the pendant.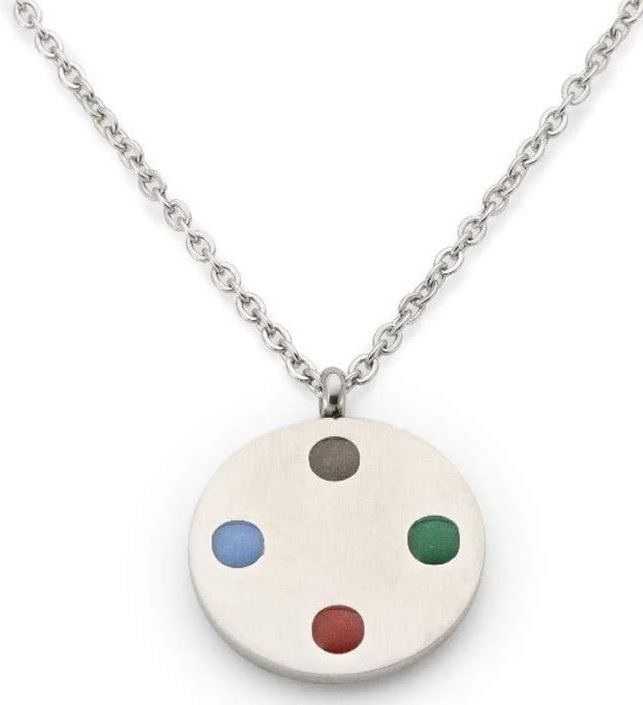 Use code "NERD15" for 15% off the EMF Harmony Pendant Necklace when you purchase directly from their official website
The chain itself measures 18 inches long, which is suitable for short to average-height individuals. In addition, the package also includes a 6-inch extension chain. That way, you can extend the total length from 18 to 24 inches, which is great for taller individuals. Our only gripe here is that the chain is a little bit fragile. If you're engaging in physical activity, you'll end up needing to replace the chain eventually.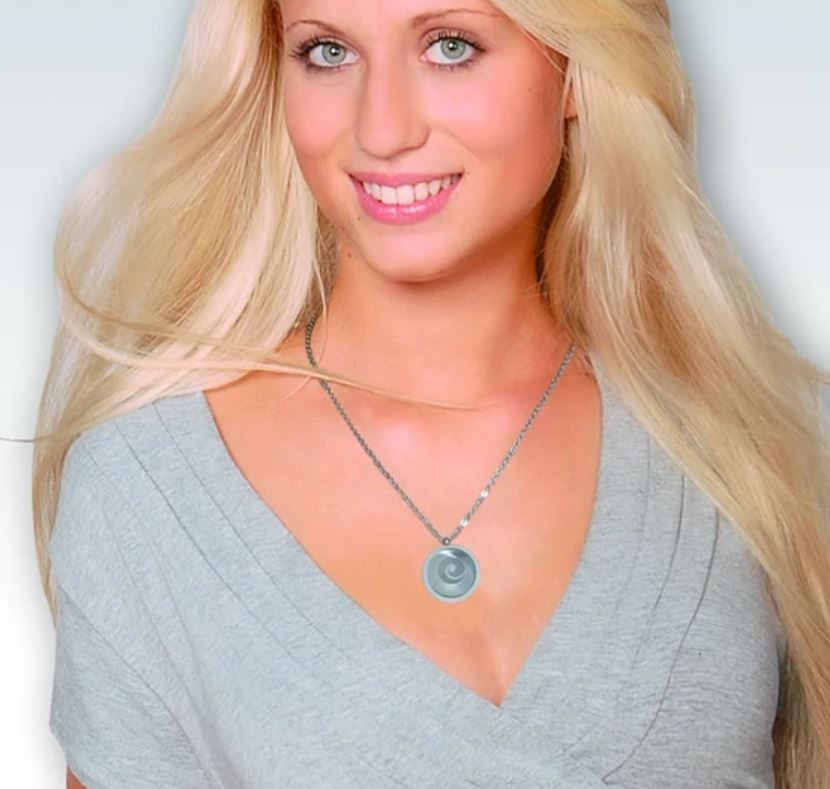 Effectiveness
The EMF Harmony Pendant Necklace claims to be a frequency neutralizer, not a radiation blocker. This is a strange claim to make, since EMF neutralizers require power. Since the necklace is un-powered, there's no way it could emit any kind of normalizing radiation. That said, it's metallic, so it does at least some moderate amount of EMF absorption.
The four colored dots on the back provide additional benefits. The blue one is an EMF absorber, but the other ones aren't very well explained. The green dot is for "earth grounding," while the brown one is for "energetic balance." Meanwhile the red element supposedly provides far-infrared rays, which would require a power source.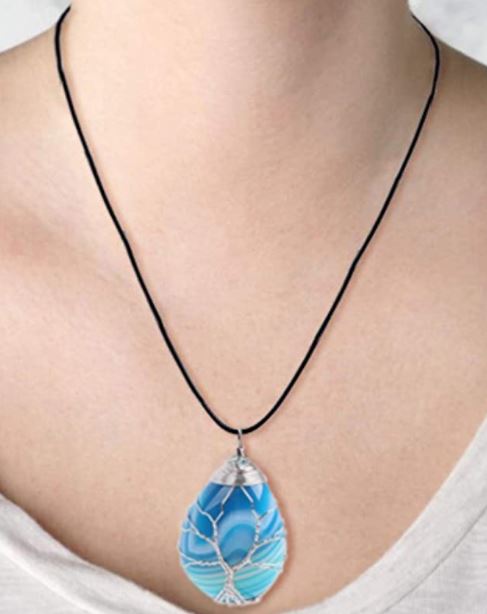 Dr. Valerie Nelson EMF Protection Pendant Necklace
The Dr. Valerie Nelson EMF Protection Pendant Necklace is far different from the others. They both look like modern accessories, with plastic and metal construction. This necklace, on the other hand, is an old-school crystal necklace, available in three variants. The first of these is a blue teardrop-shaped crystal with a Tree of Life wire pattern. The other two are both rectangular-ish in shape, with pointed tips at either end. These are quartz-style crystals, and come in black or white respectively. All three varieties are secured by a cloth cord, which can vary in color depending on the lot.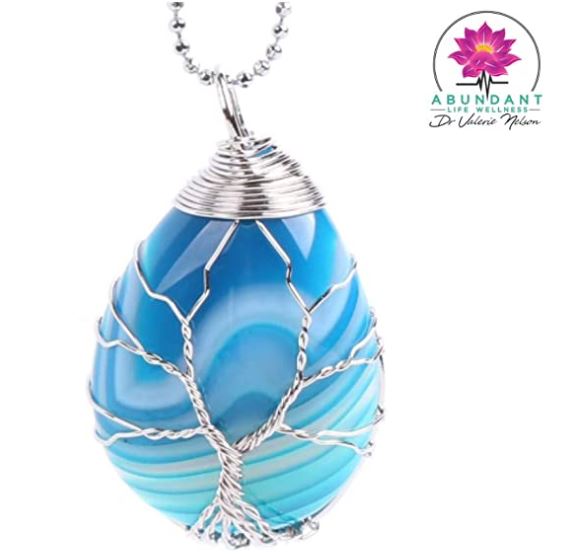 In fact, the manufacturer makes it very clear that no two of these necklaces are identical. Individual stones vary in color as well as in exact size. That said, they're all natural agate crystal, and they're well polished. Regardless of what you end up with, you're looking at an attractive necklace. It's also reasonably durable, although you have to be careful about scratching. Crystals are delicate by nature, so you'll want to put it away if you're engaging in physical activity.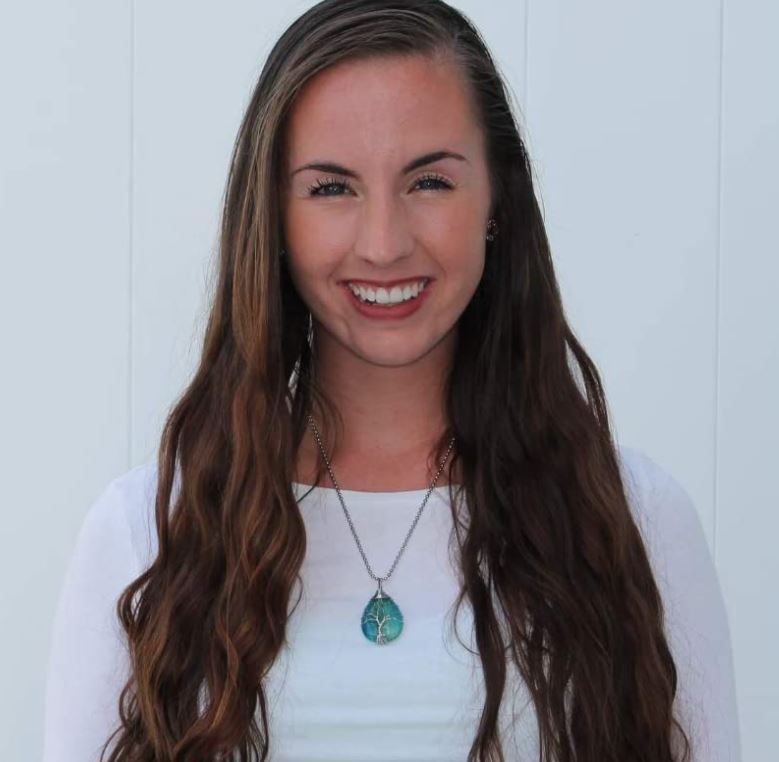 Effectiveness
Dr. Valerie Nelson's EMF pendants are "programmed with 30+ homeopathic frequencies". Supposedly, these frequencies allow the crystals to absorb EMF radiation. Here's the thing; there's no actually science to that. Once again, we're not saying categorically that these pendants don't work. We're saying that if they do work, it's probably not because of any homeopathic mumbo-jumbo.
That said, these pendants are hand-made in the USA. They're very well put together, and each one has its own character. You might not be getting the best EMF protection available. In point of fact, it's questionable whether you'll be getting any protection at all. But you will be getting an attractive piece of jewelry, at an affordable price. If that's what you need, you'll be very pleased.
Final Verdict
So, which one of these EMF protection necklaces is the best of the bunch? Let's discuss what we've learned. We started out by reviewing the Q-Link Acrylic SRT-3 Pendant. This is certainly the most comfortable of the bunch, with its plastic design and nylon cord. It's also the best for athletic activities, where the other two options are more easily damaged. Add to that the many color options, and you've got a solid accessory for work or play. On the other hand, we can't even tell whether it works or not. Considering the price, that's a significant concern.
The EMF Harmony Pendant Necklace is more elegant. With its metal design and elegant chain, it's a finer piece of jewelry. We can also at least understand how it works. Since it's metal, it can presumably embed some amount of EMF radiation. That said, EMF Harmony makes some other health claims that we're a little skeptical about. We recommend purchasing it directly from their official website and use code "NERD15" for a 15% discount.
The Dr. Valerie Nelson EMF Protection Pendant Necklace is entirely different. It's made of crystal, and the crystal is programmed to neutralize certain frequencies. It goes without saying that there is exactly zero science behind what the manufacturer is claiming. Then again, the price is low, and the necklace is attractive to look at. If you want a nice-looking crystal necklace, Dr. Valerie is creating a good piece of jewelry.