Motosumo
Pros
Complete workout program with just a bike and a smartphone.
Compatible with almost any exercise bike.
Live interactive classes for subscribers.
Provides an excellent value.
Cons
Doesn't work with most smart watches.
Some features require additional accessories.
If you're trying to get in better shape, you're not alone. It's no secret that most people have put on some extra weight during the pandemic. And for a powerful cardio workout, it's tough to beat bicycling. You don't even need a gym membership! All you have to do is go outside and start riding. That said, bicycling also has its downsides. Specifically, what are you going to do in foul weather? If you're particularly dedicated, you might not mind riding during a little drizzle. But even the most hardcore of riders won't want to go out in a thunderstorm, or in the snow. In those cases, you're going to need an indoor exercise bike.
Indoor exercise bikes have been around for many decades, and come in many varieties. You can get an affordable tension-resistance bike, or a fancier magnetic-resistance bike, among other options. But regardless of the bike, you still run into some of the same issues. How do you know exactly how "far" you're riding? How do you account for things like terrain? Most bikes give you some kind of distance tracking, and some kind of tension resistance. And if you want a bespoke workout experience, you can invest in a Peloton or similar machine. But those machines cost a small fortune, and the subscription services are expensive. Surely there's a more affordable alternative?
We're about to review Motosumo. Motosumo is the global leader of live cycling classes at a widely accessible price point. Instead of spending a ton of money on a big, fancy machine, their program works with any exercise bike. All you have to do is install the Motosumo app, and you're ready to start riding. But that's just a surface level look at what this service has to offer. To find out how well it works, we'll need to look below the surface and dig into the details. How do the classes work, and how can you track your performance? Let's take a closer look, and see how this program works in practice!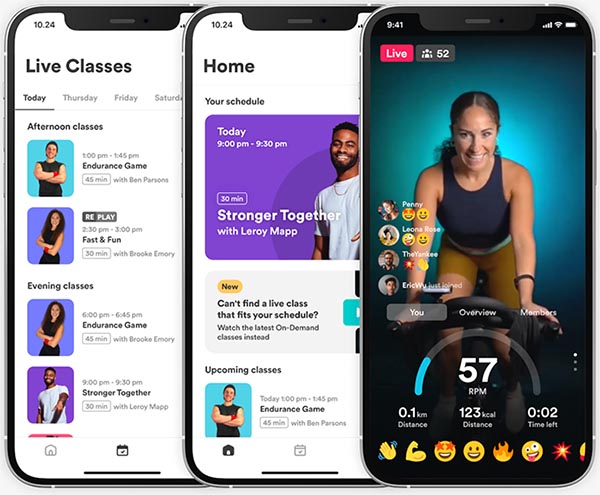 Required Equipment
Most online workout programs rely on your bike's sensors to track your performance. So, how is it possible for Motosumo to work with any exercise bike? In fact, the secret of Motosumo is that it doesn't rely on your bike's sensors at all. Instead, it relies on the technology found in most modern smartphones. See, modern phones are packed with gyroscopes and motion sensors. Think of how your phone screen automatically orients itself in the right direction. That's because there's a gyroscope that lets the phone know which way it's facing. Other sensors detect shaking, vibration, and motion. Point being, your phone actually gathers a ton of information about how it's being handled.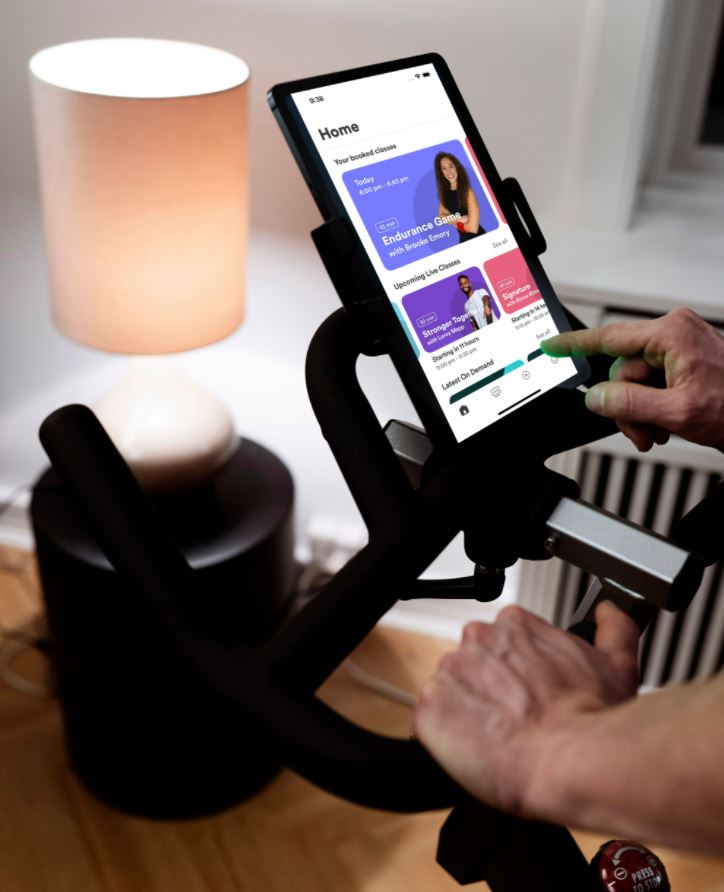 Motosumo puts these sensors to work for your workout regimen. By tracking your exercise bike's motion and vibration, the app can learn a lot about your riding. It will be able to sense how fast you're pedaling, and estimate your total distance. Based on this information, it can even keep track of the number of calories you've burned. As a result, it doesn't matter much what bike you're using. You can certainly put it to work with a robust machine like the Mobifitness Smart Exercise Bike. But even on a more barebones bike, you'll still get comparable performance.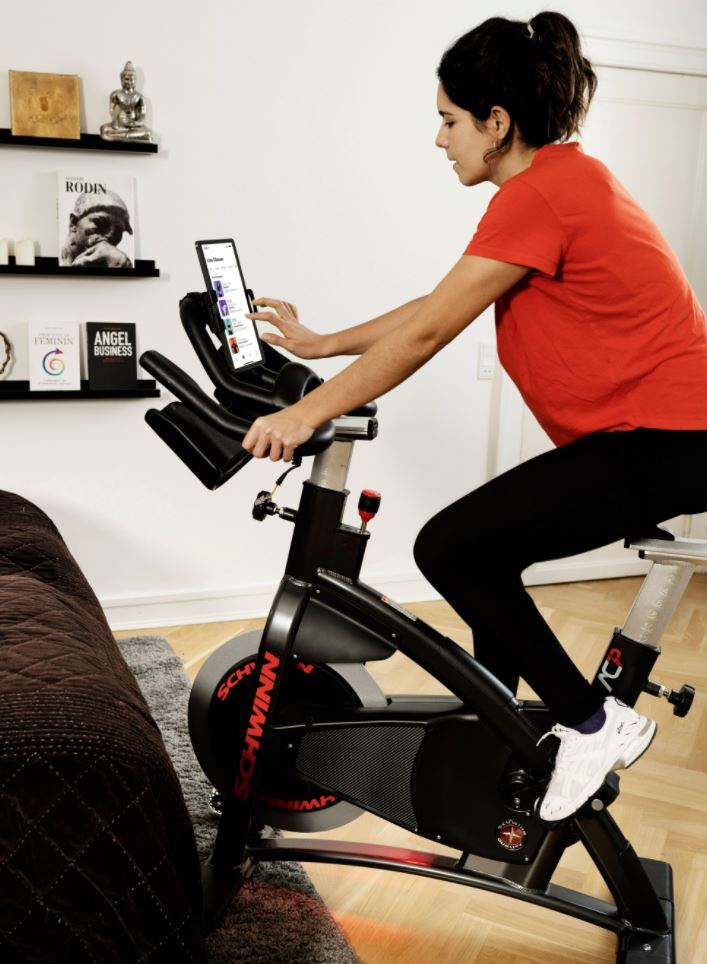 If you're picking out a bike at the same time, it helps to have a phone mount. This will allow the app to perform better, since it will more accurately pick up the bike's movements. Otherwise, you'll have to jury rig your own mounting solution, with something like a handlebar mount. We should also point out that you can use the app on most tablets as well as most smartphones. This doesn't add any extra functionality. However, it does give you the benefit of a larger screen, so you can see your instructor better.
Regardless, there isn't much equipment required. If you have a stationary bike and a smartphone, you're ready to go. You do have the option for adding some extra sensors, which we'll discuss a little later. These can improve the app performance, but they're entirely optional.
Live, On Demand, and RePlay Classes
So, we've established that you don't need a ton of equipment. But what kinds of classes are we talking about? In fact, Motosumo releases more than 300 new classes per month, across beginner, intermediate, and expert difficulties. Almost all of these are exclusive to their subscribers, and are only available in the app. That said, there are a handful of beginner-level sample videos available on their YouTube channel. You won't get the full interactive experience or the app feedback. But you can at least get a sense for the kinds of workouts they offer.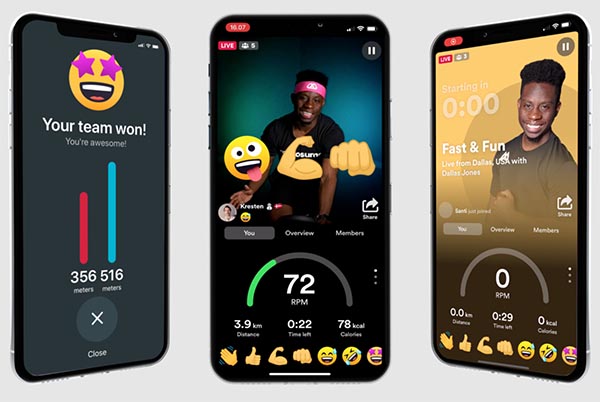 In addition to different difficulty levels, Motosumo also offers three different types of classes: live, on demand, and RePlay. Here's a quick overview of the three of them.
Live classes are exactly what they sound like. You get online at the same time as your instructor, along with other riders from all over the world. The live classes are the heart of the Motosumo experience, because they're truly interactive. Your instructor keeps an eye on your progress, and gives you feedback in real time. You can chat with your instructor and other users, and even send emojis back and forth. And if you have a competitive edge, you can keep track of your status on the leaderboards.
Another neat thing about live classes is that you can race with your friends. As long as they have the app and a bike, you can race each-other on virtual 3D courses. There are little games in the app, too, so you can have fun while you're working out. No matter how you cut it, you're getting a social experience that you don't get from a standalone bike.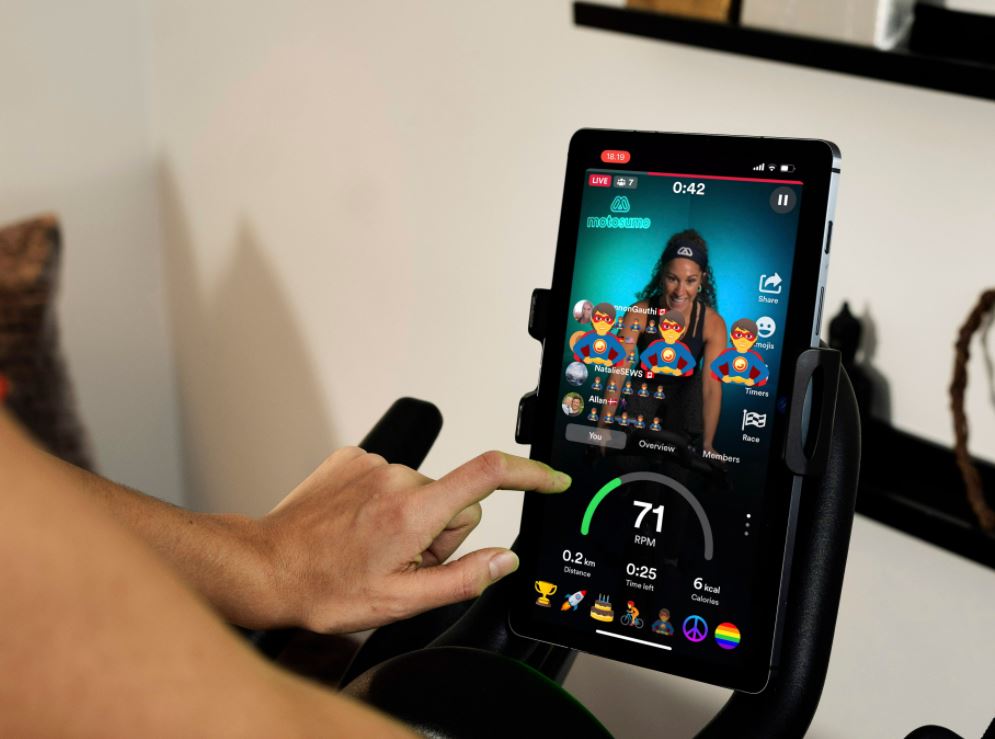 On demand classes are exactly what they sound like. They're pre-recorded workouts that you can do whenever you want to. You can choose from a number of categories and difficulties, and from several different instructors. You're obviously not getting all the benefits of a live class. Nobody is giving you feedback, and nobody is working out with you. That said, you can take an on demand class at any time, which makes it great for people with busy schedules. And you'll still get live performance data within the app. That way, you can keep good track of how far you've ridden, as well as your other stats.
RePlay classes are an innovative way to enjoy a live class when you weren't able to be there in person. Maybe you have a favorite instructor, but you had family obligations during the day's class. In that case, you could participate in one of the RePlay sessions. These are scheduled sessions, so you still get the benefit of working out at the same time as other people. This gives you the same sense of community as live classes, along with chats and emojis. The only difference is that the instructor won't be able to give you live feedback.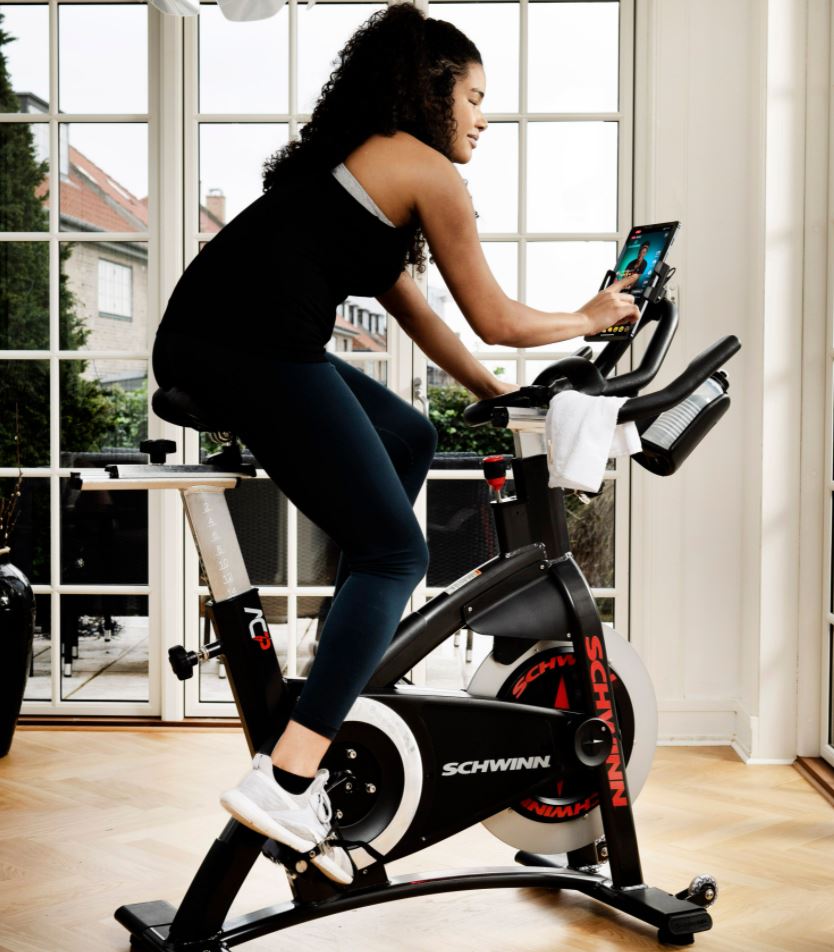 Connectivity and Other Options
To take Motosumo's classes, you'll first need to install the app on your smartphone. Once the app is installed, you'll receive a 7-day free trial. This is enough for you to get your feet wet, and to decide if the app is right for you. After that, you'll have to pay a monthly fee if you want to keep training. Thankfully, this fee is way lower than you'll pay for any all-inclusive, bike-based service. And along with the classes themselves, you'll also get access to 24/7 technical support. Just keep in mind that these classes can burn through a lot of data. If you don't have an unlimited plan, you'll want to be connected to WiFi.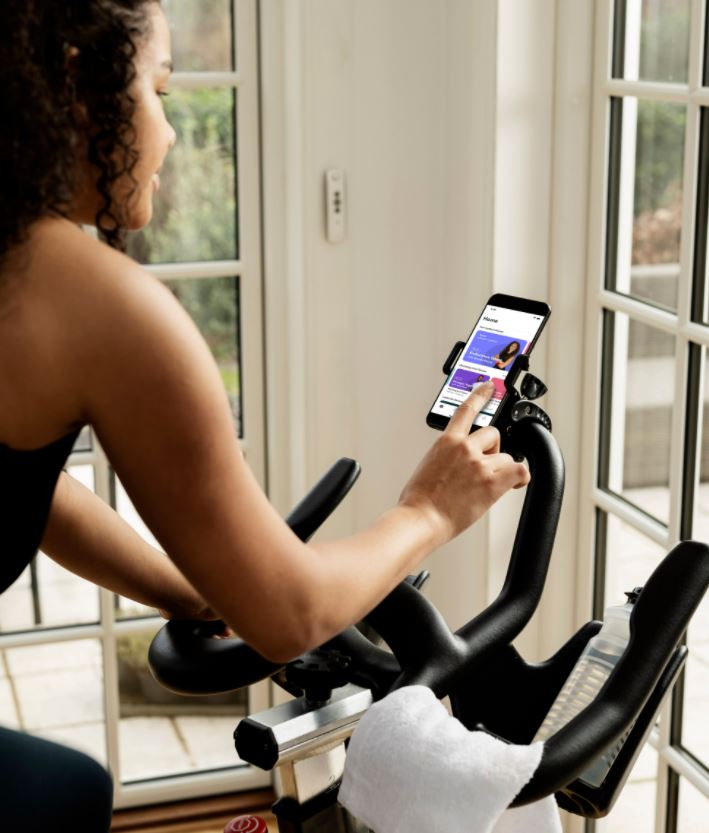 As we mentioned at the beginning, you can connect some other fitness devices to the app. These include heart rate monitors and power meters for your resistance system. These are by no means required. But by providing additional data to the app, they give you more accurate information. That said, you'll want to be sure you're using compatible devices.
This means using Bluetooth. Whether you're connecting to a heart rate monitor or a power meter, you need a standard Bluetooth connection. For this reason, the vast majority of these devices are going to be compatible. Just avoid anything with a wire, and you should be fine. On the other hand, you won't be able to use anything with an ANT+ connection. This is an alternative wireless protocol that's often used in fitness devices. But almost no smartphones support ANT+, and neither does Motosumo. So if your bike came with its own cardio meter, you probably won't be able to use it. If you're particularly attached, though, you could always invest in an ANT+ to Bluetooth bridge.
Another thing to be careful with are smart watches. Most smart watches use a non-standard Bluetooth protocol to pair with your smartphone. For this reason, you won't be able to use Motosumo with a Fitbit, Garmin, or Apple Watch.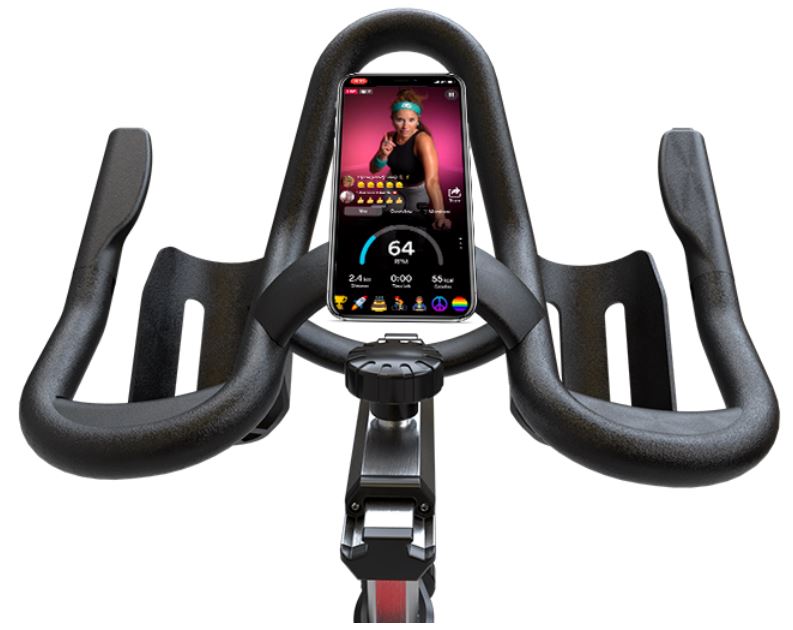 Final Verdict
So, are Motosumo Live Cycling Classes the right choice for you? Provided you're serious about your bicycle workouts, it's an excellent choice. The most obvious benefit is that you can take these classes on any exercise bike. You don't have to mortgage your house to buy a Peloton or other expensive option.
The classes themselves are well put together. You get a range of difficulty options, as well as some high-quality live content. The pre-recorded classes and games also add a ton of value, in case you can't make a live class. And we appreciated the ability to attach heart rate monitors and power meters. While these aren't necessary, they can make an already effective program significantly more robust.