XGIMI Halo
Pros
1080p native resolution with 4K support.
Automatic focus and ±40-degree keystone adjustment.
Comes with Android TV for Hulu, Disney+, and other apps.
Powerful built-in speakers.
Cons
Cannot run the Netflix app.
Fan can be a bit loud.
Projectors are one of those technologies that's simultaneously vintage and popular. Like vinyl records, they almost went the way of Betamax and laserdiscs. And like vinyl records, projectors are now making a comeback. In both cases, this has been due to changes in technology.
With vinyl, the format lost popularity with the advent of CDs, which are more compact. But with streaming services and MP3s, there's no need for a physical disc. On the other hand, vinyl provides full-quality analog sound, not compressed digital. It's gotten to the point where a lot of artists release their music on vinyl and digital simultaneously.
Projectors have followed a similar trend. Before the invention of the VCR, a projector was the only way to watch movies at home. But VCRs, and later DVD players, were much easier to use. Old-school projectors required you to use reel-to-reel film, with multiple reels for each movie.
Unless you were a hardcore film enthusiast, it was way too complicated and expensive. But nowadays, digital video has given new life to home movie projectors. With a digital signal, you don't have to use any bulky projector reels. But you can still get the comforting, old-school feel of a projected movie.
Today, we're going to review the XGIMI Halo Long Throw Portable Projector. This is a compact projector with native 1080p resolution. It sports a pair of 5W stereo speakers, twice as powerful as your typical home projector. Even better, it comes with Android TV pre-installed, which gives you access to thousands of streaming apps.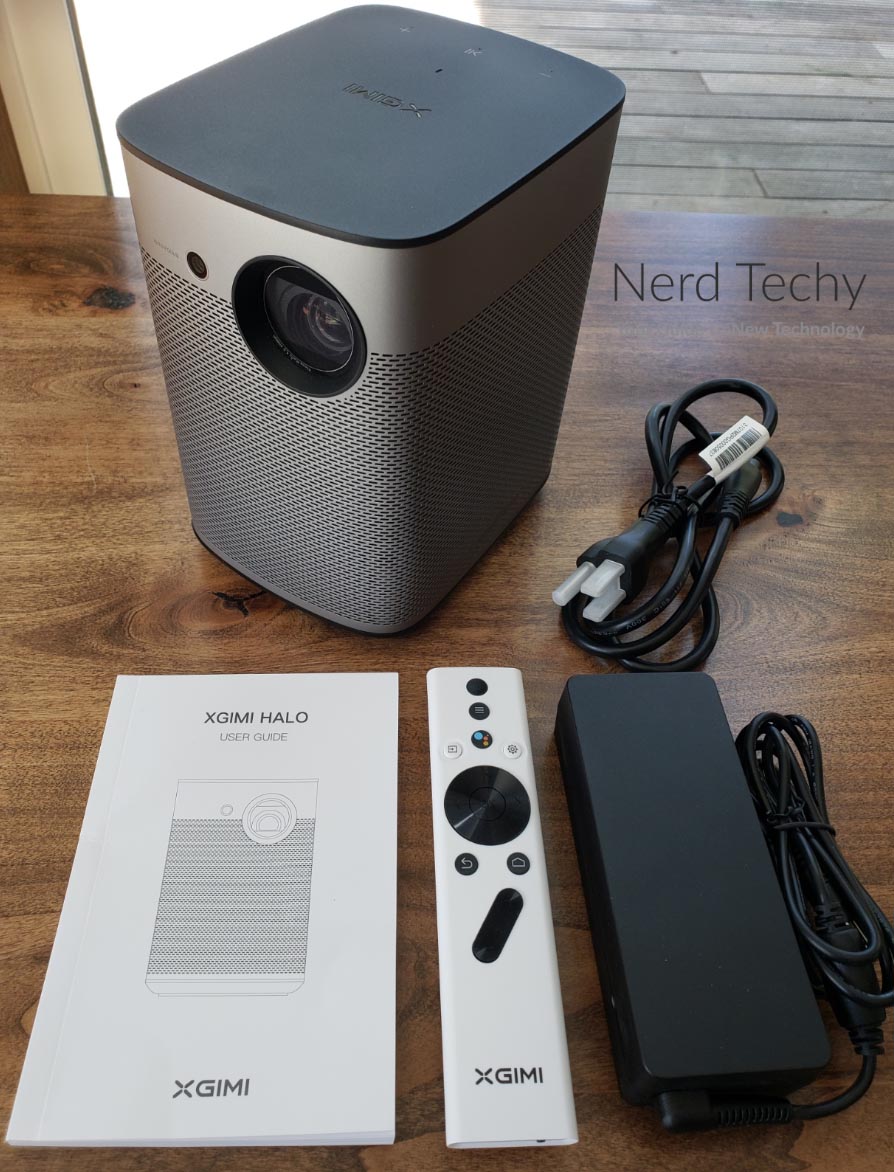 But these are just a few of the things we need to look at. We have to talk about the physical build, and how the machine is put together. We've got to talk about the types of inputs you can use, and how the projector is connected. Additionally, we also have to think about the controls, as well as any extra features we encounter. Then we'll be ready to render a fair verdict. Let's get started!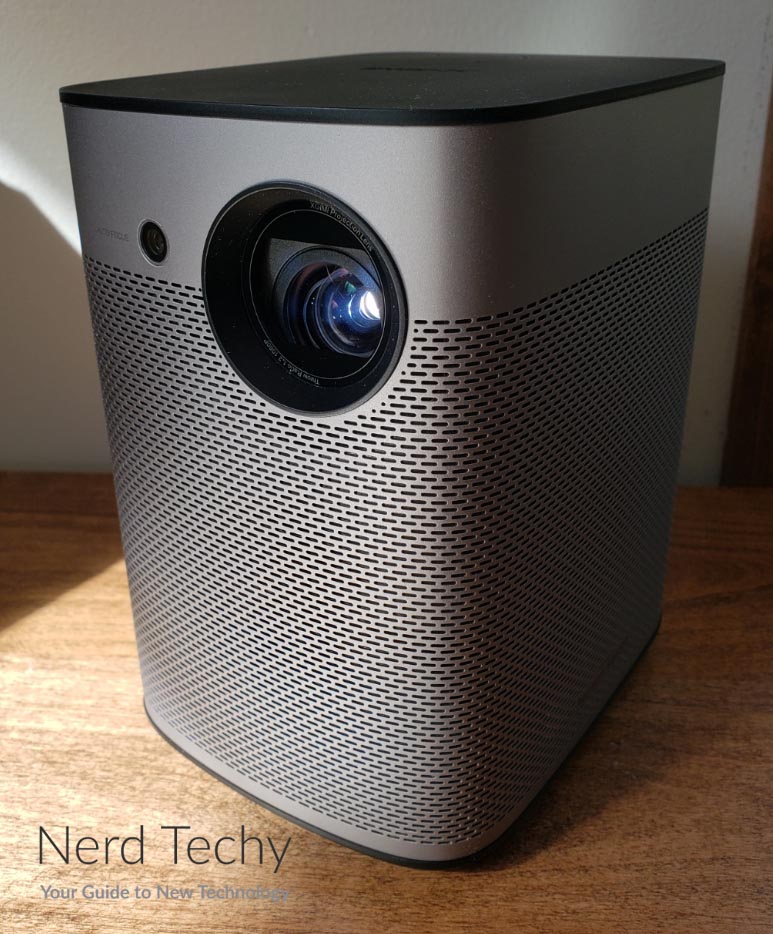 Design & Controls
The XGIMI Halo Long Throw Portable Projector has a compact design that makes it easy to carry. It measures only 6.7 inches tall, 5.7 inches deep, and 4.4 inches wide. That's small enough to slip into a backpack or drawstring pouch. Along the same lines, it weighs only 3.5 pounds, so you'll barely notice the extra weight. The housing is mostly grey, and it's vented at the front and sides.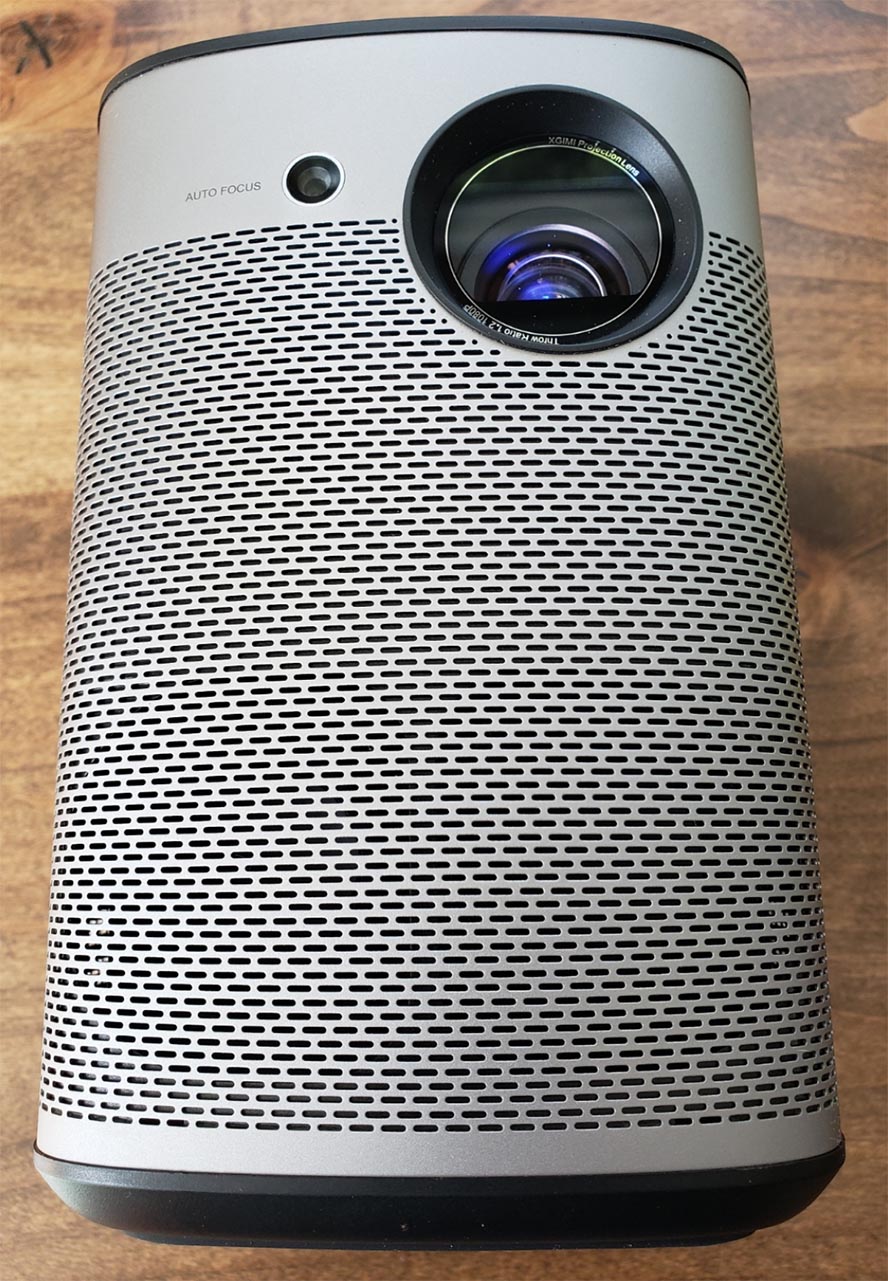 Some of the venting is actually a speaker cover, while the rest is designed to allow for air flow. The internal fan does a good job of keeping the projector cool, even under heavy use. That said, it can be a bit loud for the size. It's not so loud that it will overpower a movie at normal volume. But it can be noticeable if you're watching something in a quiet room.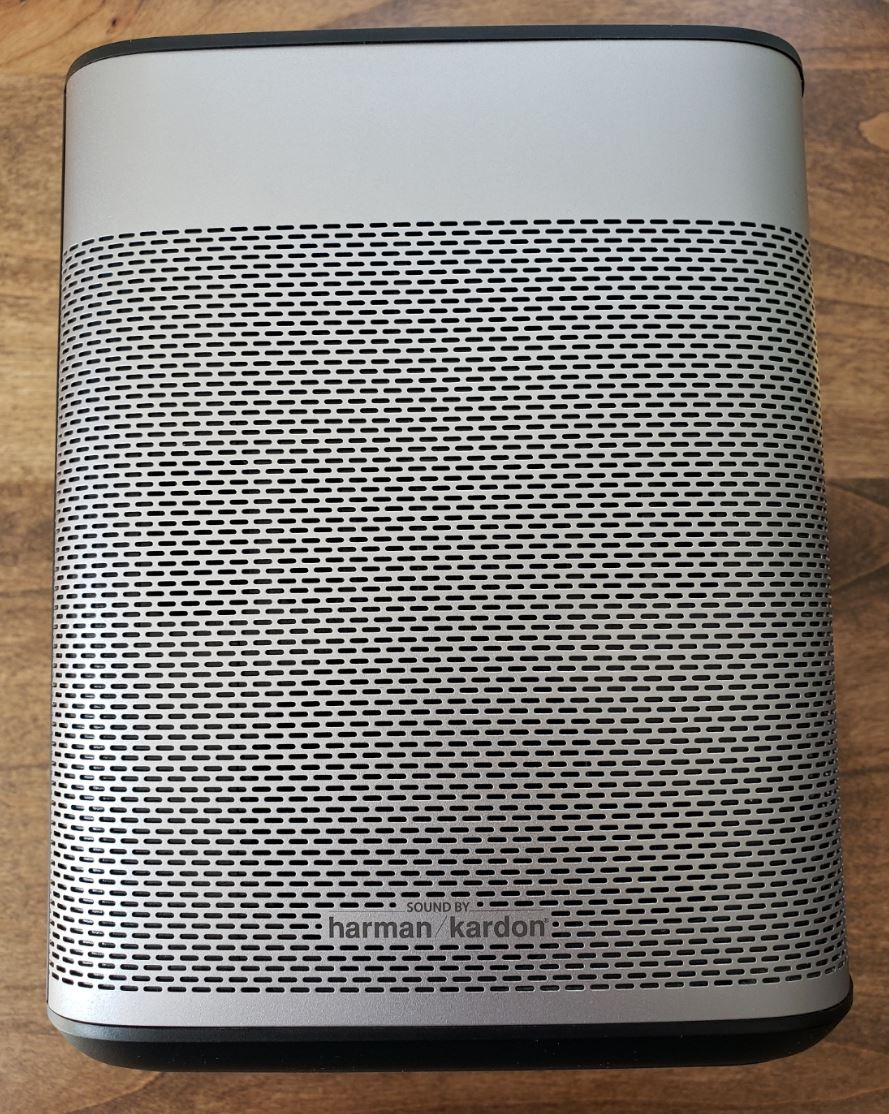 On the front of the housing, you'll see the projection lens, which is fairly large and located at the top right. To its left, there's a smaller black opening, which is where the auto-focus sensor is located. The sides of the housing have a silver Harmon Kardon imprint at the bottom. This branding refers to the built-in speakers, which were specially designed for the Halo.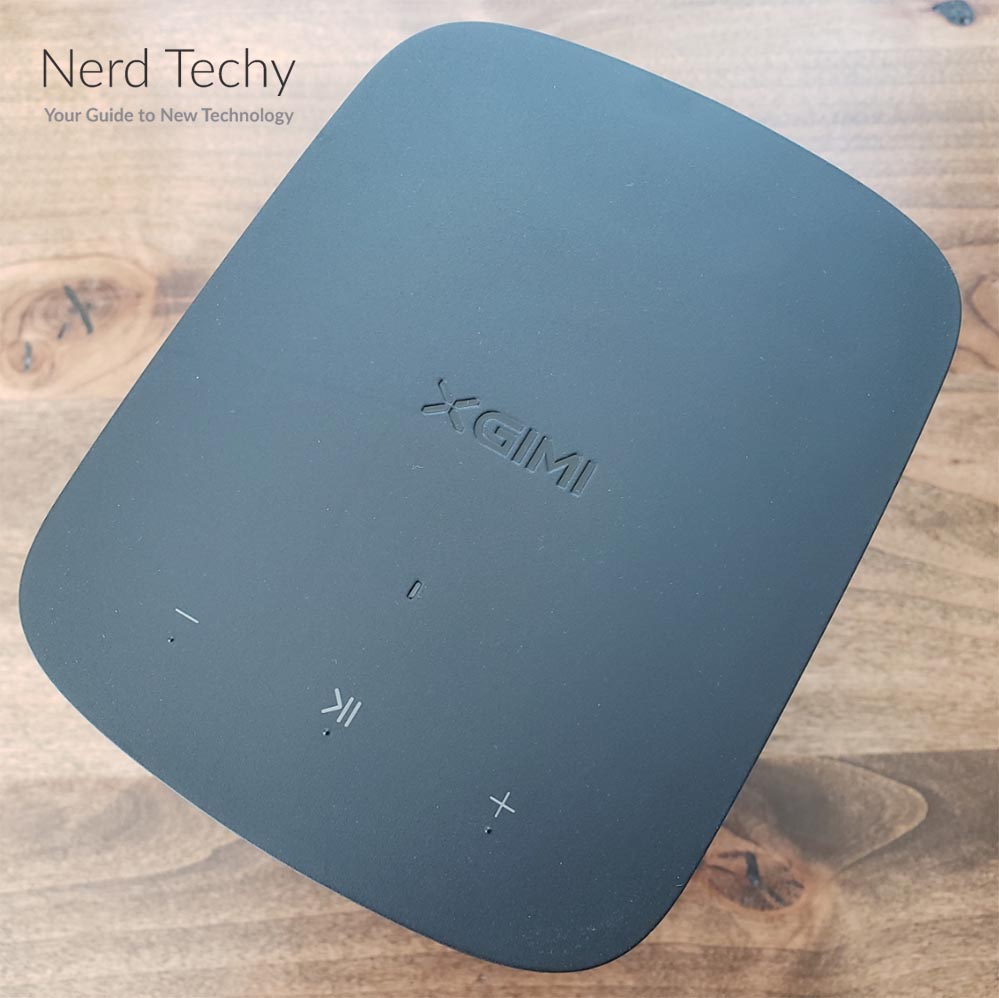 There are a few touch-enabled buttons on the top of the housing, which is a plain matte black plastic. You also get a remote control to operate the various functions. The two AAA batteries aren't included in the package, so you'll need those.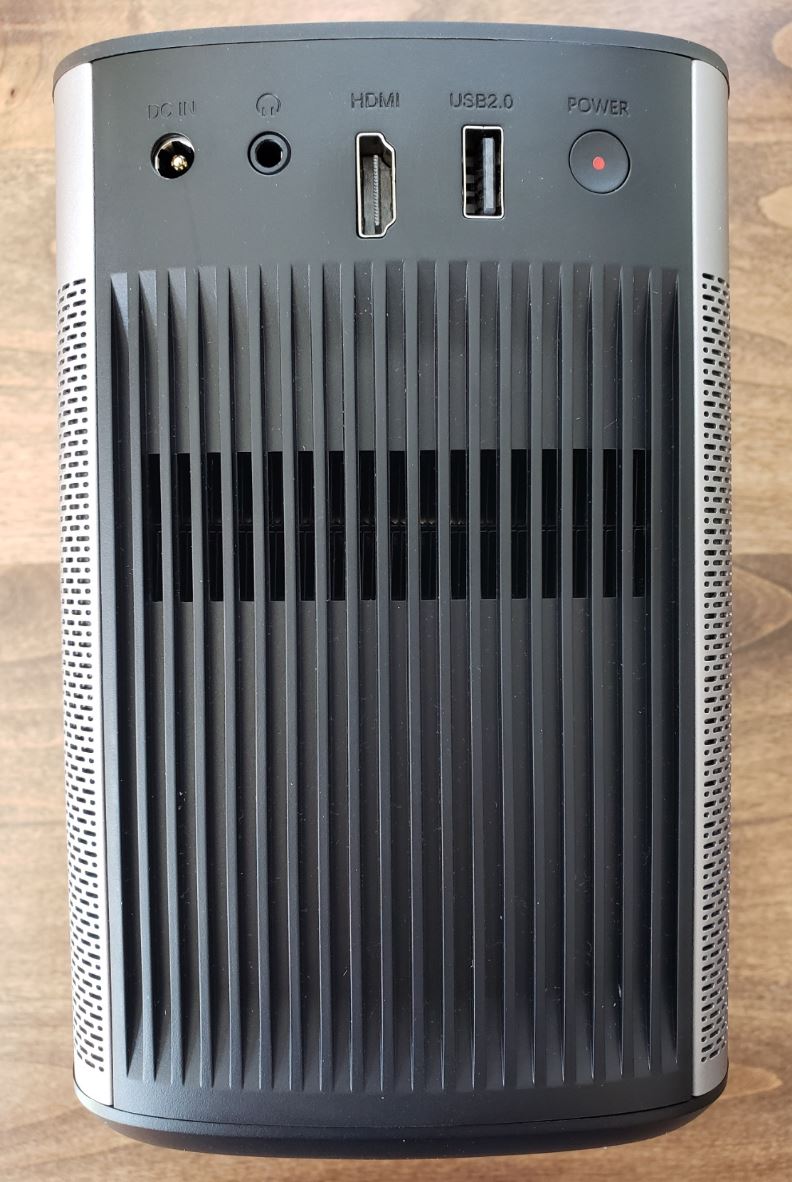 The back panel is also matte black, and it's here where you'll find all the projector's inputs. At the left, there's a DC power input. This receives power from a barrel-style DC adapter, which plugs into your wall. Next, there's a 3.5mm aux jack. This allows you to connect external speakers, or to plug in a pair of headphones. Third in line is an HDMI input, which you'll use to connect the majority of your devices. Last, there's a USB input, which serves as an alternative. Finally, there's a large power button at the top right. This is the only physical control on the projector, and it turns the unit on and off.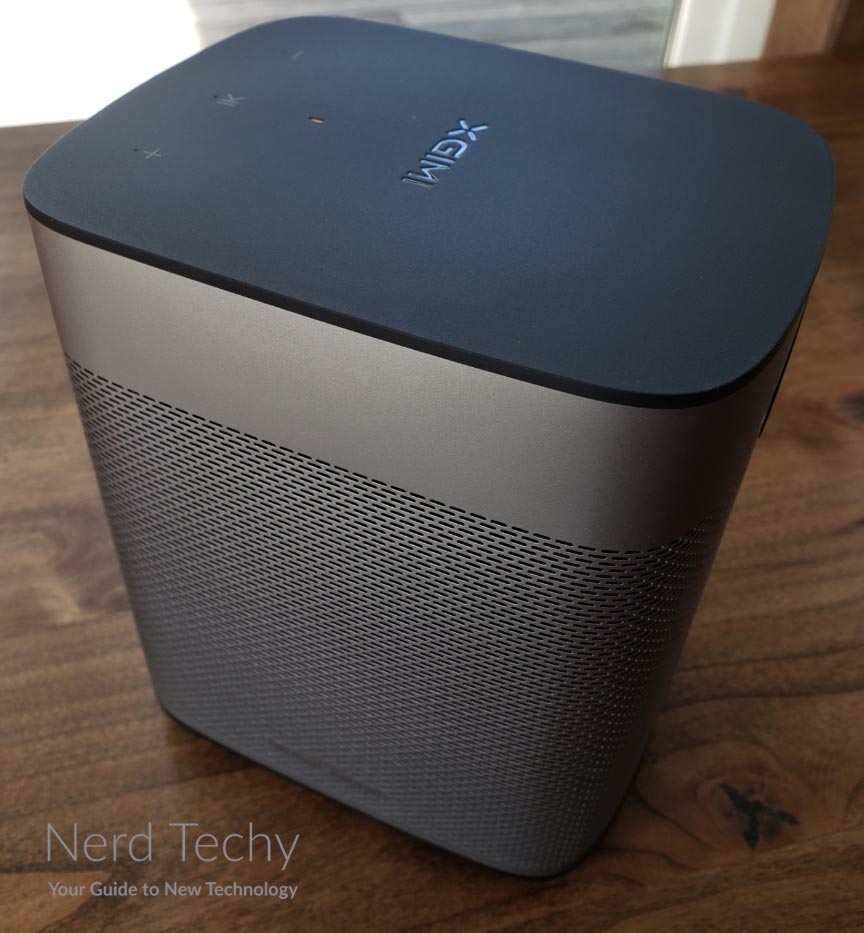 Video Quality
Ultimately, a projector is only as good as its video quality. It can be built like a tank, with all kinds of bells and whistles. But if the picture isn't up to snuff, your projector isn't doing its job. Thankfully, that's not an issue here. Most modern projectors still have a maximum resolution of 720p. Even if you're feeding them a 1080p signal, it will be downgraded.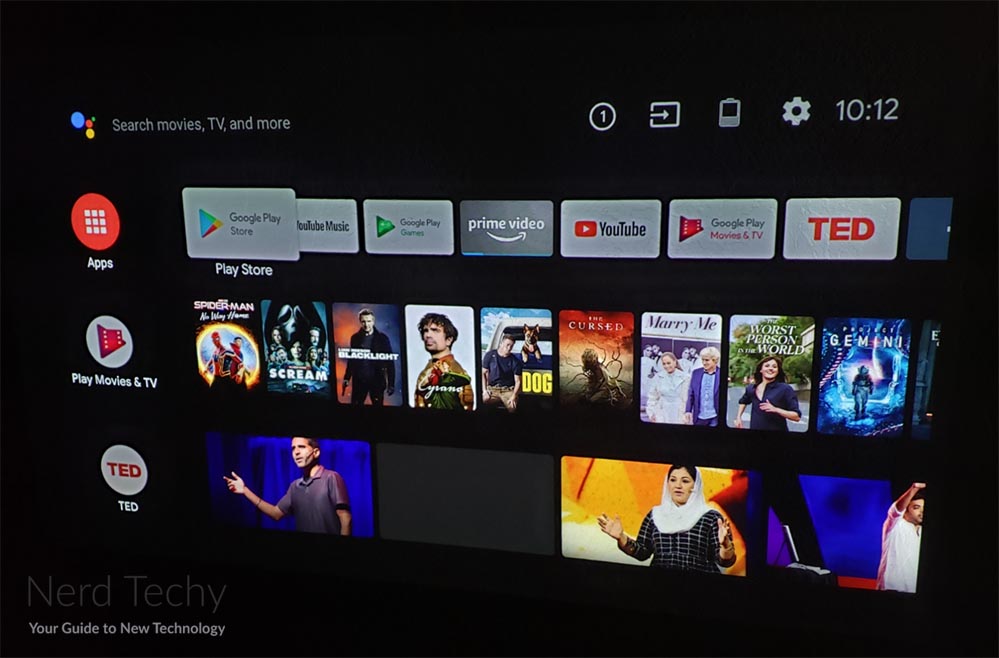 The XGIMI Halo has a native resolution of 1080p, which has more than twice as many pixels. Moreover, it supports 4K inputs, so you can use it with your Blu-Ray player. The video will display in 1080p, but that's still much better than most projectors.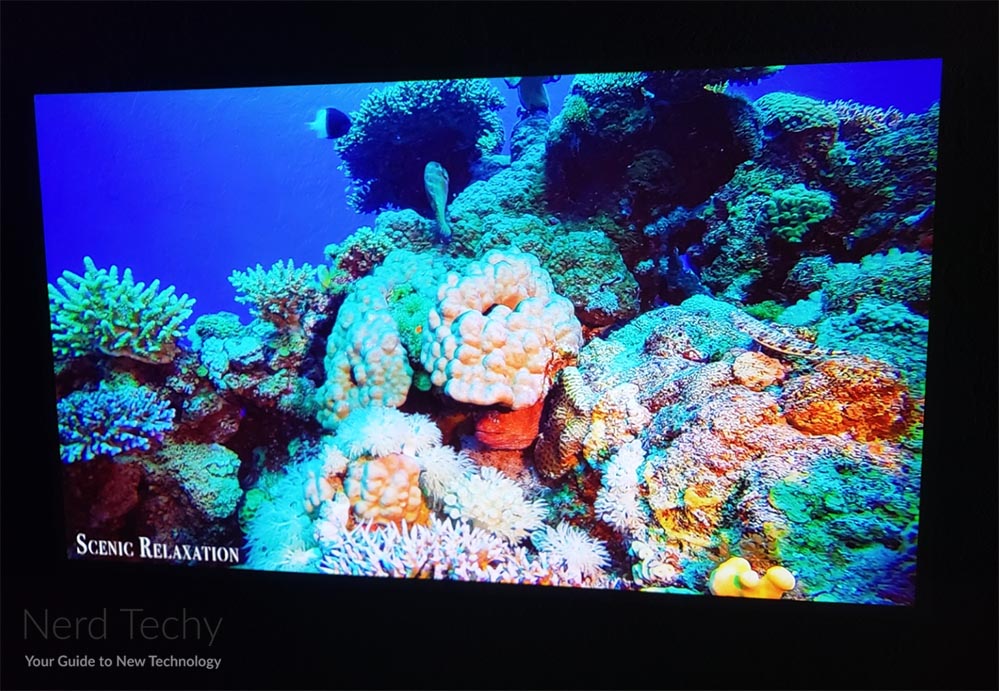 The bulb has a brightness of 800 lumens, which can be used in almost any space. It's also rated for 30,000 hours of use, which is more than you're liable to use any projector, ever. Colors are bright and vivid, with rich primary tones and plenty of clarity during darker scenes. If that's not enough, the Halo even works with 3D video sources. Throw on your 3D glasses, and it will be just like watching a 3D movie in a theater.
This is a long throw projector, which typically means it can't be used very close to the screen. In fact, you can use it to create a video as small as 30 inches, which is tiny for any projector. Move it further away, and your video can be 300 inches on the diagonal. That's enough for a floor-to-ceiling projection in any standard house.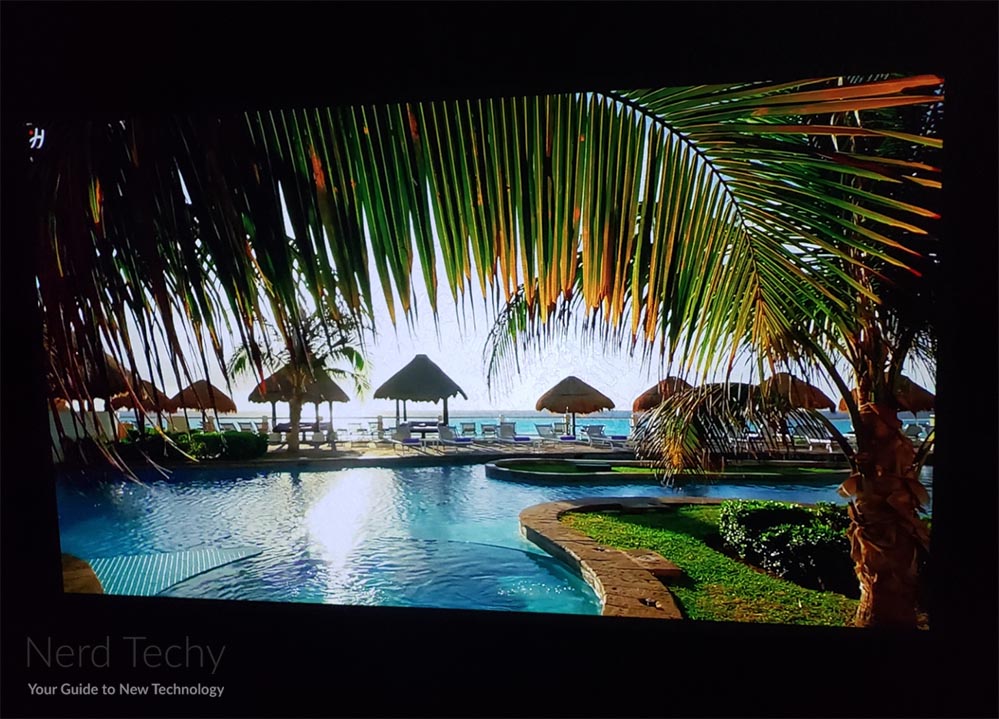 As a result, the Halo is suitable for just about any setup. You can also position it up high, down low, or off to the side. The keystone can be adjusted by +/- 40 degrees, both vertically and horizontally. 15 degrees is the industry standards, so you get a lot more freedom as regards your projector's placement.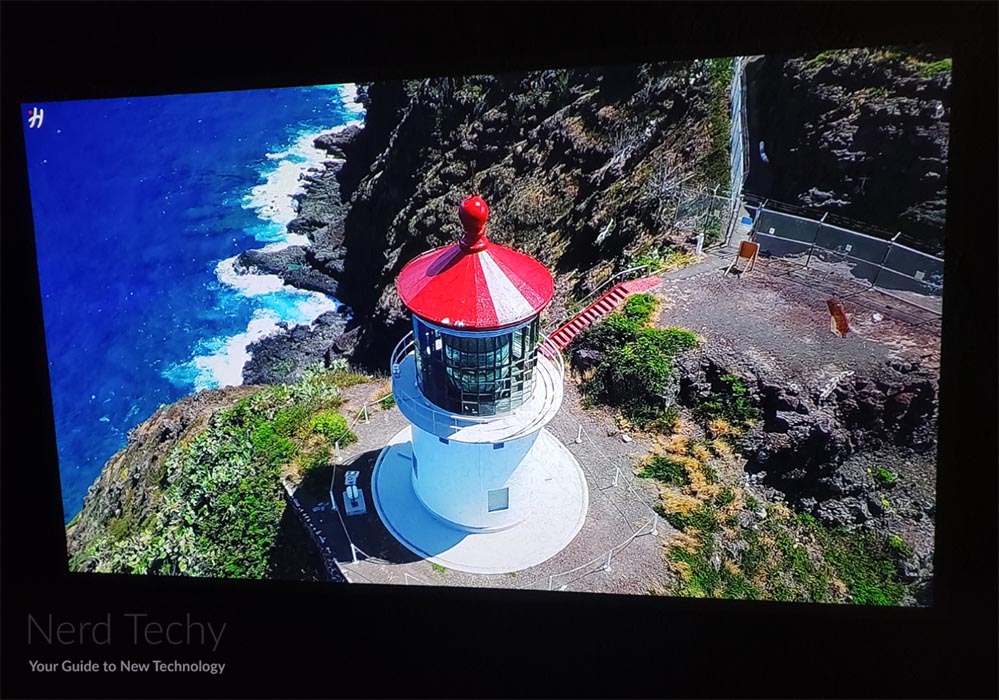 One feature we very much appreciated was the automatic focus. The sensor on the front of the machine scans over 10,000 individual points on the display. This sensor compares what it sees to what the video is supposed to look like. Then, a computer algorithm goes to work, and adjusts the focus accordingly. This works very well 90% of the time, and gets you a nice crisp image. The other 10% of the time, you can use the controller to adjust the focus manually.
Compatibility & Extras
When it comes to compatibility, the XGIMI Halo will support a wide variety of input devices. Using the HDMI input, you can play video from a set top box or Blu-Ray player. You can also connect a game console like the Xbox Series X/S or the PlayStation 5.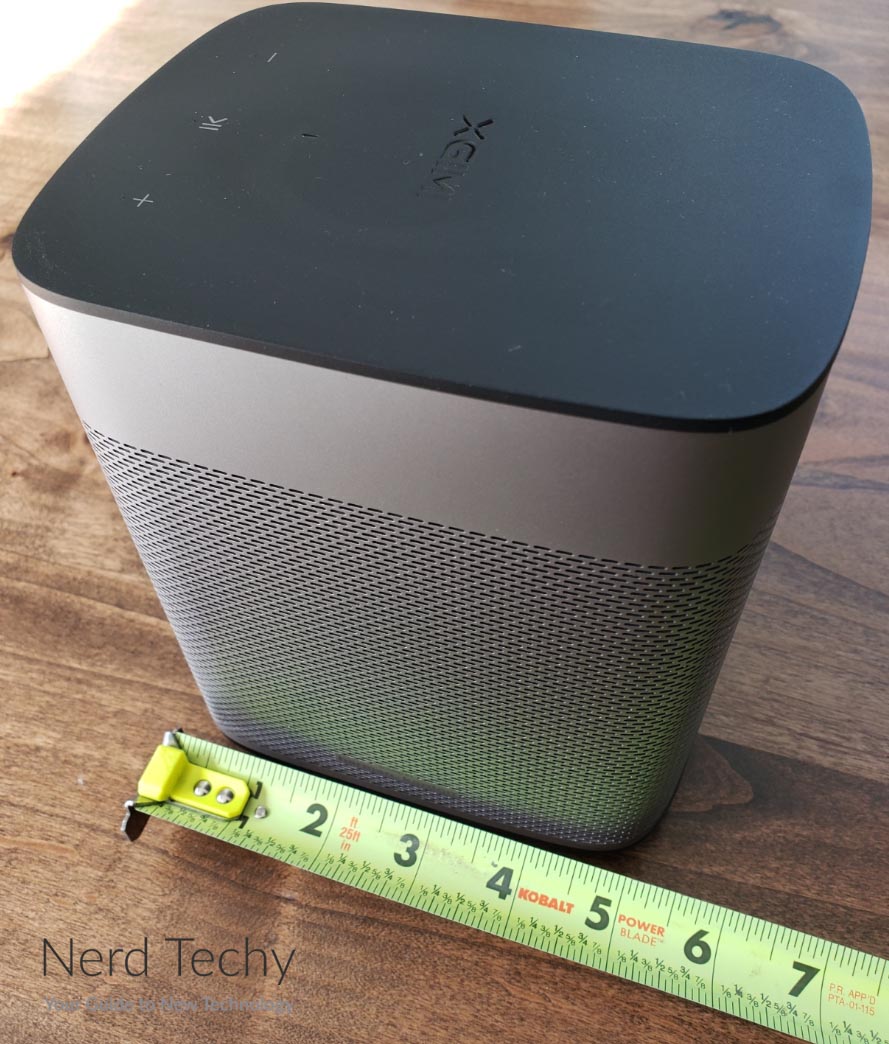 Using the USB port, you'll have other options. You can stream video from a compatible phone, directly over the USB cable. You can plug in a thumb drive or external SSD to play your video files. Additionally, you can even use your Amazon Fire, Roku, or similar USB video source.
Then again, you aren't likely to need a streaming stick. This projector comes with Android TV already installed. This gives you immediate access to more than 5,000 apps on Google Play. Among others, you can use HBO Max, Hulu, Amazon Prime Video, Disney+, and YouTube.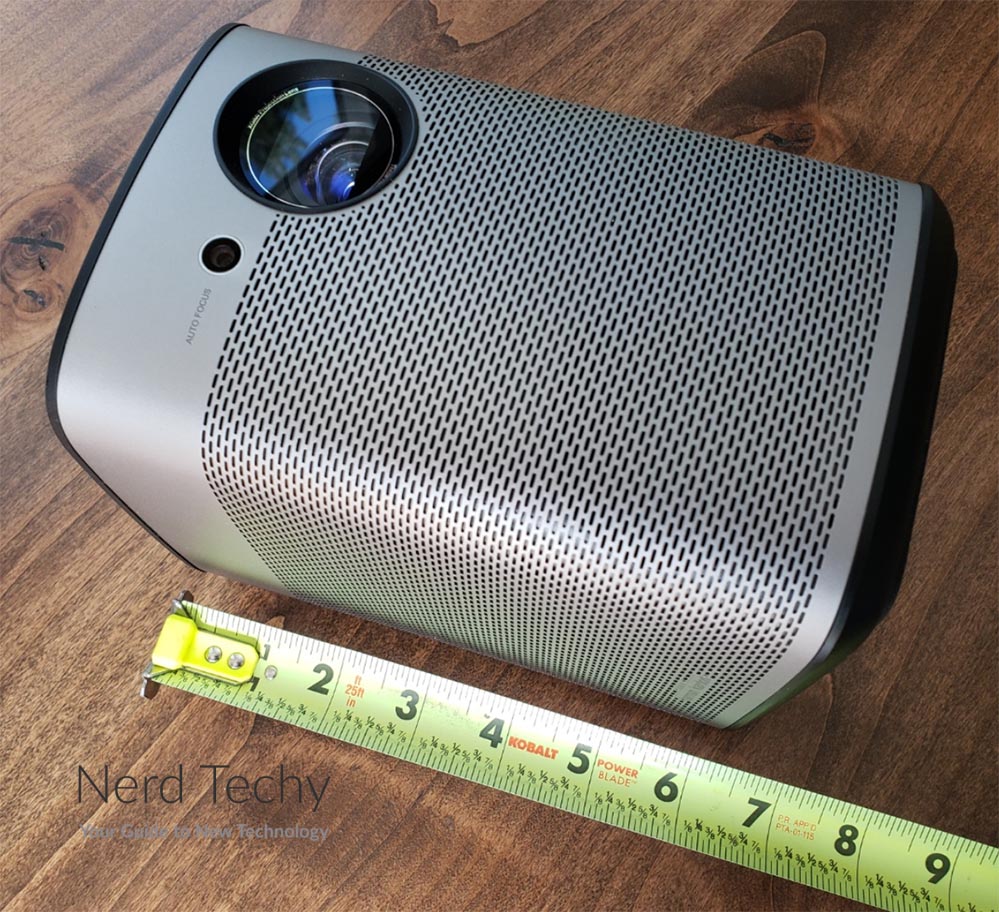 Unfortunately, the Halo does not currently have support for the Netflix app. If you're a Netflix afficionado, you'll need a separate video source for Netflix. On the plus side, you can install Android games directly on the projector. Use a Bluetooth controller, and you can play your favorite titles without the need for a game system.
Compared to most home projectors, the Halo provides exceptional audio quality. Instead of small, 2.5-watt speakers, you get a pair of more powerful, 5-watt speakers. These speakers were custom-built by Harman Kardon, specifically for this projector. They provide rich audio quality across all frequencies, and can fill a large living room with sound.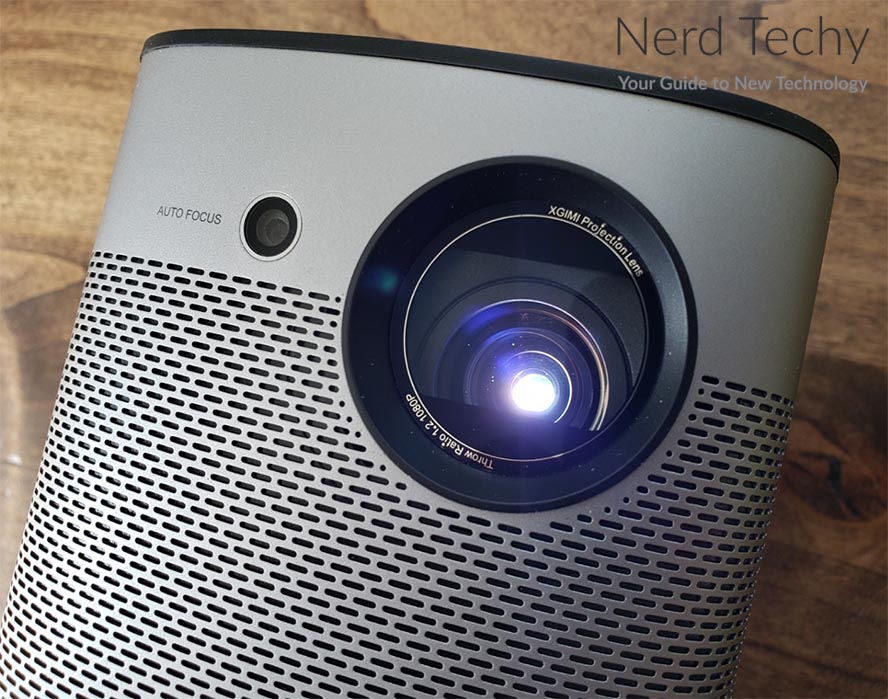 You're not quite getting Bose quality, but you're still getting a great set of speakers. Alternatively, you can use the 3.5mm aux jack to connect some headphones or third-party speakers. And if you want to go wireless, you can connect to Bluetooth speakers or earbuds instead.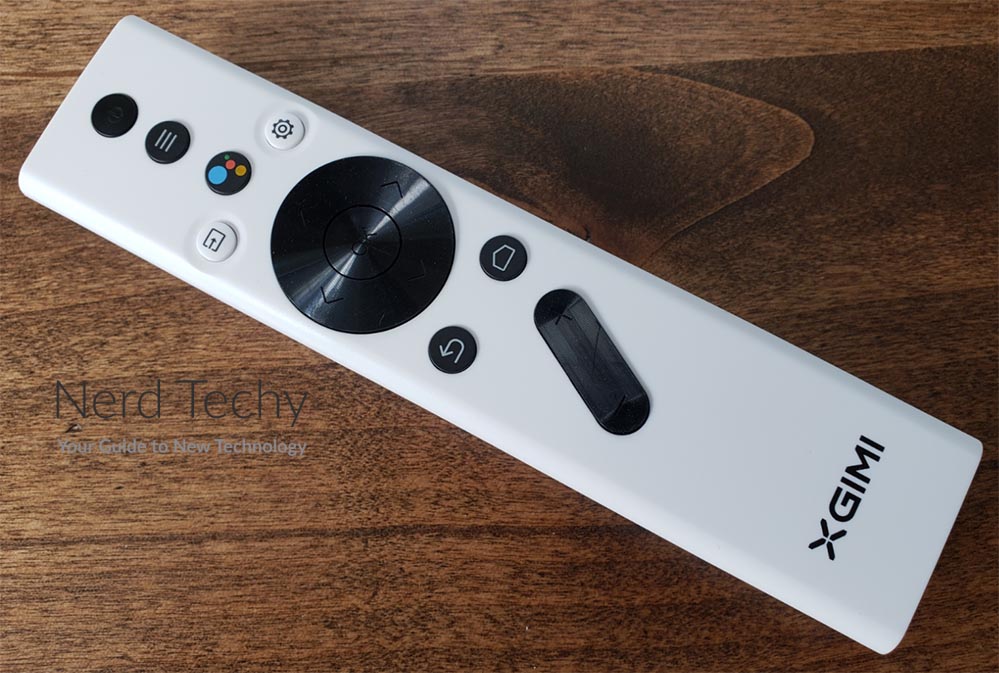 Another feature we should note is the support for voice commands. All you have to do is say "Hey Google," then tell it what you want to play. Even better, the voice commands won't work unless you press the microphone button on the remote. This might sound like an inconvenience, but it's actually a useful feature. It prevents you from accidentally triggering voice commands while you're using your projector.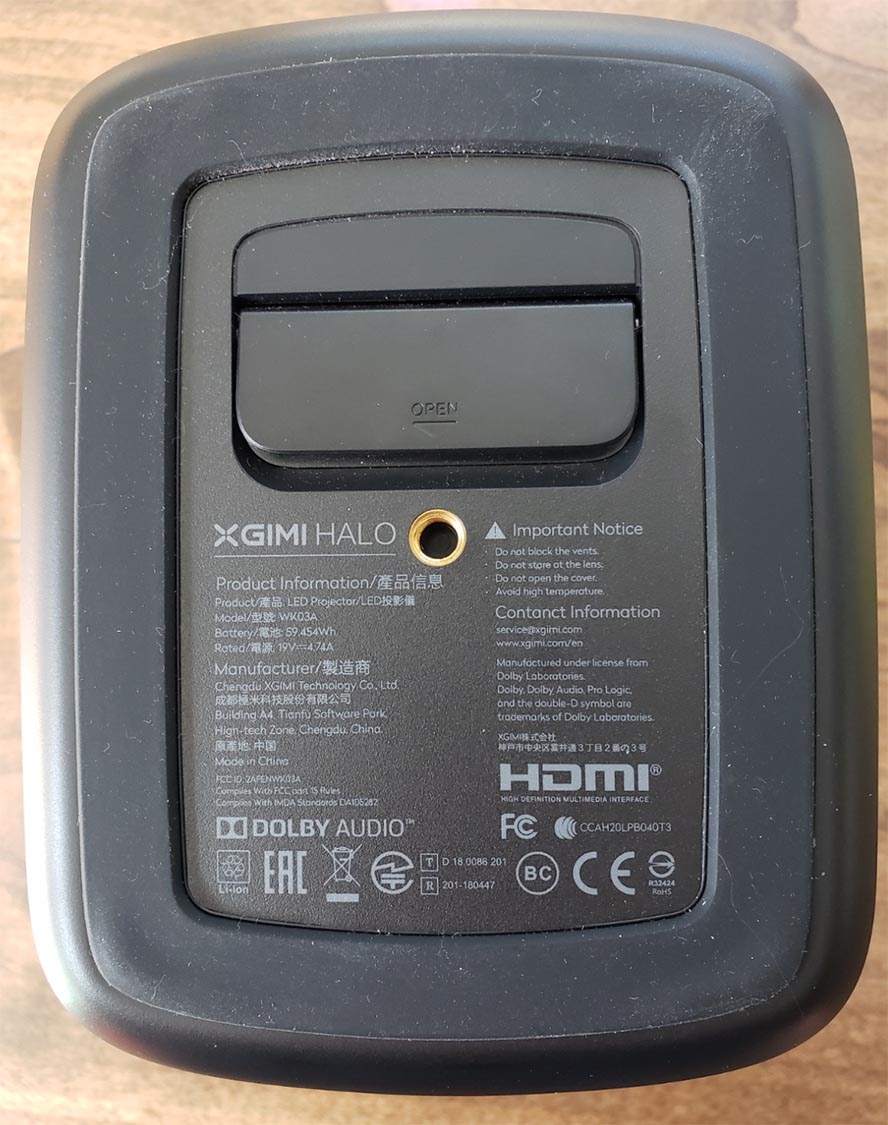 In addition to DC power, the XGIMI Halo boasts an internal battery, with a capacity of 59.5 watt-hours. Depending on your brightness and other settings, that's enough for two to four hours. If you want to take your projector to the park or on a camping trip, you'll still be able to use it. We would have loved to be able to charge via USB. But even with wall charging, you're still getting a feature that most projectors don't offer.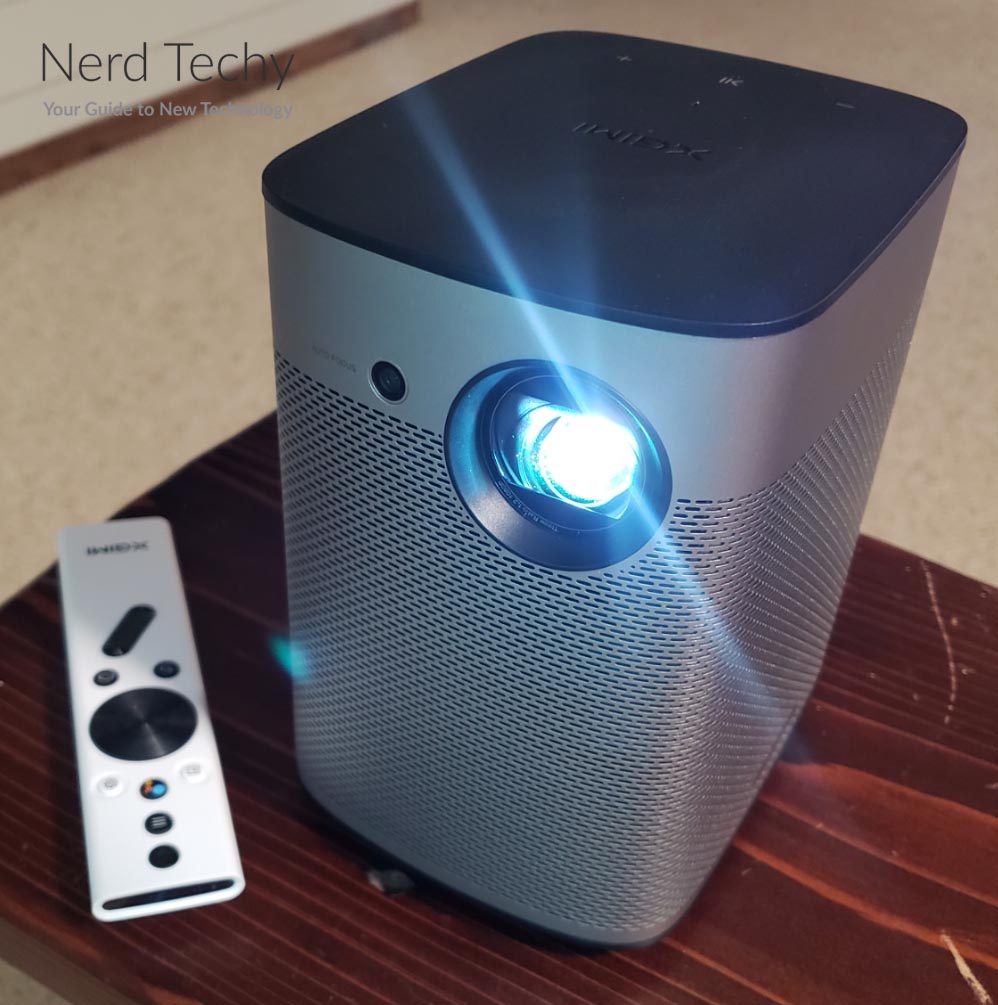 Final Verdict
The XGIMI Halo Long Throw Portable Projector is a robust machine with a lot of desirable features. First and foremost, you get true 1080p resolution, which is a cut above the competition. You also get a compact design, with a built-in battery for added portability. It comes with Android TV, so you can access your favorite streaming services, and even Android games. The Harman Kardon speakers provide excellent audio, and the image is nice and bright. And with compatibility for almost any video source, you can use whatever device you like.