OSCTAN Microscope
Pros
Up to 400x magnification.
Modular design can be used as a handheld scope.
Use your smartphone as a display with the WiFi app.
Multiple samples, slides, and instructional guides.
Cons
Not suitable for professional or laboratory use.
The app could be improved.
When you're raising a child, you want them to grow into the best possible version of themselves. This is the most important thing you'll do in your entire life, and we're not parenting experts. But we do know a thing or to about technology, including the best technologies for kids.
A good educational tool should be both engaging and informative. It should spark your child's interest, and they should have fun while they're using it. Ideally, it should also teach them some useful skill. This can be just about anything. For example, Lego sets are great for building fine motor skills and creativity.
One area that can be challenging for parents is science education. If your child has scientific interests and you're not an expert, it's tough to get them help outside of school. But with the right technology, your child can learn on their own, and have fun at the same time.
A microscope is a great example of this. Maybe you haven't used one since high school. But with their own microscope, your child can explore the microscopic world. They'll have fun, they'll learn about cells and membranes, and they'll build skills using a microscope. By the time they're old enough to study biology in school, they'll already be ahead of the curve.
We're about to review the OSCTAN Intelligent Microscope Kit. This is a fully-functional microscope that does most of the things a professional-grade microscope does.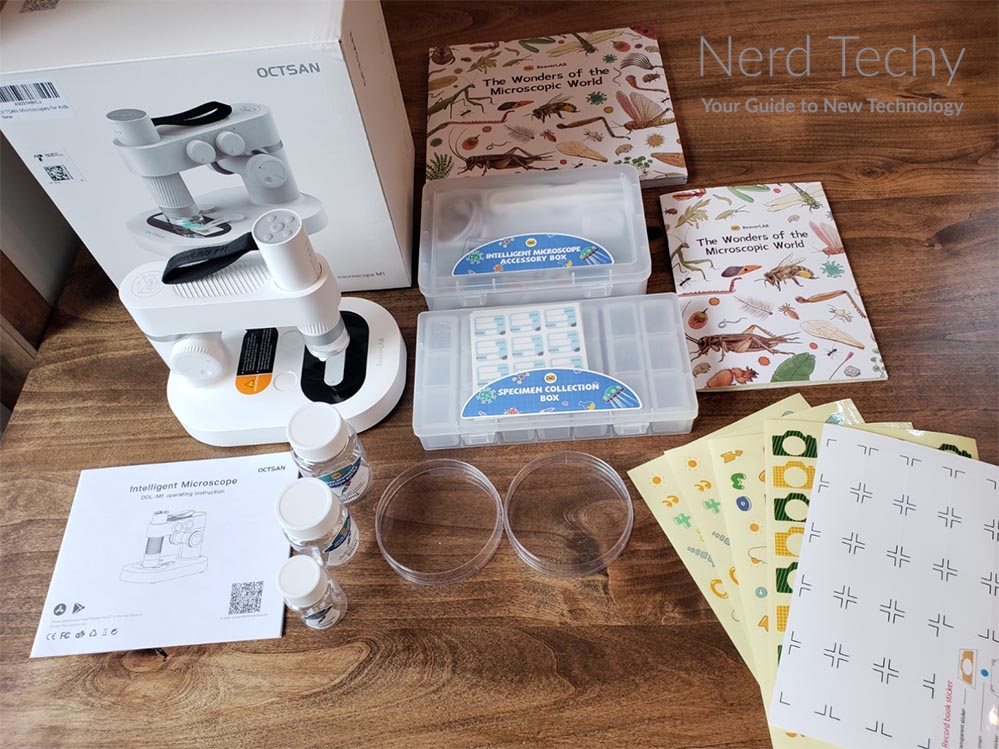 It connects to your smartphone, so you can view your slides on your phone screen. It has a detachable lens housing, which can be used like a high-powered magnifying glass. And it comes with a bunch of samples and slides to get your kid started.
But to truly understand whether this microscope is worthwhile, we'll have to take a much closer look. We'll have to discuss the physical design, as well as the controls. We'll have to look at the quality of the images, as well as any extra features. After that, we'll be able to give a well-considered judgement. Let's begin!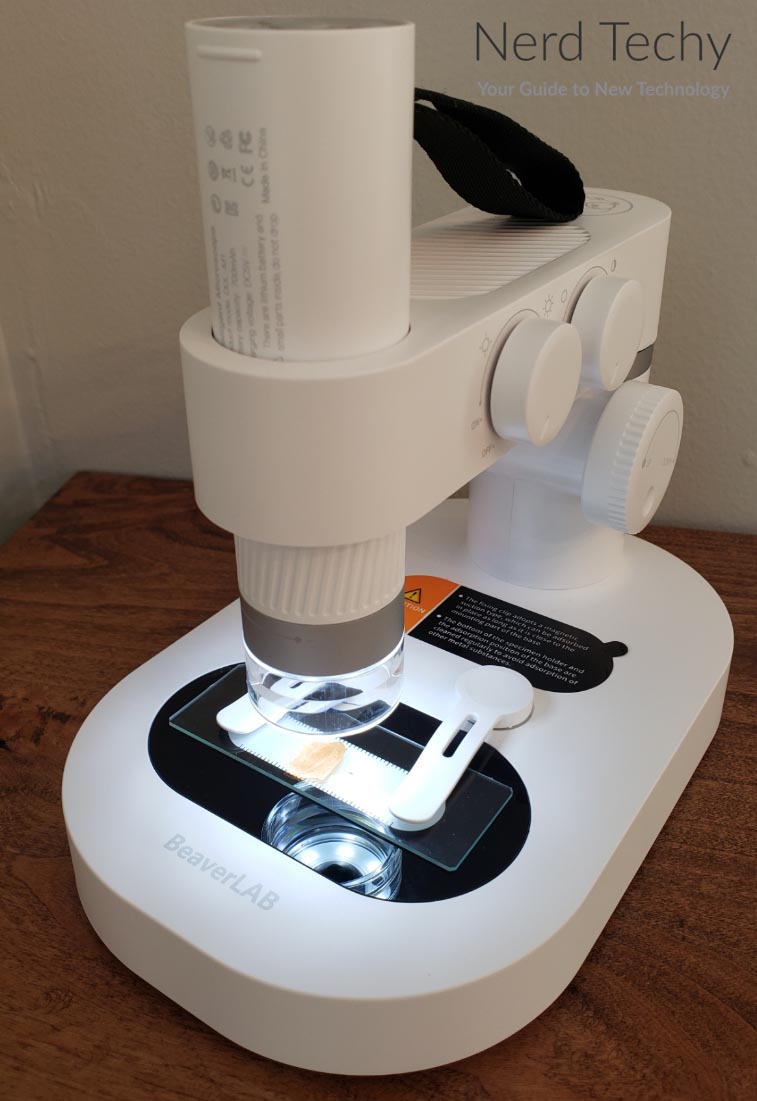 Overall Design
The main part of the OSCTAN Intelligent Microscope Kit is, of course, the microscope. This microscope has a white ABS housing, which is durable and easy to keep clean. It's reinforced with aluminum at key points, such as the aluminum track for adjusting the lens. The overall size is 9.65 inches high, 9.45 inches deep, and 7.4 inches wide.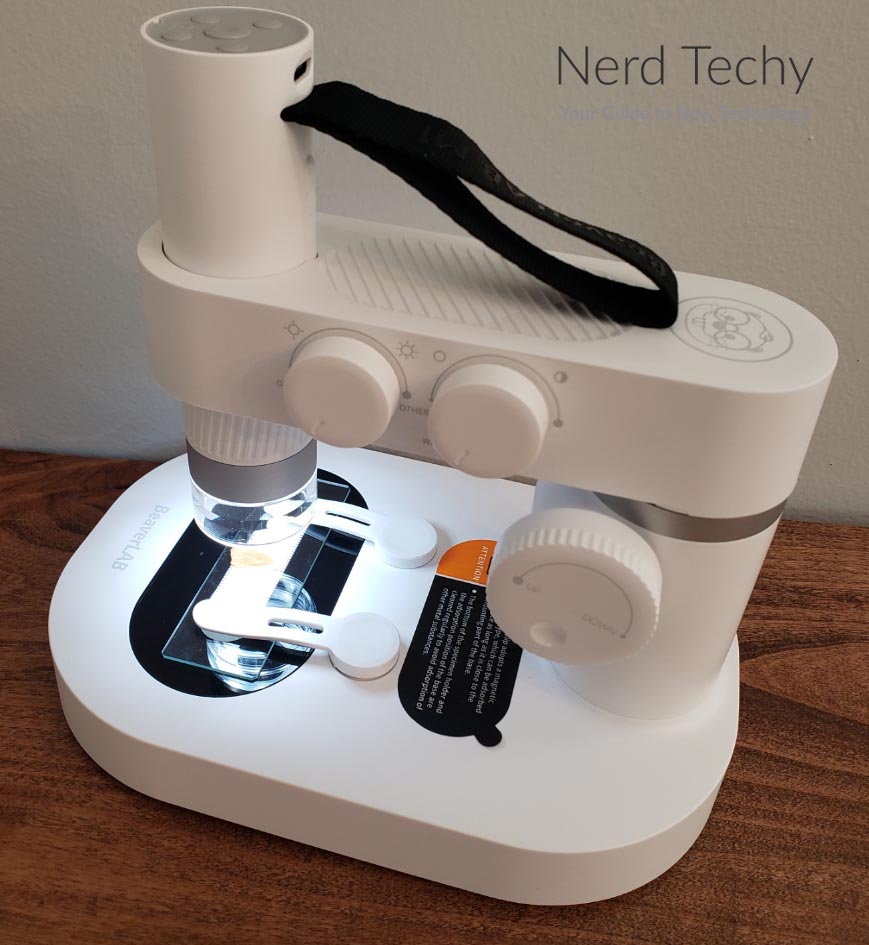 That's about the size of a standard laboratory microscope, and it's very easy to manage. The bottom portion is a wide base, with a set of clips built in to retain your slides. The area where the slide sits is black, with a built-in backlight for illumination. On the bottom of the base, there's a set of small rubber skids, which prevent it from sliding around.
At the back of the base, there's a vertical white support. This support is telescoping, with the upper portion feeding into the bottom. There's a set of teeth on the front edge of the upper portion, which tie into a control knob in the bottom.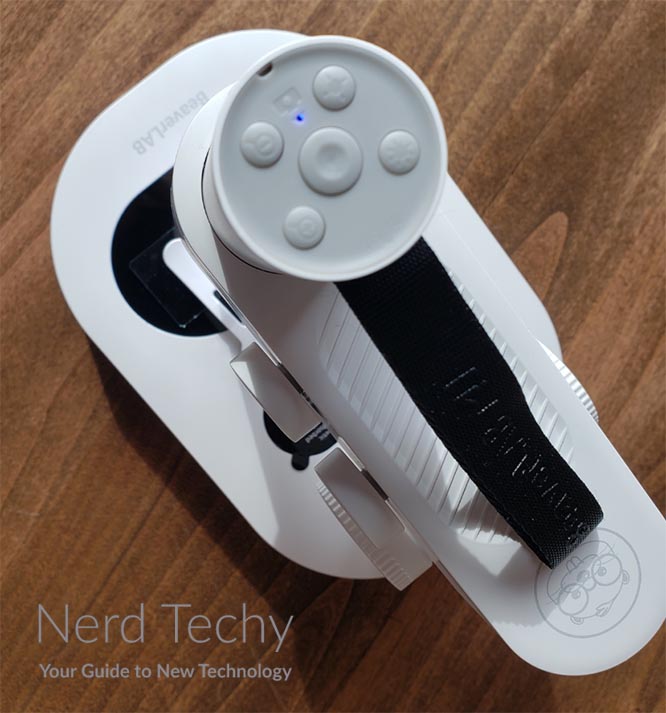 This control knob can be turned to raise and lower the height. At the top of the rear support, it joins into the back end of a horizontal portion of the frame. This part of the frame has a pair of knobs of its own. The front one controls the brightness of the backlight, while the rear one controls the color. At the front end of this arm, there's a socket, where the lens housing drops in vertically.
The lens housing itself is a simple white plastic cylinder, with spiral ridges and a grey band near the end. You can actually lift the housing out and use it by hand if you want to. In reality, you're not going to get a stable picture at 400x magnification.
Even the steadiest hand is going to look shaky at that magnification. But for lower magnification levels, you've basically got an over-powered magnifying glass. There's even a little wrist strap at the top so your child won't drop it.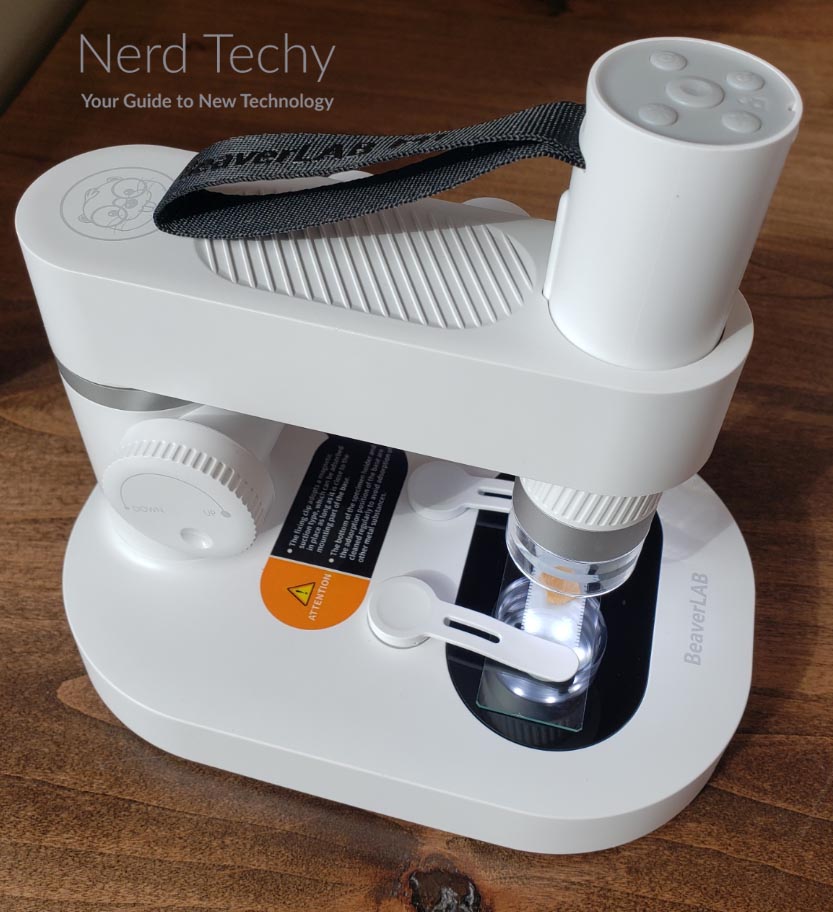 There's a set of buttons on the back, which allow you to input a variety of controls. In the center, there's a large power button, which turns the lens on and off. On the left, there's a set of two smaller buttons, which can adjust the brightness of the internal light. This light should remain off when you're using the microscope as a full-sized unit.
But when you're using the lens in handheld mode, the built-in light is essential. On the right of the power button, there are "+" and "-" buttons, which are used to adjust the focal distance. This is essential for handheld use, since you may want to observe objects from different distances.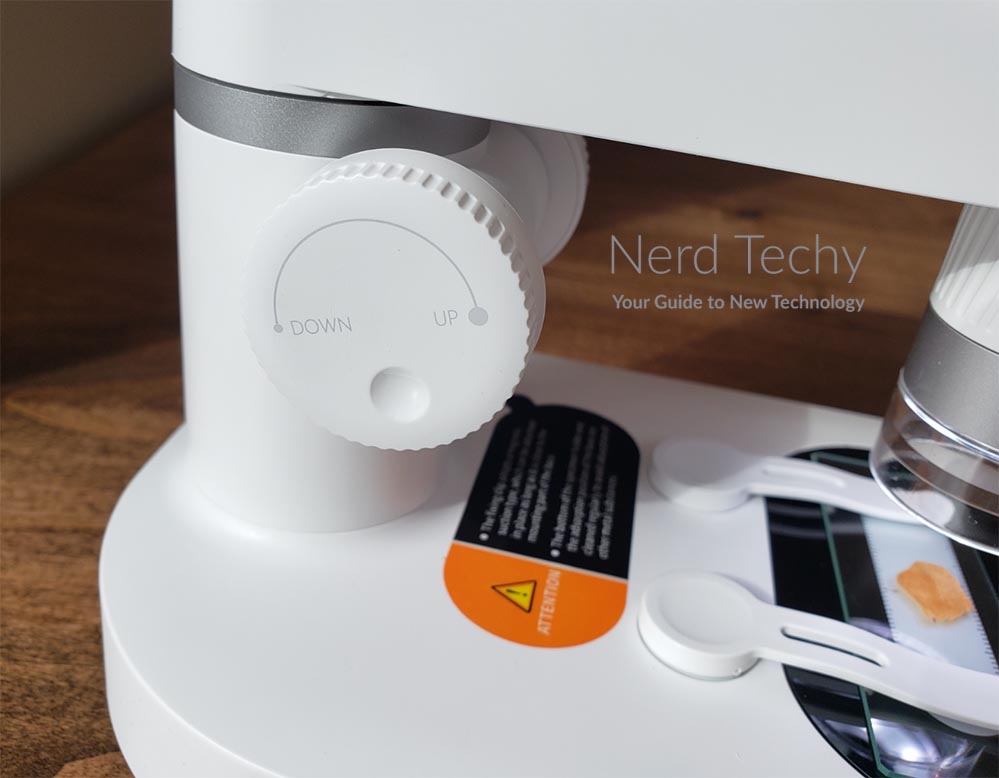 Already, you can see that this is a great educational tool. But what if you're a professional who needs something a little bit more "grown up"? In that case, you should consider one of these USB-powered microscopes. Some are traditional models, and others use an external monitor.
Image Quality
The OSCTAN microscope provides beautiful, detailed images. When you're zoomed all the way in, you can view things like cell membranes and other fine details. At lower zoom levels, you can observe surface features of various objects, or look at larger biological structures. In total, you can zoom between 50x and 400x magnification, which is quite a swing.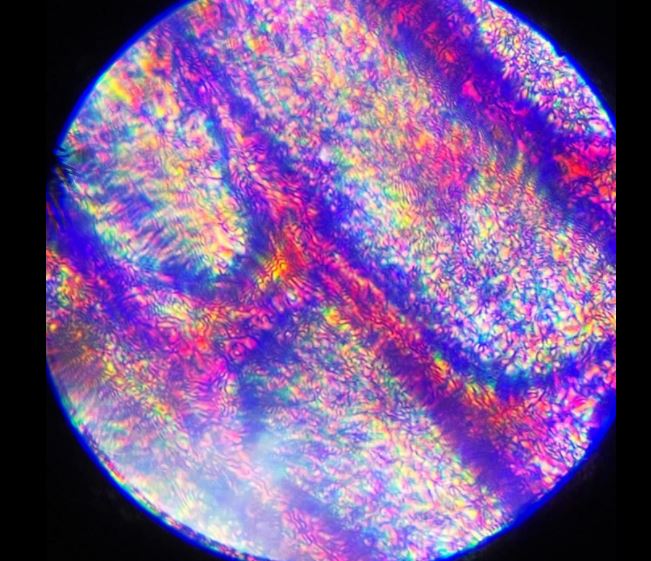 To adjust the zoom, all you do is grab the spiraled part of the lens housing and twist it. This gives you a ton of control over your zoom level, far more than a scope with three or four lenses. Of course, to get the best clarity, you'll need to have your image in focus. To do this, just adjust the knob on the vertical support. This will move the housing up and down as needed to get a crisp image.
When professionals use a microscope, they often dye their samples to get better visibility. With dye, you can highlight certain tiny structures that might otherwise be invisible. But for a children's microscope, dye doesn't make a lot of sense. It's easy to spill, and you can end up with a real mess on your hands.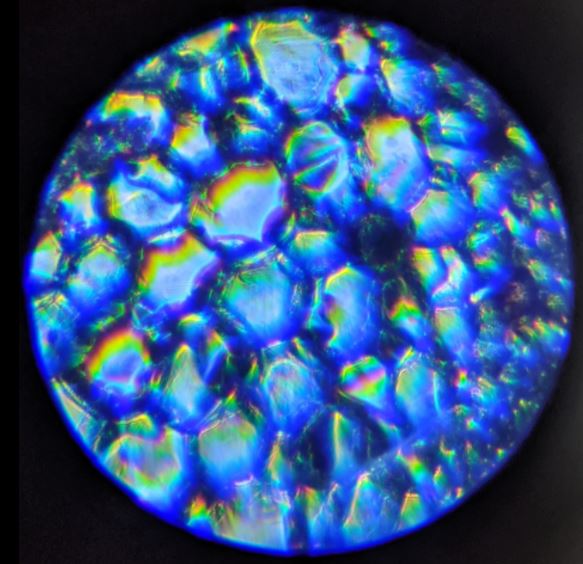 To get around this issue, the OSCTAN microscope has a fully adjustable backlight. By rotating the color knob, you can switch between eight different colors. In addition to the default white, you can use red, blue, green, and other colors. Not only is this cleaner than manual dyeing, but it's also a lot easier.
One of the standout features of this microscope is that there's no eyepiece. You don't hold your head over the top of it and look down the tube. Instead, you use your smartphone as a monitor. This has a couple of benefits.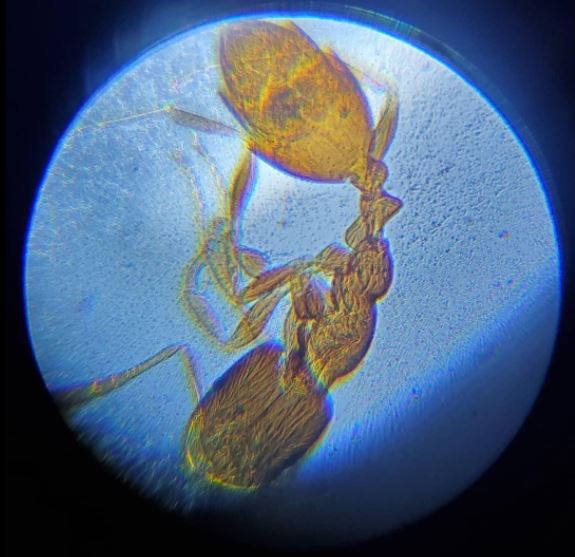 To begin with, you can actually get a clearer image. But it also reduces eye strain, which is a particular risk for children. This way, you don't have to worry about your child straining their eyes by spending hours with their microscope.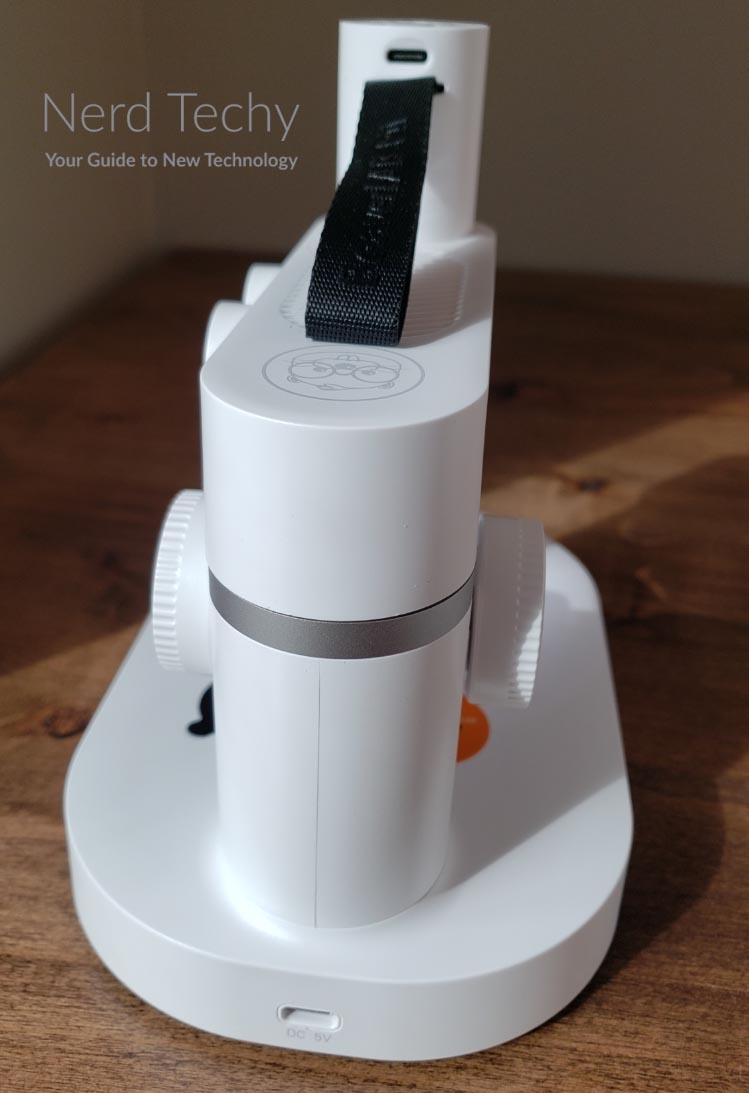 Functionality and Extra Features
The OSCTAN Intelligent Microscope is easy to use. First, though, you'll need to download the companion app. Fortunately the app is free on both iOS and Android, and it's easy to download and install. Within the app, you can view whatever your microscope is viewing.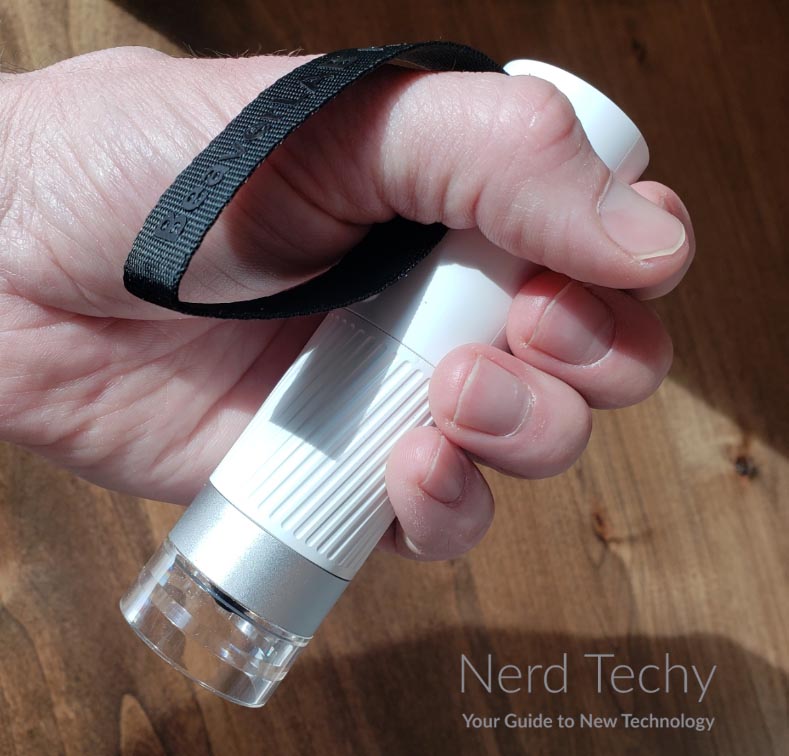 Beyond that, you can snap pictures, and even record videos of what you're doing. This can be especially useful if your child is outside, examining things in their natural environment. That said, we can't help but feel that the app could have been more robust. For example, since this is a children's microscope, it could have some fun activities and animations. But that's a minor complaint.
Once the app is installed, power on your microscope, and open up your phone's WiFi menu. The microscope itself will act as a WiFi hub, so you can connect directly to it. Open up the app, and you'll immediately see a live view of what your microscope is viewing.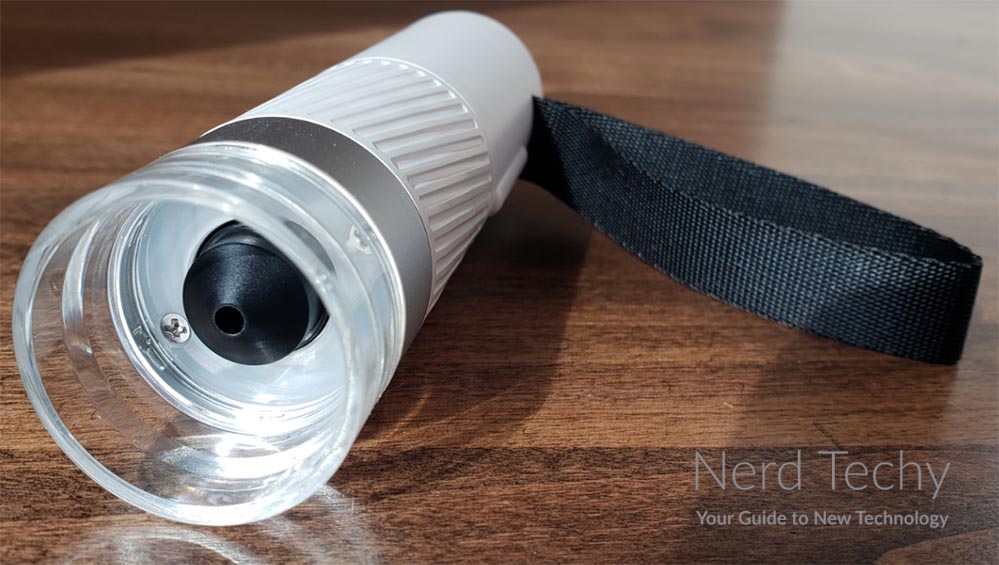 Now you're ready to start using it. Put your slide in place, so the sample is directly over the light. Adjust the brightness and color as desired, and then adjust the focus. At that point, you should have a clear view of whatever you're looking at. Now you're ready to take pictures, record, or write about what you saw.
This microscope can be used either in wired mode, or in battery-operated mode. The battery has a capacity of 2,700mAh, enough for a few hours of use in the outdoors. A lot depends on how much you're using it, your light setting, and other variables. When you're not using the battery, the microscope plugs in via USB Type-C. The cable is included in the kit, and can plug into any USB wall adapter. And if you need to recharge the battery in the field, you can charge via a USB power bank.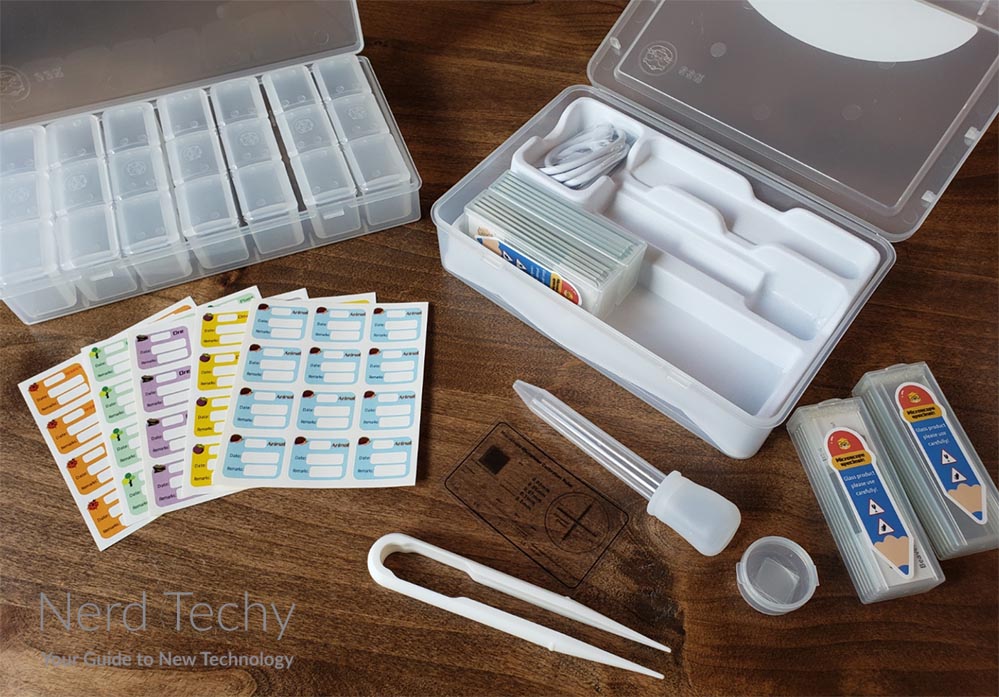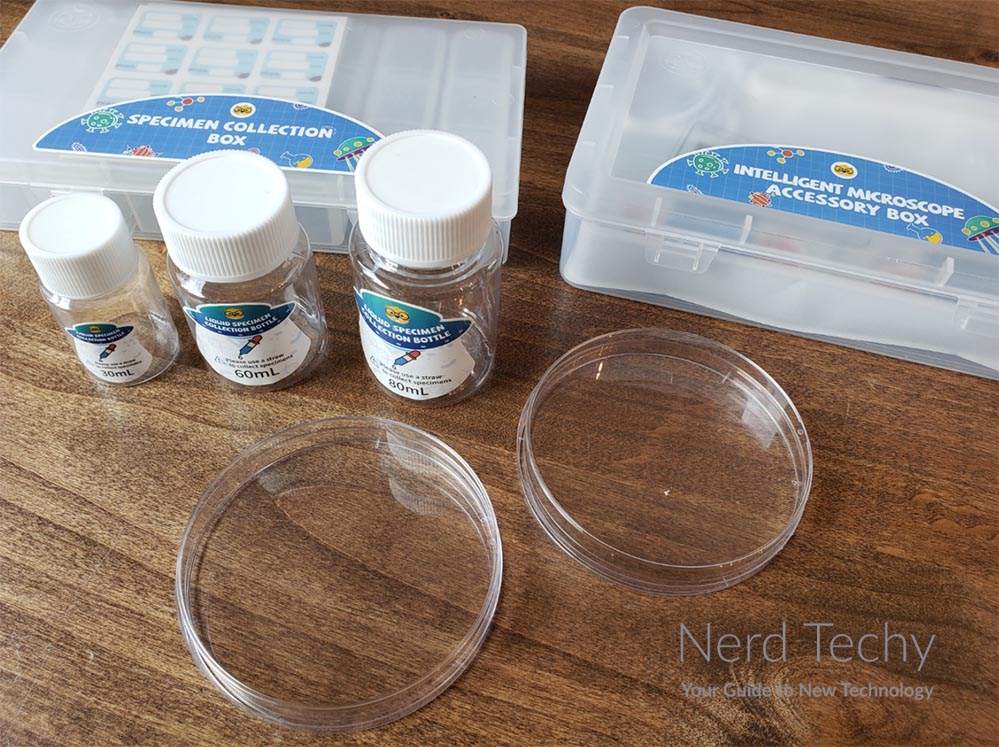 Speaking of the kit, the OSCTAN microscope comes with a ton of extras. To begin with, there's a clear plastic storage box, with 21 slots for collecting specimens. There are 10 blank glass slides, as well as 10 prepared slides with plant and insect specimens. Along with all this, you get a pair of petri dishes, some plastic tweezers, a plastic dropper, and specimen labels. There's also a fun children's guide book, and an observation journal with a bunch of blank pages.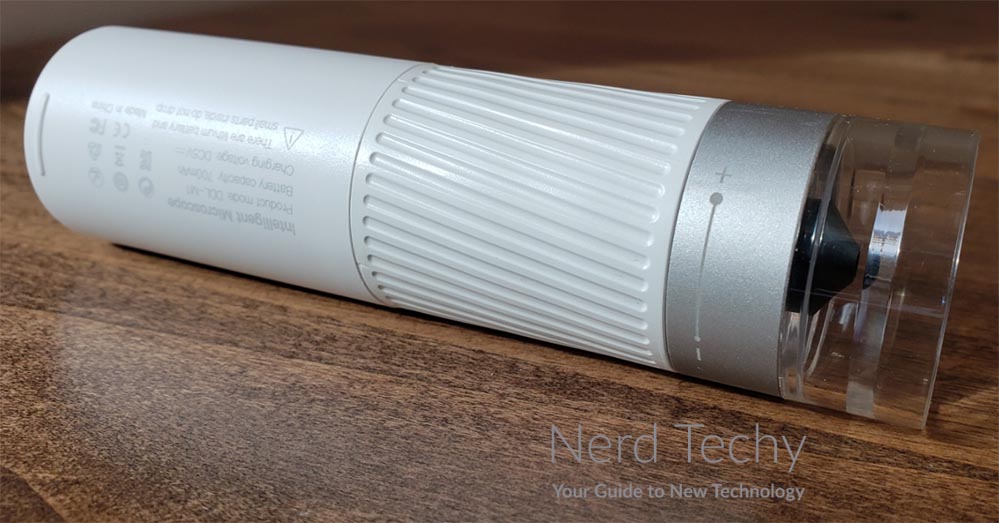 Final Verdict
The OSCTAN Intelligent Microscope Kit is a great tool for parents and teachers alike. Its modular design allows for use at home, in the classroom, and in the great outdoors.
The app-based interface is easy to use, and helps to prevent eye strain. Adjustable backlighting makes it easy to view almost any kind of specimen. And with all the extras in the package, you'll have plenty to get started with.
Meet Derek, "TechGuru," a 34-year-old technology enthusiast with a deep passion for tech innovations. With extensive experience, he specializes in gaming hardware and software, and has expertise in gadgets, custom PCs, and audio.
Besides writing about tech and reviewing new products, Derek enjoys traveling, hiking, and photography. Committed to keeping up with the latest industry trends, he aims to guide readers in making informed tech decisions.