Beelink SER5 5560U
Pros
Very fast processor.
Supports WiFi 6 and Bluetooth 5.2.
Easily mounts on your wall or monitor.
Bloatware-free setup.
Very quiet operating, even under high load.
Cons
Integrated graphics only.
One USB port is only USB 2.0.
When most people think of a PC, one of two things comes to mind. You may picture a large desktop tower – easy to upgrade, but not terribly portable. Or you may think of a laptop – lightweight and portable, but difficult or impossible to upgrade. But thanks to advances in technology, mini PCs are becoming a viable option.
Mini PCs are designed to bridge the gap between a desktop and a laptop. On the one hand, they're small and portable. You need an external display, but other than that they're as portable as any laptop. On the other hand, you can make your own upgrades, at least to a certain extent. That's something you just won't get from most laptops.
We're about to review the Beelink SER5 5560U. This is a surprisingly powerful mini PC, built with AMD Ryzen technology. It can connect to up to three monitors simultaneously, with a 4K video signal. But what else is it capable of, and is it worth the investment? To find out, we'll have to take a deeper dive into its features, benefits, and drawbacks. Let's get started!
Overall Design
The Beelink SER5 5560U has a black ABS plastic frame, with a smooth look that will match your other electronics. It measures 5.43 inches square, with a thickness of 2.32 inches. And at only 2.09 pounds, it's very lightweight. You can stow it in a laptop bag and barely notice it's there, or carry it with you in a backpack. And the corners are rounded off, which makes them more durable as well less likely to poke you.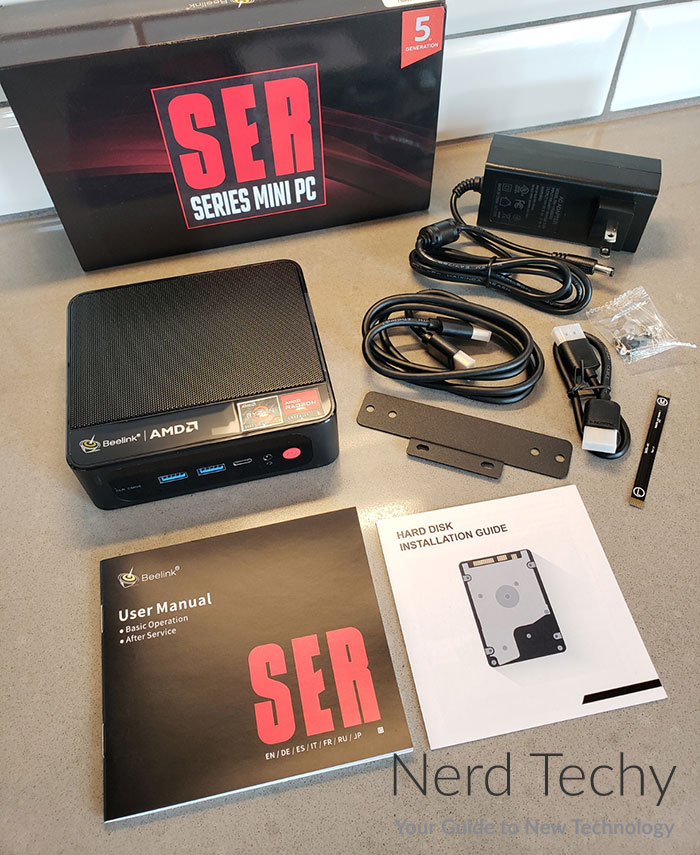 The sides and top of the housing are vented, with a bunch of tiny holes that allow for easy air flow. The fans are reasonably quiet, and don't produce a ton of noise during operation. Don't get us wrong – they're a tad louder than your average desktop fans. But even under a heavy load, they're not going to make an excessive amount of noise.
The cooling system includes more than just a set of fans. There's also a pair of large copper tubes that serve as heat sinks. They do a great job of helping the computer stay cool, no matter how hard you're pushing it.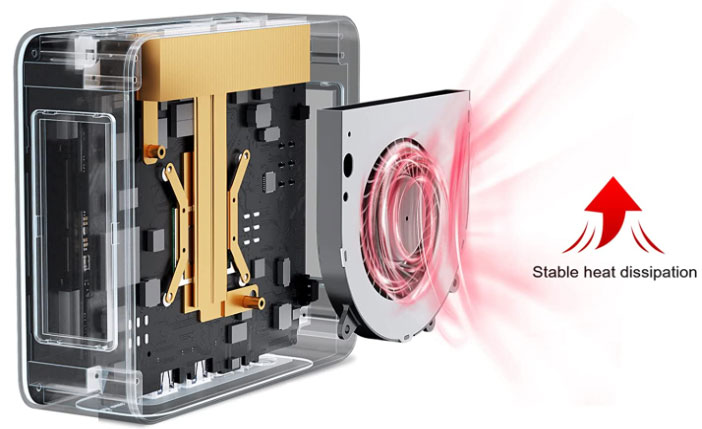 Along with the computer itself, the package includes an AC power cord. You also get a pair of HDMI cables. All you need to get started is a monitor, keyboard, and mouse.
If you want something even more portable, take a look at the GEEKOM MiniAir 11. It has a slimmer design, and even comes with a little carrying pouch. It's also a great value, albeit not as powerful.
Ports and Connectivity
There are multiple ways to connect the SER5 5560U to your devices. On the front, there's a pair of USB Type-A ports for plugging in your peripherals. They have blue inner tabs, which make it easy to tell which way the plug is oriented.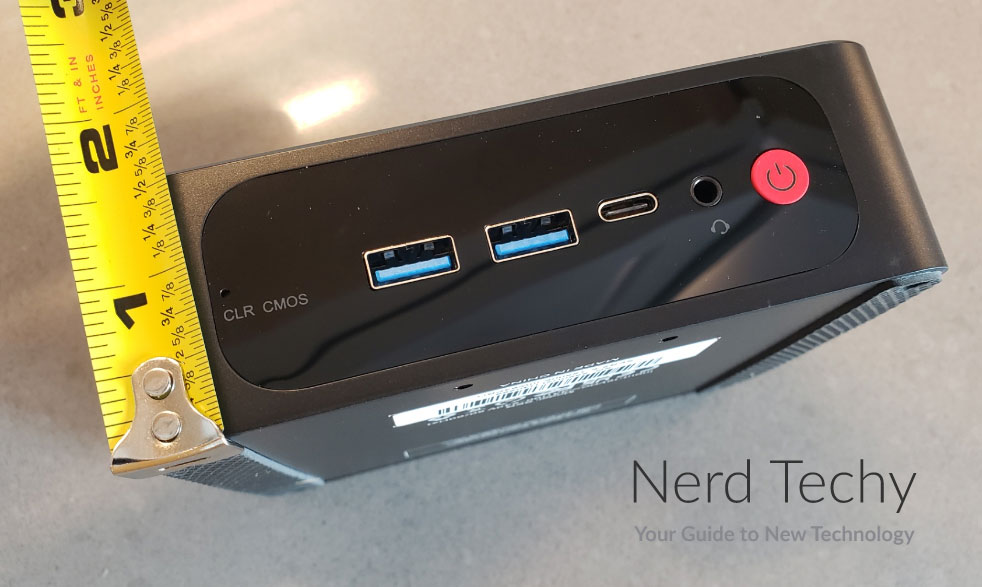 To their right is a USB Type-C port, for charging your phone or connecting an external drive or USB monitor. There's also a 3.5mm aux port, so you can plug in some headphones or a set of speakers. On the front panel, you'll also find a red power button at the far right. At the far left, there's a recessed reset button that's designed to be operated with a paperclip or pin.
The rest of the ports are located on the back side of the housing. At the left, there's a Gigabit Ethernet port, which you can use to connect to your router. Moving along, there's another pair of USB Type-A ports with blue inner tabs.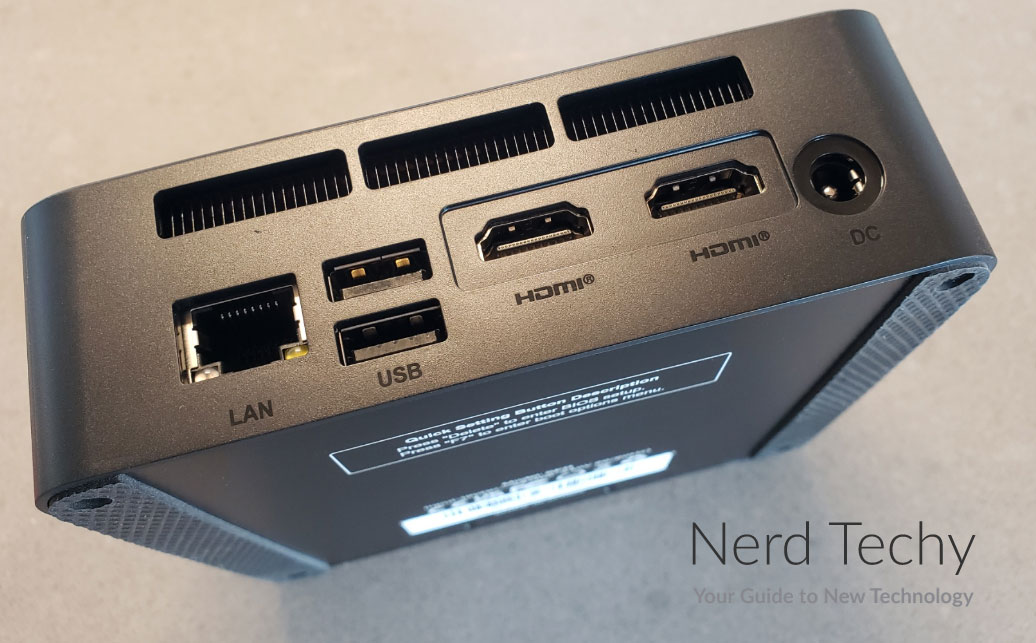 However, these ports are stacked one over the other instead of sitting side by side. Next, you'll find a pair of HDMI ports, which are self-explanatory. At the far end is a barrel-shaped DC power port, for connecting the AC power adapter.
The SER 5560U supports WiFi 6E, which is the latest version of WiFi. It will be able to get the fastest possible speed on any router, and it's great for streaming. At the same time, it's backwards compatible with earlier WiFi versions. If you're connecting to an older router, you shouldn't have any issues.
In addition, this mini PC supports the Bluetooth 5.2 protocol. This is one of the newer iterations of Bluetooth, and it has some important benefits. For one thing, it has lower latency than earlier versions, which is great for gaming and watching videos. It also has a more reliable, stable signal. You don't have to worry about your connection randomly cutting in and out. You'll be able to freely walk around the room with your earbuds in.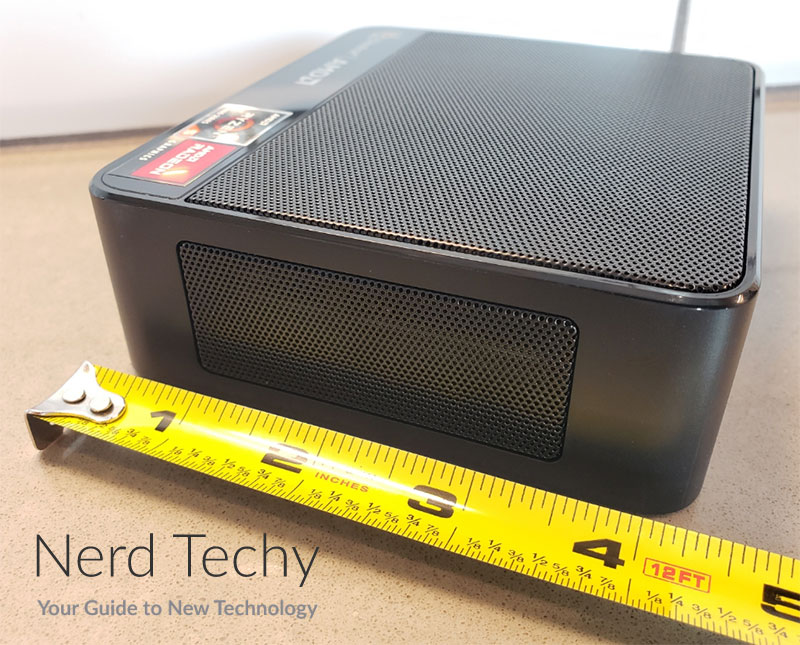 Performance and Graphics
The SER5 5560U utilizes the AMD Ryzen 7 4700U CPU. This is an 8-core, 8-thread processor with a 2.0GHz base frequency. That's not very fast, but the processor has a boost speed of 4.1GHz, which it can maintain for short periods.
Furthermore, we're talking about an octo-core processor. So while any single core isn't that powerful, you're looking at a robust multi-tasking machine. If you like to run a bunch of apps simultaneously, you'll be very pleased with the performance.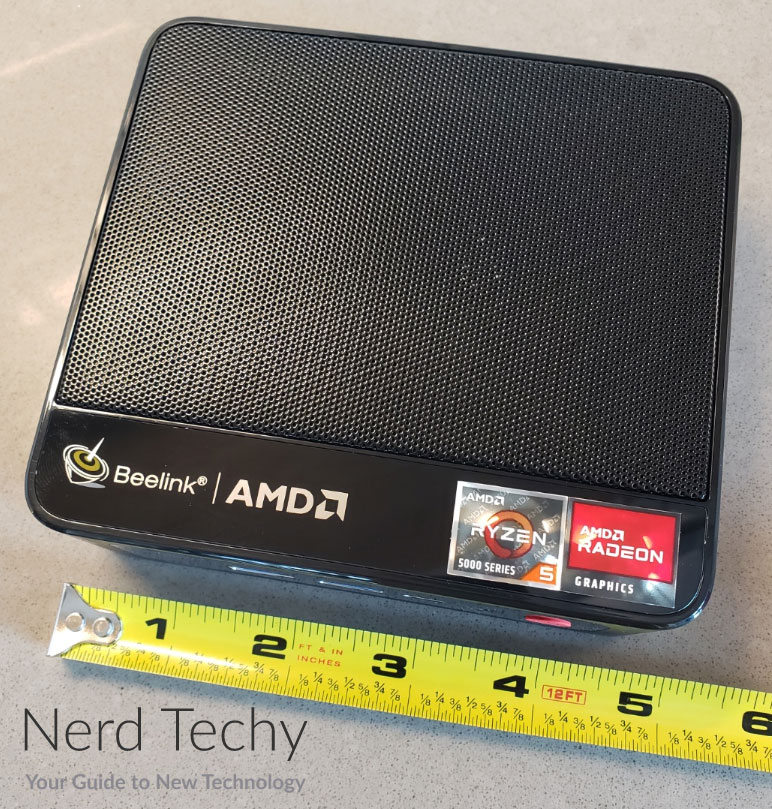 The graphics are more of a mixed bag. The 7-core, 1,600MHz AMD Radeon Graphics are among the best integrated graphics on the market. They're great for playing less demanding video games with modest graphic requirements. You can plug in two HDMI cables and a USB Type-C cable and use a triple monitor setup. You can even play videos in 4K at a frame rate of 60Hz.
On the downside, these are still integrated graphics. You won't be able to get the same performance as you'd get from a dedicated graphics card. So while you can watch 4K videos, 4K gaming won't be possible with most games. That said, you'll be able to run games like Apex Legends, even though you won't be on maximum settings.
Memory and Storage
The SER5 5560U comes with 16GB of RAM. It's a dual-channel setup, with a pair of 8GB sticks of DDR4 RAM. For most people, that's going to be more than you'll ever need. But if you need to upgrade, the motherboard can accept up to a pair of 32GB cards, for a total of 64GB.
It's unlikely that you'll ever need that much RAM in your computer. But if you're doing a large video editing project, you won't run into a memory bottleneck.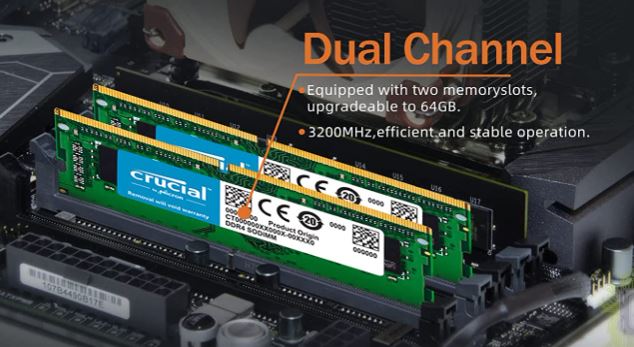 As for storage, the system ships with a 500GB SSD drive. It's an M.2 PCIe drive that's much smaller than a traditional drive. If you need more storage, there's space for a 2.5-inch SSD or HDD expansion.
You can install up to a 1TB drive in that slot, tripling your storage. That will give you enough space to install a large steam library or save a ridiculous number of videos. And if for some reason you need more than that, you can always connect an external hard drive.
If you're looking for a more modest, affordable machine, consider the Aerofara Aero 2 Pro. It's a low-priced mini PC that's perfect for office use and other everyday applications. But it's not as fast as the Beelink system, and the fan runs loud.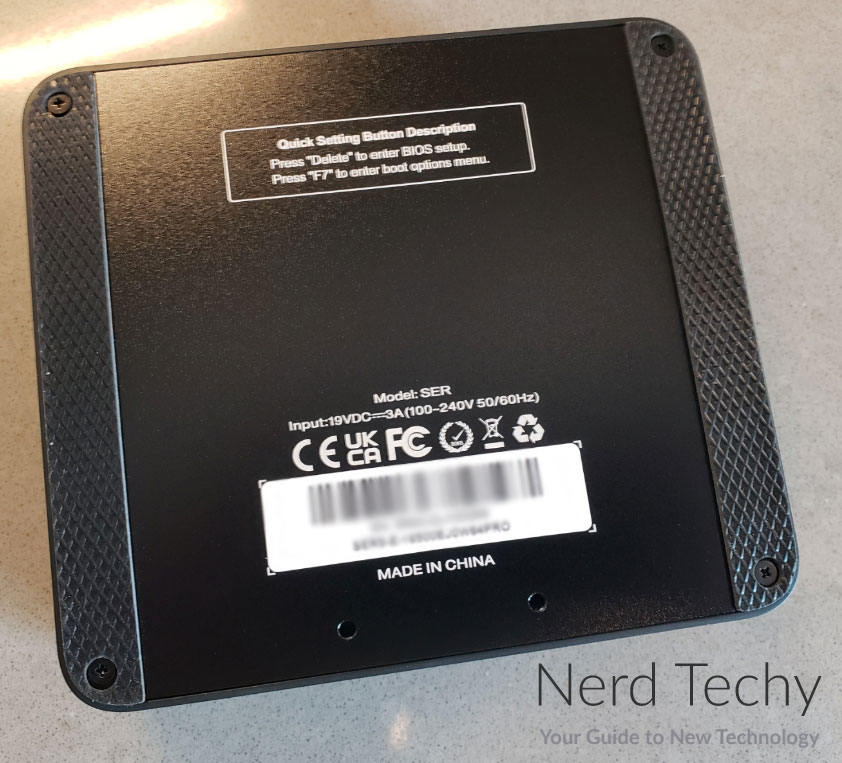 Extra Features
One thing we liked about this computer is that it comes pre-installed with Windows 11. But unlike many other new computers, it doesn't come with a bunch of bloatware. You won't have to spend your first day deleting a slew of unwanted apps.
And if you don't want to jump into Windows 11 just yet, you can order the SER5 5560U with Windows 10. You just have to send the company a message with your order information.
Along with the computer, you get a black metal wall bracket. It has a roughly Z-shaped profile, with screw holes on both faces. On one side, there's a pair of holes that line up with threaded sockets on the mini PC.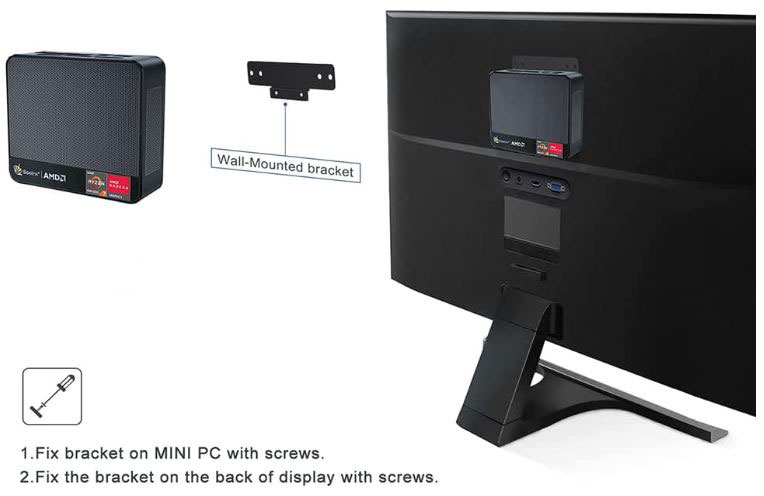 On the other, there are two sets of holes for different VESA spacings. You can mount it on your wall, or attach it to the back of a monitor. This is incredibly convenient if you need to save space. It's also great for public kiosks and other areas where you want the computer to be discreet.
Beelink backs their mini PC with a 12-month manufacturer's warranty. If there are any defects in parts or labor, you'll receive a free repair or replacement. They also provide 24-hour customer service. If you have any trouble setting up your computer, you'll be able to get the help you need.
If you want more customization options, check out the ACEMAGICIAN AMR5. It has similar power and capabilities, along with attractive RGB lighting. And with adjustable voltage, you can save power while running less demanding applications. On the other hand, the fan can get pretty loud when it's at full power.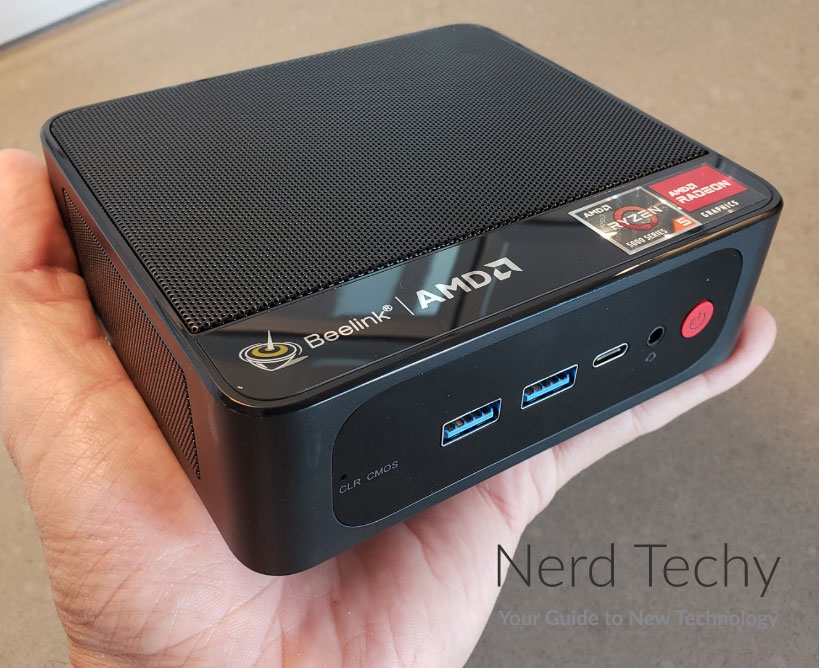 Final Verdict
The Beelink SER5 5560U is a powerful little micro PC that punches well above its weight. Its eight-core processor is optimal for multitasking. And while it's not absurdly fast, the 4.2GHz boost speed will get you through most tasks with no trouble. The integrated graphics won't give you the same performance you'd get from a dedicated GPU. But as integrated graphics go, they do a pretty good job.
The physical design is well thought-out, with reasonably quiet fans. The ports are all easy to access, and the mounting bracket is simple to mount. The wireless connectivity is excellent. With WiFi 6 and Bluetooth 5.2, you'll be able to connect to just about any device. Not only that, but you can plug in up to three monitors; two via HDMI, and one via USB Type-C.
With 16GB of RAM and 500GB of storage, you'll have more than enough for most needs. And with the ability to add a second SSD and upgrade your RAM, you can take on even larger projects. Add a clean, bloatware-free Windows install, and you're looking at a solid mini PC.
Meet Derek, "TechGuru," a 34-year-old technology enthusiast with a deep passion for tech innovations. With extensive experience, he specializes in gaming hardware and software, and has expertise in gadgets, custom PCs, and audio.
Besides writing about tech and reviewing new products, Derek enjoys traveling, hiking, and photography. Committed to keeping up with the latest industry trends, he aims to guide readers in making informed tech decisions.