CR-Scan Lizard
Pros
High scanning resolution.
Three scanning modes.
Software color restoration and one-click optimization.
Crisp 10FPS scanning speed.
Cons
Uses a proprietary data cable.
Can struggle when scanning very large objects.
3D modeling has been a game changer for artists and designers alike. Let's say you're designing a plastic part like a hand grip. You may very well want to mold the original design by hand out of something like clay.
You can get hands-on with the work and make subtle adjustments to get it right. In the past, you'd have to make a cast of the original to create a working mold. Today, you can use a 3D modeling scanner to capture the shape and dimensions. Then you can feed the design to a 3D printer or other device.
The same goes for creating digital artwork. Using a scanner, you can capture a sculpture or a human model. This data can then be used to render a faithful, realistic digital copy. We've reviewed several 3D scanners in the past, all of which we stand by. But what if you want a premium option?
We're about to review the CR-Scan Lizard 3D Scanner Premium Combo. This isn't just a scanner. It's a full kit that includes everything you might need. It also comes with some of the most impressive scanning technology on the market. But is it the right choice for you? We're about to take a much closer look and see what we find. Let's begin!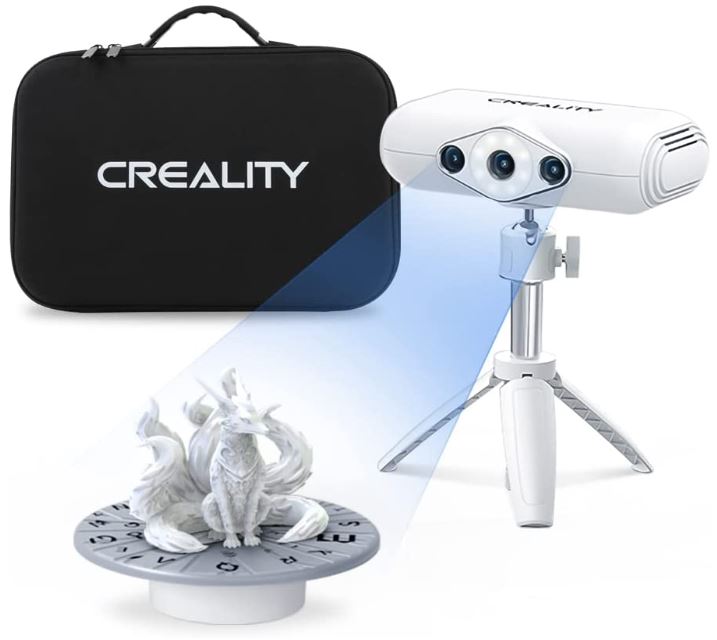 Overall Design
The CR-Scan Lizard 3D Scanner Premium Combo is built first and foremost around the scanner. The main unit has a white plastic housing that's smooth and easy to keep clean. At only 13 ounces, it's surprisingly lightweight. And it measures only 6.1 inches wide, 3.3 inches deep, and 1.8 inches thick. You can easily transport it with you if you need to take scans on the road.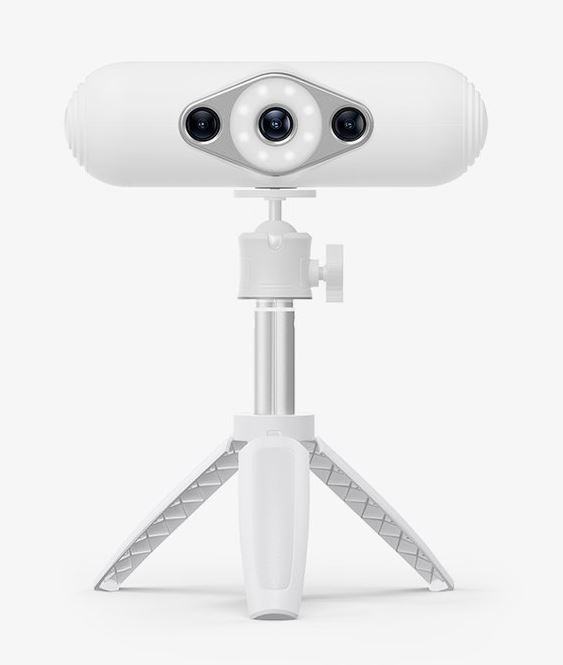 The edges of the housing are rounded off, which makes it sturdier and avoids any sharp edges or corners. On the front is a set of three lenses, set into a diamond-shaped chromed plate. These lenses provide different perspectives to create a high-quality 3D scan.
The kit includes a number of accessories that make it far easier to use. To begin with, the barrel-style DC power cord and adapter block come with international power adapters. With four adapters, you'll be able to use the scanner virtually anywhere in the world.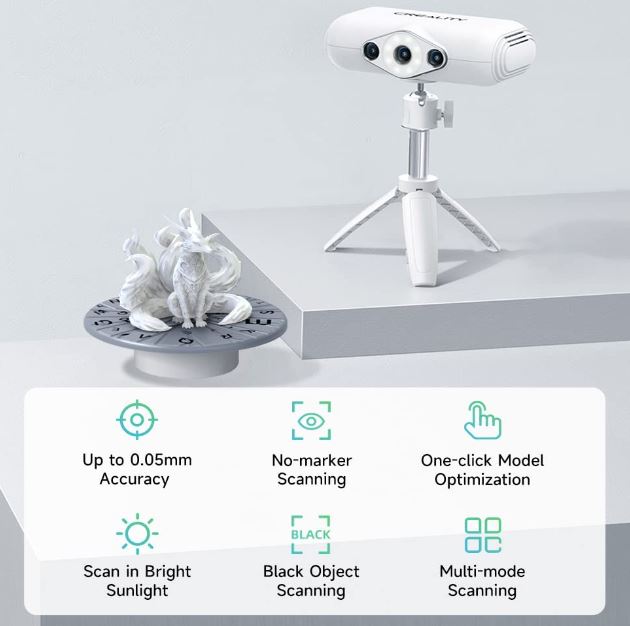 There's a tripod, so you can set the scanner in a single location. Meanwhile, a turntable can rotate a small object in front of the cameras. If you're trying to scan a larger object, the legs of the tripod collapse to form an ergonomic handle. You can use this as a convenient grip for pointing and moving the Scan Lizard. There's even a little plaster bust that you can use for testing and calibration.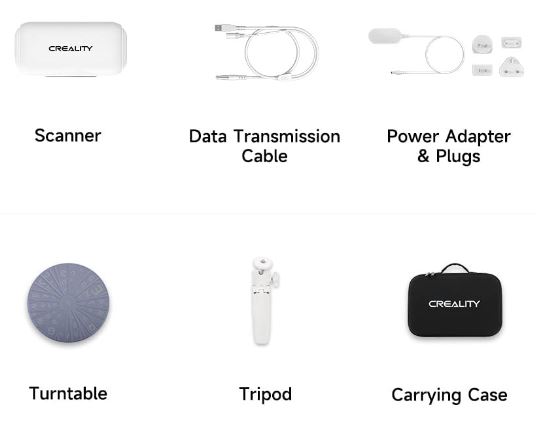 Along with all that, you get a semi-rigid carrying case. This is a simple zippered case with a comfortable rubber handle. It does a decent job of protecting the scanner and accessories and keeping everything together. To top it all of, you get a reversible blue and black silicone protective cover. It slips right over the unit, and provides a bit of extra protection from bumps and scratches.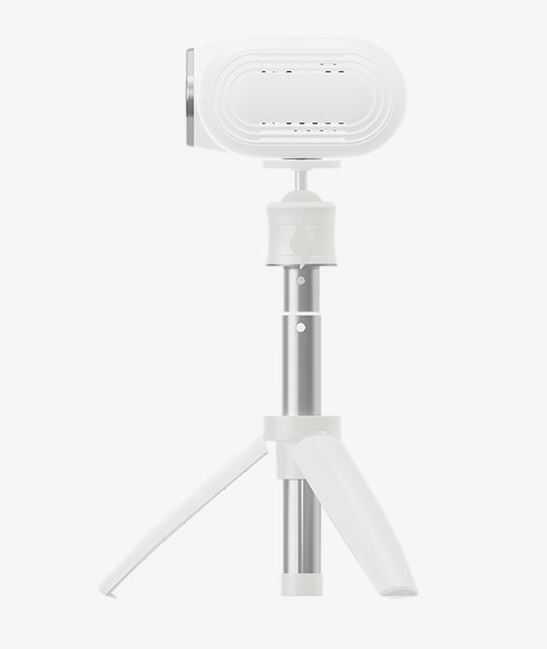 Order the CR-Scan Lizard from the Official Creality Store and use code LizardScan for a hefty discount. Alternatively, you can order it from Amazon and use code OYI34ZLU.
Scanning Technology
3D scanners don't actually scan the entire surface of an object. That would take up far too much data and processing power. Instead, they sample many individual points on the surface and map them in a 3D space. The closer together the individual points are, the more detailed the scan will be.
The Scan Lizard provides an incredible scanning resolution. The individual points are just 0.1 to 0.2mm apart. That works out to between 125 and 250 points per lateral inch. Even if you're scanning tiny objects, you'll get incredible levels of detail.
That's a good thing, too, since you can scan objects as small as 15mm. On the larger side, you can scan objects as large as 1,500mm. That's not enormous, but it's big enough for most applications.
Scanning speed is fairly brisk, at a rate of 10 frames per second. You don't want to wave the scanner around wildly. But you don't have to move at a snail's pace, either. Slow, steady movements will get you the best results.
One thing we really liked about this scanner is the fact that you don't need any markers. With a lot of scanners, you have to attach little sticker dots all over your model for the scanner to get a reference.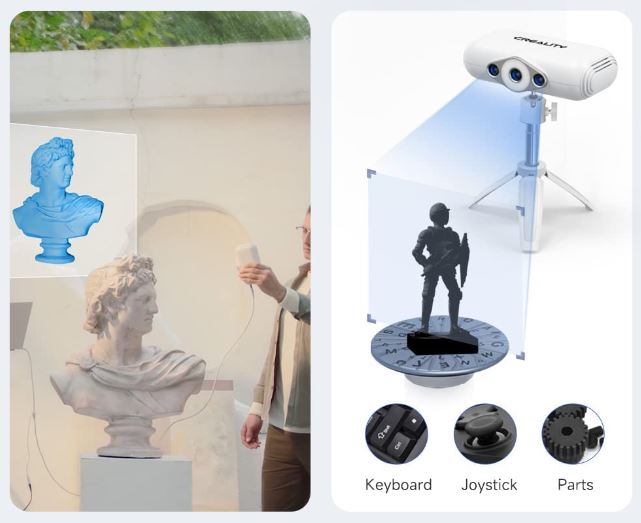 To begin with, this could get tiresome in a hurry. It was time-consuming, and it made the scanning process tedious. Not only that, but when you removed the dots afterwards, they could leave a residue. This might not be a problem in your situation. But if you're trying to scan a sculpture, for example, it can be a big deal.
In addition, the optical sensors use a unique multi-spectral system. A lot of sensors can get confused by black objects against black backgrounds, for example. But the Scan Lizard isn't just reliant on visual light. By using light from other parts of the spectrum, darkness, brightness, and contrast are far less of a concern. You can even scan objects outdoors, in daylight without running into any trouble.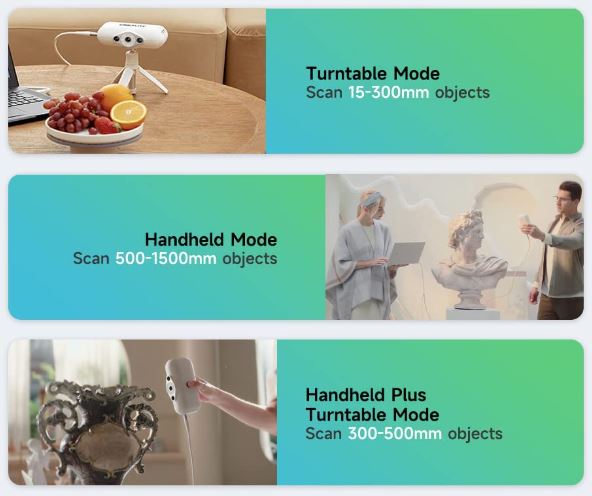 Scanning Modes
The CR-Scan Lizard provides three different ways for you to scan your objects. This gives you the flexibility to scan items of different shapes, sizes, and dimensions. Here's how each one works:
Turntable mode – This is the easiest mode to use. You put an object on the turntable and set up the scanner on a tripod, pointing at it. Activate the scanner, activate the turntable, and let it rotate. That's all there is to it. Turntable mode is ideal for objects sized between 15mm and 300mm.
Combination mode – This is a more advanced mode, but it's still pretty straightforward. You'll use the turntable, but you'll also have to manually adjust the scanner and take two or more scans. That way, you can cover a larger surface are than with the turntable alone. Combination mode is designed for 300mm to 500mm objects.
Handheld mode – This mode is the most complicated, since you have to manipulate the scanner by hand while it's operating. That said, it gives you enough flexibility to scan much larger objects, up to 1,500mm.
As you can see, each of these modes has its own applications. But since you have all three of them, you can scan pretty much anything you like.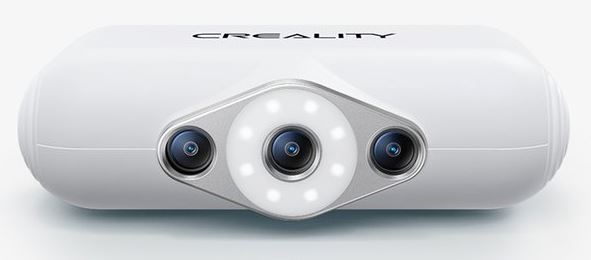 Order the CR-Scan Lizard from the Official Creality Store and use code LizardScan for a hefty discount. Alternatively, you can order it from Amazon and use code OYI34ZLU.
Connectivity
Connecting to your computer is a bit of a mixed bag. On the plus side, the scanner is compatible with pretty much any modern computer. It works with Windows 10 or 11, as well as with MacOS 11/12, even on the M1 chipset. On the downside, the cable is proprietary. If the cable gets lost or damaged, you can't just replace it with an ordinary USB cord.
Along with the scanner itself, you get a license for CR Studio 2.0. This is an upgraded version of CR Studio, with a new user interface and more intuitive controls. The software contains special algorithms that optimize your scanned image. The algorithms are particularly helpful when you're scanning larger objects. The scanner won't lose track of its location as often as most others on the market.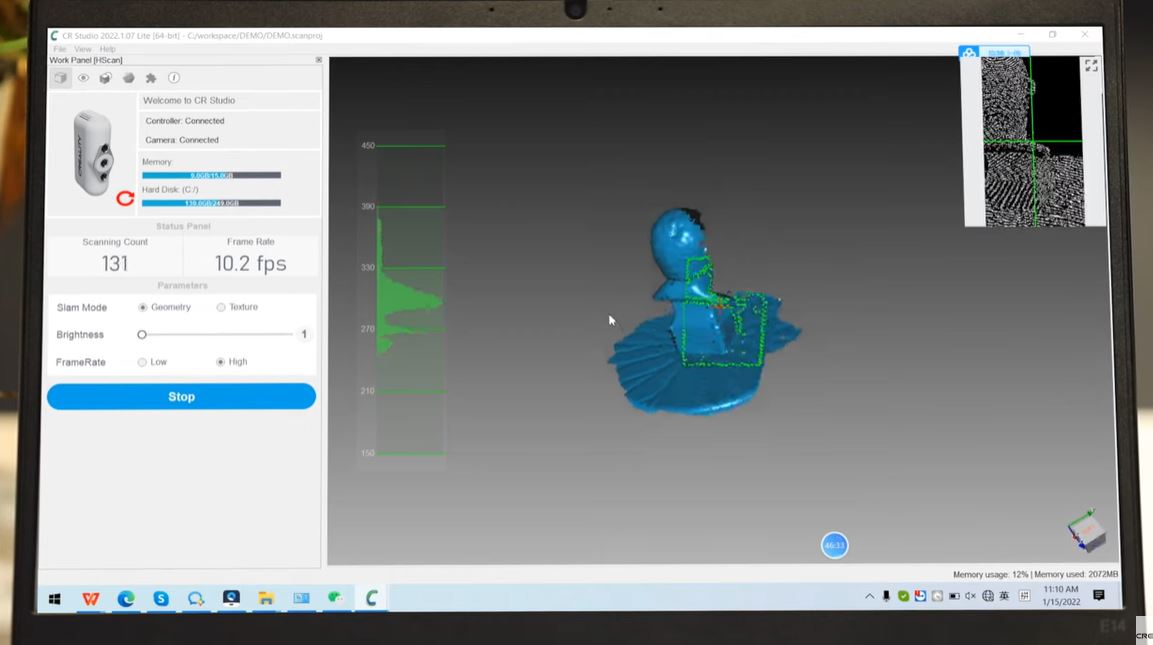 The CR Studio software can output data in most common 3D formats. You can save your files as OBJ, PLY, or STL files. This allows you to import your scans into most popular software, including Blender, 3DMax, Rhino, and Maya.
In addition, the software supports free over-the-air updates. As long as your computer is online, you'll always be running the latest version. You can also download calibration files from Creality's website. If you accidentally delete them from your hard drive, it's not a big deal.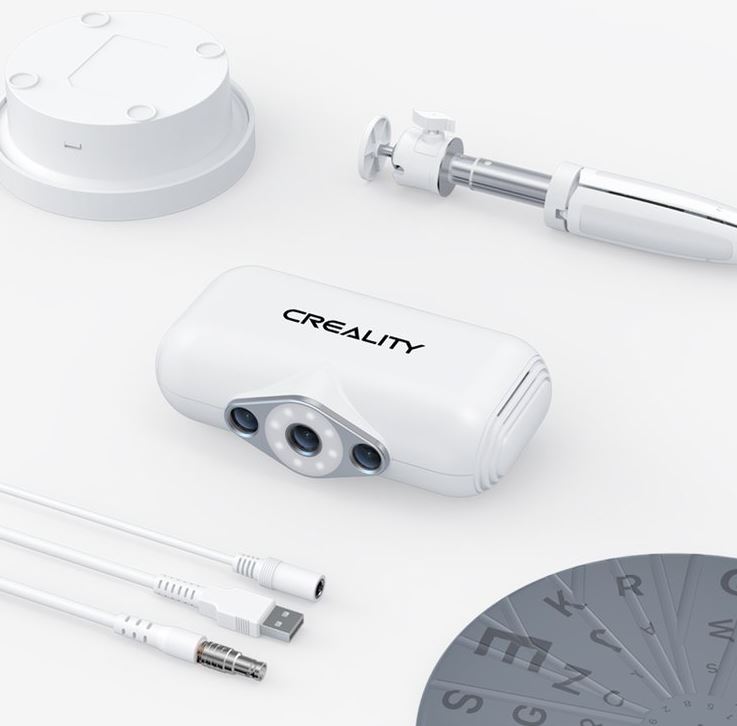 Control, Optimization, and Extras
The Scan Lizard has a couple of optimization features that are worth mentioning. To begin with, you can seamlessly integrate your models with your 3D printer.
Upload files to the Creality Cloud, and you'll be able to take advantage of one-click printing. You can also share your files instantly with other Creality Cloud users. This can be an invaluable feature if you're collaborating with other people.
Using the CR Studio software, you can pair your scanner with a smartphone or DSLR camera. After you take your scan, you can follow up afterwards with a camera. The software will then map HD colors right onto your scan.
This won't serve much purpose if you're 3D printing. But it's an invaluable feature for anyone creating 3D graphics. At present, the HD color restoration feature only works on objects up to 300mm in size. However, Creality has promised to support larger objects in the future.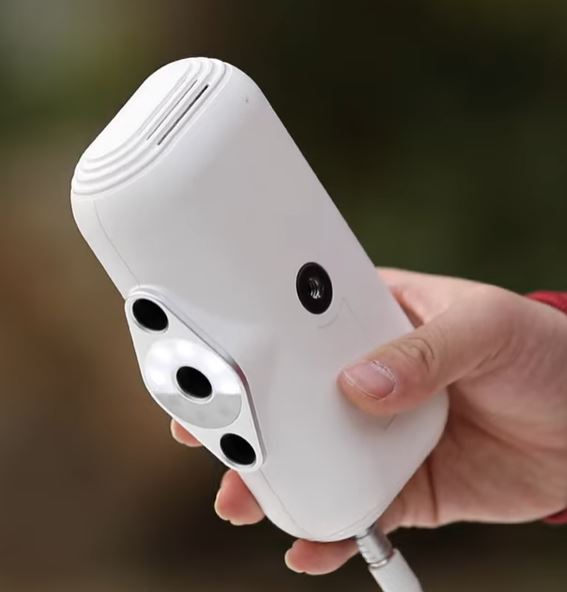 Final Verdict
The CR-Scan Lizard 3D Scanner Premium Combo is a powerful tool for bringing your 3D visions to life. The scanner itself is very well-engineered, with some powerful scanning technology. The 0.1mm-0.2mm sensitivity can map your objects in intricate detail. And with a capture speed of 10 FPS, you can scan objects at a reasonably brisk pace.
The three scanning modes make the Scan Lizard very versatile. It's capable of scanning just about anything you want, ranging from 15mm to 1,500mm in size. That's an impressive amount of versatility. We particularly liked the turntable, which makes scanning almost automatic.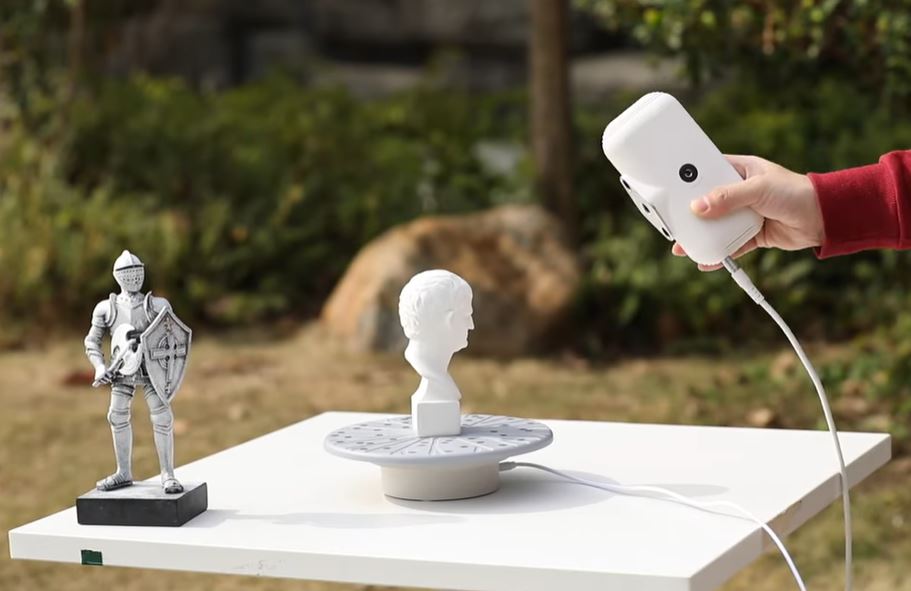 The overall design is attractive, portable, and straightforward. The carrying case is well-engineered, and provides a reasonable level of protection. The silicone cover is surprisingly durable, and you can install it in only a minute. And the tripod is well thought-out, with a collapsible design that turns into a grip. No matter how you plan on using the scanner, you'll have the accessories you need for the job.
Not everything is perfect. We would have liked an ordinary USB cable instead of a proprietary one. That said, we were pleased with the overall package. The software was particularly impressive, with optimization tools that include HD color. All in all, we were pretty impressed.
Meet Derek, "TechGuru," a 34-year-old technology enthusiast with a deep passion for tech innovations. With extensive experience, he specializes in gaming hardware and software, and has expertise in gadgets, custom PCs, and audio.
Besides writing about tech and reviewing new products, Derek enjoys traveling, hiking, and photography. Committed to keeping up with the latest industry trends, he aims to guide readers in making informed tech decisions.