WELOCK Fingerprint Lock
Pros
Stores up to 100 fingerprints.
Open with fingerprint, RFID card, app, or voice.
Durable and attractive design.
Automatic locking and low battery warning.
Installation is fairly easy.
Cons
WiFi hub costs extra.
No keyed backup option.
Only available in one color scheme.
Nowadays, we take it for granted that everyone has a lock on their door. In most places, a home isn't considered fit for habitation unless there's a deadbolt on the exit. But locks have only become widespread since the industrial revolution. Prior to that, they needed to be handmade by craftsmen. Unless you were very wealthy, you wouldn't be able to afford one.
Regardless, mechanical tumbler locks are medieval era technology. Anyone with the right tools can defeat one in just a few seconds. Not only that, but mechanical keys are easy to copy. If someone gets a hold of your key for a few minutes, they can take a mold and make their own. Then they can break into your house at their convenience.
Today, we're going to review the WELOCK Smart Lock. This is a biometric doorknob that can be programmed with up to 100 fingerprints. It also works with RFID cards, an app, or even voice commands. But how well does it suit your needs? We're going to have to take a much closer look and see how it compares to the competition. Let's begin!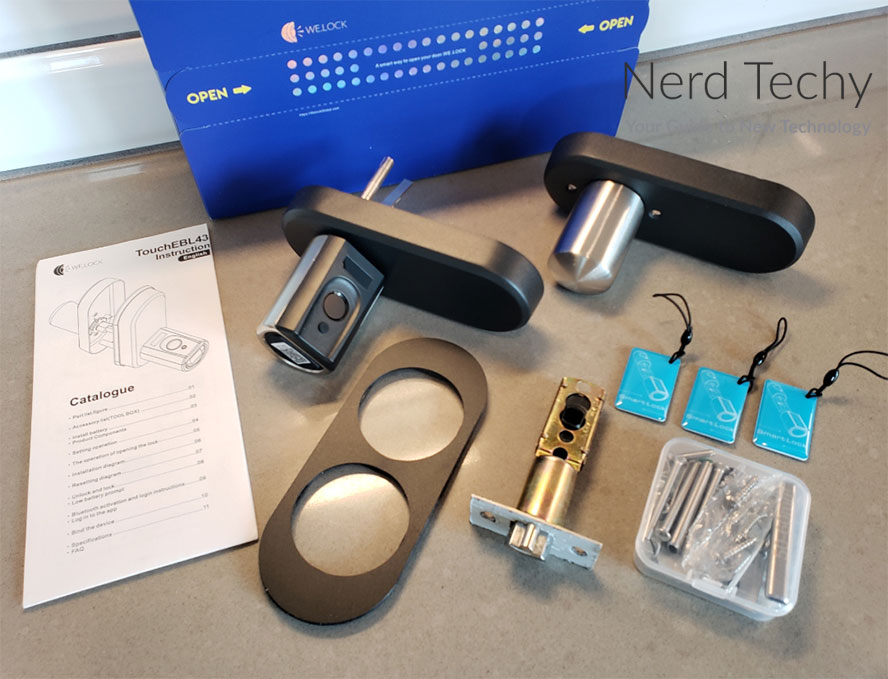 Lock Design
The WELOCK Smart Lock has a unique design that looks nothing like an ordinary doorknob. Instead of a handle or a round knob, both the inside and outside knobs are cylindrical. They're steel, with a brushed finish that's easy on the eyes. On the inside knob, there's a little divot in the side for your thumb. This makes it easy to grip and turn, even if your hands are a bit slick.
The outside knob is flattened on the upper surface. The flat area is black instead of brushed steel, and there's a thumbprint reader in the top. Just grab the knob and press your thumb onto the reader, and the deadbolt will click open. There's also a QR code printed on the end of the knob, which can be used for easy pairing with your smartphone.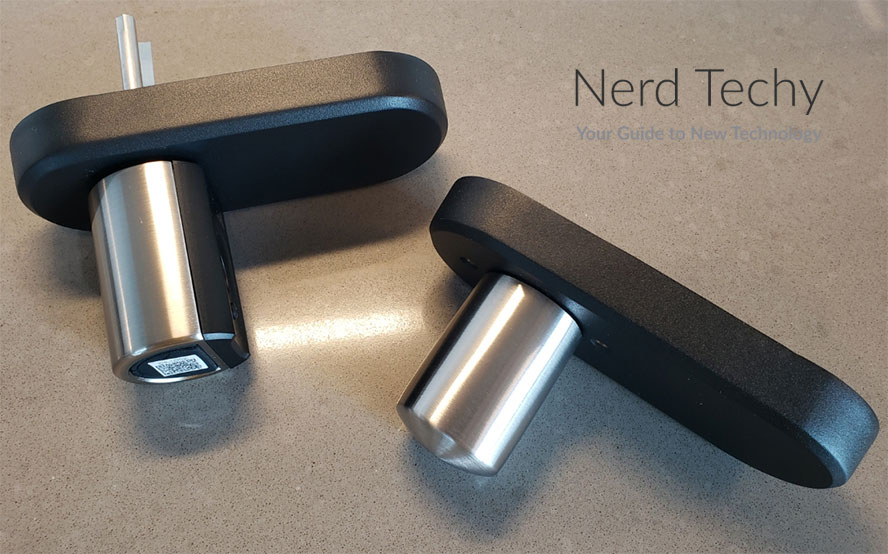 Behind the knobs are a set of black oval plates. These are similar to the plates on any deadbolt, and serve to cover the cutouts in your doors. The bolt mechanism itself is well-engineered, and seems like it should be able to take a beating. We didn't have any concerns about its durability.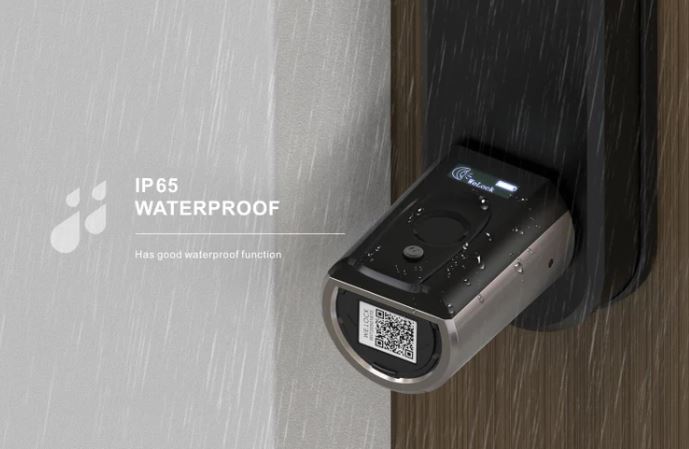 The lock has a weather-resistance rating of IP65. The 6 is the highest rating possible for dust-resistance. Theoretically, you could install the WELOCK on Mars if you wanted to, and it wouldn't fail due to the fine dust. The 5 is a moderate water-resistance rating. Rain will be no issue, even if it's a driving thunderstorm. It's certainly tough enough to keep working after you wash it with a wet cloth.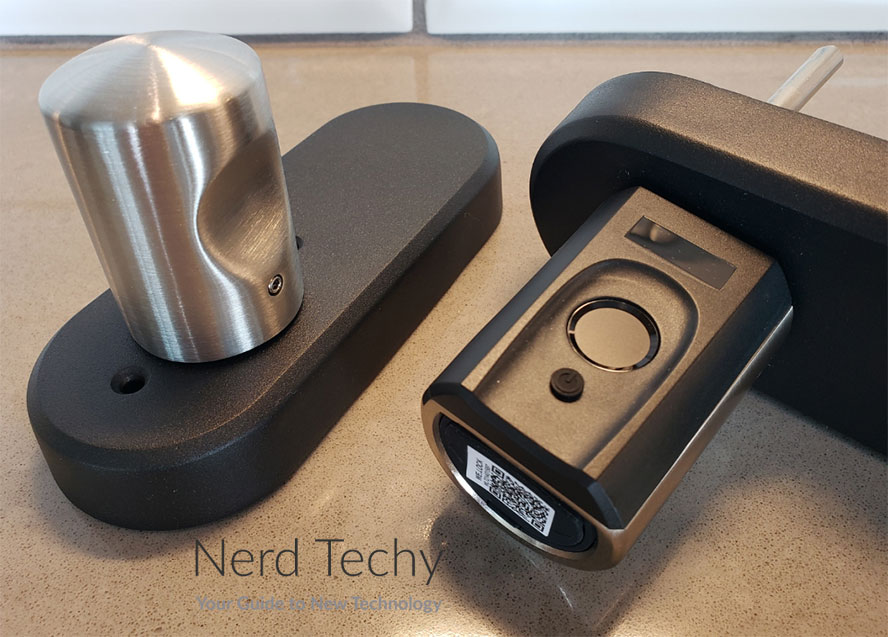 Use code "GET20" for a steep discount when you order the WELOCK Fingerprint Door Lock on the official website.
Installation
The WELOCK is very easy to install. It's meant to replace your existing deadbolt, so it will go right into standard pre-drilled holes. Provided your door is already drilled out, the only tool you'll need for installation is a screwdriver. You'll need a hole saw and a jig to drill out a solid slab. But otherwise, you should already own everything you need.
This lock is compatible with any door between 1.77 and 2.33 inches thick. That includes most entry doors, so once again you shouldn't have any issues. The kit includes a helpful video link for installation, and the steps are pretty simple to follow. You even get a set of wood screws for attaching the lock, and Allen keys for making fine adjustments.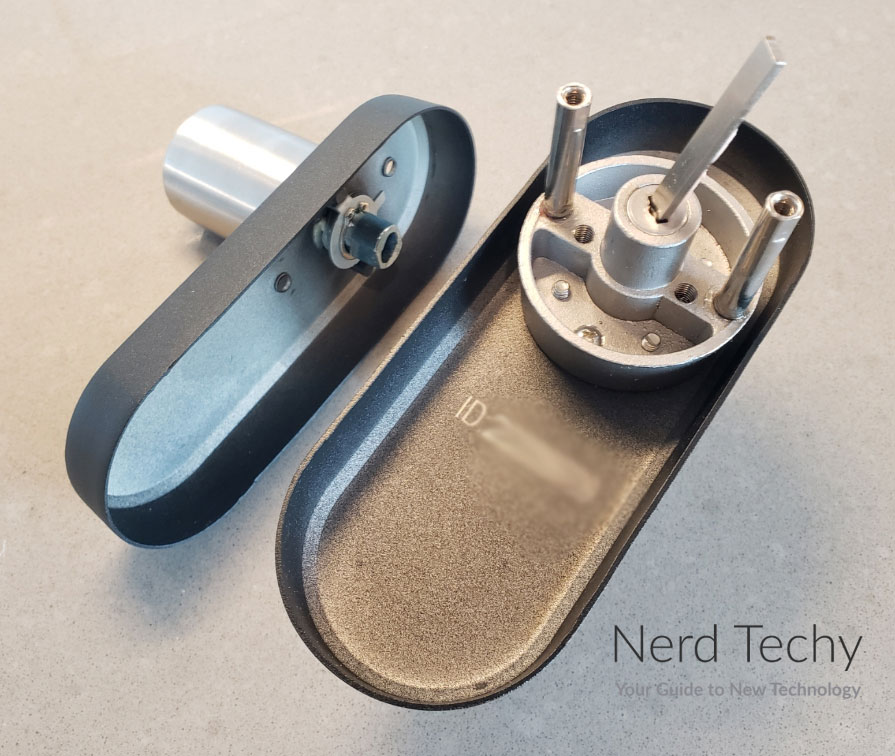 There are actually two versions of the Welock. You can order it as a standalone unit, or as a pair with the Wifibox. The Wifibox serves as a bridge between the lock and your router, and allows you to access the online features. You plug it into your wall, preferably near the lock, and pair it with your home network. Once you've done that and paired your lock, you can use the app to access your lock remotely.
If you want a lock that comes standard with WiFi access, check out the SECURAM EOS WiFi Smart Lock. It has a rock solid design that's tough enough to take a serious beating. It's similarly easy to install, and it even has a built-in PIN pad for keycode access. On the downside, it doesn't support as many fingerprints as the WELOCK.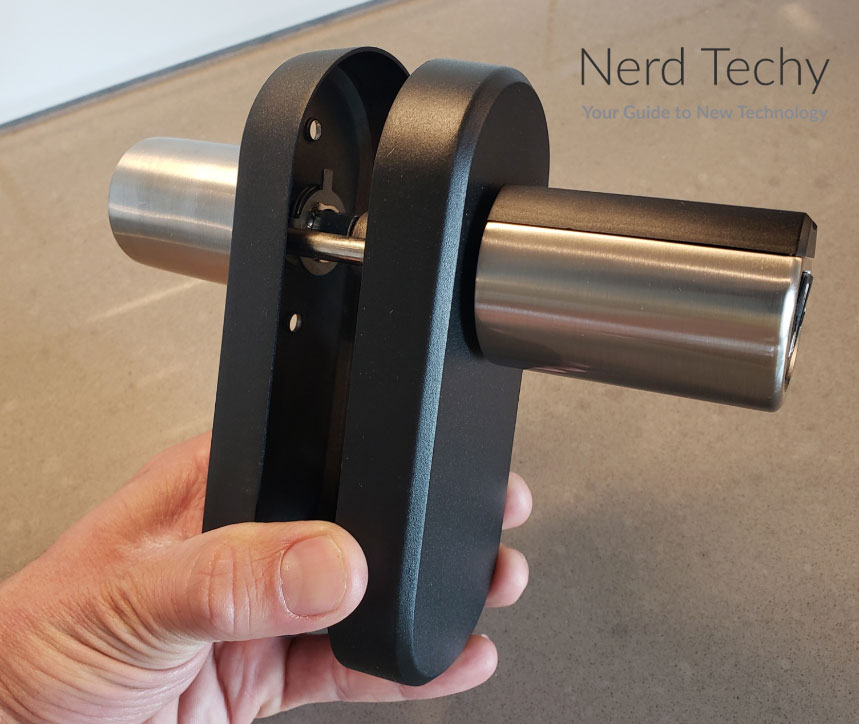 Lock Performance
Once the WELOCK is set up, you'll have to program it. While there are a few opening methods, it's primarily designed as a thumbprint lock. Once it's set up, all you'll have to do is press down your thumb to open the door.
You can program up to 100 fingerprints, which is enough for a small business, much less your family. Even with that many fingerprints, the reader accuracy is 98%. Even when it doesn't register the first time, a second attempt will open up the lock.
Three fingerprints at a time can be granted administrative function, which lets you program additional prints. The admin function is also required for setting up the app or programming RFID cards.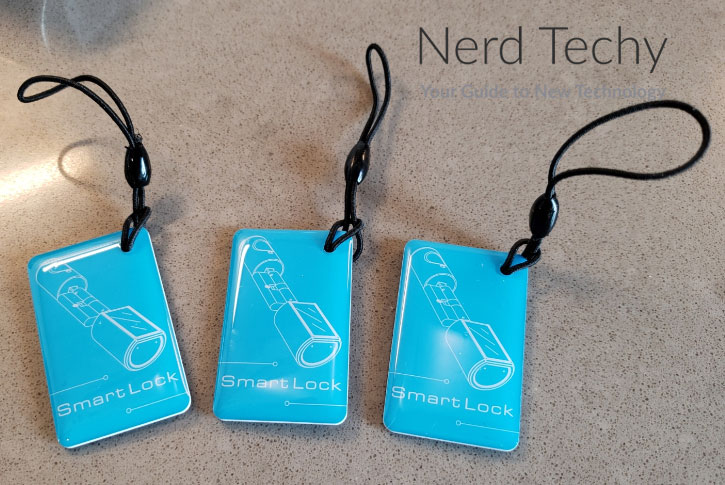 Speaking of RFID cards, you can program up to 20 of them. The kit comes with three of them already programmed, and they're easy to use. Just pass them over the sensor element and your deadbolt will open. Cards are convenient for giving temporary access to contractors and other individuals. It's a lot like lending out a key, except it's way harder to copy.
If you want even more control over your lock, you can buy the Wifibox and install the WELOCK Lite app. With the app, you can open and close your door remotely from anywhere in the world. As long as you have internet access, you're good to go.
This can come in handy when you unexpectedly need to let someone in. For example, maybe you were supposed to be meeting a friend but got caught in traffic on the way home. You can still let them in remotely, so they won't have to wait outside.
Using the app, you can also set up voice commands. Set up Siri or Google Assistant to work with your lock, and you can open and close it hands-free. If you're elbow-deep in food in the kitchen and someone comes to the door, you can still let them in.
Use code "GET20" for a steep discount when you order the WELOCK Fingerprint Door Lock on the official website.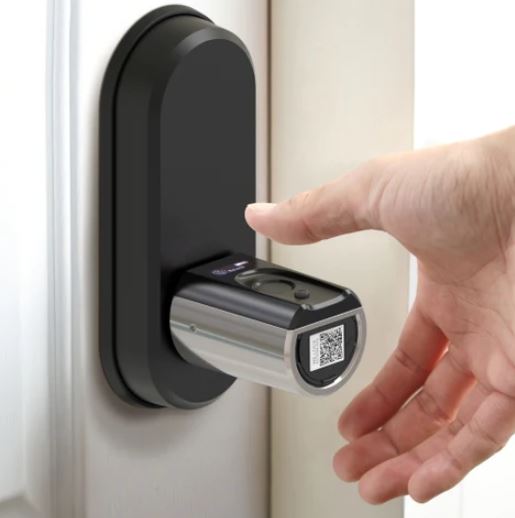 Connectivity and Batteries
As we already discussed, you need the Wifibox to connect to the app. Provided you've done that, you'll be able to do more than just unlock your door remotely. You'll also be able to view a log of your locking and unlocking records. That way, you can see when your door has been opened and identify any suspicious incidents.
If you want easier connectivity, consider the Lockly Duo. It doesn't require any extra gear to get online, so the app is very straightforward to set up. In addition, it sports a PIN pad with randomized buttons, so no-one can peep on your PIN number. On the other hand, it's awkwardly-designed for left-handers.
The WELOCK takes a set of three AAA batteries. There are none included in the package, but they're cheap and easy to install. A single set of batteries is rated to last for a full year, assuming 10 open and close cycles per day. This can go down if you're using the WiFi connection, but it's more or less accurate.
Even if your batteries do run dry, it's not that big a deal. The front cover with the QR code flips down to reveal a little USB port. If your battery is dead, you can plug a portable power bank into this port to provide temporary power. That way, you can at least get your door open and get back into your house.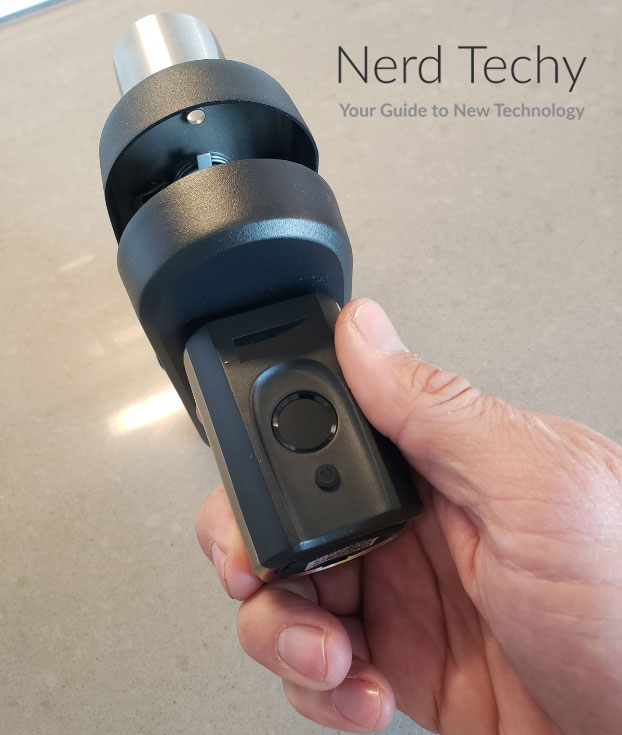 Extra Features
The WELOCK is designed with an automatic locking mechanism. After being unlocked for several seconds, it will re-lock by itself. This won't help you if you've accidentally left the door ajar. But if you simply forgot to lock it, you'll be covered.
In addition, there's a little battery meter in front of the thumbprint reader. Whenever you use the lock, the small LCD display will light up and you can see the battery level. This makes it tough to forget to change your batteries.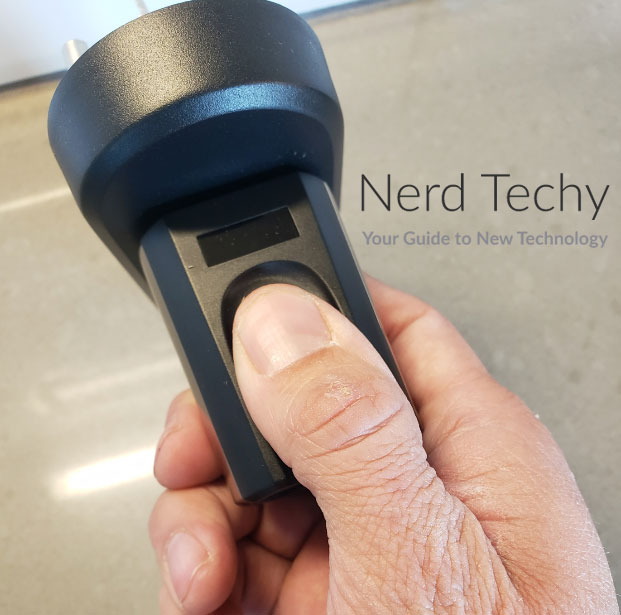 Not only that, but you'll get an audible reminder when the charge drops below 20%. As a result, it's virtually impossible to forget to change your batteries. This is very fortunate, since there's no manual keyed backup if there's no power.
For something even more outside the run of the mill, take a look at the Lockly Vision Elite. It's not just a lock. It's also a solar-powered doorbell with a built-in camera. Unfortunately, it doesn't work well in shaded areas.
Final Verdict
The WELOCK Smart Lock is a well-designed automatic lock. It's very durable, with an IP65 weather-resistance rating and a sturdy locking mechanism.
And while the physical design is a big unorthodox, we're not complaining. If you want a truly distinctive lock, it would be tough to find something with a more unique look. Installation is straightforward, and only requires a screwdriver on most doors.
Using the lock is as easy as it gets. Since you can program up to 100 fingerprints, there's no issue giving access to large groups of people. If you want an alternative method of opening, you'll have it.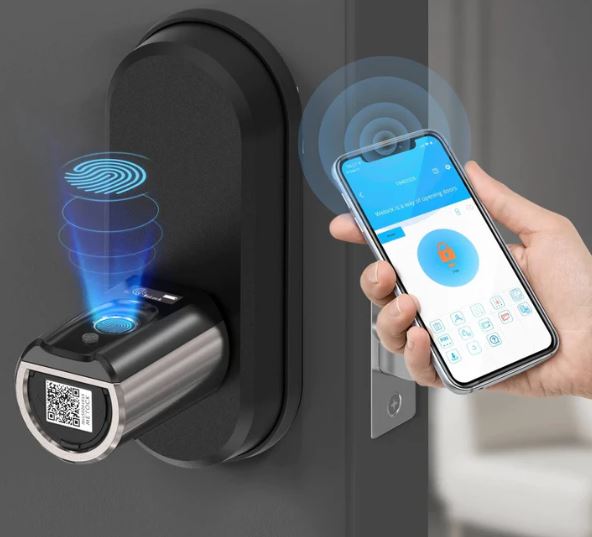 Use code "GET20" for a steep discount when you order the WELOCK Fingerprint Door Lock on the official website.
The RFID tags work very well, and you can program up to a total of 20 if needed. The app and voice controls are also easy to use. We would have appreciated native WiFi capability instead of needing to order the access point. But all in all, it works pretty well.
The battery life is very good, with a year of use on a set of AAAs. Changing them is easy, and you have the power bank bypass in case of an emergency. We also appreciated the automatic locking feature. And the low battery alert was a great added touch.