Lockly Vision Elite
Pros
Multiple locking and unlocking methods.
Built-in doorbell and camera.
Solar-powered design.
Easy to set up and install.
App interface is well thought out.
Cons
Not ideal for use in shaded locations.
Expensive.
Only available in one color scheme.
These days, you have all kinds of technology to keep your home safe. We have smart cameras to keep an eye out when we're not home. We have smart doorbells that alert us if we have a visitor.
There's a good chance you've already invested in something like this. But what about your door's deadbolt? If someone is determined to get in, it's your last line of defense. If you're like a lot of people, you're probably using the same lock technology as your grandparents.
In fact, modern tumbler locks have been around for centuries. There's nothing new or fancy about the design. The main difference with modern mechanical locks isn't their mechanism but the price.
Before the industrial revolution and mass production locks had to be made by hand. All of those little parts had to be machined by a master craftsman, and it cost a small fortune. In those days, a good lock could cost as much as an expensive watch. Today's locks are mass-produced, which is why we take it for granted that everyone has one.
But keys are inherently inconvenient. A key is something extra you have to carry, and you need a hand free to use it. Giving a key to a contractor is also risky. A worker might copy the key and come back later to steal your things.
Biometric and PIN pad locks are a more secure choice. You can add and remove codes or fingerprints at will, so you always have control of who's coming and going. You'll also have a much more convenient way to open your front door.
Lockly Vision Elite
In this guide, we'll be reviewing the Lockly Vision Elite. This is an upgraded version of Lockly's original Vision smart lock. It sports a PIN pad and a biometric reader, along with a mechanical keyed backup. It's also solar-powered, and sports a built-in camera. And with the smartphone app, you can monitor and control it from anywhere there's internet access.
But what else does it have to offer? Is it well put-together, and how easy is it to install? How does the PIN pad work, and how many fingerprints do you store? We'll have to look at all of these factors, as well as the camera and controls. After that, we'll have a better idea of what we're dealing with. Let's dig in, and see what we find!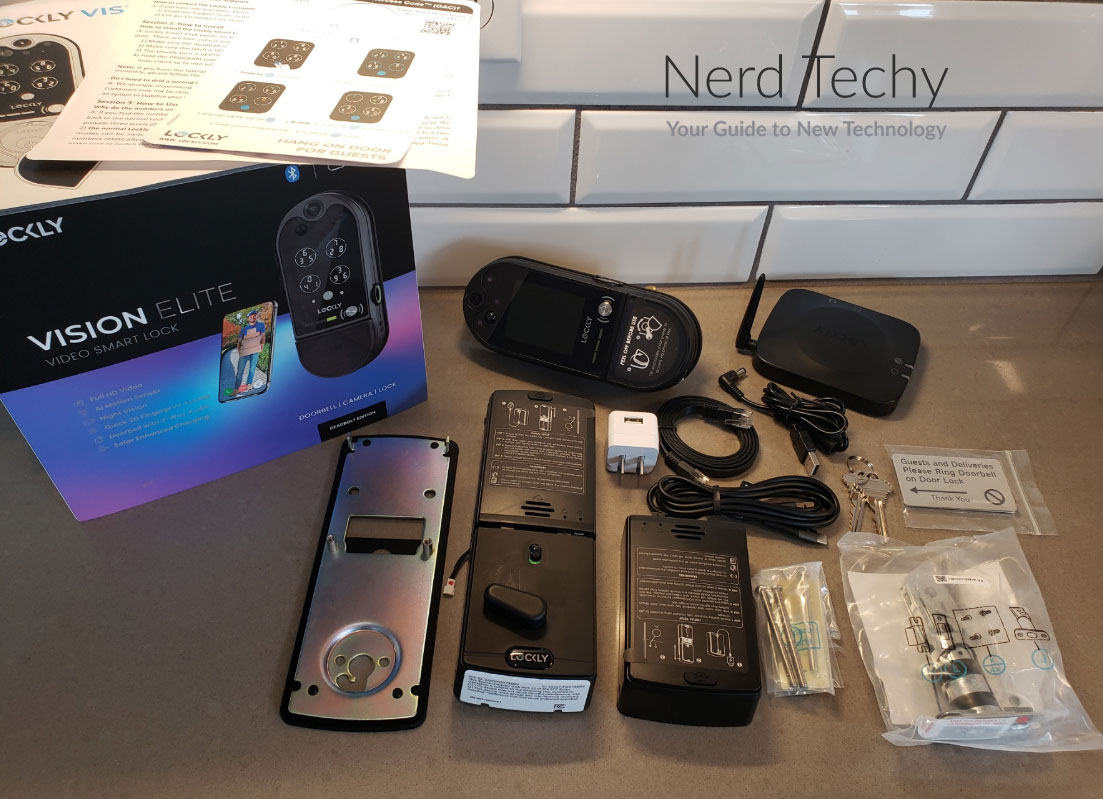 Lock Design
The Lockly Vision Elite is manufactured from a black zinc alloy. This material is impervious to corrosion, and can take a serious beating. It also has an attractive satin finish that's easy on the eyes. Like moth locks, it consists of an inner bolt mechanism, along with an inner and outer plate. Both plates mount securely on metal brackets, and the inner deadbolt itself is very hard indeed.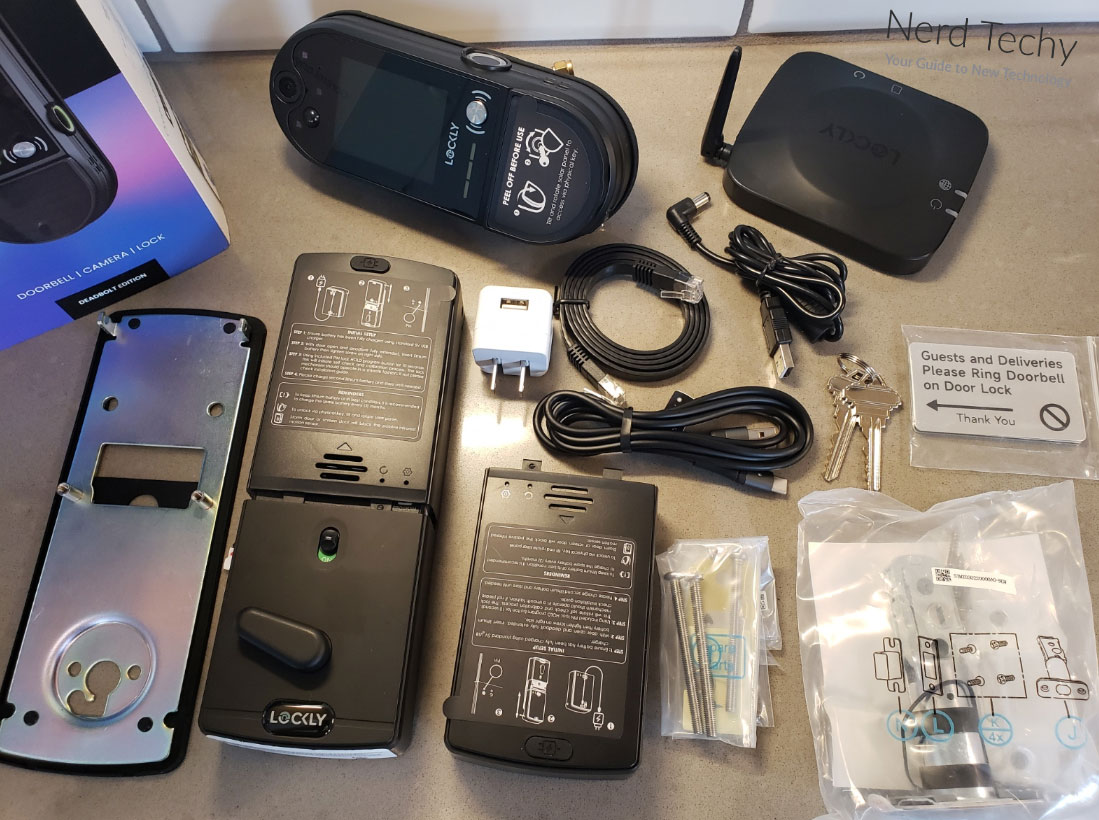 The outer plate has an oval profile, and is surprisingly large. The total size is 7.16 inches high, 2.98 inches wide, and 1.46 inches thick. In the middle is a 4-button keypad, with three LED numbers on each button. The numbers are randomized, which we'll discuss more in a couple minutes.
Beneath the keypad is a three-bar battery meter, with a large silver doorbell button at its right. There's a fingerprint reader on the side of the housing, with a little round frame around it. At the top of the oval is a camera lens, with the motion detector visible below and to the left.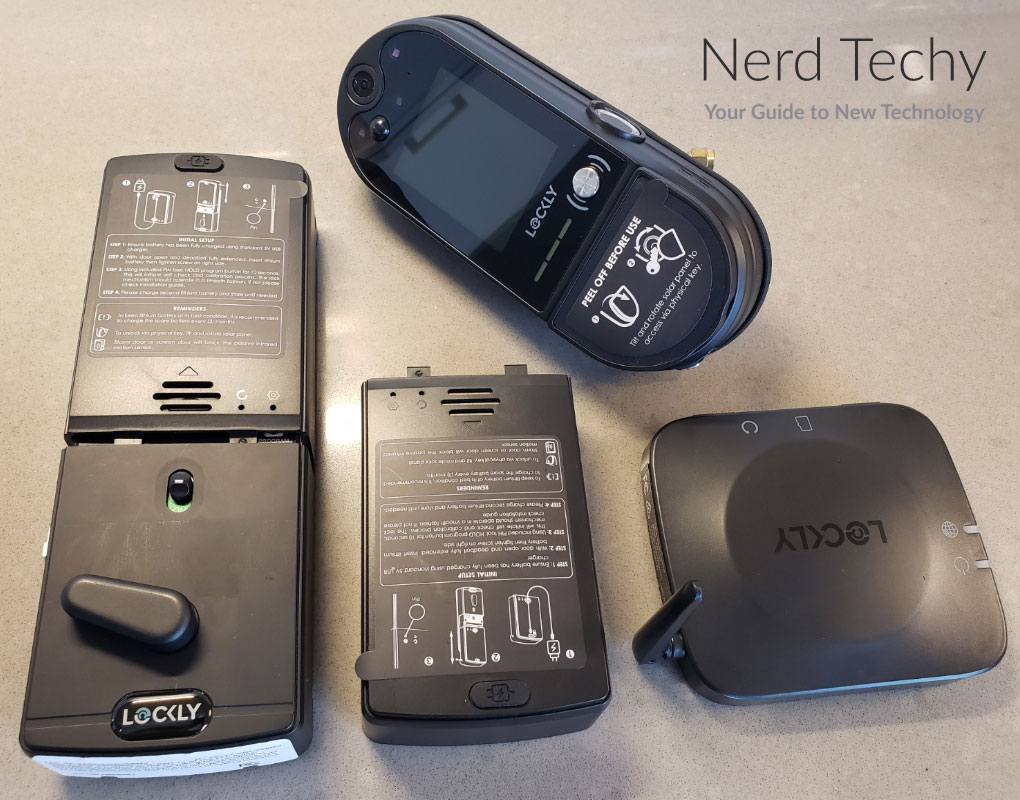 By contrast, the inner plate is rectangular, as well as a bit larger. It measures 8.1 inches tall, 3 inches wide, and 1.86 inches thick. The top portion consists of a battery compartment, and the battery can be removed for charging. Underneath is a simple manual door latch, for bolting and unbolting your lock.
If you like the design but want something a little different, consider the original Lockly Vision. It's an earlier model, but it's similar in many respects, including the locking and unlocking methods. It comes in satin nickel as well as black, and the nickel version looks pretty sharp. That said, the installation process is complex, and it requires AA batteries, which need to be changed.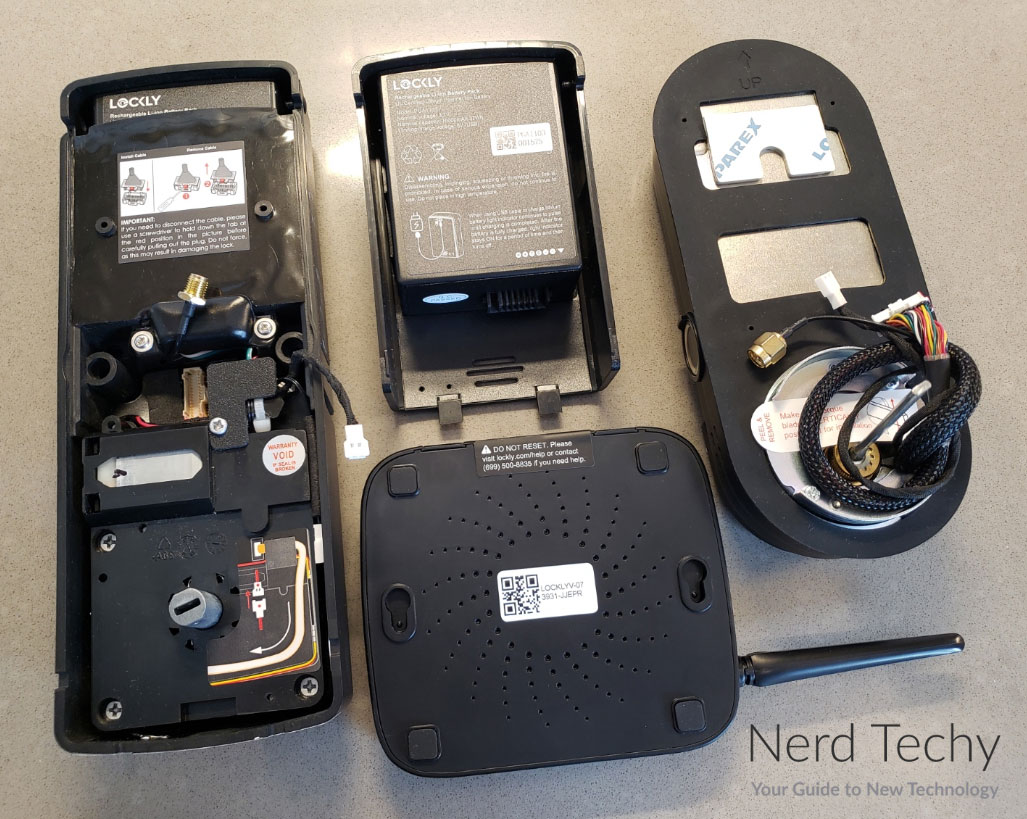 Installation
This is what's called a retrofit install lock. It's meant to go into a pre-drilled door and replace your existing lock. The installation is pretty straightforward. After installing the bolt mechanism, you mount the inner and outer metal brackets. Then, you attach the inside and outside plates. Finally, you have to calibrate the lock. This is done via the smartphone app, and the app will walk you through the process.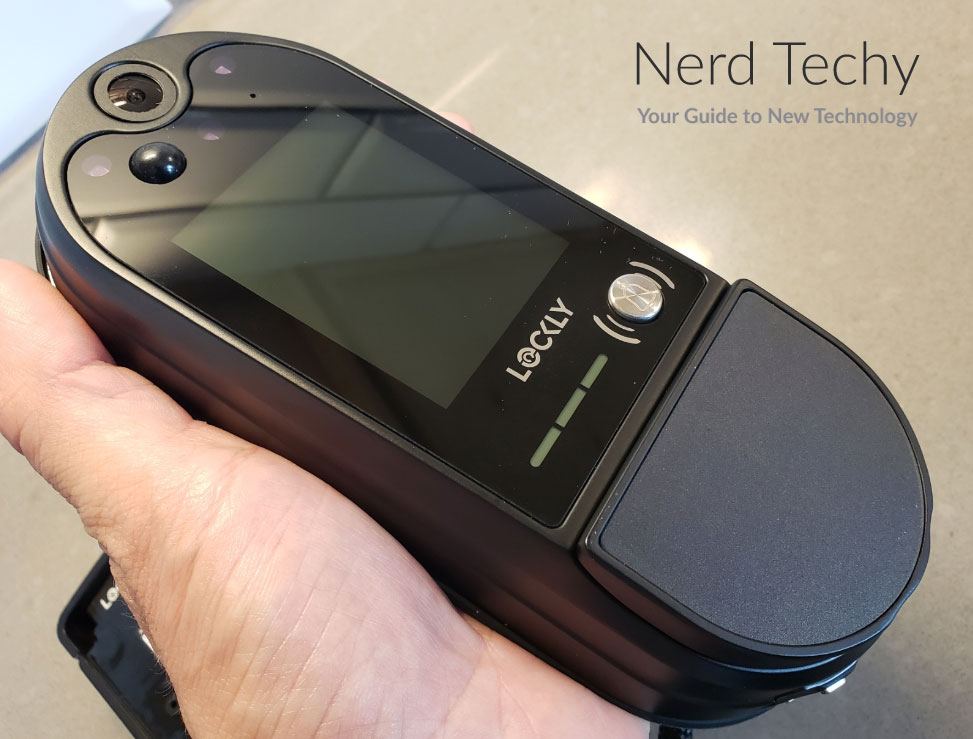 The battery pack is rechargeable, and gets its power from a solar panel on the bottom of the front plate. In a sunny area, you don't have to worry about keeping a full charge. However, if your front door is shaded, you may have trouble maintaining a charge. Thankfully, the battery can be removed and recharged via Micro USB if need be. It comes with little to no charge, so we recommend doing this before you install the lock.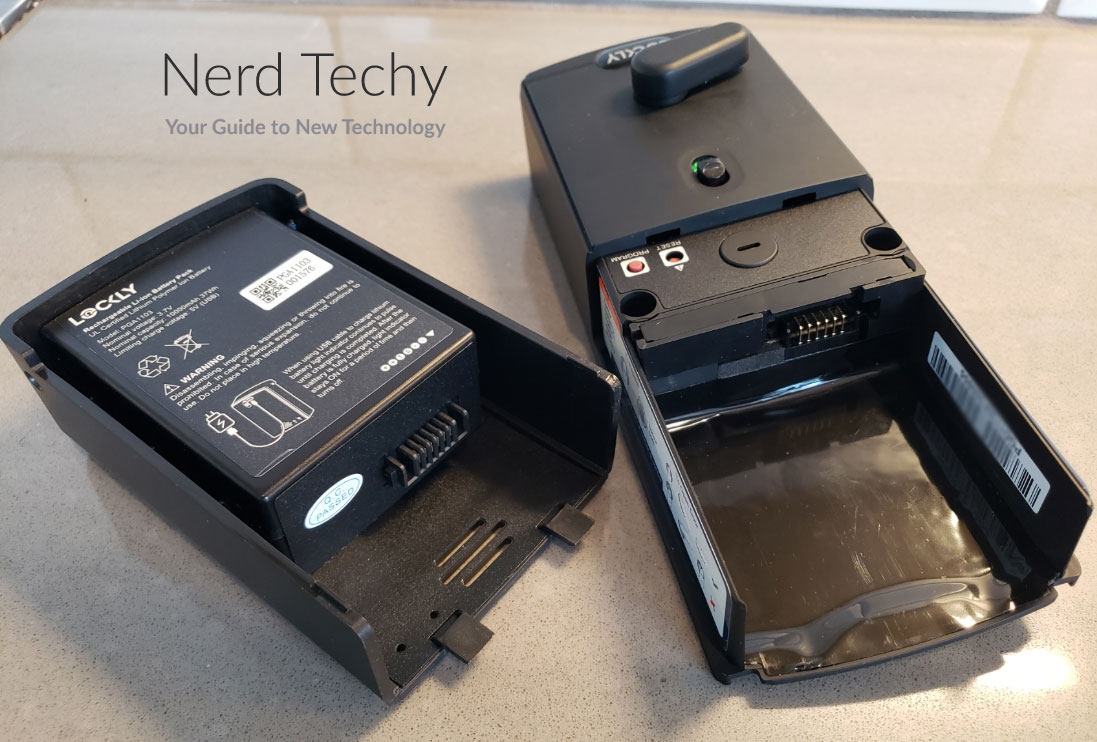 If you're outside and out of juice, you're not out of luck. There's a 9-volt battery terminal on the bottom of the housing, where you can manually attach a battery. This will let you use the PIN pad or thumbprint reader to get back inside. You can also slide the solar panel down to reveal a discreet keyhole. The kit includes a pair of manual keys, so you can get in even if the electronics have failed.
If you want something entirely different, check out the Lockly Duo. It has a more pared down design with no PIN pad, but it still has a built-in fingerprint reader. The main attraction is the large interior handle, which makes it very easy to open.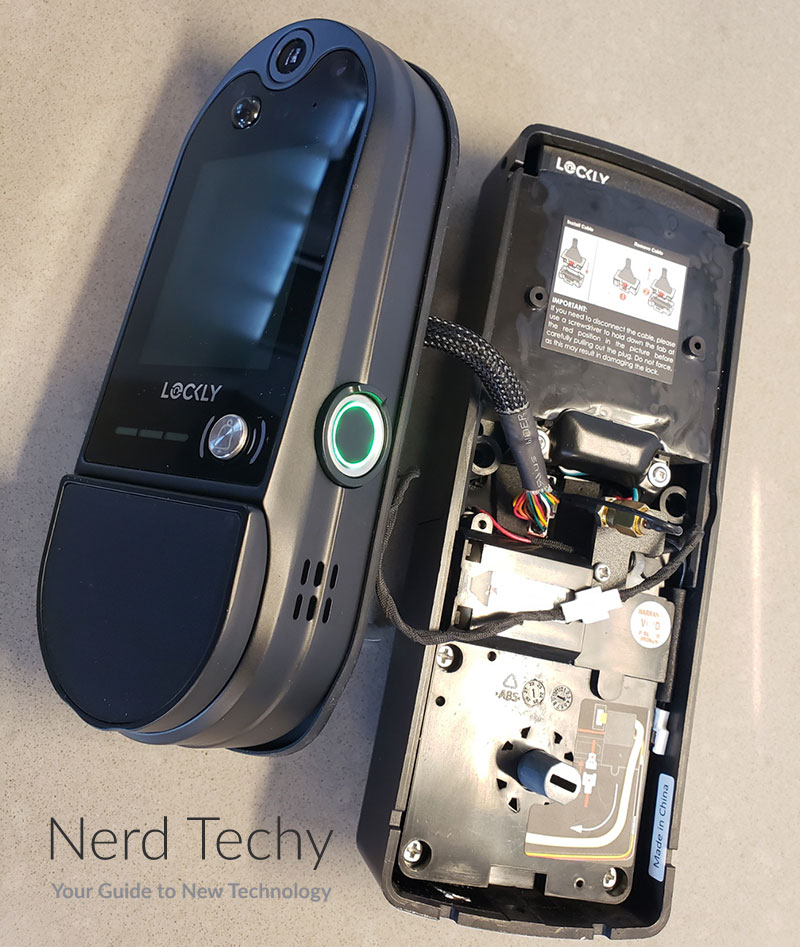 Lock Performance
So, how do you use the Lockly Vision Elite? To begin with, you can use the fingerprint reader. The reader can be programmed for up to 99 fingerprints at a time, so the lock is even suitable for businesses. The right-side positioning is a bit troublesome if you're left-handed, but that's a minor complaint.
The other main option is to use the PIN pad. As we said at the outset, the buttons are randomized. You have four buttons, with three numbers on each. This means that two numbers will be repeated. Each time the keypad loads it will be different, which makes it virtually un-hackable. Even if someone is watching over your shoulder, it won't matter. The keys will be in a different order every time.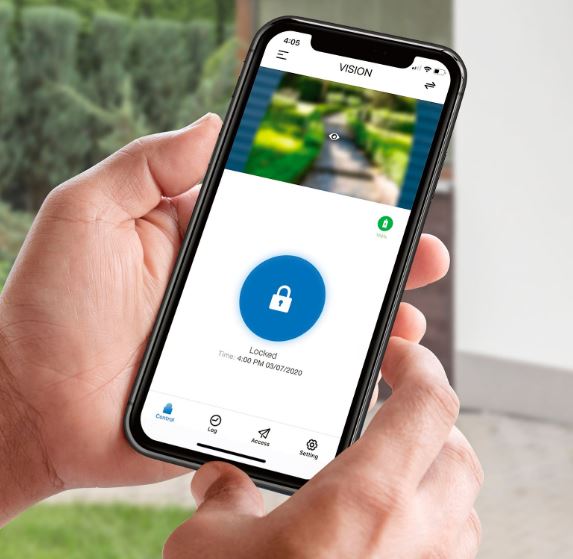 In addition to this, you can use the smartphone app to generate one-time access codes. You can send these to friends if you need to let them in on a particular occasion. That way, they won't have to download the app, and they don't have to be present to scan a fingerprint.
Finally, you can lock and unlock your door using voice controls. With Google Assistant, you can even check on your door's status remotely. You don't have to worry about whether or not you locked the door.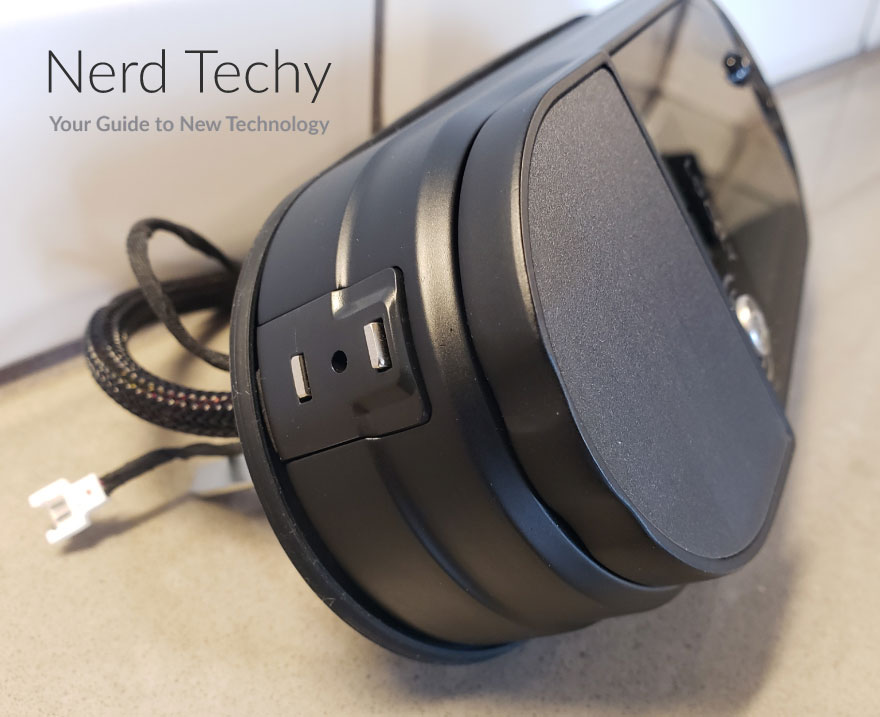 Connectivity
Connecting the Lockly Vision Elite is a bit different than many smart home devices. The lock itself only connects via Bluetooth, and has no WiFi connectivity. So, how do you connect it to the internet?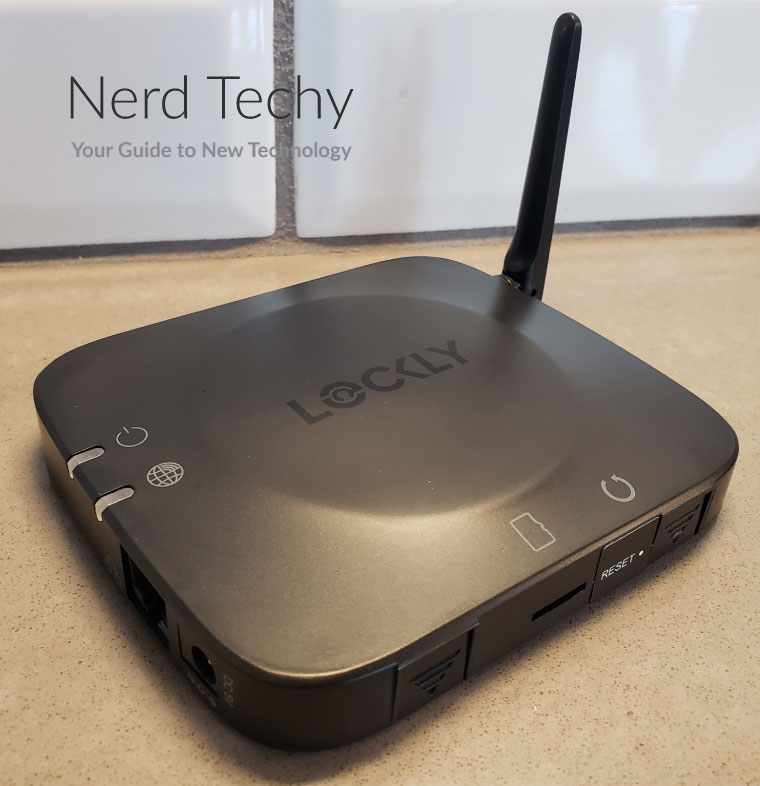 The kit includes a little wireless hub. It's a small black device with a single antenna, and you connect it to your router via Ethernet. This hub acts as a bridge between your door lock and the router. Since you're not using a standard WiFi signal, the connection is far more hack-resistant. Meanwhile, the Vision Elite can still connect to the web.
You'll actually want to do this right away. Remember, you need to use the app for setup. With the app, you can also view your lock's status and access history. You can also take advantage of some bonus features, which we'll discuss in the next section.
If you don't want to replace your existing deadbolt, there are other options. The SwitchBot Lock and Keypad is an excellent example. It's a little device that mounts over your interior latch, with a little motor to turn it. You can then use a companion smartphone app to operate your lock. You can also integrate the lock with IFTT commands and other SwitchBot products.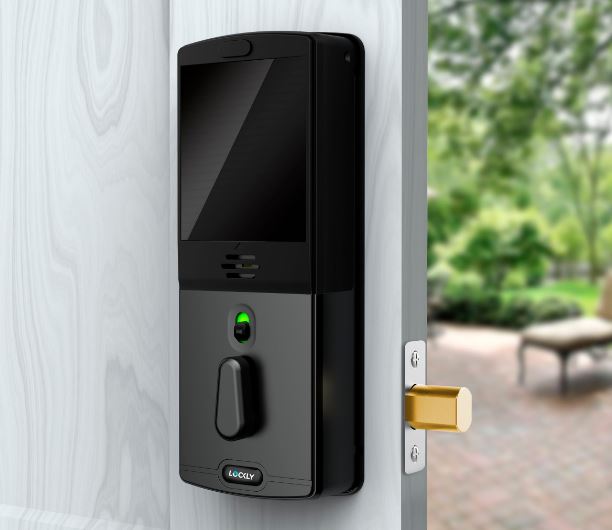 Extra Features
In addition to its function as a lock, the Vision Elite has a couple of extra tricks up its sleeve. First off, it has a built-in HD video camera. You can view 1080p video live in real time, from anywhere in the world. Keep in mind that the orientation is vertical, not horizontal; it's designed to be viewed on a smartphone screen.
A built-in motion sensor will detect movement and send push alerts to your phone. You can also insert an SD card and automatically record your videos. Visibility is excellent by day, but the video also looks great at night. The infrared night vision has a range of 15 feet. And while the footage is black and white, all the details are crisp and clear.
In addition to that, there's a doorbell function. When someone rings the bell, it sends an alert to your smartphone. If you click on the alert, you can take advantage of two-way audio to greet your guests. If you've got a package, you can tell the delivery person where to drop it off.
With the optional auto-lock feature, you can set the lock to close behind you when you leave. You can also set the door to welcome mode. This will keep the deadbolt unlocked for a pre-determined period of time. It's great if you're having a party and don't want your guests to get locked out.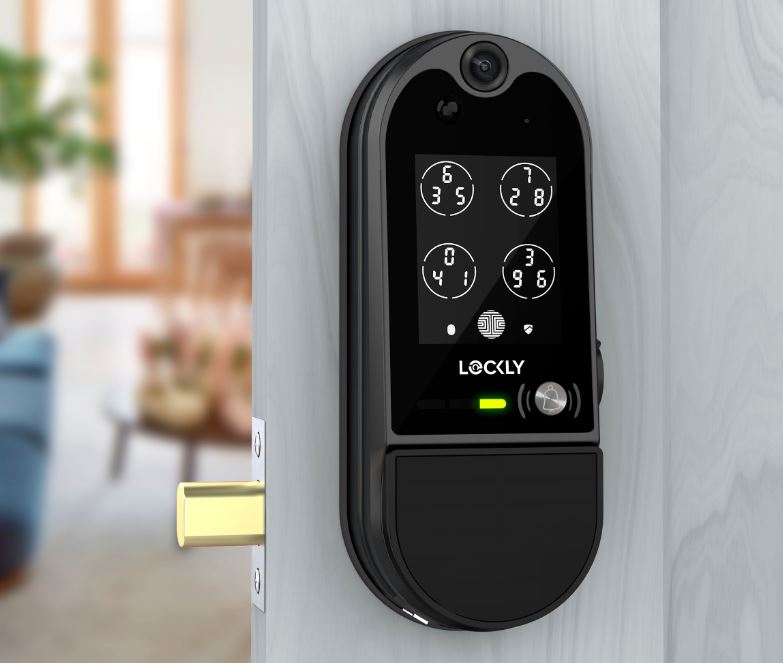 Final Verdict
The Lockly Vision Elite lives up to its name; it's one of the best smart locks out there. Unless your door is heavily shaded, you won't have to worry about battery life. With multiple opening modes, it's always easy to get into your house. It also has a secure wireless connection, and a built-in camera and doorbell. If you want a top-of-the-line lock, it's an excellent choice.
Meet Derek, "TechGuru," a 34-year-old technology enthusiast with a deep passion for tech innovations. With extensive experience, he specializes in gaming hardware and software, and has expertise in gadgets, custom PCs, and audio.
Besides writing about tech and reviewing new products, Derek enjoys traveling, hiking, and photography. Committed to keeping up with the latest industry trends, he aims to guide readers in making informed tech decisions.