In the world of technology, there's an unspoken hierarchy. At the top are the devices everyone is excited about. The latest smartphones, for example, get a ton of attention. And walk into any store with an electronics department, and the game consoles will be front and center.
It's easy to see why these types of products get the most attention. They're the tools we use for communication and entertainment. We look forward to using them, so it's only natural that they'd be exciting.
Note: At no extra cost to you, we may earn a commission for purchases using our links. Learn more.
Somewhere further down in the hierarchy are the tools we use for cleaning and maintenance. A robot vacuum just doesn't have the panache of a brand new smartphone. But there are good reasons to be excited about a high-quality robot vacuum.
A robot vac cuts down on the time you have to spend doing chores. Instead of spending your time vacuuming your house, you can spend it doing anything else. Maybe you can even play some games on your new console.
If you haven't shopped for a robot vacuum recently, you'll probably be surprised at what is out there. Go back to the original Roomba, and the term "smart" doesn't apply. Those old-school robot vacuums just wandered randomly around your house.
They'd hit the same spot a hundred times and other areas not at all. They'd constantly get stuck, fall down stairs, or dumbly bang themselves into walls. Today's vacuums have far more capabilities, and can clean your floor like a real human being.
ILIFE V3s Max Robot Vacuum and Mop Combo
Today, we're going to review the ILIFE V3s Robot Vacuum and Mop Combo. This is a machine that – you guessed it – vacuums and mops your floor at the same time. It comes with a compact base station and a powerful battery. And by using the smartphone app, you can select from multiple operating modes.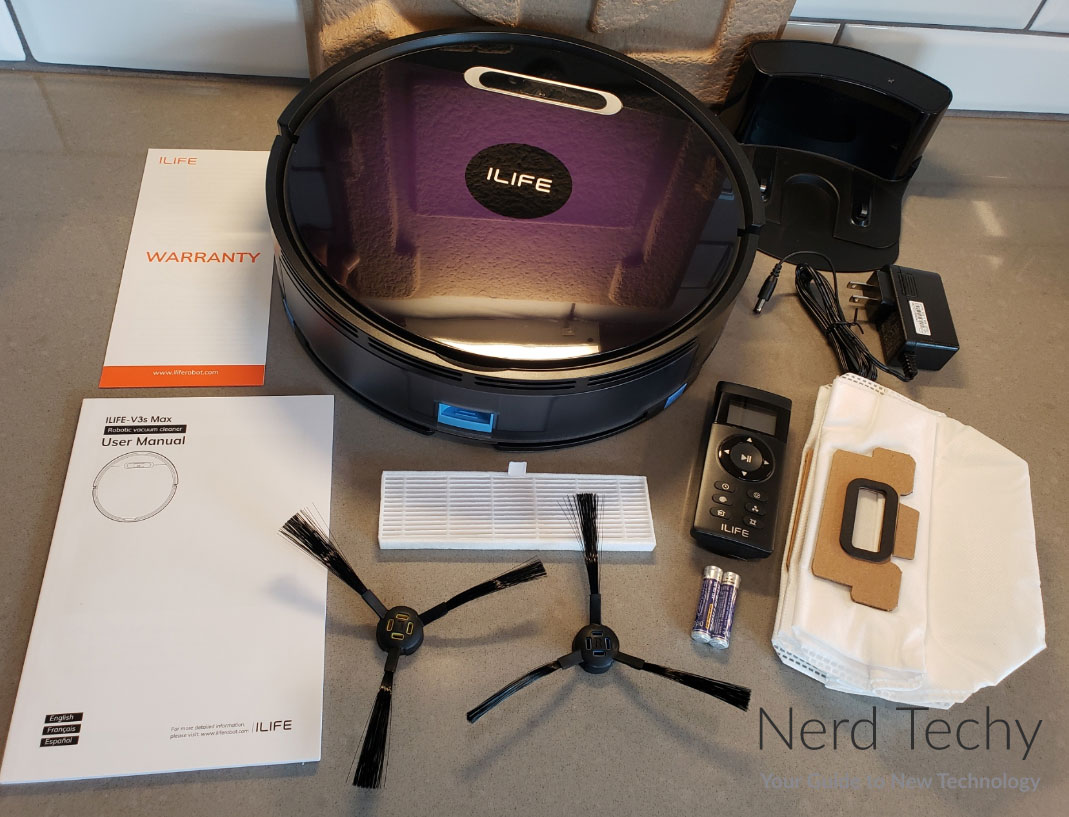 That said, there are many different factors that go into a good robotic vacuum. To find out if this one is worth your time and money, we'll have to take a much closer look.
To begin with, we'll have to talk about the physical design, and how the vacuum is constructed. We'll need to examine the drive system and the brushes, and see how good the suction is. We'll also have to evaluate the smartphone app and the various control options. Let's get started, and see what we learn!
Overall Design
The ILIFE V3s Max Robot Vacuum and Mop Combo is flat and round, much like most robot vacs. It has a diameter of 13 inches, with a thickness of only 2.99 inches. This makes it thin enough to fit under many pieces of furniture. You don't have to worry about it getting jammed under sofas and similar items.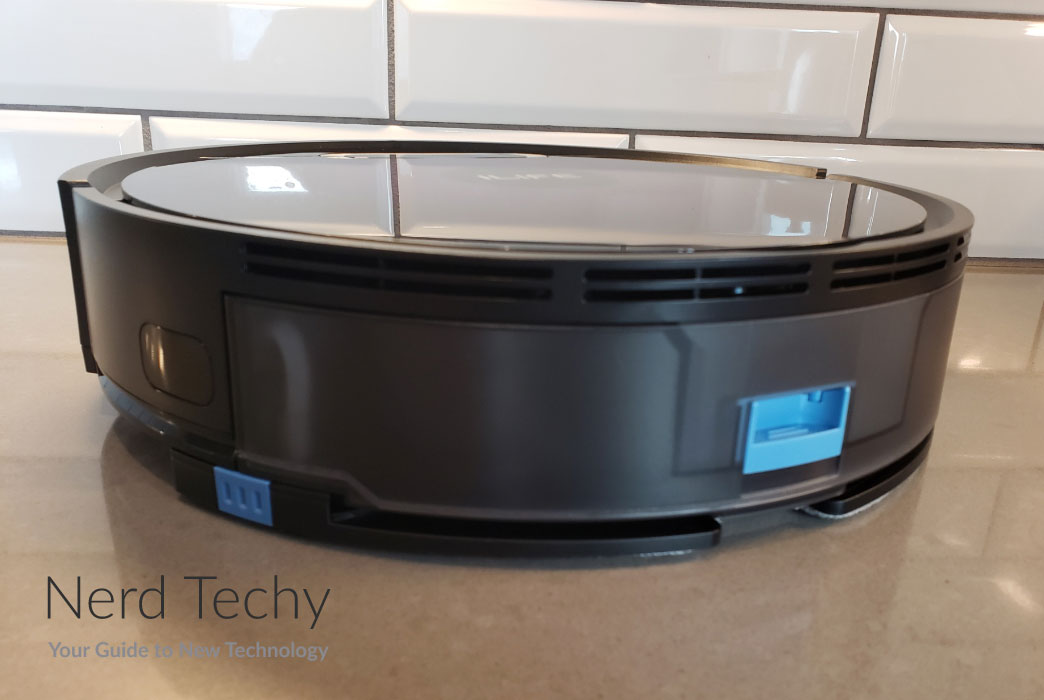 The housing is made mostly from black plastic, and it seems pretty durable. There's a narrow bumper on the outside, hearkening back to the earlier days of robot vacuums. It's not necessary to keep your vacuum from bumping into things. However, it provides a bit of protection if you accidentally kick it.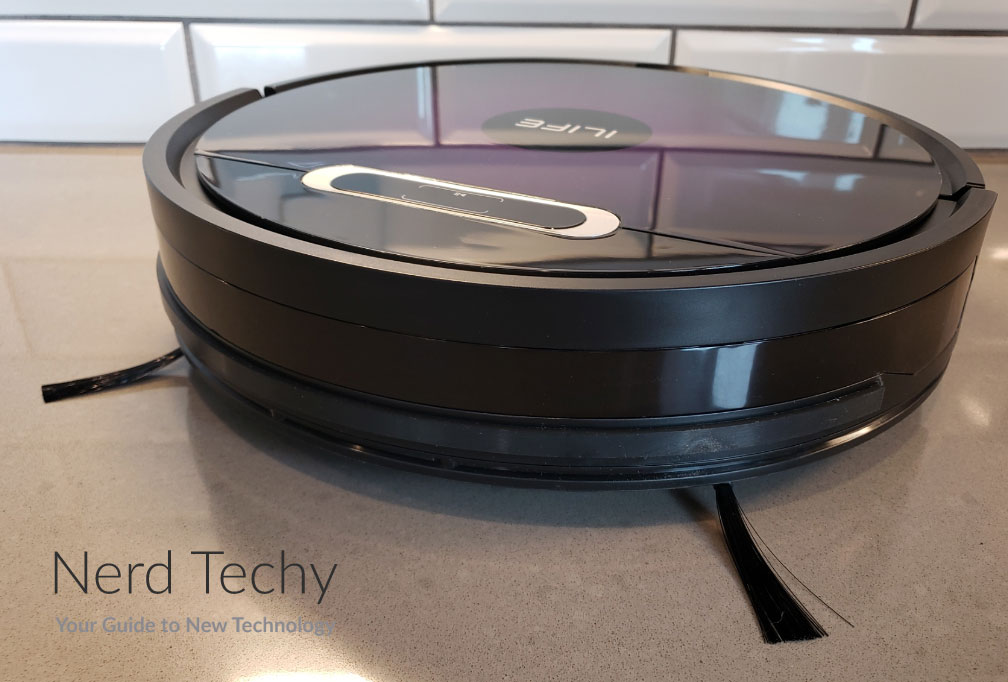 The top is decorated with a purple sunburst, which adds a nice aesthetic touch. Close to the front, there's a little black bar with some soft touch buttons. The play/pause button in the center can start or end a cleaning cycle. The WiFi button to the right is used for connecting to the web. All of the other controls are located in the app, which we'll discuss later in more detail.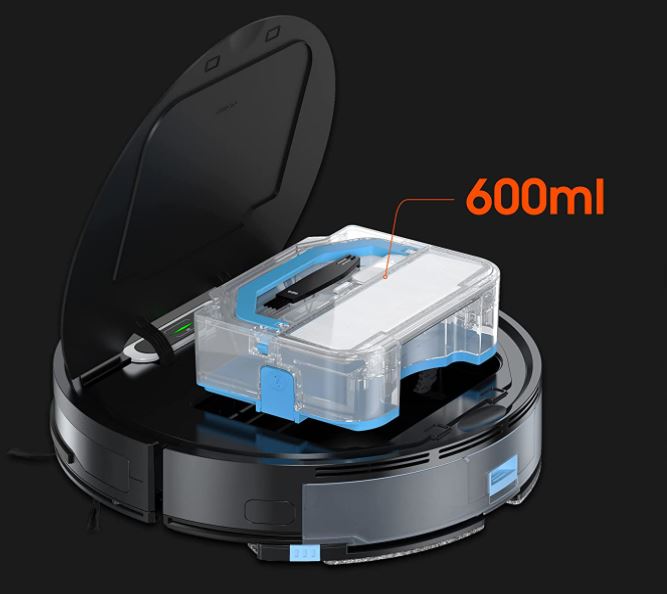 The top flips open to reveal the inner dust bin. The bin is large and made from clear plastic, and occupies much of the inside of the housing. Also inside the housing is the water reservoir. This sits closer to the back, with a transparent window in the rear of the housing. This allows you to easily track how much water is left in the tank.
The vacuum comes with a small black base station. It sits tight to your wall and plugs into any standard outlet. Your vacuum sits here when it's not in use, and it keeps the battery charged.
Drive and Brushes
On the bottom of the housing, a pair of big rubber wheels sit just behind the midline. These are the main drive wheels, and they do a good job of moving the unit around. They're capable of crossing transitions well, and can navigate most obstacles.
The front wheel, meanwhile, sits in its own little sub-housing. It's also motorized, which allows it to swivel in any direction. This is how the vacuum steers itself around and navigates your house.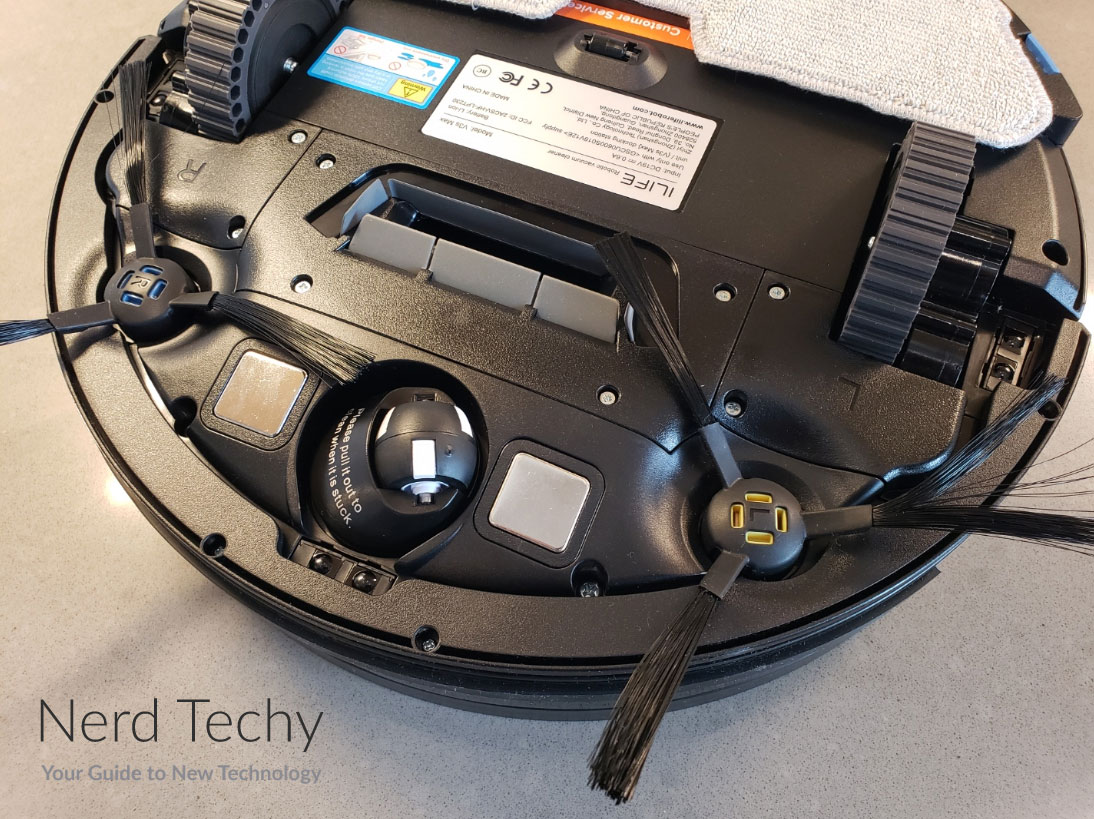 On most robot vacuums, you'd find a big roller brush in the center. The V3s Max, by comparison, has a brushless design. Instead of a big roller, there's a simple slot through which dirt and debris gets sucked. This is a great feature on solid floors, since there's no roller to get wrapped up with hair. On the downside, the lack of a roller means you can't dig down into deep pile carpets. The open slot also tends to get caught on cords and floor mats.
To the front and sides of the slot are a pair of horizontal brushes that sweep out to the sides. These draw debris in towards the center, expanding your total cleaning width. Once again, this is a feature that's great on solid floors, but less helpful on carpets.
In the back half of the housing is an area where you can attach a mopping pad. There's a set of microfiber pads included in the package, which are washable and reusable.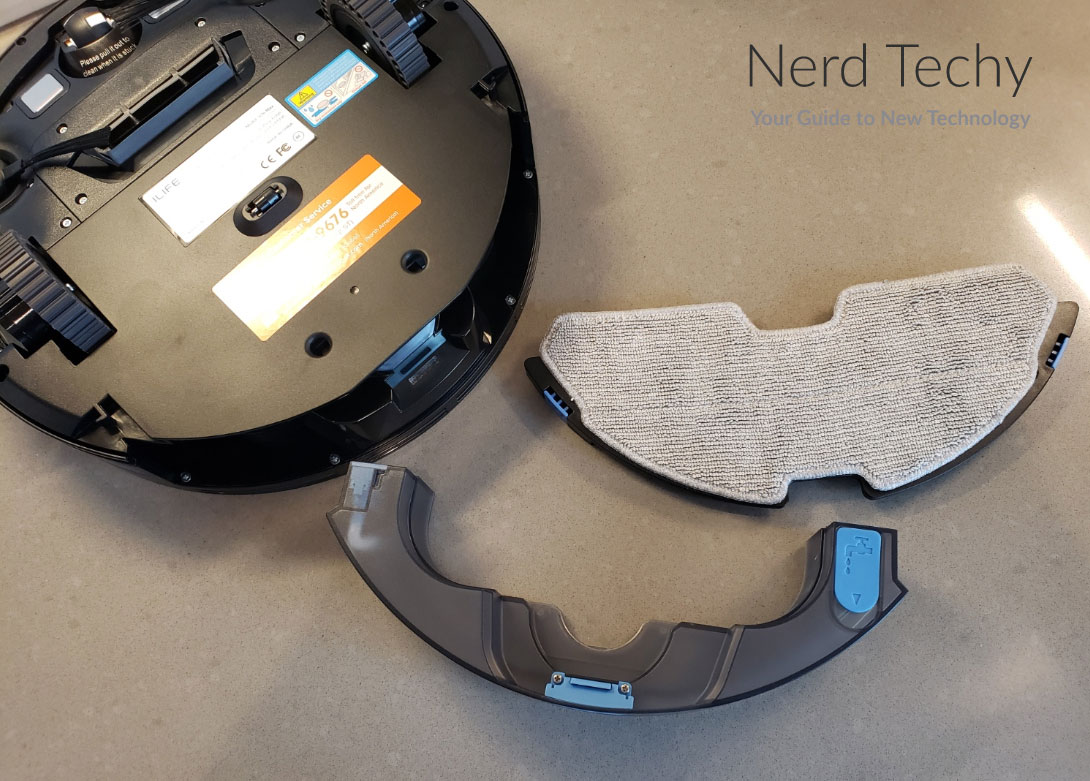 Cleaning Performance
The ILIFE V3s Max has a maximum suction power of 2,000 Pascals (Pa). However, it only uses full power when you're running the vacuum in spot cleaning mode. Otherwise, the suction is a more modest 1,500Pa. That's not terribly strong. The average robotic vacuum will reach a power level of around 2,700Pa. In other words, you won't get great performance on carpets, but it will perform reasonably well on solid floors.
The water tank has a capacity of 200ml, and it dampens the pad rather than soaking it. You won't be able to mop up serious messes, but that's not the point. Basic dirt, dust, and grime will clean up in a hurry. Unless you have a major spill or a truly filthy floor, this will be more than good enough.
If you need a robot vac with more suction, check out the Yeedi Vac Max. It's a powerful robotic vacuum and mop combo, with a maximum suction level of 3,000Pa. It has an efficient carpet roller, along with intelligent surface detection. On the downside, it struggles a bit when you try to cross transitions.
Battery and Charging
The vacuum's internal battery has enough power for around 90 minutes of operation. The exact performance will vary depending on your operating mode. In spot cleaning mode, for example, the motor is working harder. Therefore, it will drain your battery more quickly. If you're just lightly cleaning some solid floors, the battery will last a bit longer.
Either way, a dead battery isn't a big deal. The V3s Max will automatically return to its base when the battery gets low. Once it's recharged, it will automatically resume vacuuming. Besides which, 90 minutes is more than long enough to clean most floor plans.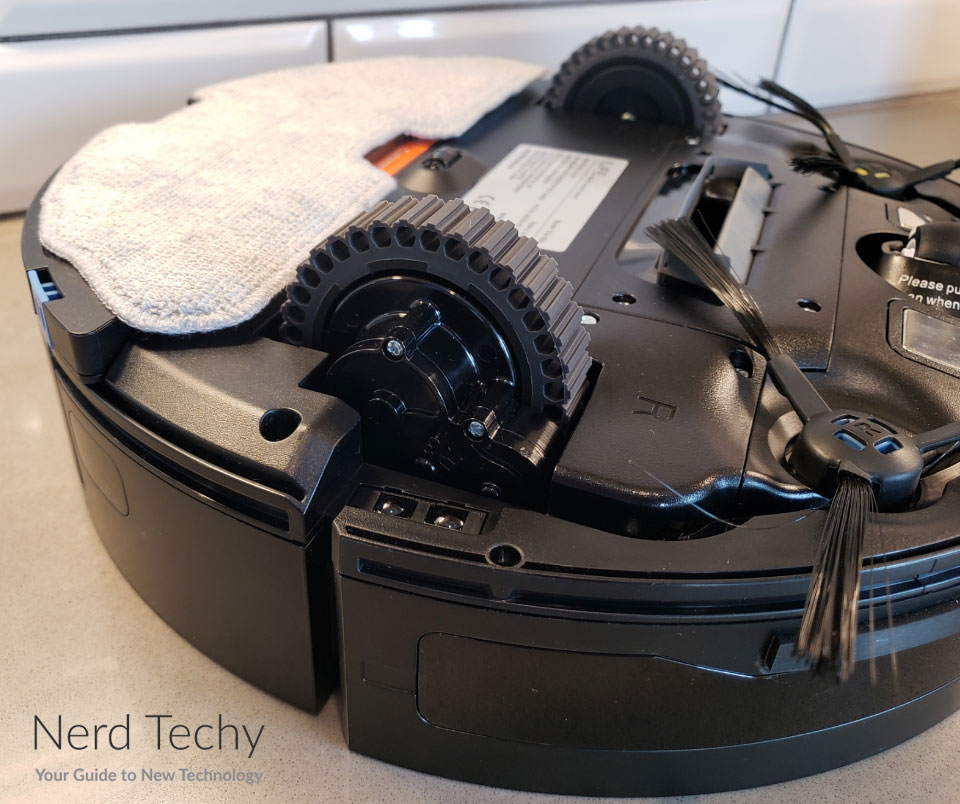 Setup and Maintenance
The V3s Max is designed to navigate your house efficiently. However, it first needs to map out your house. Fire it up the first time, and it roams around randomly. But as it does, it builds a map of your home. When you run future cleaning cycles, it will tend to work more efficiently. At least, it normally will. In some cases, it will get stuck in narrow spaces. For example, it might get trapped in the space between a bed and a wall.
Besides a dead battery, there's one other reason your vacuum might return to base: a full dust bin. The bin has a capacity of 600ml, which is enough for a few cleaning cycles. Clean it out at your convenience, and it shouldn't ever fill up under normal conditions. But when it does, it takes just a few minutes to empty.
But what if you want even less maintenance? In that case, the Dreametech D10 Plus is a solid choice. The base station has space inside for a large vacuum bag, where your dust hopper automatically empties. It also has more powerful suction and a longer-lasting battery, albeit at a higher price.
Everyday Use
With the smartphone app, you can do much more than just run a simple cleaning cycle. To begin with, you can choose from four different cleaning modes. You can set it to random cleaning, where it moves with no distinguishable pattern. In path cleaning mode, it will move in a normal zig-zag pattern. Edge cleaning will clean the outside of your room, while spot cleaning will focus on a small area.
Use the app and it will allow you to set a cleaning schedule or view your past cleaning history. You can also adjust the suction level, although we'd leave it at the maximum. You can even pair your vacuum with Amazon Alexa. That way, you can run a cleaning cycle or change your settings with a simple voice command.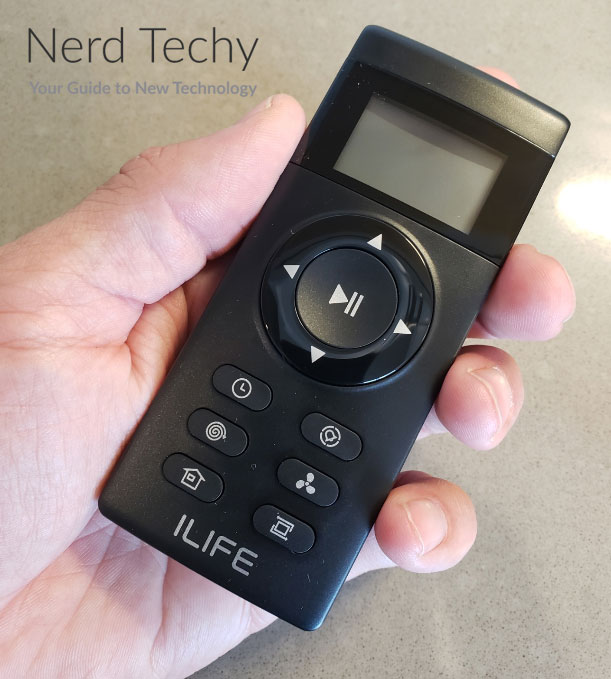 If you prefer a more-traditional way of controlling the V3s Max, ILIFE even includes a wireless remote. This small, handheld remote offers a no-hassle way to wirelessly control its functions around the house. It allows the most-basic controls which is simplicity that we like to see.
But what if you want a cleaner that puts more emphasis on the mopping function? If that's what you need, consider the ILIFE Shinebot. It's a dedicated mopping machine, with an 850ml clean water tank and a massive, 900ml dirty water tank. It offers top-tier mopping performance and a long-lasting battery, but there's no vacuuming function.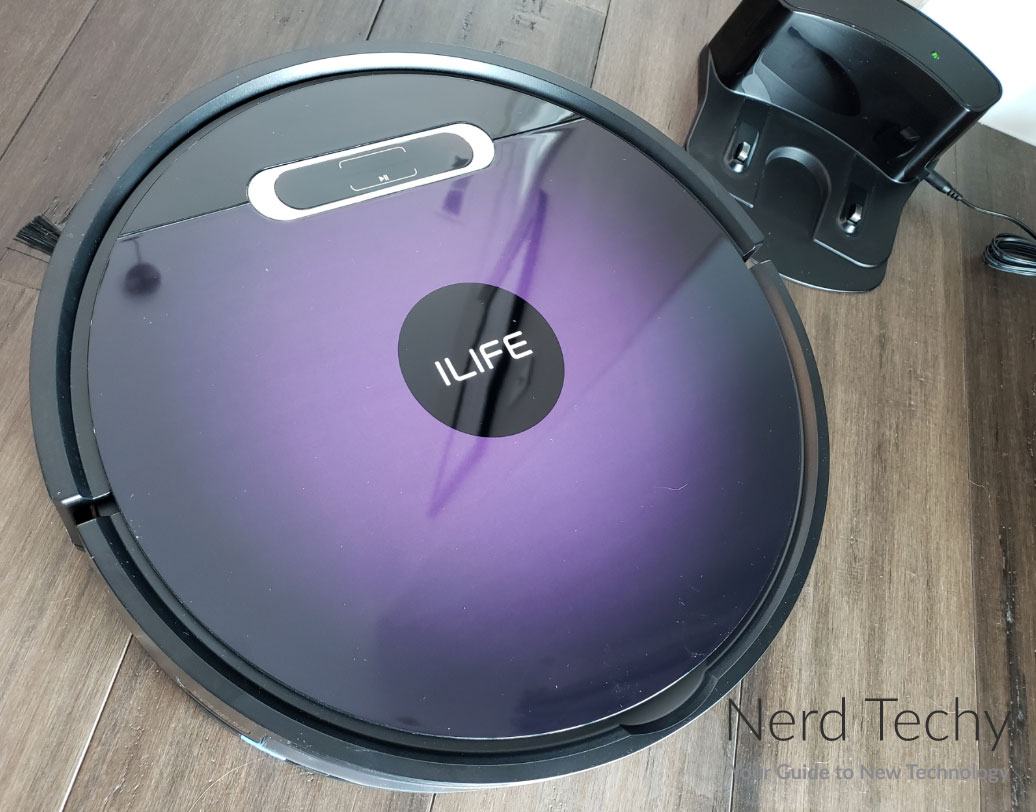 Final Verdict
The ILIFE V3s Max Robot Vacuum and Mop Combo is a well-designed floor cleaning machine. We would have liked to see more suction, but it's still great for cleaning solid floors. We also liked the clog-free design, and the app is easy to use. Unless you need to clean a lot of carpets, you'll be pleased.
Please consider sharing:
Note: At no extra cost to you, we may earn a commission for purchases using our links. Learn more.