SwitchBot Lock
Design & aesthetics
8.0/10
Connectivity & extras
8.5/10
Pros
Tool-free installation.
You can still use your existing key.
Multiple ways to open your door.
Compatible with other SwitchBot devices.
Cons
Some features require additional purchases.
Adhesive mount could accidentally get knocked loose.
When it comes to your home's safety, you really can't be too careful. There's a good reason people invest money in security systems and cameras. They work! But for some reason, most of us are using the same kinds of deadbolts our grandparents were using. You'd think we'd have come up with a better option.
For deadbolts in particular, the problem isn't the locking mechanism itself. A well-engineered deadbolt is very difficult to pick. Meanwhile, today's bolts are made from ultra-hard metals like zinc alloy. You're not going to defeat one with a hacksaw. The main problem with deadbolts is the key itself.
Let's say you have a contractor, and you give the contractor a copy of your key. Unbeknownst to you or the contractor, one of their workers makes their own copy. A month later, you come home to find that your house has been robbed. The fact is, a physical key is simply too easy to copy. That's why smart locks have been growing in popularity.
A smart lock gives you alternative ways to open your deadbolt. Most will still have a physical key, if only as a backup option. But depending on the lock, you'll have different opening methods. Some use an app. Others use thumbprints. Others use keypads. Sometimes, you'll have a combination of several methods.
With a smart lock, you can give people temporary access to your house. When they no longer need access, you can revoke that access. An app-based lock also makes it easier to get into your house. Suppose you're bringing in groceries. Instead of setting them down to open your door, you can unlock your door remotely, then pick up your bags.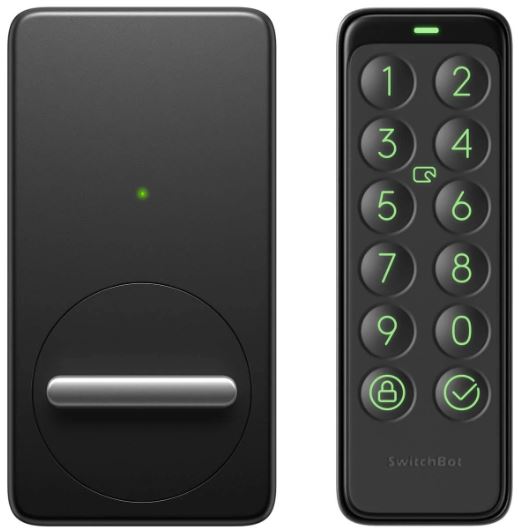 The SwitchBot Lock
We're about to review the SwitchBot Lock. This is an aftermarket, app-controlled door opener that mounts inside your front door. It operates your existing deadbolt, and you control it via an app. With optional add-ons, you can also operate it with a biometric reader, keypad, or even voice controls.
To find out how well this lock really performs, we'll have to take a close look at all of its features. We'll need to start with the physical design and how it installs. We'll talk about the various opening options, and how they function. Before we wrap up, we'll also discuss some nifty extra features. At that point, we'll have enough information to deliver a fair verdict. Let's get started!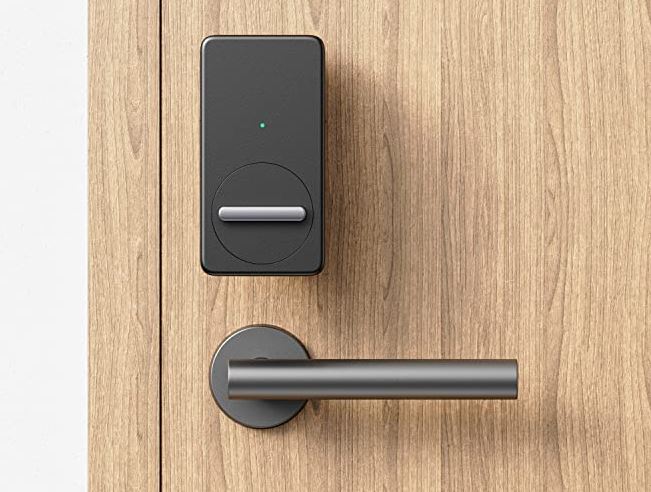 Lock Design
The SwitchBot Lock is a roughly rectangular block, constructed from a black polycarbonate and ABS plastic. It's 4.39 inches tall, 2.32 inches wide, and 2.88 inches thick. The bottom back side has a cutout, which sits over your deadbolt latch. Inside is an adapter which connects to the motor and fits snugly around the thumb-turn.
Because of its design, you won't be able to use this device on all-in-one deadbolts with an attached doorknob. As long as you have a separate knob and deadbolt, you should be fine. In the worst case scenario, you can just return it. SwitchBot offers a 30-day return window for you to make sure their lock is right for you. You also get the benefit of a 12-month manufacturer's warranty.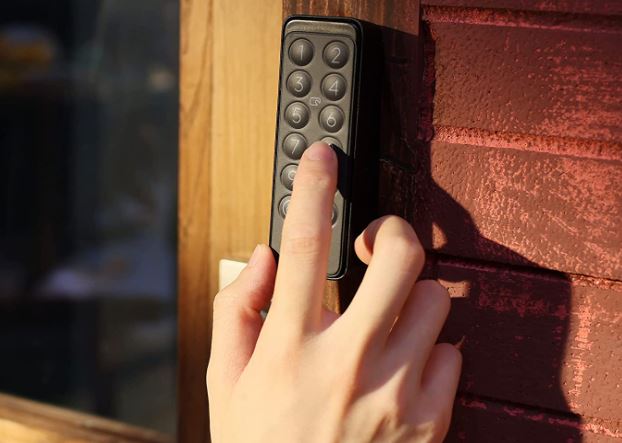 One nice thing about this lock's design is that there's only an internal portion. You don't have to install anything on the outside of your door, so weatherproofing is not a concern. The front surface is flat and smooth, with a large silver latch in the bottom half. There's a little green light in the top half, which shines when the unit is powered on. The back can sit flat to your door. Or, for taller latches, there's a black bracket you can extend out. This makes the Lock sit higher off the door to accommodate the height of the latch.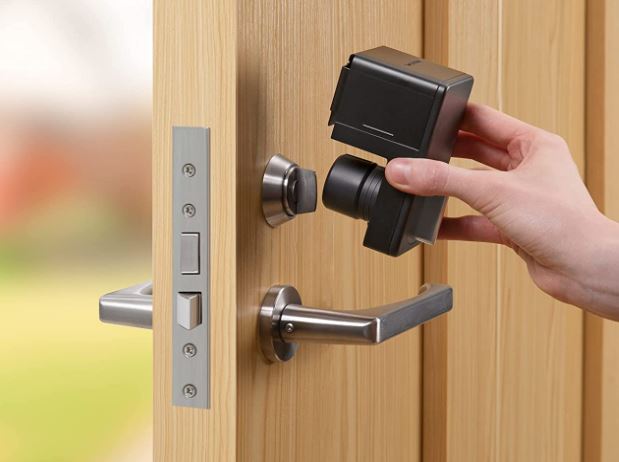 If you want a more traditional smart door lock, consider the Elamor M15. It has an antiqued finish and appearance, and it's beautiful inside and out. The outside plate has a built-in keypad, where people can enter their access codes. It's sturdier than the SwitchBot Lock, but the installation is much more complicated.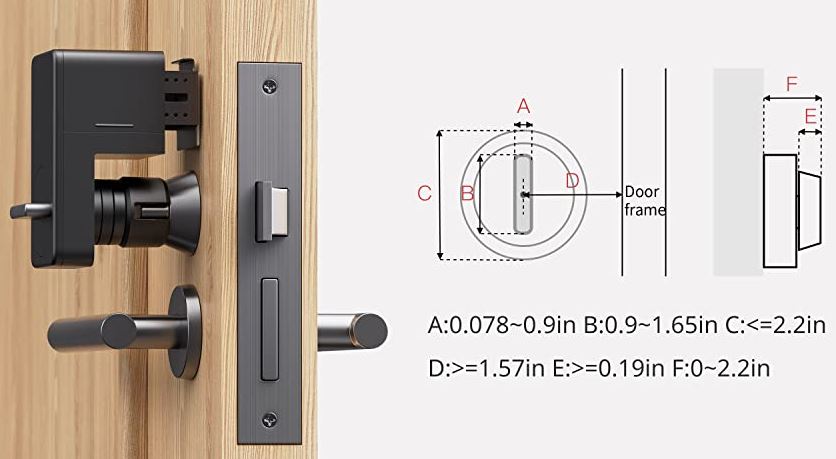 Installation
The main benefit of the SwitchBot Lock is how easy it is to install. You don't need to remove your old deadbolt or even modify it. You also don't have to drill anything into your door. Instead, it just sticks onto the door with a strong 3M tape. Here's how the installation works:
Use rubbing alcohol to clean the area around your deadbolt latch.
Find the circular adapter with the snuggest fit for your latch.
Decide which way you're going to mount the device. It can be positioned vertically above the latch or horizontally to the side. Line up the adapter so it fits over your (locked) latch.
If necessary, adjust the height to fit. The top cover pops off, and you'll see a metal bracket that can be extended out. A small screwdriver is included in the kit, so you don't need any of your own tools to do this.
Hold the lock in place, and use the manual latch on the front. Verify that it locks and unlocks your door smoothly.
Apply the 3M adhesive to the back of the bracket, and remove the backing tape. Line the device up carefully, then press down firmly to secure it in place.
There's a small black fob in the kit, with its own backing adhesive. This is a magnetic sensor, so the Lock will know when your door is opened or closed. Line the fob up with the top edge of the lock, and stick it on your interior door frame. Make sure to prep the area by wiping it with alcohol first.
Add the Lock to the SwitchBot app, and calibrate its settings. This will fine-tune the latch position for the smoothest possible locking and unlocking.
As you can see, this is absurdly simple. The only downside is that you have to be careful not to bump it from the side. If people keep walking into it, the adhesive could eventually fail.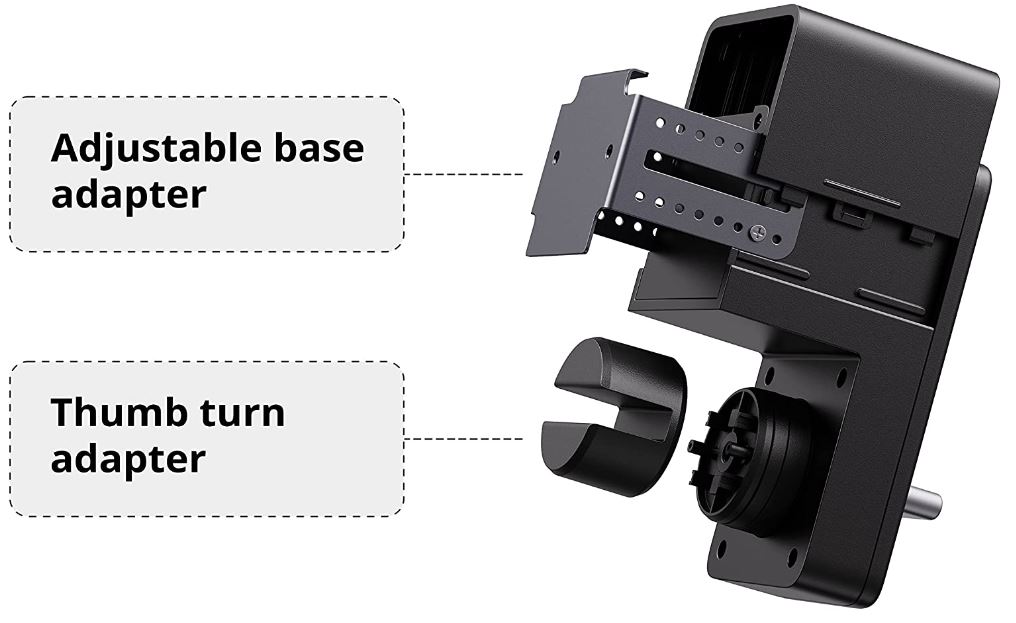 Lock Performance
To use the SwitchBot Lock, you'll have to download the SwitchBot app. The app is free to download on iOS and Android, and will even run on your Apple Watch. Once the app is set up and paired with the lock, you can unlock your door any time you're in Bluetooth range.
The package also includes a pair of near-field communication (NFC) fobs. Wave one on the outside of the door near the back of the lock, and your door will open. Not only that, but the motor will turn freely when the lock is opened via key. So if you want to use your old physical key, there's nothing stopping you. Moreover, the motor is rated for 50,000 locking/unlocking cycles. Even if you opened your door 25 times per day, it would last for longer than five years.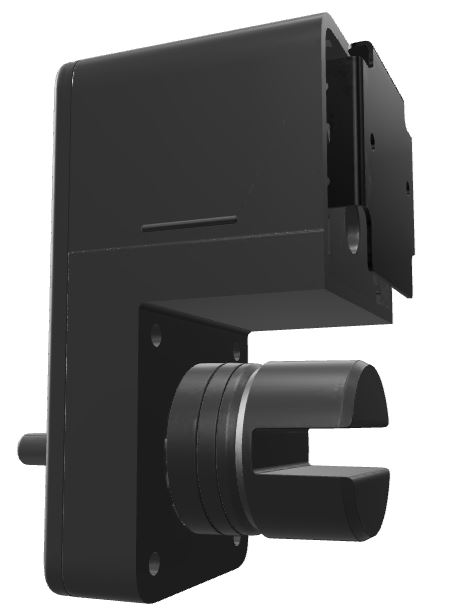 The internal rechargeable batteries will last for around four to six months, depending on your usage pattern. They're rechargeable via USB, so all you have to do is plug it in for a few hours. When the batteries start to get low, the app will warn you via a push alert. That way, you won't get caught by surprise by a dead battery.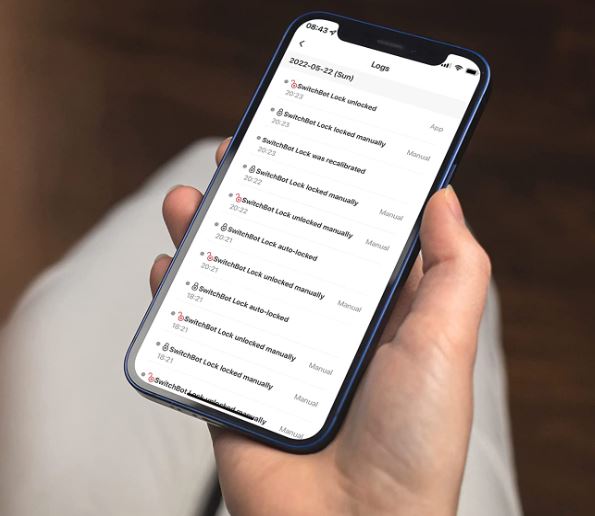 Optional Extras
When you order the SwitchBot Lock, you'll have the option to add some extra accessories. These are purely optional, but they add significantly more functionality. Here are the accessories:
The SwitchBot Keypad is a 10-digit keypad that mounts on your exterior doorframe. Once you've paired it with the Lock, you can use it to open the door with a passcode.
The SwitchBot Keypad Touch is similar to the keypad, but it sports a biometric reader under the number pad. In addition to passcodes, you can use your thumbprint to open your lock.
The SwitchBot Hub Mini is a wireless bridge that plugs into a nearby power outlet. You use it to connect your Lock to the internet and unlock extra features.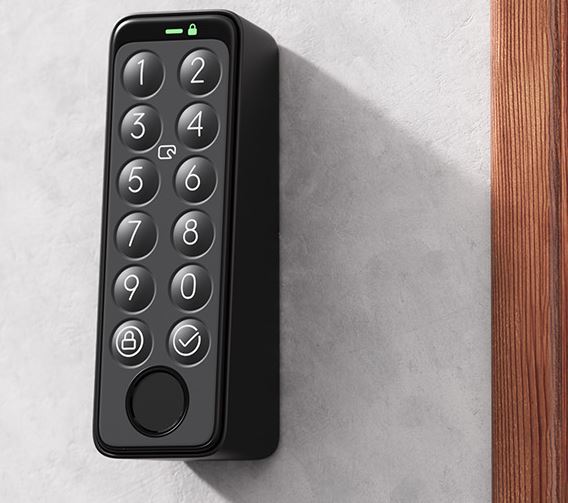 If you don't want to pay extra for these features, you don't have to. The Yamiry Smart Door Lock has its own built-in keypad and thumbprint reader. It supports up to 200 fingerprints and 200 codes, along with NFC access cards. Then again, you have to completely replace your existing deadbolt.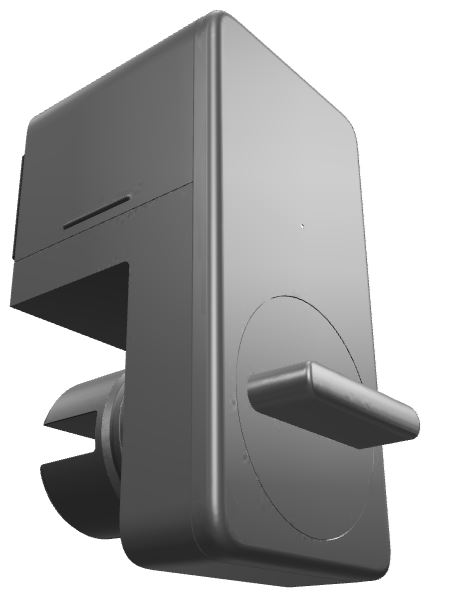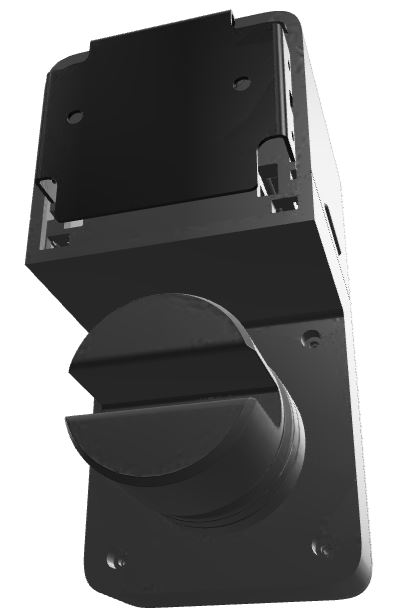 Connectivity & Bonus Features
All by itself, the SwitchBot Lock connects via Bluetooth. You have to be in range to use it with your phone. If you pair it with the Hub Mini, you'll be able to connect to it via WiFi. Even if you're miles from home, you can lock and unlock your door. You'll also get push notifications whenever the lock is used.
Perhaps the most powerful feature of a WiFi connection is the ability to use voice commands. Using the SwitchBot Hub Mini, you can open your lock with Siri or Google Assistant. This can be handy when your hands are full, or if someone knocks on your door while you're cleaning.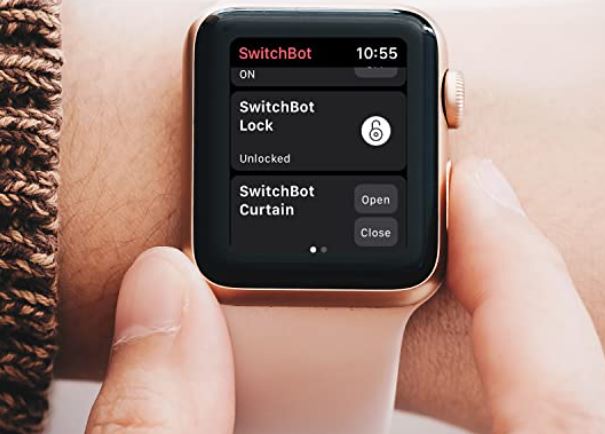 You can also set up the SwitchBot Lock with IFTTT, Smart Things, API, and LINE Clova. This can be used to set up more complicated interactions. Let's say you have an inner door and an outer door. You could put a SwitchBot Lock on both of them. Then you could set up the inner lock to open automatically when the outer lock is opened.
This kind of connectivity and control is where SwitchBot really excels. In fact, all of their devices are designed to work together with the hub. We recently reviewed the SwitchBot Bot, which is a little device that can flip switches and press buttons. You could put one on your living room light switch and pair it with the Lock. When your front door opens, your light will automatically turn on.
Final Verdict
The SwitchBot Lock is a unique smart lock that doesn't require you to remove your current deadbolt. It's not for everybody, and some of the features require you to buy additional accessories. But when used as intended, you'll get unparalleled levels of smart control.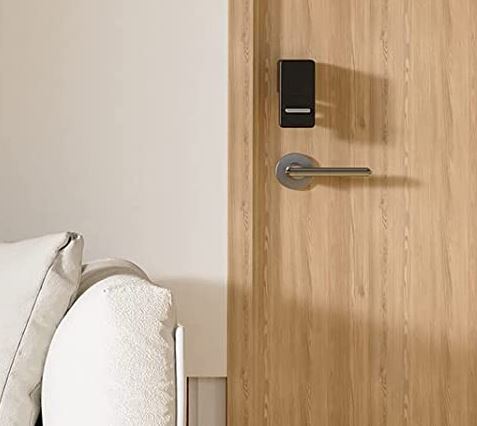 Best of all, during Prime Day (July 12th-13th) all SwitchBot products will be up to 50% off. You can get all of the products with a 35% discount using code 3522PDSB. Anyone who buys a SwitchBot products from Switch-bot.com or their Amazon store during Prime Day, you'll have the chance to win an iPhone 14.