When you're on the road, it never hurts to be too cautious. This is obviously true when it comes to your driving. But it's also true when it comes to protecting your wallet. The world is full of scammers and con artists who are coming up with ways to separate you from your money. And insurance scams are a popular way of doing it.
One of the most popular methods involves two people. One person will drive in front of you, and drive slowly enough that you reduce your following distance. Then, they'll suddenly slam on their brakes, in the hopes that you rear-end them. Unless your reflexes are very sharp, you soon find yourself on the side of the road, filing a police report.
That's when the second scammer comes along. They tell the officer that you were driving unsafely, and that you ran into the back of this other driver. The next thing you know, you're "at fault," and the scammers make bogus claims to inflate their damages. If you take the other driver to court, you'll lose, because they have a "witness." They walk away with money, and your insurance premium goes up.
A good dash cam can help you avoid this scenario. With a visual record of any traffic incidents, it's not just your word against a scammer's. You'll have the evidence you need to avoid legal claims, and even fight unfair tickets in court. Considering how much an insurance premium increase costs, a dash cam is a worthwhile investment.
Choosing the Best Dual Dash Cams Under $300
We're about to review three of the best dual dash cams available for less than $300. These are dual cams, meaning that there are twin front- and rear-facing cameras. They're all among the best in their class, with easy installation and high video quality.
Then again, there are also some major differences between the three. To find the right one for your needs, you'll need to think about the physical design. You'll have to consider the storage capacity, as well as the video resolution.
And along the way, you'll want to keep an eye out for extra features and added value. We'll talk about all of the upsides, as well as the downsides, of these three cameras. At that point, we'll have a full picture of what we're dealing with. Let's get started!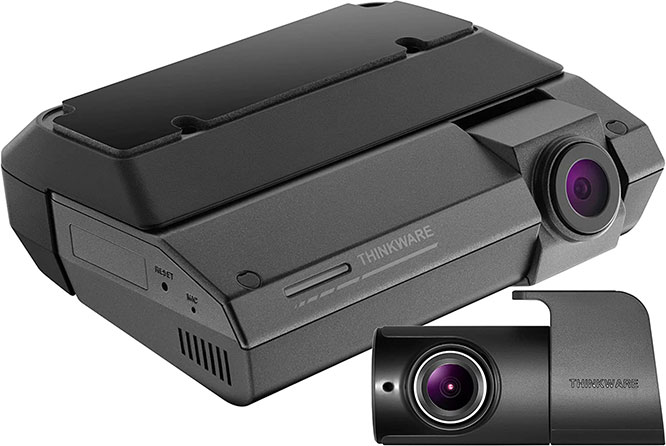 Thinkware F790
Thinkware is an established manufacturer of dash cams. Not that long ago, we reviewed the Thinkware F200 Pro. It's a forward dashcam only, but it has a lot of optional parts, including a rear camera and a GPS module. Because of Thinkware's long track record, the F790 was a great candidate for our list.
The first thing you'll notice about the Thinkware F790 is just how slim it is. It's engineered with a very low profile, so it won't obscure your view of the road. This is obviously a bad thing if you need a constant live display. For example, you can't use the rear camera as a parking cam. But for pure visibility's sake, this is a great feature.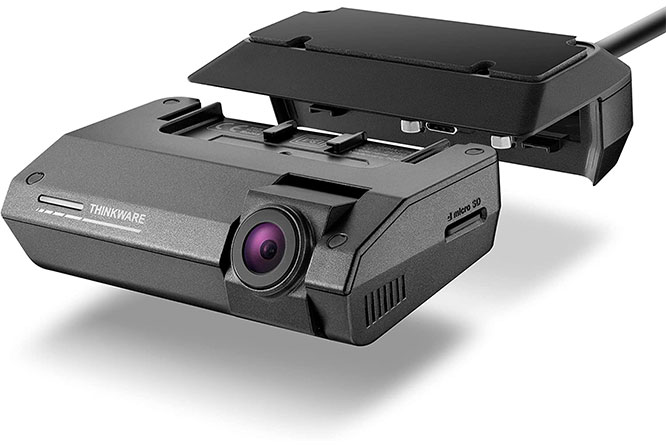 The housing itself is matte black, with a finish that's easy to keep clean. The profile is roughly rectangular, but only roughly. It's a futuristic, angular shape with a lot of small panels and edges. The only thing that's round is front of the lens housing, which is near the left side of the unit. The lens housing is hinged, and can be tilted freely up and down.
In fact, the housing actually has a two-part design, and the camera can be unplugged from the base. That way, you can take the expensive part of your camera out of the car without having to uninstall it completely.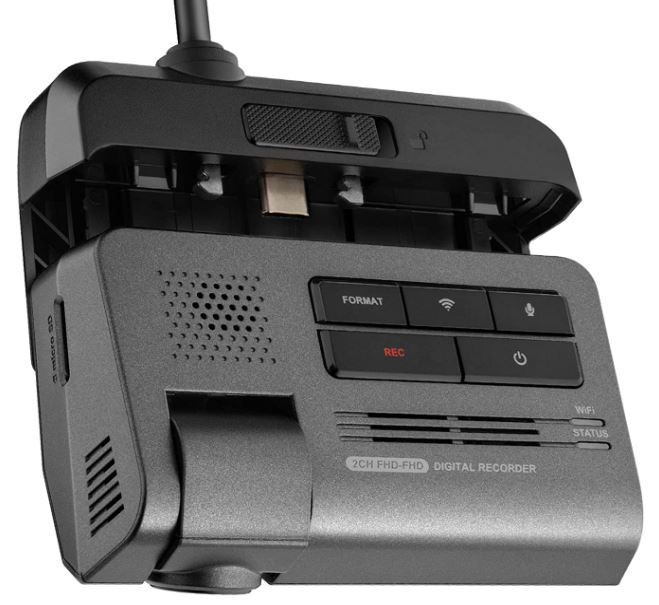 The rear camera is much smaller than the front camera, and is just a black cylinder. It's oriented horizontally to its base, and can tilt up and down like the front camera.
Installation and Setup
The Thinkware F790 is relatively straightforward to install. First, you attach the front camera to your windshield or dashboard. It uses a 3M adhesive pad, which is extremely sticky and vibration-resistant. That said, it's also a pain to reposition. Before you actually stick it on, make 100% sure that you're putting your camera exactly where you want it. If you mount the camera on your windshield, you'll have to go into your settings and invert your video. Otherwise, it will be upside-down.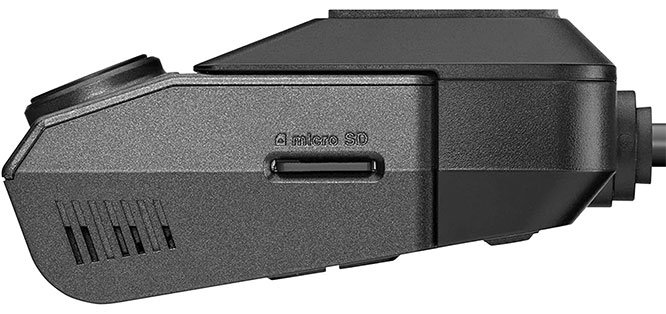 The rear camera has a similar adhesive mount, and attaches to the inside of your rear window. Because the camera can be rotated, it's easy to aim at any angle. Once it's set up, run the wire from the rear camera to the front one. It's nice and long, and can install under the trim in most vehicles. Plug the front camera into your car's DC power supply, and you're ready to start recording.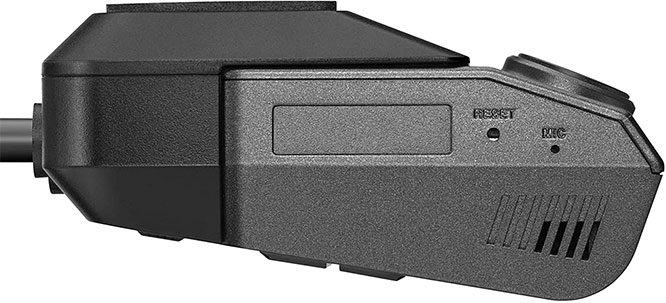 The F790 has a built-in GPS antenna, which tracks your speed and location. This information will automatically be written into every video, which can be helpful for legal purposes. If you want to turn off this feature, it's easy enough to do in the dash cam's menu.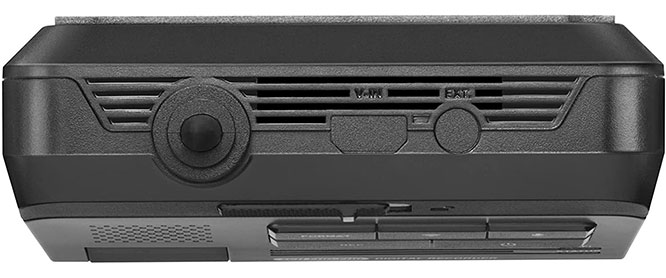 Video Quality and Storage
The video from the F790 is recorded in 1080p. This is more than good enough for most applications. You won't be able to read a license plate from 100 yards away. But for most ordinary purposes, you'll be just fine with 1080p. The front and rear cameras record simultaneously, at a frame rate of 30FPS. That's not super fast, but it's almost always going to be good enough. When the sun goes down, these cameras keep working just fine. The night vision is black and white, but it's nice and crisp, with hardly any artifacts.
The camera comes with a 32GB Micro SD card, which is pre-formatted to store your videos. If you want even more storage capacity, you can install your own card, with a capacity of up to 128GB. You can also install the smartphone app and download videos to your phone. The F790 acts as its own WiFi hub, so connecting is easy no matter where you are.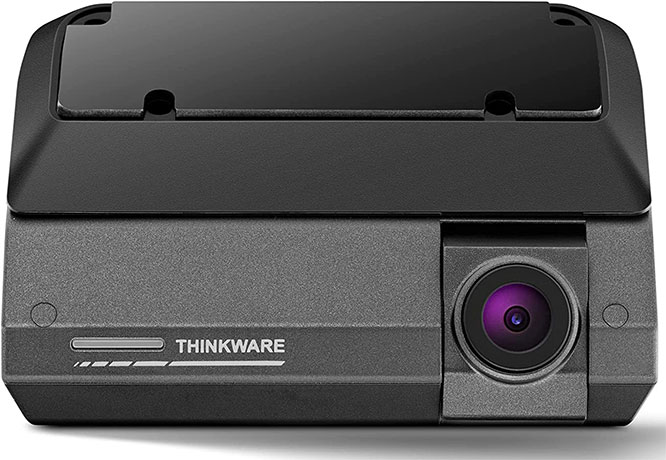 Along with all this, there are a couple of bonus features to consider. First, there's an AI-powered monitoring system that beeps if you stray from your lane. Second, you can create time lapse videos, which is fun if nothing else.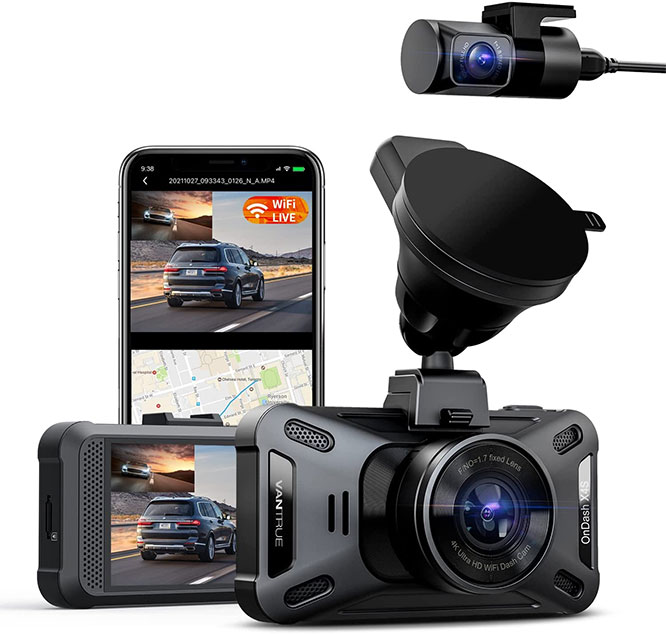 Vantrue X4S Duo
Vantrue is another well-known player in the dash cam market. Take the Vantrue T2, for example. It's a front-only camera, but it's powered by a capacitor, and it's designed specifically for 24/7 monitoring. The Vantrue X4S Duo caught our eye, and we decided to give it a closer look.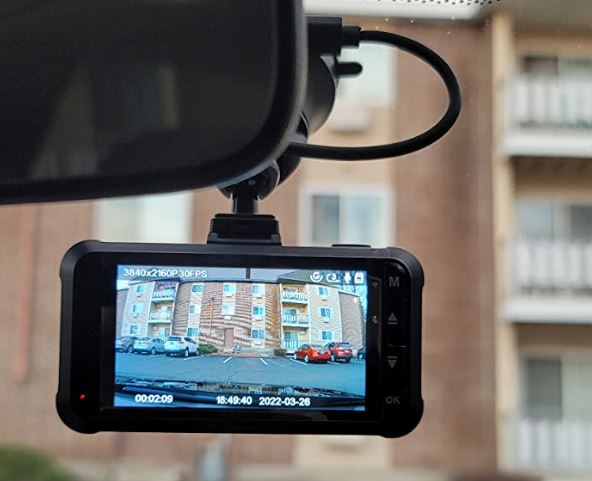 The front camera in this kit looks a lot like a handheld digital camera. It's rectangular in shape, with a glossy black finish that's easy to dust off. The circular lens housing protrudes from the front, directly in the center. On the back, there's a 3-inch IPS display that's viewable from any angle. There are also controls for playback, resolution, and to activate the WiFi mode. The rear camera is a small horizontal cylinder, which can be rotated up or down as needed.
Both cameras are powered by a built-in super-capacitor, which is safer and more reliable than a battery. You also get Vantrue's 30-day no-questions-asked return period, and an 18-month extended warranty.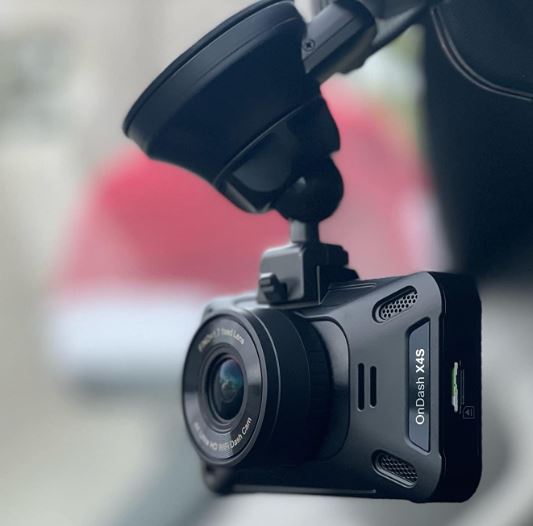 Installation and Setup
Mounting the front camera is straightforward. It has It has a suction cup mount at the top, which sticks right onto your windshield. Then, you plug it into your car's cigarette outlet. The kit includes a car charger, as well as an 11.4-foot USB Type-C cable. The rear camera installs with a 3M adhesive, and connects to the front camera with a 20-foot cable.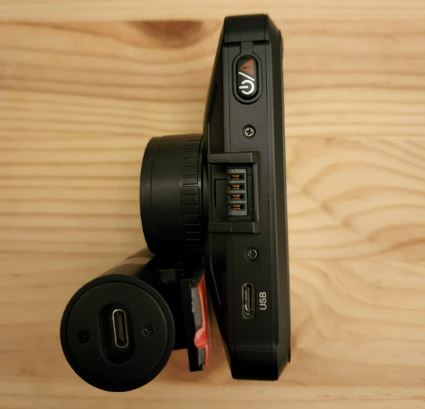 There are two optional add-ons that can be paired with the X4S Duo. To begin with, there's a hardwiring kit, which can be used for 24/7 monitoring. The camera will automatically reduce consumption and framerate as necessary to conserve your battery. If you remain parked for a long enough time, it will shut off altogether.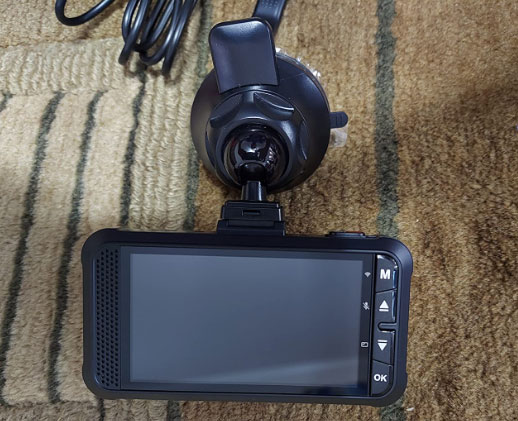 There's also a GPS mount. This can be plugged right into the camera, and it appends speed and location data to your videos.
Video Quality and Storage
The X4S Duo has a few recording modes. With the rear camera recording at 1080p and 30FPS, the front camera can record in 4K 30FPS or 2K 60FPS. Alternatively, both cameras can simultaneously record in 1080p and 60FPS. Regardless, you're getting a crisp, clear image, and the night vision is even in color. However, the night vision does require a minimum amount of ambient light, and won't work in total darkness.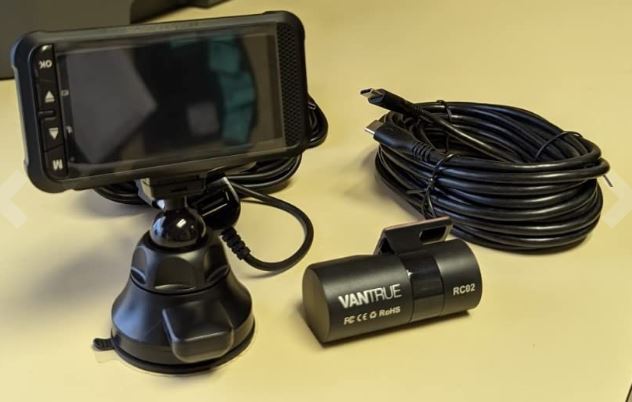 There's a Micro SD slot in the camera, which supports up to a 256GB card. You can also monitor your recordings via the Vantrue Cam app. The camera acts as a WiFi hub, and you can download videos and manage them from your phone.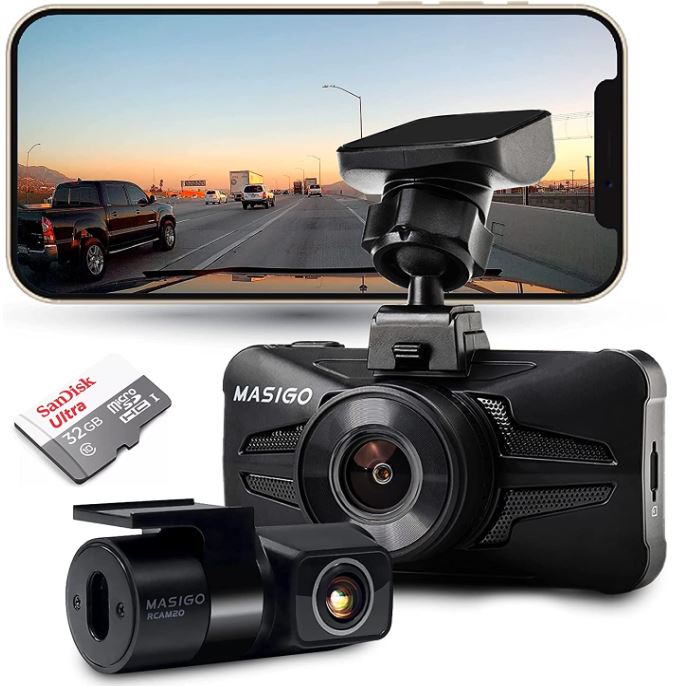 MASIGO WiFi Dash Cam
The MASIGO WiFi Dash Cam is superficially similar to the Vantrue camera. It looks like a handheld camera, with a protruding lens at the front center. The back side sports a 3-inch IPS display, along with all your control buttons. It attaches to the windshield mount with a 360-degree knuckle, which makes it very easy to point and aim. The rear camera is blocky, but attaches to a round base.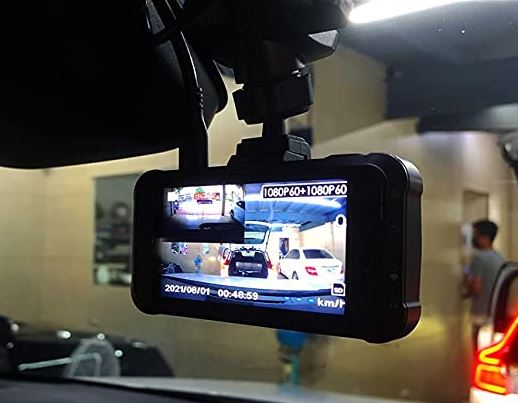 There's a supercapacitor backup, which is more reliable than a battery. It will maintain its charge even in extreme weather, so your cameras won't lose power. This camera is backed by a 30-day return window, and a 12-month manufacturer's warranty.
Installation and Setup
Both the front and the rear camera mount with a 3M adhesive. As with any 3M adhesive, this is removable, but it's not easy. Be careful about placement. The front camera connects to a DC power plug, which connects to your car's power supply. The rear camera, meanwhile, connects to the front camera via a long, 19.7-foot cable.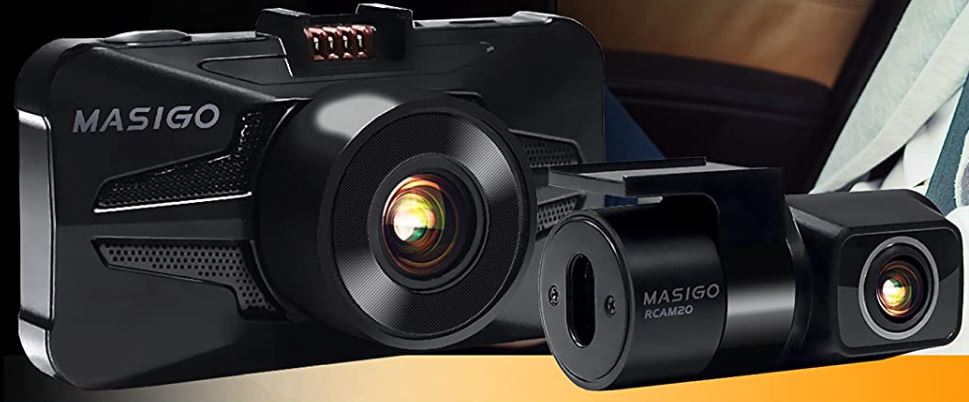 The MASIGO camera has a built-in GPS receiver, so you can stamp speed and location data on your recordings. Alternatively, the monitor can be used as a secondary speedometer, with large, bold numbers. You can also put it into parking mode for 24/7 monitoring. That said, this feature requires you to use the optional hardwiring kit.
Video Quality and Storage
The recording quality of the MASIGO camera will depend on your settings. The front camera alone can record in 1600p (2.5K) at 60 frames per second. When using both cameras simultaneously, they'll record in 1080p at 60FPS. The night vision requires a small amount of ambient light, but it records in full color. Video is clear and focused by day or night.
The package comes with a 32GB Micro SD card for capturing your recordings. If you want more capacity, it supports cards with up to 512GB of storage space. Like the other cameras we looked at, you can also connect via a smartphone app. Just press the appropriate button on the front camera to activate WiFi mode.
Final Verdict
Which of these cameras is the best? A lot depends on your specific needs. The Thinkware F790 is great if you're looking for a low-profile option. The resolution and frame rate aren't as high as they could be, but the video still looks reasonably good. And with a built-in GPS, you can encode data in your video right from the get-go.
The Vantrue X4S Duo is the easiest of all to install, thanks to the front suction cup mount. It also provides up to 4K video from the front camera, and color night vision. Alternatively, it can support dual 1080p recording.
The MASIGO WiFi Dash Cam supports dual 1080p recording, the same as the Vantrue. It also sports a built-in GPS tracker, and supports up to a 512GB SD card. If you want maximum storage, this is the camera for you.