When most people think about jumping rope, they think about a children's game. To some extent, this is accurate. Children all over the world love jumping rope. But if you haven't tried it in a while, give it a shot. It's a lot harder than you probably remember it being! Even if you're in reasonably good shape, you'll be out of breath in a hurry.
Jumping rope is a demanding form of aerobic exercise. You're working your heart and lungs as hard as if you were sprinting. You're also exercising your legs, and the rope helps keep you from cheating. If you don't jump high enough, it will smack you in the ankles. There's a reason boxers and martial artists use a jump rope in their training.
Another nice thing about jumping rope is that it doesn't require a ton of space. If you've got a small open area in your living room, you have space to jump rope. You don't need a dedicated gym space with special equipment. If you've got a few square feet and a short length of rope, you're ready to get started.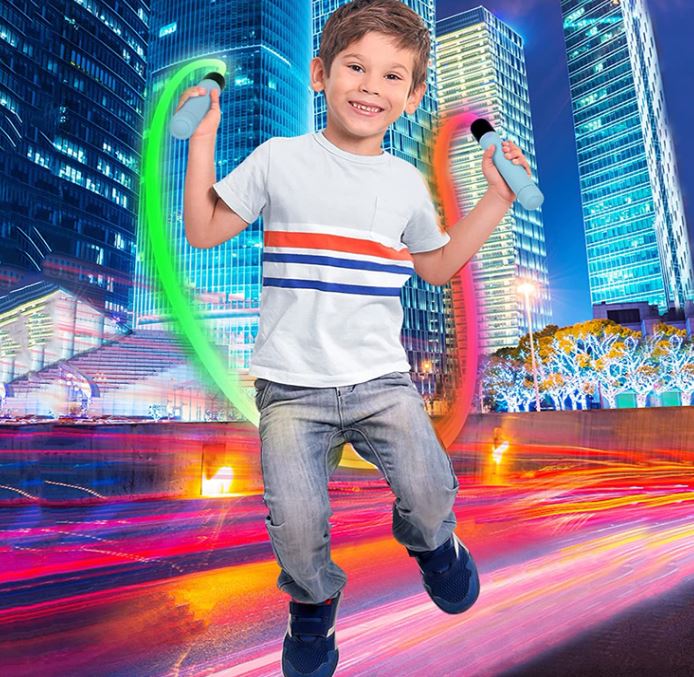 With all of that being said, jump ropes are also great for kids. It's a good way for them to keep busy and get exercise. But do you really want to hand them a low-quality jump rope? For that matter, would you want to use one yourself?
Jump ropes come in different shapes and sizes. Some are optimized for adult use in gym environments. Some are fun and playful, with shorter, kid-friendly lengths. Others are adjustable, and are designed for home use. There are additional, less-common varieties such as weighted jump ropes. You'll even find quirky cosmetic features like LED lighting.
Choosing the Best Light-up LED Jump Ropes
We're about to review three of the best light-up LED jump ropes that money can buy. All of these ropes have colorful, built-in lighting. They're also adjustable, so they can be used by people of any height. Of course, those are just a couple of the features we'll need to think about.
We'll have to talk about the material the ropes are made from, and how durable it is. We'll have to look at the LED lights themselves, and how they operate. In addition, we'll need to consider the battery power and ease of operation. The handles are also an important part of the equation. Only after examining all of these features will we be able to make a fair judgement. Let's take a closer look!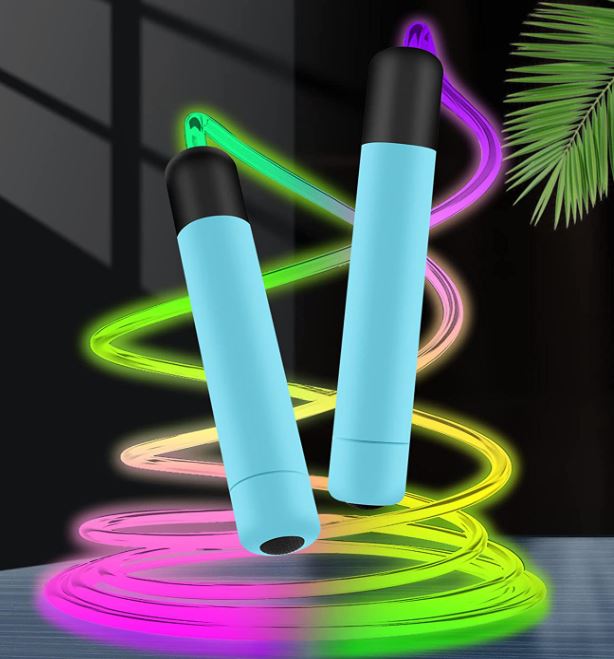 Bertiveny LED Rainbow Jump Rope
The Bertiveny LED Rainbow Jump Rope is made from a transparent PVC material. This material has a couple of unique benefits. First, it's virtually tangle-free, and it's easy to untangle if it does somehow get twisted. Second, it's almost entirely transparent, so the LED lighting passes through the full length. It's also very durable, and won't crack or dry out over time.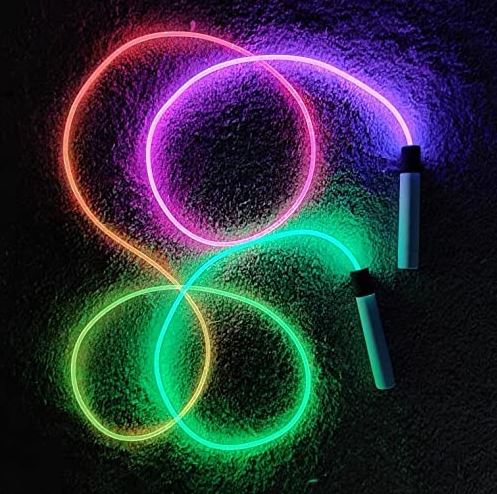 The handles are constructed from ABS plastic, with an LED emitter embedded in each end. You can order it in two different varieties: blue and pink. Other than the color of the handle, both varieties are the same.
There's a rubber button at each end, which you press to activate the LED lighting. It's a two-tone light, with green on one side and purple on the other. Power is supplied by a set of four AA batteries, which are not included. Unscrew the backs of the handles, and two batteries will stack inside each one. They'll last for around 150 hours, or more than six days of continuous use.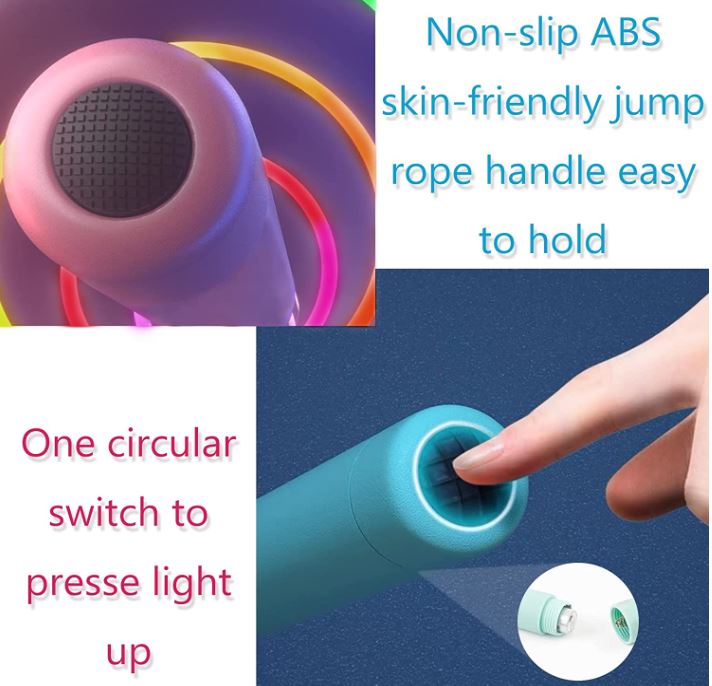 Out of the box, the rope is nine feet long. But because the light shines in from the outside, it's very easy to adjust. Each handle has a removable collar, where the rope runs in through a hole. Inside, you'll find a pair of black rubber sleeves, which keep it from pulling out while the collars are screwed down.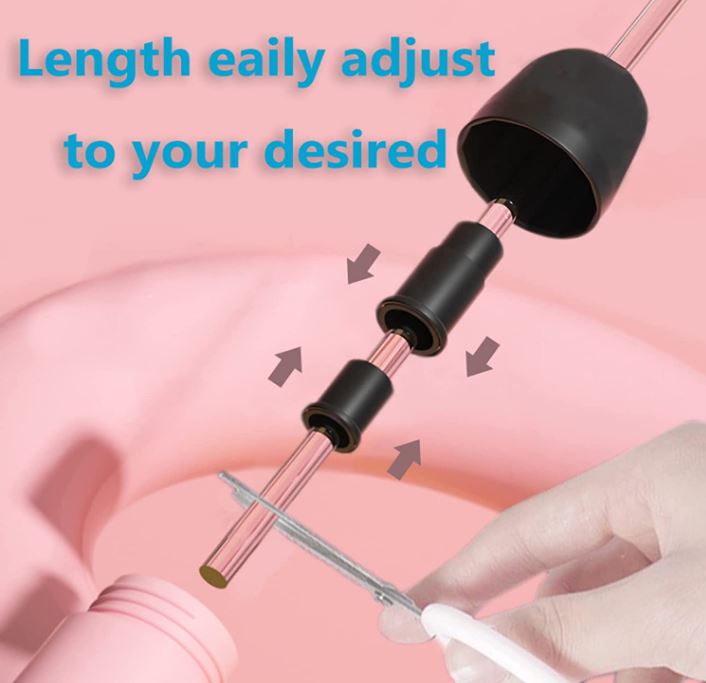 Adjust the rope to your desired length, and trim off any slack. The best way to do this is with a large pair of kitchen scissors or sheet metal shears. You can also use a razor knife; just be careful not to cut yourself. Replace the rubber sleeves on the end of your shortened rope, and reassemble the handle. That's all there is to it.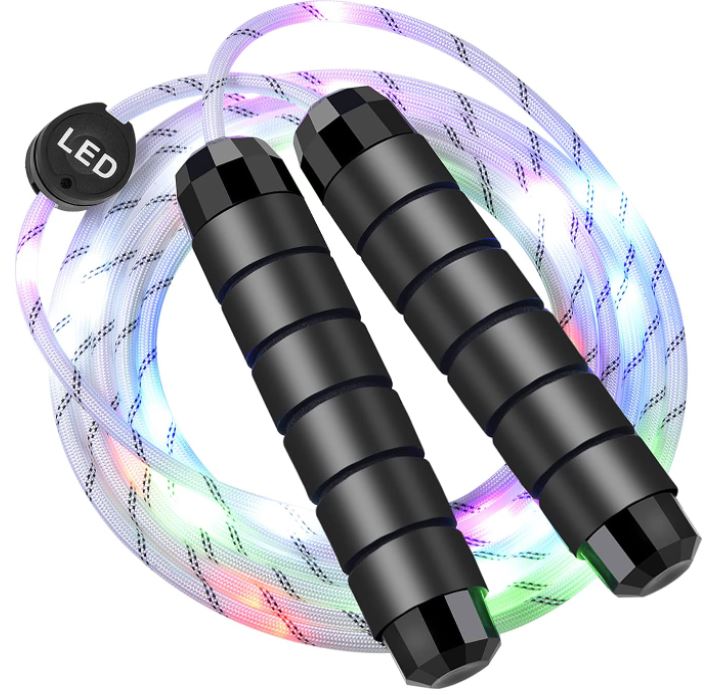 Glovion LED Jump Rope
The Glovion LED Jump Rope is made from a different material altogether. This is a tough, semi-opaque white nylon, with a heavily-textured surface. This is slightly less tangle-resistant than a smooth PVC, but it's also extraordinarily durable. The LED diodes are embedded in the rope itself, rather than being positioned in the handles.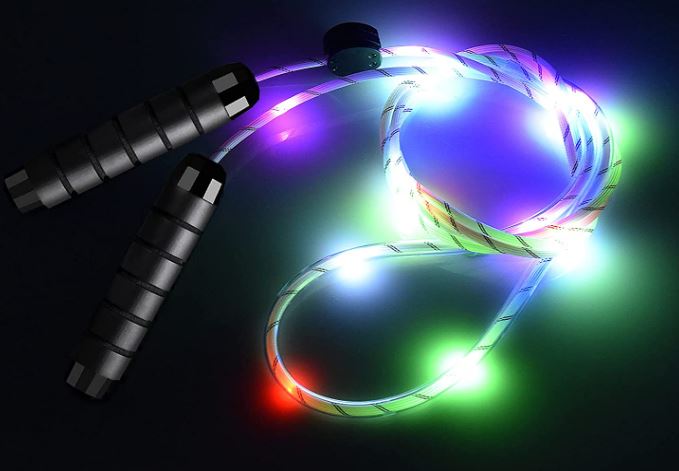 The handles are fat and black, with a sturdy plastic build. The endcaps on the inside and outside have a high-gloss finish, and are rock solid if you knock on them. The grips are segmented, and are padded with a thick foam. They're comfortable to hold onto, and won't slip out of your hands easily.
On the rope itself, close to one of the handles, you'll notice a little black plastic fob. It has the letters "LED" printed on the top in white, with a dimple in the center. This is the power button, and it activates the LEDs. You can cycle through three lighting modes: a constant glow, a rapid strobe, and a slower blink. The individual diodes are spaced a few inches apart, and are alternated between red, green, and blue.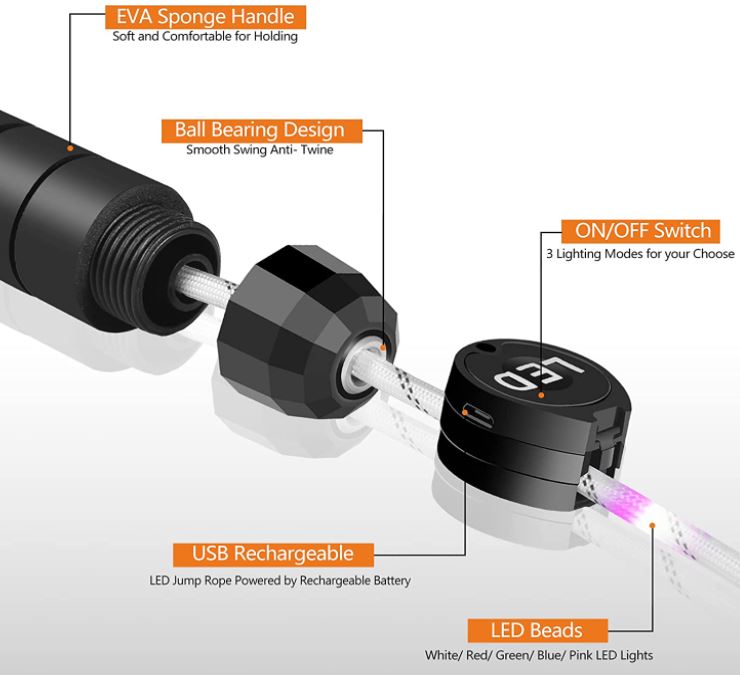 Instead of AA batteries, the Glovion jump rope has a rechargeable battery. To charge it, plug the included Micro USB cable into the side of the LED fob. It charges in just a few hours, and will run for days before it needs to be plugged in.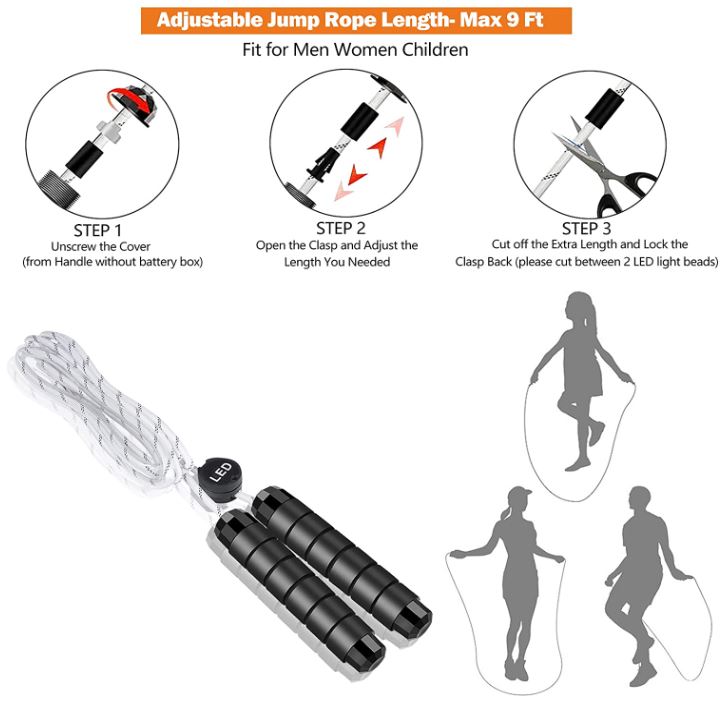 The rope is nine feet long, with removable collars so you can adjust the length. However, you can only cut it on the end that's farthest from the battery fob. Otherwise, you'll cut the connection to the LED bulbs, permanently breaking them.
Jumping rope isn't the only way to get exercise at home. The Mobifitness Smart Exercise Bike is also an excellent choice. It's compact, but it's easy to use, and it provides a powerful cardio workout.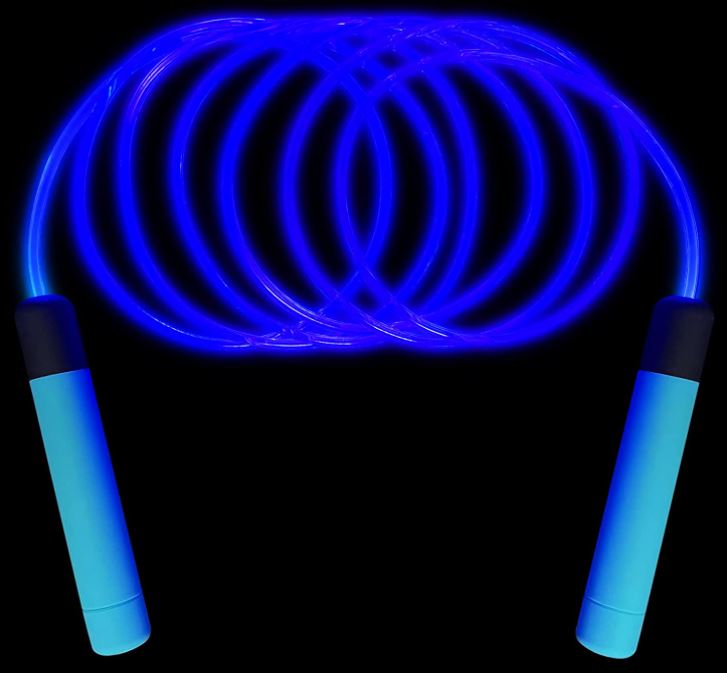 Whalezon Led Light Up Jump Rope
The Whalezon Led Light Up Jump Rope is similar in many respects to the Bertiveny rope. It's made from PVC, with an optical-grade inner core that transmits light with crystal clarity. It's smooth and tangle-resistant, and it doesn't break down with age.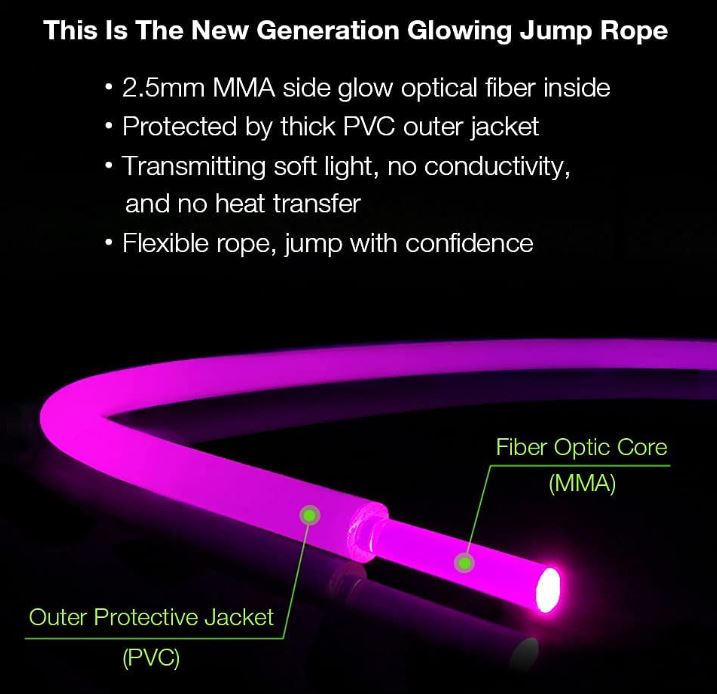 The handles are also similar, constructed from a smooth ABS plastic. They sport built-in LED light emitters, and rubber control buttons on the back ends. The buttons are soft, but you can feel them click when they're actuated.
Before you can turn on the lights, you'll have to install a pair of AA batteries in the back of each handle. A fresh pair will last for approximately 150 hours. The rope is nine feet long, but can be adjusted to any length. Just unscrew the collars, cut it down, and screw everything back together.

However, there are also differences between the Whalezon jump rope and Bertiveny's offering. To begin with, you can choose the color of the LED light. It's available in blue, pink, green, or two-tone blue-pink or blue-green. Meanwhile, the handles are colored to match the light. This jump rope also comes with a soft drawstring carrying case.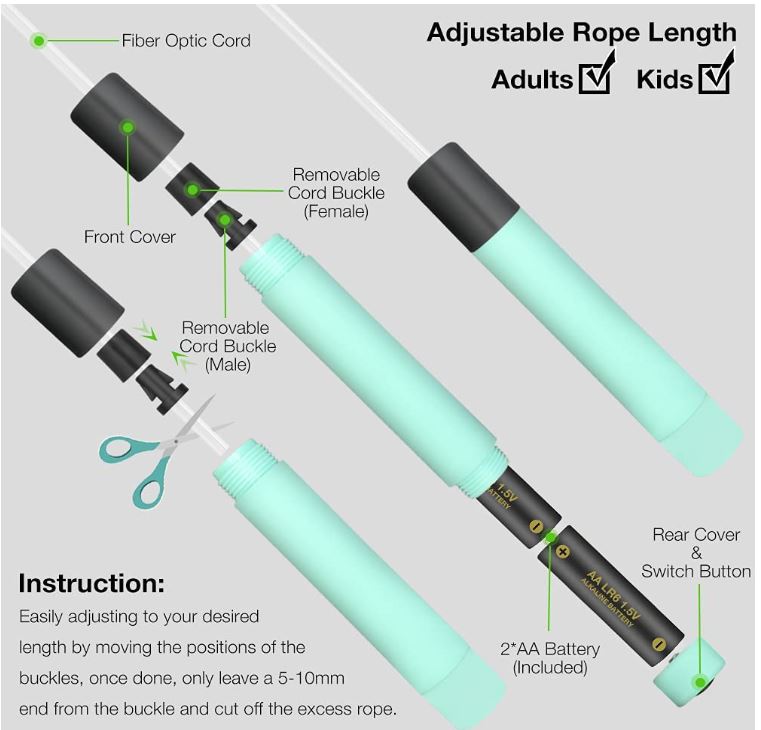 If you want to know how many calories you're burning when you jump rope, you'll need the right technology. The Haylou GST Smart Watch is a great place to start. It comes with all kinds of monitoring features, so you can track your workouts in real time.
What Makes a Good Light-up LED Jump Rope?
So, why would you prefer one light-up LED jump rope to another? Before we finish, let's talk about a few of the things you need to consider.
To begin with, look for a rope that's durable. It doesn't matter how great the LED lighting looks if the rope gets damaged when you step on it. Remember, your jump rope is going to take some abuse. It doesn't matter how careful you are; it's going to get kicked, stepped on, and smacked against the floor. Make sure the rope is capable of taking a beating.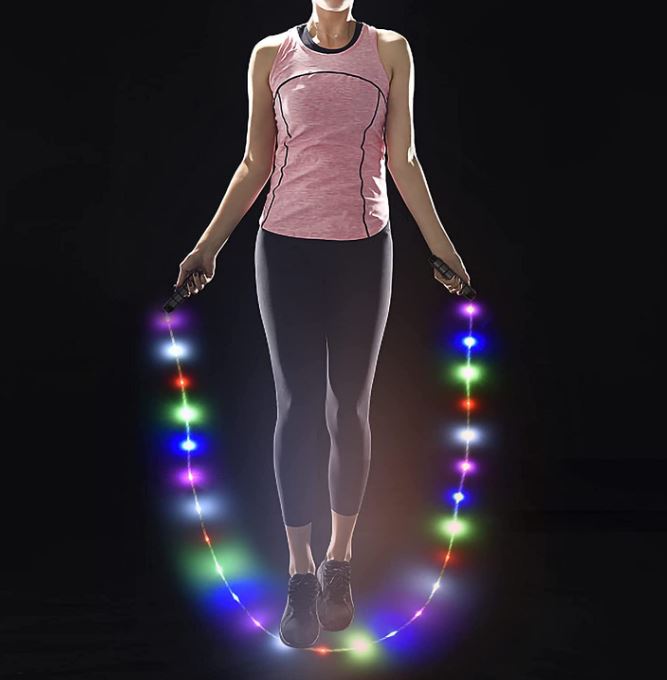 You should also look at the quality of the grips. Are they easy to hold on to, or are they going to slip out of sweaty hands? Are they comfortable, or will they leave you with blisters? Ergonomics are important.
Finally, think about the kind of LED lighting you want. Do you want a constant glow? A pattern? Do you want multiple different settings? Make sure you know how the controls work before you buy anything.
A well-designed jump rope is a great workout tool for the whole family. But what if you want something a little more interactive and competitive? In that case, check out our list of the best DDR electronic dance pads. You can work up a sweat and play a video game at the same time!
Final Verdict
All three of these LED jump ropes are well-designed. But which one is the optimal choice for your needs? Let's go over what we've learned about each one of our choices.
We began with the Bertiveny LED Rainbow Jump Rope. This is a straightforward clear PVC rope with excellent transparency. The two-tone design is attractive, and the handles are reasonably well put together. We also appreciated how easy it is to adjust the length.
The Glovion LED Jump Rope has a more colorful design, with LED diodes along its entire length. The handles are better-engineered, with foam grips rather than hard plastic. Then again, adjusting the length is harder. You also have a battery fob on one end, which throws off the balance slightly.
Last but not least, we looked at the Whalezon Led Light Up Jump Rope. This rope is made from a lot of the same basic parts as the Bertiveny rope. But it has enough of its own features to make it worth considering. Most notably, you get your choice of five different colors, including a pair of snazzy two-tone options.