Back in 1998, video game manufacturer Konami released Dance Dance Revolution. This popular arcade game featured a large platform, where players stood on oversized buttons. As icons moved across the screen, you danced along with the instructions. When you danced, you stepped on different buttons, allowing you to build up a high score.
As it turned out, the game was a big hit; it turned into one of the most popular arcade games of all time. Even today, in 2022, the many sequels remain staples of the arcade culture. Walk into any arcade in Europe, Japan, or North America, and you're guaranteed to see at least one DDR machine.
DDR never really took off the same way for the home market; the timing wasn't right. By the time motion-controlled games became popular for home consoles, new titles had taken over. Even so, games like Just Dance made a major splash when they first came out. But with the current generation of consoles, motion controls have fallen out of favor. People are going one of two directions: traditional controls, or a full-on VR setup. There's simply no market these days for a motion-controlled game.
That's a real shame, because dance games occupy a special kind of niche. Unlike traditional video games, they involve a lot of physical activity. You're not just gaming; you're moving your entire body around. Not only that, but they're uniquely fun for multiple people.
Playing with your friends and family is a great way for everyone to have a good time and get exercise. Additionally, these games work well for people of all ages. Small children, who might struggle with more complex games, can have a blast. Thankfully, you can still order an electronic dance pad for your TV.
Choosing the Best Electronic Dance Pad
Today, we're going to review three of the best (DDR) electronic dance pads that money can buy. These are all designed to work directly with your TV, so you don't need any other game system. They also incorporate motion controls, so they're more than simple dance pads. But what is it that makes one better than the other?
To find out, we'll have to take a closer look at each of these pads. We'll start with the physical construction – how they're made and put together. We'll look at how they're connected, and how you set them up. Most importantly, we'll look at the pre-loaded games and song packages. Once we've thoroughly investigated all of these features, we'll have a firmer grasp on what we're looking at. Let's dig in, and see what we uncover!
FWFX Dance Mat Game
The FWFX Dance Mat Game is a full-sized, 2-player floor mat controller. It measures 65.4 inches wide and 36.6 inches long. That's more than a large enough space for two people to dance side by side comfortably. The upper layer itself is a cotton blend, which is both soft and stretchy enough to make a good dancing surface.
There are three different color patterns. To begin with, there are both golden-brown and green patterns. These look almost like a traditional carpet, except for the wireless transmitter at the front center. The third is a fun, kid-friendly design. This has colorful cartoon foot drawings at the cardinal directions, and Xbox-style A/B/X/Y symbols at the corners.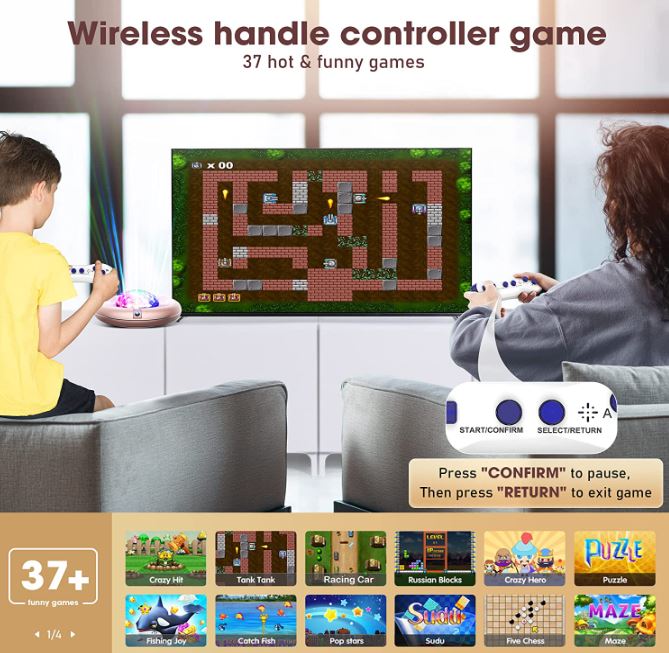 The bottom of the mat is made from a tough nylon material, that's embossed with an anti-skid pattern. This material is attached to the top around the edges, with a reinforced, stitched band. The overall thickness is just over half an inch, and it's very flexible. This mat is very easy to roll up when it's not in use.
Regardless of which pattern you choose, the overall layout is the same. There's a 9-button grid on each side, just like a DDR pad. At the front of each side, there's also a pair of "Start" and "Select" buttons.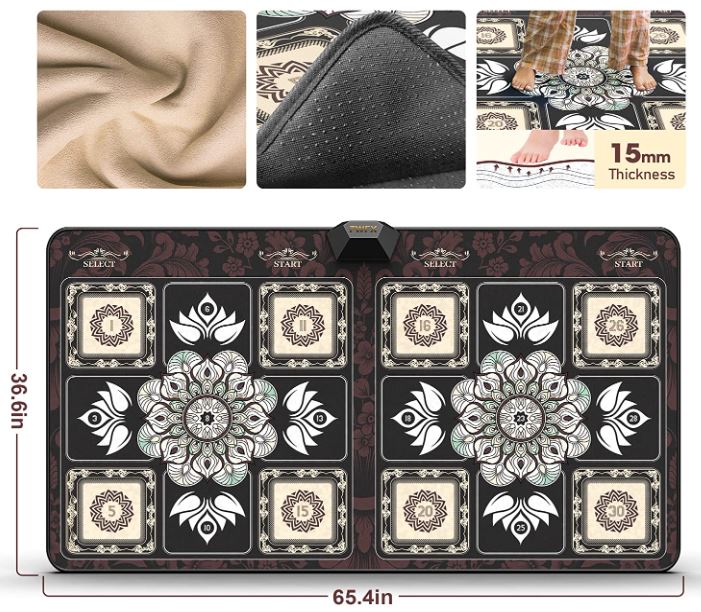 Along with the mat, the kit includes some other essential components. To begin with, there's a 3D motion sensor camera. This camera has a gold, donut-shaped housing, with a half disco ball built into the top. The lens is visible on the front, where it's slightly recessed into the housing.
You also get a pair of handheld controllers. These controllers have curved, ergonomic shapes, and are designed to be held in one hand. The blue, rubbery buttons are easy to push, and a wrist strap keeps you from easily dropping them. An HDMI cable and USB cable round out the kit.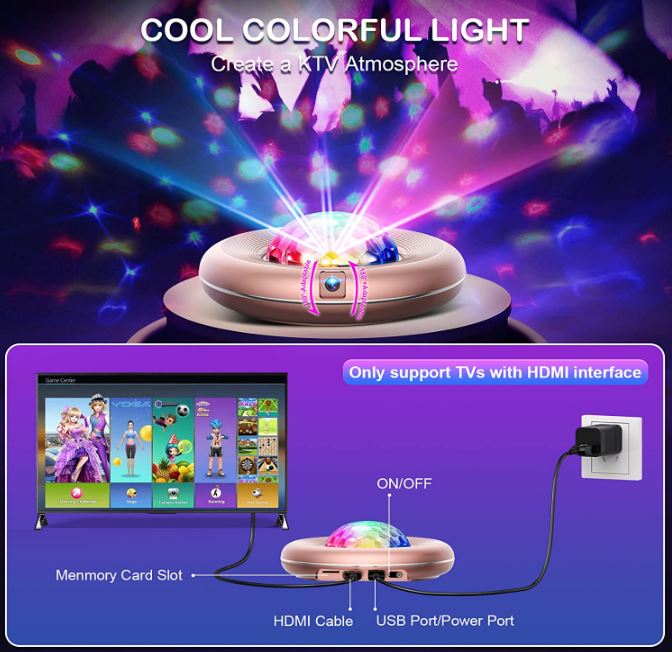 Connectivity & Compatibility
The FWFX camera isn't just a camera – it's also the host for the pad's wireless receiver. To set up the system, you first use the USB cable to plug the camera into the included AC power adapter. Then, plug one end of the HDMI cable into the host, and the other end into your TV.
Turn on your TV, and set the input to the appropriate HDMI port. Then, turn on the host unit. The disco ball will light up when it's active. Flip the switch on the dance mat itself, and you're ready to get going. Keep in mind that the mat requires a pair of AAA batteries, which are not included in the kit. Each of the handheld controllers also requires two batteries.
The HDMI output has a resolution of 1080p, which works well with most modern devices. You can connect it to any modern TV, including 4K UHD displays. You can even plug it into a laptop with an HDMI input. However, it doesn't work with Apple machines, nor does it work with tablets or mobile phones.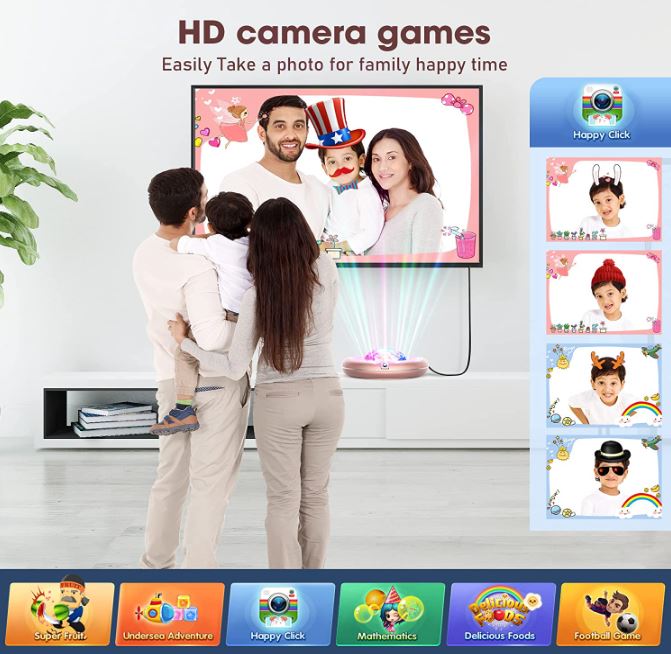 In terms of controls, you'll have plenty of options. The default configuration with most games is a 5-key configuration. That's the center button, plus the up, down, left, and right buttons. However, other games utilize 4-key or 6-key configurations, depending on what you're doing.
All of the games and other functions are built directly into the dance pad. To begin with, you get 86 separate dance tracks, which can be played in single- or two-player mode. There are 37 games, many of which involve navigating virtual worlds. Six of these make use of the motion sensor camera. Beyond that, there are 48 exercise games, including three running games and 45 yoga and aerobic games.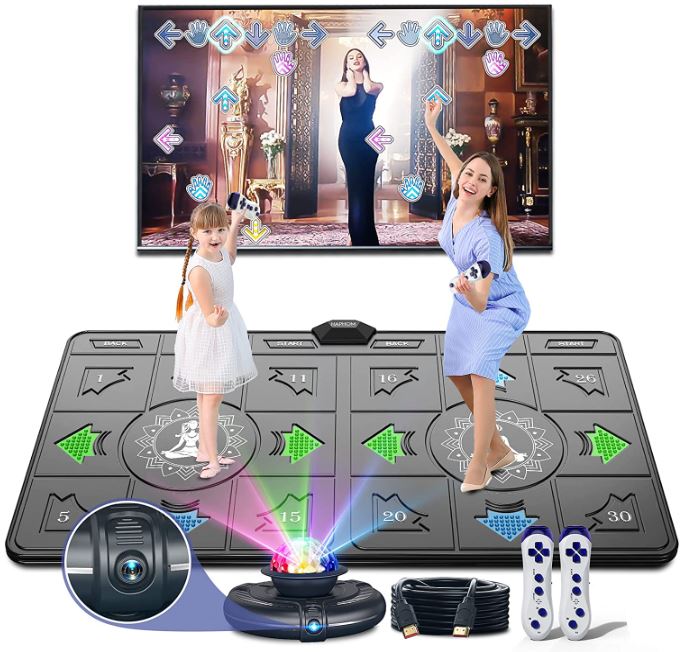 HAPHOM Electronic Dance Mat
The HAPHOM Electronic Dance Mat is a similar size to the FWFX map. It measures 36.6 inches long, and 65.4 inches wide. However, it's a constructed from a rubbery polymer that's highly flexible. This material is water-resistant, and it's easy to wipe down when it gets dirty. The entire mat is easy to fold up and store away when it's not in use.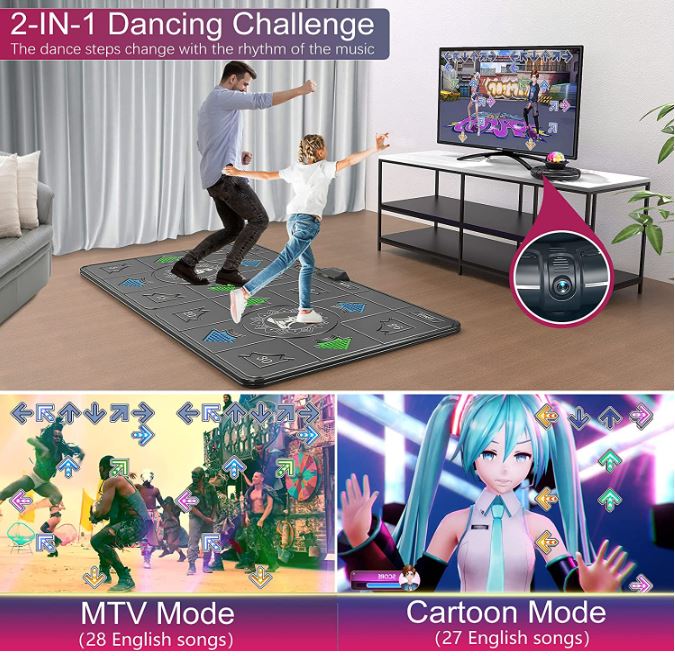 The 9-button grid is the same on both sides. The round center button sports a yoga symbol, with colored arrows in the up, down, left, and right positions. The corner buttons have numbers on them, which are used in some of the puzzle games.
The kit comes with some extras, starting with an HDMI cable and a USB cable. There's a 3D motion sensor camera, with a black, donut-shaped housing. It even has a disco ball on the top, much like the FWFX camera. The handheld controllers are also similar, with the same ergonomic design, blue buttons, and wrist strap.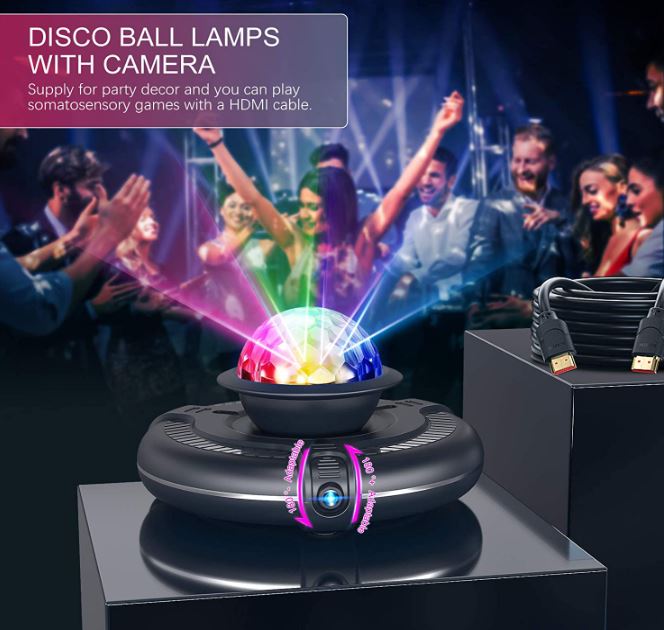 Connectivity & Compatibility
The HAPHOM mat connects in the same way as the FWFX mat. You first plug in the camera, then connect it to your TV. From there, the mat works wirelessly, as do the handheld remotes. The battery requirements are also similar, with a total of six AAAs required for the kit.
The pad supports both single-player and two-player modes, and multiple modes of operation. There are 76 dance songs included, as well as 37 puzzle games. You'll also get six motion-sensing games, 45 yoga games, and three running games.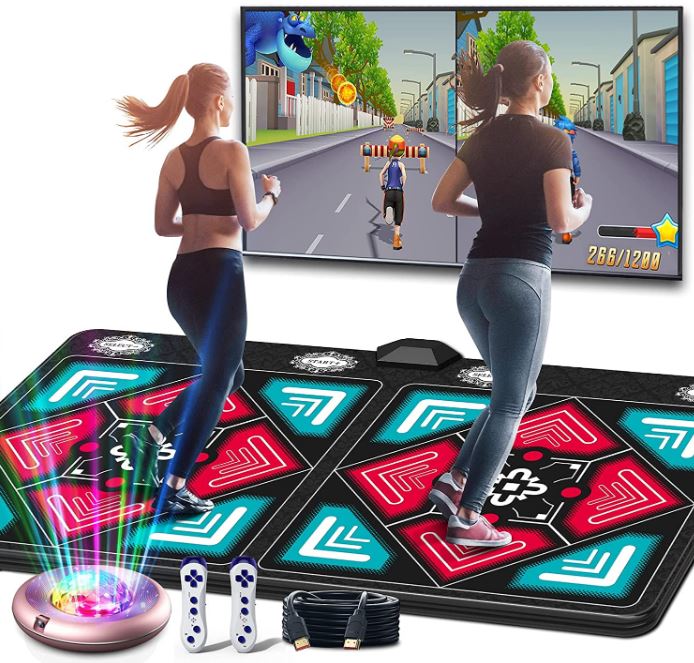 LATIMERIA Electronic Dance Mat
The LATIMERIA Electronic Dance Mat is around the same size as the others. At 65.35 inches wide and 36.61 inches long, it's perfect for two players. And at 0.59-inch thick, it's thin enough to roll up easily. Even so, it's thicker than the other mats, and it has a soft plush cloth surface. This surface is easy to wipe down, and the underside sports an anti-skid texture.
There are two design patterns available. The first is a red, black, and blue design, with big red directional arrows against a black background. The other is a stylized green pattern, and looks almost like a decorative floor mat. Both sides of the controller also have "Start" and "Select" buttons towards the front.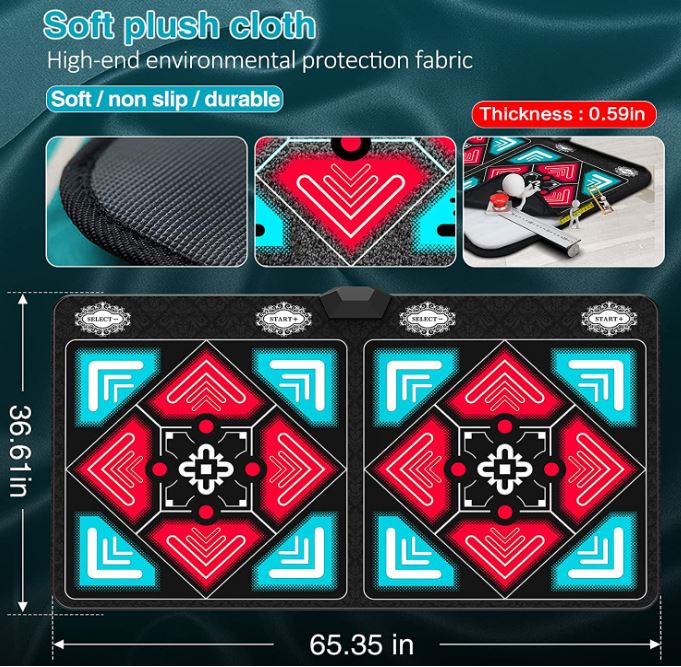 Along with the mat, you get a USB power cable and an HDMI video cable. There's a motion sensor camera, with a gold, inner-tube shaped design. It has a light-up disco ball on the top, and the lens is embedded in the front. You also get a pair of handheld controllers, with blue rubber buttons that are nice and responsive.
Connectivity & Compatibility
The LATIMERIA mat connects to your TV exactly the same way as the other two mats. It also requires the same batteries, and supports the same control modes.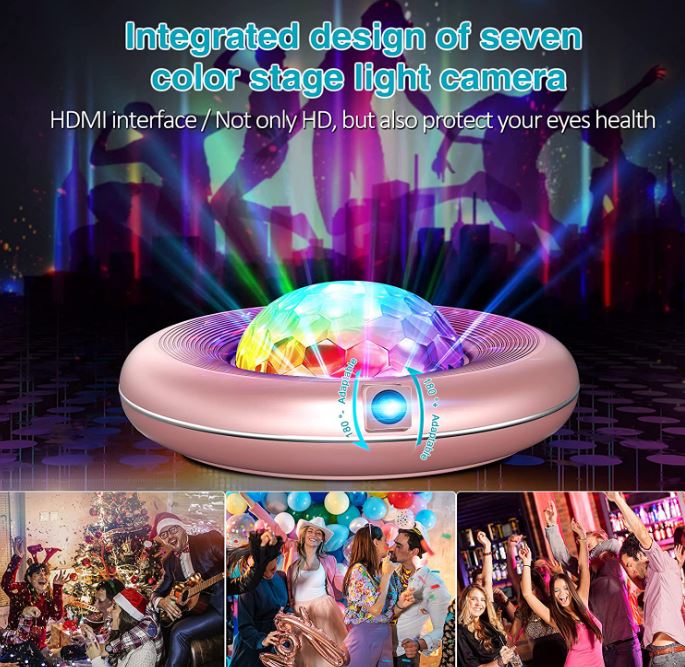 One are where you'll notice a difference is in the game and song selection. You only get 56 dance songs, which is less than the other dance pads. However, you get a total of 92 games, which makes it a great choice for kids. You also get the requisite 45 yoga routines and three running games.
Final Verdict
As you can see, these dance mats have a lot in common. They do most of the same things, albeit with different aesthetics and different combinations of features.
The FWFX Dance Mat Game has the largest number of dance routines, with 86 separate options. It has the fewest games, but the cotton blend construction is very high-quality.
Speaking of quality, the HAPHOM Electronic Dance Mat is the most rugged choice. The polymer design is tough enough to take a beating, but still easy enough to fold for storage. It boasts a good balance of music and games.
The LATIMERIA Electronic Dance Mat, on the other hand, has the most games and the fewest songs. But it has a thick, lush design that makes it the most comfortable choice of the bunch.