GameSir G7
Pros
Officially licensed by Microsoft.
Ultra-low latency and fast polling.
Extra re-mappable buttons.
Textured, ergonomic grip.
Comes with an extra faceplate.
Cons
Only works in wired mode.
Only compatible with PC and Xbox consoles.
When you're playing a video game, few things are more important than your controller. If your buttons stick or your thumbsticks drift, you won't have an ideal experience. Everybody loses a match now and then; it's part of playing any game. But when you die because your A-button got jammed, you can end up feeling cheated. What was supposed to be a challenge of your skill was foiled by faulty equipment.
Sooner or later, you'll need to replace your controller. And if you're a PC gamer, a controller can make it easier to play certain types of games. When it's time to choose a new one, you'll want to get the best quality possible. This means reliable controls that won't fail during regular operation. It can also mean looking for extra features and customizability.
With that in mind, we're about to review the GameSir G7. This is a Microsoft-approved replacement for the Xbox Series X/S controller. It comes with extra buttons, along with customization options. But what else does it bring to the table? To find out, we'll have to get hands-on with it and see how it performs. Let's take a closer look, and see what we find.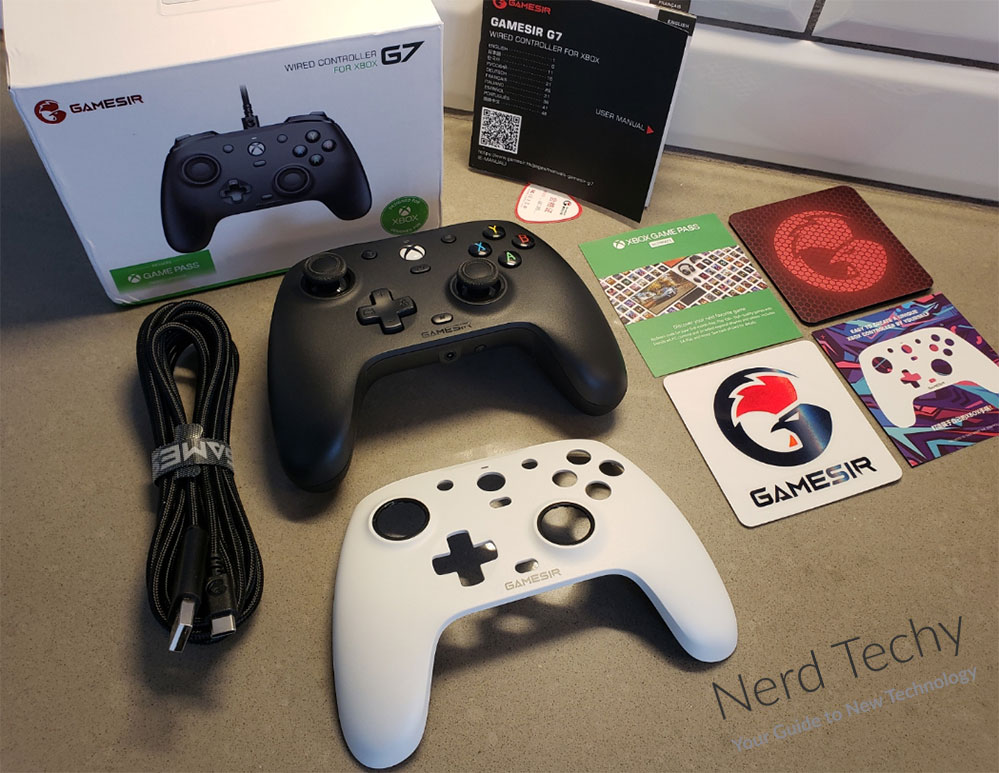 Overall Design
At first glance, the GameSir G7 looks like a clone of the OEM Xbox Series X/S controller. That should come as no surprise, since it's officially licensed by Microsoft. The first noticeable difference is that it's black instead of white like the stock controller. But it has a similar matte finish that doesn't collect dust or turn into a fingerprint magnet.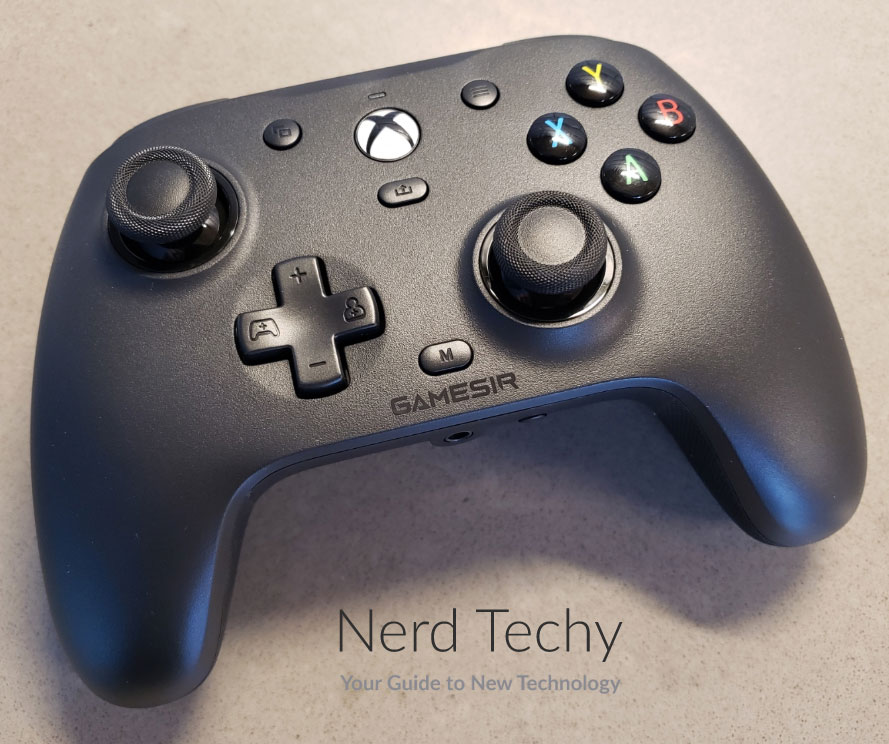 The form factor will also be familiar to current Xbox owners. The main body of the controller is broad, with fat, curved hand grips at the sides. The middle of the body is a bit thinner in-between the grips, which helps to save weight. The controller tips the scales at just 1.08 pounds, enough to feel solid without being overly heavy. It feels durable and well-constructed, which is exactly what we like to see.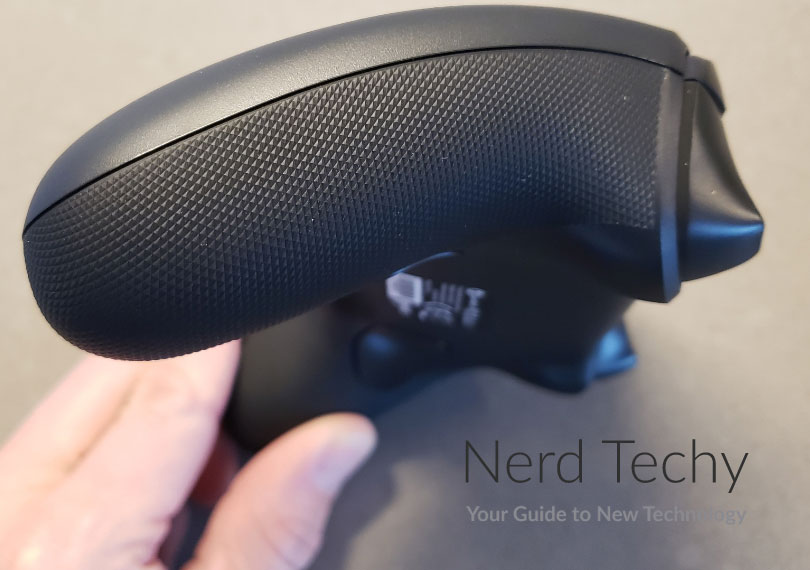 The hand grips themselves are textured on the backs. The fine, diamond texture is easy to hold on to, and won't slip out of your hands even when they're sweaty. Inside the grips is a pair of rumble motors, with an additional pair behind the triggers. This provides excellent haptic feedback. You'll feel the rumble of every grenade and the recoil from every shot.
If you're looking for a smartphone controller instead, check out the GameSir X3. It has a spring-loaded design, and snaps over any USB Type-C smartphone. It also comes with a set of swappable buttons and thumb sticks. On the downside, it's not compatible with iPhones.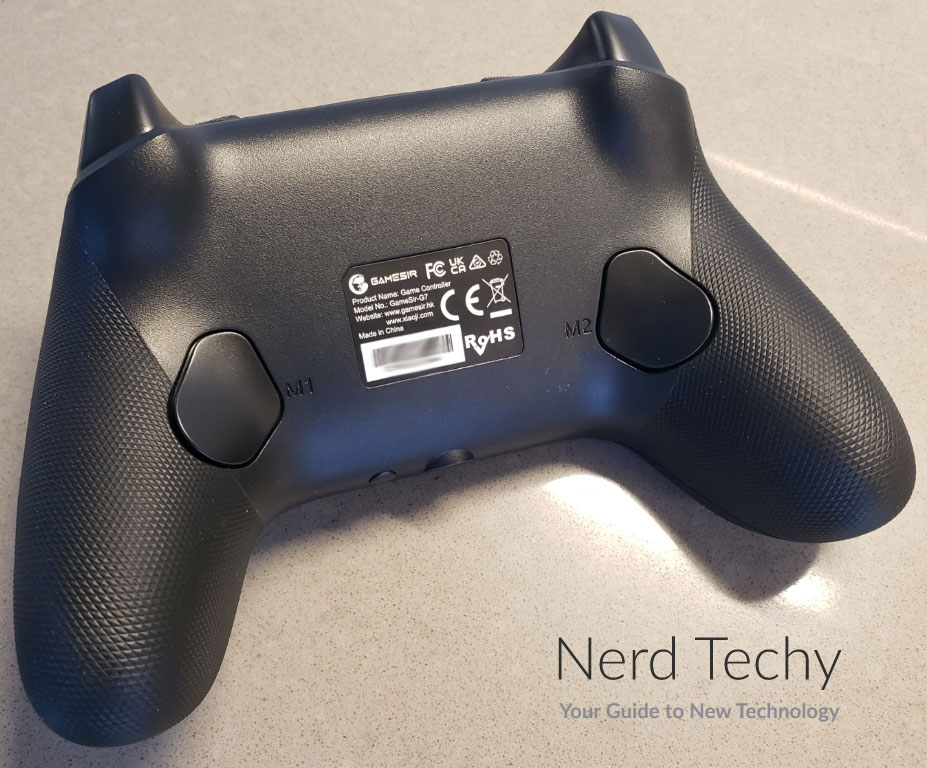 Buttons and Controls
The controls on the G7 build on the basic Xbox Series X/S controls and add some extras. The first difference you'll notice is the D-pad. Instead of an 8-way hybrid D-pad, it's a more straightforward 4-way, cross-shaped D-pad. The X, Y, A, and B buttons retain their respective blue, yellow, green, and red colors. But they have a softer feel to them than the originals, and they're exceptionally responsive.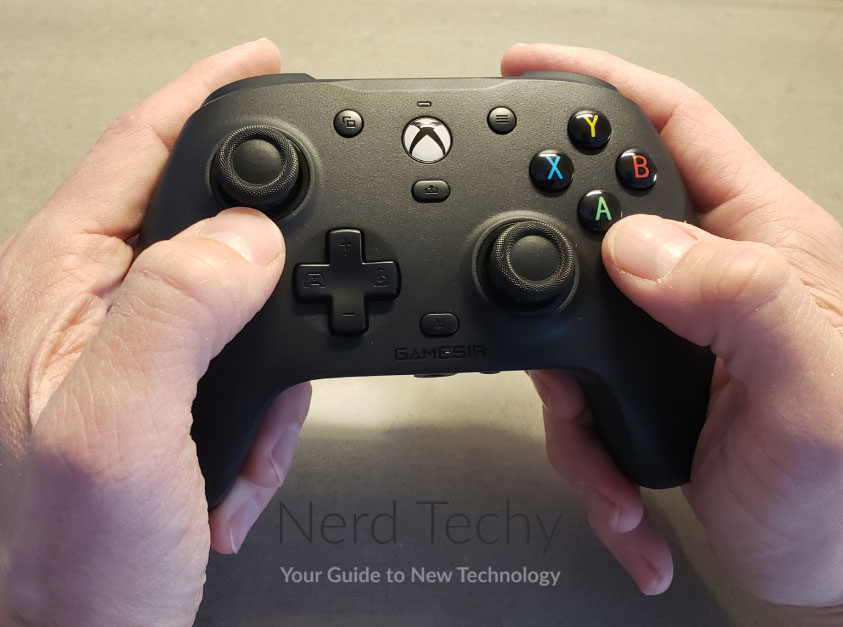 The joysticks here are very well-engineered. They have a tiny dead zone in the center, just like the originals. And they're algorithmically-optimize to self-correct any minor deviation. They feel very accurate when moved in any direction. Push them to 12 o'clock, and your character will walk straight forward. They're also exceptionally consistent, which makes it easy to align your crosshairs.
In the center of the controller, you'll find standard Xbox Series X/S controls. There's a menu button, back button, and screenshot button, along with the main Xbox button. There's an additional Mode button near the bottom. This button can be used for a handful of functions, which we'll discuss as we come across them.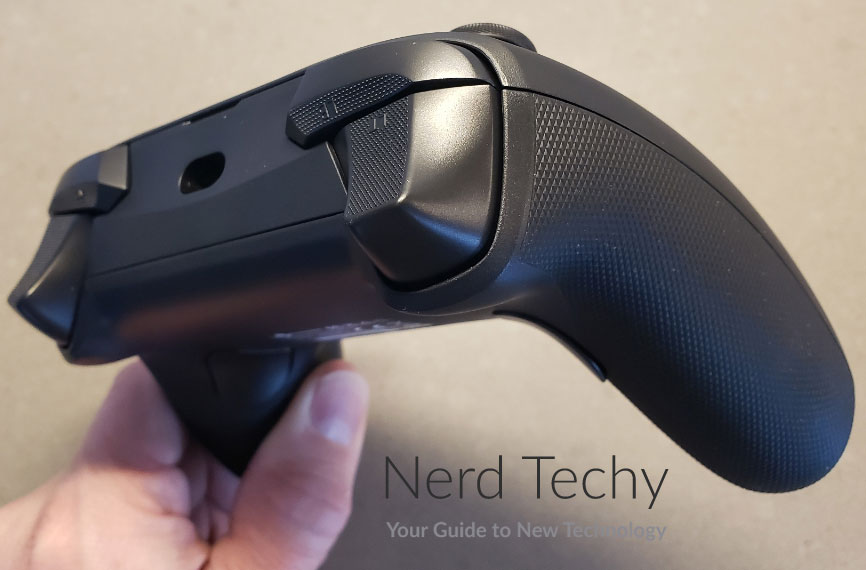 The triggers use Hall Effect technology. Without going too far into the weeds, these sensors are electromagnetic and don't require any physical contact. As a result, the trigger movement is extremely smooth. The only things that are actually touching them are your fingers and the springs. By default, the triggers are variable. This means they'll respond faster the further they're pulled. If you want to optimize for FPS games, press and hold the Mode and trigger buttons until the motors vibrate. This will put you into hair trigger mode, and the triggers will actuate at the slightest touch.
In addition to the triggers and bumpers, there's an extra set of buttons under the grips. These can be mapped to any other function on the controller. Using the Mode button, you can do this on the fly at any time to create the perfect control scheme.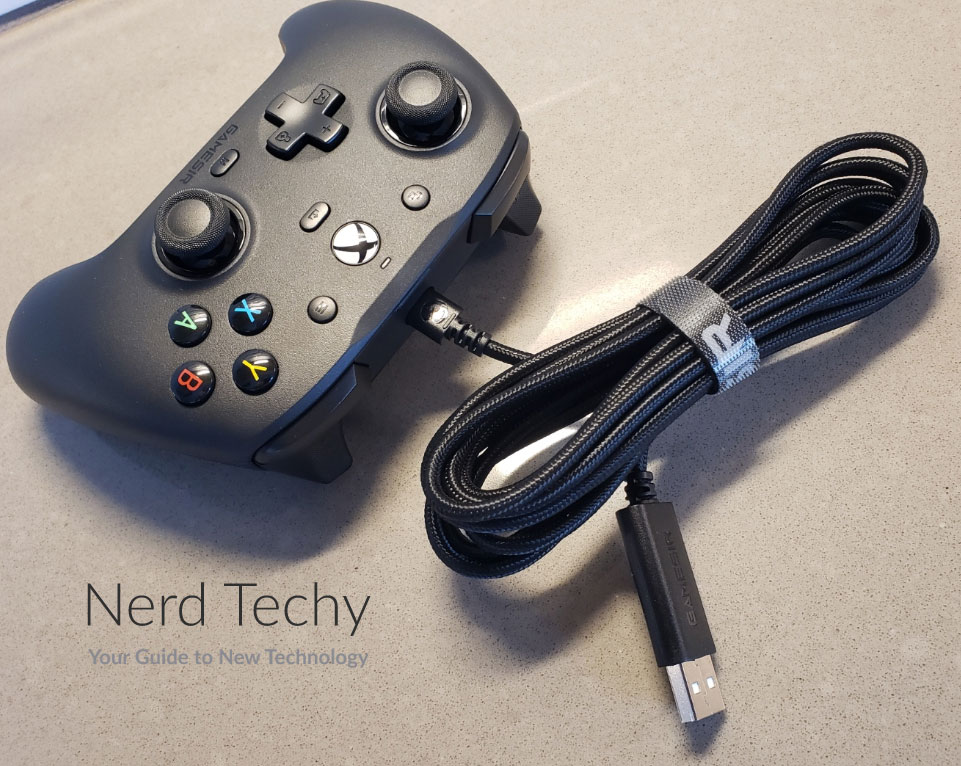 Connectivity & Compatibility
The GameSir G7 doesn't have any wireless connection option. For some people, this might be a deal-breaker. But if you want the best possible performance, a wired connection is the best option. This controller has only 4 milliseconds of latency, which is so fast that it might as well be zero.
The low latency is augmented by a blazing-fast 265Hz polling rate. In other words, each button, trigger, and thumbstick reports 265 times per second. And with a 9.9-foot USB Type-C cable, you'll have more than enough reach. The cable is also detachable. If it ends up getting damaged, you can simply replace it with a new one.
Compatibility is a bit of a mixed bag. This is a purpose-built Microsoft controller, and it only works with Microsoft machines. This means the Xbox Series X/S and PC, as well as backwards-compatibility for the Xbox One. It won't work with a PlayStation or Apple device.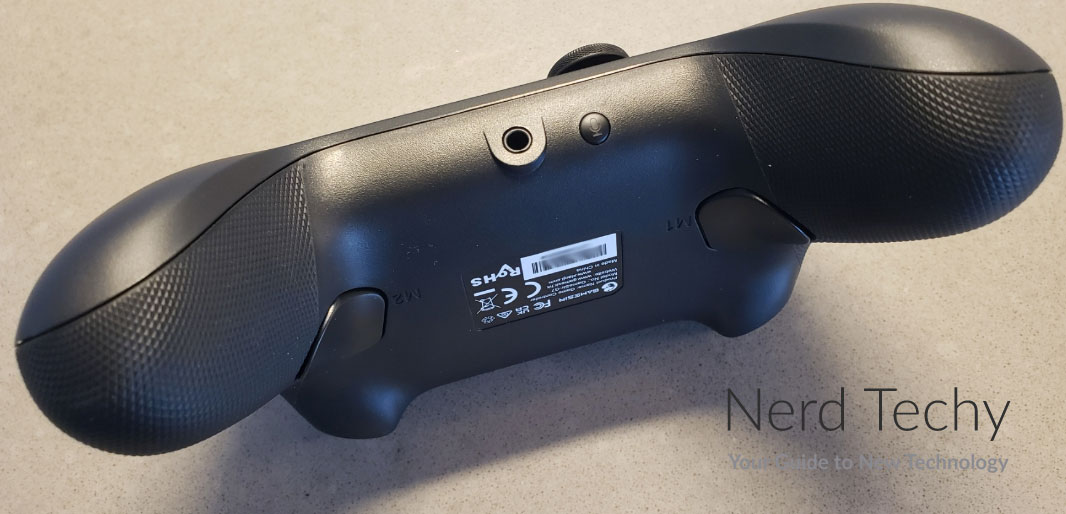 On the bottom edge of the G7 is a 3.5mm aux jack. This allows you to connect any Xbox-compatible headset and chat with your friends. Next to the jack is a tiny mute button, so you can quickly pop in and out of chat. If that's not enough, the D-pad doubles as a volume control. Press the Mode button and up or down on the D-pad to adjust the master volume. The left and right buttons, meanwhile, are used to adjust the voice chat volume.
If you prefer a wireless controller, take a look at the GameSir T4 Mini. It has a more compact design, narrower from side to side but fatter in the middle. And it's compatible with PC, Android and iOS devices, and the Nintendo Switch. Then again, it's not compatible with Xbox consoles.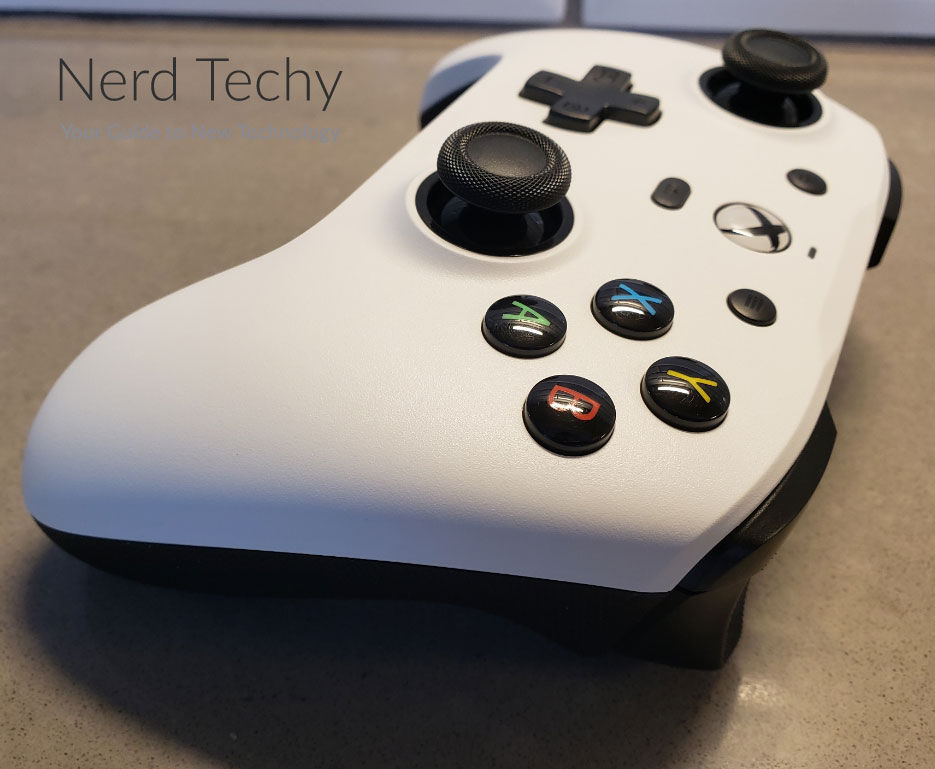 Extra Features
The G7 comes with a few extra features that are worth mentioning. To begin with, it comes with an alternate white face plate. Both face plates are magnetic, so they take just a few seconds to swap out. If that's not enough, both surfaces are designed to be painted. This gives you the freedom to create a truly custom controller.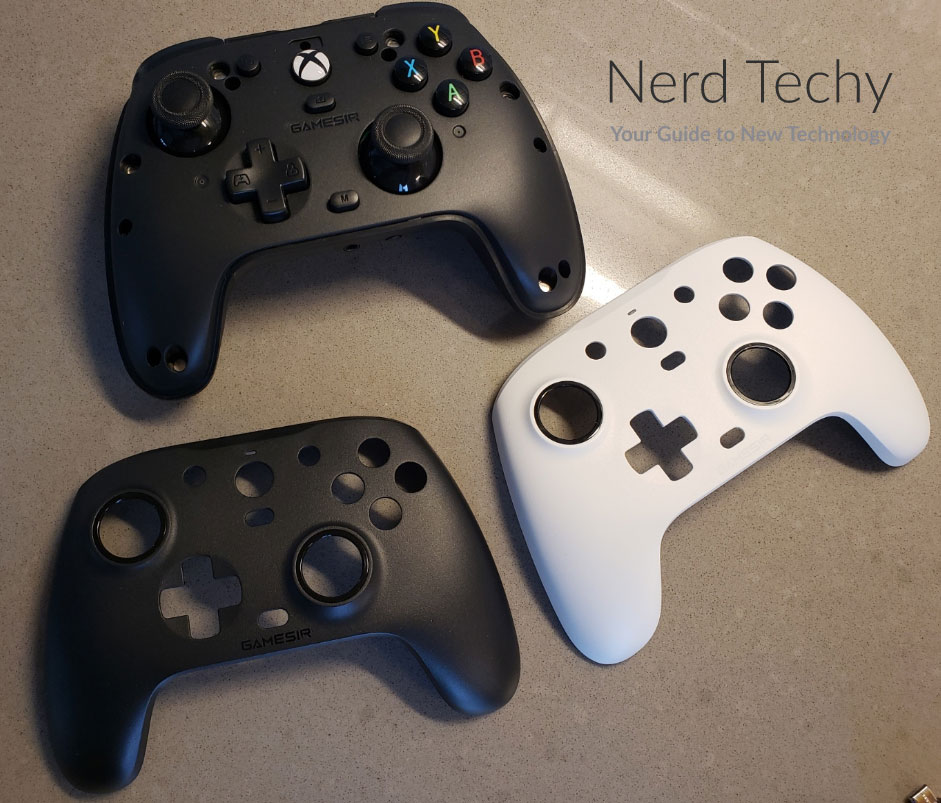 Plug into a PC, and you'll also be able to customize the way the controller works. First, install the GameSir Nexus software, which is free to download from their website. Within the software, you can create custom controller layouts. This is incredibly powerful for games with few or no remapping options. Just remap your buttons in the software, and you're ready to go.
The software provides additional options for customizing your controls. You can adjust the trigger and stick sensitivity, and even customize your dead zones. If you want to, you can eliminate the dead zone on the thumbsticks altogether.
Xbox Series X/S Controller Improvements
Before we wrap up, we should talk about some of the important features of the base Xbox Series X/S controller. How did it evolve from the earlier Xbox One controller?
To begin with, Microsoft added a share button in the middle of the controller. It's located just below the Xbox button, and it allows you to instantly take a screenshot and share it. This is a significant upgrade, since the Xbox 360 and Xbox One required a series of steps to take a screenshot. Oftentimes, by the time you took the screenshot, whatever you wanted to capture was gone. With the new controller, that's no longer a concern.
Microsoft has also shrunk the size, as they've done in every previous generation. This has come in tandem with Sony growing their controller over time. Today, the two consoles have virtually the same size controller. It's a happy medium that's small enough for an 8-year-old to hold, but also big enough for a larger adult. At the same time, the overall shape and profile remains the same.
With the shrinking size, there were some concerns that the controller could be harder to grip. To correct for this, Microsoft created a new, textured finish for the bottoms of their hand grips. The shoulder buttons respond better and provide more tactile response. The sides of the controller near the bumpers have even been textured so they won't slip out of your hands.
One other notable change was the finish. The Xbox One controller had glossy buttons that seemed to pop out from the housing. The new controller has matte buttons that blend more seamlessly into the rest of the design. GameSir has retained all of these changes in the G7, which is something we appreciated.
Final Verdict
As you can see, the GameSir G7 is a well-designed replacement controller for your Xbox Series X/S. It's also not a bad choice for your Xbox One or PC. While some may be put off by the wired design, there's no replacement for this kind of low-latency performance. The high polling rate also doesn't hurt, nor do the high quality sensors.
We also loved the extra features. The Mode button, extra back buttons, and on-the-fly mapping make for a smooth gaming experience. The Nexus software unlocks powerful remapping features you won't find on most controllers. And the swappable magnetic face plates allow you to personalize your controller's appearance. All in all, there's a lot to like about this piece of equipment.
Meet Derek, "TechGuru," a 34-year-old technology enthusiast with a deep passion for tech innovations. With extensive experience, he specializes in gaming hardware and software, and has expertise in gadgets, custom PCs, and audio.
Besides writing about tech and reviewing new products, Derek enjoys traveling, hiking, and photography. Committed to keeping up with the latest industry trends, he aims to guide readers in making informed tech decisions.