GameSir X3
Pros
Swappable buttons and thumbsticks.
Fits almost any Type-C smartphone.
Wired connection with zero latency.
Powerful built-in cooling fan.
Cons
Only compatible with USB Type-C phones.
Cooling fan requires a separate power supply.
Over the past few years, mobile gaming has become more and more popular. This is mostly a function of more powerful technology. Old flip phones, for example, were only capable of running simple games like Snake. That's fine if you need to kill some time every once in a while, but it's not an engrossing gaming experience.
Even six or seven years ago, when people thought of mobile gaming, they thought of games like Angry Birds. These games appealed to a broader audience, and gave a hint of what smartphones were capable of. Fast forward to today, and some of the most popular AAA titles are now available on iOS and Android.
This is great news if you want to enjoy the hottest games without investing in a game console. It's also a convenient way to take your games on the road. But let's be honest; smartphones don't have an ideal interface for gaming.
They're designed primarily for portability and basic apps, which means a simple touchscreen interface. And there's only so much you can do by tapping on a touchscreen. If you want to get the most out of your mobile games, you'll want to use a third-party controller. GameSir has some of the world's leading experts on that subject, with multiple popular controller offerings.
GameSir X3
Today, we're going to review the GameSir X3 USB Type-C "Ultimate" Mobile Controller. This is a brand new release, designed to clamp onto a USB Type-C smartphone.
Like most of GameSir's products, the X3 is initially being released via an Indiegogo campaign. But you don't have to worry about the campaign being canceled. At the time of this writing, it's already reached over 400% of its goal. GameSir currently expects to begin shipping to the general public some time in June.
So, how well does this controller perform, and is it worth your time and money? To find out, we're going to have to take a deeper dive into how it works. We'll look at the physical design, the button layout, the connectivity, and more. Let's take a closer look, and see how the X3 stacks up to the competition!

Design and Durability
The GameSir X3 USB Type-C Mobile Controller has a two-tone black and white housing. The front panel is white, with a black back and frame. The overall shape is roughly rectangular, although the corners are rounded off for comfort.
In total, the controller weighs just over half a pound. When added to the weight of your smartphone, that's still not very much. And considering how much functionality you're getting, the light weight is downright impressive. It's also comfortable to hold onto, with contoured, rubberized grips on the backs of both sides.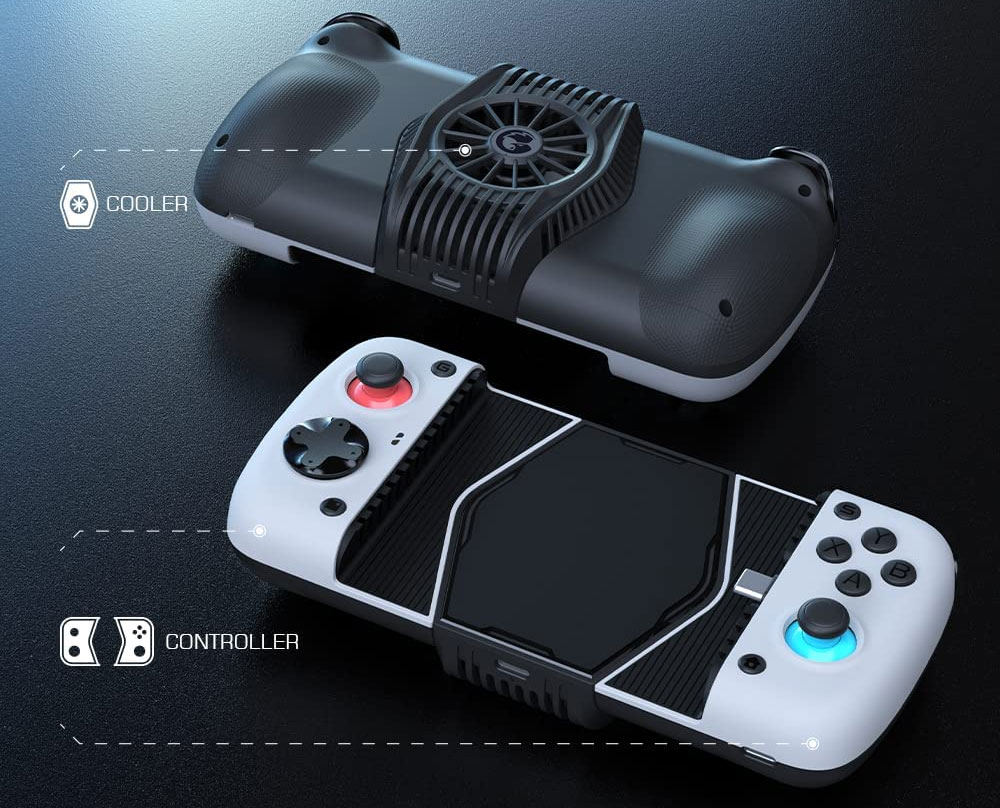 The frame is spring-loaded, and is designed to clamp over your phone. The controls themselves are split to the sides, with a recess in the center for your phone. This recess is lined with rubber, which prevents it from scratching your phone's case or damaging the finish. At one end of the recess, you'll see a male USB Type-C plug.
To set up the controller, first put your phone into the recess, and slide it onto the USB plug. Next, pull on the sides of the controller to stretch it out to the right width. In total, it can accommodate phones between 4.3 and 7 inches in length. Let your phone lie flat, and let the controller clamp down onto the sides. It will hold your phone securely in place, even if you're holding the controller from one side.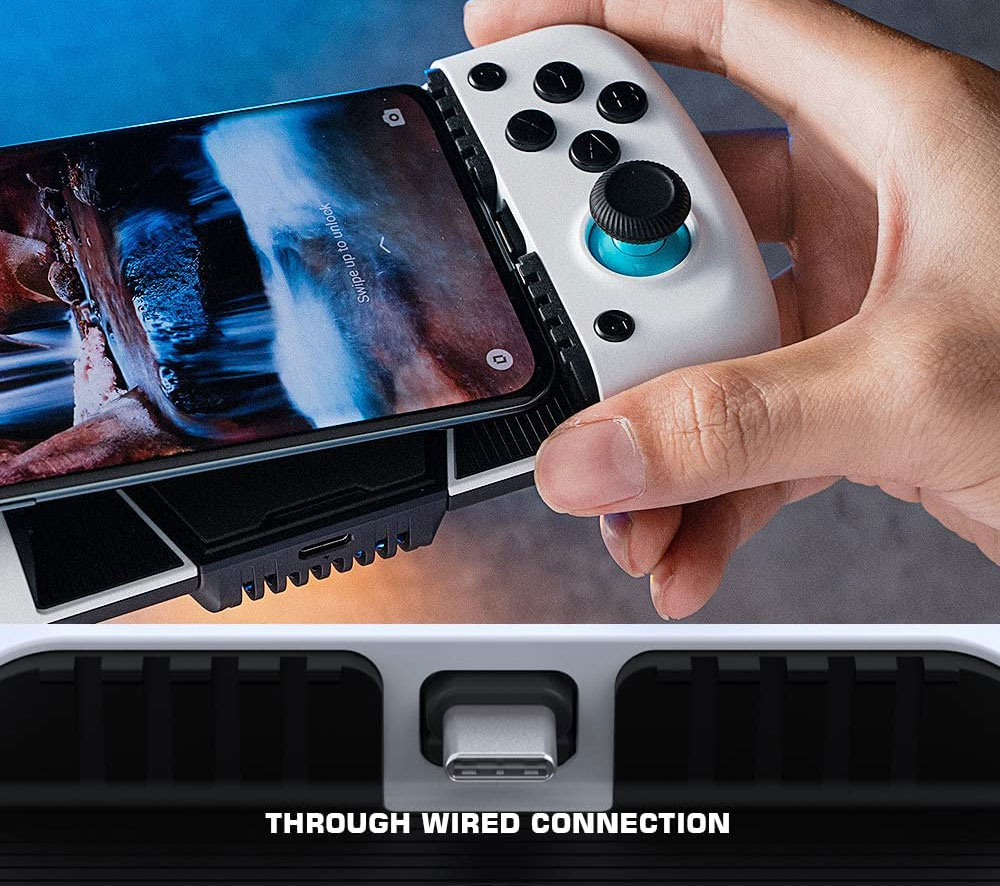 The controller layout is similar to what you'll find on an Xbox or Nintendo Switch. There's a pair of offset thumbsticks, with the one on the left higher than the one on the right. Below the left thumbstick is a directional pad. Above the right thumbstick, there's a set of X, Y, A, and B buttons. They have an Xbox layout out of the box.
But as we'll see, they can be easily swapped out into a Switch layout. You'll also see four function buttons located closer to the phone. These include a home button and a menu button. On the front of the controller, there are two triggers on either side. All the triggers and switches are rated for three million clicks.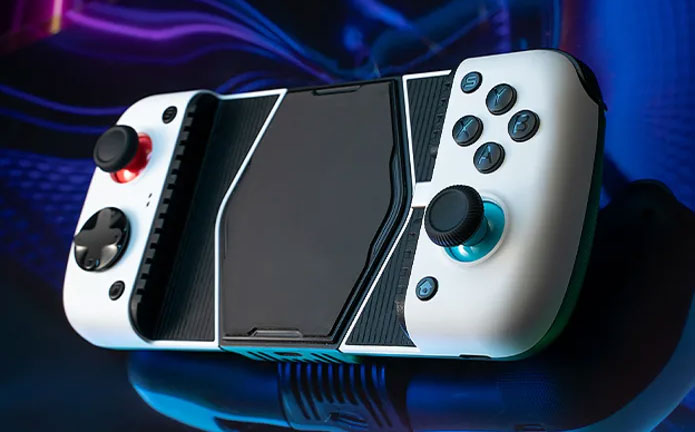 On the back of the frame, there's a circular cooling fan. The fan is vented to allow for plenty of air flow, and spins at up to 7,500 RPM. This pushes a ton of air over the back of your phone, which keeps it as cool as possible. Despite the high speed, the fan is very quiet, and you won't hear it over your game's audio.
The kit ships with a zippered carrying case that's designed for protection and storage. It's semi-rigid, with a tough nylon outer shell that's mostly black in color. The red zipper and white GameSir imprint add a splash of color. The case isn't a huge deal, but it's still a nice added touch.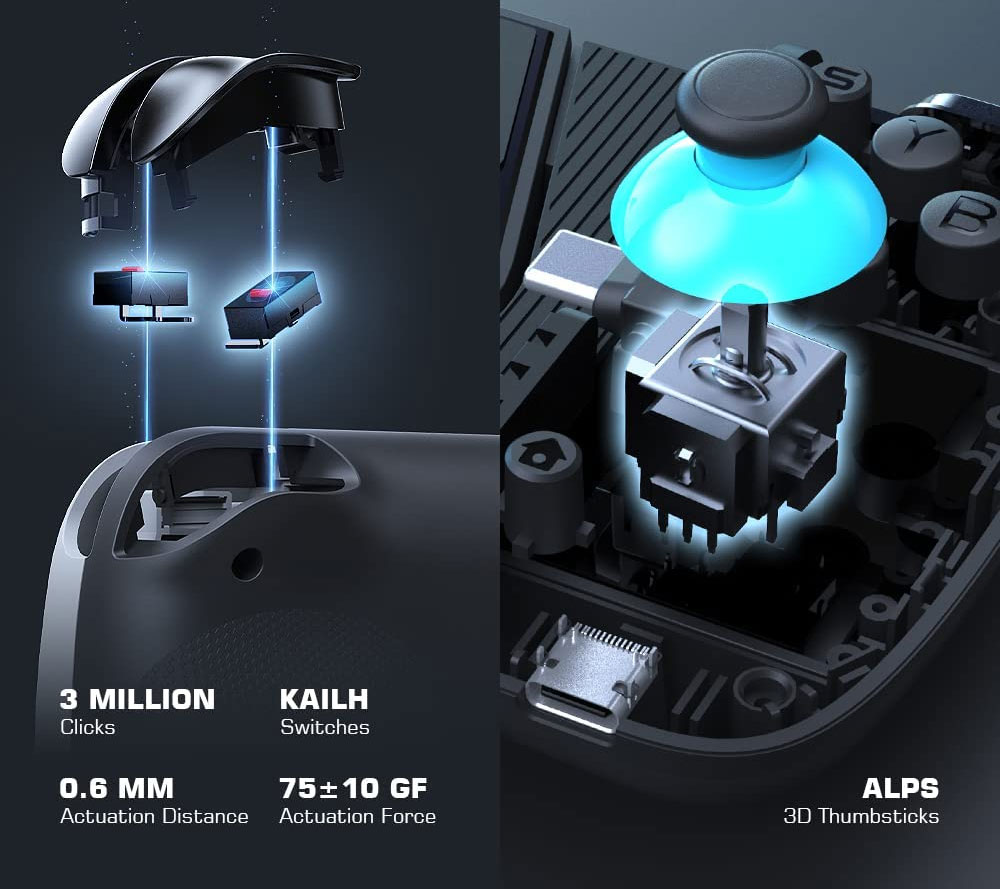 As you can see, the X3 is really specialized for USB Type-C smartphones. But what if you want to use a controller for your Android or iOS tablet? In that case, the GameSir F7 Claw is an excellent choice. It's a mechanical controller for tablets, which works by directly tapping on the screen.
Power and Connectivity
The GameSir X3 is so lightweight in part because there's no internal battery. Instead, it draws its power directly from your smartphone. This might sound like a major drawback, but it's not a big deal. In fact, the controller only draws 2mA of power, or 2mAh of power per hour. For all intents and purposes, it might as well not be drawing any power whatsoever. In total, it might knock five minutes off of your phone's battery life.
In terms of compatibility, this controller will work out of the box with most USB Type-C Android phones. It's compatible with all versions of the Android operating system, starting with Android 9.0. Android 9.0 came out in August, 2018, so we're talking about any current phone. As long as yours uses USB Type-C and not Micro USB, you'll be good to go.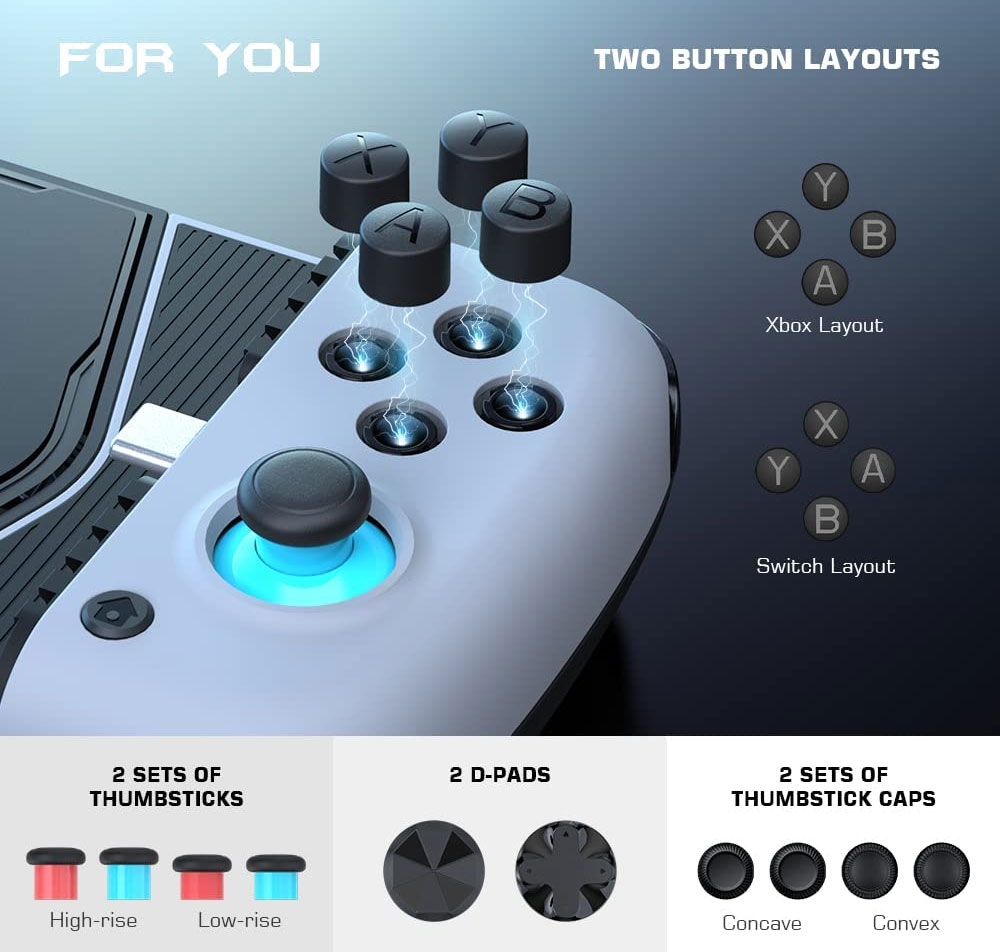 Part of the reason the X3 is able to consume so little power is that the cooling fan doesn't run from your smartphone. Instead, it runs on a separate USB Type-C power input, located at the back center of the frame. This can be plugged into any USB Type-C power source. It only draws 10 watts, so even an ordinary 10V/2A port will work just fine. There's a USB Type-A to Type-C cable included, so all you need to provide is a power source. You can plug it into a wall adapter, or into a USB power bank.
This controller will support pass-through charging on many, but not all smartphones. Supported models include Samsung's product line, as well as the Google Pixel. You can check GameSir's product listing for a more complete overview. With pass-through charging, the cable supplying power to your fan also charges your phone. This allows you to keep gaming more or less indefinitely.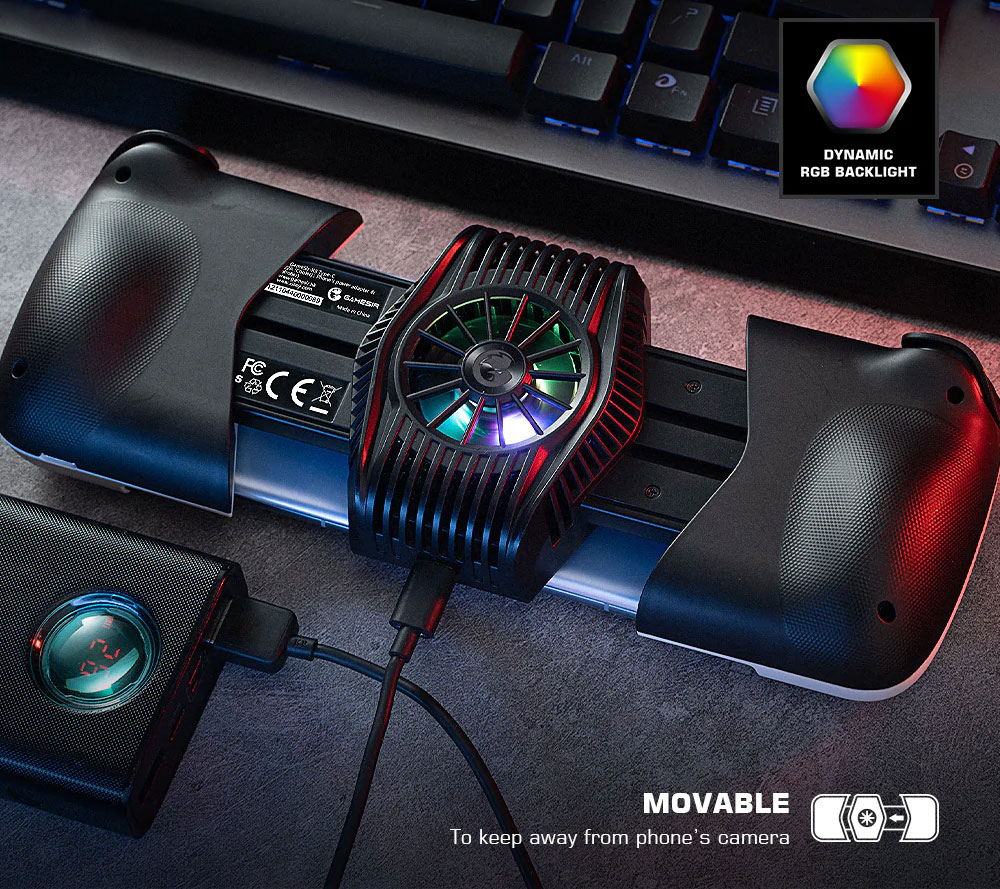 Of course, the X3 isn't going to do you much good with your PC, Nintendo Switch, or other platform. For that, the GameSir T4 Mini is a better option. It's a separate controller, similar to a console controller, and it connects to your gaming device via Bluetooth.
Features and Functionality
So, how well do the controls on the GameSir X3 actually work? To begin with, the buttons and triggers are nice and clicky. You get good tactile response, much like an Xbox or Nintendo Switch controller. Not only that, but because of the wired design, you experience zero latency.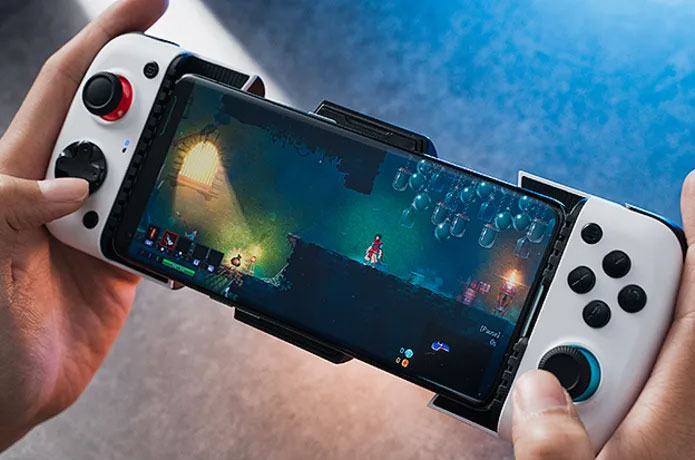 Even the highest-quality wireless controllers have a delay between when a button press and when the system receives the signal. This latency may only be a few milliseconds, but that can make all the difference when you're gaming. With a wired connection, the signal is transmitted instantaneously, with no such delay.
Of course, the downside of a wired connection is that you need a compatible phone. A Bluetooth connection, on the other hand, is more universal. If you want a controller that works with any smartphone, check out the GameSir X2 Bluetooth. It's almost universally compatible, but there's more latency in the signal.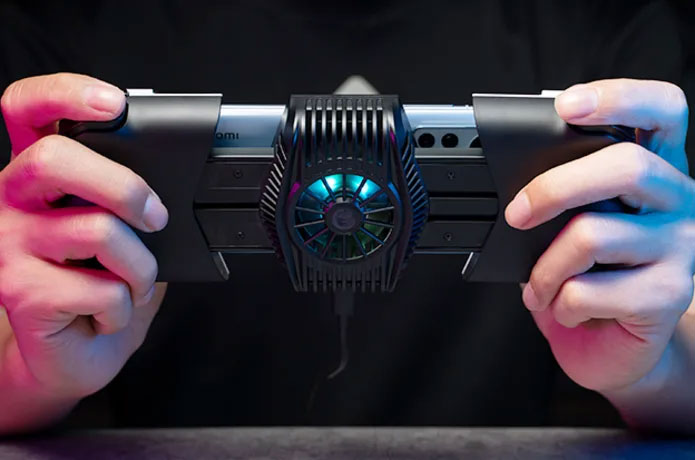 As we mentioned at the beginning, the X3's buttons are interchangeable. This is possible in a few different ways. To begin with, the X, Y, A, and B buttons are magnetic. With a sharp tug, you can snap them right off. This allows you to move them around as desired. If you prefer a Nintendo Switch layout, for example, you can rearrange the buttons in just a few seconds.
The red left thumbstick and blue right thumbstick are also interchangeable. The kit includes a set of taller sticks that provide more responsiveness at the expense of some precision. In addition, the thumbstick caps themselves can be customized. You get a convex and a concave pair, depending on your preferences. There are even two D-pads. Besides the standard 4-way pad, there's a fancier faceted pad that may appeal to some gamers.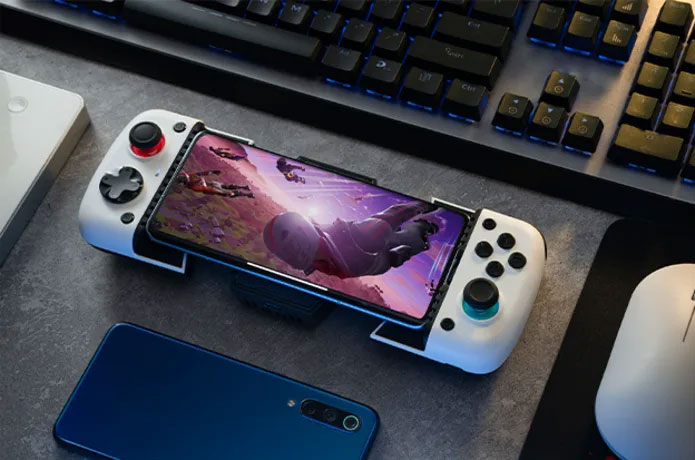 We should also take a minute to acknowledge the X3's heat sink system. Behind your phone is a silicone pad, which separates your phone from a copper back plate. This plate has a special heat-transferring membrane on the back, and contacts an aluminum heat sink. The heat sink itself sits directly behind the fan, and continually cools your phone. It's advertised to cool your phone by up to 24 degrees Centigrade, which is a considerable amount. In practice, it works best when you're not using a phone case.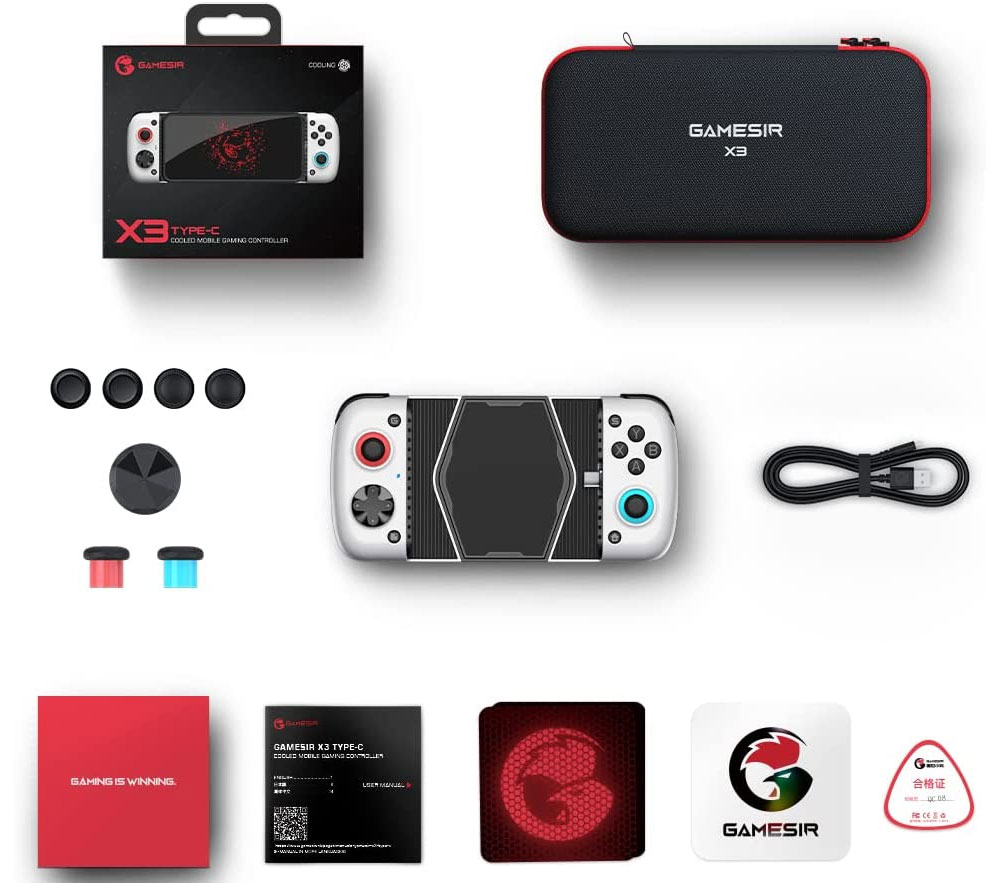 TapTap App
We highly recommend installing and utilizing the TapTap app. Downloadable through this link, it's a specialized app that allows you to easily connect with other players for multiplayer action.
It supports a wide range of games including but not limited to Fortnite, T3 Arena, Call of Duty Mobile, Genshin Impact and much more. Best of all, it's compatible with GameSir's X3 mobile controller so you can get the most out of it.
Final Verdict
The GameSir X3 USB Type-C Mobile Controller is a great choice for anyone with a compatible phone. It's easy to set up, and the buttons and triggers are responsive and clicky. The ergonomics are excellent, and the cooling system does an excellent job. If you want a straightforward Type-C smartphone controller, you're looking at a solid choice.
Meet Derek, "TechGuru," a 34-year-old technology enthusiast with a deep passion for tech innovations. With extensive experience, he specializes in gaming hardware and software, and has expertise in gadgets, custom PCs, and audio.
Besides writing about tech and reviewing new products, Derek enjoys traveling, hiking, and photography. Committed to keeping up with the latest industry trends, he aims to guide readers in making informed tech decisions.