Since its release in 2010, the iPad has revolutionized how we think about computers. Apple literally created an entirely new type of device: the tablet. Tablets bridge the gap between laptops and smartphones.
Like a smartphone, you can hold your tablet in one hand. You can also take advantage of a touchscreen, a more lightweight package than a laptop. Like a laptop, you had more robust computing power and a large display. Tablets are perfect for people with highly-mobile jobs who need a portable computer with modest capabilities.
At the same time, iPads are inherently vulnerable. A single drop can shatter the expensive, advanced touchscreen and damage internal components. One scratch could mar the lens on the camera.
That's why most people buy a case to protect their iPad. A good case will cover your screen, protect your camera, and provide a measure of drop-resistance. If it has handles, a case can even aid with portability.
There are plenty of cases on the market. Some are purely utilitarian, designed for maximum durability and little else. Some are more cosmetic, designed to make your case more visually appealing.
You'll also find options with extra storage and other extra features. There's a lot of diversity, so take your time to review various options. That way, you'll find a case that meets your specific needs.
PITAKA FlipBook Case for iPad
Today, we're going to review the PITAKA FlipBook Case for iPad. This is a folding case that doubles as a stand and sports a pair of built-in handles. It's designed to be used as part of PITAKA's MagEZ product ecosystem, with a smaller magnetic case. It's also meant to be used with the Apple Magic Keyboard.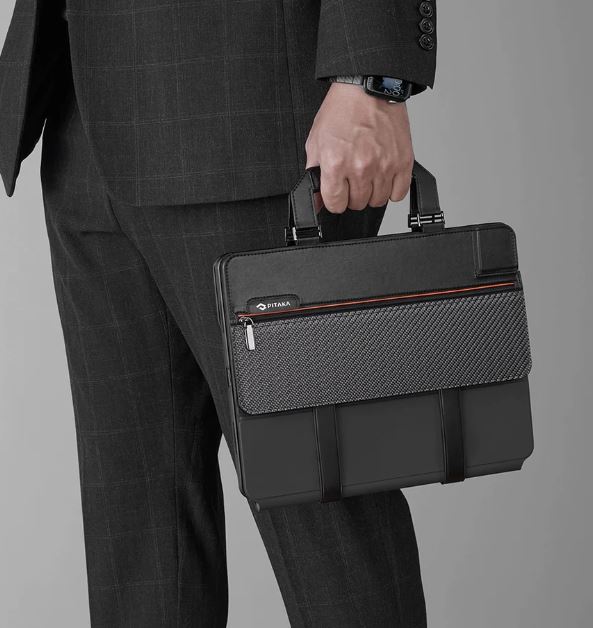 We'll look at the FlipBook's design and construction, and the features it offers. We'll discuss its storage function, and how it keeps your iPad safe. Additionally, we'll talk about the Apple Magic Keyboard and MagEZ case, since you'll need both of those things. Once we've examined all of these things, we'll be in a position to deliver a fair verdict. Let's dig in, and see what we come up with!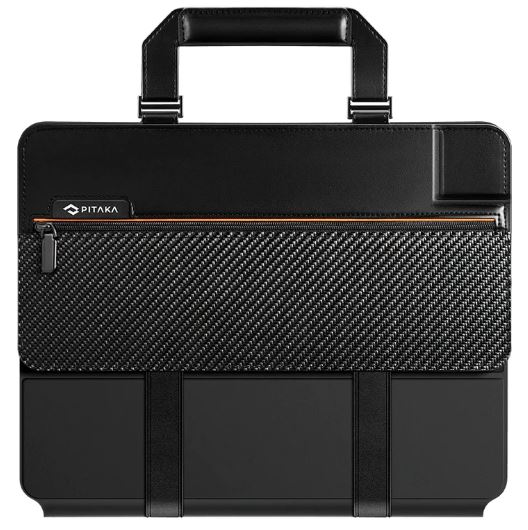 Case Design
PITAKA manufactures some of some of the most innovative electronics accessories we've seen on the market. Not long ago, we reviewed their MagEZ Slider, a truly unique phone charger. It's a desktop model, with a removable wireless charging power bank. It also has little pads for your smart watch and earbuds. So when we saw that the same company made an iPad case, we were excited to get our hands on it.
The PITAKA FlipBook Case for iPad is a folding case that closes over your iPad like a book. You can order it in black or white and in two different sizes. It can fit either the 11-inch or 12.9-inch iPad. The larger 12.9-inch version measures 11.9 inches wide, 11.2 inches high, and 1.1 inches thick. It weighs only 13.4 ounces, so it doesn't add all that much weight.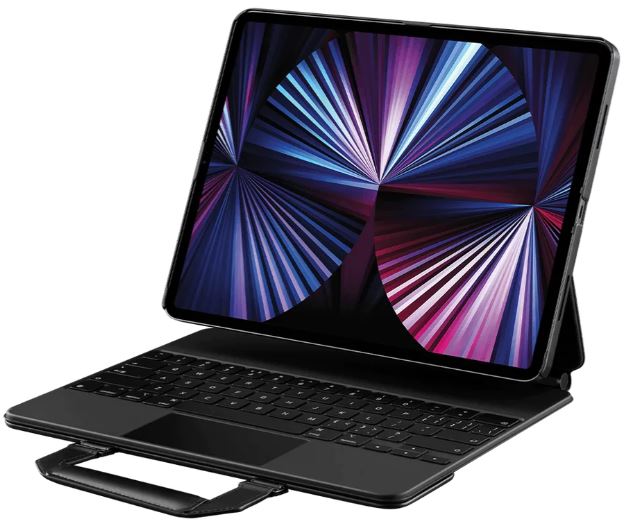 When you open the case, the back can be flexed to support the screen at an angle. When you have an Apple Magic Keyboard in the other half of the case, it effectively works as a laptop. You've got your keyboard on the bottom and your screen on the top, and it folds up for easy storage.
At the top of the case is a split handle. Both sides of the handle are magnetized, so they snap together when the case is closed. The bottoms of the handles are hinged, so they can flip out of the way when you're using your iPad. They're made of a high-quality stitched leather, and provide a comfortable carrying grip.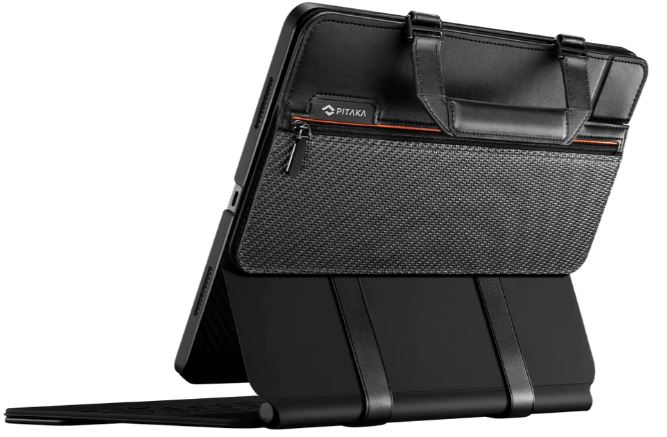 The case as a whole is made from different materials depending on the color. The black version is constructed from a blend of leather and a dense carbon fiber. The white version also incorporates leather, but uses a polyester fiber instead of carbon fiber.
Quality of Construction
One thing we appreciated about the FlipBook is just how well put together it is. Both the carbon fiber and the polyester fiber versions are beautifully crafted. The material feels soft to the touch, despite being tough enough to take a serious beating. The black version is polished to a bright sheen that creates a glittering pattern under intense light.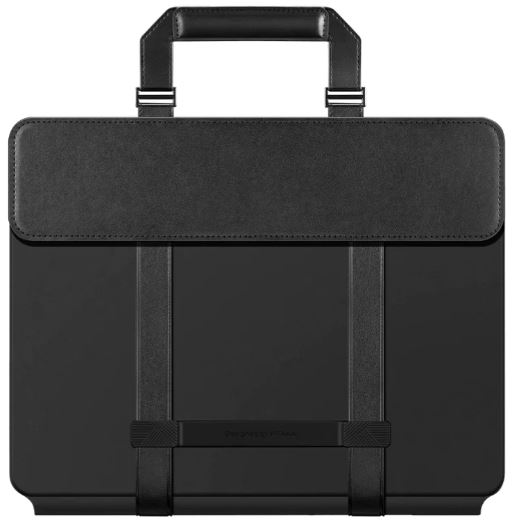 The leather, meanwhile, is beautifully stitched. You'll notice stitching around all the edges, which both adds strength and improves the aesthetic appeal. Speaking of which, there's a Ferarri orange stripe along the back, just above the zipper. It's little touches like this that set PITAKA's products apart from the competition.
Your iPad and keyboard install using a set of adhesive gel pads. These pads provide surprisingly strong adhesion, so you don't have to worry about your tablet falling out. At the same time, they're reusable up to 100 times. So if you don't want to use the FlipBook all the time, you don't have to. The gel also won't leave any sticky residue on your tablet or keyboard.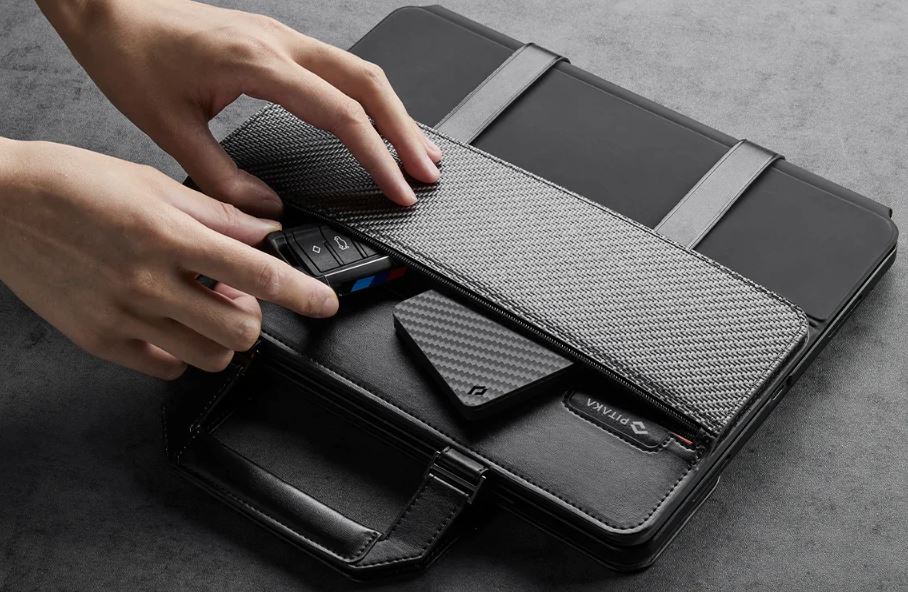 Keyboard Design
As we mentioned, the FlipBook case is designed for use with the Apple Magic Keyboard. This is not optional. By itself, the FlipBook doesn't completely cover your tablet.
It has solid panels towards the top, but the bottom is just a pair of leather straps. They're more than strong enough to support the iPad, and they provide a measure of drop resistance. But much of the bottom of the screen is completely uncovered.
The Apple Magic Keyboard acts as a case in and of itself. It has a hinge at the bottom where it attaches to your iPad. It also allows you to snap your iPad shut, effectively turning it into an ultra-slim laptop. With the keyboard attached, the FlipBook fits around the entire assembly. So the keyboard protects your screen, and your FlipBook protects the keyboard.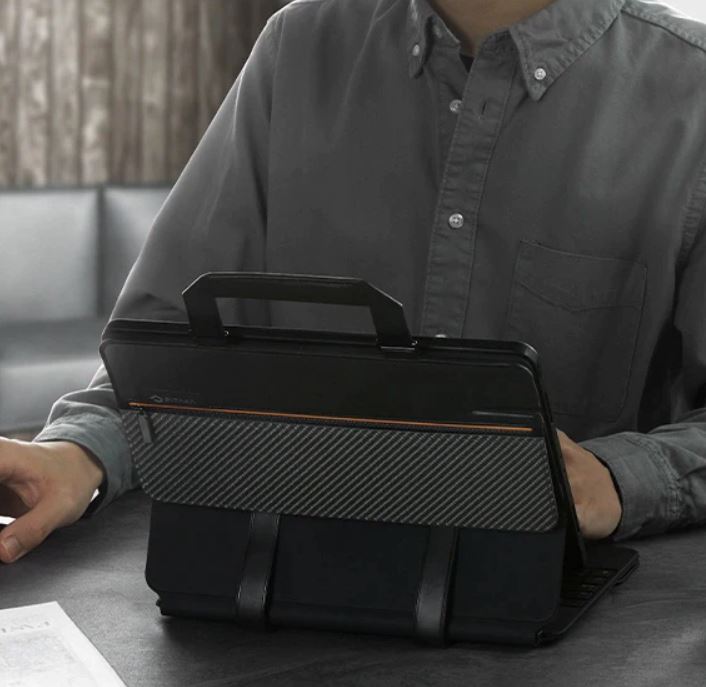 The keyboard itself is well-engineered, with quiet, backlit keys. They have a 1mm travel distance and provide enough tactile response for easy typing. It allows you to tilt the screen to different angles, and provides an additional USB Type-C port for pass-through charging. This frees up the USB Type-C port on your iPad for other uses.
Designed for Use With the MagEZ Case
The Apple Magic Keyboard isn't the only thing you'll need to make the FlipBook case work the best. You'll also need PITAKA's MagEZ case. This case is designed specifically to use with the Magic Keyboard, since it has a set of built-in magnets.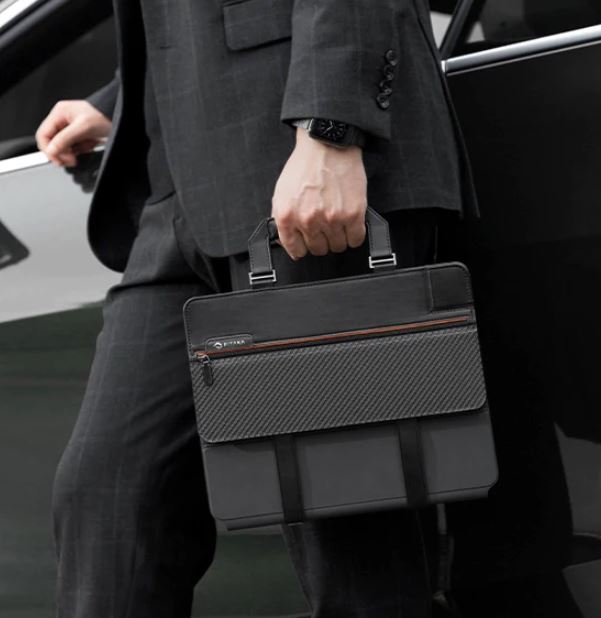 This sets it a part from most cases, which can't attach to a magnet. It's also designed not to interfere with the keyboards other functions, such as pass-through charging. In addition, the top of the case is magnetized to allow you to attach your Apple Pencil. This makes it a great tool for artists, or for anyone else who favors a stylus.
This case is engineered from a woven aramid fiber with a smooth, almost fabric-like finish. Despite this, it's durable enough to take some modest abuse. That said, the case is extremely thin. This is great for portability, but it does limit how rugged it is. Then again, that's not a major concern when you're using the FlipBook. By combining the two, you're getting excellent protection.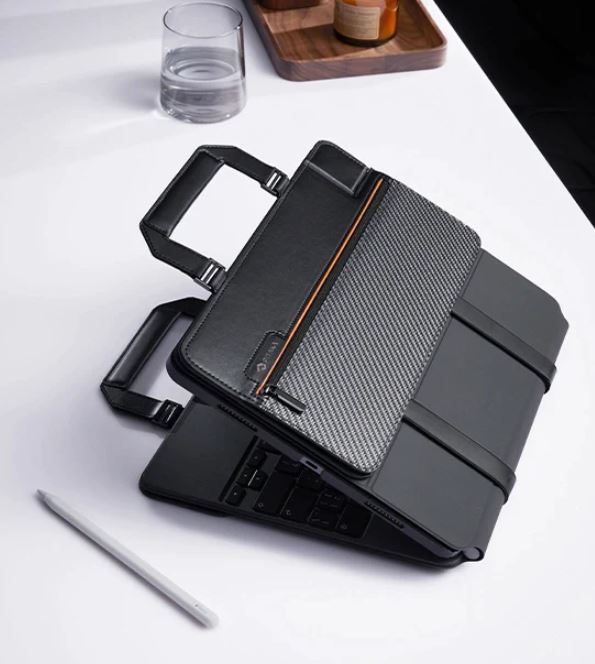 Like any tablet case, the MagEZ needs to be ordered in the right size for your iPad. There's one version to fit the iPad Pro 2020/2020 and iPad Air. A different version is designed to fit the iPad Pro 2021.
Convenience & Extras
Besides protection and aesthetics, the FlipBook case also has a few other tricks up its sleeve. To begin with, there's an accordion-style pocket sewn into the back. It has a horizontal zipper, and can expand enough to fit a smartphone in its case. When it's empty, it sits completely flat to the case, providing a sleek profile.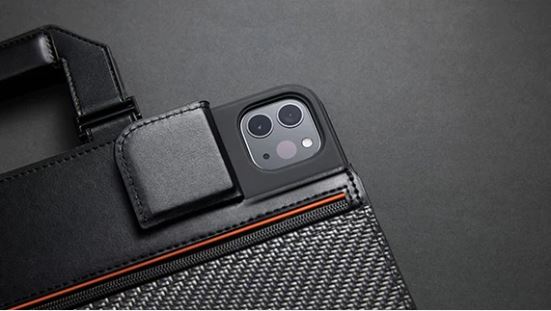 On the bottom, there's a silicon pad with a set of raised ridges. This keeps the case from scratching your desk, and helps to keep it properly balanced. It also ensures that your iPad won't slide around your desk while you're working on it. The padding and ridges have a low profile, so it still has a smooth appearance.
Finally, there's a little door at the back corner that covers your camera lens. It's magnetized, which helps it to stay shut. Meanwhile, when it's open, it sticks to the case and doesn't flap back down in front of the camera. This keeps your camera safe when it's not in use, and uncovered when you're trying to use it.
One thing the FlipBook won't do is theft-proof your tablet. If you're looking for a case for a retail environment, you'll want something that bolts down. In that case, look at our list of the best anti-theft tablet stands. One of them should be up your alley.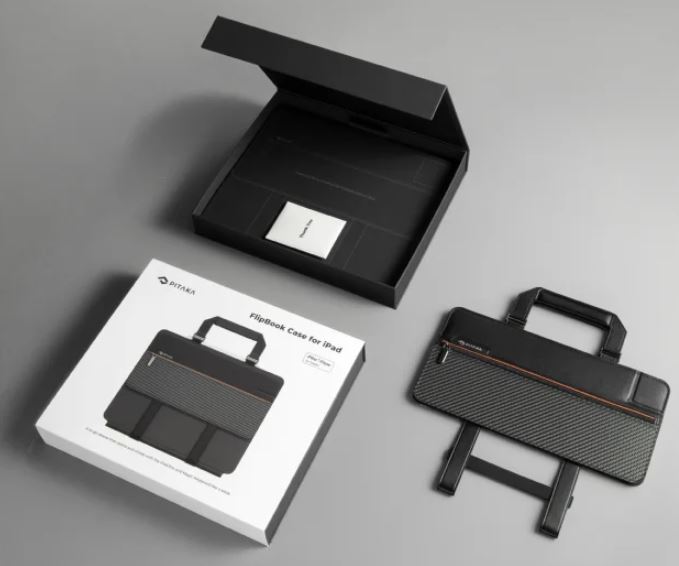 Final Verdict
The PITAKA FlipBook Case for iPad is one of the most innovative cases around. It looks and feels like a luxury product, with stitched leather and durable carbon and polyester fiber. It provides you with extra storage in the form of an accordion-style pocket. The handle is well-engineered and makes the case easy to carry. And silicone padding ensures that it won't damage your desk or slide around.
No product is perfect. In this case, we were frustrated by the fact that the FlipBook is part of an ecosystem. To use it, you also need an Apple Magic Keyboard and preferably, also a PITAKA MagEZ case. That said, everyone needs a case, and a lot of people already use the keyboard. If that's you, then you're looking at an excellent case.
Meet Derek, "TechGuru," a 34-year-old technology enthusiast with a deep passion for tech innovations. With extensive experience, he specializes in gaming hardware and software, and has expertise in gadgets, custom PCs, and audio.
Besides writing about tech and reviewing new products, Derek enjoys traveling, hiking, and photography. Committed to keeping up with the latest industry trends, he aims to guide readers in making informed tech decisions.