Sometimes, a single monitor isn't enough. For certain tasks, it helps to have two or even three displays. One of the most common applications for a multi-display setup is programming. You can have your code open on one display, and run an instance of your program on the other. You can move seamlessly back and forth without having to minimize and maximize your windows.
The same is true for video editing. Video editing software can involve large timelines, menus for effects, and other elements. This can leave you with a preview window that's too small to be practical. With a second monitor, you can move the preview window to the second display. That way, you'll easily be able to tell what you're doing.
Whatever your application, things get a little more complicated when you're using a laptop. Sure, you can easily carry your computer around. But how do you carry one or two big external monitors? It's simply not practical. You can, however, carry a smaller, lighter flatscreen display. This practicality has created a niche market for lightweight, portable displays.
But as with any device, you want to be careful what you buy. Choosing the wrong laptop display can leave you feeling empty and unsatisfied. We decided to look at a monitor from an established brand with experience in this market.
FOPO is already well-known for their 12-inch monitor that made our list of the best portable triple monitors. So it made sense to check out some of their other offerings.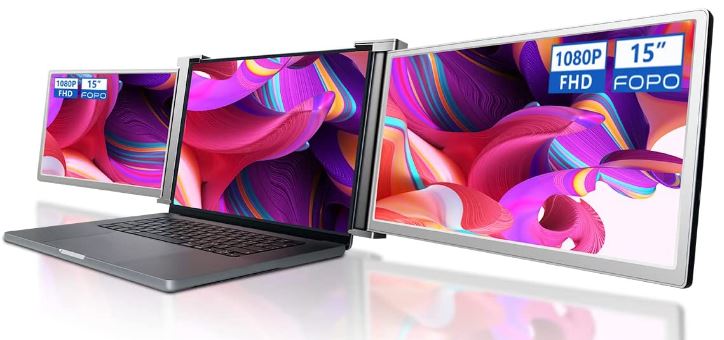 FOPO S17 15-Inch Triple Portable Monitor
We're about to review the FOPO S17 15-Inch Triple Portable Monitor. The name is actually a bit confusing. This is a set of dual monitors, which mount to the sides of your laptop's display. The end result is a triple monitor configuration. The monitors are also collapsible, so you can carry them along with your laptop.
Of course, there are many other features that go into a reliable portable monitor. We need to consider how well-engineered it is, and how the frame is put together. We'll have to talk about how it connects, and what computers it's compatible with. We'll also want to consider the quality of the displays themselves. Let's take a closer look, and see what we find.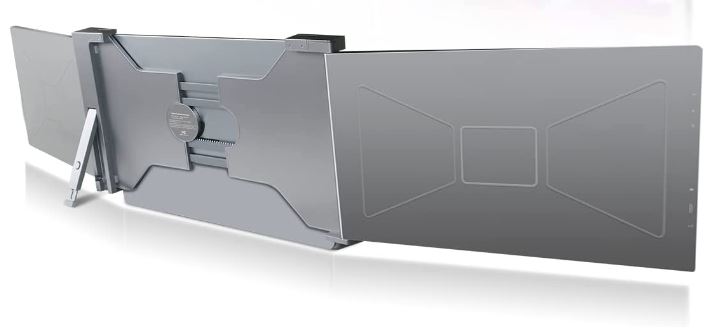 Overall Design
The FOPO S17 consists of two monitors, along with a sturdy frame. The frame is made from a rugged grey plastic, and is designed to fit over the top of your laptop monitor. It's thick enough to fit over a fatter display, and it's lightly padded. That way, it won't scratch your monitor.
The sides of the frame have hinges mounted into them, where the monitors attach. Each monitor has a diagonal measurement of 15 inches, on par with a medium-sized laptop. They're both designed to swivel, so you can adjust the angle as needed for your seating position. The one on the right can swivel 180 degrees. The one on the left can swivel 235, but that's a bit deceiving. It swings to the back, not to the front. This means it can swing forward by 55 degrees from the plane of your monitor. Regardless, you get more than enough ways to angle your displays.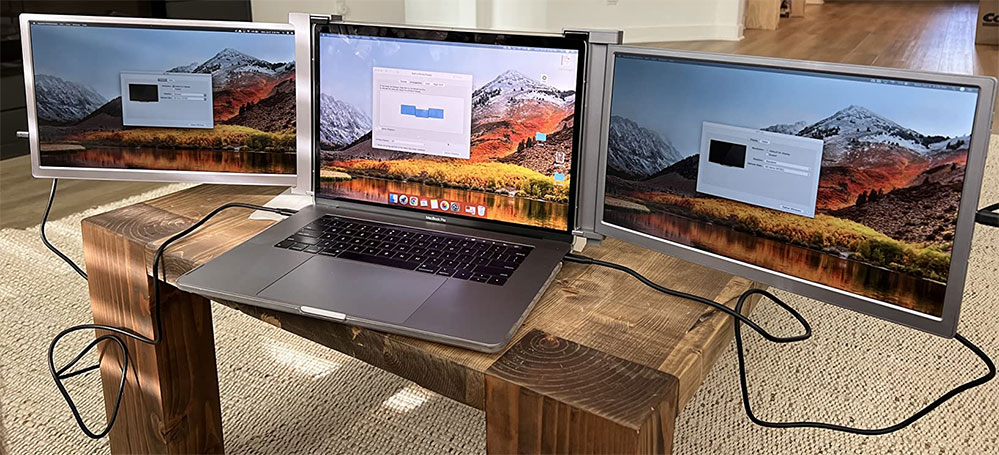 The is added weight will make your laptop top-heavy, and it will want to fall over backwards. To account for this, FOPO has built a rear kickstand into the design. It's height-adjustable, with a telescoping design that can adapt to different laptop heights and screen angles. You press a little button on the back, and pull on the tip to extend it. Release the button, and the length will be locked in.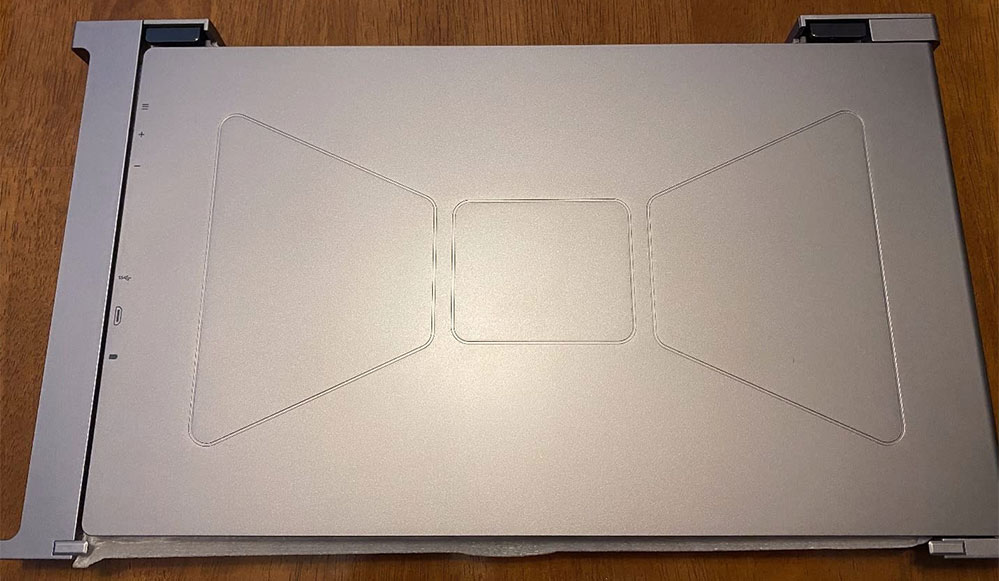 Portability
One of the main benefits of the FOPO monitor is its collapsible design. As we already described, the left monitor folds around to the back. Meanwhile, the right monitor folds around to the front. When everything is folded down, it's only the size of one of the monitors. It measures 12.7 inches wide and 9.25 inches tall. Meanwhile, its 0.31-inch thickness is less than almost any laptop. It's easy to fold up and carry with you.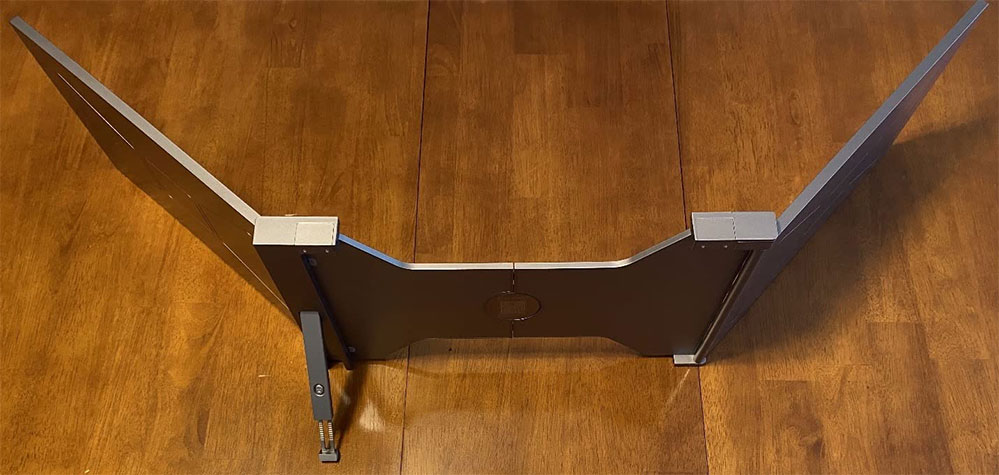 Now, you might be wondering how such a small frame can fit a larger laptop. The answer is that the top of the frame isn't fully connected. Instead, the two sides of the frame connect at the back. There, you'll find a ratcheting mechanism which can make the frame wider or narrower as needed. Using this feature, you can adjust it to fit most laptops between 15 and 17 inches.
If you want something even more portable, you'll have to abandon the idea of a triple monitor. Instead, you'll have to focus on a smaller, individual monitors like the Dragon Touch S1 Pro. It's an ultra-slim 15.6-inch display with a folding case that doubles as a stand.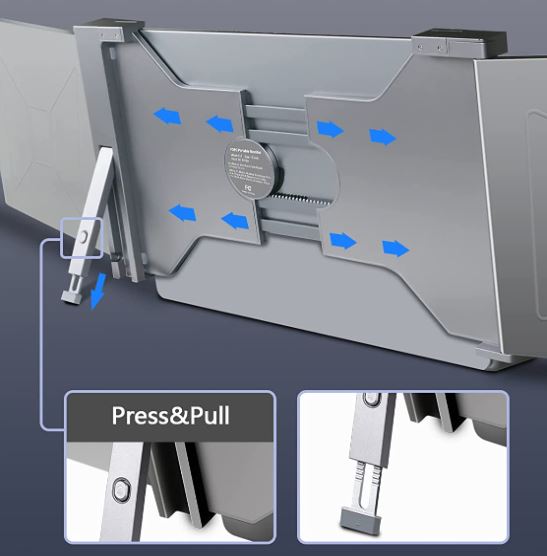 Setup and Installation
Once you've fit the S17 over the top of your display, the next step is to connect it to your computer. This can get a bit dicey, depending on your laptop's configuration. You need to connect each of the two displays separately. Unfortunately, that's just the nature of a triple-monitor display. Each one is a separate device that needs its own signal and power.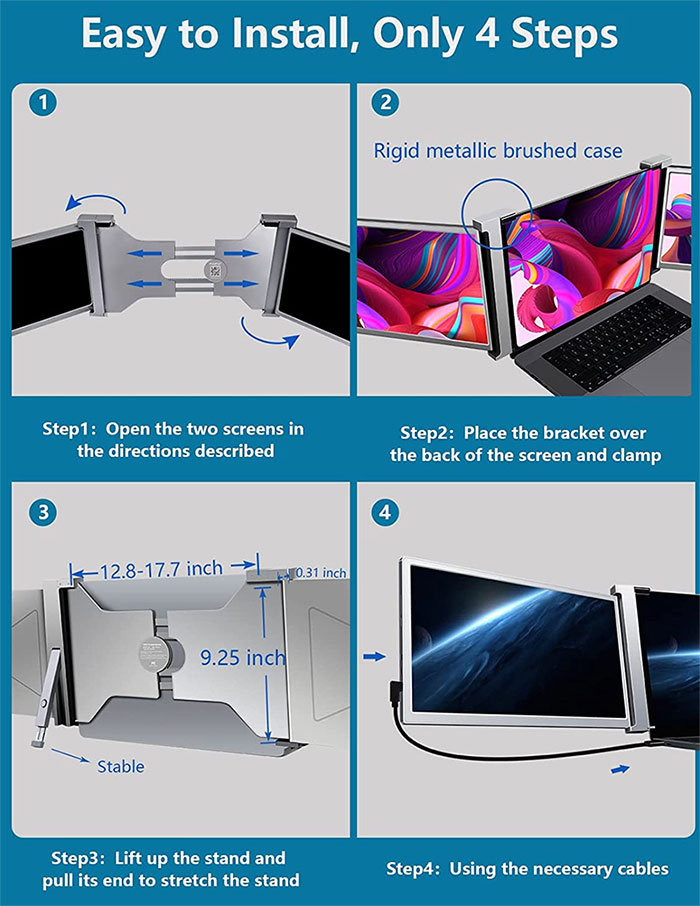 The easiest way to do this is to use a full-featured USB Type-C cable that supports video and power. If your laptop has a compatible port, you'll only need one cable per monitor.
If your laptop doesn't have a full-featured USB port, you can use an HDMI cable for the video signal. Then, you can use a separate USB Type-A to Type-C cable for power. This cable can be plugged into either your laptop or an external USB power supply.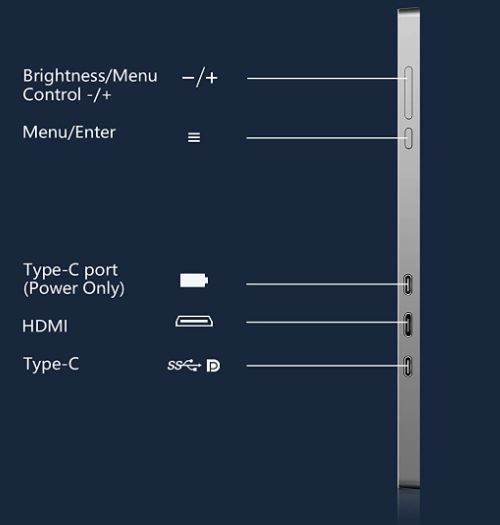 In most cases where you have a compatible USB Type-C port, you'll only have one. In that case, you can connect one screen with a Type-C cable, and another with HDMI and standard USB. Depending on your laptop, this could require some jury-rigging, and you may even need a laptop dock.
Fortunately, the package includes all the cables you'd need for any setup. First, there's a pair of full-featured USB Type-C to Type-C cables. Next, there's a pair of HDMI cables, along with a pair of USB Type-A to Type-C cables. You even get a USB power adapter for plugging into your wall outlet. As long as you have the necessary ports, you shouldn't have to buy any extra accessories.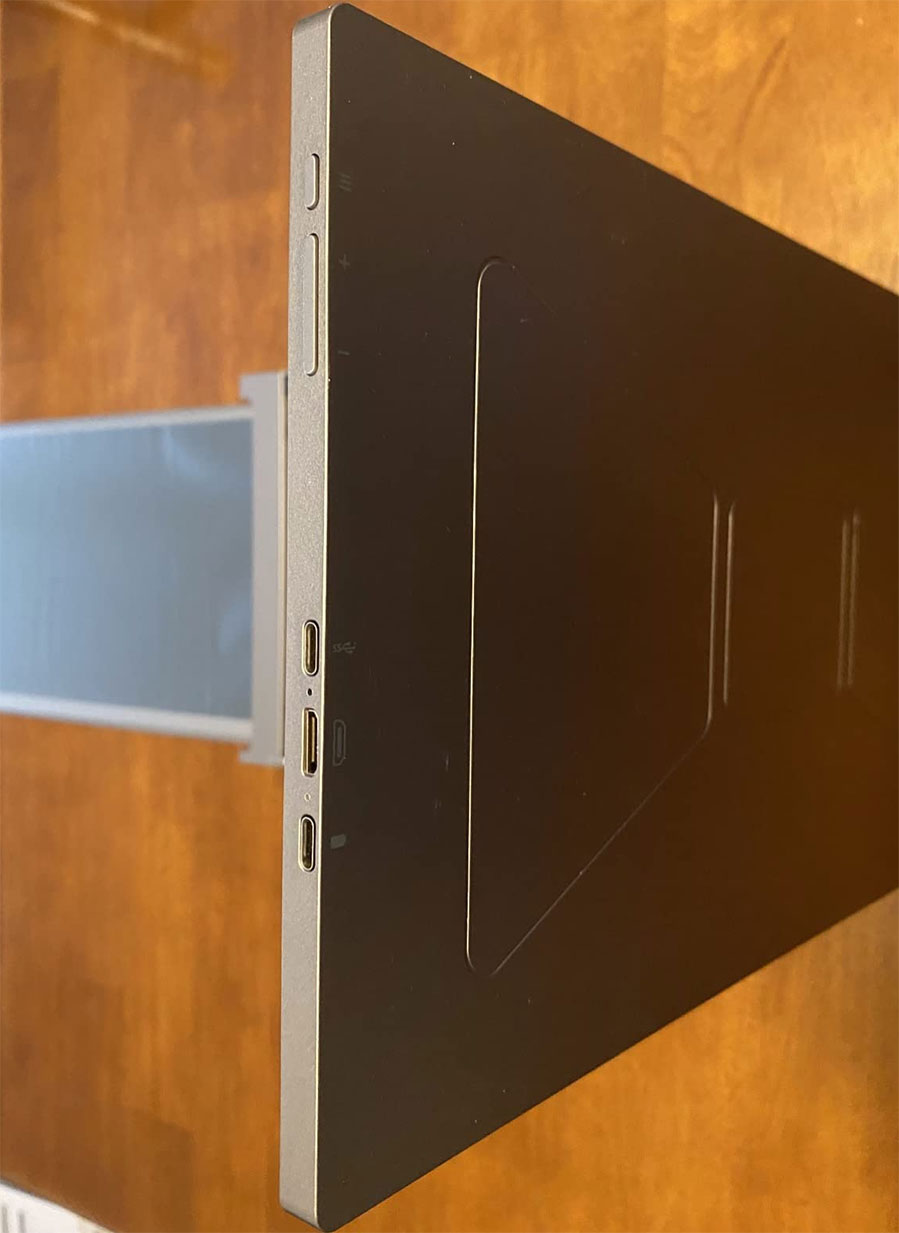 Compatibility
The FOPO S17 boasts plug-and-play compatibility on Windows and Mac. On most 15 to 17-inch laptops, all you have to do is hook it up. You won't have to download any drivers or install any shady third-party software.
That said, there are a few limitations. Most importantly, the S17 won't work on laptops with Apple's M1 chipset, which was released in 2020. This includes all of Apple's tablets, as well as their smaller 13-inch MacBooks. You'll be just fine on larger MacBooks, though. They use the beefed-up M1 Pro and M1 Max chipsets. Along the same lines, you can't use this triple monitor on Microsoft Surface tablets. It's also not compatible with Chromebooks.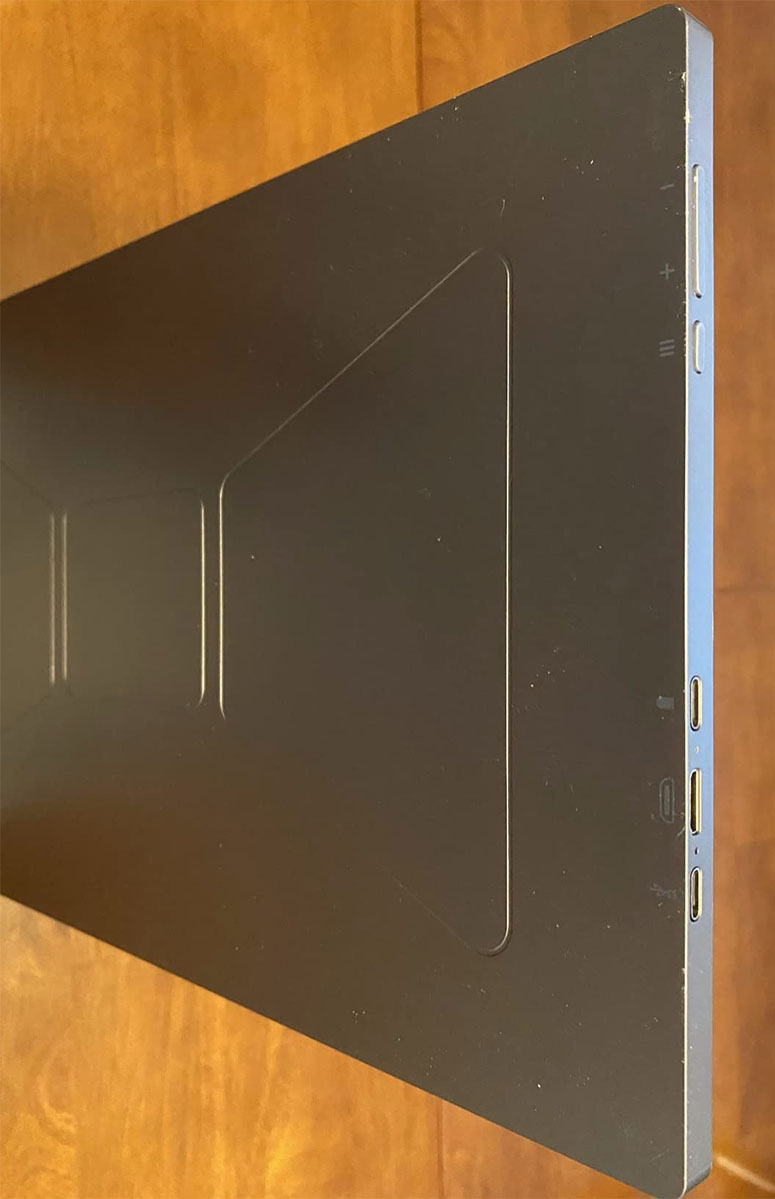 This is a great triple monitor for most laptops. But what if you want a larger triple monitor for your desktop computer? If that's what you need, read our list of the best triple monitor stands for desktops. These are all sturdy VESA mounts where you can attach your own monitors.
Resolution and Refresh Rate
Each display on the S17 has a resolution of 1080p, or Full HD. This is less than many other monitors on today's market. That said, in a monitor of this size, resolution tends to be overblown. The pixels are so tiny that your eye can't distinguish them individually unless you're inches from the screen. Doubling or quadrupling the number of pixels isn't going to make much of a difference. On larger displays, resolution becomes a much bigger concern.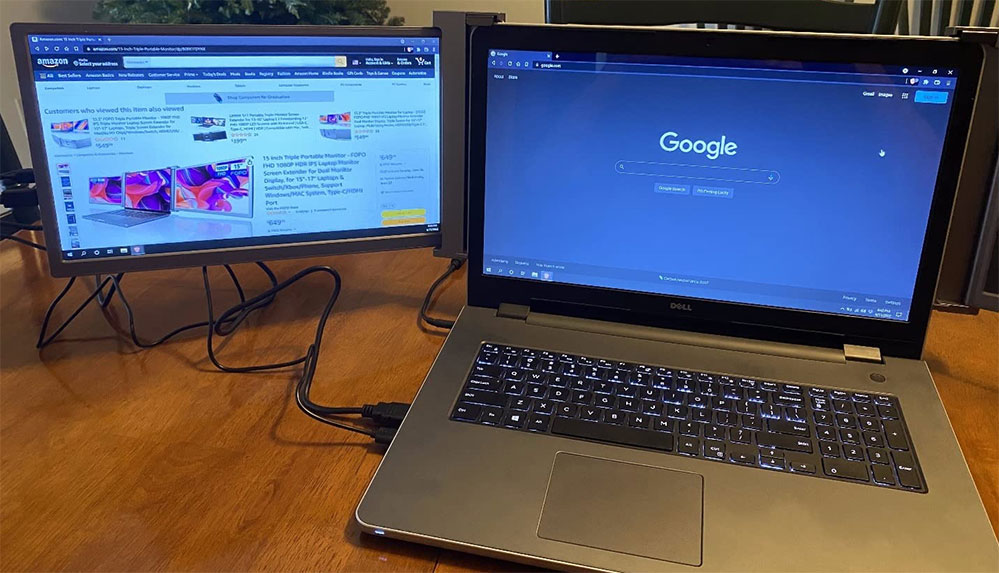 The refresh rate of 60Hz is sufficient for anything you'd want to do with this monitor. To be fair, gamers will appreciate a higher framerate. 120Hz and even 240Hz monitors aren't unheard of in the gaming world. But we can't imagine a scenario where a gamer would want a 15-inch triple laptop monitor. For office work, content creation, and most other applications, 60Hz is more than enough.
Vibrancy and Color Quality
With a display of this nature, the biggest concern is typically the color quality. How vibrant is it, and how accurate are the colors? In that regard, the S17 performs admirably.
These displays have a color gamut of 72 percent of the NTSC color space. That's more than 100 percent of the sRGB color space used by more software. Most importantly, it's roughly equivalent to the Adobe RGB color space. The only difference is that the NTSC space has ever so slightly more blues, and Adobe has more yellows. The difference is so marginal that it makes no difference for almost any practical purpose.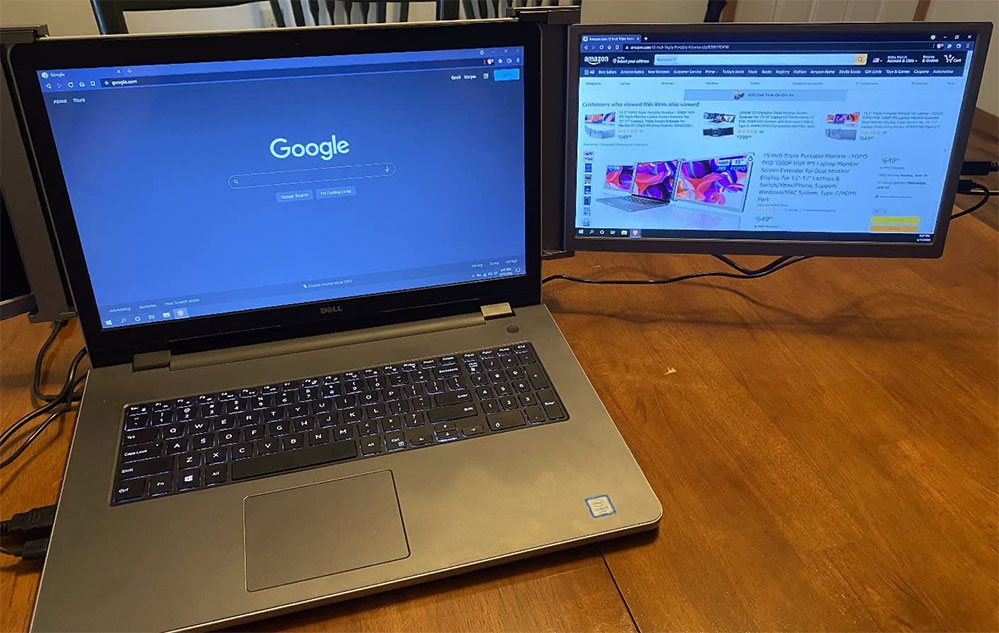 Regardless, we're talking about a bright, vibrant display with rich colors. Even if you're a graphic designer trying to get the perfect color, you'll be pleased. As for any other applications, you'll have more colors than you'll ever need. Videos look gorgeous on these monitors, as do static images.
One other thing to point out is that the S17 uses IPS panels in its monitors. These panels use a unique technology that provides perfect color clarity at any viewing angle. Even if you're looking at it from an 89-degree angle, the colors won't wash out or become negativized. Not that this should matter much, since the monitors can be swiveled to begin with.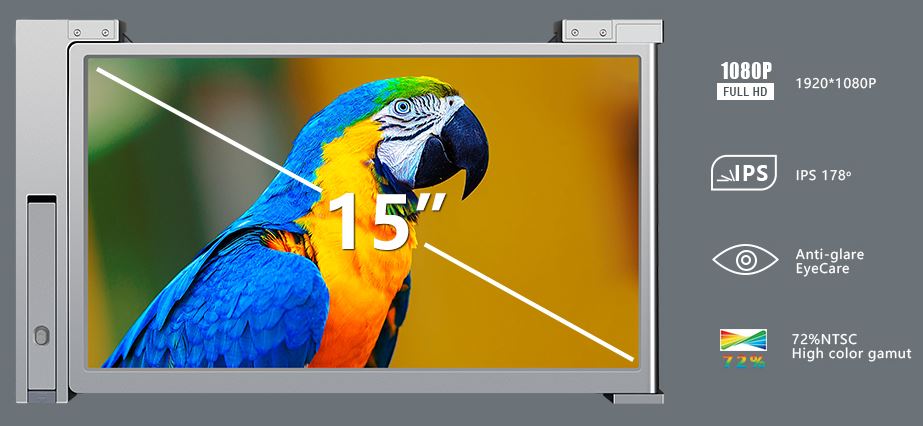 Final Verdict
The FOPO S17 15-Inch Triple Portable Monitor is a well-engineered way to expand your laptop display. It mounts on almost any laptop, and it's portable enough for easy travel. Setup is a little annoying, but once you're up and rolling, the displays work very well. With vibrant colors and a crisp refresh rate, the S17 is up to almost any task.
Meet Derek, "TechGuru," a 34-year-old technology enthusiast with a deep passion for tech innovations. With extensive experience, he specializes in gaming hardware and software, and has expertise in gadgets, custom PCs, and audio.
Besides writing about tech and reviewing new products, Derek enjoys traveling, hiking, and photography. Committed to keeping up with the latest industry trends, he aims to guide readers in making informed tech decisions.