SoundPEATS Air3 Deluxe
Pros
Rich audio with a wide soundstage.
Low enough latency for gaming.
Works in stereo or mono mode.
Can customize audio via the app.
Cons
More ear fatigue than silicone-tipped buds.
Battery life is only so-so.
Only available in one color scheme.
Finding a good pair of earbuds isn't easy, and not because there's a shortage of buds on the market.
In fact, the problem is exactly the opposite. There's an excess of earbuds these days. Run an internet search, and you'll find thousands of models from hundreds of manufacturers. What is it with earbuds that makes everyone want to manufacture them?
Imagine you're a small startup in Taiwan or Malaysia. You've got a few local investors in your little electronics brand.
What do you make first? Probably something small and simple. Earbuds are compact. And compared to something like a full-sized speaker or a smartphone, they're easier to manufacture.
This has led to a flood of new and innovative earbuds. A lot of them are great quality, but many more are cheaply-made. Buy any random pair of buds, and you're liable to be disappointed. This gets us back to the ridiculous amount of selection. With so many options to choose from, how do you sort out what's worth buying and what's not?
One way is to look for an established manufacturer. By skipping over all the no-name brands, you'll be less likely to buy any lemons. It's not a 100% guarantee of quality, but it's a good way to cut out the junk.
When it comes to earbud manufacturers, SoundPEATS is one of the biggest names in the business. They've produced a large number of earbuds and headphones, and they're known for their reliable equipment. When looking for a good set of buds, they're always a good brand to consider.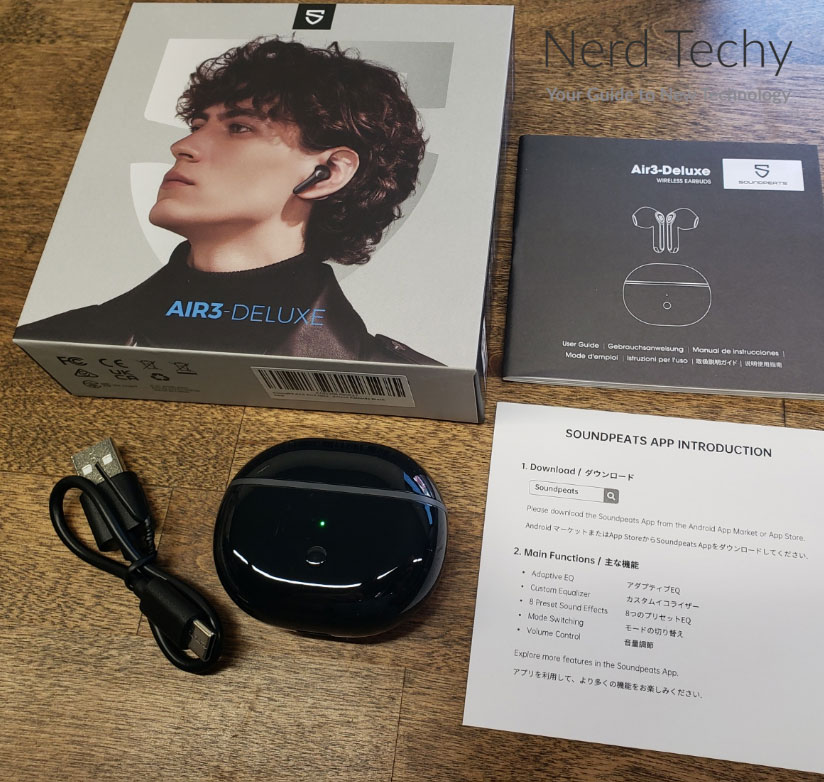 SoundPEATS Air3 Deluxe Wireless Earbuds
We're about to review the SoundPEATS Air3 Deluxe Wireless Earbuds. These are AirPod-style buds with rich audio and a wide soundstage. They also offer very low latency, which makes them a great choice for gamers. And with stereo and mono modes to choose from, you get excellent calling performance.
But there are many factors that go into making a good set of earbuds, and we have to consider all of them. How is the design, and what kind of ergonomics can you expect? What kind of Bluetooth performance does it offer, and how is the battery life? After we look at these factors and more, we'll have a better picture of what we're dealing with. Let's begin!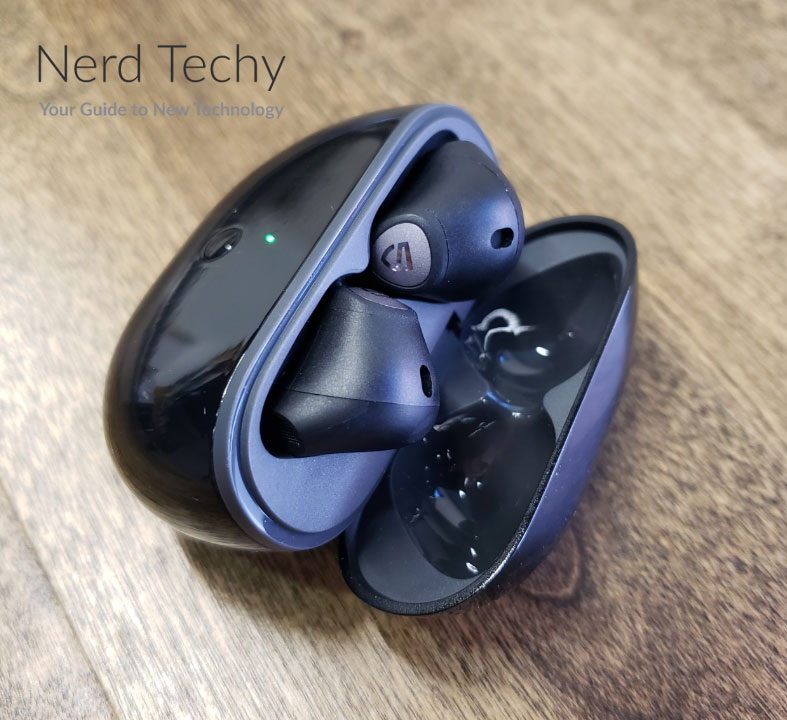 Overall Design
At first glance, the SoundPEATS Air3 Deluxe Wireless Earbuds looks like a pair of AirPods. They're bare plastic, with a vertical stem at the back for the battery and extra mics. The plastic itself has a smooth matte finish, which makes it very easy to keep clean. It's available in black or white, so you can choose the color that matches tour personal sense of style.
On the back of each earbud, you'll notice a grey, shield-shaped SoundPEATS logo. These aren't just cosmetic touches. They're actually functional, and work as soft touch controls. You can tap or hold them to perform a variety of tasks. You can skip tracks back and forth, adjust the volume, and accept or reject phone calls. You'll have plenty of control over your music without having to pull out your phone.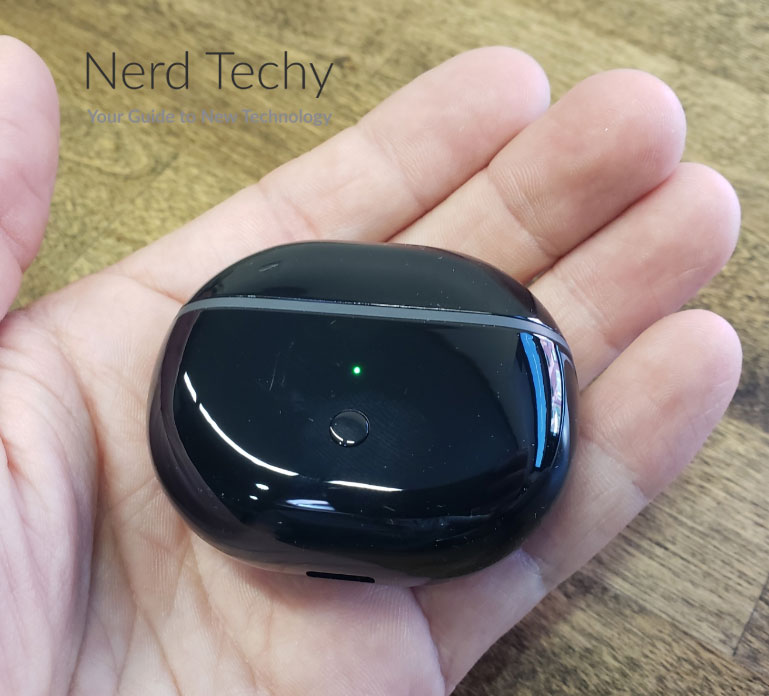 These earbuds have a weather-resistance rating of IPX4. This effectively means that they're splash-proof. You can wipe them with a damp cloth or wear them in the rain without causing any damage. They can certainly stand up to any sweaty workout. Just make sure not to immerse them in water, and you'll be alright.
Along with the earbuds, you also get a charging case. This looks a lot different than the case for Apple's AirPods. It has a wide, almost oval shape with a small flat area on the bottom. It sports a spring-loaded lid that stays shut in your pocket, with a small grey band underneath. Right in the front center is a green LED, which illuminates when it's plugged into power. Underneath the LED, you'll find a small black pairing button.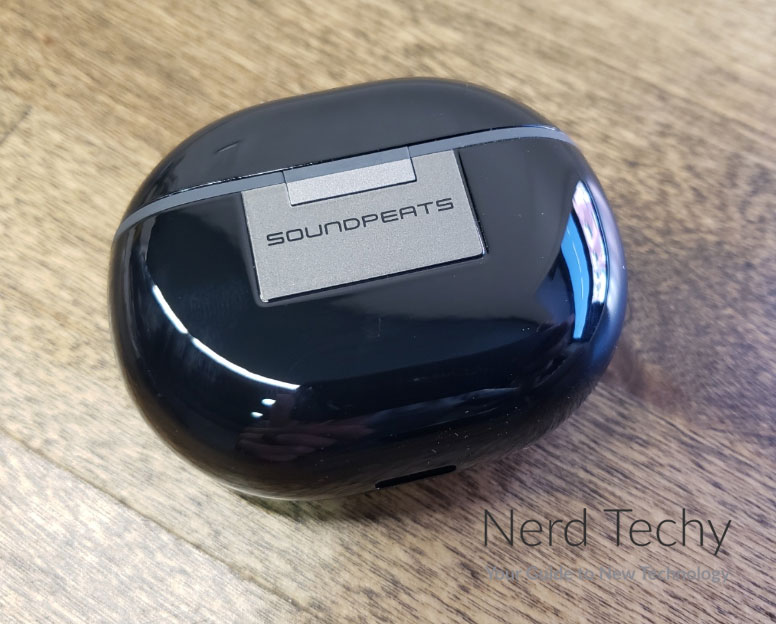 Fit and Comfort
As far as fit and comfort go, the Air3 Deluxe buds are a bit of a mixed bag. On the one hand, there's no real difference between these and many other wireless earbuds. The shape of the solid tip is tried and true, and it easily stays in most ears.
It's not too big and fat for comfort, nor is it likely to fall out. For one thing, it's bottom-heavy, so it stays in during workouts. For another thing, the solid design makes it easy to keep clean. You don't have to worry about earwax and other junk getting trapped in a silicone ear tip.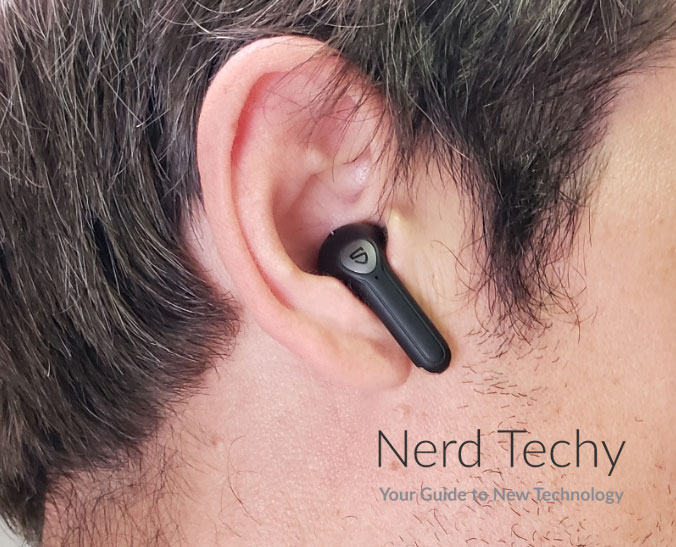 That said, a solid design does cause discomfort more quickly than a silicone-tipped design. After a few hours of wearing these buds, you'll probably want to take a break. If you need a pair of silicone-tipped buds, consider the SoundPEATS Air3 Pro. In addition to soft tips, it also offers noise cancellation and top-tier audio. However, the call quality is sub-par and the controls are twitchy.
One thing we liked about putting on and taking of the Air3 Deluxe was the built-in gyroscope. When you take off your earbuds, they'll automatically pause whatever you're listening to. When you put them back on, the audio will automatically resume. This is a convenient feature when you have to engage in a quick conversation.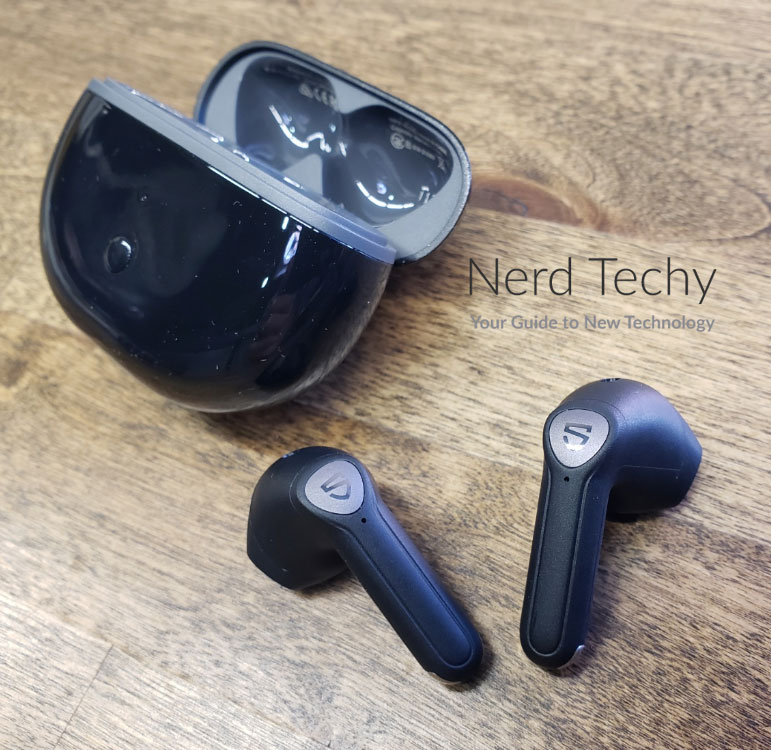 As far as fitment with the case itself, we didn't have any issues. The earbuds snap easily into their charging wells and make good contact with the charging posts. You won't have any issues with them failing to charge while they're in the case.
Pairing
Pairing with the SoundPEATS Air3 Deluxe earbuds is easy. They use the Bluetooth 5.2 protocol, which is an upgrade from the Bluetooth 5.0 industry standard. Like Bluetooth 5.0, Bluetooth 5.2 supports an upgraded bitrate, so you can listen to HD audio.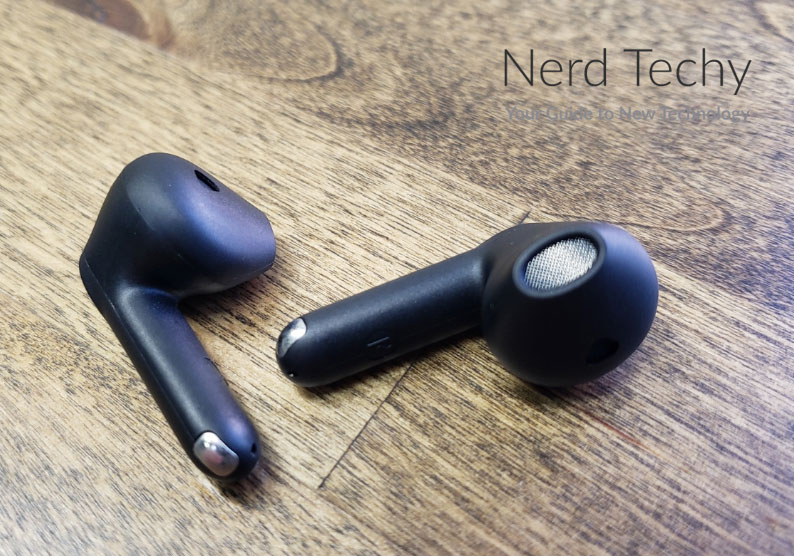 It also boasts a more stable connection than older versions of Bluetooth. However, Bluetooth 5.2 also has a significantly reduced latency. This means the amount of time between when the audio signal is sent and when the sound is played. Less latency means that video and audio are in better sync.
These earbuds work in stereo mode as well as mono mode. Stereo mode is what you'd normally use for listening to music. You get separate left and right channels, one through each earbud. Mono mode is where you use only a single earbud. This obviously is less than ideal for listening to music. However, it's a great way to take phone calls. You can keep your other ear open and maintain situational awareness.
As an added bonus, the Air3 Deluxe buds make use of the latest aptX-Adaptive codec. This allows for the same low latency as previous aptX protocols. However, it also allows for very high audio quality, as high as 24 bits/420kHz. That's starting to approach CD quality.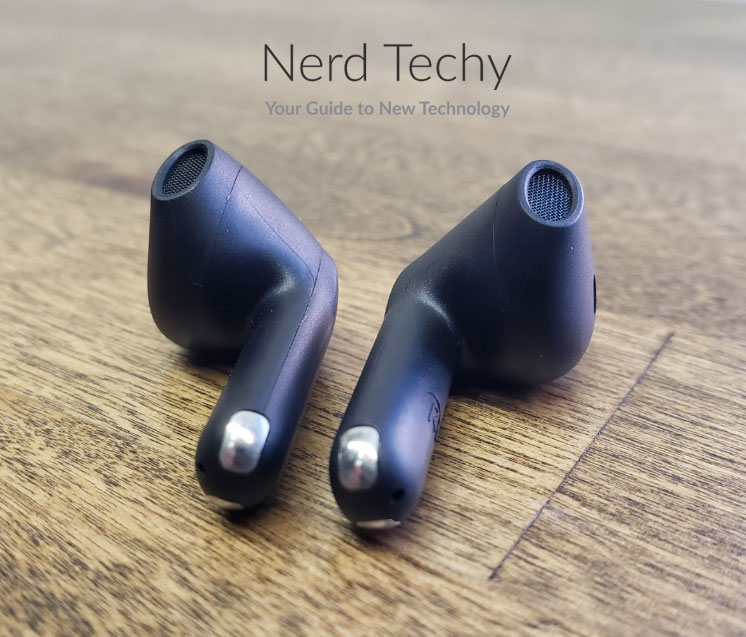 Battery Performance
Each earbud's internal battery holds enough charge to last for five hours. This is a factory rating, which means it's based on playback at medium volume. If you're listening at maximum volume, this drops to somewhere in the neighborhood of four hours.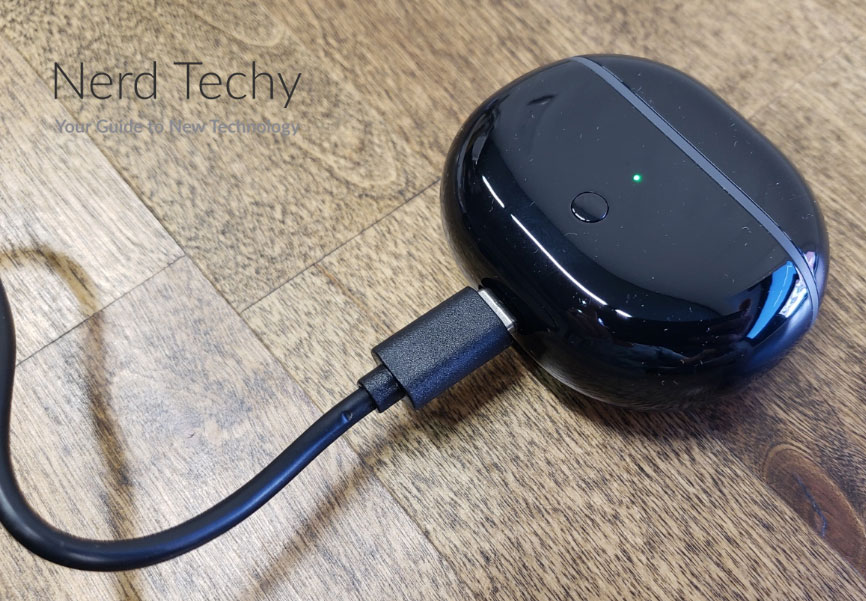 That's a bit less than average for a modern pair of earbuds, but it's not terrible. The charging case has enough power for an additional 3 ½ charges, or a total of around 22 hours. This might not be incredibly impressive, but it's enough for a few days, even with heavy use.
If battery life is the most important feature you're looking for, you'll probably want a different pair of buds. If you need more battery life, check out the SoundPEATS Free2 Classic. They have a compact, in-ear design with eight hours of battery life and much more in the case. Then again, they have relatively weak bass and a limited maximum volume.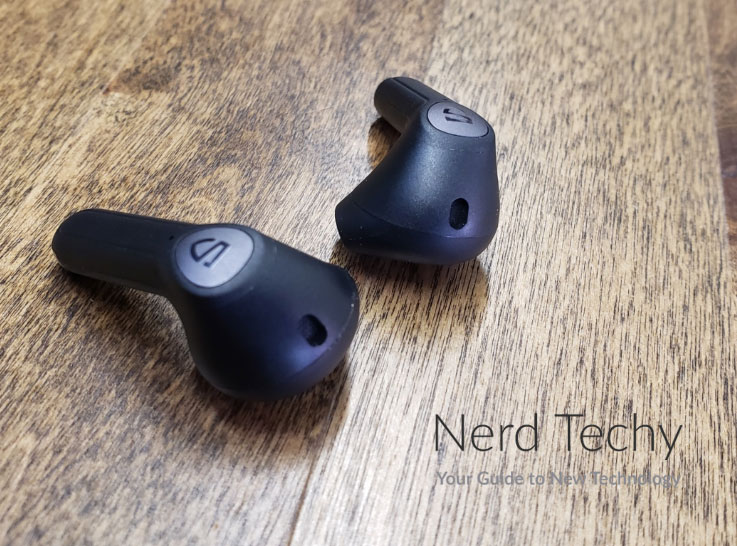 Audio Quality
The SoundPEATS Air3 Deluxe Wireless Earbuds boast a pair of impressive 14.2mm drivers. These are twice as wide as your typical earbud drivers, and they put out a lot of sound. You can get rich audio at high levels, so you don't have to worry about maxing out your volume. At the same time, you get excellent frequency response across the audio spectrum.
Even better than the frequency response is the wide soundstage. A lot of wireless earbuds have a "squished" sound, without any sense of space. These buds are the exact opposite. When you listen to a high-quality audio track, the music sounds like it exists in a real space. You'll also have a great sense of space when watching movies or playing games.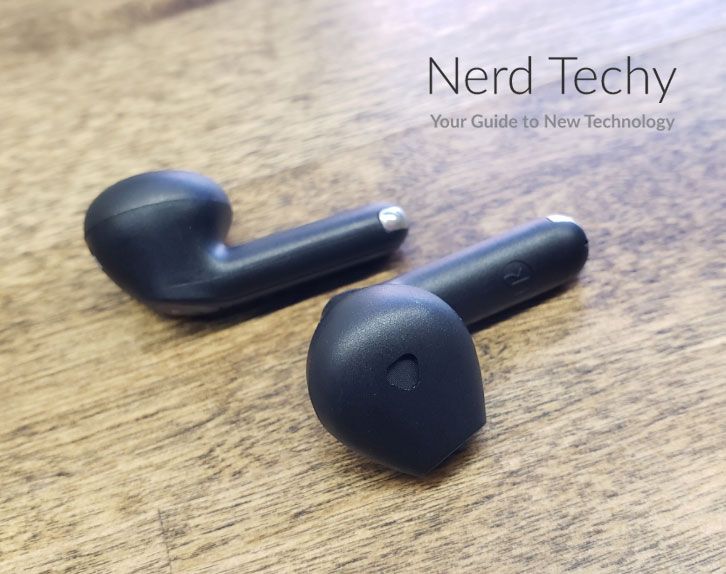 Each earbud has a pair of external mics that pick up and isolate background noise. There's no active noise cancellation (ANC) function. Instead, the mics are used for CVC 8.0 noise cancellation. When you're on a phone call, the earbuds prioritize your voice and reduce the volume of background noise. If you're in a loud environment, it's much easier for the other person to hear you.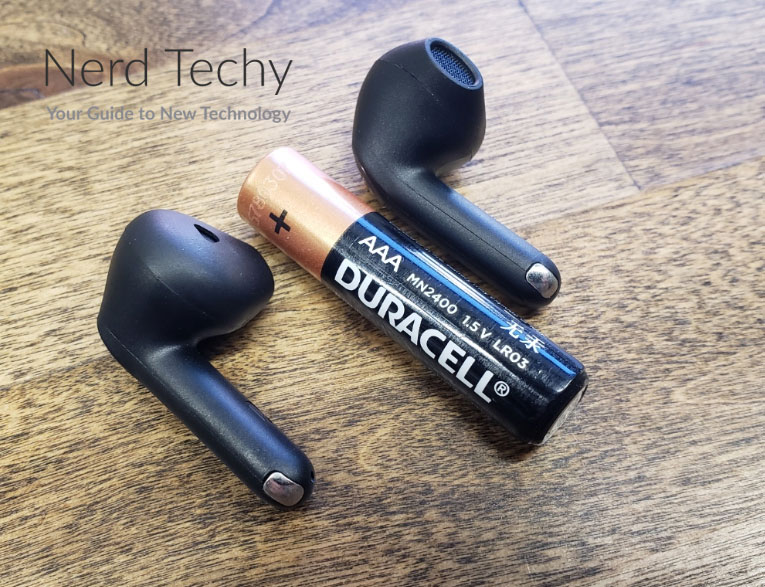 Extra Features
In addition to the more run-of-the-mill earbud features, the Air3 Deluxe also support a smartphone app. The SoundPEATS app is free to download on Android and iOS, and comes with a slew of useful functions. You can manually adjust the EQ, set custom volume settings, and switch between different playback modes.
The one thing you won't find here is active noise cancellation. If you need ANC buds, take a look at the SoundPEATS Mini Pro. These have an ultra-compact design, and sit entirely inside your ears. The ANC function works very well, but the audio quality isn't quite as good.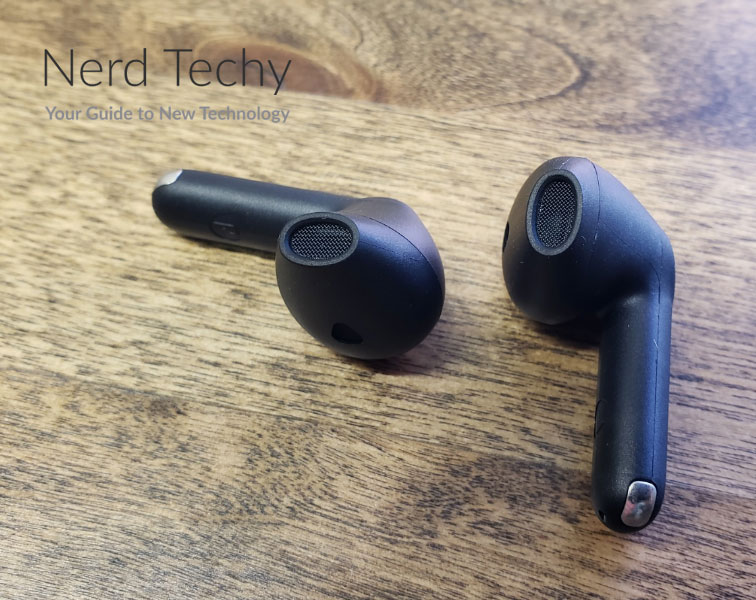 Final Verdict
The SoundPEATS Air3 Deluxe Wireless Earbuds are a well-engineered pair of buds. They provide good audio quality for the price, and we were particularly impressed with the soundstage.
While the battery life could stand to be longer, that was our only major complaint. The low latency, easy pairing, and sleek overall design are all points in its favor. All in all, we were pleased.
Meet Derek, "TechGuru," a 34-year-old technology enthusiast with a deep passion for tech innovations. With extensive experience, he specializes in gaming hardware and software, and has expertise in gadgets, custom PCs, and audio.
Besides writing about tech and reviewing new products, Derek enjoys traveling, hiking, and photography. Committed to keeping up with the latest industry trends, he aims to guide readers in making informed tech decisions.