SoundPEATS Mini Pro
Noise Cancellation
9.0/10
Pros
Excellent sound quality.
Noise cancellation is very effective.
Minimalist, lightweight design.
IPX5 water resistant.
Game mode and transparency mode works well.
Cons
Only available in black.
Charging case is not water-resistant.
There's nothing like a quality set of wireless earbuds. Whether you're a huge music fan or just an occasional listener, owning a set of buds is often seen as essential. If you're looking for an upgrade or simply want to try a new-release pair of earbuds; look no further. Popular manufacturer, SoundPEATS is at it again. They just released a new set of "mini" earbuds that promise excellent sound with a whole slew of impressive features. They look great on paper, but how do they perform in reality? Today we're here to find out.
We were recently invited to take a closer look at the new SoundPEAYS Mini Pro. Released just last week, these earbuds come in at a price-point that's both attractive and affordable for the average person. With features like ANC, Game Mode and True Wireless Mirroring, they seem to offer it all. Let's dive right in.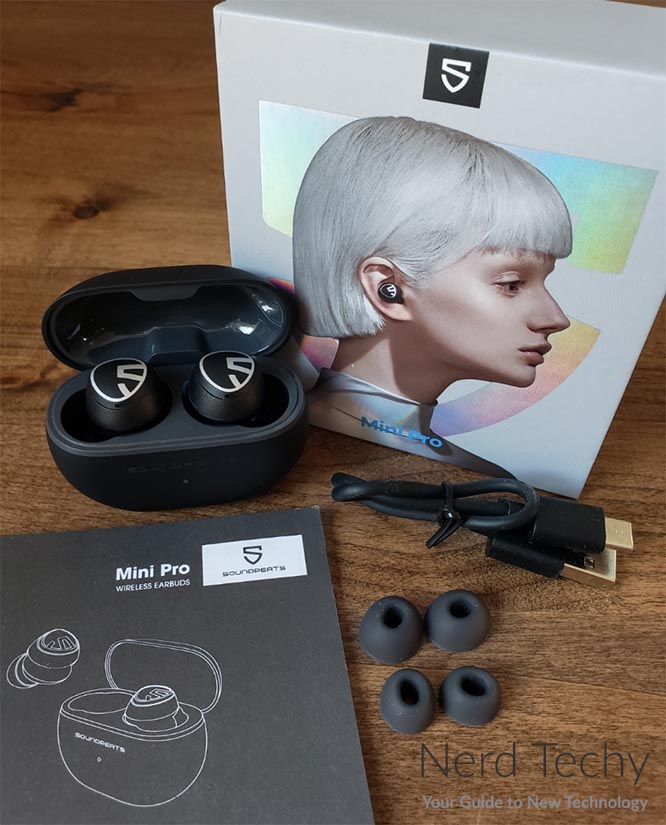 First Look
From first glance, the SoundPEATS Mini Pro have a circular, yet oval-like shape that's slightly triangular. You'll likely notice the small size, around 33% smaller than other SoundPEATS offerings like the Sonic or H1. This decrease in size is what makes these seemingly miniature; hence the name "Mini Pro". In fact, each earbud only weighs about 0.17 ounces, or 4.8 grams; super lightweight!
They come included with a small charging case that has a standard clamshell design. Flip open the lid and each earbud rests securely within their very own charging port. The case is comprised of a smooth, matte black plastic with gray/silver accents throughout. On the front is the brand name "SOUNDPEATS" written in an different shade of black for an attractive appearance. Beneath that is a single LED that indicates charging, power and transmission. Last but not least, there's a USB-C charging port on the underside.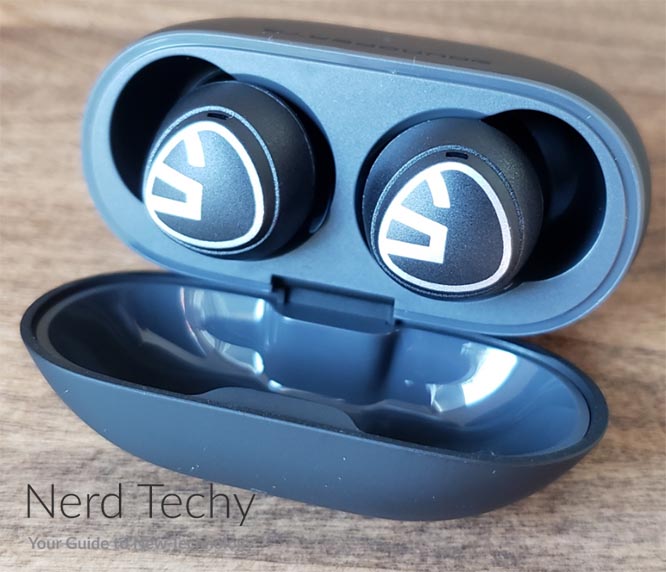 Each earbud has its very own external microphone, which is hardly visible. You'll see a tiny hole on the exterior, lower-tip. Designed for picking up both voice, noise and other sounds, we'll discuss more on this later. Moving on, each earbud is paired with a silicone tip that's interchangeable to a variety of sizes. Both small, medium and large tips are included; medium-size tips come pre-installed. Each tip stays securely in place, but is rather easy to remove and swap out.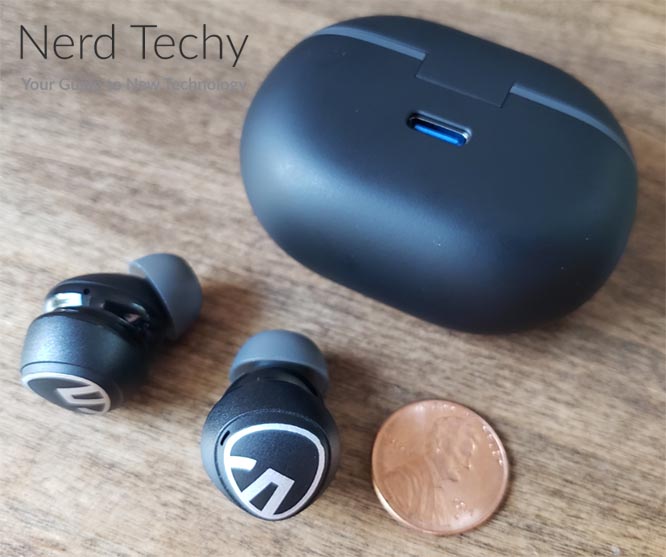 Comfort & Fit
First things first; you'll need to achieve a proper fit before enjoying the Mini Pro. If you find that the earbuds wiggle or move when you run, walk or jump, you may want to take a few minutes to determine which size of tips you'll need. Once you do, there should be no pressure points but they should stay firmly and securely in-place even with vigorous activity. For us, and most individuals, you may be lucky enough to use the pre-installed size. Regardless, we highly reccomend figuring out which tips are ideal for your size of ears.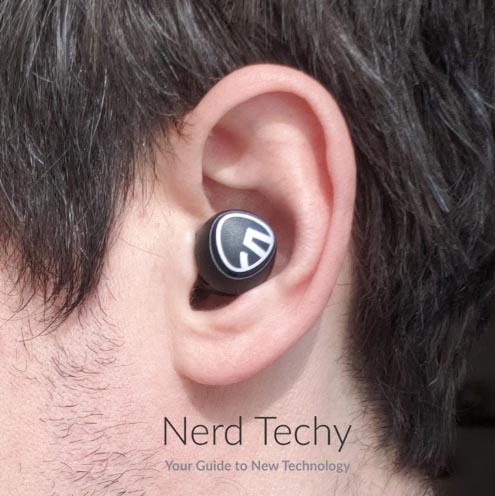 Although one may think the Mini Pro are only for small ears, it's simply not true. While they'll likely work better for those with a small stature, the various sized tips assure a proper fit, even if your ear canals are a bit larger than usual.
We feel that the SoundPEATS Mini Pro provide excellent comfort. Even throughout a variety of extended listening sessions, we didn't have a single complaint in regards to the way they fit or feel after several hours of continuous use. Their smaller than average size is quite nice for petite people or those who are a bit annoyed with the way most wireless earbuds fit. It would be hard to imagine anyone having a real difficulty with the way these fit. In fact, we believe they have a perfect shape; they're contoured in an ergonomic way so they passively seal-up background noise and distractions.
Pairing
Once you achieved a proper fit, turn them on and pair them to your Bluetooth-enabled device. Whether your smartphone, tablet or PC, the Bluetooth pairing procedure is quick and effortless. Simply open up the earbuds and lift them from their charging cradle. They'll immediately go into "pairing" mode and will be discoverable by your nearby devices. Click "Mini Pro" and within seconds, they're paired and ready to go. Best of all, the earbuds will remember your device, so each time you pop them out of the case, they'll automatically pair without any intervention.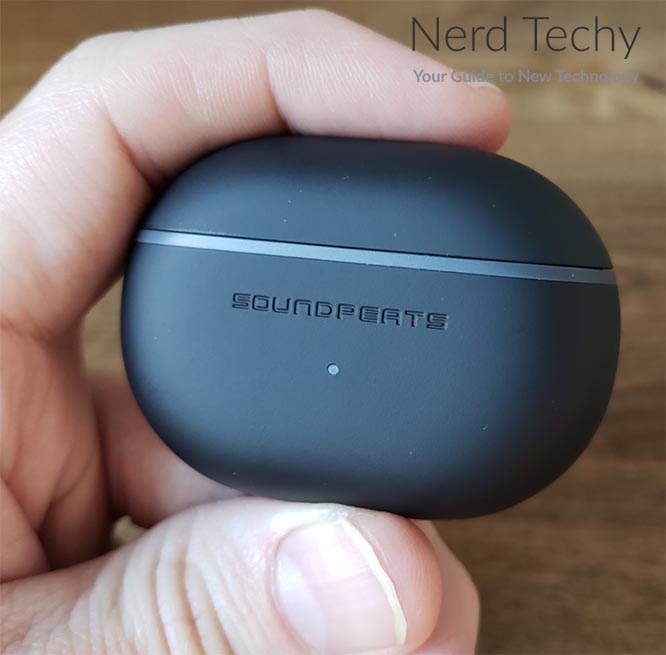 Sound Quality
Touted for delivering "industry-leading performance at noise cancellation", this was the main feature were really excited to test. Simply put, once we placed them in our ears and started listening, the ANC was definitely noticeable. By utilizing the exterior microphone on each earbud, they effectively pick up any voice, noise or background sound effects and intelligently cancel each out by emitting the exact opposite frequency. Pretty cool! Best of all, the sound quality doesn't seem to be negatively affected. In fact, the sound quality stands out and sounds even better with ANC-mode activated. It's the kind of feature that we recommend always keeping on. We can't really think of a good reason to leave it off, unless you're really trying to battery life; more on this later.
The Bluetooth 5.2 connection seems excellent, too. We didn't experience any issues with lag or distortion. Music was never delayed or warped in a manner than changed it from its original form. The inclusion of the latest Qualcomm QC3040 chip in conjunction with the latest Bluetooth version is SoundPEATS' way of assuring excellent wireless connectivity up to about 10 meters between the earbuds and whichever device you have them paired to.
The overall sound quality of the Mini Pro is quite impressive. They provide a balanced, well-tuned sound profile without vocals becoming lost in a muddy mix of instrumentals, bass and vocals. The treble seems to be set to the proper level, with bass never over-shadowing the lyrics, rhythm or melodies. In fact, we found the bass to be plentiful and surprisingly rich. Even when the volume was cranked up all the way, there was no distortion coming from the low-end. We tested with a variety of music-styles; rap, hip-hop, classic rock, jazz and even dubstep. Excellent sound quality in all regards.
Sound Modes
Another thing that seems to set the SoundPEATS Mini Pro apart from the competition are the variety of sound modes that are available. In addition to ANC mode, which we already discussed, users are able to choose from Transparency Mode or Game Mode as well. Each of these modes have a distinct purpose for the kind of audio you're interacting with.
Transparency mode enables users to simultaneously pick-up ambient noise while still playing music. By long-pressing the left earbud, the Mini Pro will go into Transparency Mode which lets you perceive the outside environment while continuing to play music. It's ideal for those that don't necessarily want to push pause, but still want to hear voices and/or chatter without interrupting your music. It effectively stops ANC and lets you the earbuds pickup the surrounding environment. In real world scenarios, we found Transparency mode to work incredibly well. It's very effective!
Game mode is a completely different kind of feature. Ideal and nearly essential for those who use their smartphone or tablet for mobile gaming, once activated, the earbuds will switch to provide 60ms of low-latency. Ultimately what this does is assure that the sound effects properly sync with your screen at all times. With standard earbuds, fast paced or even moderately paced games may become inundated with lag or a 1-2 second delay between what you see on screen and what you hear through your earbuds. It's an ideal feature that works incredibly well in reality. We tested it with Fortnite, Battlefield Mobile and PUBG; each time we played these games using the Mini Pro with Game Mode activated, it seemed to make a significant difference.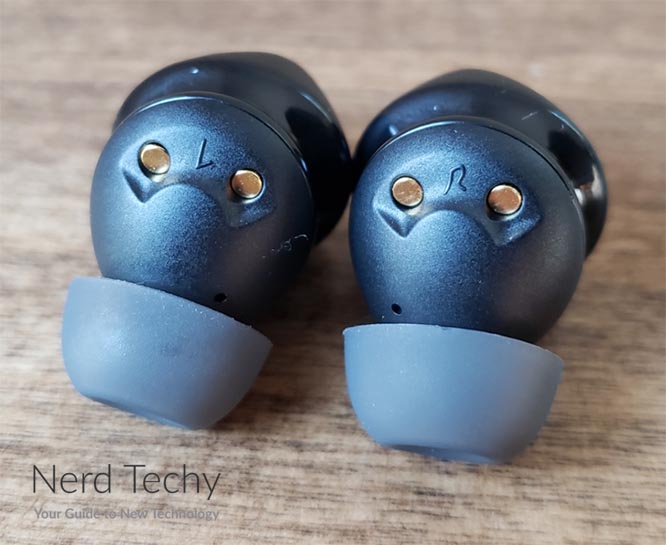 Call Quality
Admittedly, we typically don't use wireless earbuds with very many phone calls. It's more a matter of preference. However, we did take some time to test out the Mini Pro's ability to make and receive calls. Equipped with Qualcomm's cVc noise reduction technology, they're supposed to eliminate background noise so your voice can be hear well on the other end. Think of it as ANC for your phone calls. It'll intelligently pick-up distracting noise in your current environment and focus on picking up your actual voice. Whether you're receiving a phone call or making an outgoing call, it works surprisingly well.
In addition to cVc noise reduction, the SoundPEATS Mini Pro have a feature called TrueWireless Mirroring. This is another Qualcomm technology that's been included which enables you to use either earbud as a "master". With this, users can seamlessly switch between both single and twin mode so either 100% of the music emits from the master earbud, or the audio is shared between the two. It's a somewhat unique feature that we don't typically see. However, we're happy to see that SoundPEATS included it.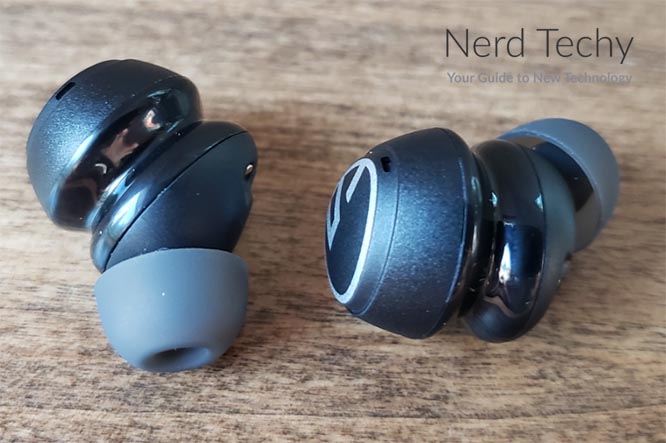 Battery Life
In our opinion, one of the most favorable features of the Mini Pro is their charging case. It's small, lightweight and built well. In addition it looks good. More importantly, it functions as a great way to keep your earbuds safe and in one place, while simultaneously keeping the batteries topped off. Each earbud has their own dedicated battery that's charged every single time you place them in the case. That being said, the actual battery life is fairly good.
SoundPEATS claims the Mini Pro require very low power consumption; we tend to agree. In fact, they claim 7 hours of playtime per charge when you're listening in "normal" or "game" mode. However, this estimate is reduced to 5 hours while using ANC mode. They also claim that the charging case provides up to 2 or 3 re-charges before you need to plug-in the USB-C charging cable.
We found their estimates for battery life to be incredibly accurate when we listened at a standard volume between 50 and 70 percent. However, if we cranked up the volume to the maximum setting, the battery life diminishes by about 1/4 of their estimate. In reality, we don't think most individuals will enjoy listening at 100 percent volume, anyways. The Mini Pro earbuds get pretty loud, meaning most people probably won't even use them at 100 percent volume.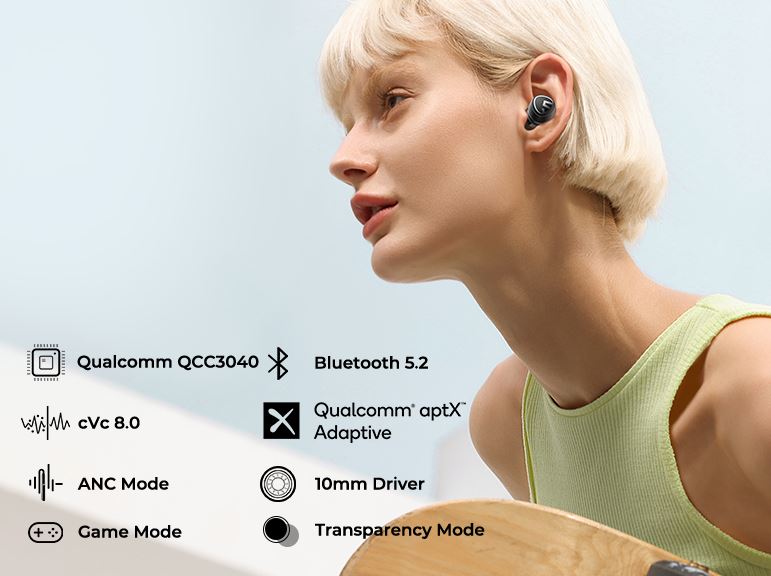 Durability
The SoundPEATS Mini Pro are small, but they seem to be quite durable. With touch controls and no moving parts, every crevice is sealed for both water and dirt ingress. In fact, the Mini Pro are IPX5 rated, meaning that they can withstand pressurized water. Because of this, rain, sweat, moisture, dust and other small debris won't pose a problem. You shouldn't drop them in a pool of water or puddle, but if they get wet; they're good!
There's one thing to know, however. While the earbuds are water-resistant, the charging case is not. Keep it out of the elements, stored in a pocket or backpack when you're using the buds. It would have been nice to see some sort of water-resistance with the charging case, but it's not really a standard practice for earbud manufacturers. Nonetheless, the case seems to be built well; solid and properly engineered.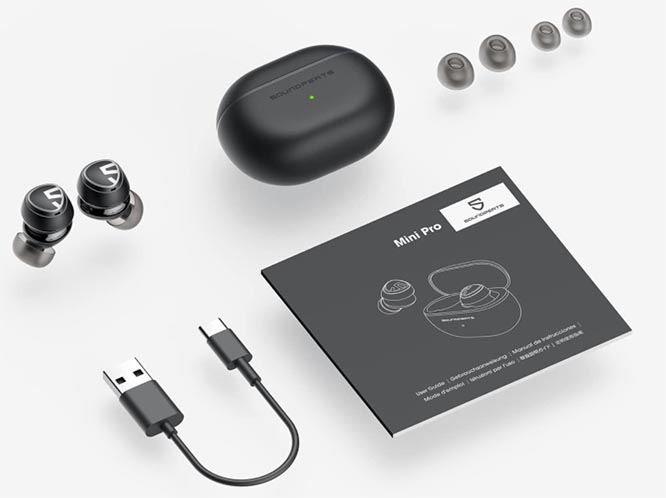 Overall Thoughts
As you can see, the SoundPEATS Mini Pro are an all-around excellent pair of wireless earbuds. They're roughly 33% smaller than your average pair of buds, so we'd say they're ideal for petite users. That said, they still seem to work well for anyone since there's a variety of different-size silicone ear-tips included. The shape, contour and overall aesthetics of the Mini Pro are fantastic. With an ergonomic and secure fit, they provide plenty of comfort for even multi-hour listening sessions.
The inclusion of ANC, Game Mode and Transparency Mode are all nice to have. Each specific mode makes a significant difference in the audio-profile. Therefore, you're given the most ideal soundstage for the distinct kind of audio or sound you're enjoying.
We were impressed with the durability that they offer. Although the charging case isn't water resistant, the Mini Pro earbuds themselves are IPX5 rated. Holding them in your hands, they feel well-built, solid and high quality. Our hats go off to SoundPEATS for their creation of the Mini Pro. They've done it again; offering high quality audio at an affordable price-point. We wouldn't hesitate to recommend them to anyone needing a pair of quality earbuds at a favorable price!