SoundPEATS Air3 Pro
Design & aesthetics
8.0/10
Connectivity & extras
8.5/10
Pros
Lightweight and minimalist design.
Great audio quality for the price.
Very low latency.
Effective noise cancellation and pass-through mode.
Comfortable for extended use.
Cons
Finicky touch controls.
Call quality is only so-so.
Only available in one color scheme.
Choosing a good set of wireless earbuds can be a challenge. It isn't that there aren't enough of them available. Oddly enough, you have the opposite problem. A quick internet search reveals literally thousands of options. With that many choices available, it's easy to get paralyzed. There's no way to investigate them all. Why are there so many companies selling wireless earbuds?
The main answer these days is affordability. Imagine you're a newer manufacturer, funded by a small group of investors. You probably won't have the money to mass-produce something big and expensive like a television. Compared to most other electronics, earbuds are cheap to produce. Investors are taking less of a risk, while potentially building a successful brand.
Not only that, but wireless earbuds have a universal appeal. There's no single demographic that you're marketing to. A good pair of earbuds will more or less sell themselves.
All of these factors combine to make earbuds make an attractive prospect for newer manufacturers. Anyone who wants to make electronic gadgets is liable to make a pair of buds sooner or later. That's how you end up with a huge glut of wireless earbuds on the market.
Thankfully, the problem is its own solution. These no-name brands can sometimes make great buds, but why take the risk? There are already established earbud manufacturers with a track record of making good quality earbuds. Narrow your options down to brands you know and trust, and you'll have an easier time choosing.
SoundPEATS Air3 Pro Hybrid ANC Wireless Earbuds
In that spirit, we'll be reviewing the SoundPEATS Air3 Pro Hybrid ANC Wireless Earbuds. These come from one of the most reliable earbud brands, and they provide great audio at an affordable price. They're also designed with hybrid noise cancellation, just as their name implies.
There are many other factors to consider, and we'll need to go over all of them. We'll talk about the basic design, fit, and ergonomics. We'll look at the Bluetooth connection and the battery life. We'll also discuss any extra features, as well as how the ANC function works. After that, we'll have a complete picture of what we're dealing with. Let's begin!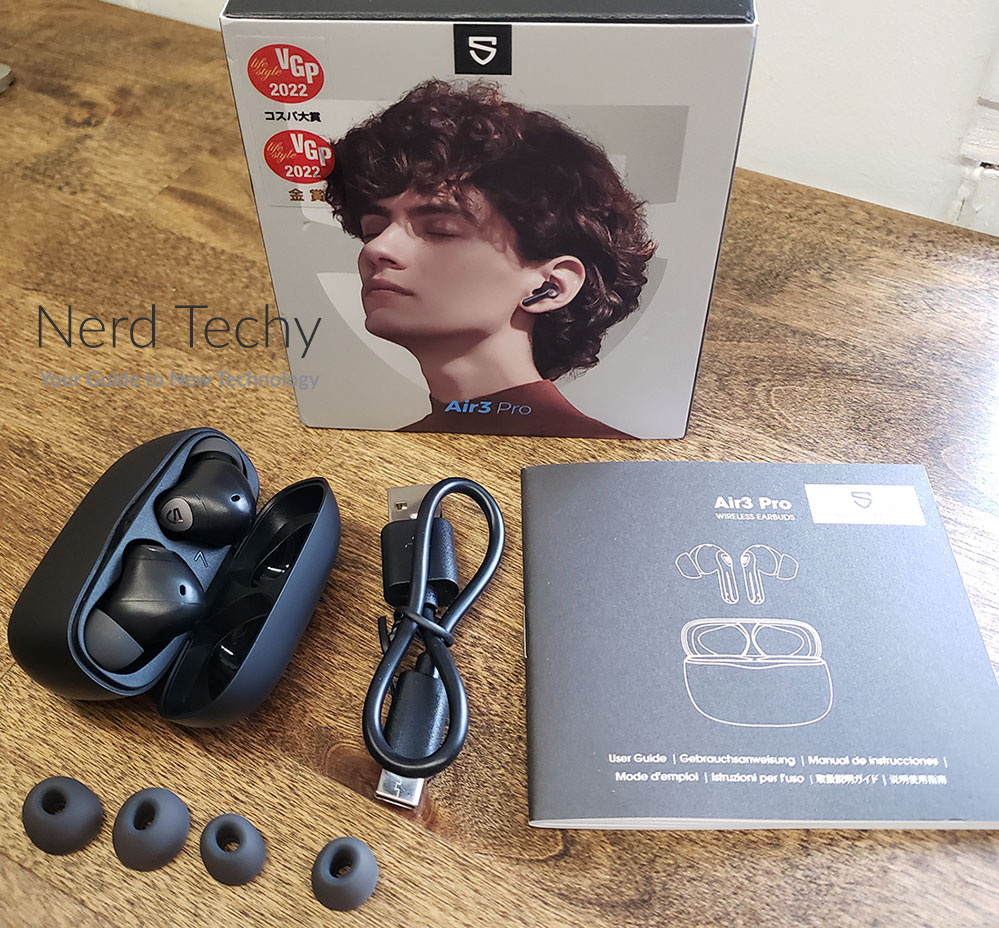 Overall Design
The SoundPEATS Air3 Pro Hybrid ANC Wireless Earbuds look a lot like Apple's popular AirPods Pro. They have matte black shells that won't collect fingerprints, with studs hanging down from oval heads. There's a bit of silver banding on the bottoms, with grey, shield-shaped SoundPEATS logos near the tops.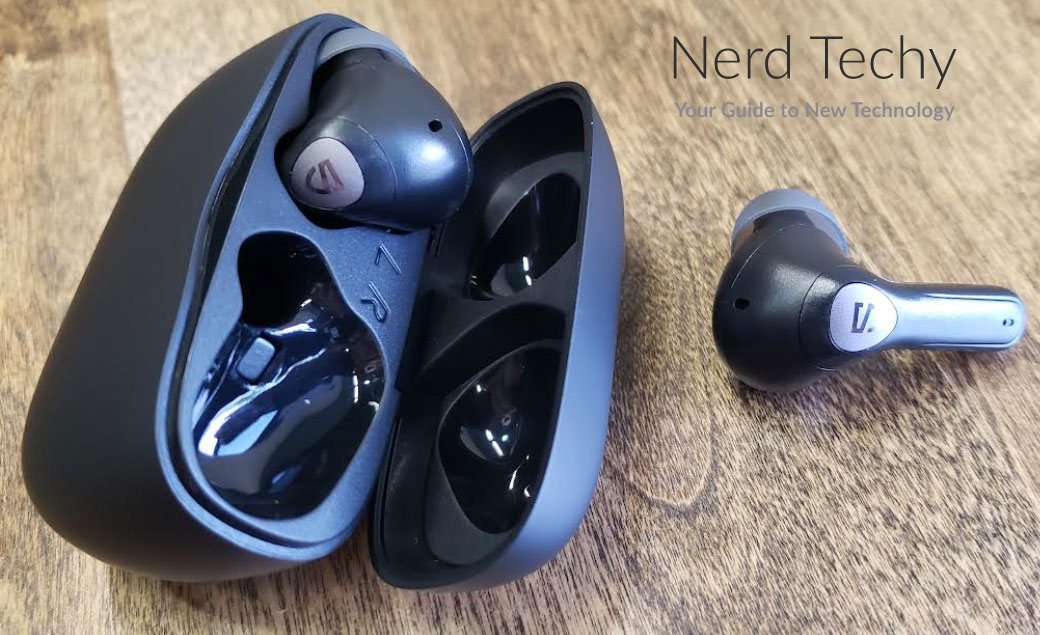 The area around each shield functions as a touch control surface. Using the controls, you can skip tracks, play and pause your music, and answer or end phone calls. You can also change some of the other earbud settings, such as the noise cancellation mode.
In theory, this gives you plenty of ways to control your music without taking your phone out of your pocket. In practice, the touch controls are a little twitchy. Double taps are often misinterpreted as single taps, or as a press and hold.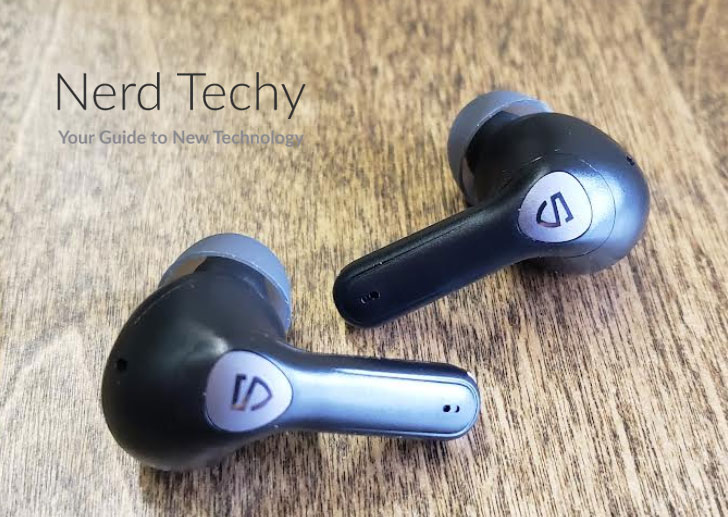 If you're looking for a truly hands-free set of buds, you might want to look somewhere else. The SoundPEATS Free2 Classic earbuds are a great place to start. Not only are the controls easier to use, but the buds are fully submersion-proof. They're a similar size and shape to the Air3 Pro, but the audio quality isn't as good.
Like with most wireless earbuds, the kit includes a matching case, constructed from the same black plastic. It has a spring-loaded lid, with little wells inside where your earbuds sit to charge. The lid is easy to open, with a small cutout underneath for your thumbnail. At the bottom end, you'll find a small USB Type-C port, which is used for charging.
Fit and Comfort
The Air3 Pro earbuds have a shorter stem than most similarly-designed buds. This makes them a bit more comfortable, and keeps more of the weight inside your ear. They're very well-balanced, and could easily have been designed with solid tips like the original AirPods.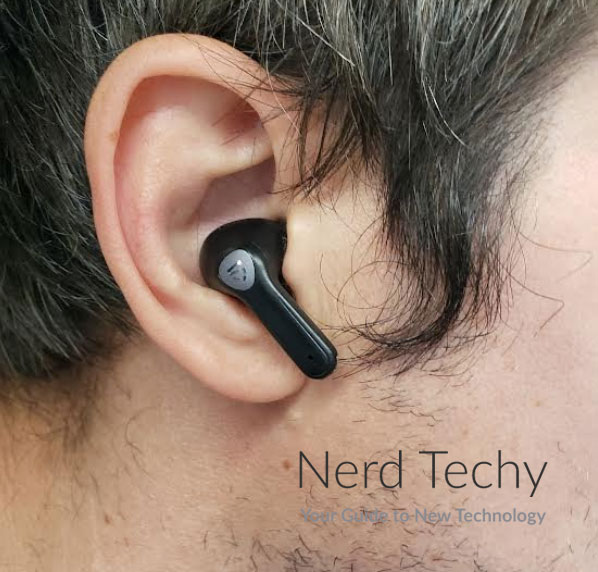 Instead, SoundPEATS has included three sets of black silicone ear tips in the package. These tips are three different sizes, designed to fit different sized ears. The medium tips will already be on the buds when they arrive, with the others in a small plastic pouch.
A well-fitted ear tip is important for a few reasons. To begin with, a snug fit means you get better retention. If you're running or jumping, the earbuds will be less likely to fly out. However, a secure seal also helps keep outside noise from penetrating.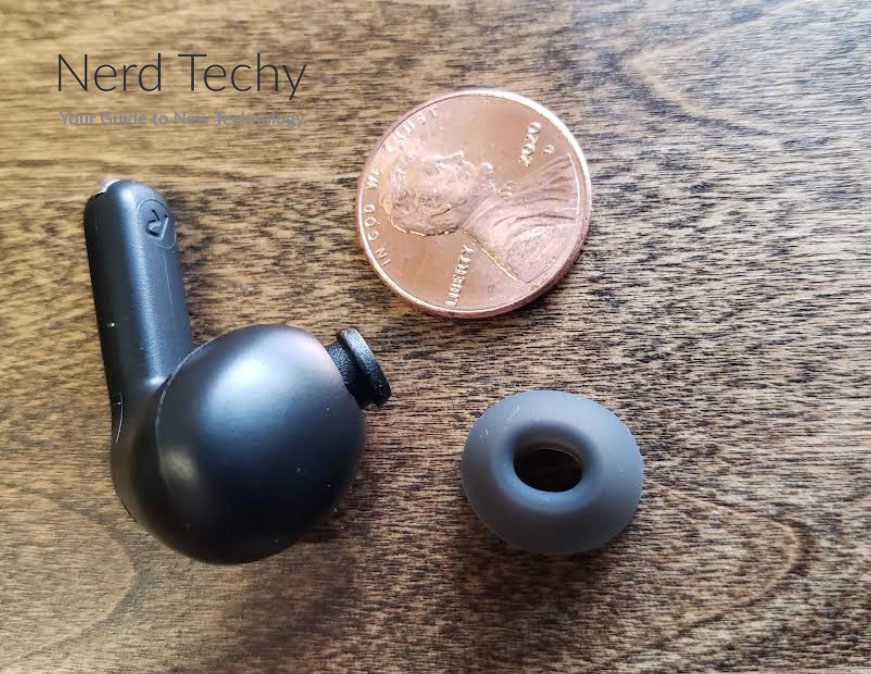 This passive noise isolation makes your listening experience more immersive, and blocks out distractions. Finally, you don't want an earbud tip that's too big. The fit should be snug, but comfortable. If the tips are hurting your ears, remove them and try a smaller size. You'll soon figure out what set works best for you.
Pairing
These earbuds pair with your phone via Bluetooth 5.2. This is the latest and greatest upgrade of the Bluetooth protocol, based on Bluetooth 5.0 technology. Like Bluetooth 5.0, it offers high rates of data throughput. If you want to listen to HD audio, you can.
It also offers a more stable signal than older versions of Bluetooth, like Bluetooth 4.2. But where Bluetooth 5.2 really stands out is its ultra-low latency. You won't notice this when you're listening to music, or even on phone calls. But for watching videos and playing games, the audio and video are in better sync.
Pairing is simple and straightforward. Take both buds out of the case, open your phone's Bluetooth menu, and select them. They'll pair almost instantly, and you'll be ready to start listening. The standard range rating for Bluetooth 5.2 is 33 feet, and that tracks pretty well here. As long as there's no interference, you can walk into the next room without losing your signal.
Battery Performance
The SoundPEATS Air3 Pro earbuds' internal batteries are rated for six hours of use. That seems pretty accurate, although a lot depends on how you're using them. You'll get six hours of audio at medium volume, with noise cancellation turned off.
If you turn on the noise cancellation or transparency mode, you'll get more like four hours of playback. You'll also see differences if you turn the volume up or down. Finally, phone calls draw more power than simply listening to music. If you're making a lot of calls, expect your battery life to suffer; this is true for any wireless earbuds.
In addition to the power in the batteries, the case has a reserve charge of its own. In total, it can recharge your earbuds four times, for a total of 30 hours of battery life. Charging a set of dead earbuds takes around 90 minutes. The case takes a little bit longer to charge, but you can plug it into any USB power supply. A short USB Type-A to Type-C charging cable is included in the package.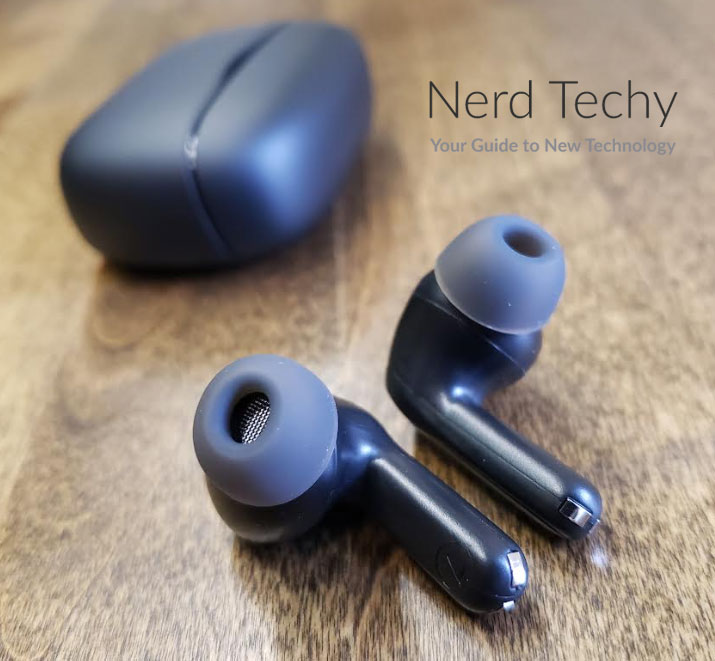 Audio Quality
Ultimately, a set of earbuds is only as good as its audio quality. The Air3 Pro buds boast a set of wide 12mm drivers, almost twice as wide as typical earbud drivers. However, they're engineered for balance, not volume. You won't be able to crank these buds up louder than average just because it's got big drivers.
What you'll get instead is excellent response across all frequencies. High, low, and mid-range tones all come through clearly. The audio isn't exactly studio quality, but it's not tinny or drowning in bass. You'll get good quality sound whether you're listening to music, gaming, or watching a movie.
Furthermore, these earbuds use the aptX Low Latency audio protocol. Combine that with Bluetooth 5.2, and you're looking at one of the lowest-latency sets of earbuds on the market.
If you want even richer audio, check out the SoundPEATS H2. They offer much better quality, particularly for listening to music, and they're just as comfortable. On the downside, there's no noise cancellation function.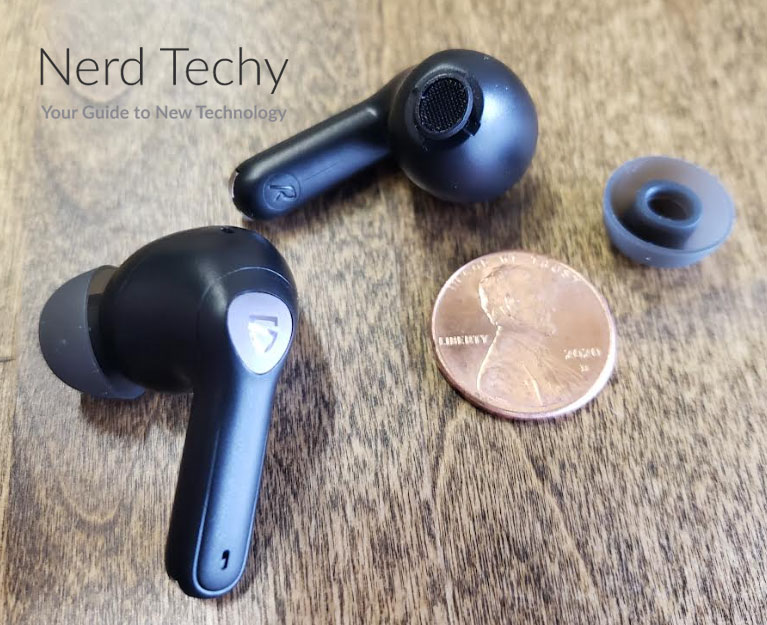 Extra Features
The active noise cancellation function is rated as reducing outside noise by as much as 35dB. In practice, you can only do so much with earbuds, as opposed to full-sized over-the-ear cans. It still works well enough to drown out noise in most environments.
By holding on the left earbud, you'll cycle through three modes: ANC off, ANC on, and transparency mode. Transparency mood actually amplifies outside noise, which sounds undesirable at first. However, it's useful in situations where you need to be aware of your environment.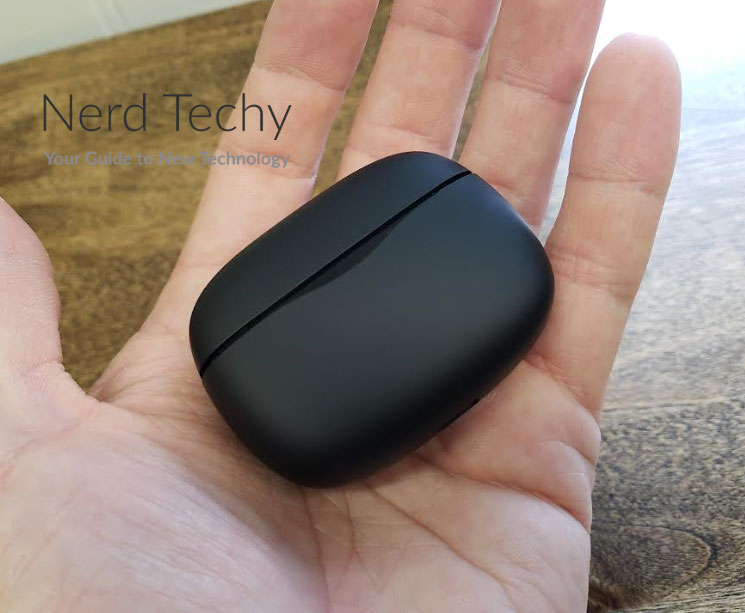 For phone calls, the Air3 Pro uses the CVC 8.0 noise cancellation protocol. This is designed to filter out any background noise that's picked up by your mics. In general, it does a good job of cutting out crowd noise and engine noise. But on a windy day, the wind can still cut through and obscure your voice.
One other feature to note is the ultra low-latency gaming mode. When this mode is activated, the audio transmission is optimized to further reduce latency. It draws extra battery power, which isn't always desirable. Unless you're a pro gamer, we'd leave this feature off to save juice.
If call performance is important to you, consider the SoundPEATS Mini Pro, instead. These earbuds have many similar features, along with better noise cancellation for phone calls. Then again, they have a tiny, in-ear design that some people might find uncomfortable.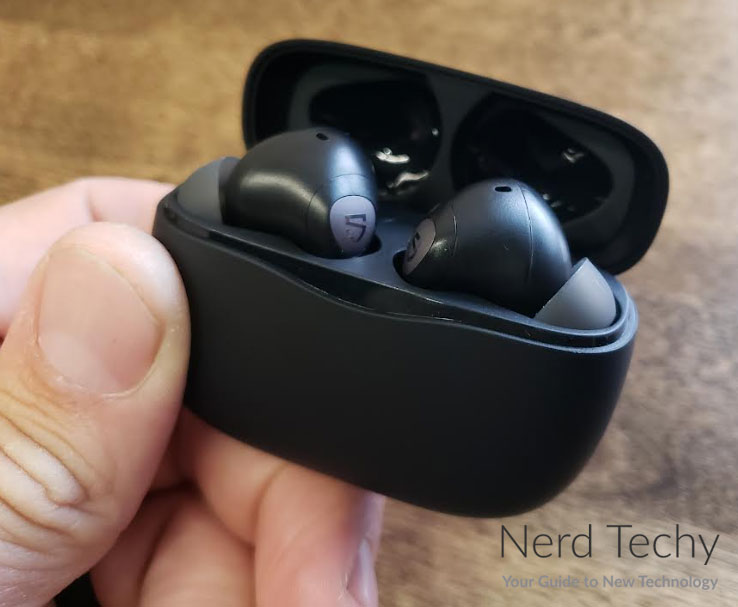 Final Verdict
The SoundPEATS Air3 Pro Hybrid ANC Wireless Earbuds are some of the best buds in their price range.
They're not perfect; the noise cancellation on phone calls, for example, could be much better. But the audio quality and ergonomics are good. Those are two of the most important features, and SoundPEATS got them both right. They're also a great choice for gamers, thanks to the multiple low latency features. And while the battery life isn't spectacular, it's comparable to other, similar earbuds.