If you've been on the hunt for a pair of affordable wireless earbuds, you likely have come across SoundPEATS. Best known for their affordable audio products, they've been busy creating their new releases for 2022. Recently, we had the pleasure of testing and reviewing their new Mini Pro wireless earbuds. Simply put, we fell in love with them. Ultimately, they offered the right blend of sound quality and comfort, all within a reasonable price-point.
Recently, we were alerted of SoundPEATS' latest release – the Free2 Classic. Set to release in the coming weeks, the Free2 Classic appear quite similar to the Mini Pro, but with some slight variations. From first glance, they look nearly the same, but there are some key differences that set them apart. Today we're going to test them out and report back on our findings. We'll take a close look at their appearance, comfort and audio quality. In the end, we'll be able to determine if they're worth purchasing or passing-up. Let's get right into it.
Note: At no extra cost to you, we may earn a commission for purchases using our links. Learn more.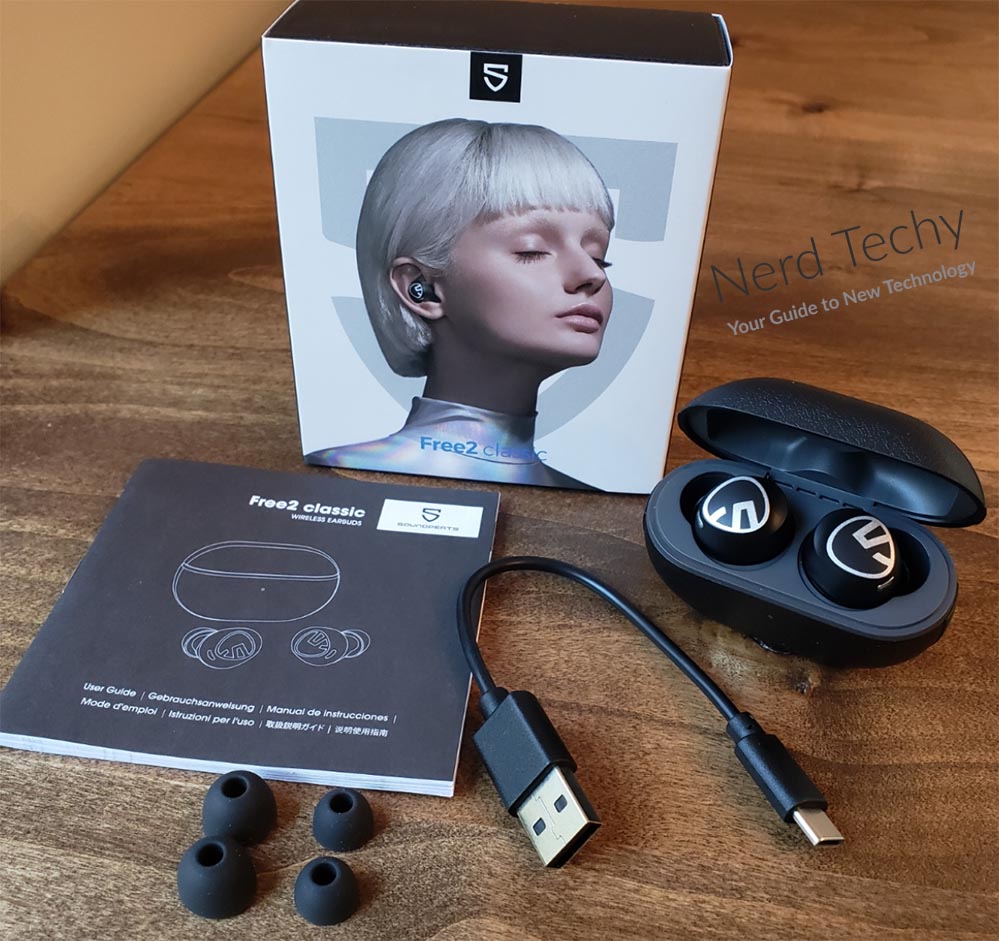 Unboxing & First Look
Upon their arrival, we were quite excited to open the SoundPEATS Free2 Classic and get right into listening. However, we first wanted to take note on everything that's in the box. The earbuds come shipped within their portable charging case with a few notable accessories. First, you get a short USB-C to USB-A charging cable. It's long enough to charge, but awfully short; not too big of deal, but worth pointing out. Next, you get a larger and smaller size set of silicone eartips. These are used to swap-out the medium-sized tips that come pre-installed. Lastly, a user guide is included. It's multi-lingual and contains a few tips and instructions on pairing, controlling and wearing the earbuds.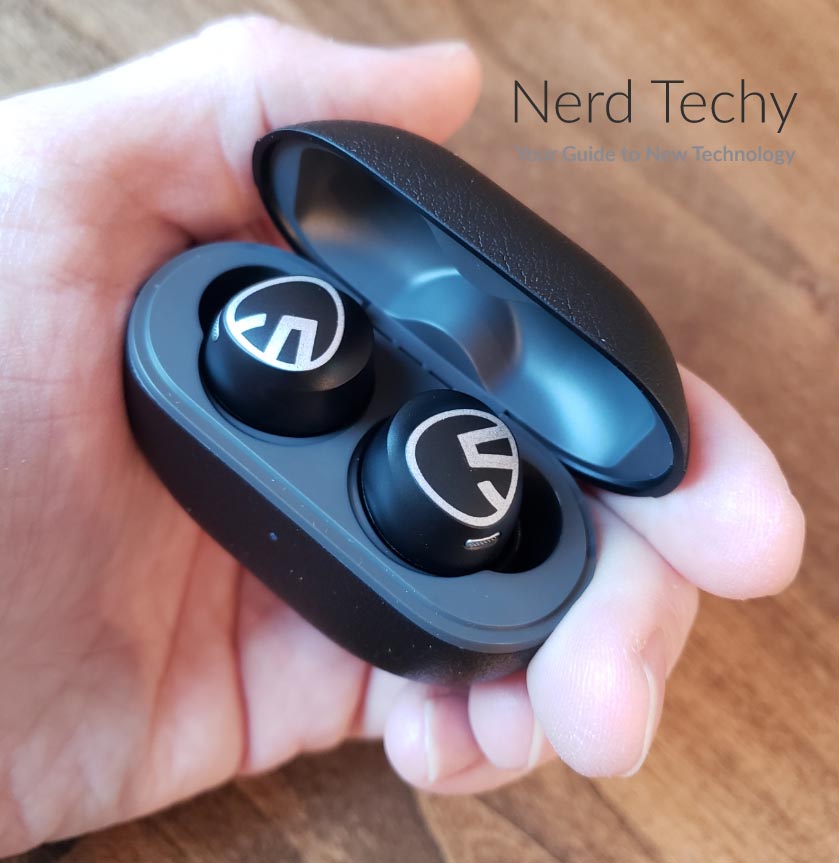 Using the earbuds is very simple. First, open up the charging case and remove the small sticker that covers the charging contacts. With the earbuds in your hands, place them into your ear canal with the SoundPEATS logo facing right-side up. The tips should point downward and feel snug without any pressure points. If you jump, wiggle or move around and they become loose, consider swapping for a different-size eartip. It's important to achieve a proper fit before putting them to use. Once you've achieved a fit that you're happy with, pairing should be your next step.
When you remove the earbuds from their charging case, each one will have a small LED that will blink intermittently. Go over to your smartphone or tablet (with Bluetooth-enabled) and select "Free2 Classic" from the list of available nearby connections. With a small tap, they're good to go and you can now enjoy listening.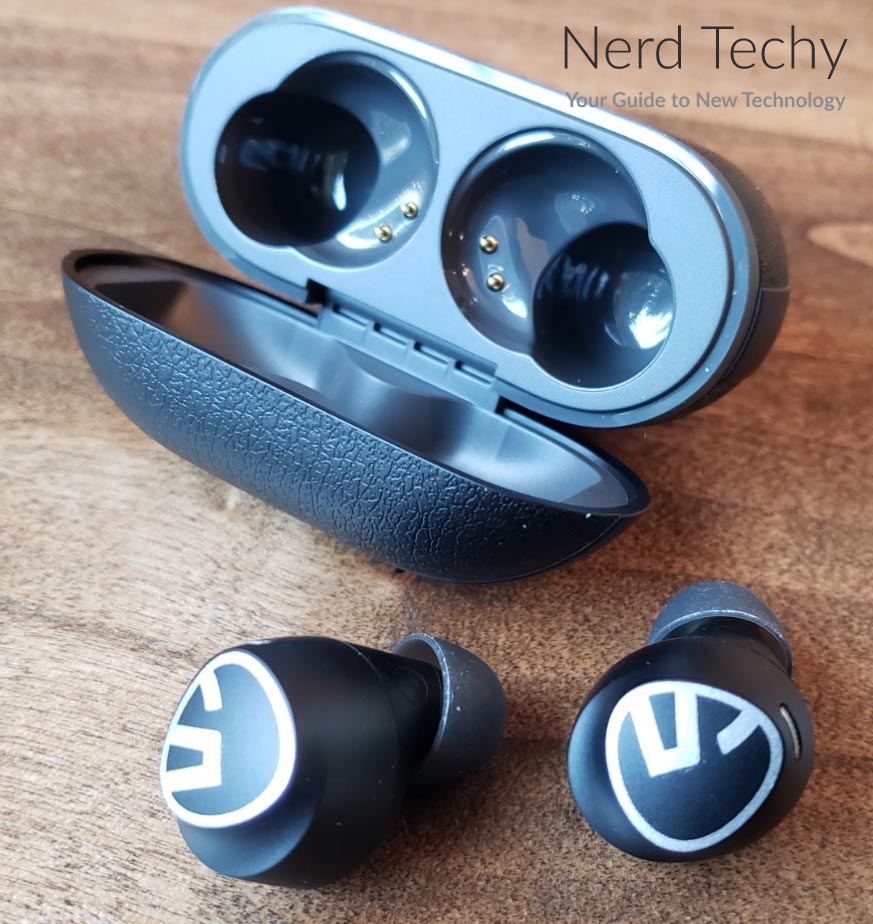 Sound Quality
Listening to your favorite music with the Free2 Classic is quite simple. Once paired, simply choose your favorite tunes and begin the listening experience. They utilize Bluetooth 5.1 with an advanced audio codec (AAC) and sub-band coding (SBS). With this, their frequency response range is 20Hz to 20 kHz. Ultimately, this means good audio quality without requiring a lot of processing power. That said, the audio profile is setup to deliver favorable audio quality without lag or distortion.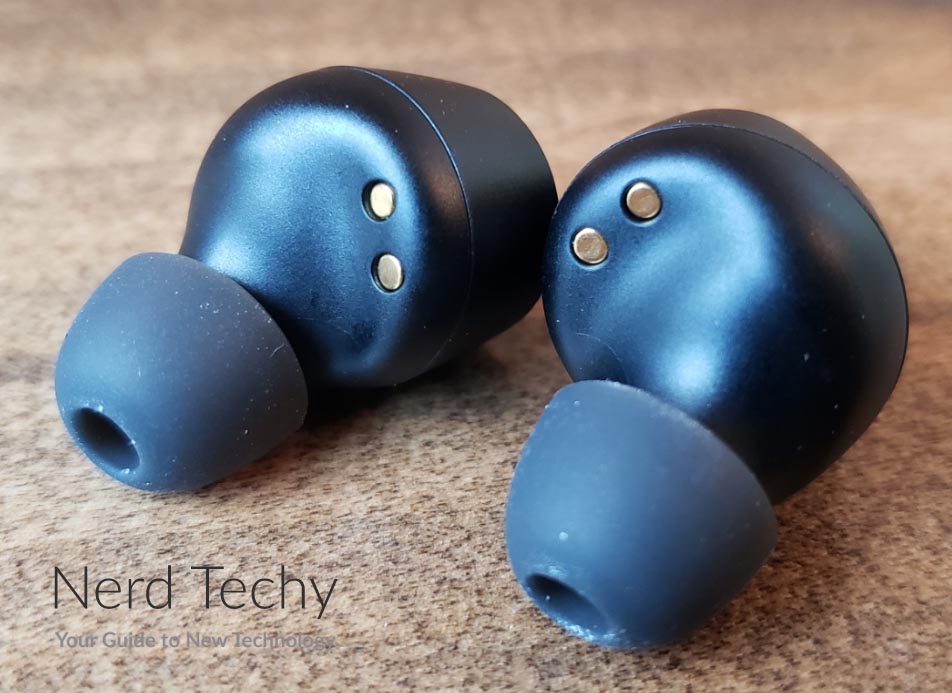 Playing music through the Free2 Classic is enjoyable, overall. However, we did notice a bit of tininess that was unfavorable. With certain songs, the audio is a bit hollow and lacking of real bass. In fact, the mid tones seem acceptable but the highs sound a bit thin and chatty. Also, we found the bass to be quite weak. Needless to say, this was a bit of a disappointment. The lack of oomph left us wanting more.
Some audio, such as vocal-rich country music or acoustic guitar was acceptable. The earbuds seem to deliver certain genres more accurately than others. Anything with heavy bass or deep low tones comes across as a bit weak and empty. In fact, it's obvious that these are budget-friendly headphones; the audio simply doesn't live up to any kind of hype. And when turned up to a maximum volume level, distortion comes across on all levels. We're not necessarily saying these are the worst earbuds available, but they're certainly not as capable as the SoundPEATS Mini Pro.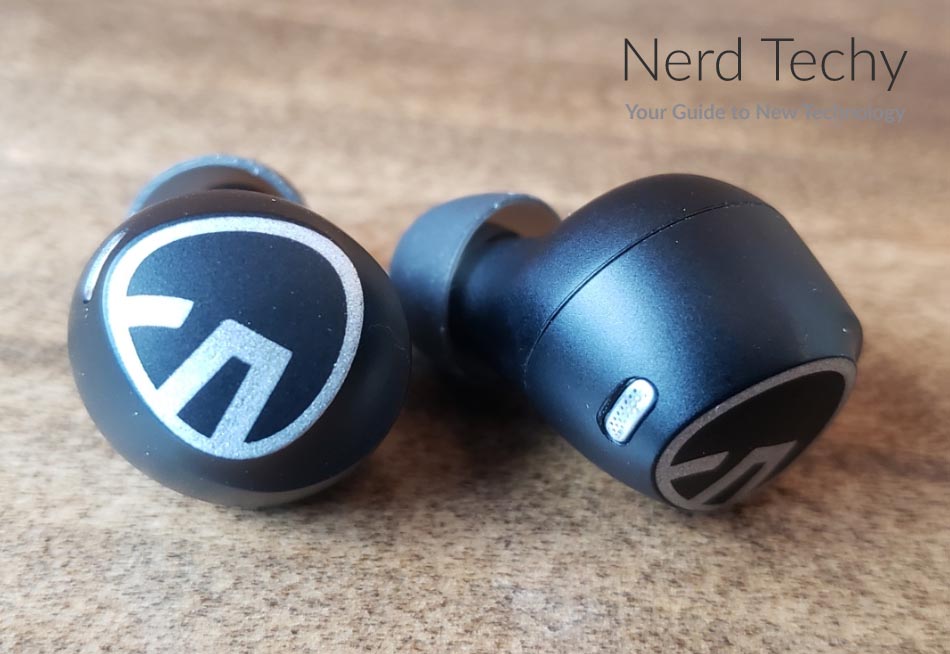 Comfort
The Free2 Classic have a very slim profile. Most notably, they're much smaller than your average set of wireless earbuds. Although this means they fit well for those with small ears, those with larger-sized ear canals will probably need to utilize the largest included eartips. Speaking of, it seems as long as you have the proper sized eartips, the buds stay put; they don't move or come out of position on their own over time.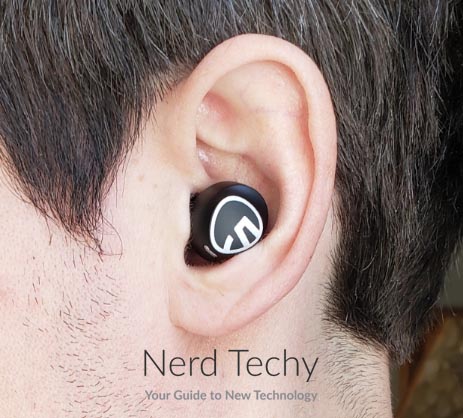 Wearing the Free2 Classic is easy. As we described earlier, make sure the SoundPEATS logo is upright and the tips are pointed directly into your ears. We love the low-profile design. That said, they don't protrude too far out of your ears or seem too bulky. Quite the contrary, in fact. These are some of the lowest profile SoundPEATS earbuds we've tried. Overall, they're comfortable to wear, even for multi-hour listening sessions.
Battery Life & Charging
The charging case that's included with the Free2 Classic is quite compact. Measuring just over 2 inches wide and roughly 1 inch thick, you can fit them in virtually any pocket or sleeve without adding much bulk. The clamshell design, with the flip-top opening lid is a standard design. However, the finish gives off a beautifully textured effect. The exterior of the charging case has a leather-like appearance with small striations barely visible when you look up close. It's matte black with a dark gray finished interior and horizontal line that meets with the lid.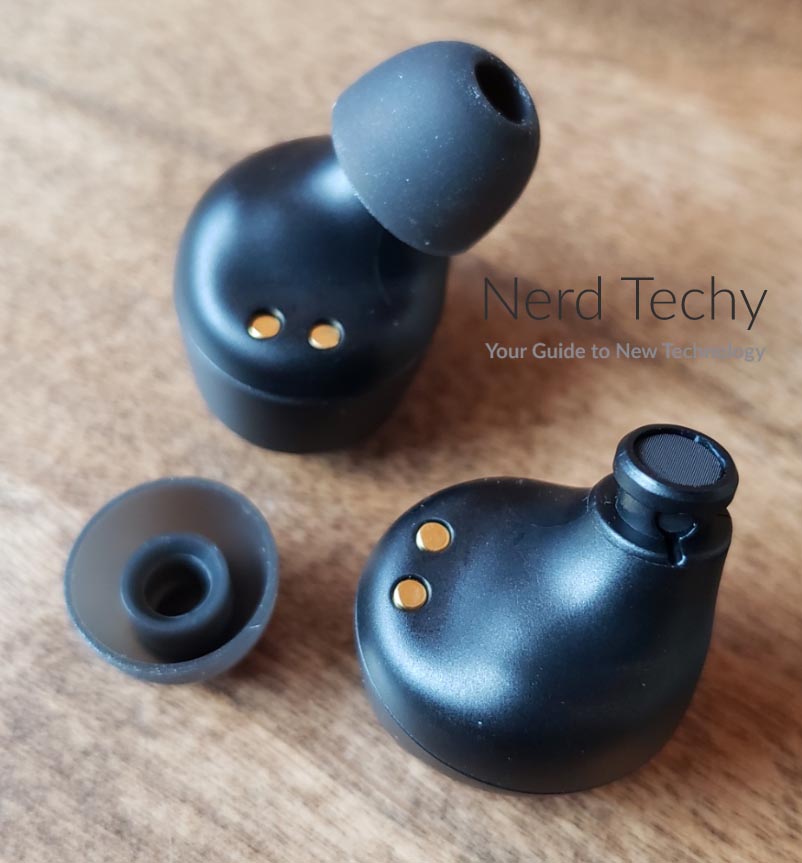 On the back of the case is a USB-C charging input for topping-off the internal battery. Once you place the buds within their respective cradles, they'll naturally line-up with the charging contacts. This way, every time you place them in the case, the internal batteries of each earbud is topped off. In fact, the charging case has a battery capacity of 350 mAh with each individual earbud contain their very own 43 mAh battery. As a result, you can achieve multiple charges for each earbud before you need to manually charge the case.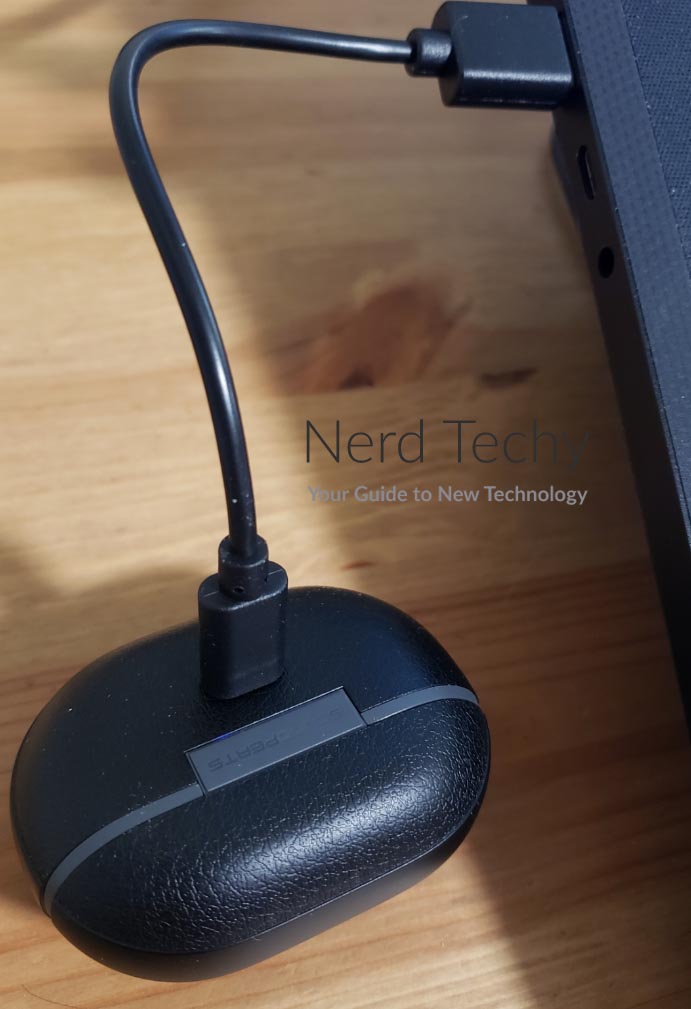 The earbuds are said to boast 8 hours of battery life. In reality, we found this to be mostly accurate. Each time we pushed them to the limit and used them for an extended period, it was between 6.5 and 7 hours before we heard any sort of "low battery" warning. To be fair, we typically used the earbuds at half volume and in a normal environment. When exposing the buds to extreme cold or high volumes, you can expect the battery life to diminish much quicker. Ultimately, we found the charging case to provide around 3-4 full recharges before needing USB-C charging. Not bad!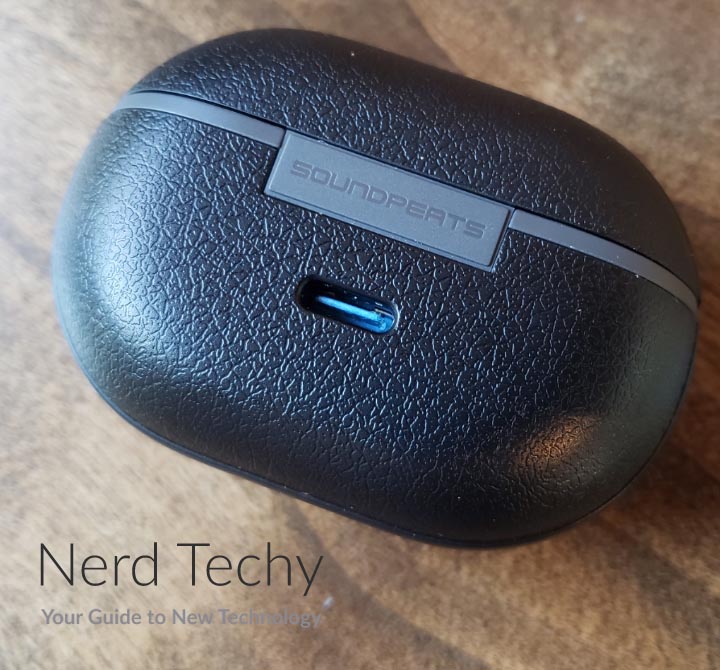 Call Quality
Using the Free2 Classic wireless earbuds for making or receiving a phone call is easy. Tapping either earbud two times will answer an incoming call and automatically pause your music at the same time. The audio quality is acceptable, capable of transmitting clear voice without any noticeable distortion. We tested calls in three seperate instances and each time we had no complaints in regards to the audio quality or wireless transmission.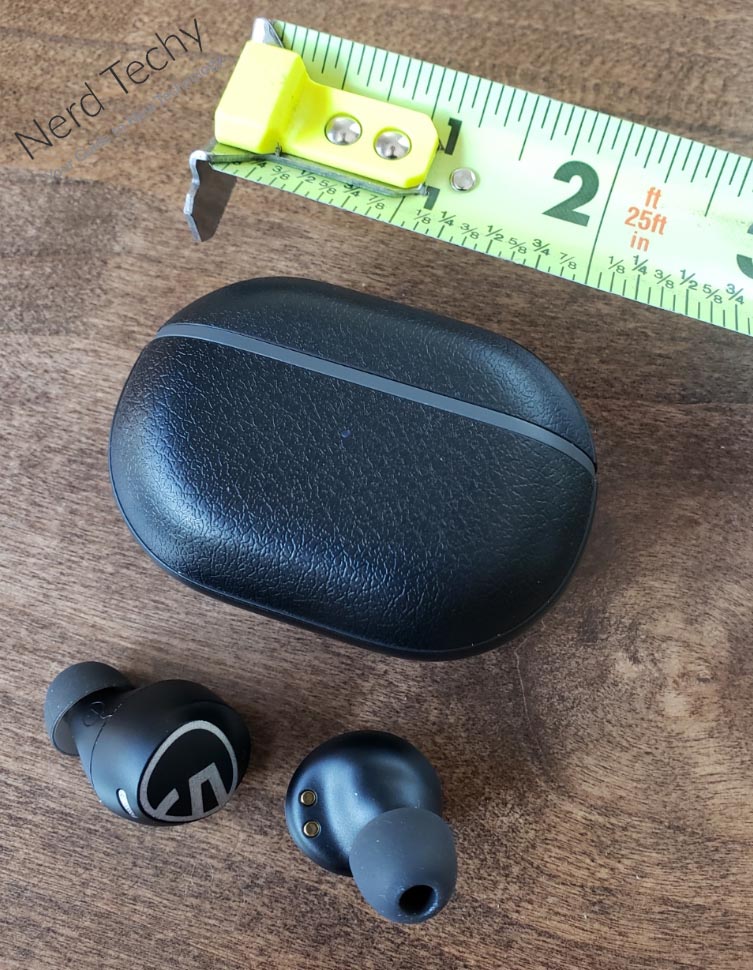 Durability
The SoundPEATS Free2 Classic are tightly sealed up from dirt and water ingress. In fact, they're given an IPX8 waterproof rating. This means they can withstand high pressure water jets, and you can submerge them in water to 1 meter depth. In reality, this means you can take them outside in any kind of weather, or even wear them while you shower or swim. In both instances, you need not worry about their integrity; they've been rigorously designed for water resistance.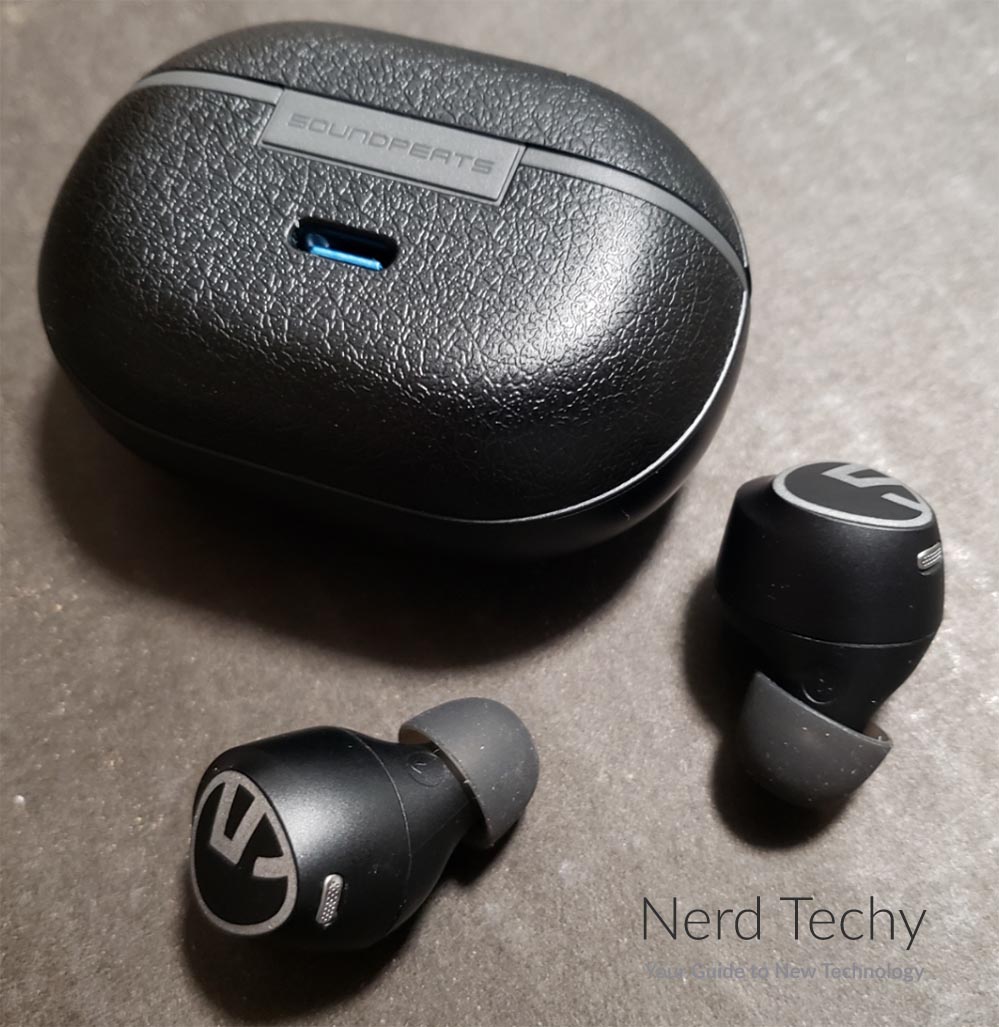 Like most earbuds, the charging case is definitely not water resistant. When using the earbuds, place the case in a pocket or sealed compartment. After all, you don't want to expose any kind of moisture to a battery case that isn't sealed.
Overall, the earbuds feel nice and solid. There's no moving parts to worry about and they're given a specific rating to inform you exactly what they can withstand.
Controls
The Free2 Classic are equipped without any physical buttons on the exterior of the buds. Instead, SoundPEATS incorporated touch controls to perform all the functionality from your fingertips. The outside "logo" area of the earbuds are touch-sensitive, meaning all of the functions can be performed with a series of taps or presses. While these controls can be quite confusing at first, a bit of practice and subtle memorization will go a long way. Here's a quick rundown of all the touch controls you're able to perform:
Power On: To automatically power on, open the lid of the charging case and take out both earbuds. To manually power them on, press and hold either side for 1.5 seconds.
Power Off: Simply place the buds back into the charging case when done (and close the lid). To manually turn them off, press and hold either side for 10 seconds.
Play/Pause: Double tap either earbud.
Volume Up: Single-tap the left earbud.
Volume Down: Single tap the right earbud.
Previous Track: Press and hold the left earbud for 1.5 seconds.
Next Track: Press and hold the right earbud for 1.5 seconds.
Answer/Hang Up Phone Call: Double tap either earbud.
Reject Phone Call: Press and hold either earbud for 1.5 seconds when a call is incoming.
Switch Between Two Calls: Press and hold either earbud for 2 seconds.
Manually Enter Pairing Mode: Press and hold either earbud for 6 seconds.
Activate Voice Assist: Triple tap the right earbud.
As you can see, there are quite a bit of different functions that can be performed with the touch controls. Unfortunately, we found the touch controls to act up a bit when you're placing the earbuds within your ears. Naturally, you have to touch the logo area on the exterior of the buds to insert them into your ears. With this, it's easy to accidently activate certain functions that you wouldn't necessarily want at that time. It's not a big deal, but something we think users should be aware of.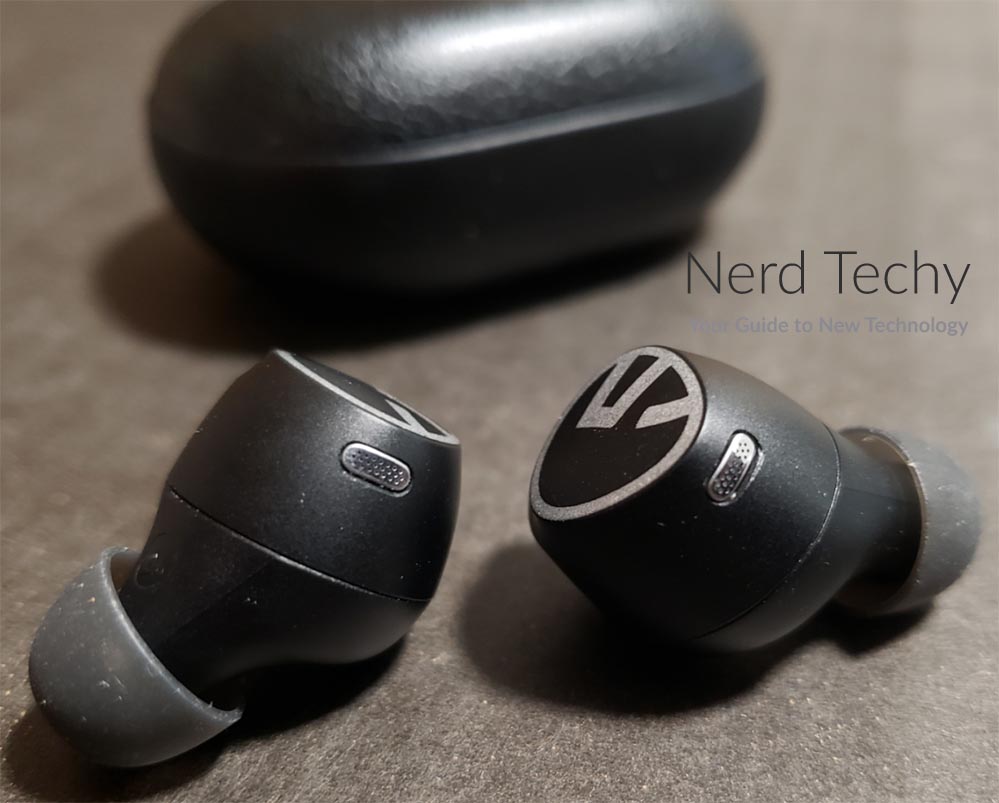 Final Thoughts
While the SoundPEATS Free2 Classic don't exactly have the best sound quality, they have an acceptable amount of clarity that most users will be perfectly pleased with. If you're an audiophile or someone who is very finnicky with their listening experience, there are better options out there. They come in at an affordable price point while offering good battery life, excellent comfort and an audio profile that's middle of the road. Rather than investing in the Free2 Classic, we highly reccomend checking out the SoundPEATS Mini Pro. In a lot of ways, they're very similar. However, with the Mini Pro, the audio is just plain better.
The Free2 Classic provide an ideal blend of features at a price point that's quite enticing. Sure, they may not deliver on all fronts, but we honestly feel that most will be plenty satisfied with them. They're compact, water reisistant and generously priced. If they're in your budget, try them out! If you can stretch your budget a bit more, go with the Mini Pro!
Have you tried out the Free2 Classic? What do you think of them? Let us know by dropping a comment below!
Please consider sharing:
Note: At no extra cost to you, we may earn a commission for purchases using our links. Learn more.