Over the past few years, LED technology has changed how we think about lighting and decoration. The most obvious aspect of this change has come in our home lighting. Not long ago, we were using energy-inefficient and short-lasing incandescent bulbs. Then we transitioned to CFL bulbs, which take forever to warm up. LEDs provided a welcome relief, with their energy efficiency, long-lasting design, and ease of use. But LEDs have done a lot more than just change our main room lighting. With LED light strips and accent lights, you can also get high-efficiency accents. You don't have to worry as much about heat dissipation, and LED diodes can be extremely compact.
Along the same lines, LEDs can be used to create unique effects. You can get rainbow lighting, color changing lights, and other options. You can even get a variety of realistic designs. Take an old-school Christmas window candle, for example. It was basically an off-white plastic cylinder with a little bulb in the tip. Broadly speaking, it was a nice decoration, but no one would ever confuse one with an actual candle. Modern LED window candles, on the other hand, can look like the real thing – at least at first glance.
Today, we'll be doing something similar, and looking for the best realistic flickering flames solar LED tiki torch lights. We're going to review three different options, starting with the physical design and appearance. We'll talk about how you operate them, and any different options you can choose. We'll also talk about the brightness, and how the solar charging performs. After that, we'll have a more complete picture of what we're dealing with. Let's take a closer look!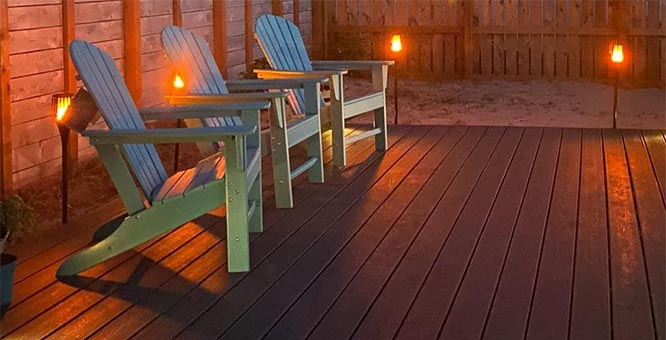 Solar Tiki Torch Buying Guide
Before we get into our reviews, let's start from a blank slate. Why would one solar tiki torch be better than another? To begin with, some are easier to set up and install. Ideally, you want a set of lights that can be stuck into the ground and powered on. If the setup process is any more complicated, you should probably move on. You also want a light that's long-lasting. Ideally, you shouldn't have to replace your solar torches every single year.
Beyond that, there are some other things you're going to want to consider. To begin with, you obviously need to consider the look and feel of the light. You'll want to think about the durability, as well as the battery life. You'll also have to look at the ease of use. Here's a quick look at all three features.
Aesthetic
A traditional tiki torch can be used for many things, like driving off bugs. But the only purpose of an LED torch is to serve as a decoration. If it's not easy on the eyes, there's no point in buying it. Of course, the same could be said for any kind of decorative lighting. For example, if you're buying fairy string lights, you want to choose the most attractive option.
Much of this is a matter of personal taste. For example, do you want a truly realistic flame? Or do you want a soft glow, or a breathing effect? Depending on the answers to those questions, you're going to want to choose a different light. The frame is an equally important consideration. Do you want something more ornate, or do you want a more straightforward, grid-style frame?
Along the same lines, you need to think about the bulb's brightness. Some LED torch lights are designed as path lights, and can be used to provide visibility. On the other hand, other lights are designed strictly for atmosphere. They won't spoil your night vision as much, but they also won't do a great job of guiding your way.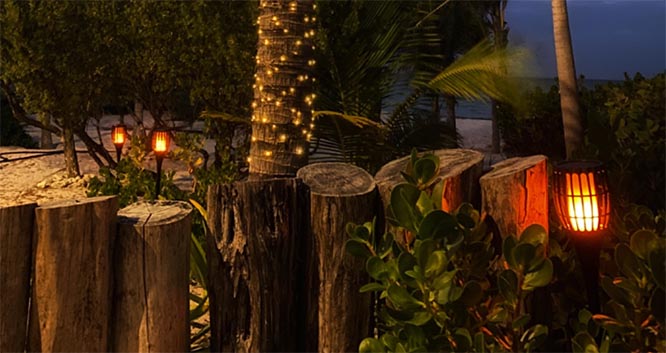 Toughness and Battery Life
Different LED lights come with different service ratings. This gives you the approximate number of hours the bulb can last before it stops working. Nowadays, a good LED bulb can be expected to last for 50,000 hours or more. But you need to look at more than just the light rating. You also need to gauge the durability of the housing. A long-lasting bulb doesn't do you much good if the light as a whole is easy to damage.
With a solar light, you don't have to worry about replacing batteries, which is always welcome news. That said, you still have to think about how long the batteries will last. Most solar lights won't give you any trouble in summer. There's enough daylight for plenty of charging, and the nights are shorter. But gloomy winter days, long nights, and cold temperatures can all take a toll on your battery.
Convenience
By their very nature, solar tiki torches are more convenient than the real thing. You don't have to get out a lighter, and you don't have to put out any flames when you're done. A good quality solar torch should operate automatically. If you have to constantly turn them on and off, you need to find a better option.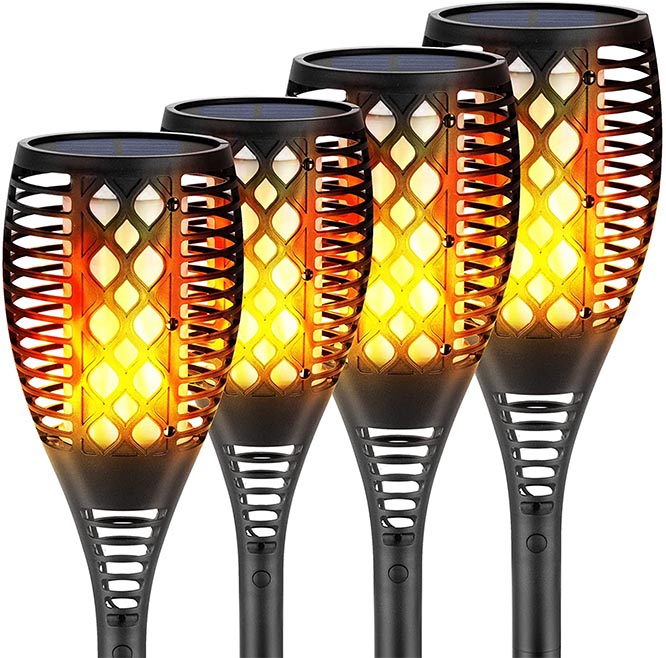 Eicaus Solar Torch Lights
The Eicaus Solar Torch Lights are shaped roughly like a set of wine glasses. They come in a four-pack, and they're constructed from a matte black ABS plastic. The pattern is somewhat ornate, with a combination of horizontal slits and diamond cutouts. Just beneath the cutouts, there's a small power button, which blends in nicely with the front of the housing.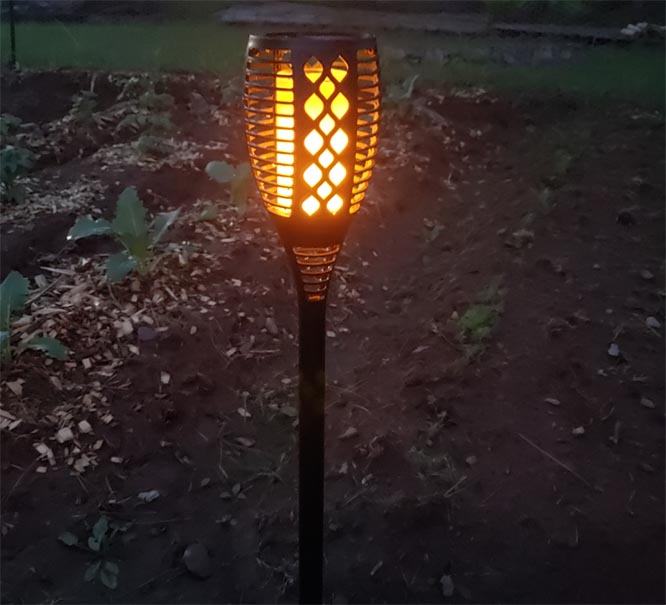 The torch unit itself measures 11.4 inches high, but that's just the main housing. It tapers to a narrow base, which attaches on top of a 12.4-inch metal post. This is the main support for the tiki torch, and it's socketed at the top and bottom. The bottom socket attaches to the top of a 7-inch ground stake. All you have to do to start using the light is snap the parts together, stick it in the ground, and press the button. This will start it working, and it will continue to operate on its own thereafter. When it's been activated, it will automatically shut off during daytime, and power back up at night.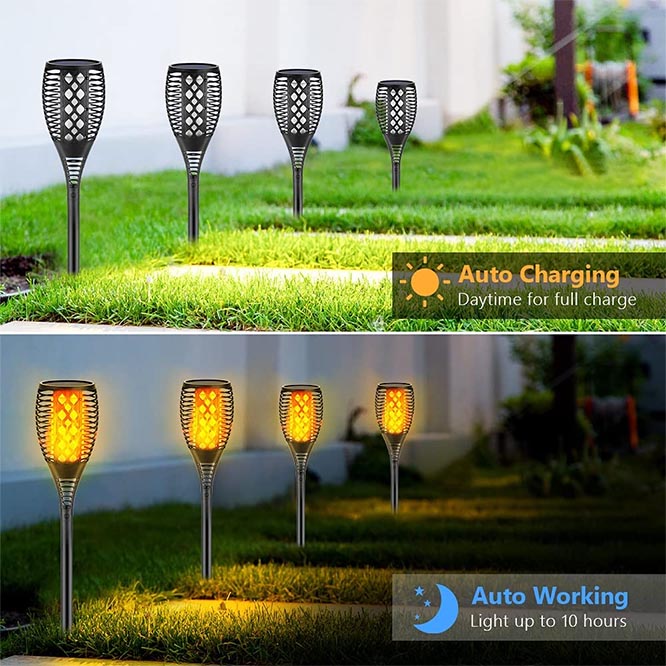 By tapping the power button, you can cycle through three different operating modes. The first is a simulated, flickering, dancing flame. This is as close as you'll get to a real lawn torch. The second mode is a steady, warm white light. This is more like a traditional electric lantern, and creates a pleasant, inviting atmosphere. The third mode is a breathing version of the standard flame mode. It's not as realistic, but it creates a truly unique ambience.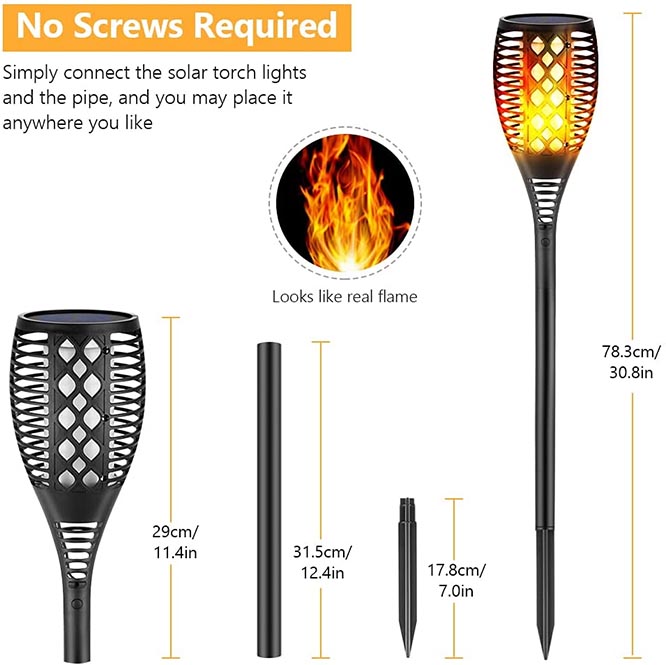 The Eicaus light has an internal battery with a 2,200mAh battery. When it's fully charged, that's enough power for 8-10 hours of operation, depending on your lighting mode. Charging performance is excellent, although you'll obviously see some variation depending on the season. The more daylight you're getting, the more efficiently the battery will charge.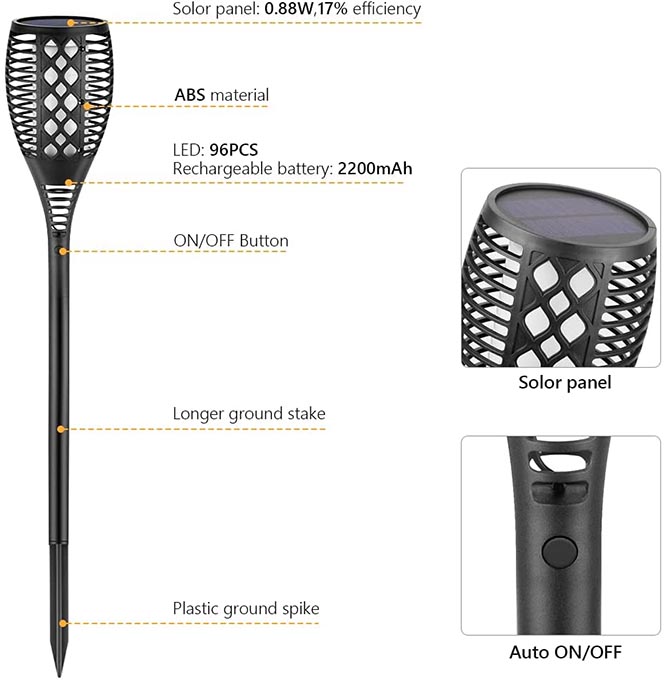 These lights have a weather-resistance rating of IP65. The 6 indicates the maximum possible level of dust-resistance. Even in the driest areas, you won't have any concerns about dust infiltration. The 5 indicates that the lights are rain-proof. They can't be submerged in water, but a thunderstorm isn't going to cause any damage.
Each light is surprisingly bright, with a light output of 350 lumens. If you're using these for path lighting, you won't have to worry about visibility. Despite the brightness, the bulb life is excellent. The LED diodes are rated for 50,000 hours of life. That's more than five years of continuous use.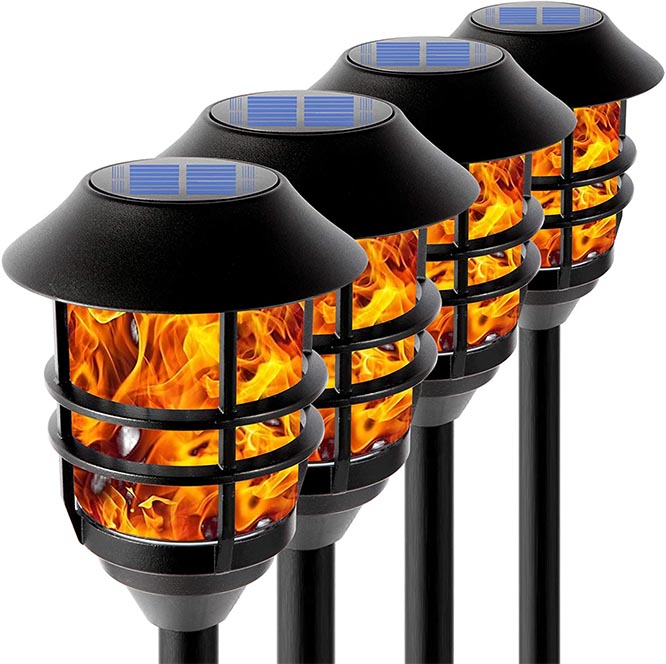 Flickering Flame Solar Flame Lights
The Flickering Flame Solar Flame Lights has a cylindrical shape, rather than a contoured one. The frame is correspondingly simple, with vertical slats at the corners and two horizontal bands. The rest is wide open, giving a clear view of the attractive flame pattern. Despite the minimalist frame, the lights are still very durable, thanks to their all-metal construction. They can take little bit more of a beating than a simple plastic light.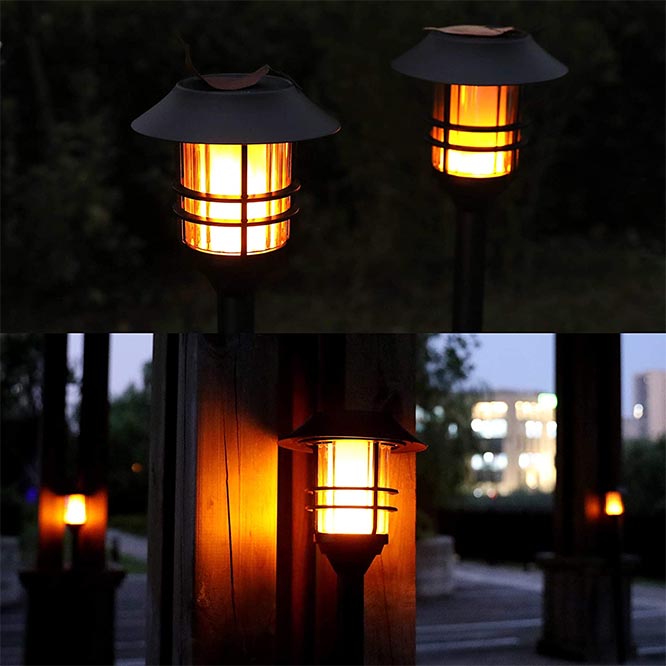 The Flickering Flame lights come in a two- or a four-pack, depending on what you order. Each torch measures 8 inches in height, and comes with a corresponding 8-inch ground stake. Every light also includes three mounting rods: one at 15 inches, and two at 16 inches. Better yet, the rods are all interchangeable and can be connected together. This allows for a variety of mounting heights. Including the 8-inch torch, the total height could be 23, 39, or 55 inches.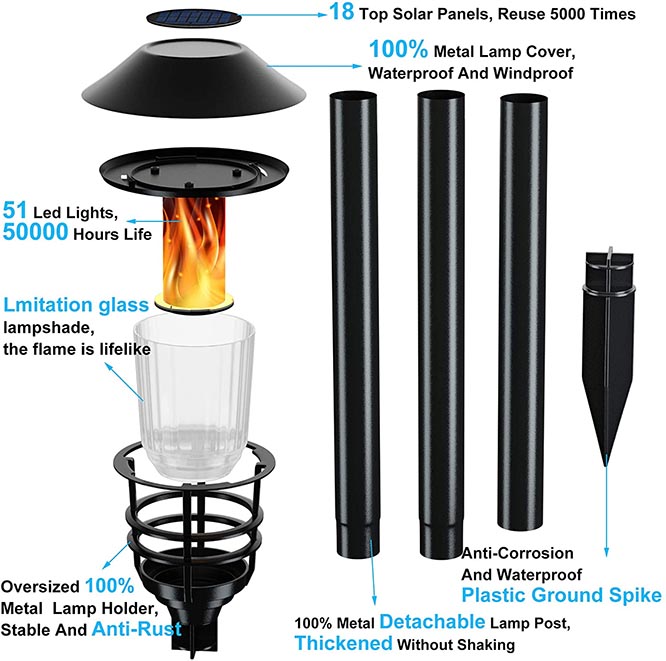 Once this solar light has been activated, it will automatically operate whenever it's dark. During the daytime, it will shut down in order to save battery life. A full charge will deliver around 10 hours of performance, but you won't always get a full charge. With 4-6 hours of sunlight, you'll get enough charge for about 8 hours. As a result, you'll see some variation in performance from season to season.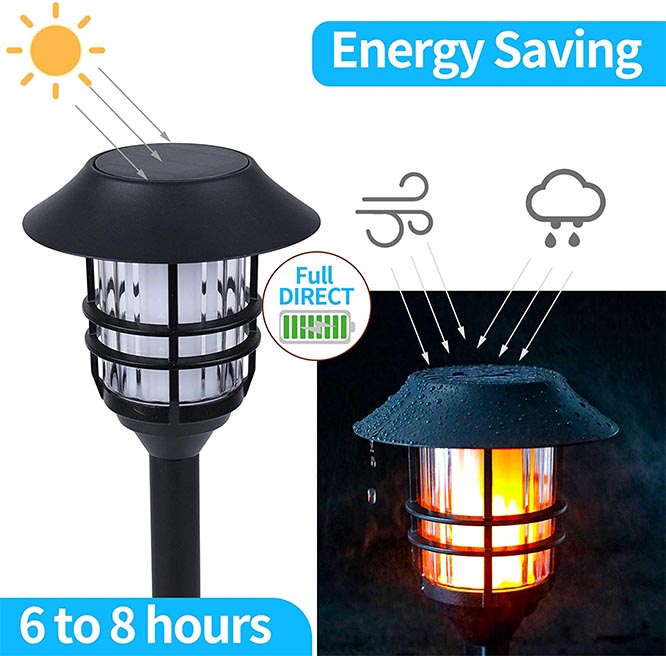 Like the Eicaus torches, the Flickering Flames torches have an IP65 weather-resistance rating. You won't have to worry about them getting damaged in the outdoors. And with a 50,000-hour bulb life, they'll light your way for years to come. That said, these are dimmer, 35-lumen bulbs. They create a beautiful illusion of flame, but they're mostly built for use as atmosphere lighting.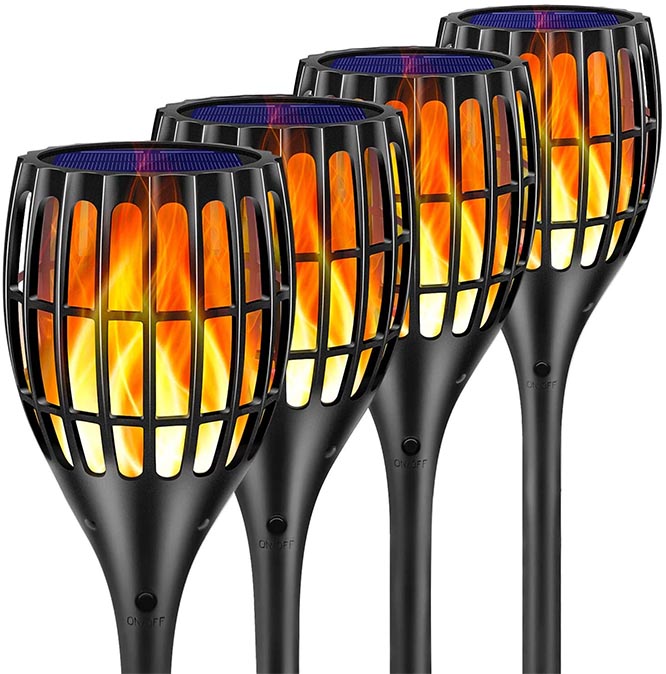 Ollivage Solar Torch Lights
The Ollivage Solar Torch Lights have a comparable, wine glass-shaped profile to the Eicaus lights. However, the frame is far more simple, with vertical slats and windows. Just underneath the main portion of the light, there's an on/off button that matches the black plastic housing.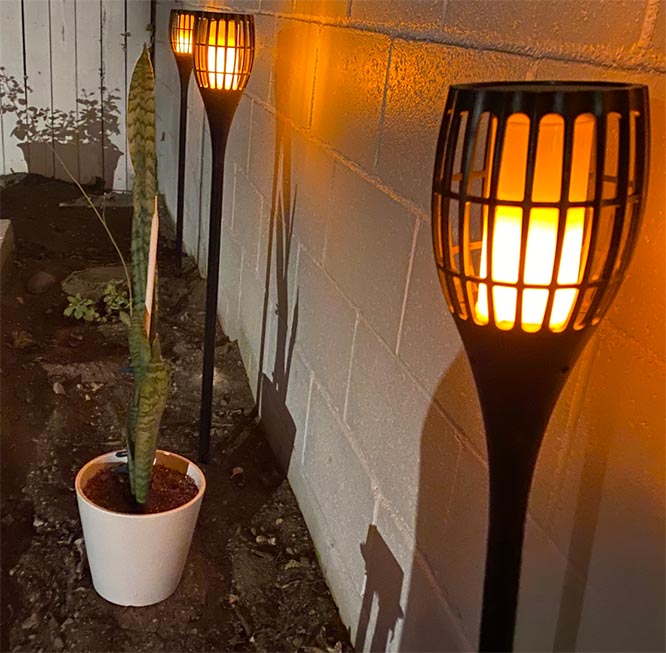 These lights can be ordered in a two-pack or a four-pack, and they measure 12.6 inches high. Each torch comes with its own 8.3-inch ground stake, and a pair of 12.2 mounting rods. These can be paired together, for a height of 24.8 inches or 37 inches, not including the ground stake.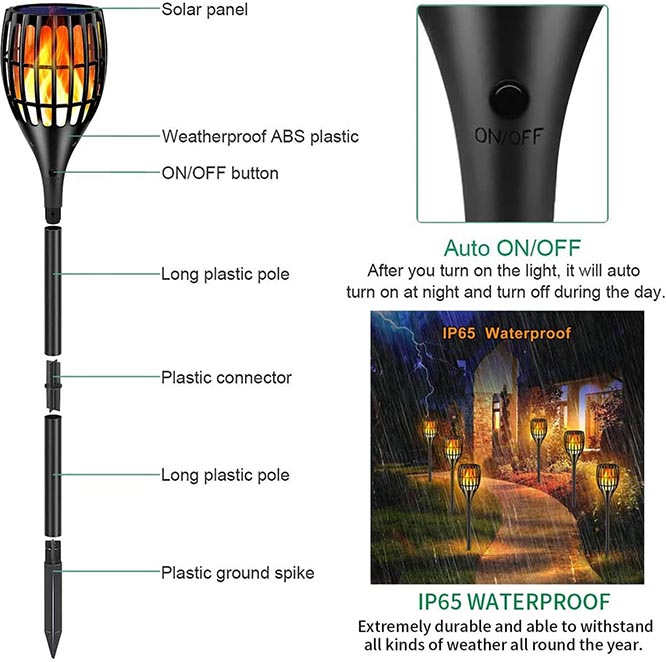 Like the last two lights we looked at, these have a built-in daylight sensor. When it's light outside, the LEDs will shut off, conserving battery life. When it gets dark, they'll automatically turn back on. The 2,200mAh battery will charge in around 6 to 8 hours on a clear, sunny day. As a result, you can expect to get around 12 hours of performance in summer and 5 hours in winter.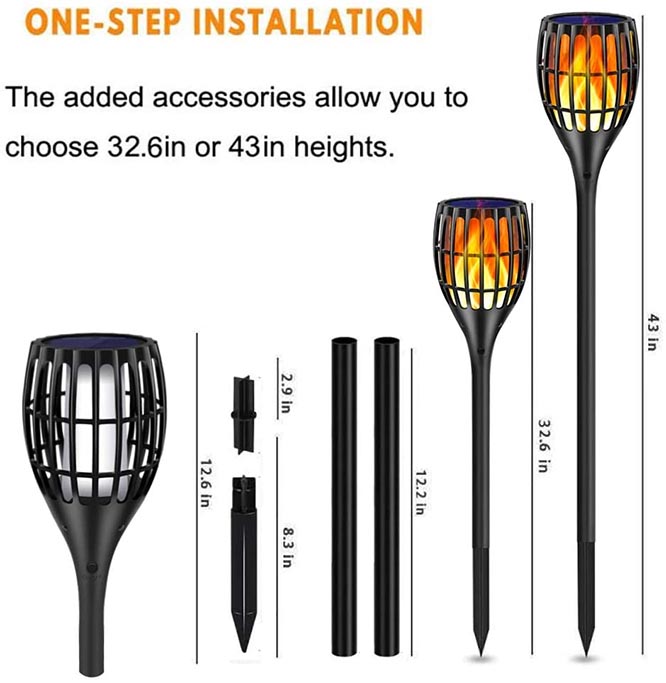 The Ollivage torch lights have a weather-resistance rating of IP65, and a 50,000-hour rated bulb life. At 35 lumens, they're another great choice for atmosphere lighting, and they create a soft, pleasant glow. They also come with a 12-month manufacturer's warranty. If there are any defects, you're going to be protected.
Final Verdict
All three of these solar tiki torches have their own unique benefits to bring to the table. But which one is the right choice for you? Let's go over what we've learned, and see how they all stack up.
We started by reviewing the Eicaus Solar Torch Lights. These are bright lights, with an intensity of 350 lumens. As a result, they're a great choice if your lights need to provide a lot of visibility. They also have three different operating modes. If you need a breathing pattern or a plain warm white, you'll have that option. Then again, the lights sit relatively close to the ground, and the height is not adjustable.
The Flickering Flame Solar Flame Lights have an altogether different appearance. With their cylindrical design, they look almost more like a small brasier than a standard torch. That said, they boast a beautiful flame image, and they're easy to assemble. In addition, you get a wide range of height options, from 23 to 55 inches.
The Ollivage Solar Torch Lights are also adjustable, albeit within a somewhat smaller range. However, they have a more classic design, and they're easy to operate. You also get up to 12 hours of bulb life, which is more than you should ever need. And if that's not enough, Ollivage sweetens the pot with a manufacturer's warranty.