For more than a year, it was difficult to get your hands on an Xbox Series X or Series S. Now that store shelves are finally starting to fill up, you've probably got your console. This leads to a slew of other purchases, though. A lot of accessories that worked with your old Xbox One console won't be suitable for the Series X/S. And if you bought the smaller Series S, you might also have bought the companion expansion SSD. With many of these accessories, you're going to need a USB port. Both new Xbox consoles come with two USB ports on the back, and another one on the front. But what if you want to hook up more than three devices?
In that case, you're going to need a USB hub that's designed to work with your console. Not long ago, we reviewed PS5 USB hubs. Today, we'll do the same thing, but this time we'll be looking at hubs for the Xbox Series X/S. We're going to go over three different options, and see how they perform. We'll look at the physical design, and how they connect to your console. We'll talk about the number of ports, and how quickly they transfer data. In addition, we'll also look at other features, like the cosmetics and power supply. After we've covered all of those bases, we'll have a better idea of how each hub stacks up. Let's get started, and see what we learn!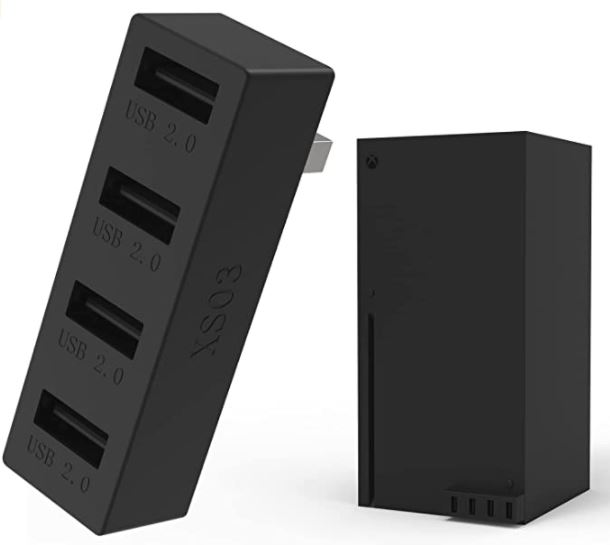 JZW USB Hub for Xbox Series X or S
JZW is a popular manufacturer of console gaming accessories. A while back, we reviewed their Nintendo Switch Keyboard & Mouse Adapter. This can be used to modify your Switch, and access advanced settings that normal users can't alter. So when we saw that they made a USB hub for the new Xbox consoles, we were excited to get a look.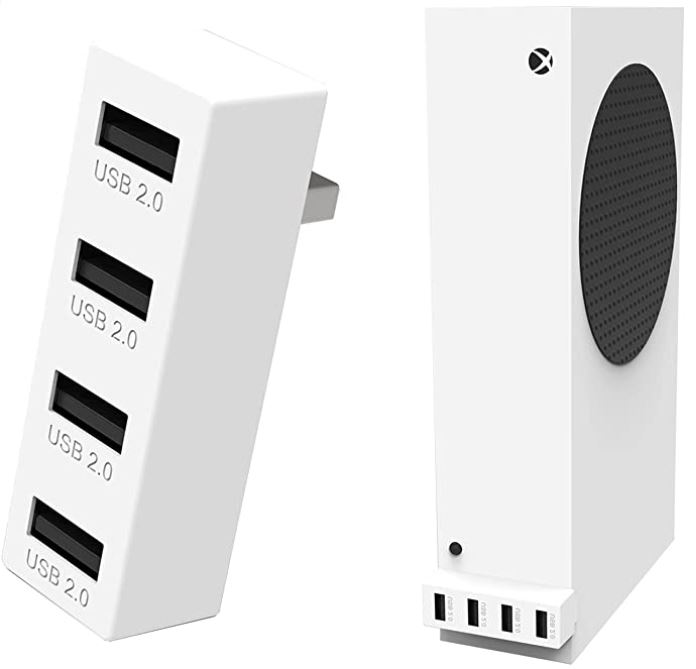 The JZW USB Hub for Xbox Series X and Series S are actually two different variants of the same product. One is matte black and the other is matte white, to match the Series X and Series S consoles respectively. In point of fact, you can use either version of the hub on either system. Both of them have identical specs and features. This includes a simple vertical design. You plug it into your front USB port, and the rectangular housing sits against the front of your console. In fact, we were mildly annoyed, because the Series S version is a bit too tall. If you look closely, it actually sticks up slightly higher than the top of the console itself.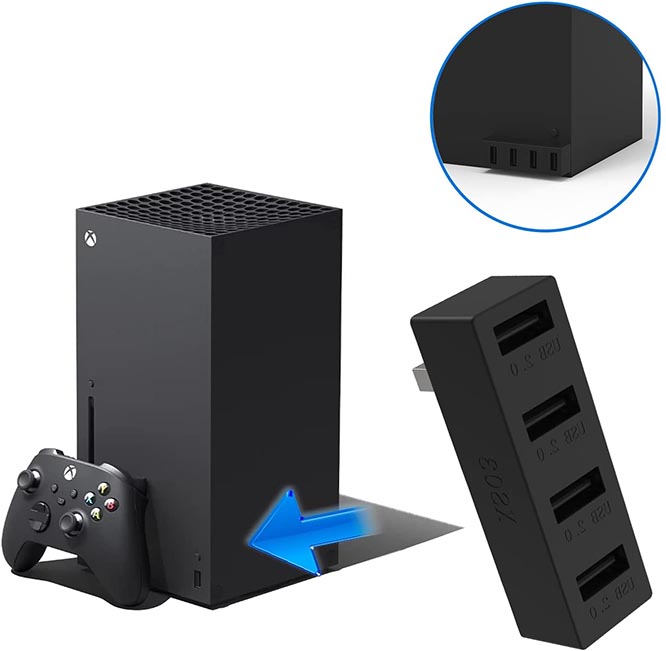 On the plus side, you get plenty of connectivity. The front of the hub sports a series of four USB Type-A ports, stacked one on top of the other. It's worth pointing out that these are USB 2.0 ports. You'll have to plug your SSD into the back of the console. Even so, it's not like you're likely to be using that many USB 3.0 devices. Your headset, keyboard, and third-party controller should all work with USB 2.0. On a cosmetic note, the text "USB 2.0" is printed over each port. But for some reason, the text is printed upside-down, which is an odd design decision. This has no impact on the performance, but it's still worth pointing out.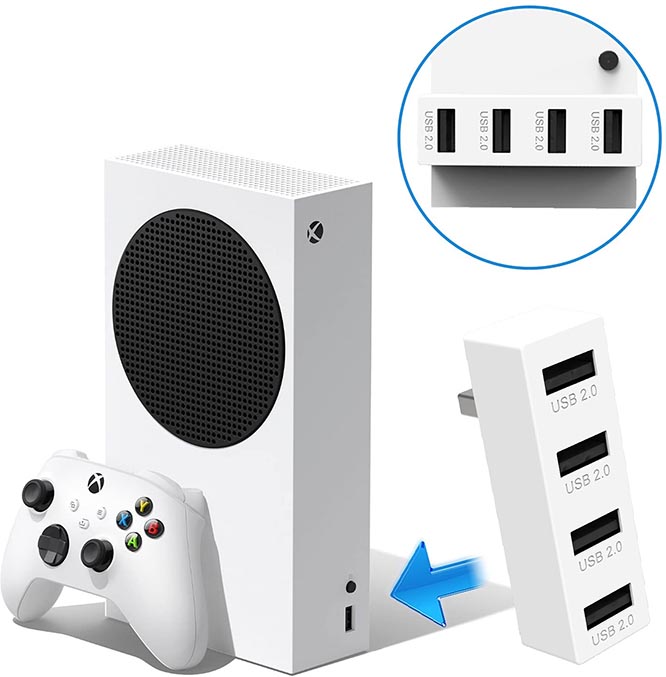 In terms of construction, the JZW hub is very sturdily built. We don't have any concerns about its longevity, and it might even outlast your console. Unfortunately, it might be a little bit too sturdily built. It's heavy enough – and top-heavy enough – to tilt slightly forward when it's installed in your system. This isn't a huge deal, but you may have to press it back into place from time to time.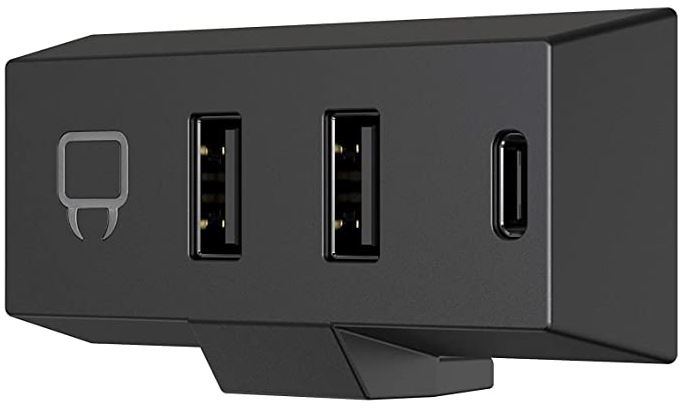 Venom USB Hub for Xbox Series X
The Venom USB Hub for Xbox Series X is exactly what it sounds like. It's a specialized USB hub designed specifically for the Series X. Because of its design, it won't be suitable for installation on a Series S. However, it has some significant benefits that make it well worth considering for Series X owners.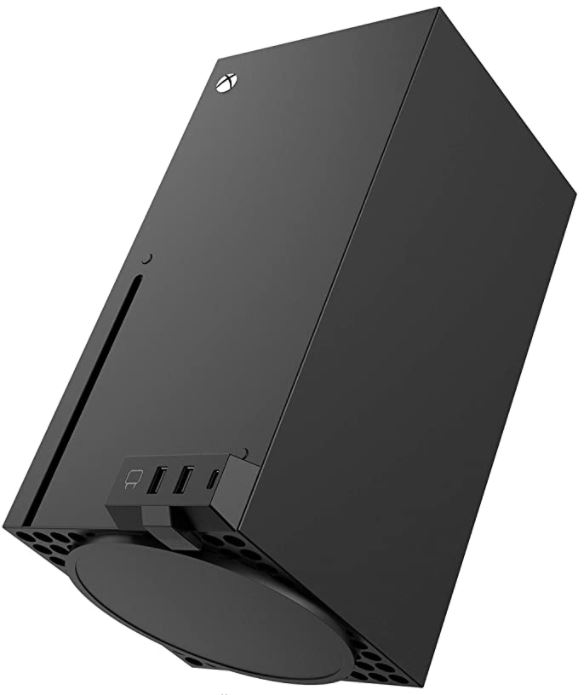 This is a little black USB hub that plugs into your console's front USB port. It has an angular design, with a trapezoidal rather than a rectangular profile. On the left side, there's a little support flange that keeps it flush with the side of your console. This flange has a thin rubber padding on the inside, which prevents any scratching.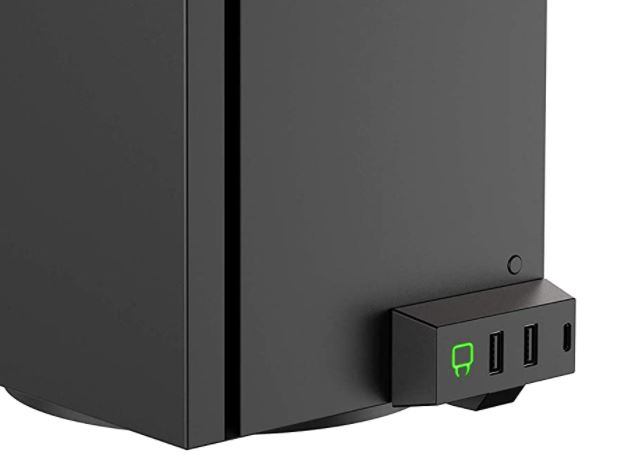 The front of the hub has three USB ports; the top two are standard USB 2.0. These are great for headsets, or for using your controller in wired mode. The bottom port is what makes the Venom hub stand out, though. This is a USB Type-C port, so you can connect modern, ultra-low profile USB Type-C thumb drives. You can also connect other devices, such as certain headsets that rely on USB Type-C. Essentially, you're making your console more versatile. Above the three ports is a headset-shaped LED indicator. This lights up green when the hub is powered on, so you can easily see when there's a problem.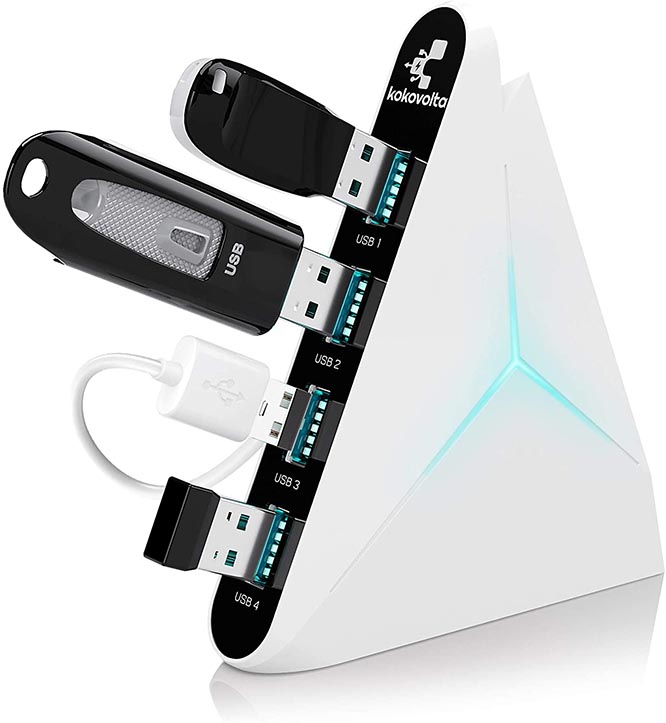 Kokovolta Vertical USB Hub
The Kokovolta Vertical USB Hub is a wedge-shaped hub that's designed to sit next to your console. It has an attractive, high-gloss white housing that's easy on the eyes. The sides, meanwhile, are decorated with a three-pointed LED star, which cycles in a rainbow pattern. This is a beautiful feature for anyone who loves rainbow LED lighting. You also have some flexibility with where to place the hub. Its 27-inch USB cord has enough reach to put the hub on a different shelf, or off to the side somewhere. An added bonus of the external design is that this hub can be used freely with both Xbox consoles.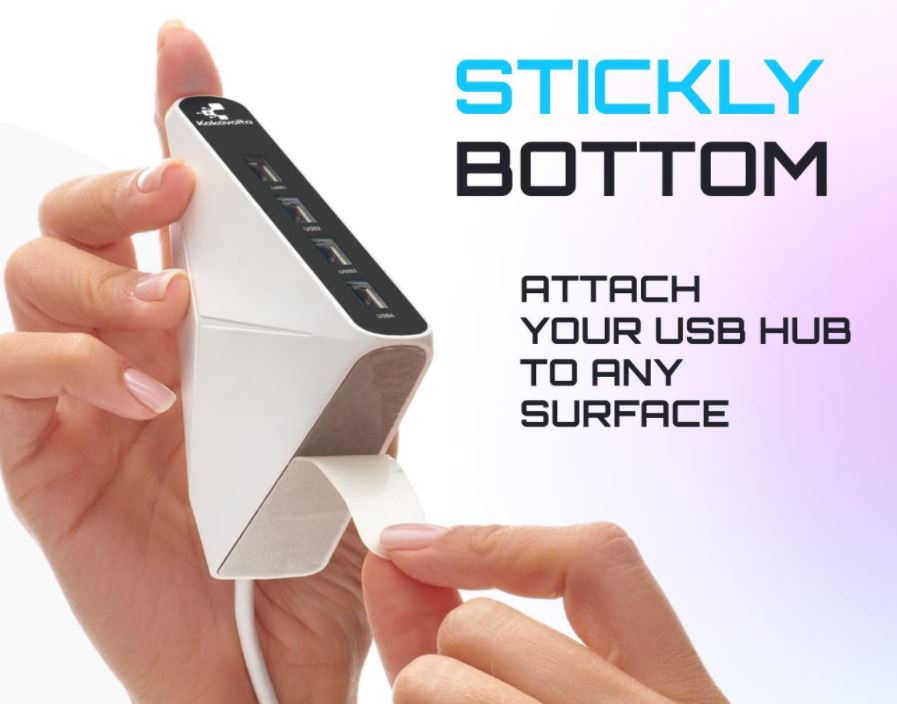 The front, forward-sloping surface of the wedge has a glossy black finish. This is where you'll find all four of the USB Type-A ports. These ports are all USB 3.0, and can all support a USB 3.0 device. However, keep in mind what we said earlier. They're all sharing a single USB 3.0 input. So if you have two SSDs, you won't be able to read both at full speed simultaneously.
Choosing the Best Xbox Series X/S Hub
What is it that makes one Xbox USB hub more worth buying than another? To begin with, a lot depends on what you're trying to connect. Do you have a lot of external storage? Are you using a keyboard or USB headset? These and other factors are going to dictate which hub is right for you. However, there are a few features you're always going to want to consider. These are the data transfer and power delivery rates, the design and compatibility, and the number of ports. Here's a quick overview of each of these things.
Data Transfer and Power Delivery
When you look at a USB hub, check whether the ports are USB 2.0 or USB 3.0. USB 3.0 will deliver more power, as well as higher data transfer rates. USB 2.0 provides a data transfer rate of 480Mbps, while USB 3.0 provides 4.8Gbps – 10 times as much! USB 3.0 also delivers 900mA of power, compared to 500mA. As a result, a USB 3.0 port gives you better performance. You can charge your devices faster. And if you're using an external SSD, you'll be able to take advantage of the blazing-fast read-write times. That said, a keyboard or other low-powered device will work just fine on a USB 2.0 port.
For these reasons, all three of the USB drives on the Xbox Series X/S are USB 3.0. But when you use a hub, you're splitting that signal and power between multiple ports. In other words, you couldn't have a USB hub where all the ports are USB 3.0. It would be physically impossible to provide enough power and data for both ports simultaneously. Instead, you'll often see a single USB 3.0 port, along with some USB 2.0 ports. Sometimes, you won't see a USB 3.0 port at all. In that case, keep in mind that you'll still have a pair of USB 3.0 ports left on the Xbox. Ask yourself whether that's sufficient, or whether you need a hub with both types of port.
Design and Aesthetic
Another important thing to think about is the hub's layout and appearance. In the case of Xbox UXB hubs, these are going to fall into two general categories. To begin with, there are hubs that are designed to snap or clamp onto your console. These are great for semi-permanent installation, as well as for saving space. If you plan on using the hub for the life of the console, this is an excellent feature.
That said, clamp-on or snap-on USB hubs aren't terribly versatile. If you want to repurpose them for anything other than your Xbox, it's not going to be convenient. An external USB hub, on the other hand, is more versatile. These are a more traditional style of hub, which can also be used with your PC or laptop. You'll need to find additional space to position the hub, because it won't stick onto your console. Therefore, you don't have to choose an ugly, office-style hub. There are plenty of attractive USB hubs with an attractive gamer aesthetic.
How Many Ports?
Perhaps the most obvious thing to think about is how many ports your USB hub has. As we mentioned, the current Xbox consoles have three built-in USB 3.0 ports. Since the hub will occupy one port, your total number of ports will be 2+ the number on the hub. For instance, if your USB hub has four ports, you'll have six total ports available. There will be four on the hub, plus two free ports on the console. So, think about how many peripherals you need to connect before you choose your hub.
Another thing to think about is whether the hub provides any USB Type-C ports. Type-C is the small, reversible tip that's used on some Android phones and other small devices. These days, most console peripherals still use standard USB ("Type-A"). After all, those are the ports your Xbox already has available. But some PC peripherals and thumb drives have now switched to USB Type-C. If you're using a Type-C thumb drive, for example, you'll want a Type-C port to plug it into. This is worth considering, but for most people, Type-A ports are going to be more than sufficient.
Final Verdict
So, which one of these Xbox Series X/S USB hubs is the right choice for you? Let's recap what we've learned. The JZW USB Hub for Xbox Series X or Series S is a straightforward four-port hub. While there's no USB 3.0 support, you can add a lot of devices nonetheless. It plugs into the front of your console, and it's unobtrusive when in use. It's also available in black or white, so it can match both new Xbox variants.
The Venom USB Hub for Xbox Series X, unfortunately, cannot be used on the Series S. On the other hand, it's a very robust hub for anyone with an Xbox Series X. To begin with, you get a sturdy design and a safe, durable mount. For another thing, you get a USB Type-C port, along with a pair of standard Type-A port. This gives you a lot more flexibility than you get with a traditional console USB hub.
The Kokovolta Vertical USB Hub is a great choice if you need USB 3.0 connectivity. Its external design could be a drawback for some, but it's attractive and easy to use. It can also be used with your PC or Mac, which means you can repurpose it if need be.