If you haven't been paying attention, the Nintendo Switch has been a massive hit. Nintendo's 8th generation console has successfully bridged the gap between handheld and home consoles. Needless to say, it's been an incredible success in the gaming world.
Part of the Switch's success is that Nintendo finally started allowing third-party manufacturers on their hardware. The Switch quickly got access to a lot of games that are not typical fare for Nintendo. These games were not designed for Switch hardware, so their controls might be a bit funky compared to what you're used to.
An example is shooters. The Switch Joy-Cons are terrible for FPS games because they're too small and the joysticks don't have high enough sensitivity. Professionals will tell you that keyboard and mouse is the only way to play a shooter. Did you know that you can actually use a keyboard and mouse to play games on the Switch? It's true! All you need is an adapter that enables you to connect a keyboard and mouse.
Today we're going to cover the best keyboard and mouse accessories for the Nintendo Switch. We're going to discuss a few different manufacturers including CITYT, JZW and Ippinkan. We'll talk about each accessory's features, specs, pros and cons. Then, we'll give our verdict on which one we think is the best option.
Why use a Keyboard and Mouse with the Switch?
Using a keyboard with the Nintendo Switch might seem a bit weird at first. You have perfectly good Joy-Cons or a Pro controller, why would you need a keyboard and mouse?
Well, you can actually use a keyboard and mouse with the Switch without an adaptor. If you plug a USB keyboard into the port on the back of the dock, you can use it to type out passwords and other text, like putting text on in-game screenshots in the gallery viewer. However, you won't be able to play games with a keyboard without a proper adapter. An adapter turns keyboard and mouse inputs into controller inputs. The Switch is not natively compatible with a mouse so you're required to use an adapter.
A keyboard and mouse adapter turns your key inputs into controller inputs that can be used in-game. As we said, this setup is great for FPS games that require precise movement. It's also good if you're playing games that were originally designed for a keyboard layout, such as RPG and RTS games.
There are a few things that you should know about using a keyboard and mouse with the Switch, however. Most games on the Switch are not made for keyboard button mapping so you won't be able to change your joypad mapping from the game. Most keyboard accessories have some kind of software that lets you change key bindings. Unfortunately, it may get scrambled depending on how exactly the specific game detects inputs.
Also, you don't need a special USB keyboard for the Nintendo Switch. As long as the keyboard is USB compatible (with the adapter), you can use it on the console. Companies do make keyboards that are (designed) for the Switch, but that usually just means they have slots for controllers and other peripherals. In addition, many adapters have a separate input for any Switch USB controller such as the Pro controller, so you can use both a controller and keyboard/mouse simultaneously.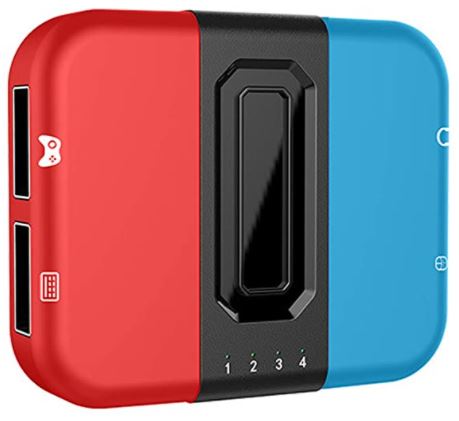 CITYT Zero Delay Keyboard and Mouse Adapter
First up on our list is the CITYT Zero Delay Keyboard and Mouse Adapter. The first thing you might notice about this adapter is that it's red and blue, just like the Switch itself. It has a small rectangular shape and is about the size of a normal external hard drive. There are four ports on the sides. One for a USB keyboard, one for a wired/wireless mouse, a separate USB port for a controller and a 3.5mm jack for a headset. It's clearly designed for Switch owners but has universal compatibility with Xbox One, PS4, Xbox One S, and the PS3. However, do realize that the adaptor is not compatible with PS5 and Xbox Series X.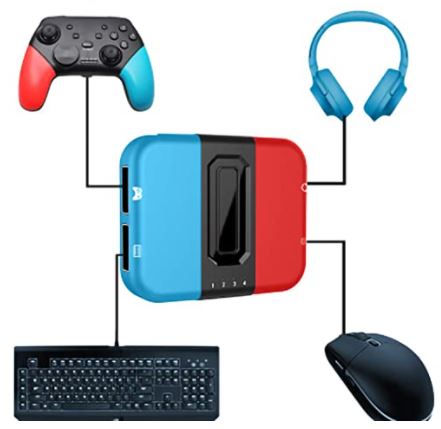 The 'Zero Delay' in the title is true to the name. The adapter has a fast input speed with very little delay, which is necessary when you're playing games that require the precision of a keyboard and mouse. You also don't need to install a diver to use it. Just plug it in and it'll start translating keyboard buttons into Joy-Con inputs. Keep in mind, however, that you'll need to connect the adapter to the console before you turn it on or it may not be recognized.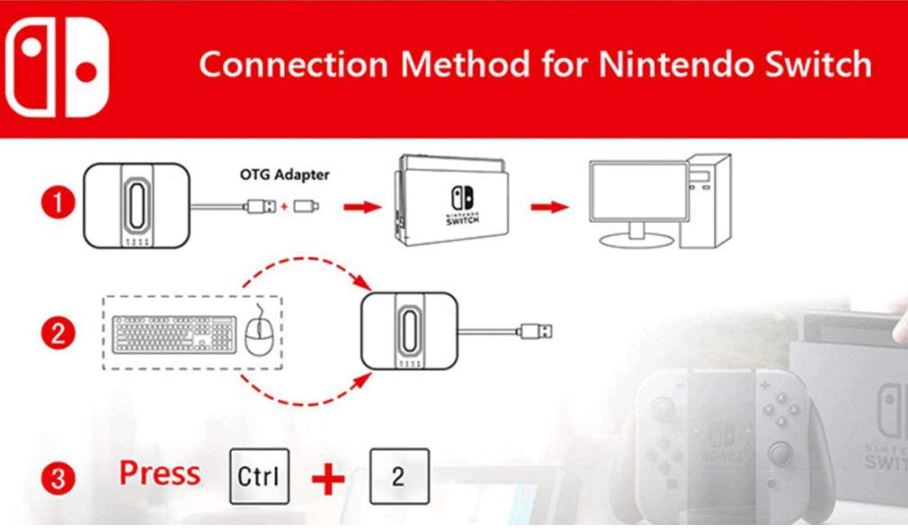 You can use this adapter in either docked or handheld mode. If you use it in docked mode, you can just plug it into a USB port on the back of the charging dock, near the power cord and HDMI input. If you want to use it in handheld mode, then you can connect it to the bottom of the console. On the front of the adapter is a series of LED indicators numbered 1 to 4. They light up when a peripheral is connected and detected.
The CITYT adapter can also be used with wired and wireless accessories. As long as your wireless keyboard has 2.4GHz wireless compatibility, it can be used. Overall, it's a great option that can be used for all kinds of Switch games. Last but not least, it has an interesting design/color which gives it a fun look that'll blend well with your console.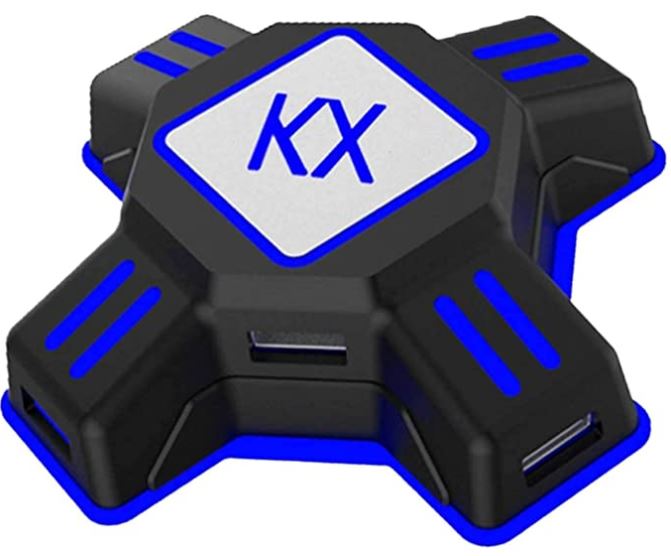 JZW Keyboard & Mouse Converter
Up Next on our list is the JZW Keyboard & Mouse Converter. This adapter has universal compatibility with all last-gen consoles including the PS3, Xbox One, PS4 and Nintendo Switch. It has an interesting cross-like shape that provides three inputs and an output for a single cable to the console. The inputs can be used for a keyboard, mouse and controller simultaneously.
The JZW adapter is designed to have minimal input delay with connected devices. This makes it ideal for playing FPS games that require very precise timing and quick reaction speeds. The setup of the device is good too. The cross-shape keeps all cables separate from each other, which prevents them from getting tangled. It also makes it easier to trace specific cables to the end when you need to disconnect them.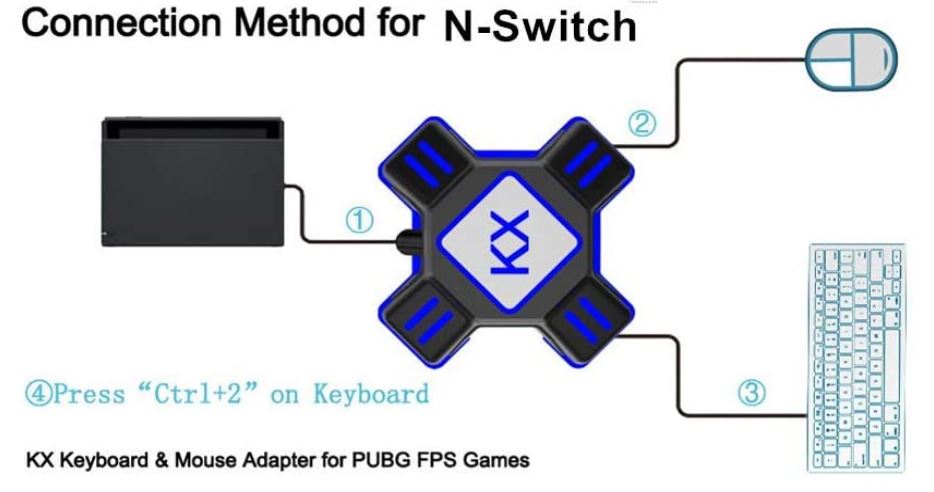 The JZW adapter doesn't require any driver updates or software installation to use with the Switch. You simply plug it in, attach your keyboard, and you're good to go. An LED indicator will light up green when it's connected with the console. The LED indicators near each port will turn red when the peripheral is properly connected. You can even use it with the Switch while it's in docked or handheld mode.
One problem with the JZW is that you can't change keyboard button mapping. That means you'll just have to play with whatever input is the default. Sometimes this can be frustrating as it won't mimic the standard keyboard and mouse layout for games (example: WASD for movement). However, it does a good job with low response time and minimal delay. There's not much difference between playing on an actual PC and using your keyboard and mouse on a console.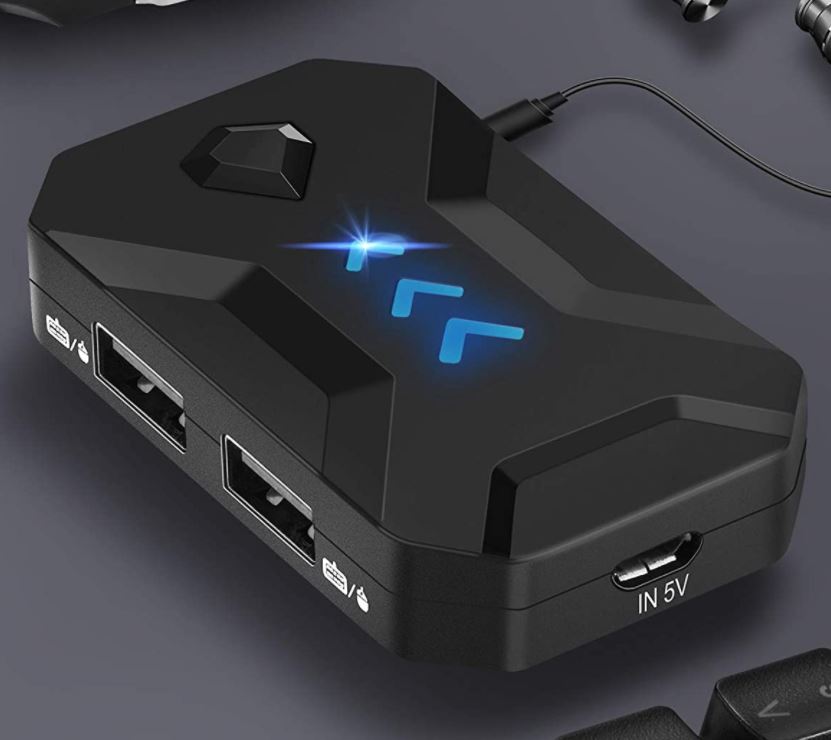 Ippinkan Keyboard and Mouse Adapter
Up last but not least is the Ippinkan Keyboard and Mouse Adapter. This keyboard and mouse adapter has universal compatibility with all last-gen consoles, including PS4, Xbox and Nintendo Switch. It's also compatible with the special version PS4 Pro, Xbox One X and Xbox One S, as well as the new PS5 and Xbox Series X. It has a large, blocky look that'll mesh well with whatever keyboard and mouse you decide to use.

The Ippinkan has 3 USB ports on the sides. One for a keyboard, one for a mouse and one for a controller. It also provides a 3.5mm headphone jack for any headset you'd like to use. The device is plug and play, meaning that you do not have to download or install any drivers to use it. When you plug in a peripheral, the LED indicator on the top will start to flash until it turns blue, indicating that it's connected and ready to use. It's widely compatible and can be used with virtually any keyboard and mouse on the market today, including both wired and wireless options. Additionally, the headphone jack allows for two-way voice communication so you can talk to your friends while gaming.
The Ippinkan adapter also has a very generous 100% money-back guarantee and a 3-year warranty. You rarely see such a good warranty on third-party tech products so it's nice to know that you can purchase it without having to worry.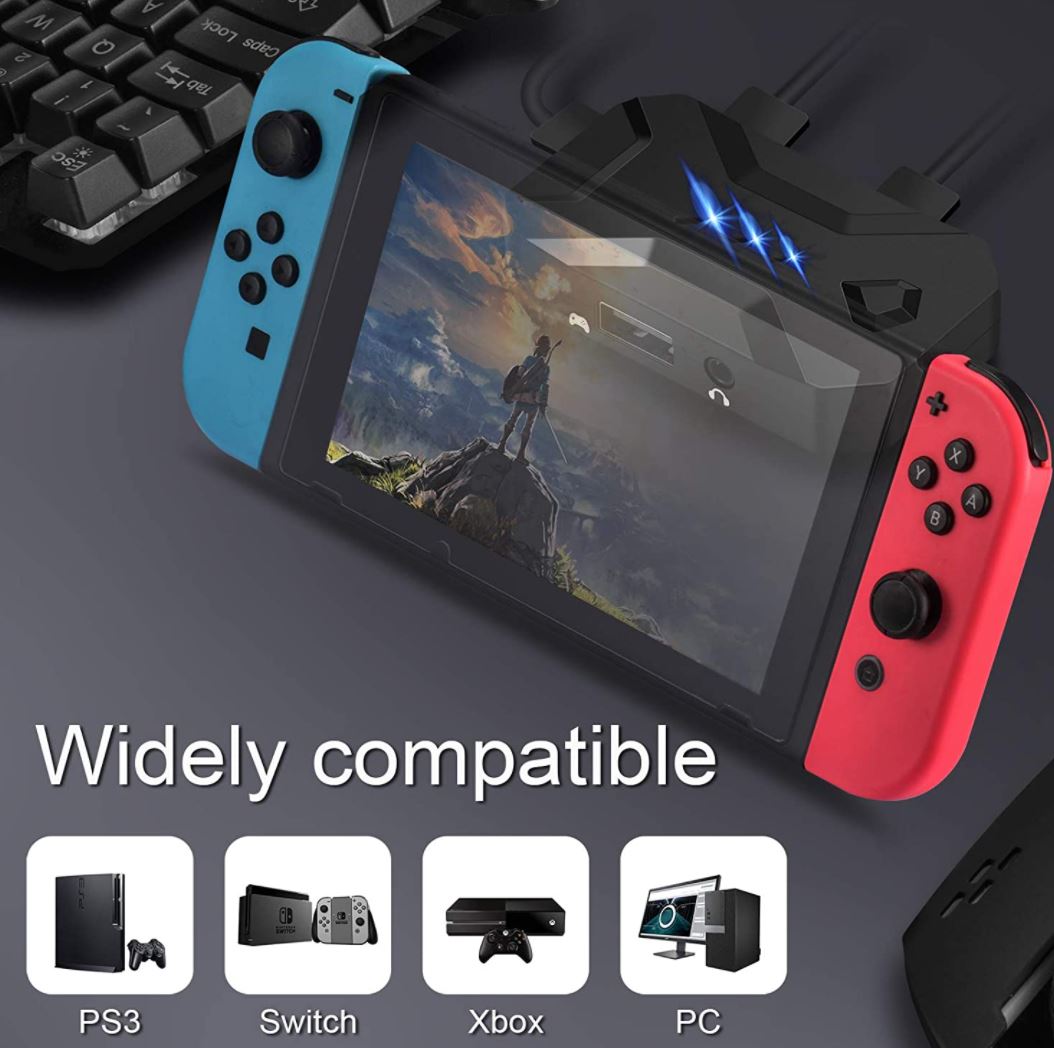 The main criticism we have of the Ippinkan adapter is that it's firly bulky and doesn't have a very streamlined design. This means that it's not quite as portable as it could be. Although it has that chunky futuristic aesthetic that's popular these days, the design doesn't really mesh well with the more-rounded design of the Switch. It does however go very well visually with Playstation consoles.
Overall however, the Ippinkan is a quality adapter that'll likely serve you well. Best of all, it has very low response times and does a good job translating the deft and precise movements of a mouse.
Final Verdict
The CITYT adapter has a sleek and attractive design that's highly portable. It looks great when paired with the Switch. It provides excellent response times and a bidirectional headphone jack for voice chat and communications. The main problem with the CITYT is that it can have some connection issues. Some consumers report difficulties getting it to connect to wireless peripherals, even though the product explicitly states that it can interface with them.
The JZW keyboard and mouse adapter is more on the hefty side with a large, cross-shaped design. It provides wide compatibility with many consoles and very little input delay. We also love how it arranges the cables so they're easily distinguishable and don't get tangled with each other. The main drawback is the size. It's pretty bulky so it's not quite as portable, even though it's light and doesn't require an external power source.
The Ippinkan keyboard and mouse adapter is another great choice and has a sturdy design made from a durable ABS plastic. It also has universal compatibility and can interface with the Switch while it's in both docked and handheld mode.
In our opinion, the Ippinkan is the best choice. It's a brand new device for 2021 and made with universal compatibility with all current and previous-gen consoles. Best of all, it's compatible with virtually any keyboard and mouse so you'll be able to use it no matter what kind of accessories you already have.
Keyboard and mouse gaming on the Switch might seem really odd at first but it's a great change of pace for those who like fast-paced gaming. The different layout works better for some Switch games. Ultimately, if you want to be the best at FPS or RTS games, you'll need one of these keyboard and mouse adapters.