ACEBEAM Pokelit AA
Pros
Bright, natural light.
Compact and lightweight.
Rugged and durable.
Long-lasting rechargeable battery.
High-end build quality.
Cons
No SOS or strobe mode.
Clip could break away too easily.
Available in limited color schemes.
A good flashlight can be a lifesaver, both in the literal and in the figurative sense. In the literal sense, they're used by first responders all the time.
They can be used for search and rescue operations, and for providing illumination for paramedics. And if you're lost in the wilderness, a flashlight can be used to signal for help.
But most people won't ever be in those situations. For most of us, a flashlight is for lighting up the area under the hood of the car. It's for guiding the way when you're walking at night. It's a tool you use when you're working in the crawl space. In other words, a good flashlight needs to be practical. It needs to be up to the rough-and-tumble requirements of everyday life.
That's doubly true if you're looking for an everyday carry (EDC) flashlight. Buy a flimsy knockoff, and you'll quickly find yourself carrying a broken light.
You also want a light that's versatile. Do you need a bright, brilliant beam that lights up a huge area? Or are you just trying to read in the dark? A good EDC flashlight will be able to fill both roles. That's the entire point of carrying it; you never know what you're going to need it for.
ACEBEAM Pokelit AA Rechargeable Pocket EDC Flashlight
Today, we'll be reviewing the ACEBEAM Pokelit AA Rechargeable Pocket EDC Flashlight. This is a compact, pocket-sized flashlight that's designed for regular use. It's made from durable anodized aluminum, and it's engineered to take a beating. It also features an ultra-bright bulb, with three brightness settings.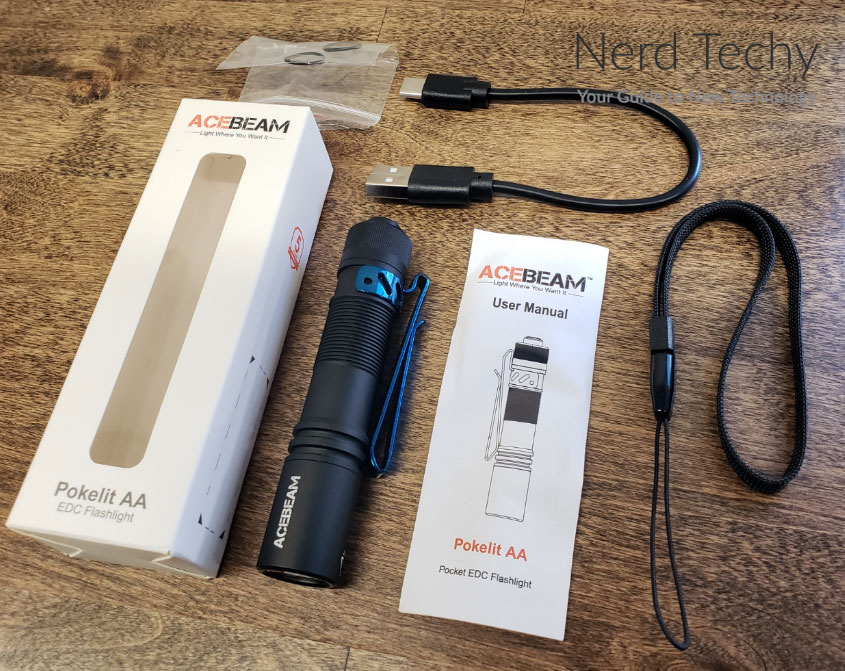 But to truly understand this light, we'll have to take a much closer look. We'll have to talk about how it's put together and how you hold it. We'll need to evaluate the water-resistance, control functions, and any extra features.
And of course, we're going to have to look into the battery life. After we've given this light a thorough examination, we'll be in a position to deliver a fair verdict. Let's dig into the fine details, and see what we come up with.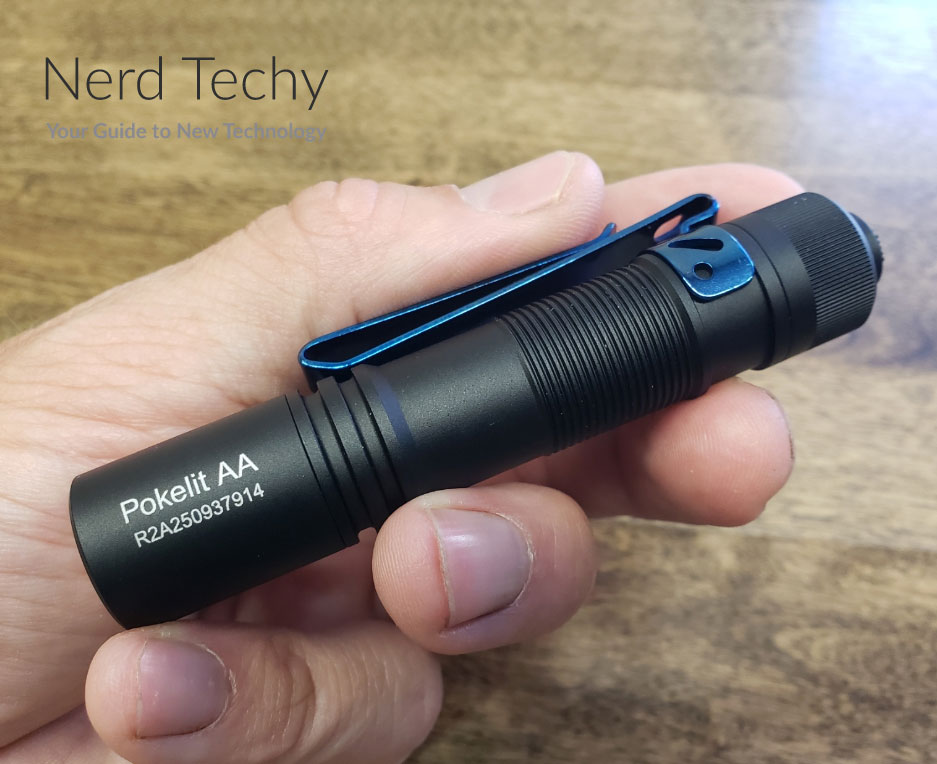 Overall Design
The ACEBEAM Pokelit AA Rechargeable Pocket EDC Flashlight is a compact light that's built for maximum portability. The housing is 3.7 inches long, barely the width of the average person's palm. And at 0.71-inch in diameter, you'll barely notice it in your pocket. It's also exceptionally lightweight, at less than two ounces even with the battery.
The housing is constructed from anodized aluminum, which is what you'd expect from a tactical-grade flashlight. It's completely impervious to corrosion, even if it gets wet with saltwater. It's also easy on the eyes. In addition to your standard black, it's available in an olive green or a vivid, high-visibility orange.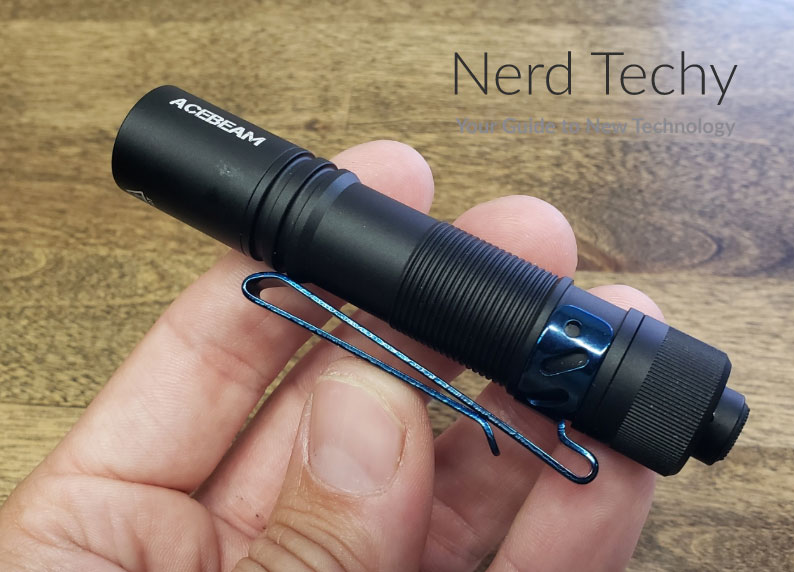 There's a lot of texture to the design considering the short length of the barrel. It's knurled for most of its length, which makes it far easier to grip than a smooth barrel. The lens housing towards the front, however, is smooth, and it's printed with the words "Pokelit AA" in white. On the back side of the housing, you'll find a single push button, which you operate with your thumb.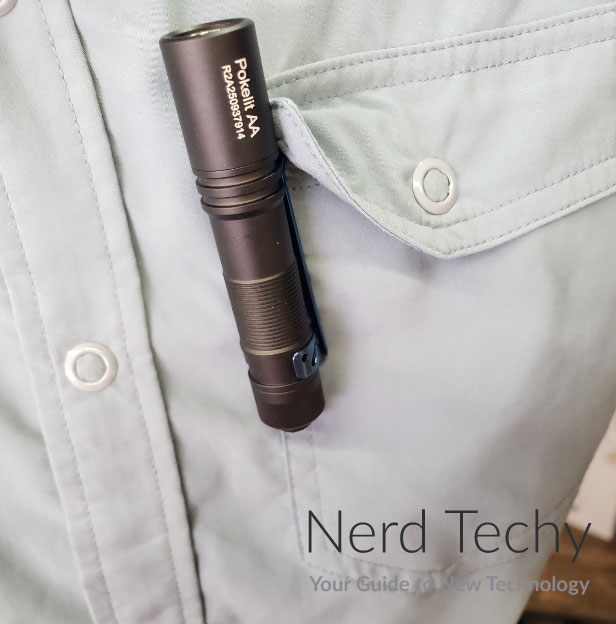 One feature we had mixed feelings about was the pocket clip. On the one hand, it's pretty tough. It's made from stainless steel, and its 2-way design makes it very versatile. You can attach the flashlight right-side up or upside down with equal ease.
On the other hand, it secures to the barrel with a partially-open hoop, and it's also removable. Unfortunately, if you twist on the light, the clip could potentially pop off. We'd have preferred a clip that's permanently fixed to the light.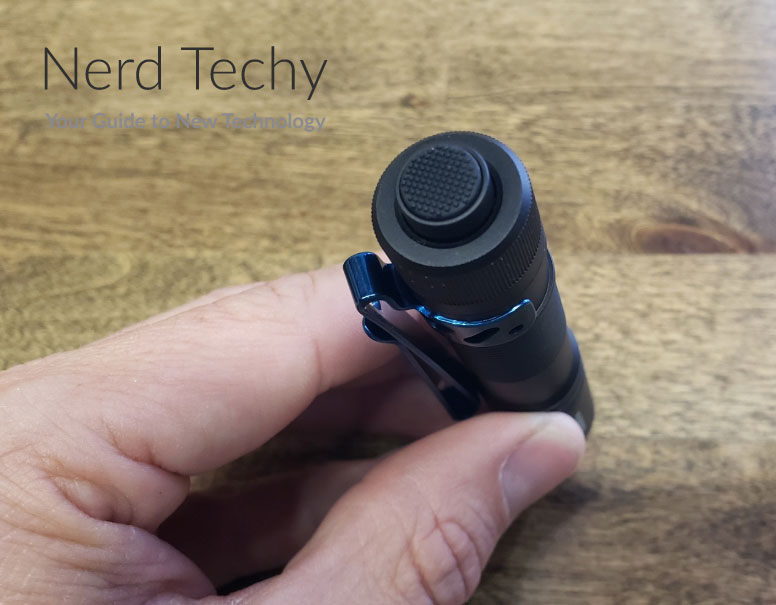 Durability and Water-Resistance
The Pokelit has a weather-resistance of IP68, which is the best on the market. The "6" means you're getting the maximum possible level of dust-resistance. You could use this light on the surface of the moon and no dust would get in. The "8" represents a custom level of water-resistance testing over and above IPX7. In this case, the light is rated to withstand submersion under two meters of water for at least four hours.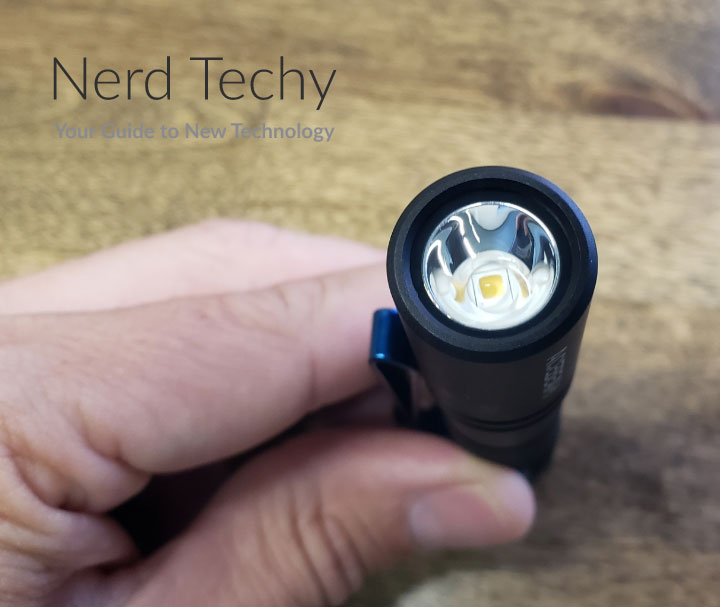 In addition to all that, this flashlight has an impact-resistance rating of 1.5 meters, or about 4 ½ feet. This means it can withstand six consecutive drops onto concrete from that height. So if you drop your light every once in a while, you don't have to be worried.
With all of that being said, this isn't a dedicated worksite light. If you want something for the jobsite, why not choose a magnetic LED work light? You can stick it under the hood of a car, on a junction box, or anywhere else you need light. That way, both of your hands are free to work on whatever you're doing.
Brightness and Light Quality
The ACEBEAM Pokelit flashlight has a maximum brightness of 550 lumens. That's not insanely bright, but it also means this light is no slouch. You'll be able to light up any indoor space, even if it's a very large room. Outdoors, you'll have more than enough light for visibility. The beam distance is rated at 86 meters, or nearly 300 feet. That's almost the length of a full football field.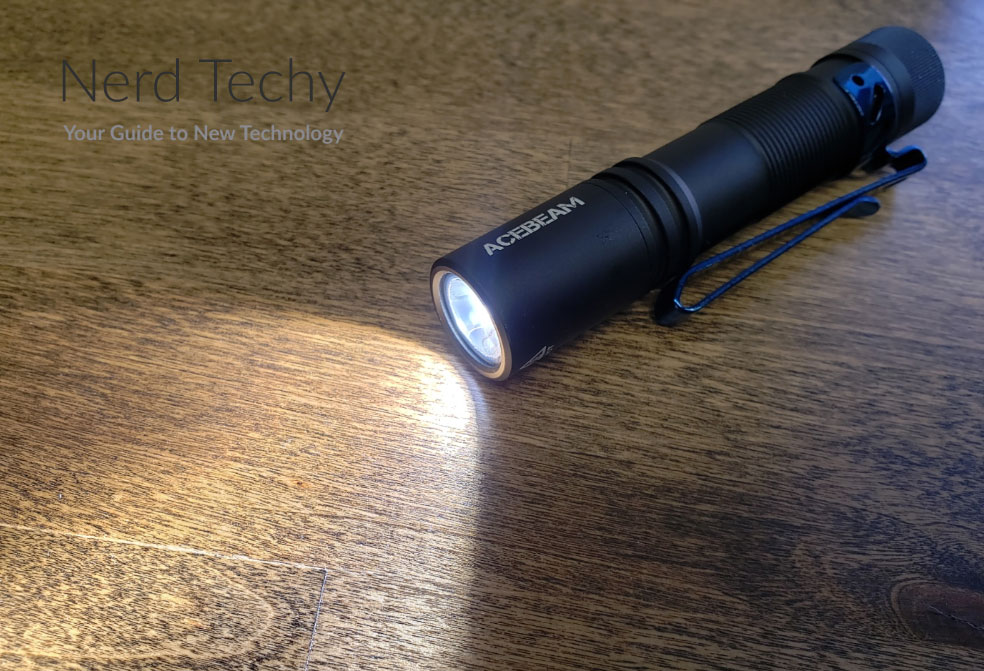 The light has a color temperature of 5,000K, which is more or less a neutral white. You don't have to worry about your flashlight taking on a blue or yellow cast. In fact, 5,000K is the color temperature of regular sunlight.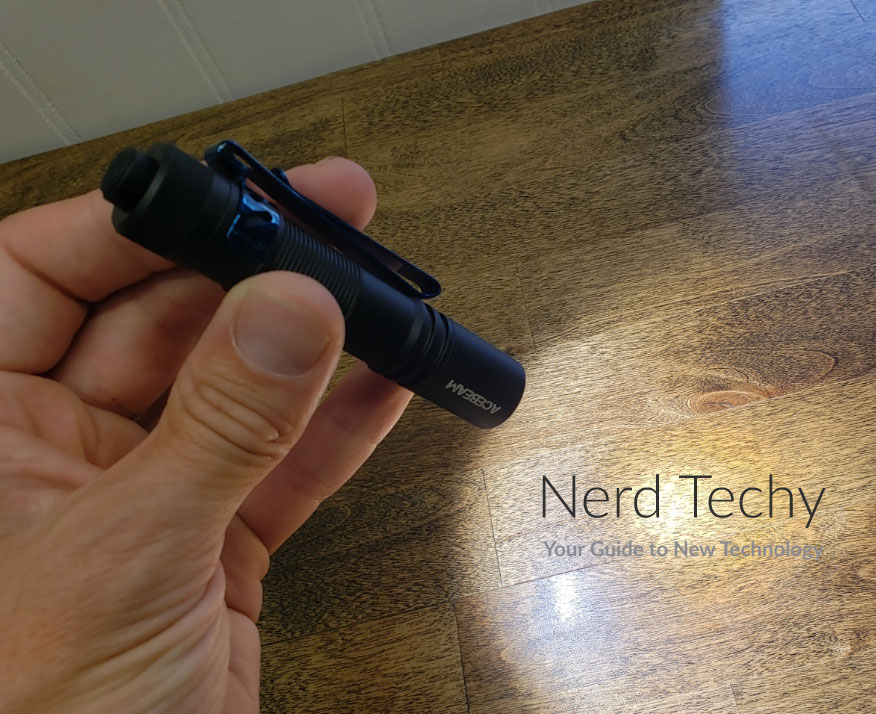 This translates to a very high color rendering index (CRI). CRI is a measure of how accurately colors appear under a given light. It's a number from 0 to 100, with a CRI of 100 indicating perfect color clarity. At 0, all colors are identical. Think of a bright infrared light where everything seems red. The Pokelit's CRI is 90, which is very good for a flashlight. Colors will appear just as they do in daylight, without any distortion.
Controls and Extras
This flashlight has three different light modes: high, medium, and low. The highest setting produces the maximum light level of 550 lumens. At medium, you'll get 190 lumens. That's suitable for working in tight spaces or navigating a house when the power is out. The lowest setting puts out five lumens. That's basically a dim nightlight. You can find your way around a bathroom without hurting yourself, but not much else.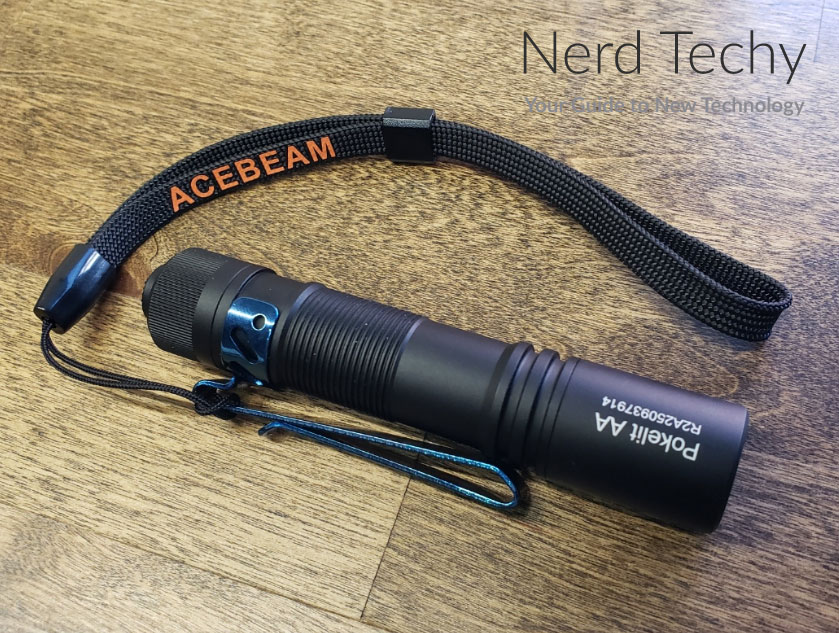 To change settings, you simply tap lightly on the tail button. The light will simply cycle through the three brightness levels. Press down harder to turn the bulb on and off. There's even a memory function. When you power cycle the light, it will come back at the same intensity you left it at.
If you're looking for extra features, on the other hand, there aren't any. There's no SOS function or strobe function. That said, we've looked at some alternative lights in the past. Take a look at our list of the best UV blacklight flashlights. They're great for parties, finding hidden stains, and other applications.
Battery and Charging
The ACEBEAM Pokelit flashlight runs on a single AA battery. It comes with one in the package, but you can also use your own. Make sure to only use a Ni-MH or Alkaline battery. Lithium batteries and other varieties can damage the internal components of the flashlight.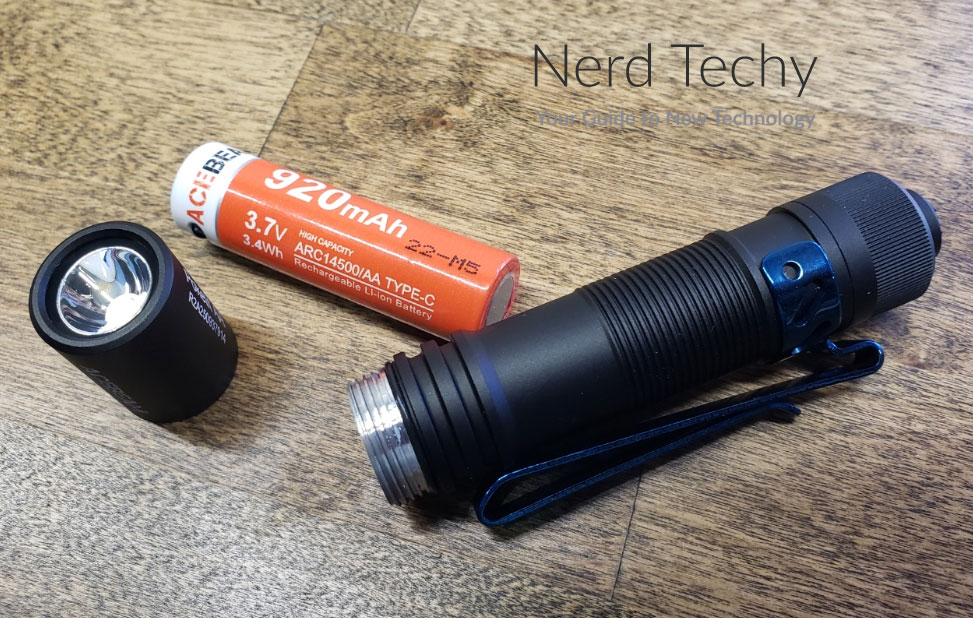 A single battery provides enough charge to run the light for around 53 hours. That's on the medium setting, and it's a rough average. A lot depends on how much time the flashlight spends in storage. ACEBEAM advertises a maximum of up to nine days, but that's on the lowest setting. On the highest setting, expect less than 10 hours of use.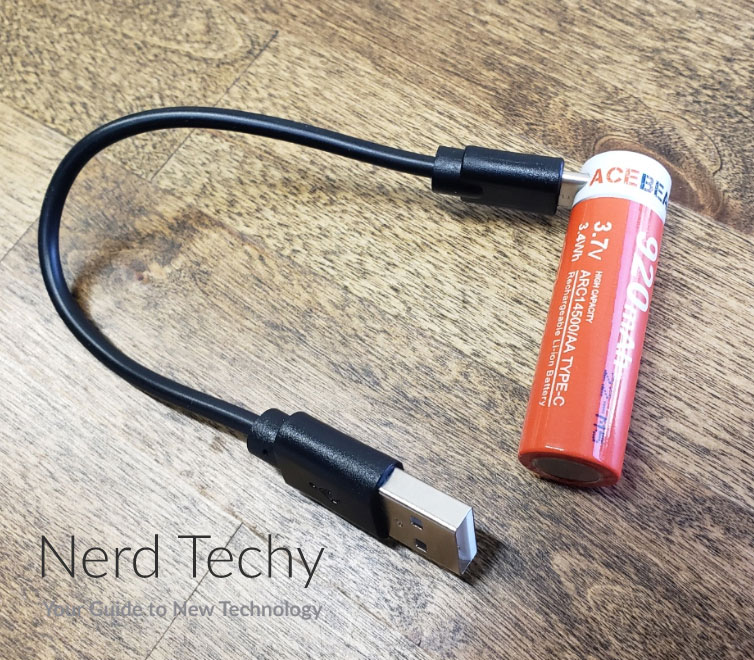 The battery that comes with the kit is already rechargeable. It has a little USB Type-C output cut into the side near the top. Plug in a USB cord and connect to any USB port, and you'll be fully charged in less than two hours. This makes it very easy to keep charged. Just be careful not to get any debris into the hole in the battery. If you do, you won't be able to charge it.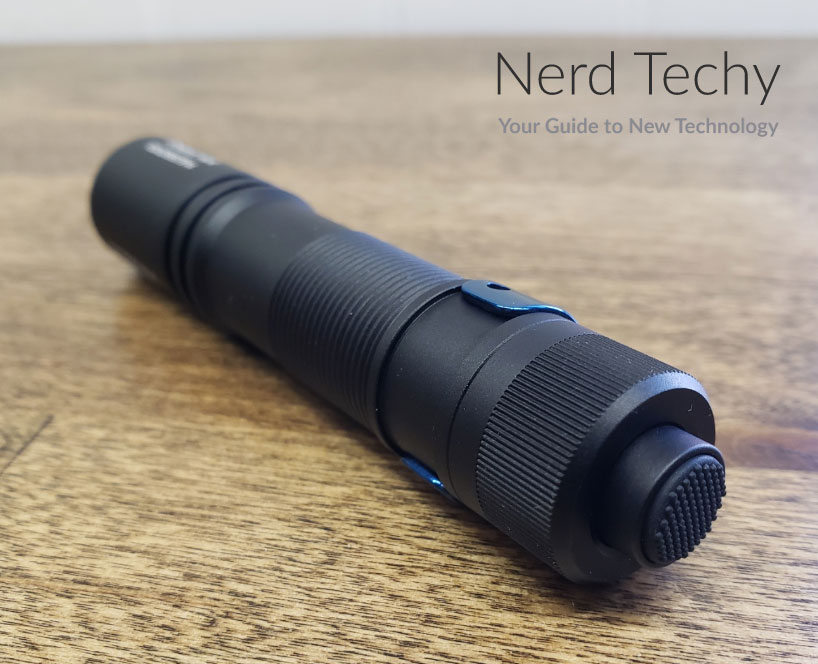 What Makes a Good Flashlight?
Before we finish, we should talk about what makes a good flashlight. Why would you choose one over another? Let's talk about a few factors that make a light worth buying.
Light Output – This is the most important factor for most people. Measured in lumens, a flashlight's light output tells you how bright it is. Some bigger flashlights put out thousands of lumens, and are used for search-and-rescue purposes. The most powerful compact flashlights tend to max out at around 900 lumens.
Battery life – A flashlight's battery life lets you know how long it can operate before it needs charging. This typically depends on how bright you've set the bulb.
Beam distance – Obviously, a light's beam doesn't just "stop." It slowly gets dimmer as you get further from the bulb. The beam distance is defined as the distance where the brightness is the same as a full moon.
Impact-resistance – This measures the height from which you can drop a flashlight six times onto concrete without damaging it. It's a good proxy for the light's durability.
Water-resistance – Water-resistance is measured using a standard scale that's used for most electronics. Ratings range from IPX4 (splash-resistant) all the way up to IPX8 (submersion-proof). IPX ratings 1-3 also exist, but you'll rarely see them advertised, since they're not exactly a "feature."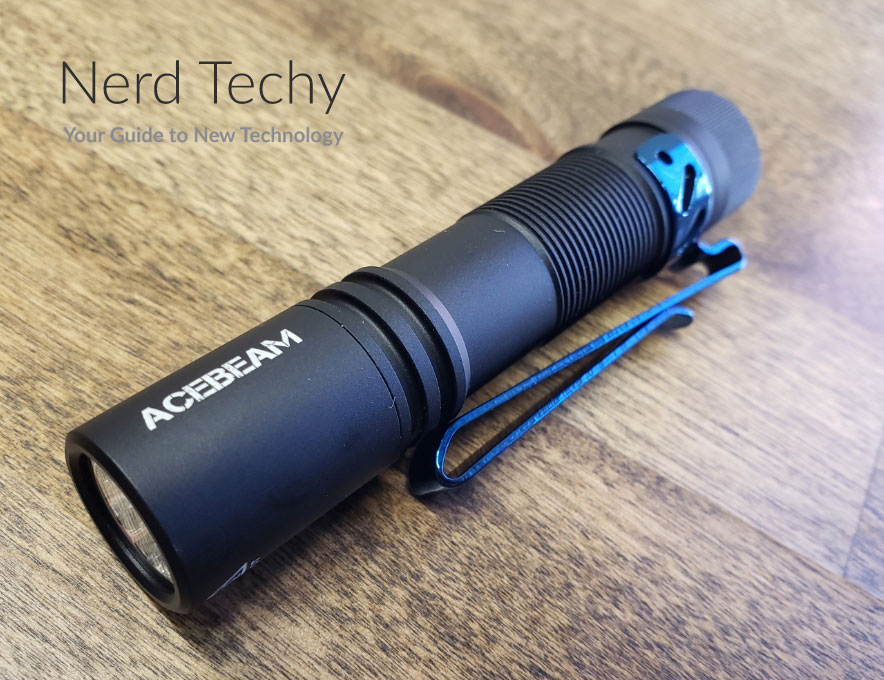 Final Verdict
The ACEBEAM Pokelit AA Rechargeable Pocket EDC Flashlight is a great little flashlight. The anodized aluminum housing is durable and water-resistant, and can stand up to a lot of abuse.
It has a good range of brightness settings, from a dim nightlight to a powerful beam. It's also easy to operate, and small enough to carry with you anywhere. This is a well-designed light that will serve you well for everyday carry purposes.
Meet Derek, "TechGuru," a 34-year-old technology enthusiast with a deep passion for tech innovations. With extensive experience, he specializes in gaming hardware and software, and has expertise in gadgets, custom PCs, and audio.
Besides writing about tech and reviewing new products, Derek enjoys traveling, hiking, and photography. Committed to keeping up with the latest industry trends, he aims to guide readers in making informed tech decisions.