VOLTME 30w GaN Charger
Pros
Can charge almost any device.
Ultra-compact design with folding plug.
Multiple safety features.
Very affordable.
Charges faster than a standard charger.
Cons
Underwhelming performance when using both USB ports.
Not ideal for charging laptops.
Only available in one color scheme.
Keeping all your devices charged can be a problem. Not that long ago, we didn't worry as much about charging. Before smartphones, you charged your phone once a day or less. Sure, the chargers were non-standard and inconvenient.
But you didn't have to use them all that often. Other than phone calls and the odd text, they stayed in your pocket. By comparison, we use today's phones a lot more often. Some people are practically glued to theirs. But even if you're a light user, there are any number of reasons to pull out your phone. You might need to order food or check your bank balance, or even look for directions.
These days, it makes sense to have a charger around at all times. Most people keep one in their car, for example. And when you're on the road, you'll want one that's small enough to stow in your laptop bag.
That's not just because it's a convenient place to carry a charger. Modern laptops charge via USB as often as anything else, so a universal USB charger makes a lot of sense. You can also use USB to charge tablets and many other devices.
This has led to a proliferation of USB chargers. Some are designed to be big and powerful, with many charging ports. Others are smaller, meant to charge one or two devices. Because there are so many choices, it's easier to choose a charger that's less than optimal. That's why it's important to do your research beforehand, and find one that meets your unique needs.
VOLTME Revo 30W Dual Port GaN Charger
We're about to review the VOLTME Revo 30W Dual Port GaN Charger. This is a pocket-sized charger with two ports; USB Type-A and USB Type-C. It has a folding plug for easy transport, and boasts several important safety features. It can also charge an iPhone or Samsung smartphone at maximum speed.
That said, there are several other features we'll have to think about. We'll have to look at the quality of construction, and what devices you can charge with it. We'll need to consider the total charging capacity, and how the power is split between ports. Let's dig into all these details, so we can deliver a fair judgement!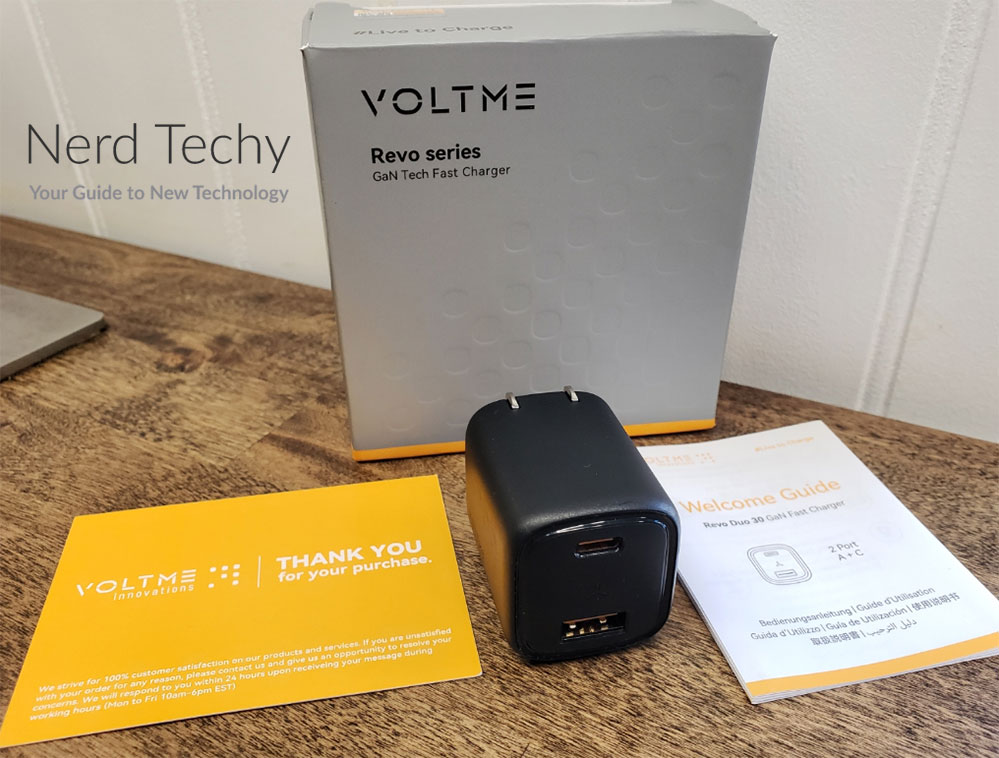 Overall Design
The VOLTME Revo 30W Dual Port GaN III Charger has a small rectangular housing. It measures 1.7 inches long, with a width of 1.3 inches and a height of 1.4. This makes it small enough to slip into your pocket, and it's comfortable to carry. The edges are all rounded, so they won't poke you in the leg while you're carrying it.
It's also easy to handle. The sides are dimpled, which provide an excellent surface for gripping. You won't have to struggle to pull the charger out of a power outlet. There's also minimal branding, with just a white "VOLTME" imprint near the fronts of the sides.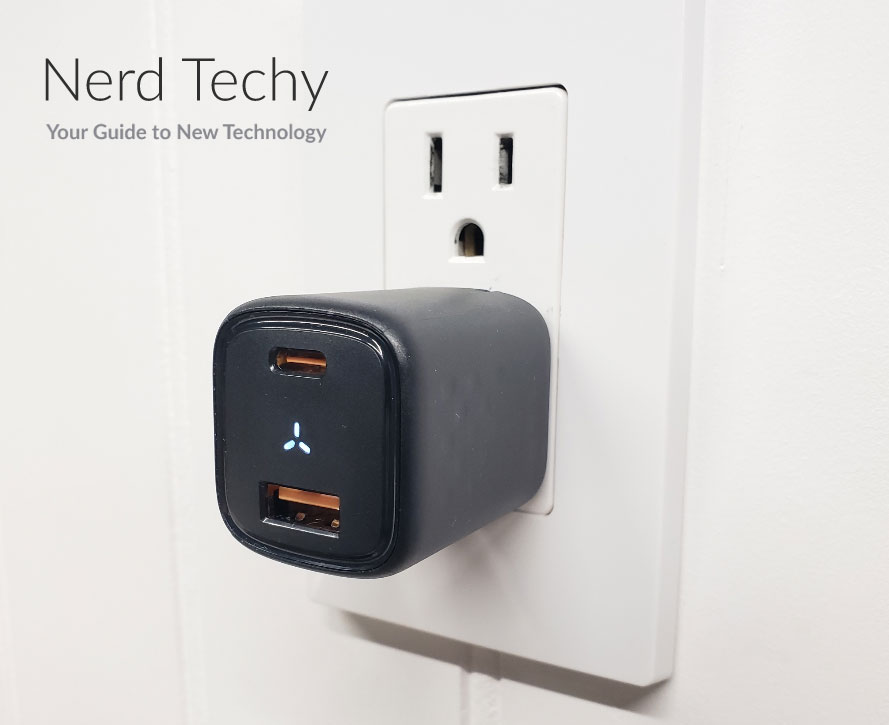 On the front, you'll find the two charging port. The USB Type-C port is near the top, while the USB Type-A port is closer to the bottom. Both have orange internal tabs, which is a nice visual touch. On the Type-A port, it also serves a practical purpose. The bright orange tab shows you which way to orient the plug when you insert it.
Between the two ports is a little three-pointed LED that looks like a propeller. When you plug in the charger, it illuminates to let you know it's fully powered. This is a great extra feature, since you know at a glance if there are any power outlet issues.
The two-prong plug on the front will plug into any standard North American outlet. It also has a folding design, so you can collapse it for travel. You don't have to worry about the prongs getting bent in your luggage.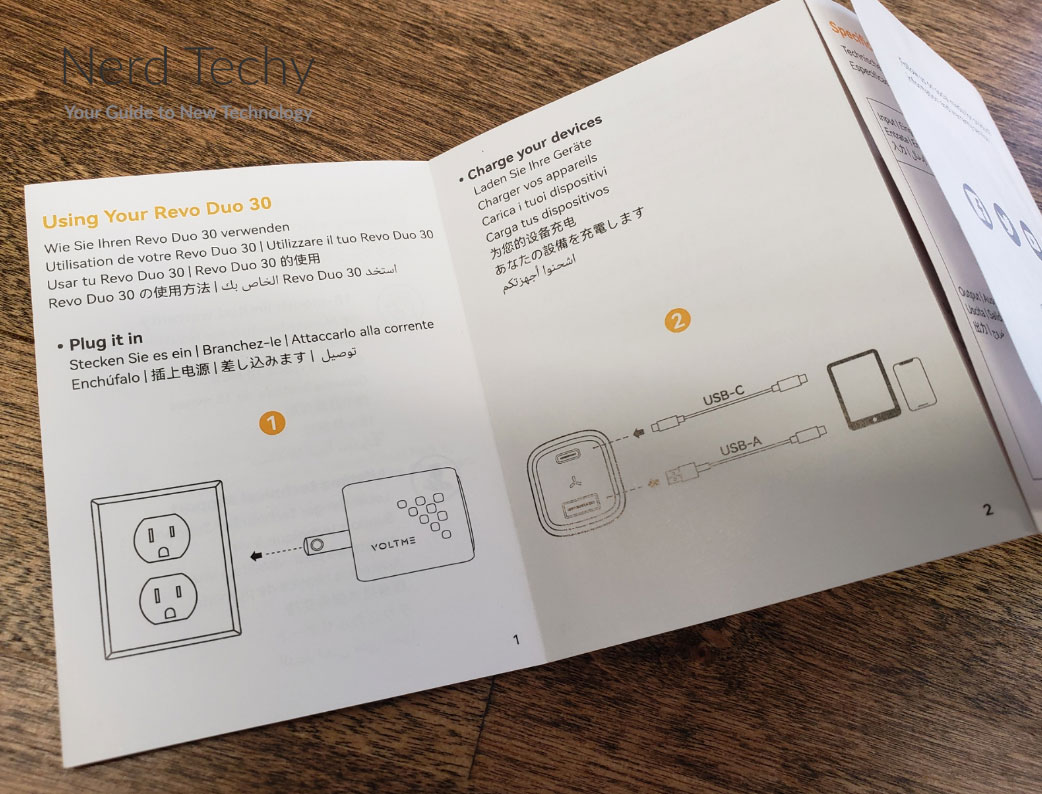 Charging Capability
The Revo 30W charger provides a maximum of 30 watts, just as its name implies. This is sufficient to charge an iPhone 13 to 50% in only 30 minutes. After a little over an hour, you'll have a complete charge. You'll also be able to charge most Samsung phones at the maximum possible speed.
That said, this comes with a caveat. You'll only get 30 watts of power from the USB Type-C port, and only then if your device supports it. The port is also intelligent. If your device is meant to charge at lower wattages, you'll get the correct amount of current. The USB Type-A port, meanwhile, has a maximum charging speed of 18 watts.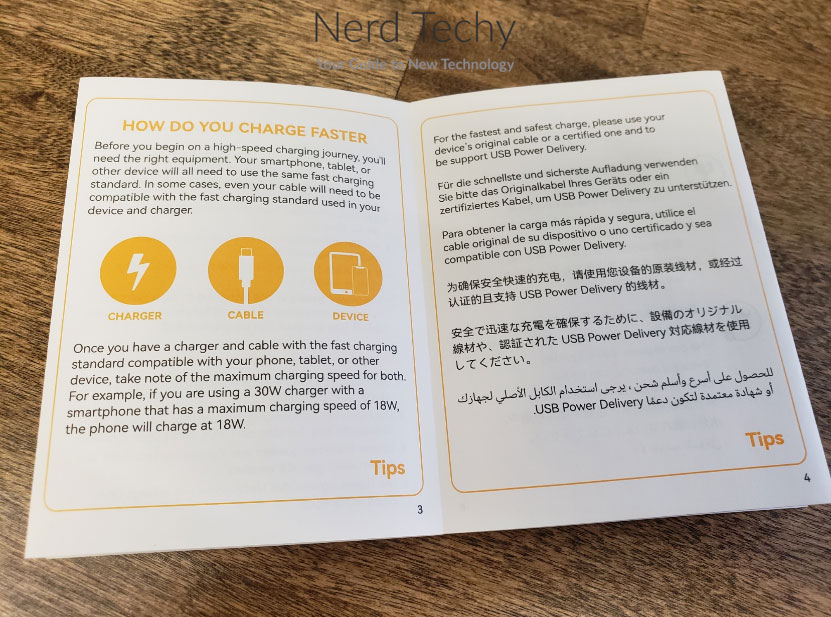 Keep in mind that 30 watts is the maximum level of power delivery across both ports. If you're using both, you won't get 30 watts on the Type-C port. Instead, both ports will be limited to a maximum of 15 watts.
30 watts is plenty of power for most smartphones and tablets. But what if you want to charge a laptop at maximum speed? In that case, you'll need a more powerful charger. The VOLTME Revo 100 is an excellent choice. It delivers up to 100 watts of power, with three USB Type-C ports and a single Type-A port. Then again, it's bigger than a lot of chargers.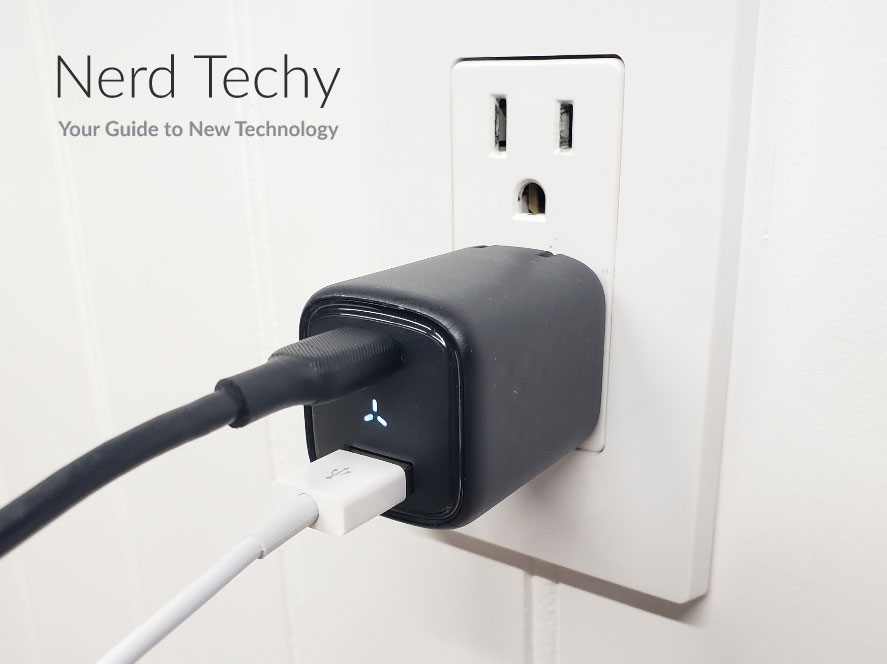 Compatibility
The VOLTME Revo 30W Dual Port GaN III Charger is compatible with most devices. If your device charges via USB Type-A or Type-C, you'll be able to charge it. This includes any modern smartphone, as well as tablets and even many laptops.
It's not just a matter of having the right kind of port. This charger also supports all of the latest charging protocols. Most importantly, it supports both PD power and QC 3.0 charging. These are both protocols that allow for faster charging than an ordinary USB connection. In addition, it supports the AFC, BC1.2, FCP, PPS, and SCP protocols. This gives you plenty of versatility and support.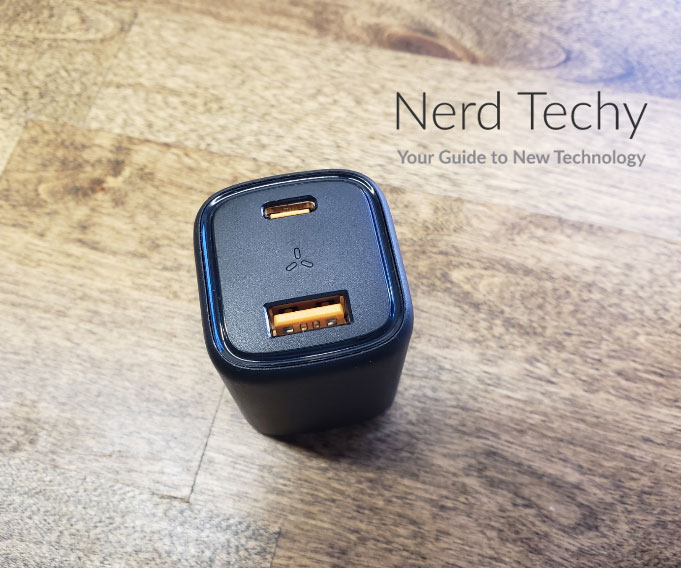 But what if you want a charger with more ports? In that case, consider the UGREEN 100W Multiport Charger. It sports three USB Type-C ports and a single Type-A port. It also has a six-foot power cord so you can put it on your desk or nightstand. On the downside, it's inefficient when you use USB Type-C and Type-A power simultaneously.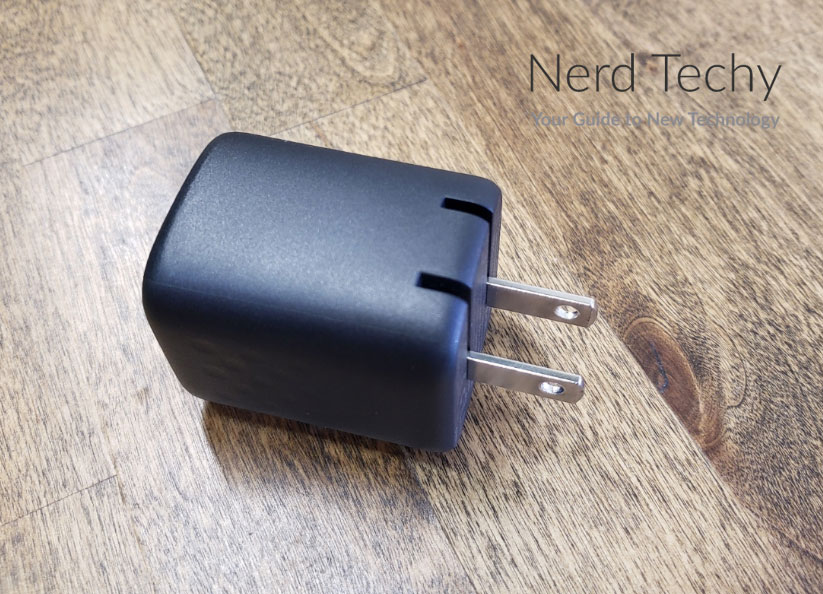 Safety & Extras
Any good charger requires safety features, and the Revo 30W charger has plenty of them. To begin with, it has built-in short-circuit protection. This keeps your devices from getting damaged by a shorted-out wire. There's also over-voltage protection. It will detect how much current your devices need, and deliver the correct amount. Finally, it has a temperature sensor. If the electronics inside start to get too hot, the charging process will automatically shut down.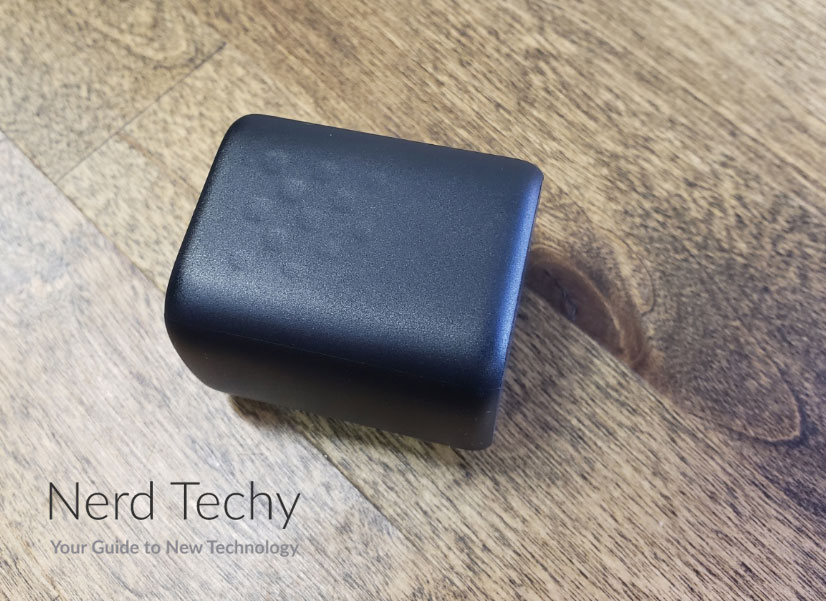 VOLTME recommends using your device's original charging cable, and that's a good recommendation. Aftermarket cables might not be able to handle 30 watts.
The internal circuitry uses Gallium Nitride (GaN) technology. GaN semiconductors are considerably faster and safer than traditional silicon. They're particularly efficient at switching, which they do 20 times faster. They also draw 40% less energy, so your charger isn't wasting nearly as much extra juice. The result is a much more efficient charger than traditional technology.
If you want an even more radical break with tradition, check out the PITAKA MagEZ Slider. It's a desktop charger with a rotating lazy Suzan-style base. It has separate wireless chargers for your phone, watch, and earbuds. It also has a removable magnetic wireless power bank, which makes it exceptionally versatile. Unfortunately, it only works with some smartphones.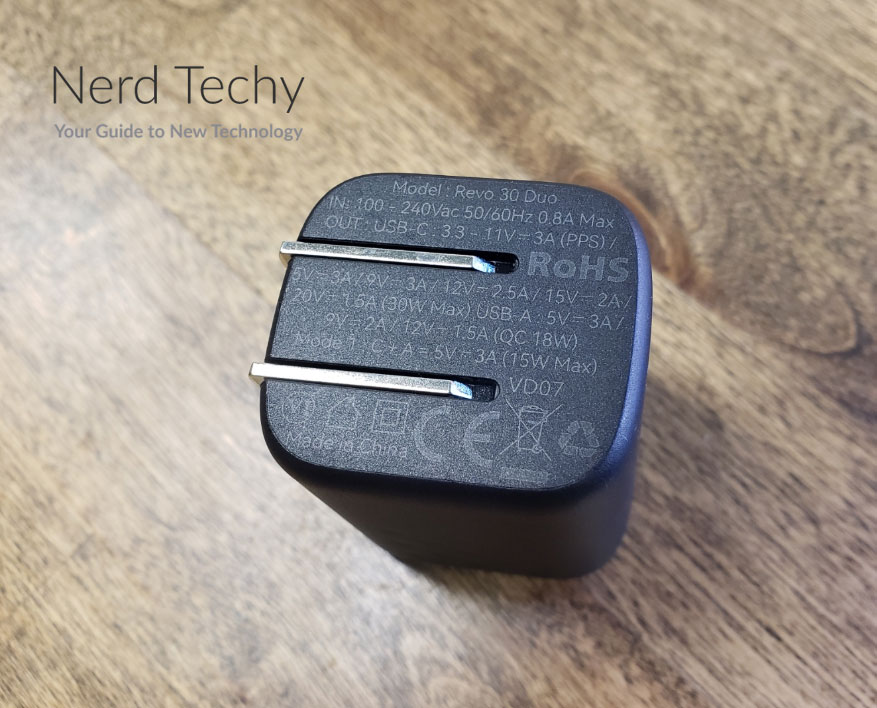 What Is PD Power?
Before we finish, let's address the elephant in the room. What is PD power, and what makes it different than traditional USB charging? To understand what makes PD technology such a breakthrough, we have to start with the origins of USB technology.
USB was created in 1996 by the USB Implementers Forum. This forum was originally composed of seven major tech companies, although it has since expanded. The goal was simple: to create a universal standard for data transfer. Hence the name "USB," which is short for "Universal Serial Bus."
USB uses a pair of copper wires to deliver data, and wasn't originally designed for power. But because it uses copper wires, it was capable of carrying a small charge. Manufacturers started using USB technology to power small peripherals with less than a watt of current.
This small current was only useful for operating tiny devices, but the USB Implementers Forum quickly recognized the potential. Later versions of USB continued to support more and more power. Modern USB 3.0 and 3.1 ports can support 12 watts of power (5V/2.4A).
PD is short for "Power Delivery," and is a special type of USB technology that rides on top of USB 3.1. It only works on special USB Type-C ports, but it's incredibly powerful. Some PD chargers can deliver as much as 100 watts, enough to power a MacBook Pro 16." Not all of them deliver this much, though; you have to read the product specs. Some only deliver a smidge over 12 watts, so the performance is far from impressive.
That said, PD power has enabled manufacturers to produce more powerful USB devices. Nowadays, you can buy a USB-powered monitor, which was simply impossible a few years back. Even a lot of laptops are now powered by USB PD.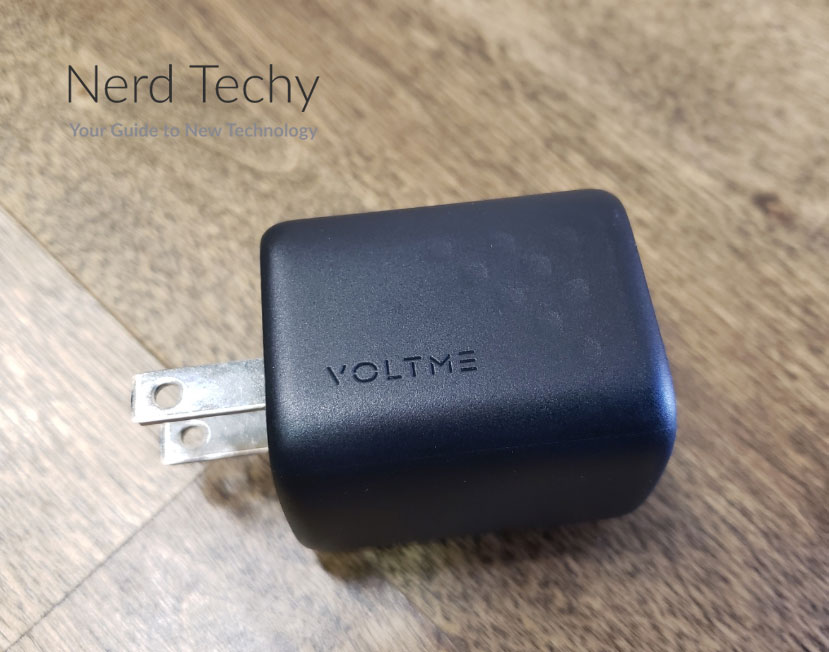 Final Verdict
The VOLTME Revo 30W Dual Port GaN III Charger is a well-engineered piece of equipment. The most obvious benefit is its tiny, pocket-sized housing. But the folding plugs are just as essential to its portability. The combination of small size and collapsibility makes this one of the more portable chargers around.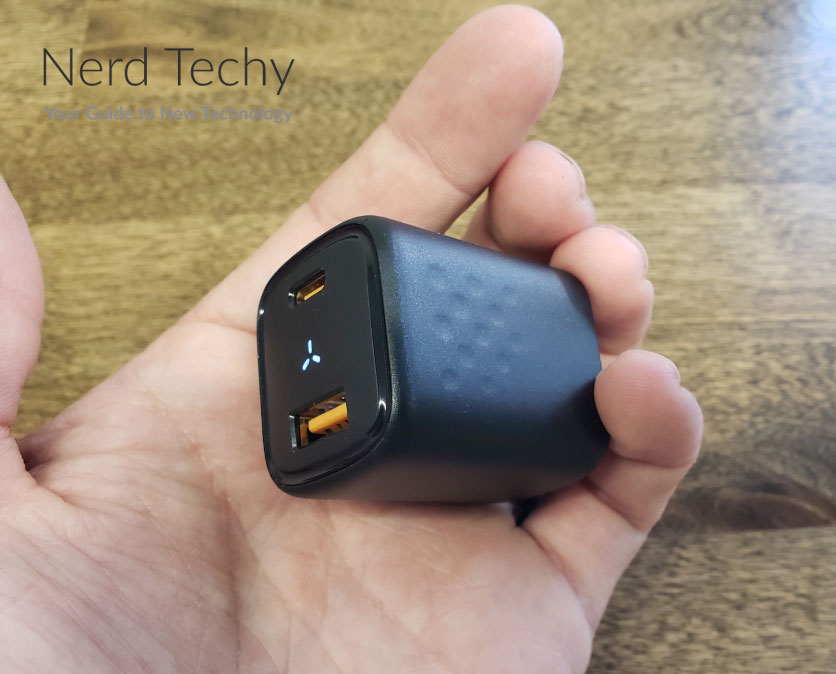 The charging power of 30 watts isn't incredible, but it's also not bad. If you're only worried about phones and tablets, you'll have more than enough juice. You'll only run into trouble if you're trying to power a laptop or something similar. For anything else, you're looking at plenty of charging power.
Meet Derek, "TechGuru," a 34-year-old technology enthusiast with a deep passion for tech innovations. With extensive experience, he specializes in gaming hardware and software, and has expertise in gadgets, custom PCs, and audio.
Besides writing about tech and reviewing new products, Derek enjoys traveling, hiking, and photography. Committed to keeping up with the latest industry trends, he aims to guide readers in making informed tech decisions.