Keen Ranger PT
Pros
Crisp 2K resolution and sharp night vision.
360-degree panning and tilting.
Easy remote monitoring and push alerts.
Solar panel for a constant source of power.
Cons
Requires its own 4G data plan.
Short battery life if not using solar panel.
Utilizes outdated Micro-USB rather than USB-C.
Modern technology has changed the way we think about security cameras. Not long ago, a security camera system was bulky and expensive. Businesses used them for insurance reasons, and wealthy people might have security cameras.
But for most people, they simply weren't practical. They needed to be hardwired, and you needed a dedicated TV and VCR for monitoring and recording. Most importantly, you couldn't monitor them remotely. At best, you'd come home to a grainy video of your house getting robbed.
But nowadays, cameras can communicate via WiFi or 4G. They can even be powered by batteries or solar panels. You don't need to run a bunch of wires to install them.
Meanwhile, you can monitor them from anywhere in the world using smartphone apps. Suddenly, they've become a viable technology for the average homeowner. This has been a massive boom for the home security industry.
This same technology can also be applied to trail cameras. You can set up a solar camera and leave it running for months or even years. You don't have to go out and change batteries, or mess around with expensive hardwired installations.
A good quality trail camera has any number of applications. Most people use them for hunting. You can set them up on game trails, and get a sense for how and where the animals are moving.
However, trail cams can also be used for simple observation. If you think there might be bears in your woods, how cool would it be to get a picture?
They're also commonly used by wildlife preserves and parks. But when you invest in a trail cam, you want to make sure your money is well spent. That's why we wanted to look at a camera from KEEN, which is owned by Reolink, a highly-respected manufacturer.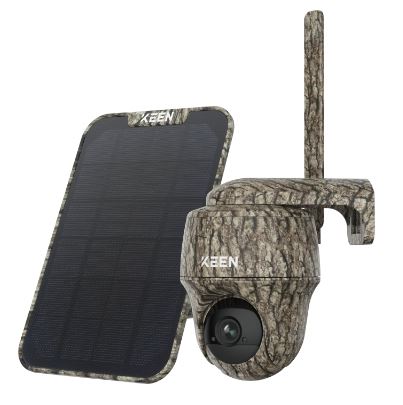 KEEN Ranger PT
We're about to review the KEEN Ranger PT. This is a compact trail camera with a slick camo finish. It comes with its own camouflaged solar panel, and is designed to run indefinitely without any maintenance. It also offers sharp 2K footage, much crisper than you'll get from a lot of trail cameras.
Of course, we'll want to take a much closer look before we deliver our verdict. We'll have to talk about how it's installed, and how you pair it with your phone. We'll need to look at the night vision, and how the motion detection works. Additionally, we'll also discuss how you store your footage and monitor your camera. Let's see how this camera stacks up!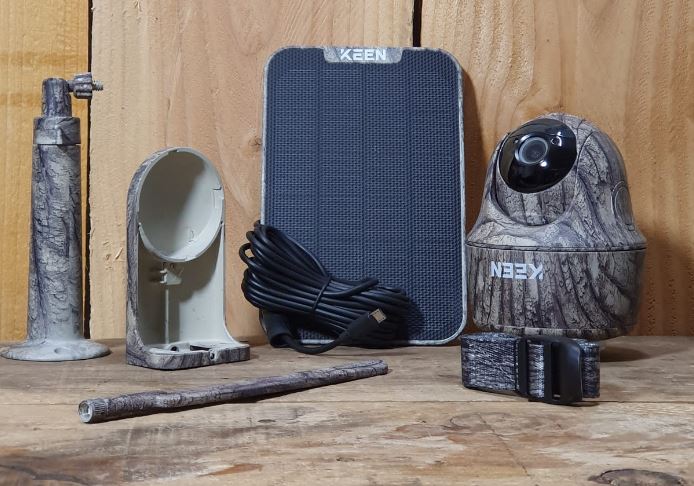 Camera Design
The first thing you'll notice about the KEEN Ranger PT is its camouflage finish. While it's shaped more like a traditional security camera, this is a trail cam through and through. It's compact, at only 4.4 inches high, with a diameter of 3.85 inches at the top, and 1.92 inches near the bottom.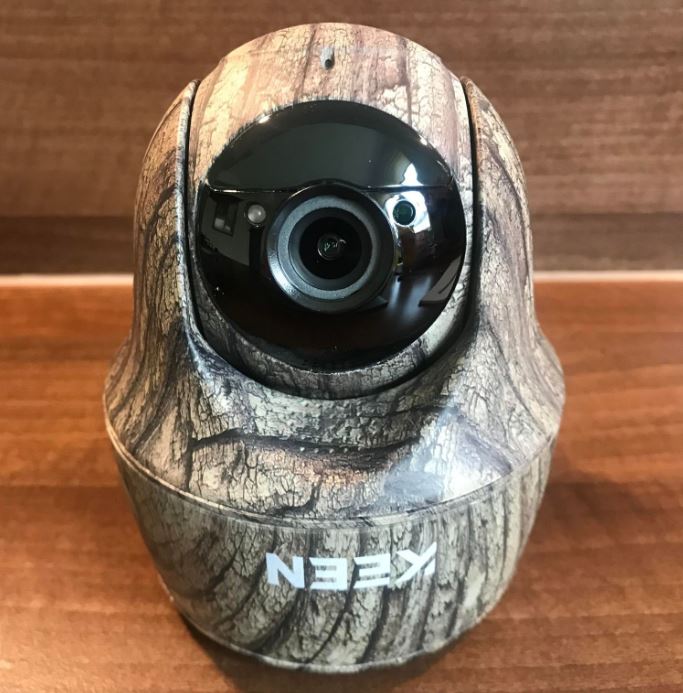 The top part of the housing contains most of the electronics, and attaches to a bracket at the top. It's circular, with bowed sides, and a white "KEEN" imprint at the front. On the back of the upper housing, you'll find an SD card slot, as well as a Micro USB charging port. Both have rubber plugs attached, so they can be weatherproofed when not in active use. A camouflage antenna attaches to the back, and stands far taller than the top of the bracket. It has a pivoting base, so you can angle it as needed to get the best possible signal.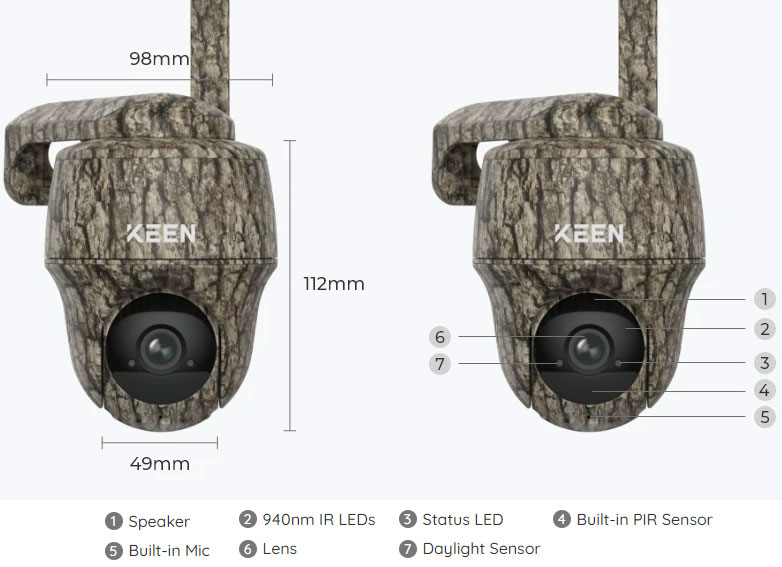 The spherical lens housing is suspended underneath, mounted in a sturdy rotating gimbal. The gimbal is camouflaged, as is most of the lens housing. Even the black circular area around the lens has a partially-matte finish. The camera is virtually invisible, except for the potential for lens glare. Unfortunately, that's a possible issue for any camera.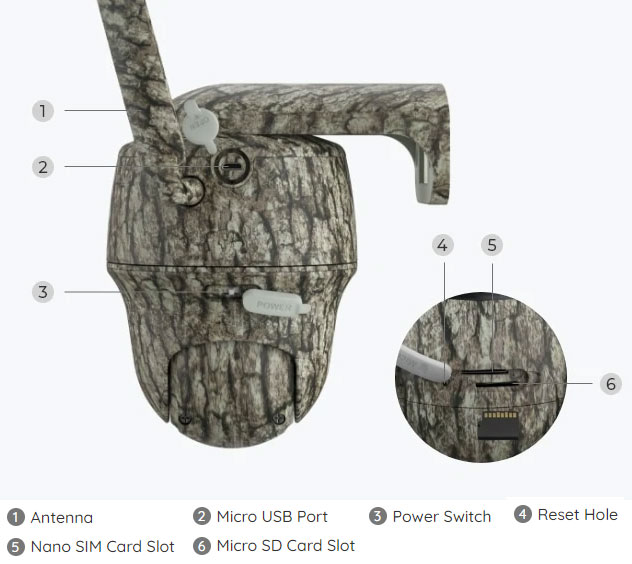 Along with the camera, you also get a solar charging panel. This panel comes with its own mounting bracket, and the bracket has a camo finish to match the camera. However, the actual photosensitive surface is still exposed. Much like the potential for lens glare, this isn't really something you can engineer out. In other words, the Ranger PT is as well-camouflaged a solar camera as you can find.
Installation
There are two ways to install the camera and solar panel, and it mostly depends on what you're mounting to. If you're mounting to a flat surface like a cabin or fence post, you may want to screw the brackets in. Both brackets have little screw holes, and can be attached to any flat surface with the right screws.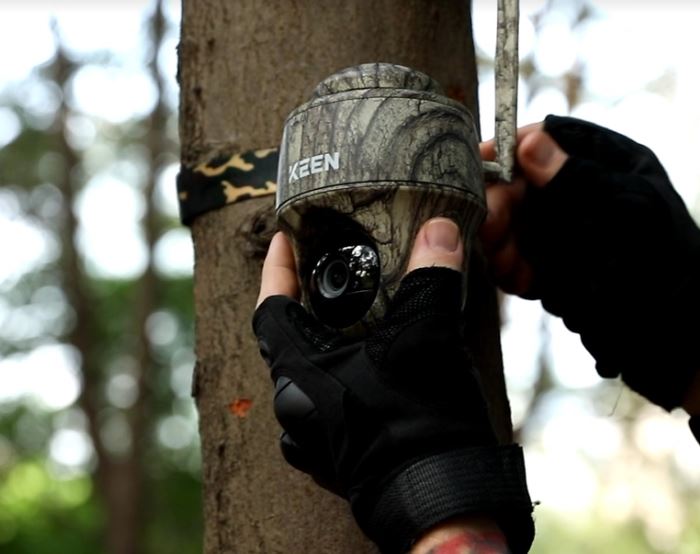 Of course, there's not always a flat surface available in the field. That's why the kit includes a camo nylon strap, which can run through a set of slots in the brackets. You buckle the strap closed, cinch it tight, and the camera and solar panel are secured in place. This makes it easy to reposition the camera, and you won't damage any trees in the process.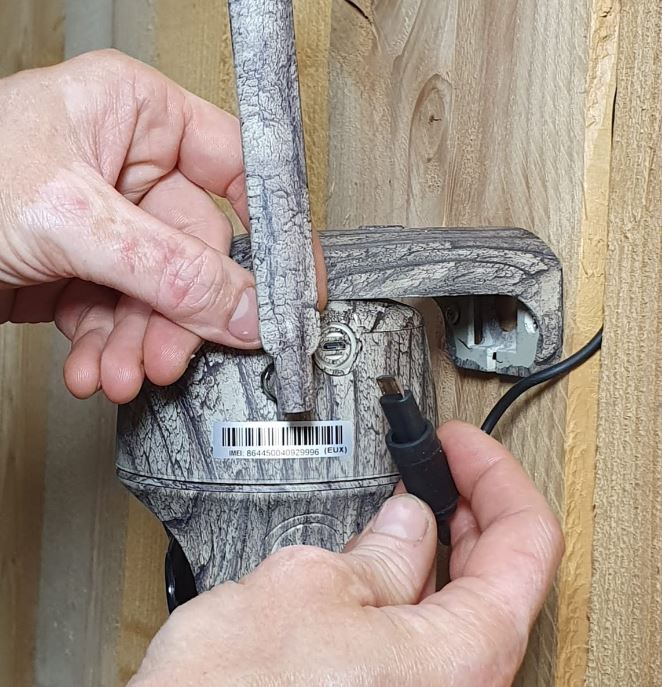 Once everything is mounted, all you have to do is connect the solar panel to the camera. Plug it in, and you'll be ready to go. It's worth noting that the solar panel bracket has a telescoping design, with a ball bearing knuckle at the end. Take some time to adjust the panel to an angle where it will get the most sun. Getting the right angle can make all the difference when it comes to maintaining a full charge.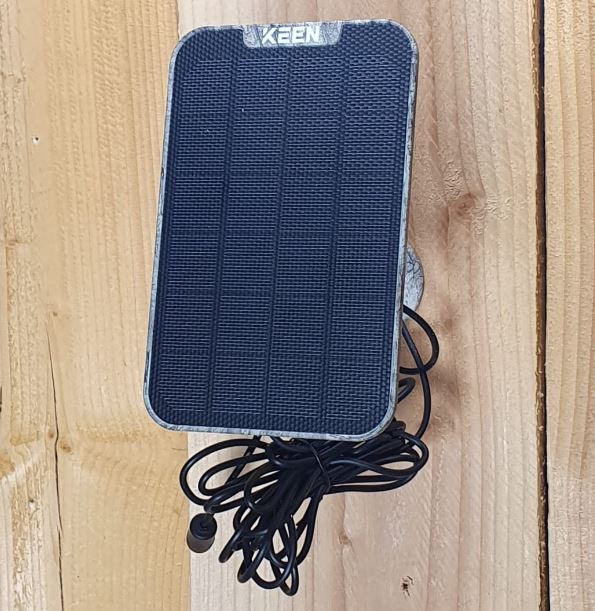 Connectivity and Storage
In order to use the Ranger PT, you'll need to have a way to connect to it. Since there's no WiFi out in the woods, you'll need to rely on a 4G connection. This means you'll have to sign up for a compatible data plan with a Nano SIM card. If you're lucky, you can add this to your personal phone plan and it won't cost much. If you have to buy a standalone plan, it will cost a bit more.
You'll also have to install the Reolink app on your smartphone. Pair your phone with the camera, and you'll be able to access all the monitoring and control features.
There are two ways to store your recorded videos. The first is to use an SD card. There's none included in the package, but you can use your own, with a capacity of up to 128GB. When the card is full, the oldest footage will automatically be overwritten.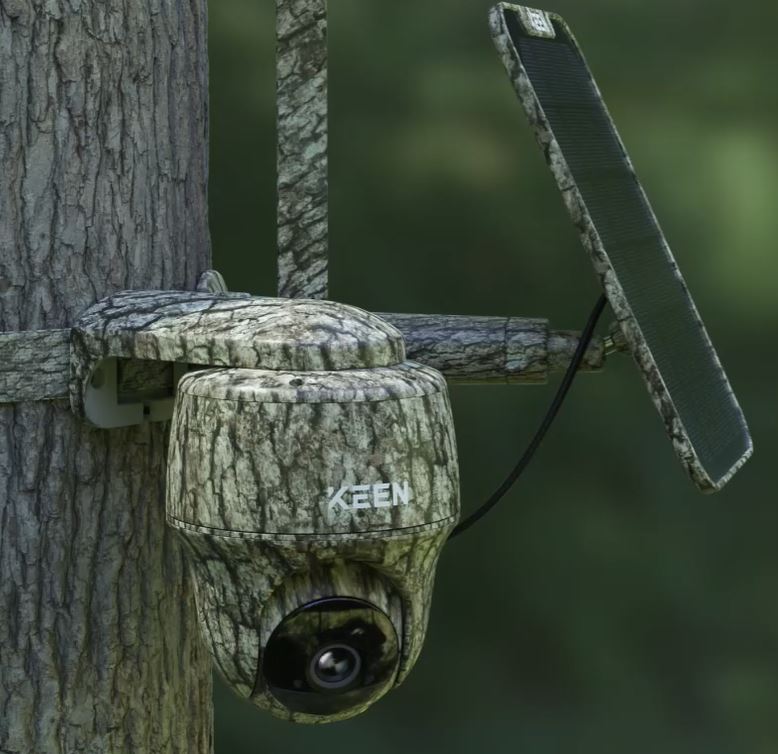 The camera also supports Reolink's cloud storage. You can get 1GB of storage for free, and videos will be saved for 7 days before being automatically deleted. You can also sign up for a paid plan to get a higher storage limit.
If this sounds appealing to you but you're really looking for a home camera, there are options. The Reolink Go PT Plus is similar in most respects, right down to the form factor. However, it has a plain white housing, which is more suitable for residential use.
Power
The KEEN Ranger PT will operate indefinitely when the solar panel is connected. However, you can also install it without the solar panel if you want. The 6,000mAh battery will last for around 1-4 weeks, depending on how often it's triggered. After that, you'll have to take it down and charge it via USB.
Unfortunately, the KEEN Ranger PT uses Micro USB rather that USB Type-C. It's not that big of deal, but USB-C is always preferred.
If none of this appeals to you and you prefer a hardwired camera, check out the Reolink RLC-1212A. It's a powerful 12-megapixel camera that connects via Power over Ethernet (PoE). You wire it up once and forget about it, which is great for your house, but not for the woods.
Video Quality
This camera has a 2K resolution, or 2,560 x 1,440 pixels. That's four times the number of pixels in a 1080p video. By day, colors are bright and vibrant. By night, an active infrared system provides crisp black and white footage without disturbing wildlife.
The IR bulbs have a range of around 33 feet, so you'll still get better range during the day. You can take advantage of this with a 10x digital zoom, and hone in on details in the background. You can also change your camera angle remotely. The motorized gimbal provides 360-degree panning and tilting, and can be controlled through the app.
This is all great news on a trail cam. But what if you want the widest possible field of view? In that case, consider the Reolink Duo. It's a unique camera with dual 2K lenses that provide ultra-wide video. That said. It requires PoE power, so it's only suitable for applications where hardwiring is practical.
Monitoring and Extras
The KEEN Ranger PT will automatically trigger within half a second of detecting a 4-legged animal. You'll receive a push alert from the app, so you can check in right away. Or, you can watch the recorded video later on. Even without an alert, you can view a live feed from your camera at any time, via the Reolink app.
The motion detector is also smart enough to detect people. You'll receive a special "person alert" when this happens, which is a nice added touch. You can even click the alert and activate 2-way audio. It's a great way to give your friends a scare if you let them hike or hunt on your property.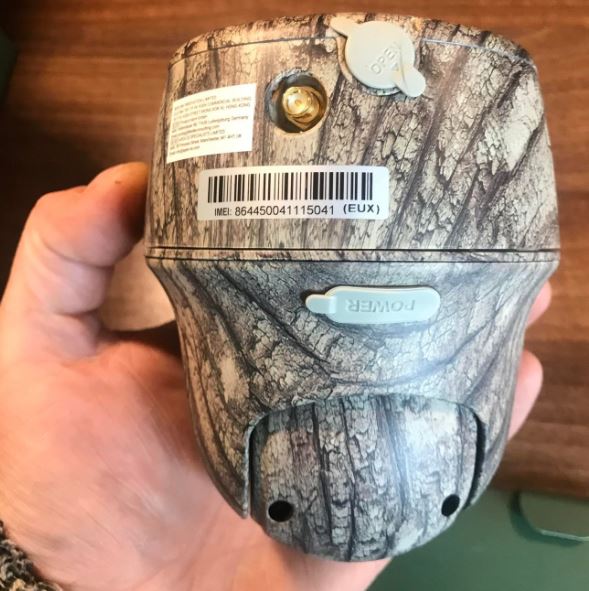 The app also has a couple of bonus features that are worth mentioning. First off, there's a built-in map, where you can add markers where you've seen animals. This makes it easy to keep a detailed record, so you know exactly where the deer are. You can also make time lapse videos, which is great for nature lovers of all stripes.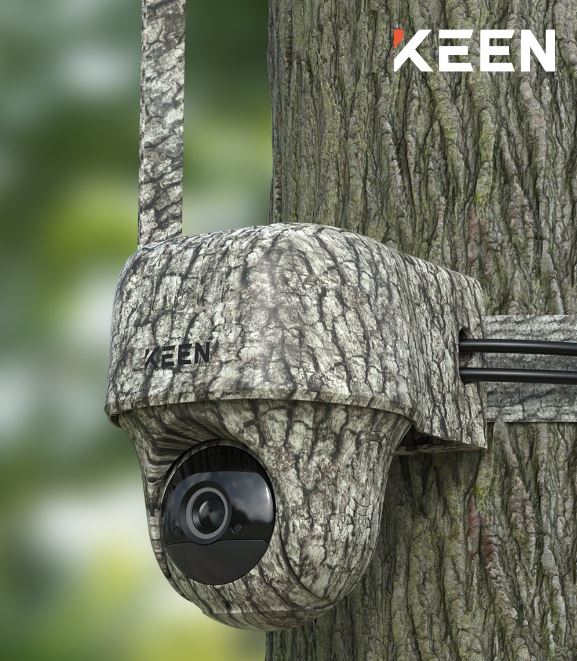 Final Verdict
The KEEN Ranger PT is a reliable trail cams that's backed by one of the biggest names in the business.
The solar panel and mounting system are well-engineered, and the video quality is excellent. It also comes with all the monitoring features you can ask for. If you want a truly modern trail cam, this is an excellent choice.
Meet Derek, "TechGuru," a 34-year-old technology enthusiast with a deep passion for tech innovations. With extensive experience, he specializes in gaming hardware and software, and has expertise in gadgets, custom PCs, and audio.
Besides writing about tech and reviewing new products, Derek enjoys traveling, hiking, and photography. Committed to keeping up with the latest industry trends, he aims to guide readers in making informed tech decisions.