VOLTME Revo 100
Pros
Up to 100 watts of PD power.
Can charge three devices simultaneously.
Efficient Gallium nitride circuitry.
Compact design with collapsible prongs.
Cons
Fewer ports than many full-sized chargers.
Charging cables not included.
Nowadays, it's more important than ever to make sure your devices stay charged. Your smartphone is probably the most obvious one that comes to mind. Phones these days are used for a lot more than just calling and texting.
If you listen to streaming music or podcasts, for example, you probably use your phone. We have online banking, navigation apps, and all kinds of other applications. And aside from our phones, we use even more devices. Tablets are getting more and more popular by the minute. And even many laptops these days are starting to charge via USB Type-C.
Point being, a good USB charger is more essential than ever before. But depending on your needs, you might be looking for different features. For example, if you have a lot of devices, you might favor a charger with lots of different ports.
On the other hand, if you're charging larger, higher-capacity devices, you might prefer a high-capacity charger. The same goes for the types of ports you need. Are you looking for USB Type-A or Type-C, or some combination of the two? These and other considerations will dictate the kind of charger you choose. So it pays to do your research and evaluate different options.
VOLTME Revo 100
Today, we're going to review the VOLTME 100W GaN III USB-C Wall Charger also known as the Revo 100. This is a powerful charger that can deliver up to 100 watts of total power. Despite this, it's compact and lightweight, so you can easily transport it. It also has all the safety features you'd expect, and it uses high-efficiency Gallium nitride circuitry.
Of course, we'll have to look much closer in order to render a fair verdict. We'll have to look at the specifics of the design, and the USB ports themselves. We'll have to talk about the power delivery is managed, depending on what's plugged into those ports. In addition, we'll also want to look at what kind of charging performance you can expect on different devices. Let's get started!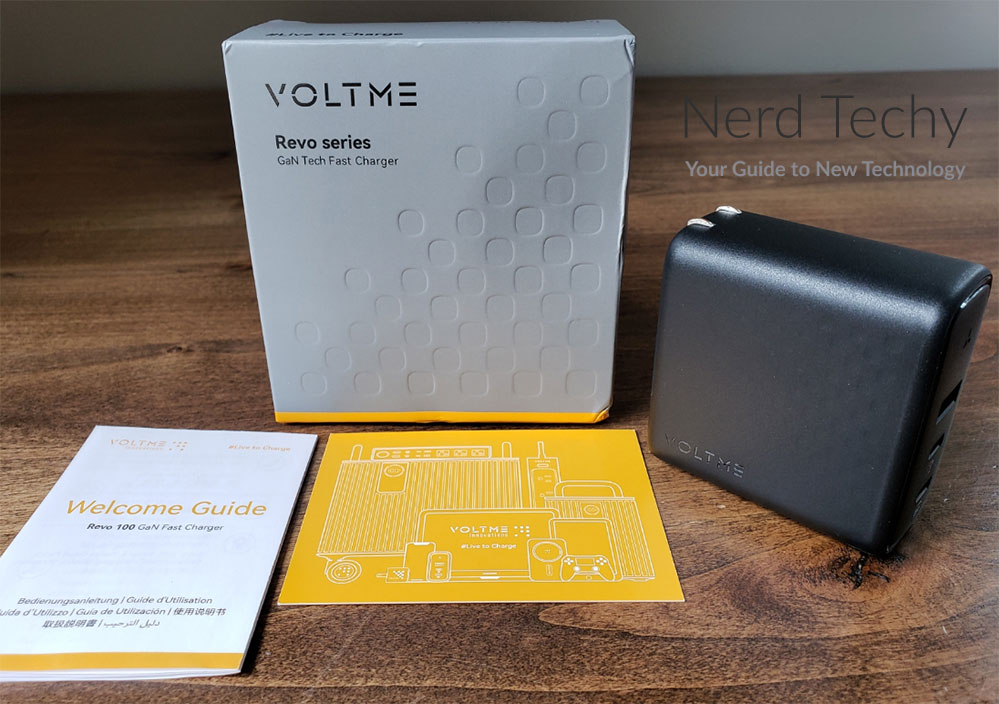 Overall Design
The VOLTME Revo 100 has a matte plastic housing that's easy to grip. There are dimples on both sides for added texture, and you can order it in black or white. The word "VOLTME" is printed on the sides, but the housing is otherwise free of branding.
The overall shape is rectangular, and it measures 2.5 inches high, 2.4 inches deep, and 1.3 inches deep. All the edges are rounded off, so there's nothing to jab you when you're carrying it in your pocket.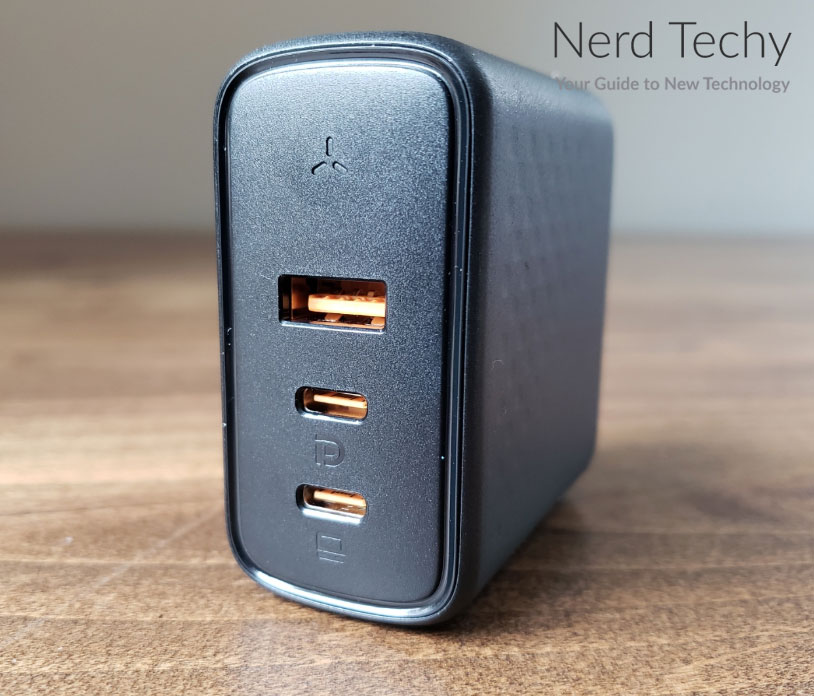 For the same purpose, the prongs are collapsible. This doesn't just keep your legs safe. It also keeps the prongs from getting damaged if you're carrying the charger in your luggage.
On the face of the housing, you'll notice an LED indicator at the top. This three-pointed indicator lights up when the charger is plugged in, and lets you know that it's working. Beneath this is a USB Type-A port, with an orange internal tab.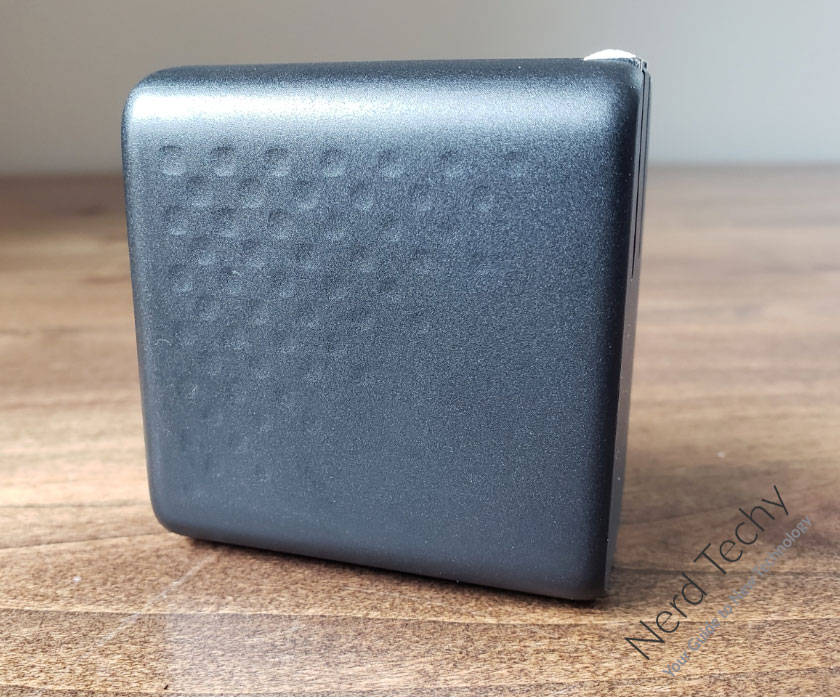 This makes it easy to know which way to point your plug when you plug it in. Further down, there's a pair of USB Type-C ports, stacked one over the other. These also have orange internal tabs. And while this serves no practical purpose, it does help create a more unified look.
This design sets you pretty up for a USB charger. But what if you also want AC charging power? In that case, take a look at the POWRUI USB Wall Charger. It's fairly large, and covers the top and bottom of a duplex outlet. But it has six three-prong AC outlets, in addition to a pair of USB Type-A ports.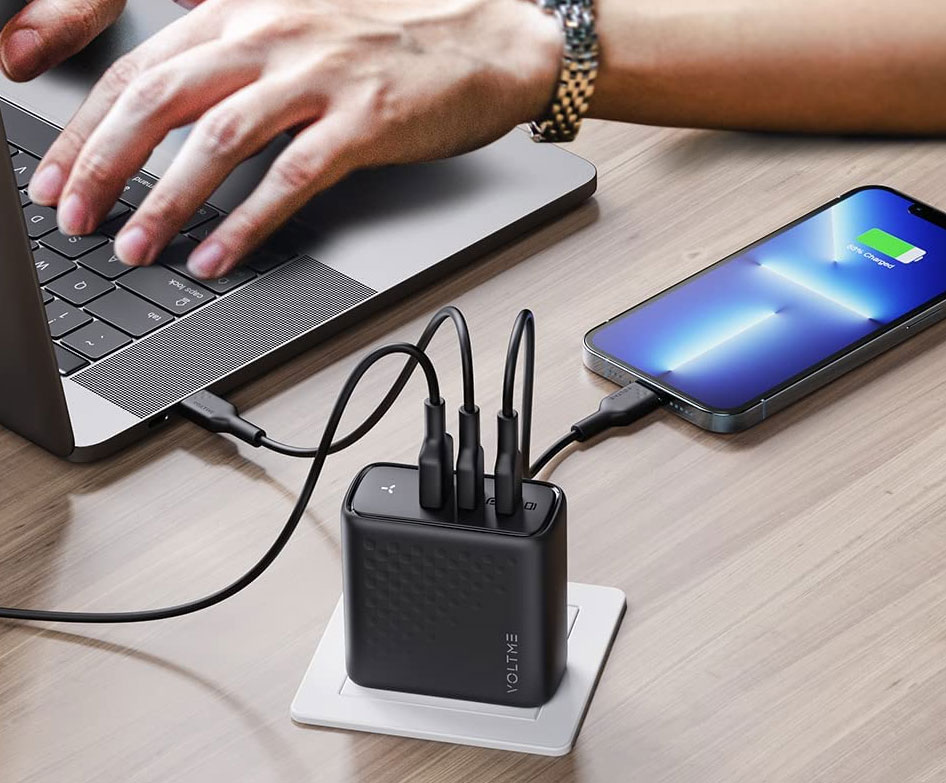 Charging Capability
As we mentioned at the outset, this charger can supply a total of 100 watts, maximum. In fact, it can supply that much power from a single USB port. This is currently the maximum amount of power that a USB Type-C port can deliver on any device. The Type-A port, meanwhile, provides a respectable 60W of power at full draw. That said, the 100 watt limit is shared between all three ports.
If you're plugging in more than one device, you won't get the maximum amount of power. Exactly how it is split will depend entirely on what combination of ports you're using.
If you're using both USB Type-C ports, the top one will deliver 30 watts. The bottom, meanwhile, will deliver up to 65 watts.
If you're using the Type-A port and a Type-C port, things get weird. Use it with the bottom Type-C port, and it will provide 30 watts, while the Type-C port provides 65. Use it with the top Type-C port, and both will split 24 watts. We're not quite sure why this is the case.
Using all three ports, the Type-A port will deliver 24 watts of power. The two Type-C ports will share 65 watts, spreading out depending on what devices are charging. If one device is a 2.5-watt pair of earbuds, the rest of those 65 watts will be available for the other.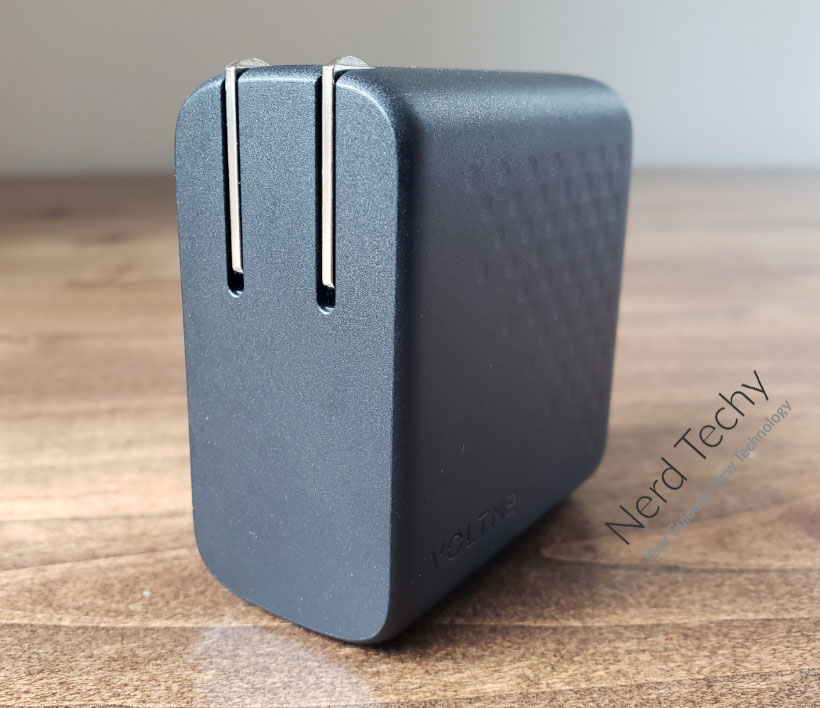 Compatibility
So, we know how much power the VOTLME Revo 100 charger can deliver. But what does this mean in the real world? Let's start with the most extreme example of a large laptop like the MacBook Pro 16". This is a common benchmark laptop, because it's Apple's largest offering.
You can play and charge with one, since the computer itself draws 96 watts. It will charge very slowly, but it will still charge. And if the laptop is off, it will charge in less than two hours. You can even charge bigger laptops, like the 130-watt Dell XPS 17", although you can't play and charge.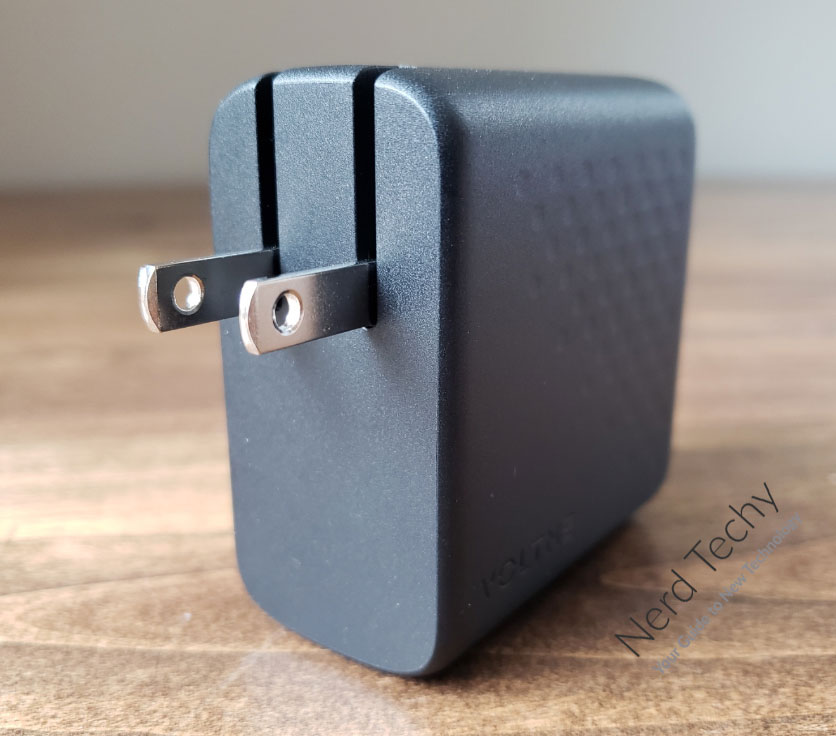 The same goes for smartphones. If anything, the USB Type-A port is over-equipped. The fastest Lightning-charged devices charge at 36 watts, so you've got more than enough overhead. And if you're using an older Micro USB phone, you'll have more than enough juice for the task. As for Samsung phones and other USB Type-C smartphones, you're once again fully covered. You might see some drop in performance with all three ports in use. But other than that, you'll have no issues charging at top speed.
In addition to PD 3.0 and QC 3.0, this charger also meets some other, less common standards. It can charge AFC, BC1.2, FCP, PPS, and SCP devices. Without getting too far into the weeds, this includes more or less every USB charging standard in existence.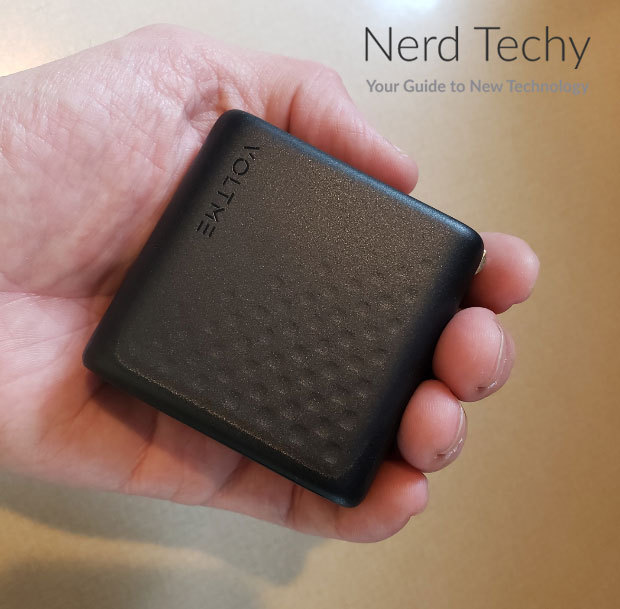 Then again, you might need an additional USB Type-C port. If that's what you're looking for, consider the UGREEN Multiport Charger. It has three USB Type-C ports, along with a single Type-A port. It also has a six-foot AC power cord, so you can set it on top of your desk. The power is 100 watts max, but the split between Type-A and Type-C is not as efficient.
VOLTME's V-Dynamic Technology
One thing that's completely unique to VOLTME's Revo chargers is their use of V-Dynamic Technology. It will automatically detect the specific brand and model of the device you're charging and only deliver the most optimized speeds.
It works with Apple, Samsung, Huawei and most other manufacturers to deliver only the proper amount of power to charge as fast yet as safe as possible. With it, charge speeds up to 50% capacity are much faster and more optimized than they would otherwise be. Therefore, it ensures fast charging without delivering too much power which could ultimately damage circuitry.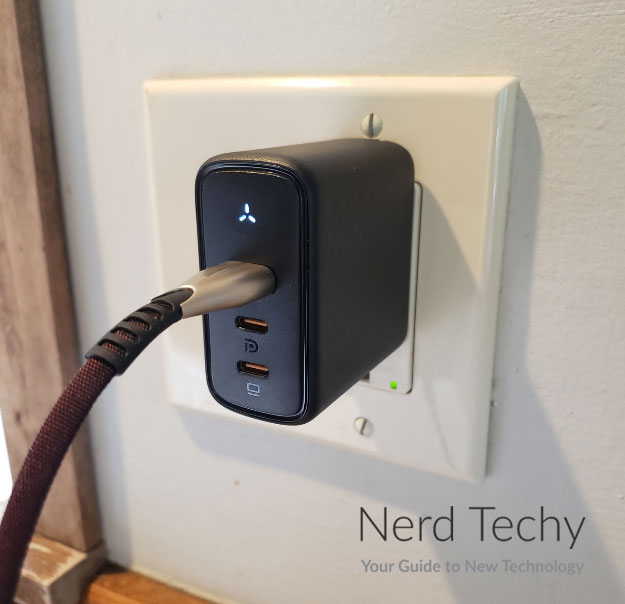 Safety & Extras
The Revo 100 charger has a number of built-in protections to keep you and your devices safe. To begin with, there's short-circuit protection, which prevents damage due to a failed wire. There's over-current protection, which keeps lower-wattage safe from receiving too much wattage. There's also an over-heating sensor, which shuts down the charger if it starts to become dangerously hot.
In addition, the internal circuitry is constructed from Gallium nitride. This is a silicon alternative that's starting to become more and more popular for semiconductors. Specifically, it's ideal for semiconductors that are used in chargers.
It was originally used in solar panels and satellites, but nowadays, it's used in home chargers as well. Gallium nitride is more efficient than silicon for charging purposes. This is what makes it possible for the VOTLME charger to be so small, yet so powerful.
The charger is protected by an 18-month manufacturer's warranty. If it fails due to a defect in materials or workmanship, you'll be fully protected.
If you like Gallium nitride technology but want an even smaller design, check out the VogDUO Charger. It has similar circuitry in a smaller package, with three ports and 65 watts of capacity. It also has a tough and attractive leather sleeve.
What's the Deal with PD Power?
Before we wrap up, we should talk for a minute about PD power. What is it, and why does it suddenly seem to be everywhere? To answer that, we'll have to go back to the beginnings of USB itself.
Back in the mid-1990s, a group of technology companies came together to develop a common data transfer standard. This gave rise to the Universal Serial Bus, or USB for short. USB was originally designed to transfer data, not power. But any time you have a pair of copper wires, you're able to transfer an electrical current. Peripherals manufacturers started to take advantage of that almost from day one.
As new USB standards were developed, they delivered more and more power. It's probably been a long time since you had a smartphone that didn't charge with some kind of USB. But devices like laptops require a lot more juice than an ordinary USB 3.0 cord can deliver. For reference, that amount is 12 watts.
USB Type-C PD (Power Delivery) is a charging technology that requires special cables and ports. Depending on the capacity, the technology can be used to deliver up to 100 watts per port. That's not to say that all PD ports and cables can deliver that much power. But on the high end, you can power almost any laptop on the market. You can also power other higher-wattage devices like USB monitors. As you can see, that's a huge leap for USB technology.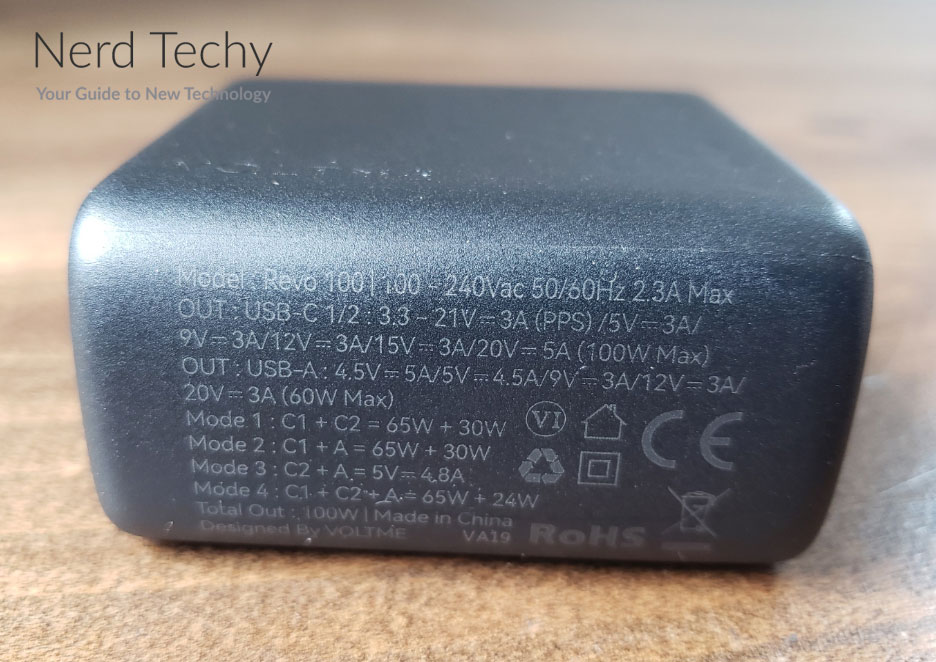 Final Verdict
The VOLTME Revo 100 is a powerful USB Type-C charger. It's also a powerful Type-A charger, capable of delivering maximum charge rates on almost any device. The safety features are well-engineered, and the overall physical design is well thought-out. If you need a portable fast charger, you're looking at a solid choice.