When you're on the road, you want to make the experience as enjoyable as possible. Sometimes, this involves the obvious joys of travel. You get to visit new and exciting locations, and try out different local foods. You can see famous landmarks, or just spend some time relaxing on a sunny beach.
But a lot of enjoyment can also come from replicating – or exceeding – the pleasures of home. Maybe that means sleeping in a plush, luxurious hotel bed. Maybe it means renting a car that's nicer than the one you normally drive. Maybe it's as simple as making your own meal, instead of ordering fast food.
But food and beverages have a nasty habit of spoiling when they're left out at room temperature. If you want to take them with you, you need a reliable portable cooler. For a day trip, this can be as simple as a traditional beach cooler. Throw in some ice, and your food and drinks will remain chilled for the next several hours.
But if you're going for longer than that, a traditional cooler becomes inconvenient. You need to constantly drain water and add more ice. Instead, it pays to invest in a powered car fridge or freezer. This can keep your provisions cool for days on end, as long as you have a source of power.
Hcalory (F79) 35L Portable Car Refrigerator/Freezer
Today, we're going to review the Hcalory 35L Portable Car Refrigerator/Freezer. This is a beefy automotive refrigerator that can run on DC or AC power. It's easy to operate, and comes down to temperature quickly when it's turned on. It's also easy to transport, with rubber travel wheels on one end and a collapsible handle on the other.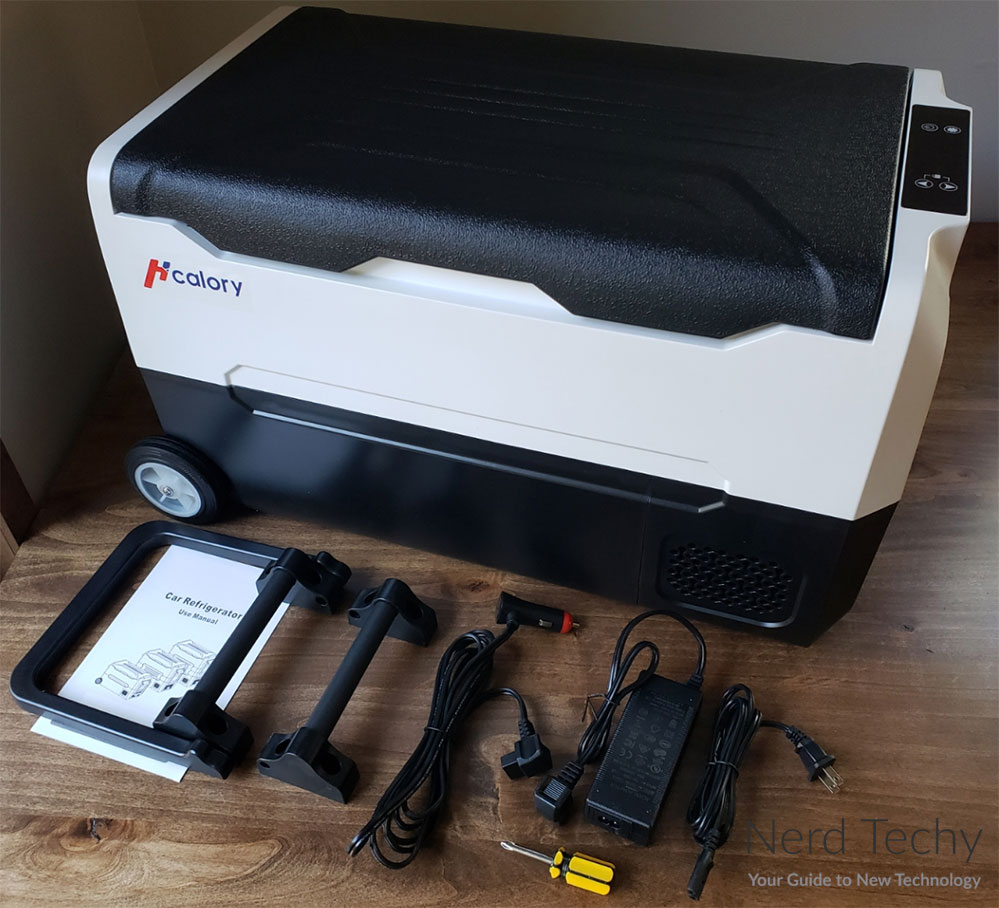 But there are a lot more features we'll have to think about before we know what we're dealing with. We need to look at the storage compartments, and how you stow away your food. We'll have to talk about the LCD display, and how you control the machine. And of course, we'll need to talk about the temperature range and settings. Let's get started, and see what we learn!
Overall Design
The Hcalory (F79) 35L Portable Car Refrigerator/Freezer is constructed from a blend of ABS plastic and durable polypropylene. It has a two-tone black-and-white design, with a black bottom half and a white upper half. The lid and handles are also black, which ties the design together. The appearance is mostly plain, save for an Hcalory imprint at the top left of the front panel.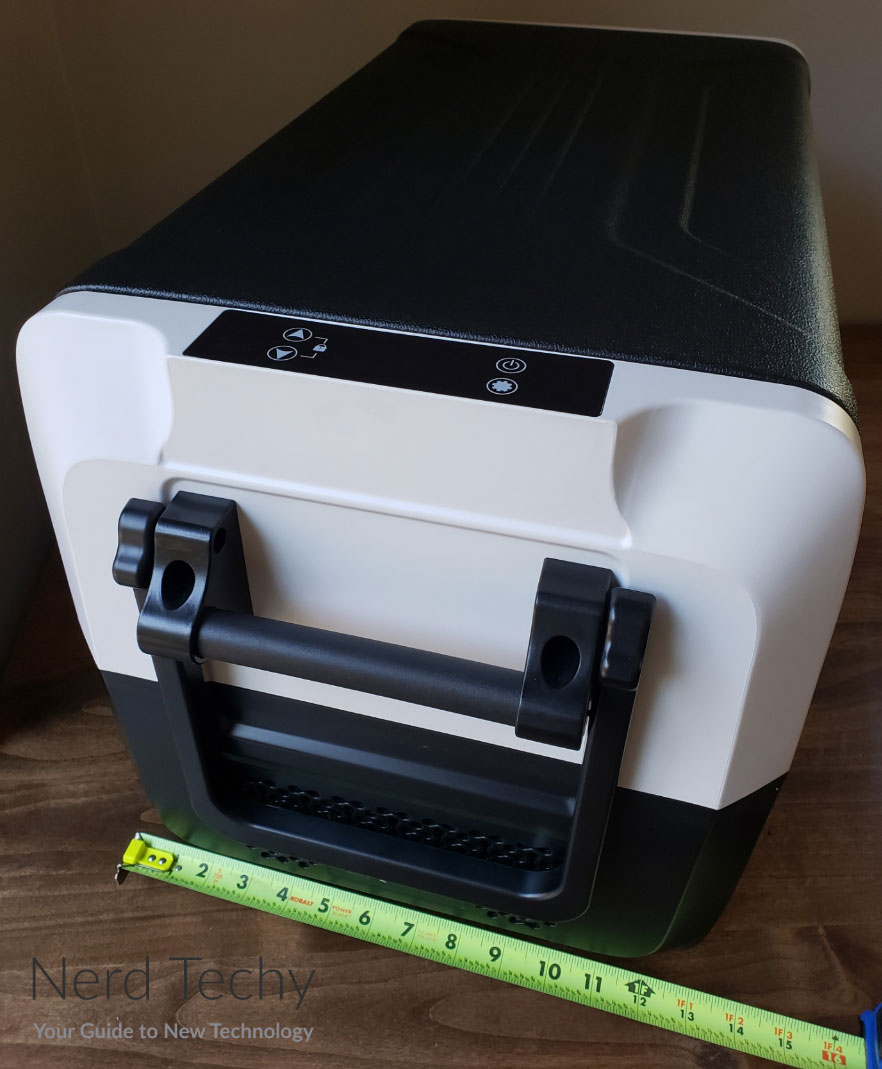 This travel fridge comes in three sizes: 35, 45, and 55 liters. That's equivalent to approximately 37, 47.5, and 58 quarts, respectively. In other words, even the small one is fairly beefy, and the largest one is even more so. The 35-liter variant measures 27.95 inches wide, 17.32 inches deep, and 17.7 inches high. All three have the same footprint, but the 45-liter version is 20.15 inches tall, and the largest is 23 inches.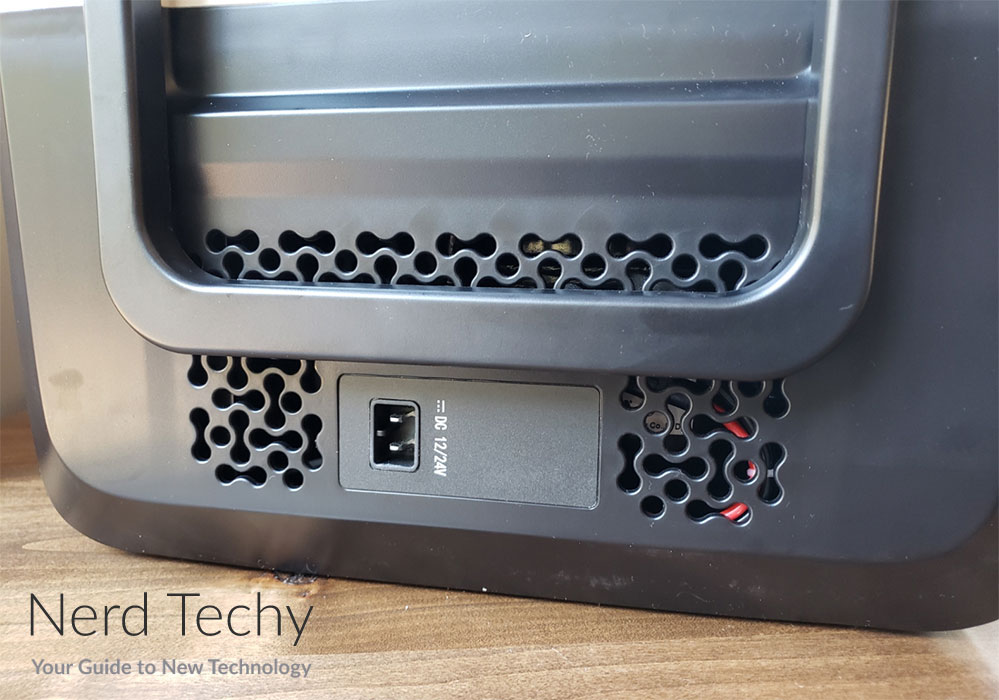 As a result, you might expect the fridge to be hard to transport. But Hcalory has built it to be as easy to carry as possible. To begin with, there's a solid carrying handle bracketed onto each end. You can carry it in both your hands, or share the load between two people.
There are also wheels on the left end of the bottom. These are fairly beefy, and won't get stuck on small obstacles like a lot of cooler wheels. On the right side of the housing, you'll find a collapsible handle, which folds up and down. When it's flipped up, it's easy to roll the fridge along with you on your travels.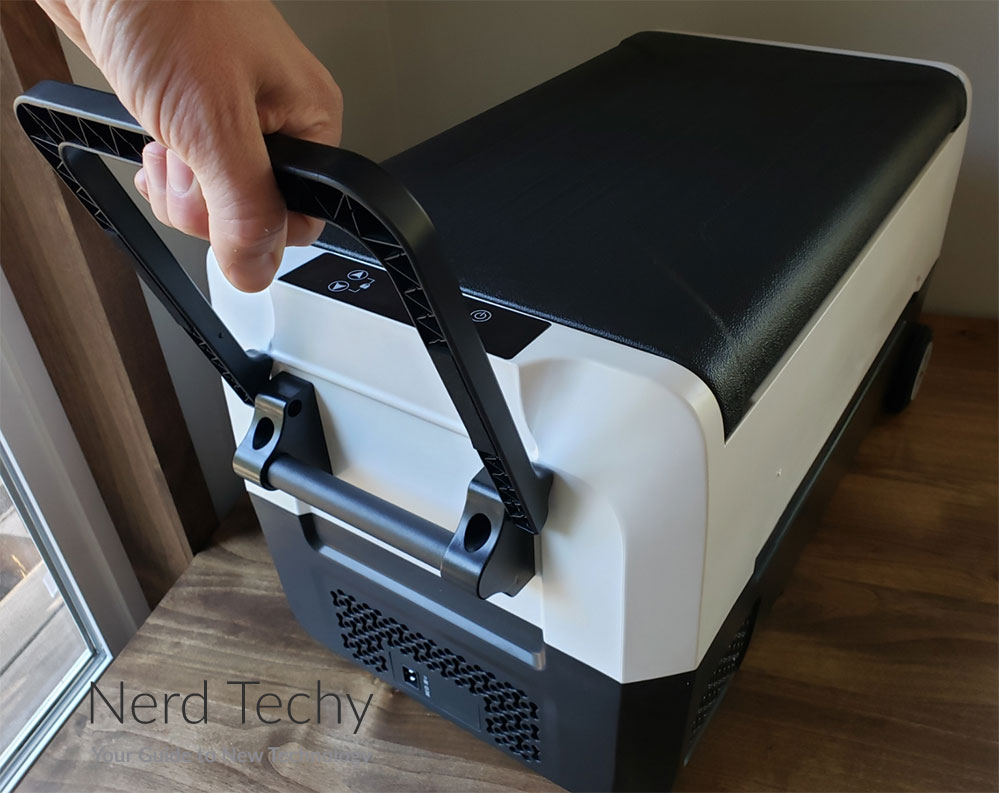 Display and Controls
The lid is hinged at the back, and flips upwards for easy access. Just to the right of the lid is an LED display panel. The panel itself is black, with bright blue letters, symbols, and numbers. Here, you'll see the current cooler temperature, as well as the temperature setting. You'll also see a set of indicator lights that let you know the fan status, cooler setting, and error messages. The display screen itself is smooth and easy to keep clean, as well as spill-proof. You don't have to worry about a little splatter messing up your display.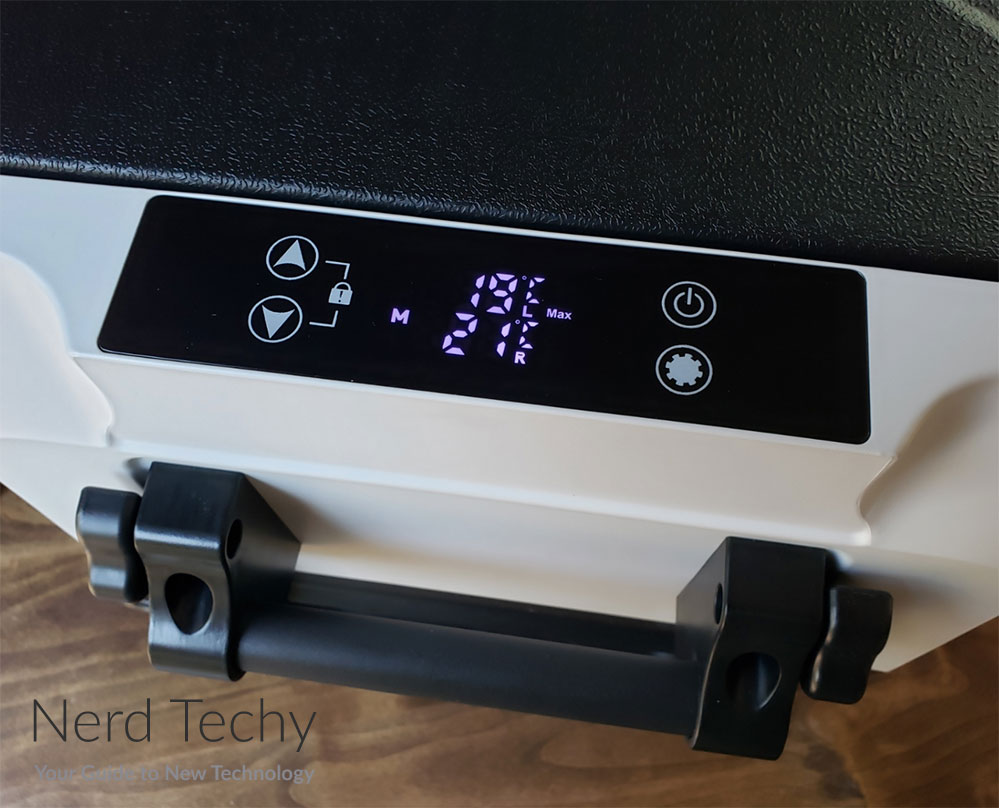 Controlling the Hcalory refrigerator is simple and straightforward. There are a set of up and down arrow buttons to the left, which are used to adjust the temperature. To the right of the screen, there's a power button, and another button to control the operating mode. The buttons are bright blue and slightly raised, and you get good tactile response. Much like the rest of the display, they're easy to wipe down when they're dirty.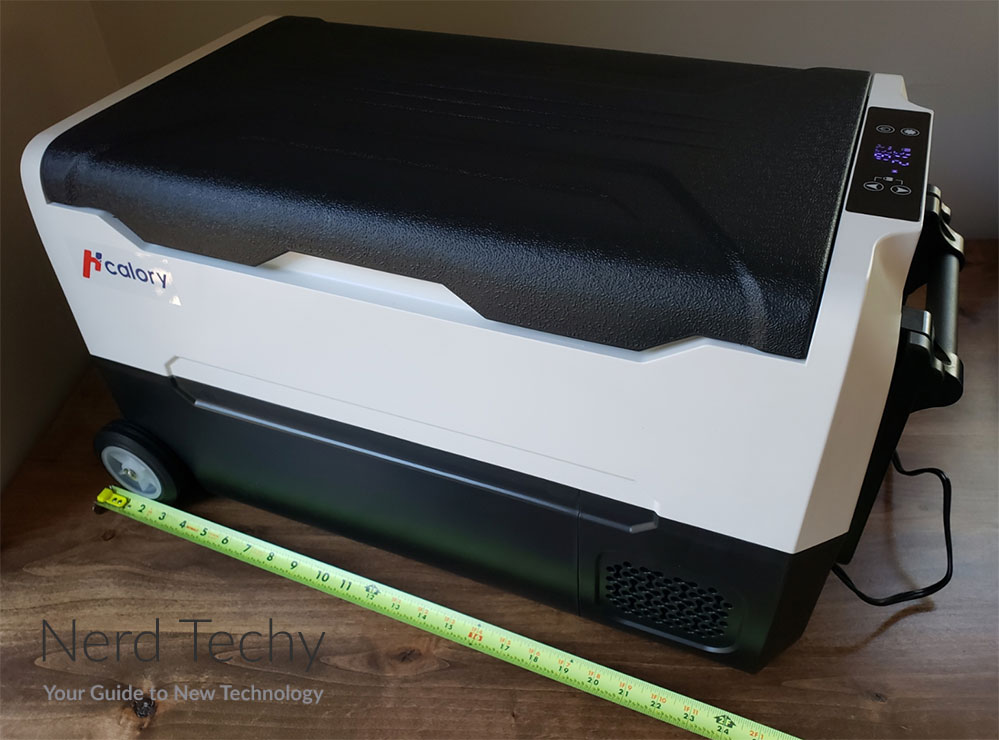 In total, you can adjust the thermostat between -4 and 68 degrees Fahrenheit. This translates to anything from a deep freeze to somewhere around room temperature. The room temperature setting is not without its purpose. For example, you could keep a cooler full of drinks from getting too hot in a hot car. Then when you're ready to drink them, you could quickly bring them down to temperature. That way, you're not draining too much power when you're not even drinking.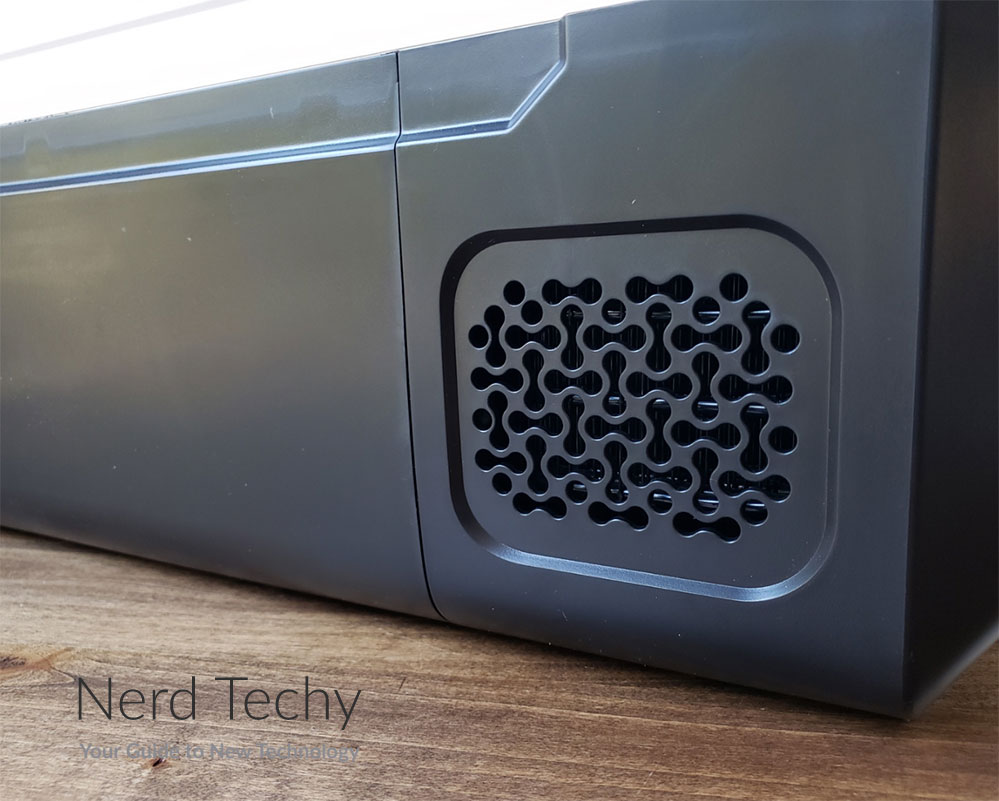 Storage and Organization
The inside of the Hcalory portable refrigerator has a smooth, easy-to-clean finish. The lid angles slightly backwards when it's all the way open, so it's easy to get inside. You don't have to worry about accessing an entire cooler through a narrow opening. At the bottom, you'll see a little plug, which can be unscrewed to drain any condensation.
The design itself is partitioned, with a plastic divider down the middle of the housing. The refrigerator portion only covers a slightly larger footprint than the freezer portion. So, you might think that it's only slightly bigger. However, the freezer portion includes a large cutout for the compressor and coils. As a result, it has a lot less total volume.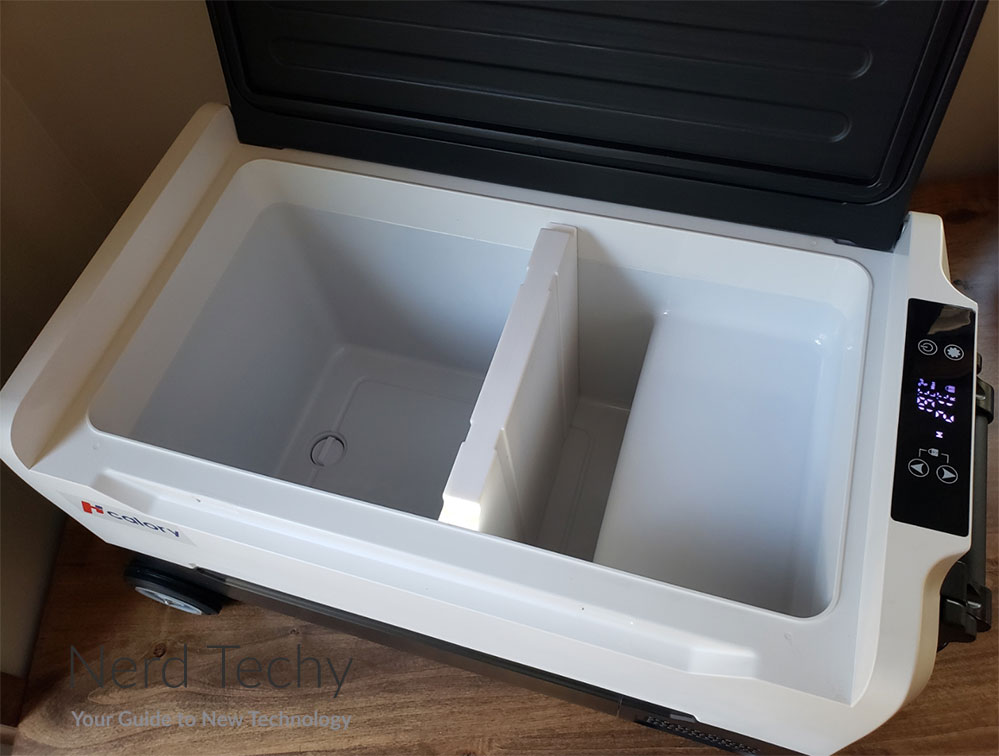 This lets you keep different foods and beverages, depending on what's appropriate. For example, you can keep your burger meat in the freezer, and your beers in the refrigerator compartment. But what if you want to use more space for the freezer, or turn the entire thing into a fridge? In that case, you can play around with the temperature settings. But at the end of the day, it would have been nice to see a removable divider, or even an adjustable one.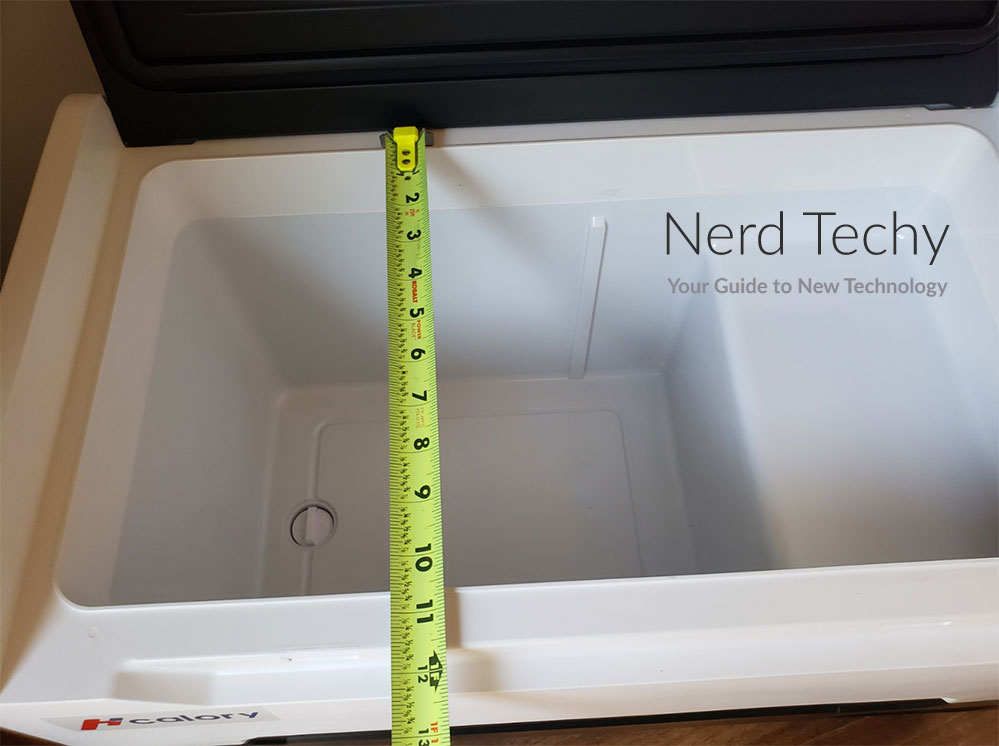 Cooling Performance
So, how well does the Hcalory fridge work? To begin with, it cools down very quickly. On a 70-degree day, an empty fridge will drop to 32 degrees in only around 25 minutes. At that point, you can add your frozen foods, and they'll stay cool. Of course, you might want to freeze water, which can take a bit longer. After all, you're trying to chill something that's already warm, not keep something frozen. For reference, an ordinary 20-ounce water bottle will freeze in about 4½ hours.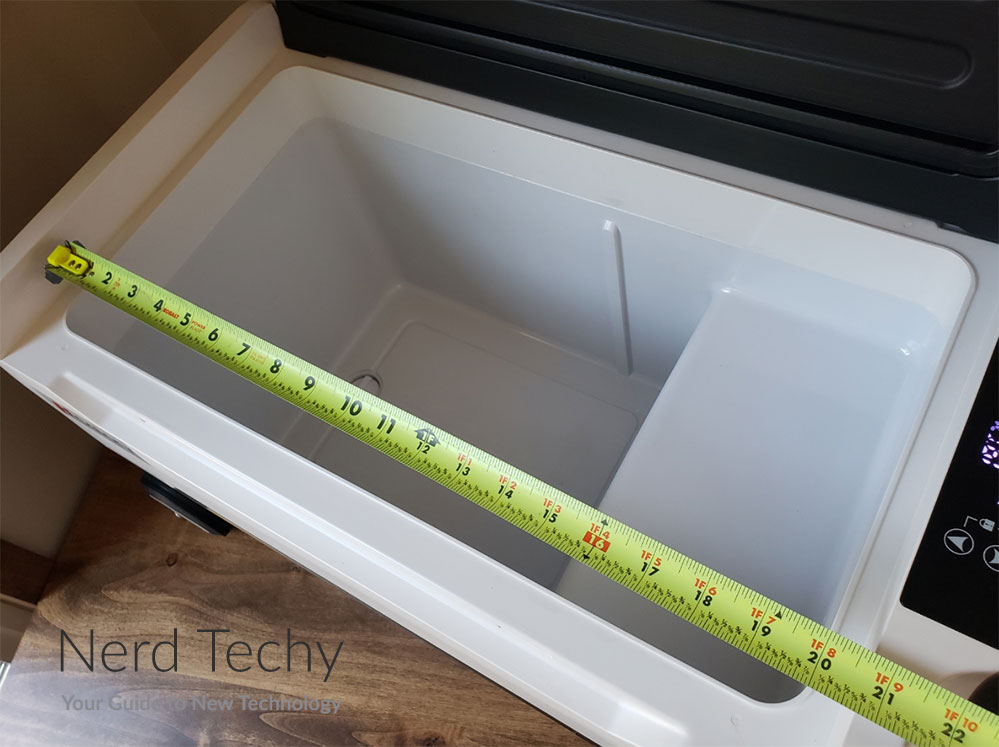 There are two different cooling modes: max and eco. The max mode will work as described. The eco mode is less powerful, but it uses less electricity. In general, it's best to run the fridge in max mode to bring it down to temperature. Then you can switch over to eco mode when you're just maintaining. Eco mode will eventually get the fridge down to temperature, though; it just takes longer.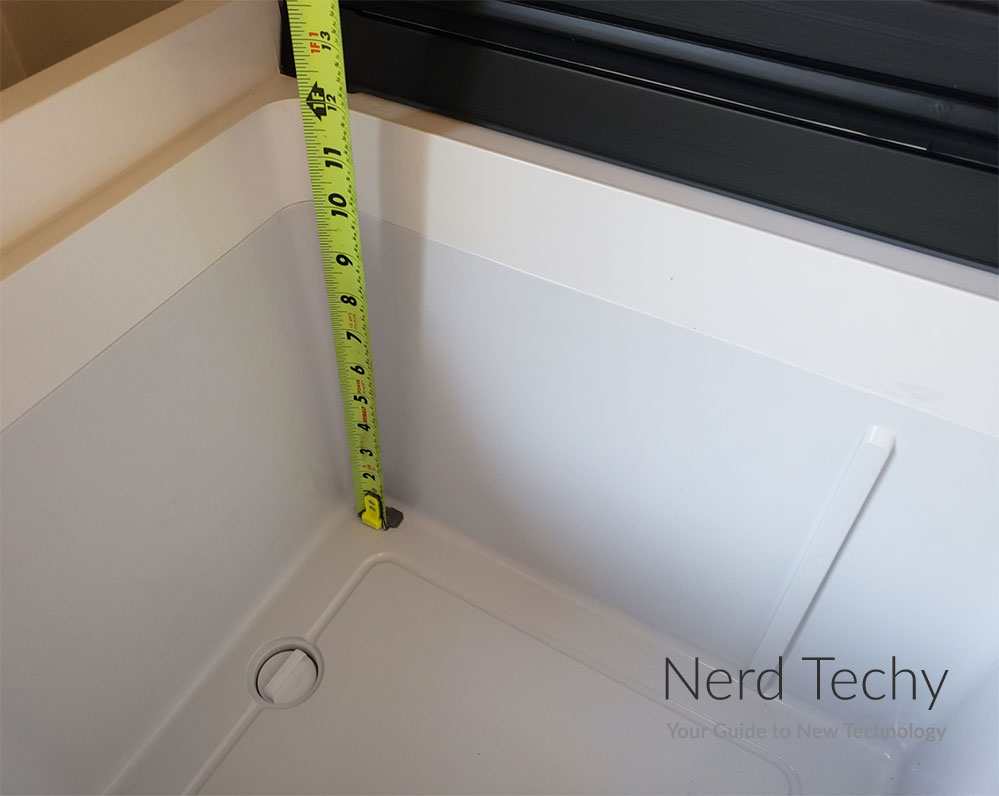 Even on max mode, the compressor only produces 35dB of sound. That's quite literally whisper-quiet, so it won't disturb you while you're driving. You can even use it while you're sleeping.
The insulation in the sides and top of the cooler works reasonably well, even after the power is disconnected. If you've cooled it to the minimum of -4 degrees, it will stay below freezing for over 2 hours. This remains true even on a 77-degree day. So even without ice, you don't have to worry about your food thawing right away.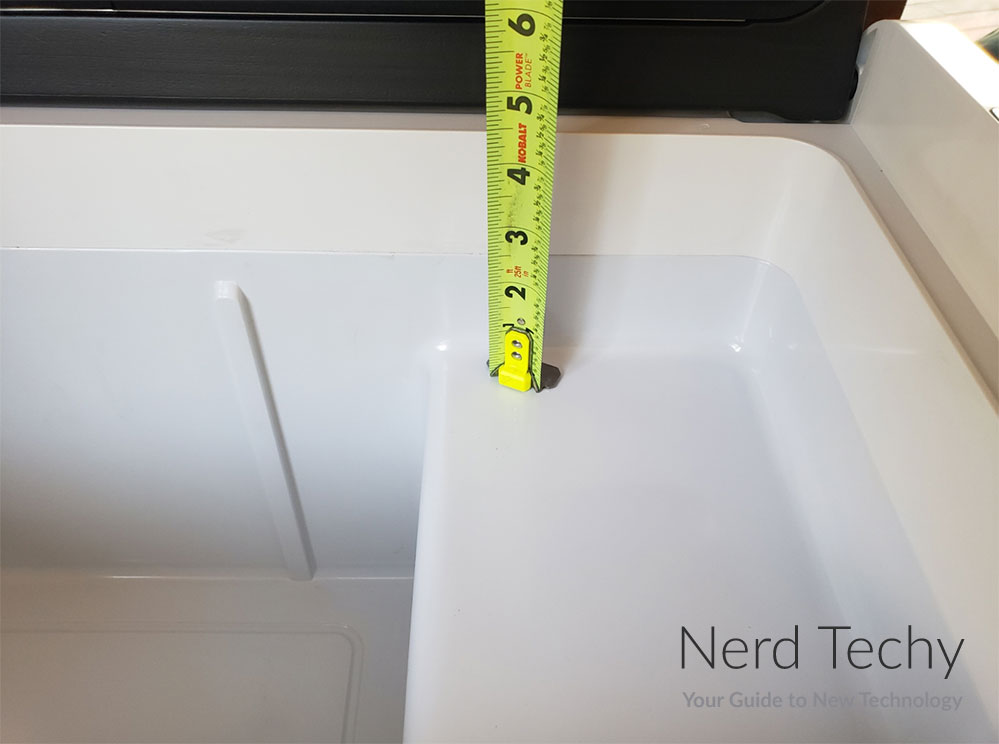 Power Supply
By default, the Hcalory 35L runs on 12-24-volt automotive power. This is more or less a universal standard, and you'll find it on any vehicle. You can plug this fridge into your subcompact car, or run it on your RV's power system. The performance will be the same.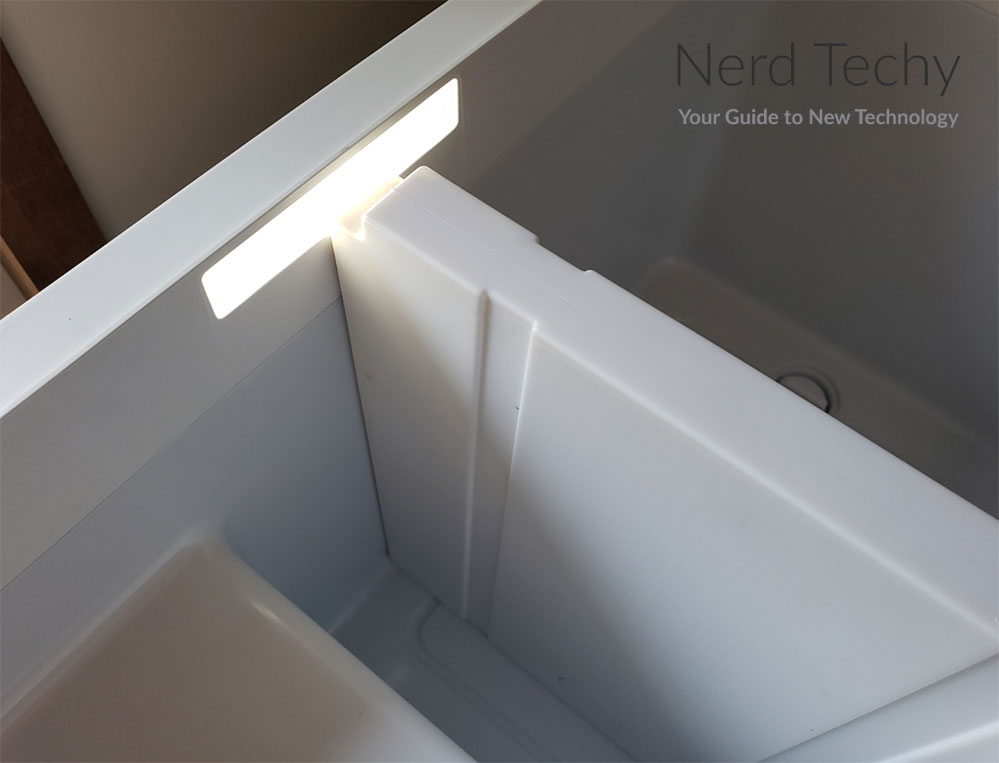 What's more important is your battery's amperage, as well as its condition. If it starts running too low, the voltage will drop, and then you could run into trouble. To prevent this, the cooler's electrical system will automatically shut down if the voltage drops too much. This is good news for your car battery, since it won't run dead. However, it means that a weak or failing battery will have trouble running the cooler.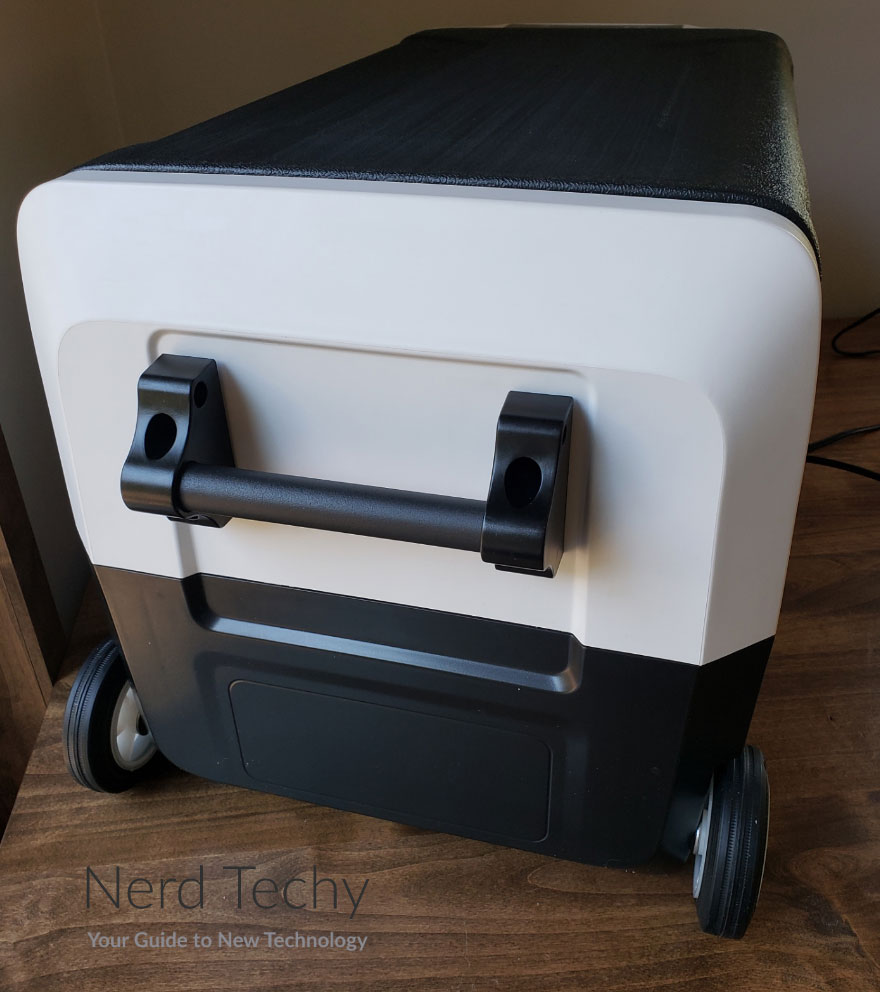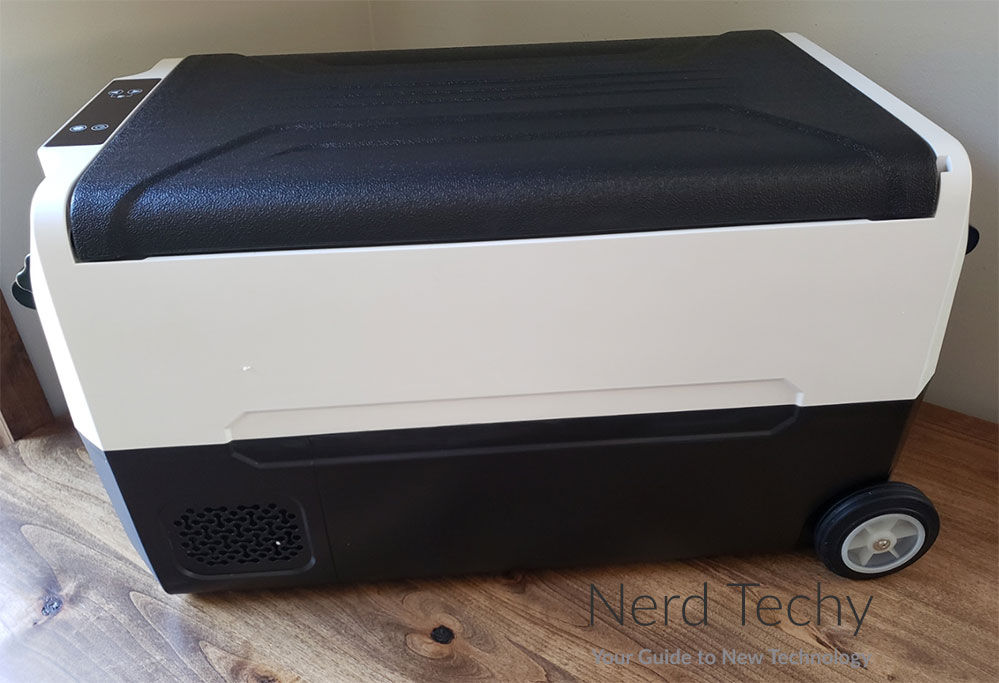 The Hcalory refrigerator can also run on A/C power. You can plug it into your wall outlet and use it on your deck during a barbecue. Unfortunately, only the 35-liter version is available with a North American plug. The others only come with an EU plug.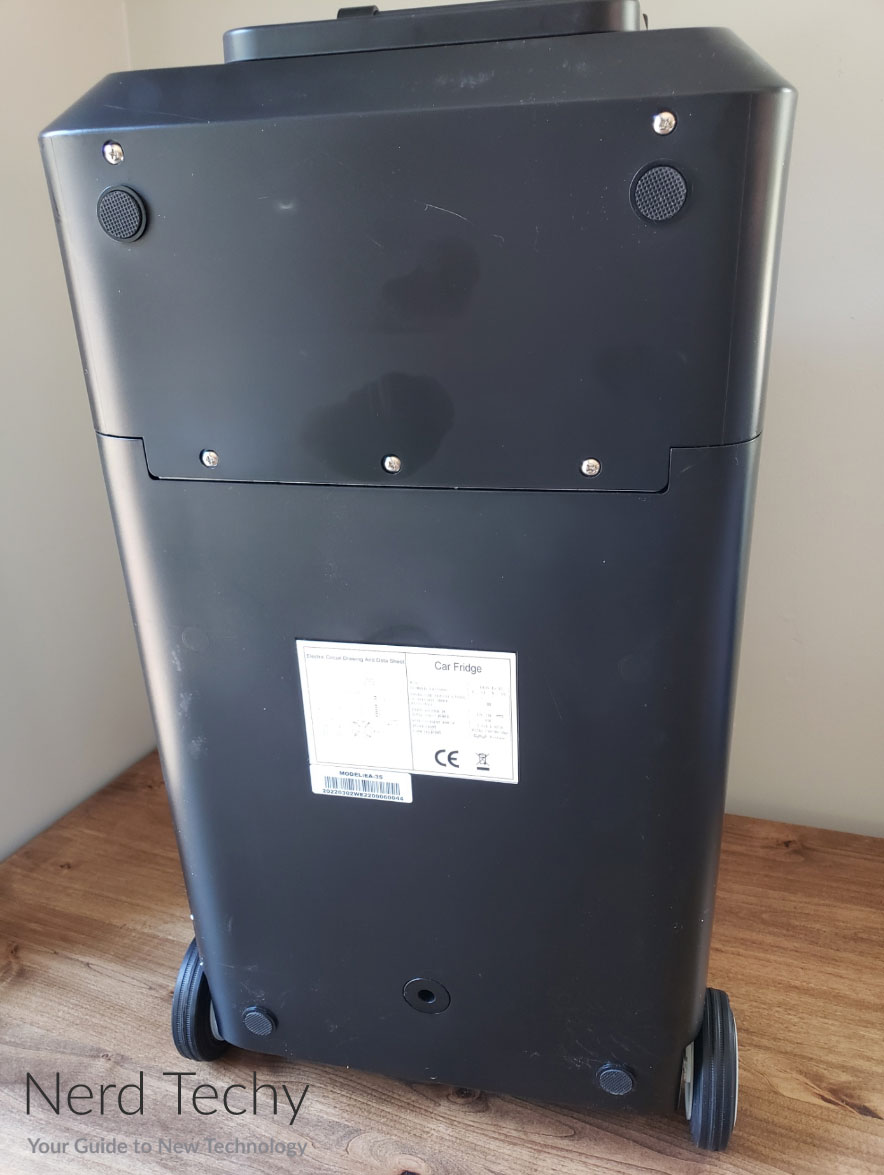 Final Verdict
The Hcalory (F79) 35L Portable Car Refrigerator is a powerful cooler that's available in three sizes. It's easy to transport, at least for the size, and it works with any automobile. You won't have any trouble keeping it clean. The controls are intuitive, and you get a wide range of temperature settings. All in all, this is a very well designed portable appliance.
You can also check it out on the BangGood website and use code "BGfb2103" for 30% off.